I was thinking of titling this post "fancy entertainment essentials", because a lot of these items look super fancy right?!  BUT these servingware items don't have to only be reserved for special occasions – you can totally bring them out any day of the week, even for your regular family meals!  Instead of having those "fancy" dishes that you hardly ever use, why not indulge yourself a little with some nice kitchen items and accessories for all the time!
– Note: This post contains affiliate links. See more information about affiliates here. –
I'll start with listing the items that (I think) you'll be using every. single. day. then go into the more "fancy" servingware pieces towards the end.  But like I mentioned before, if all your stuff looks fancy, then you definitely get more use out of them and everyday meals will be so much more fun!
Nice Dishware: Some things make your regular plates and bowls way fancier than normal: 1) being a square shape, 2) being a solid colour.  I was originally hoping to get some black and/or white square dishware (see my Home Basics post for more ideas!) BUT unfortunately the set was discontinued before I had a chance to order it.  I ended getting 3 sets of these clear square dishes and they've been serving us well for the last few months!
Utensils in an Unexpected Finish: There's a big trend moving away from the traditional stainless steel cutlery, and these utensils are available in black, gold, rose gold and more!  We'll probably be upgrading our cutlery in the future, but first I have to decide on a finish :)
Stainless Steel Mixing Bowls: We have both plastic and stainless steel mixing bowls, and I use the latter far more often (although I wish ours came with lids like these!).  Not only do I use them for general baking/mixing of ingredients, but I also set them up often as double-boilers AND they're nice to use when you bring salads to people's homes.
Serving Spoons: Truth time, we don't actually have proper salad serving spoons (unless plastic ones count?).  This set by Kate Spade in black and white not only looks good, but is a surprisingly affordable price compared to other KS items.
Large Serving Platter: I literally JUST bought a large matte black serving platter at the grocery store the other day, and I'm excited to use it!  Unfortunately (for those who live in Canada and know how great the PC Collection is) I couldn't find any product links online.  This matte black serving platter is very similar, and there's a whole matte black collection if you wanted to get plates and bowls to match.
Marble Board: I'm really thinking we need to add some marble to our inventory, and this long marble board would fit the bill!  I've seen a lot of wood and marble combination boards recently, but I'm not sure how they would last in the long run (do they ever come apart?).  Why not get one of each!?
Wood Board: We just have a normal wood cutting board, but this circular acacia wood server would be great to bring out for some yummy cheese and crackers.  At 12″ wide, it's a good size without being too large to fit in your cabinets.
Slate Board: We received a slate board last year for Christmas, and I've used it a few times – so definitely recommend it.  I like that you can write on it, so it's handy for marking all the names of cheeses and what not.
Serving Trays: Serving trays are handy when you want to transport a few food items around OR even to corral other things throughout the house.  I couldn't decide if I liked the clear tray, copper tray (similar copper tray) or black tray better – why not get all three :)
Ramekins: We don't own ramekins, but if you do a lot of soufflé, molten lava cake or crème brûlée baking, they're definitely essential!  Now, those certainly do sound like fancy dishes, so if you're not a master chef you can also use ramekins as little bowls to serve condiments or toppings.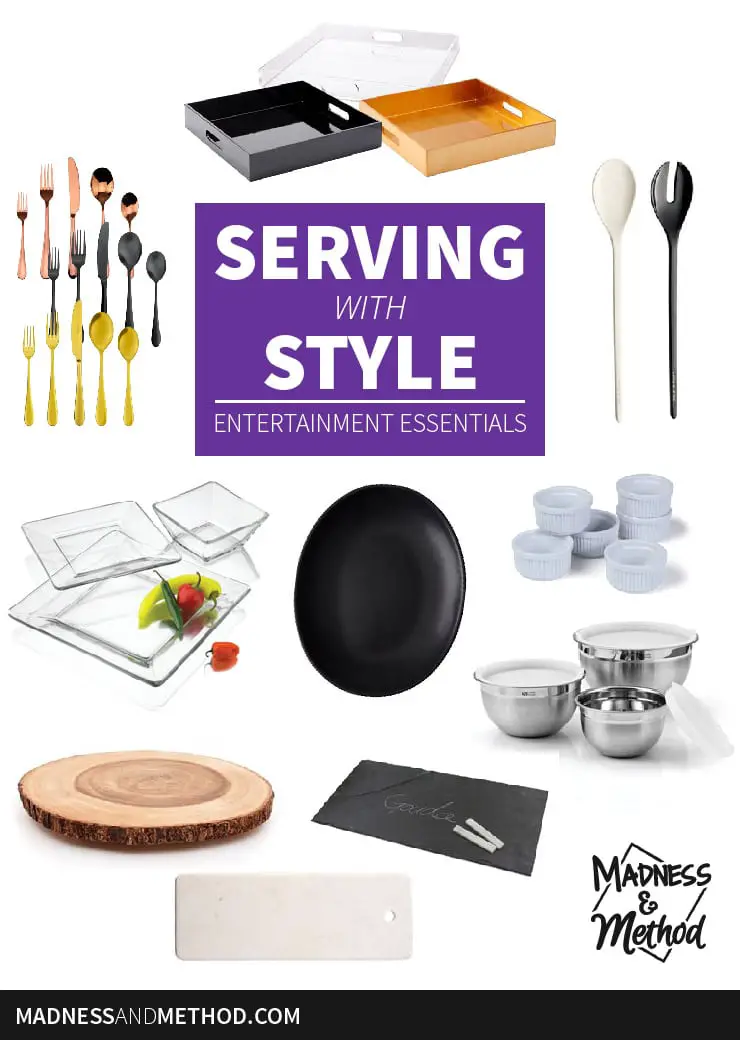 With Christmas coming up, some of these entertainment essentials would make good gifts for party hosts, or even gifts to yourself! So why not serve with style this holiday season AND continue to serve with style every day of the year :)
Let me know, is there anything "fancy" that you use on a regular basis that you absolutely love? I tried to think of items that I either owned (or wanted to own) and I think I'll slowly be incorporating them into my collection!
Oh – and don't forget to look for items that are dishwasher safe, because nothing says everyday-use dishes than being able to not worry about hand washing :)