So how was everyone's long weekend (for those living in Canada)?  I've said it before, having a Monday off always screws up my schedule… here I am posting a day late :(  Nevertheless, I've promised pumpkins, and pumpkins you're going to get!  Orange and golden ones in fact :)
I knew I would be decorating our front porch again this year for fall/Halloween, and I decided that I needed to get a nice big planter so I could use it all year.  Now, here I was thinking that planters would go on sale at the end of the summer season…
Let me tell you, they don't!  For the size of planter I wanted, I would have to spend 50-100$… which is not something I wanted to pay, since I already have a few planters I could technically use.
Thankfully, I was able to find a single one that someone was selling online, and it was the perfect size!
I also figured I would want to paint the planter (which was another big reason for not wanting to pay full price) so this option worked out perfectly!
I had plenty of Modern Masters Front Door Paint leftover from when I painted my front door a month or so ago.  One coat almost covered the planter perfectly (without any prep) but I did a second coat to cover up a few spots just in case.
Picking Pumpkins
I couldn't decide if I wanted to use real pumpkins or fake pumpkins.
On one hand, real pumpkins are more authentic/realistic and you can get them in almost any size.  But I figured if I bought fake pumpkins, I wouldn't feel bad painting them any colour I wanted, and they could last forever (but would I really want to store them all year?).
I first stopped into Michaels because they were having a 50% off sale on their plastic pumpkins… but even with half off, these pumpkins would cost anywhere between 6-15$ dollars each!  I couldn't justify spending that much on something I would probably want to get rid of at the end of the season.
Thankfully, the dollar store had some small white Styrofoam pumpkins!  Perfect :)  They only came in one size, but I didn't complain too much since I could buy 3 for the price of one plastic one at Michaels (of the same size).
I was hoping I could spray paint them a nice golden copper colour, but from experience I know that sometimes spray paint and Styrofoam do not mix.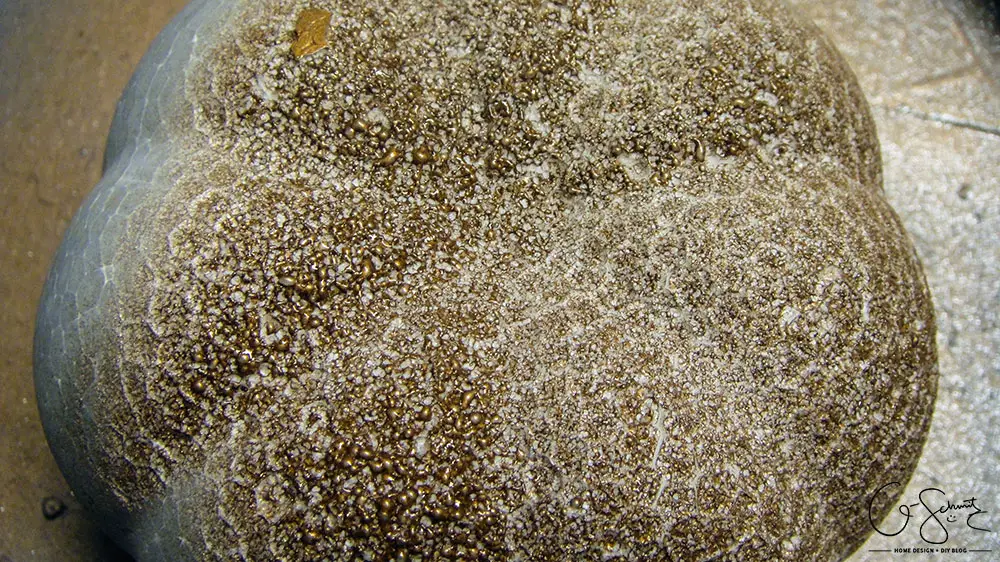 Poop.  This was another one of those times!  For those who don't know (or can't really tell from the picture above), the spray paint disintegrates the Styrofoam instead of colouring it.  Very weird, but let's just say it's something to do with all the chemicals?
Modern Masters to the rescue again!  In my goodie/swag bag from Haven I had received a small jar of their metallic paint in the semi-opaque colour "Tequila Gold".  I knew I would be using this colour somewhere for my outdoor Halloween décor, so I brushed it onto my little pumpkins.  (I even contemplated painting the planter this gold colour, but thought the blue would look nice next to the door).
You can tell where the spray paint ate into the Styrofoam at the top of pumpkin on the left… it kind of looks like an exaggerated orange peel texture.
And this is how everything is together right now (I bought 3 real pumpkins when I went back home to visit my family this past weekend).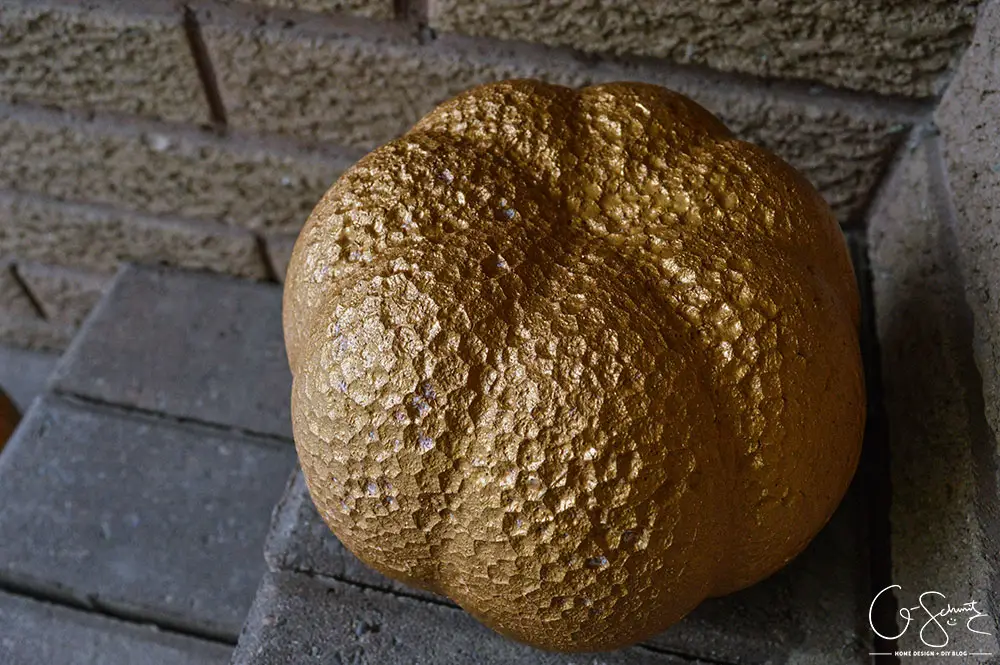 I've got a golden pumpkin on the brick "steps" I made last week when I was moving over our old patio stones.  I might put some lights or candles on the steps in between, but for now I've left them blank.
And yes, I even painted the stems of my pumpkins gold to go with my theme!  I do have to take off that little "M" still (which indicated the size/price of the pumpkin), and I'm not sure if I'll carve these yet, paint a word/design on them or what?!
I even hung a golden wreath on the door… which technically is a Christmas decoration (that I usually place on my table) but I figured the gold colour and branchy theme went with this fall décor scheme as well.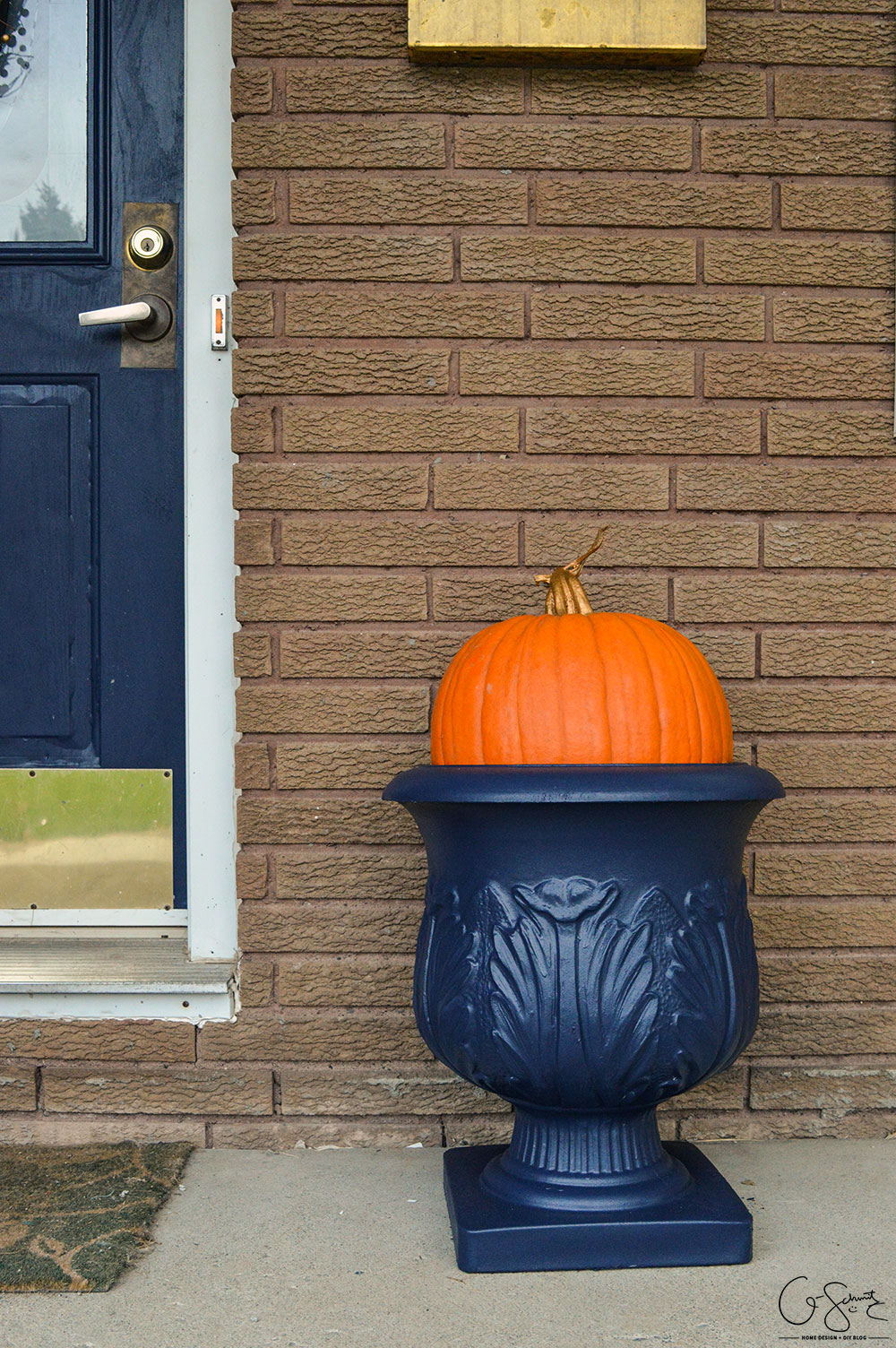 And finally, I have my painted planter next to the door stuffed with the biggest pumpkin!  Don't you agree that the blue planter really stands out (like the door) against the brick?
I'm not sure if I'll keep both of the medium pumpkins where they are now, but I figured I have a couple weeks to decide before it's Halloween.  I also need to do something to cover up the exposed dirt/landscape fabric; and I was originally thinking of putting straw there and decorating that area.
In the end, I decided against it because buying a bale of straw is another unnecessary expense, so I'll just use some colourful (and free!) fallen leaves instead.  Now if only the leaves would fall a little bit faster…  Oh, and don't forget that I'll also be using the leaves for my DIY gravestones too!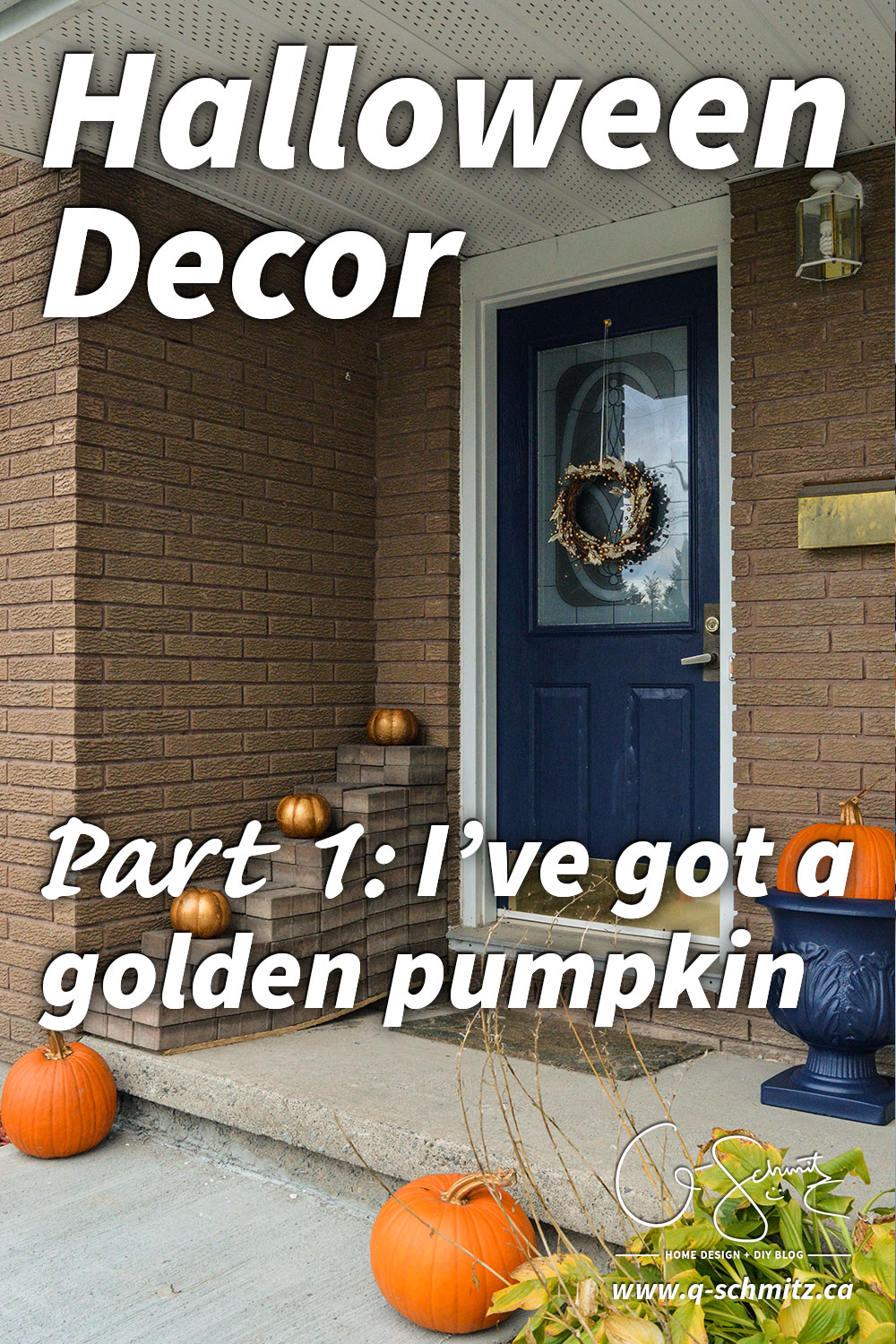 I think I'm about 75% done the outdoor Halloween décor, but still have a few small touches to do.  I think it would be cool if I had some white pumpkins, but I haven't seen any this year (and now I'm starting to doubt that they exist?).  So here was Part 1: I've got a golden pumpkin… and Part 2 will be coming to you at the end of the month (you know, by the time the leaves have fallen) and will be all about making the Halloween décor look good at night for the trick-or-treaters!
Are you looking to work with me in promoting your products or services?  The Madness and Method Blog would love working with relevant/useful/appropriate businesses, please contact me to discuss ways we can coordinate and partner together.
Modern Masters did not sponsor this post; however I did receive free paint by attending the Haven Conference.