Have you started to decorate for the holidays yet!?  Normally, I try and make it to December 1st, but I just couldn't resist the Christmas temptation this year!  I shared our tree décor last week, and today it's all about our Christmas mantel décor!  Check out our winter wonderland mantel…
I'm also excited to mention that Wayfair.ca has sponsored this post.  If you haven't had the chance to stock up on Christmas decorations and supplies, you're going to want to check out their selection!

Right before I get to the nice holiday pictures, I had to share a "before" picture of how our mantel is normally decorated.  We have a red brick fireplace in our basement, and I usually keep the same décor up there all year round.  I'm actually planning on painting the bricks and mantel soon-ish, and I've always been hesitant to change up the décor down here because I don't really like the way the basement looks.
Now that we have our office/desks down here, and since the baby's been around… we are downstairs (almost) all the time.  So I HAD to decorate the space this year… and I'm going to let you in on a secret… I LOVE it!
I went with the same "Winter wonderland with pops of blue" theme (like our Christmas tree) and incorporated a lot of the same elements.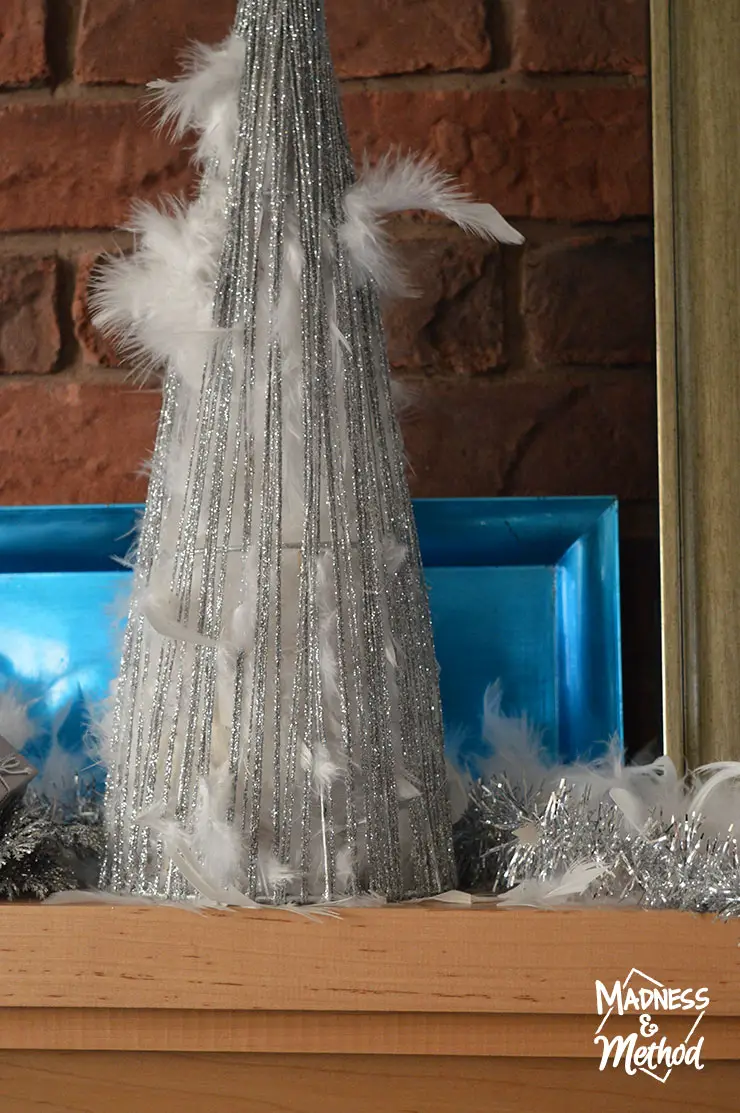 I did get a few new pieces, and experimented using my feather boas in different ways (I did not go with the above option).
To achieve the look I wanted, I went with a cohesive colour palette of white, silver, champagne and bright blue.  I also tried to mix up the heights of the different elements, and wanted a balanced, but not perfectly symmetrical look.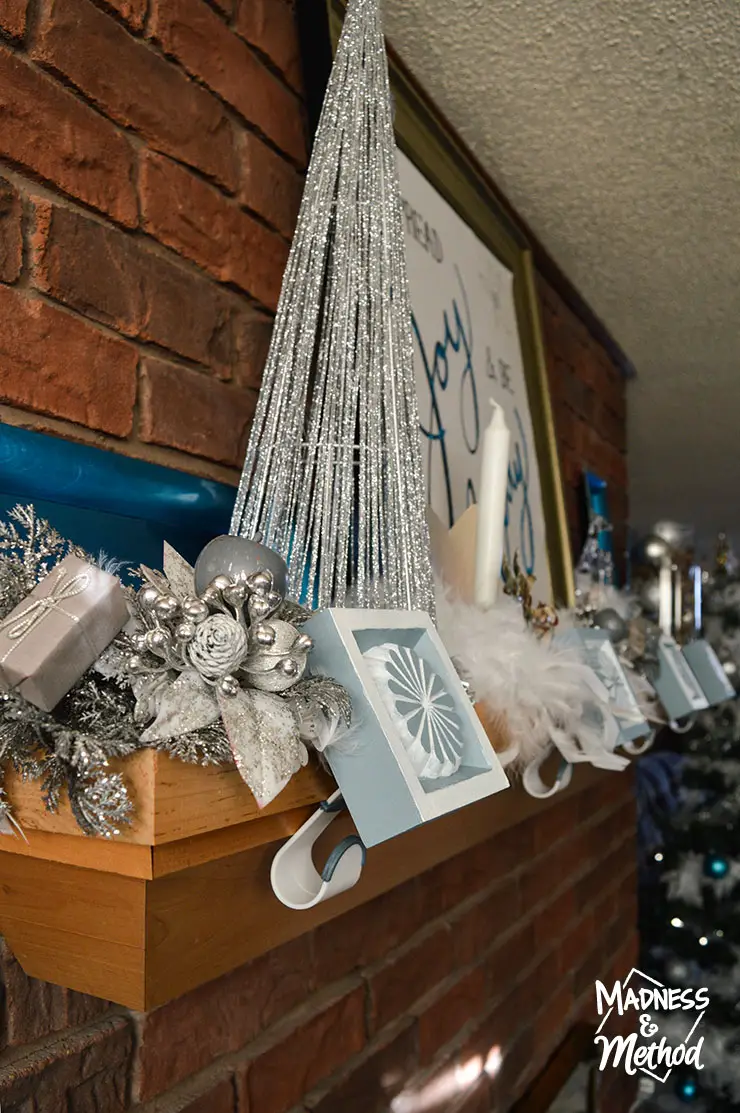 I think the neutral-ish colour scheme works well against the traditional red bricks, and I'm happy my DIY stocking holders match the theme too.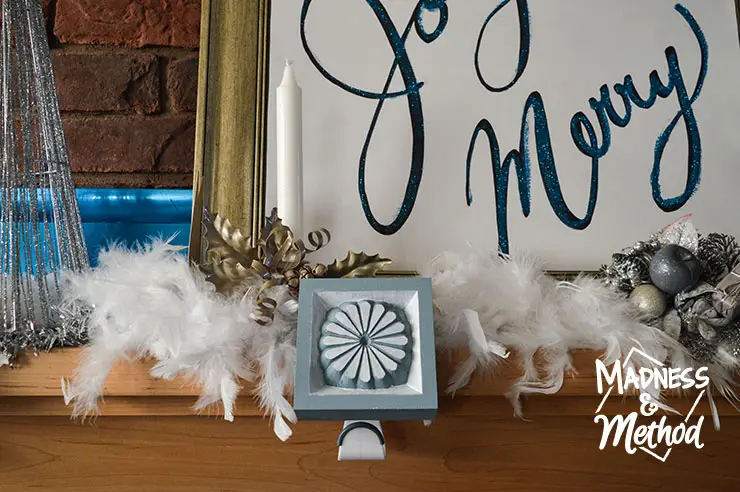 Since I used a lot of décor items I already owned, I did need to tweak them a bit to fit into my theme this year.  For example, the candle holder used to be red and green, but a quick spray paint updated it nicely!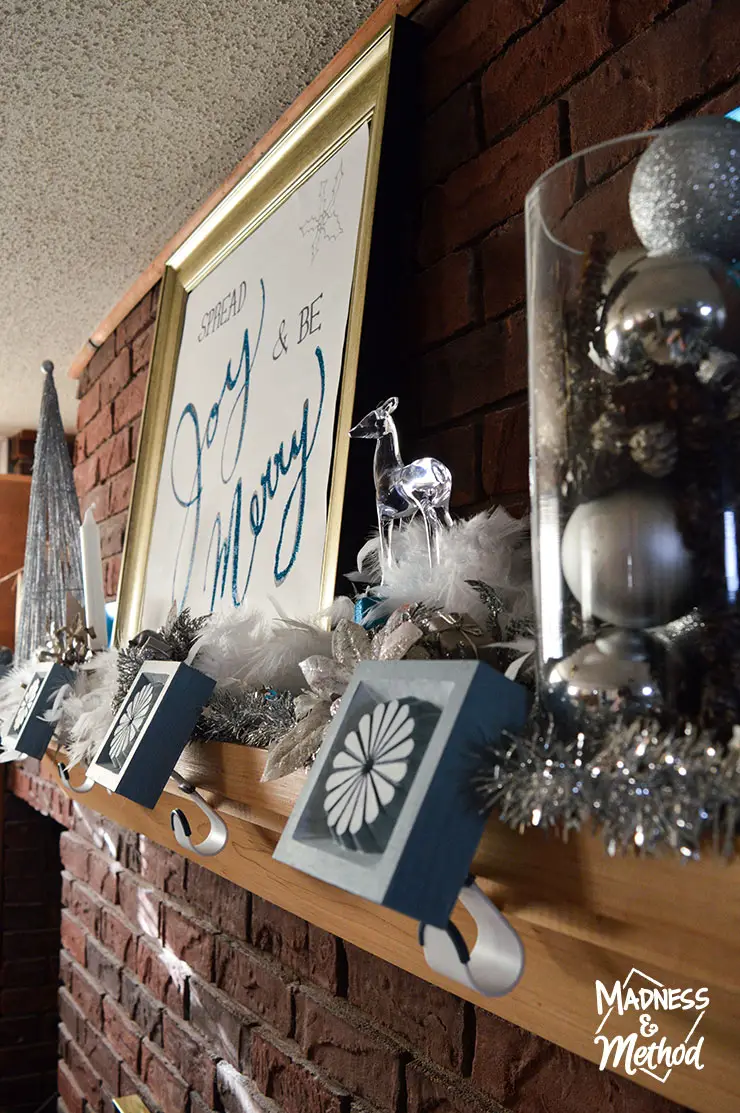 Our basement surprisingly gets a lot of natural morning light (considering I have the blinds closed!).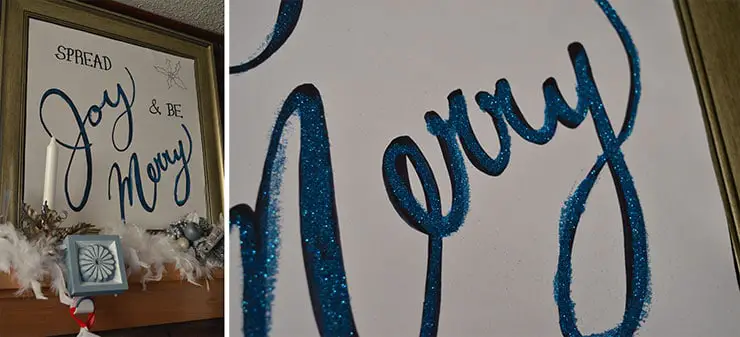 I even made a nice piece of art for my Christmas mantel décor!  I liked the frame colour of this painting (it was left hung in the basement by the previous owners) so I simply cut a piece of white Bristol board to fit inside, drew up a nice slogan, then glitter-ized it to match :)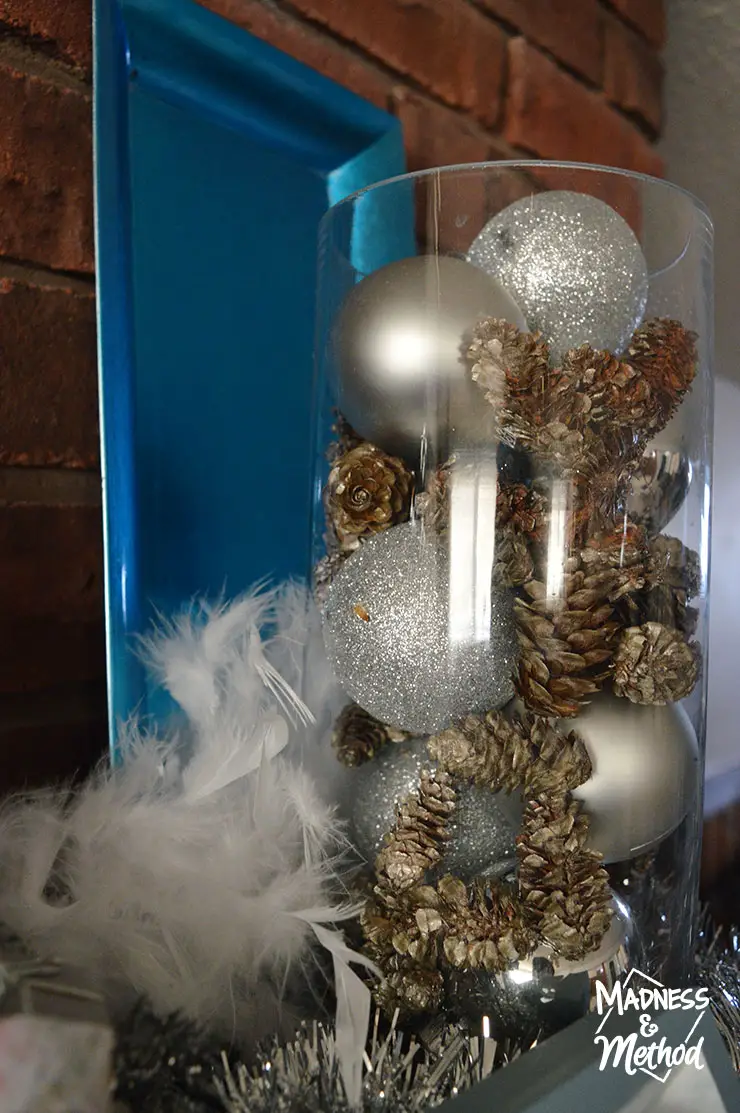 I had a clear vase filled with extra silver Christmas ball ornaments, but it was looking a little plain.  To fill in some of the negative space, I found these mini pinecones outside, gave them a coat of champagne spray paint and dropped them in.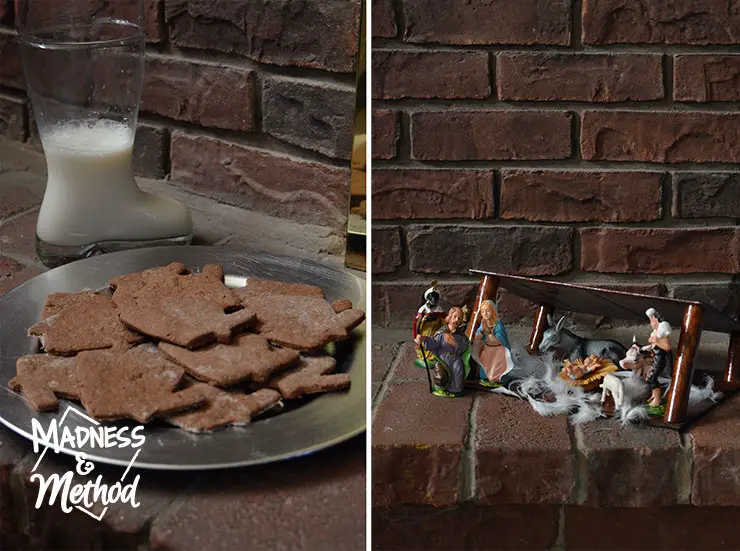 Not wanting to leave the hearth empty, I set up our crèche (nativity scene) on the right side near the tree (with fallen feathers as the hay!) and set out some cookies and milk for Santa.
I have since moved/eaten the cookies because Tootsie was eyeballing them!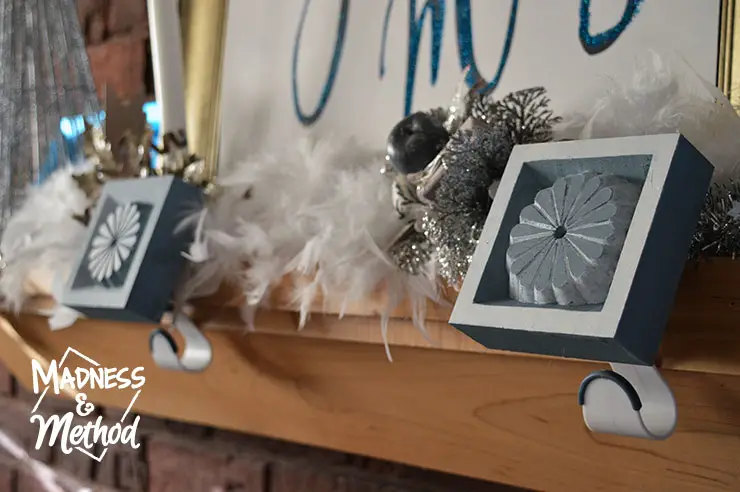 The base of my mantel was filled in with a white feather boa and a silver garland (there's also a string of lights behind it too) and that helped "fluff" it up a bit rather than just have the plain wood.  I weaved them in and out between the different elements to create some dimension.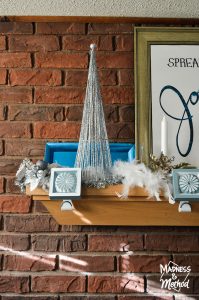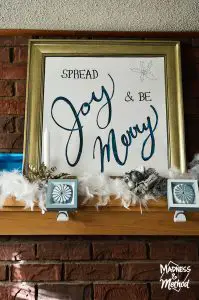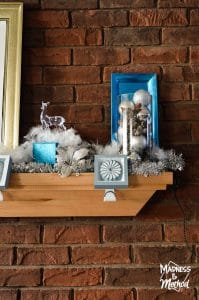 I tried to keep an even balance of colours between the silver, champagne and blue.  And even though the red bricks aren't my favourite… it does add a nice contrast to the light colours I used.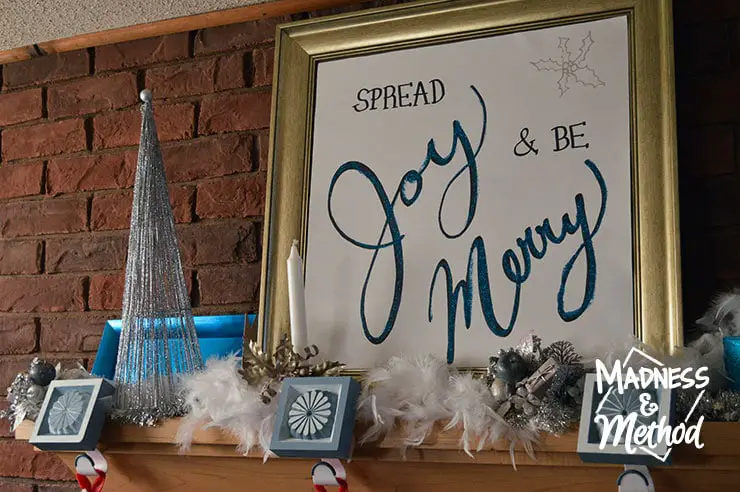 Right now, our mantel looks the exact same; except that I've hung our stockings (you can sort of see them in the photo above).  I'm still thinking of updating them in the future… so they do clash a bit with my theme this year haha!
At night, the mantel looks much different once you turn the lights on!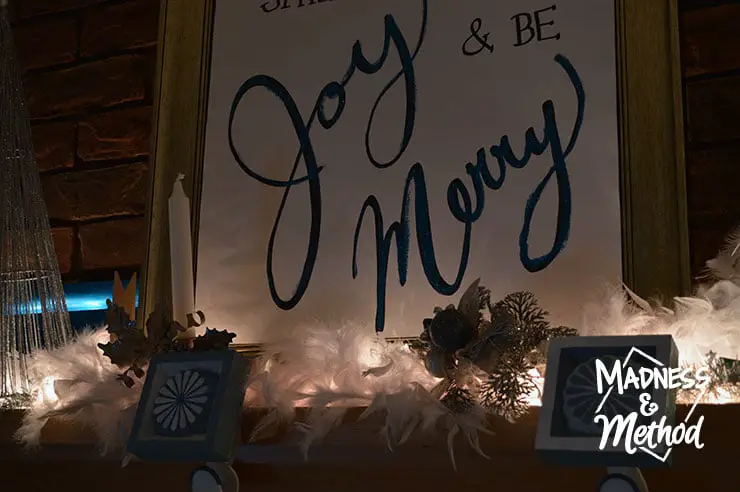 The white feathers and silver tinsel garland glow, and everything looks real winter wonderland-y.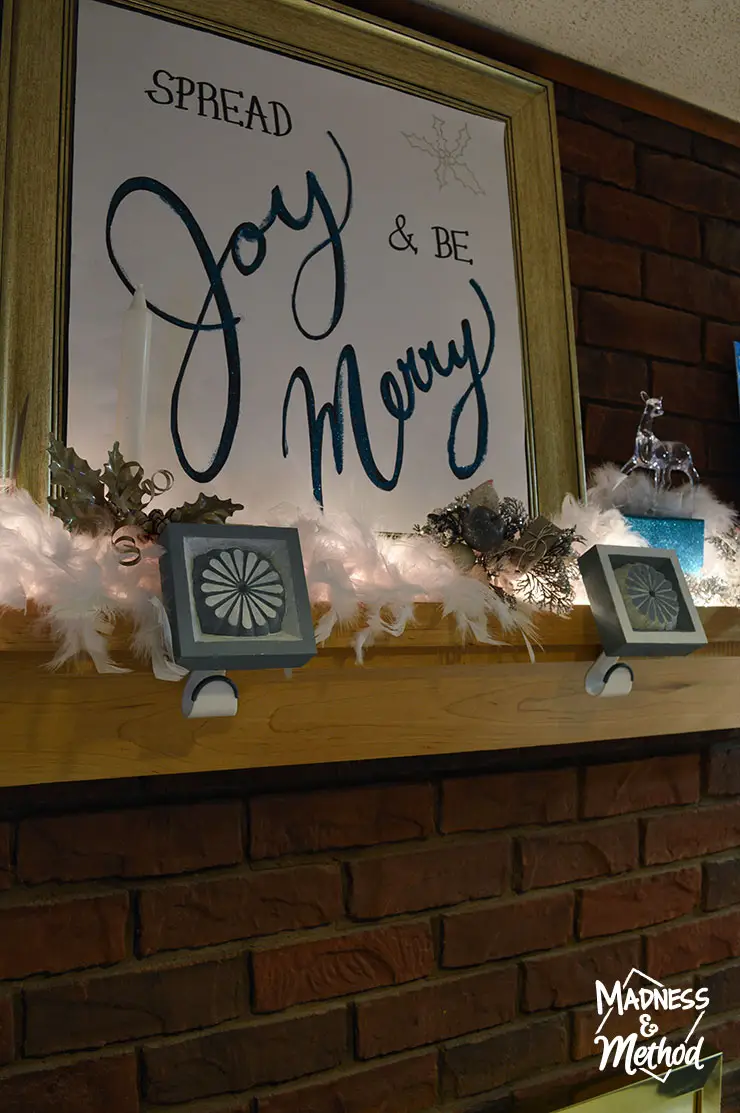 I hope you've enjoyed the photos of our Christmas mantel décor, and I'm happy that Wayfair.ca wanted to work with me to share this post with you!  I just ordered this Christmas ornament organizer and I'm excited to re-organize my décor in the New Year.  Even though I don't have the mantel I want or the tree I envision (I actually want a black one!) – the decorations look great anyways :)  And make sure to check out all the decorations on the Wayfair.ca website for even MORE great ideas!
My #1 tip for today: it doesn't matter if a space isn't exactly how you want it to look, you can still work with it!  Who knows if our mantel/fireplace/basement will be updated completely by next Christmas, but I sure am glad I decorated it this year because it makes me so happy.  It is literally embodying my quote "spread joy and be merry"!
Pick a Picture for Pinterest: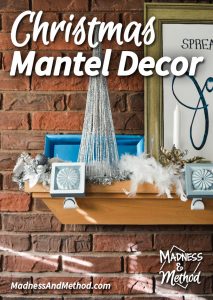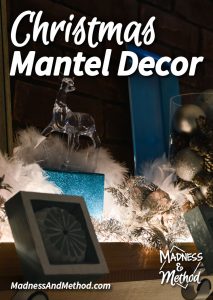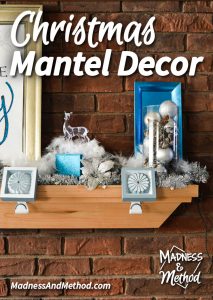 Do you have a mantel you decorate each year… or are you more like me and used to be afraid to decorate that space because it wasn't "perfect"?
And, since you've made it to the end, a few more pictures: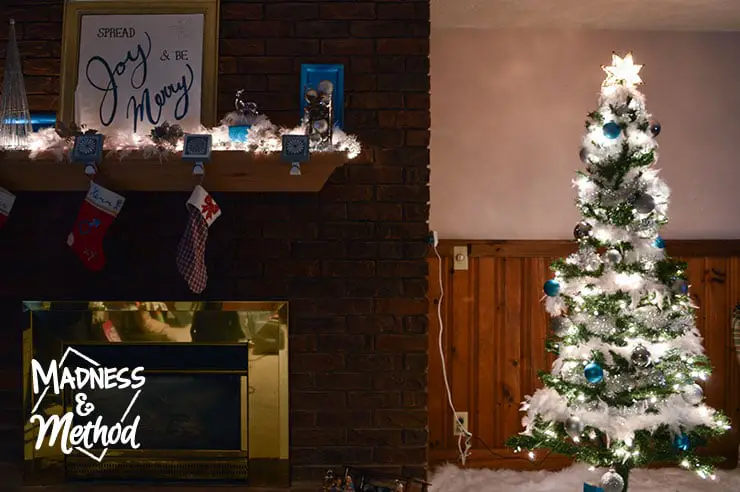 Here's what the mantel looks like next to the tree…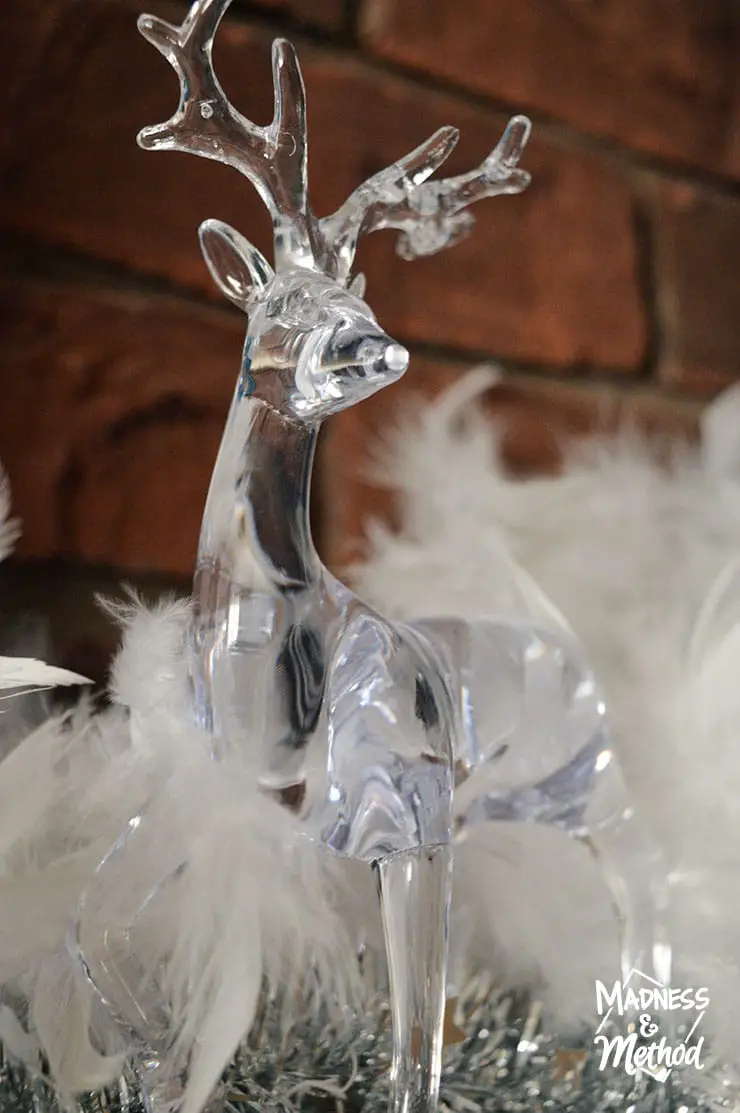 And just in case you were wondering, my little reindeer had an accident when I was testing out the DIY stocking holders (my failed attempt).  I've since glued his antlers back on, but he's missing them in a few of the photos… did you spot that?