Hello All!  Continuing on the home tour theme, today we'll look at some pictures of the living and dining rooms.  They are both open to each other, so I figured it was easier to photograph + write about them together, than try and split them up.  You'll also notice a handy "Current Home" tab link in the top header and you can always check there to see the layout of the house and where everything fits together.  Let's begin, shall we!
The first main wall you see when you enter the house is this one here, which is the back of the kitchen.  Wayyy back ago it was just a blank wall (see the sneak peak of the old kitchen in the photo above?) but I added an Ikea cabinet to help anchor the space, cover the vent and add storage.
You'll notice that Ikea is the theme in the living and dining room, because over 80% of our stuff comes from there!
We've since added some storage bins to hold our stuff, and have a humongo Tootsie crate to the right of this cabinet.  See the crazy bright beams on light?  Those are coming from the bay window on the opposite wall, which you will see in a few photos from now.
The big white boxes hold seasonal stuff like mittens/scarves, the Husband's hats, my Scentsy collection and Tootsie's surplus (in that order).  There are little red baskets from the dollar store above that and atop the cabinet are some framed medals (the Husband's of course) and my Scentsy warmer.  We keep all of Tootsie daily supplies on top of her crate.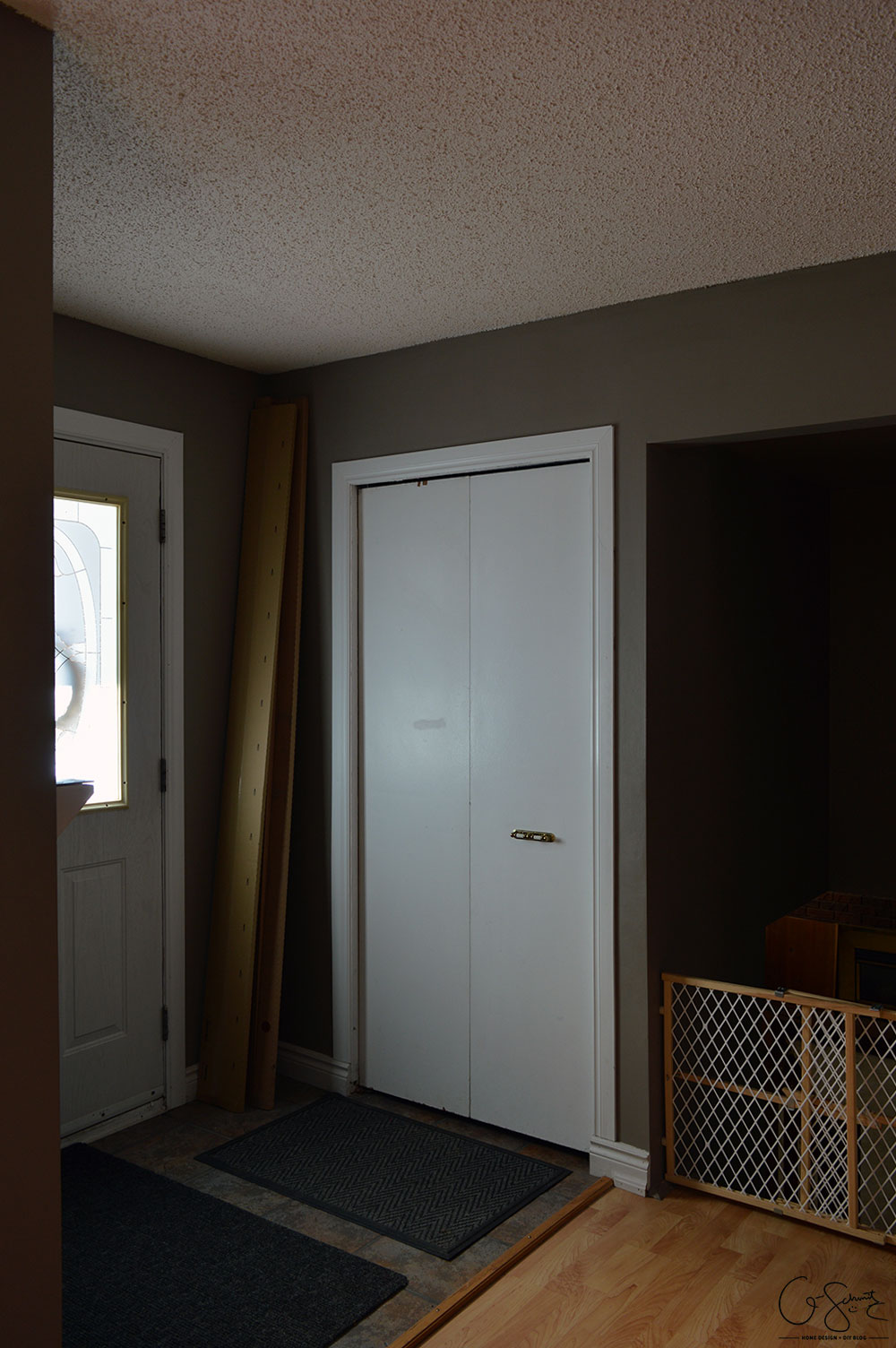 Looking back where we just entered you'll see our little foyer area and closet.  Normally, we keep this door open so we have quicker access to the coats/shoes (and it also hides those boxes).  Our entrance mirror is on the wall opposite the closet.
This photo shows that space better.  We live in a side-split house, so the basement is a few steps down (past the Tootsie gate) and the upstairs is a few steps up.  The bathroom is the first room on the right (see the orange glow?).  Remember, you can check out the layouts here.
I read somewhere never to trust someone that has a TV bigger than their book collection, so I felt the need to display my books near the TV (just in case anyone thinks we don't read around here).  Yes, one day I made the mistake of leaving Tootsie loose in the house for a few hours and she got a little chewy and attacked my books.  I came home and they were all off the shelf and chewed up (some I had to replace) but the real miracle is that she didn't knock the cabinet over (with the TV).
Not that I cared about the TV!  I was more worried that she could have hurt herself :(
Behind the TV I hung my DIY painting, and it looked much better here before the TV was up, but what are you going to do?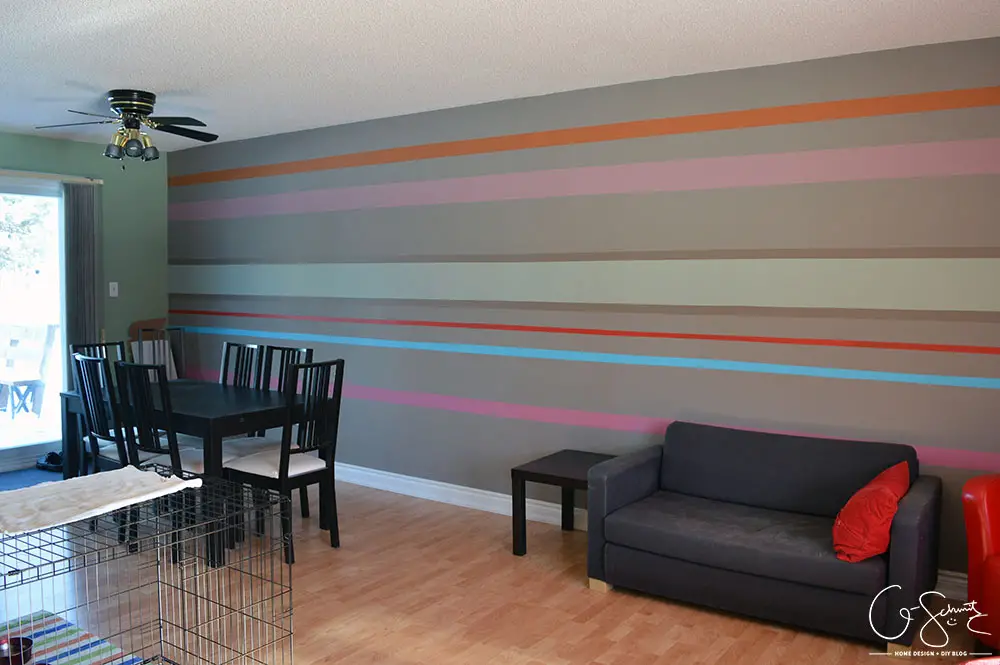 Looking back to where I was just standing, you can see how the Living and Dining rooms are connected.  We have a fun feature wall and I'll explain the concept behind it in a few weeks from now.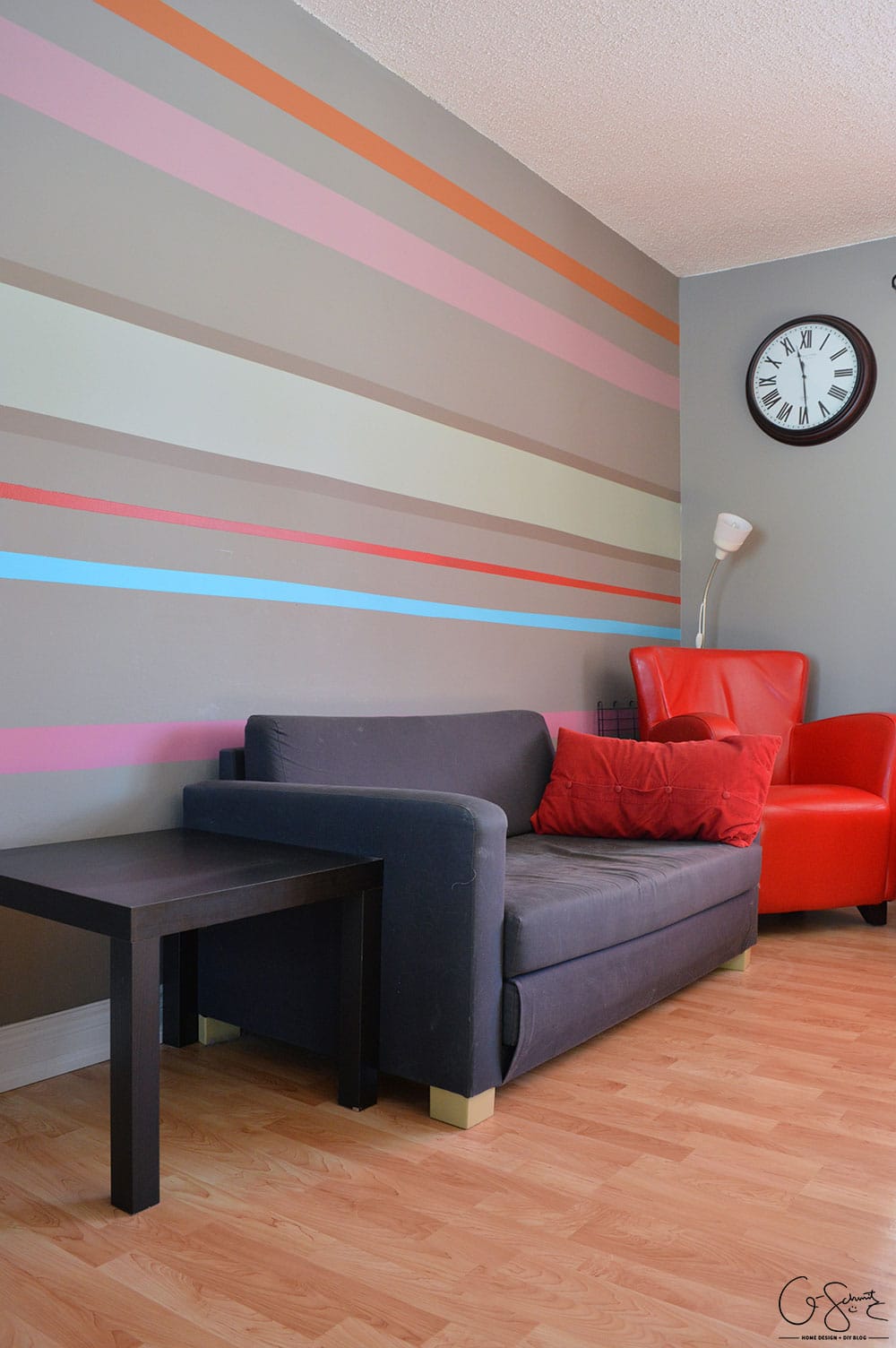 I think this red chair is the only piece of furniture that doesn't come from Ikea.  My Mom purchased these two couches (and the chair, dining set, etc.) for our house when I lived in Ottawa.  This chair was from the Brick discount store and I think it was a floor model.  (The theme in the Ottawa house was grey and red, so you'll see a lot of those elements here too)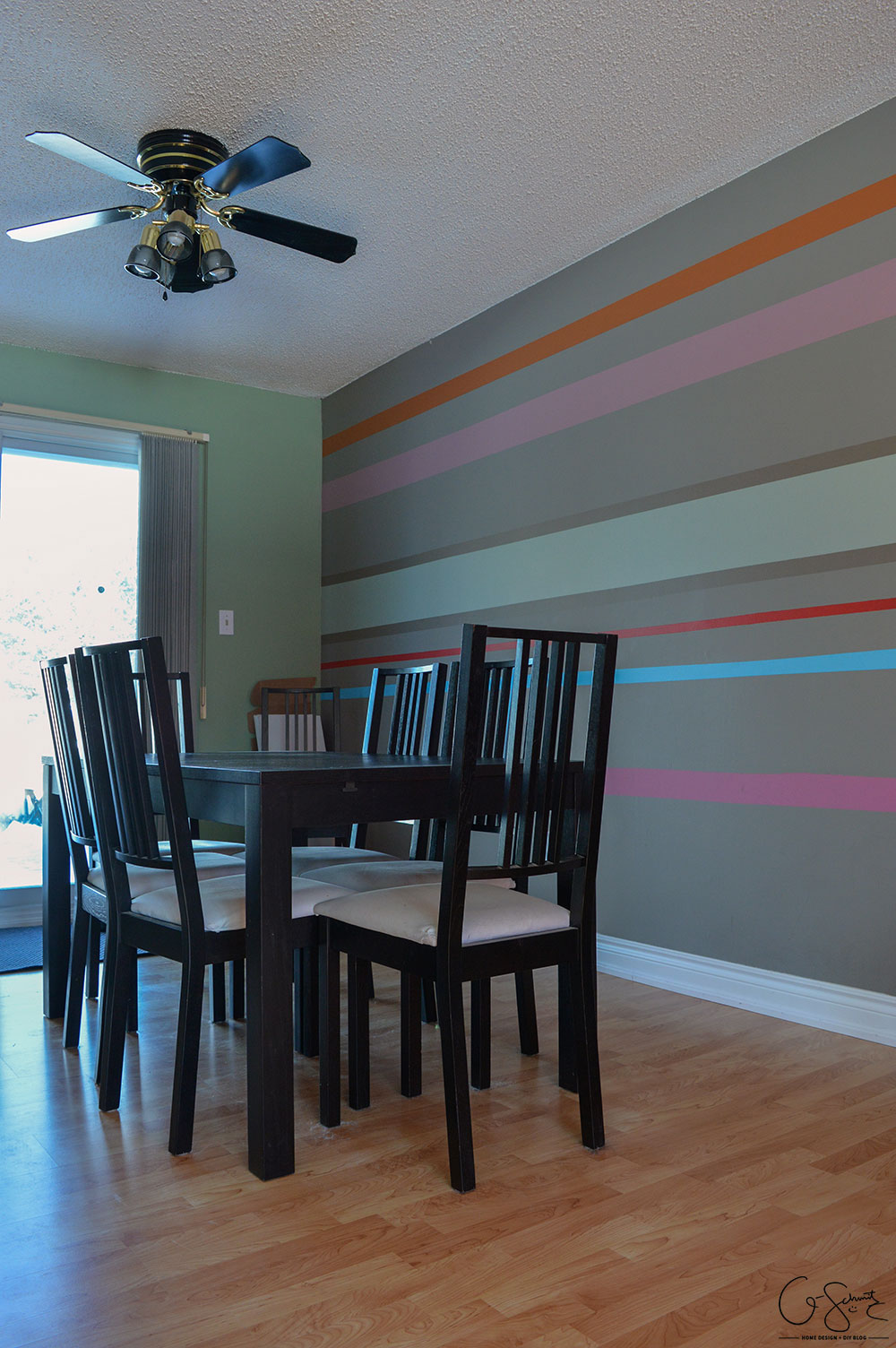 Oh look, the Ikea dining set I was talking about!  This is what the table looks like when it is at its smallest (there are two leaves hidden below the table top) and next week I'll show what it looks like when it is fully expanded.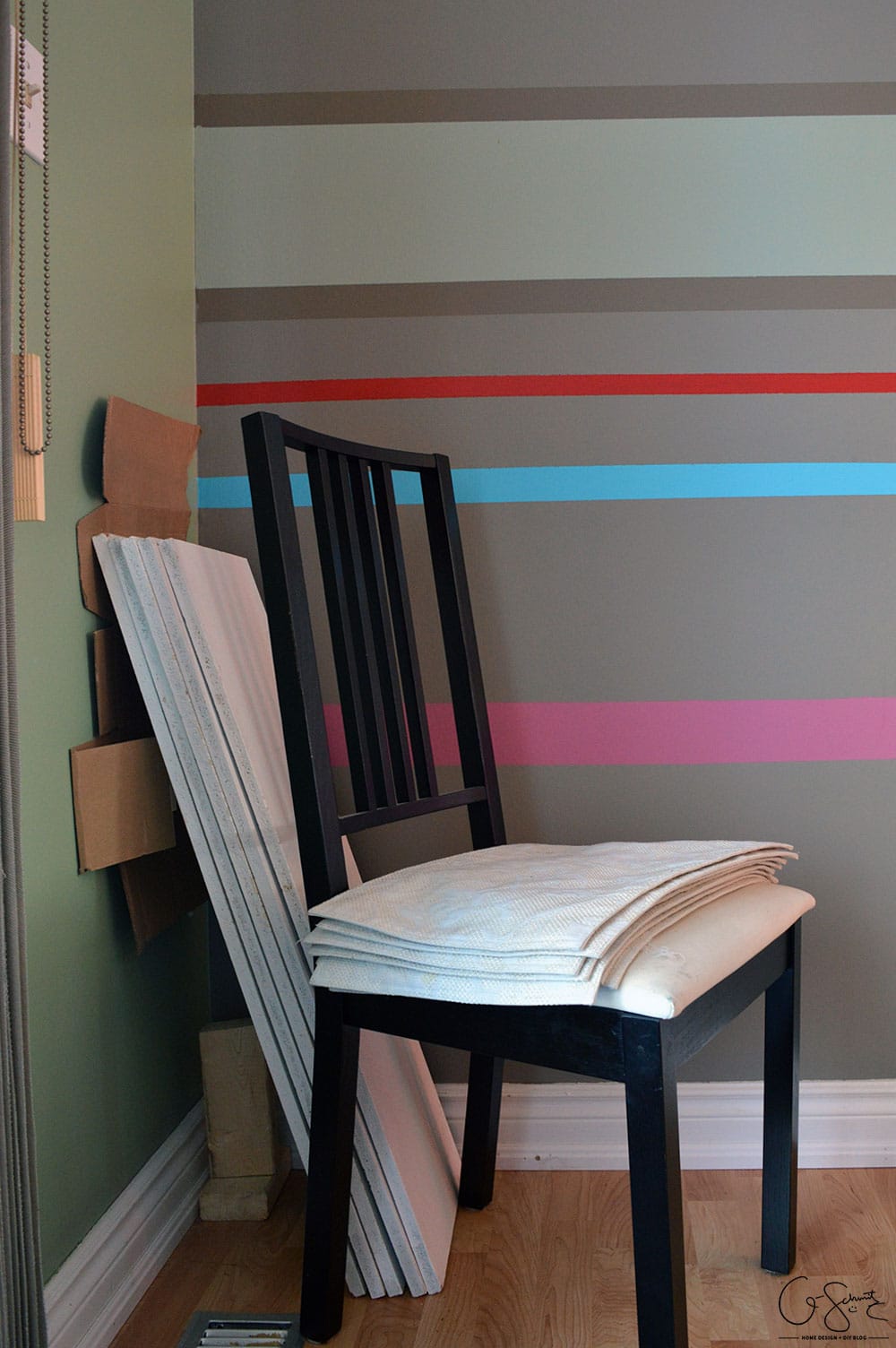 We have a wayward little chair in the corner that holds our placemats and we don't use it because the leg is broken.  It's also cleverly hiding some boards I plan on using for a DIY project in the future, but don't hold your horses because they've probably been in this same spot for close to a year…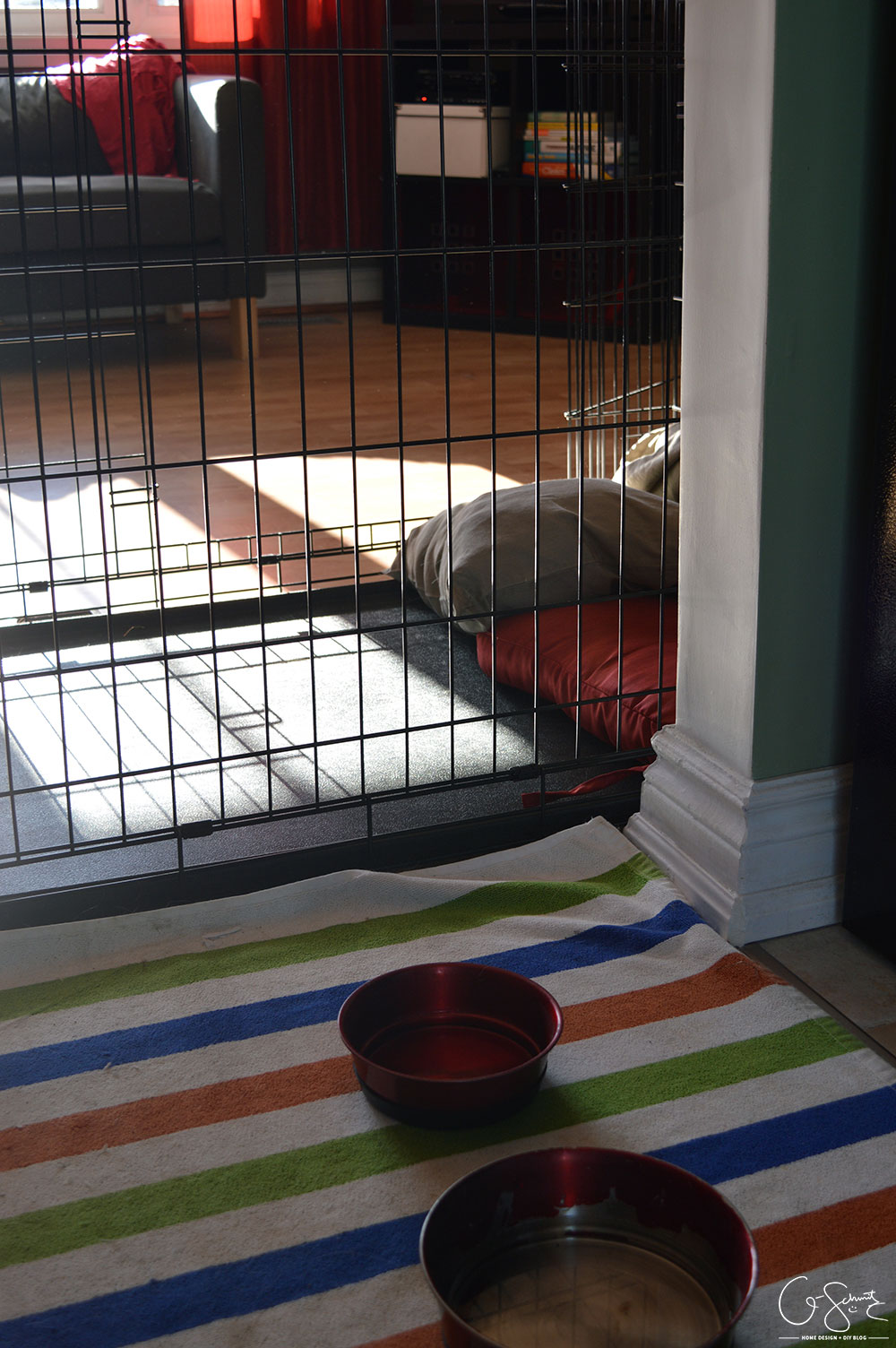 We put Tootsie's bowls on a striped rug (yes, it's from Ikea) on the floor next to the fridge… and you may notice that lovely wall from my post about finishing trim!  With her crate where it is in the middle of the room, she can see out the front window and the back sliding doors all at the same time!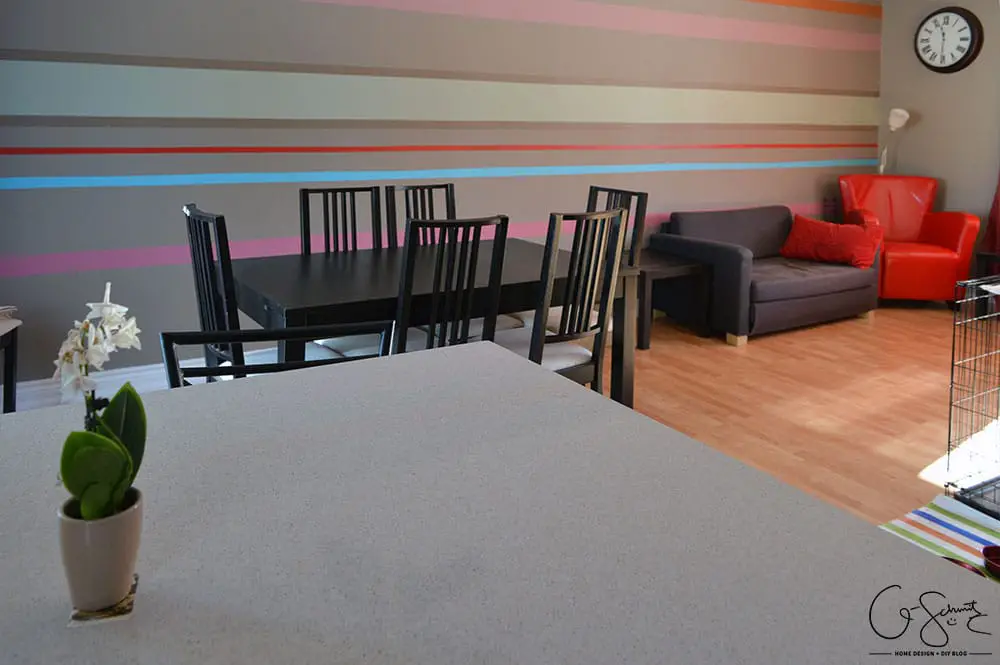 And here I am standing at the kitchen peninsula looking into the Living and Dining rooms.  Removing that wall was a great idea :)
Oh, and my little orchid was a gift last month and it is still alive although the leaves are browning.  I needed to include its picture to show it was still in okay condition.
Here is that other Ikea couch I was talking about.  It's right in front of the bay window, and Tootsie loves this spot the most.
Maybe you remember these two photos from Desire to Inspire?
The back cushions on our couch are probably perma-lumpy from Tootsie always standing on them.  And when I nap on the couch she snuggles on the back cushion next to my head.  It's pretty cute :)
Here's another cutie if I do say so myself!  He was watching me take all these photos and said I am always taking photos.  Umm dear, I need to put them on my bloggy okay?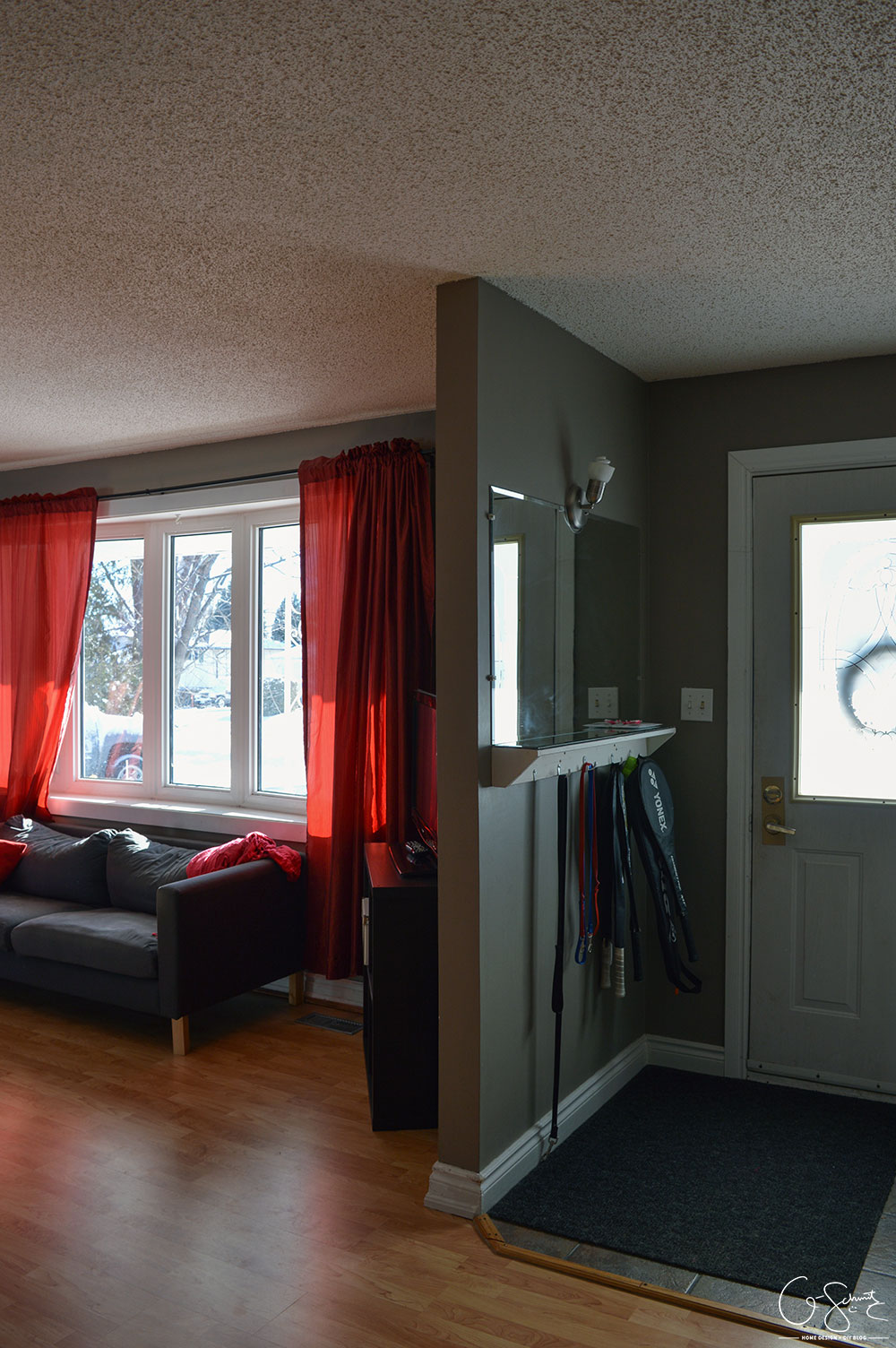 And we come back full circle to the entrance way, where our little shelf hooks are working overtime holding some rackets (there are more rackets than people who live in this house if you are counting).  One hook broke so I will get a few more and hang some in the closet so the rackets have a designated space (hidden from view).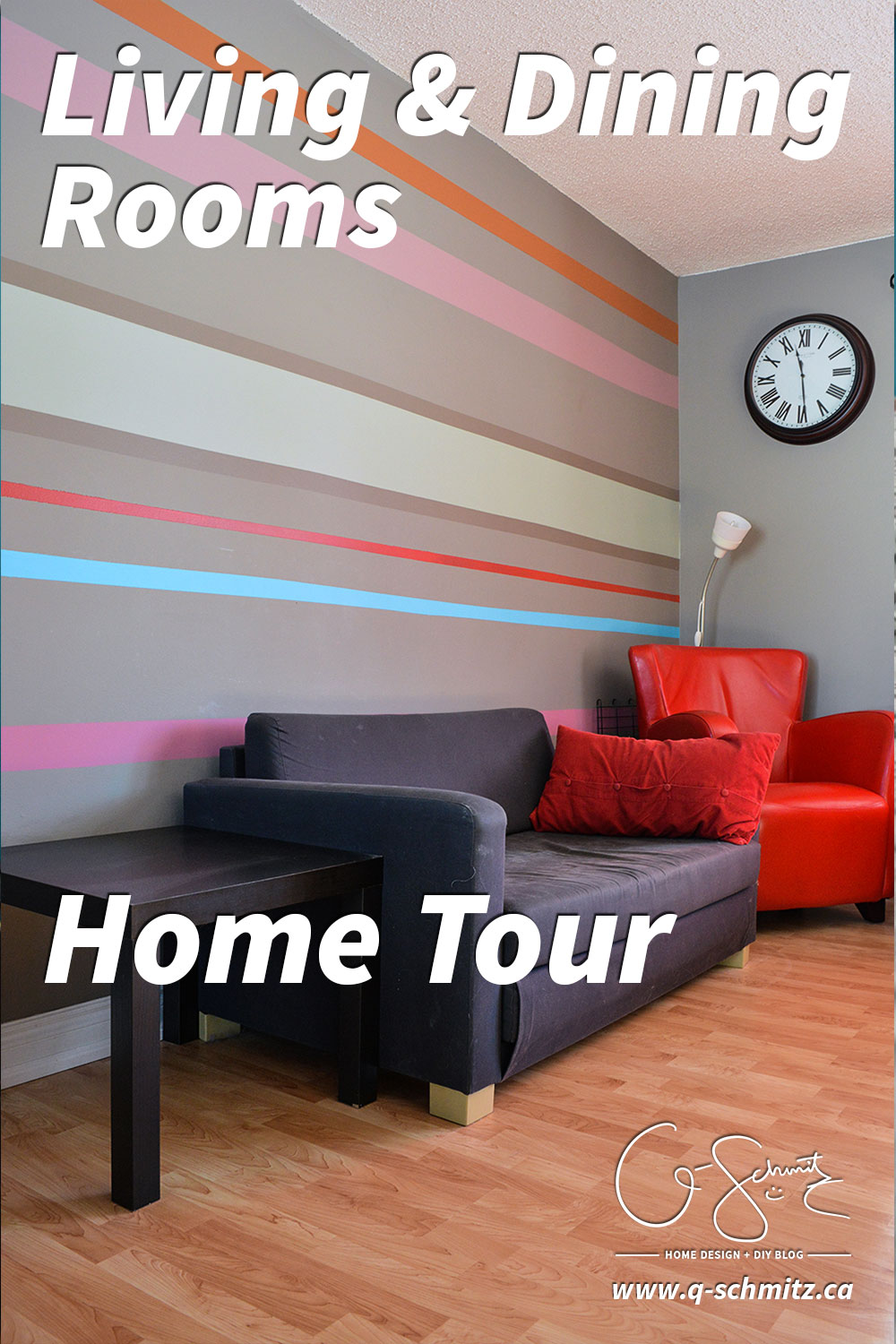 And that concludes the tour of the Living and Dining room, but for extra special fun I thought we could play a "look and find" game to see some sneaky treasures that I have hidden in this space.
I've already mentioned the boxes behind the front door, and the white boards behind the chair, but can you find these other mysterious items:
A PVC plumbing pipe
A random piece of Tootsie crate (I think it's a divider)
A fallen picture frame
A moose
A workout station
A lip gloss
A copper pipe
Comment if you find them!