This weekend we actually started work on the garage, and we were able to clear everything off the floor and bring all our garbage to the dump.  It only took a few hours, and obviously looks much better than it did when it was full of mess!   Today I'm sharing pictures of our empty garage plus an actual to-do list so that we can get this makeover completed on time!
In case you need some help catching up, we're giving a makeover to our garage as part of the Fall One Room Challenge.  It's a twice-yearly event that challenges you to renovate a space in your home in just six weeks, and we're just approaching the half-way point.
In Week 1, I shared some messy before photos of our single-car garage; and in Week 2 I shared the design plans for the space.  There are 20 participating designers also updating a room in their homes, and other DIY bloggers can makeover their areas and link up too.
While most of the stuff in the garage went to the dump, we kind of spread everything else out in the shed, our living room and the back deck…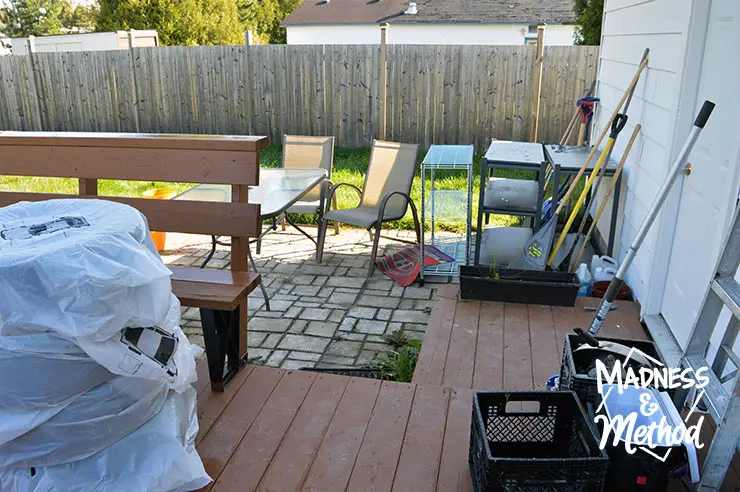 We actually don't have too much stuff in our garage, but everything is kind of big and takes up space!  I also wanted the Husband to put away our patio furniture while he was going back and forth to the shed… but I guess we'll leave it out for a bit longer?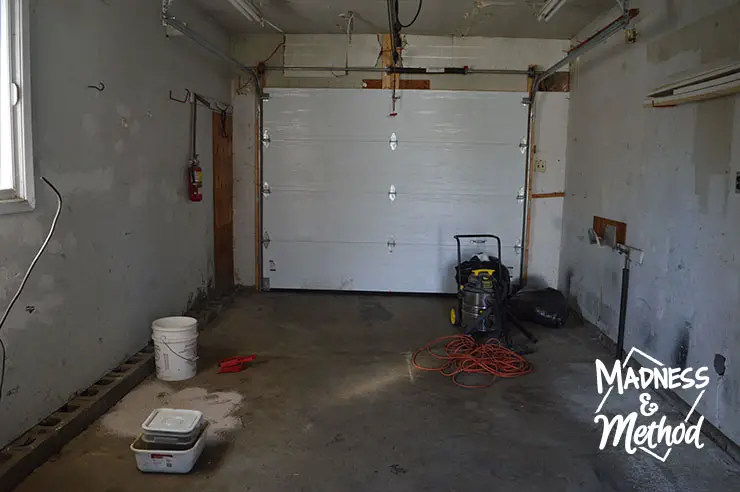 We even purchased our new shelving unit this weekend!  I was worried that we wouldn't be able to get the exact same one as before (we bought it at Costco a few years ago) but thankfully they still had the same one, yay!  It was cheaper than the alternative I found, and is currently sitting in our living room waiting to be assembled.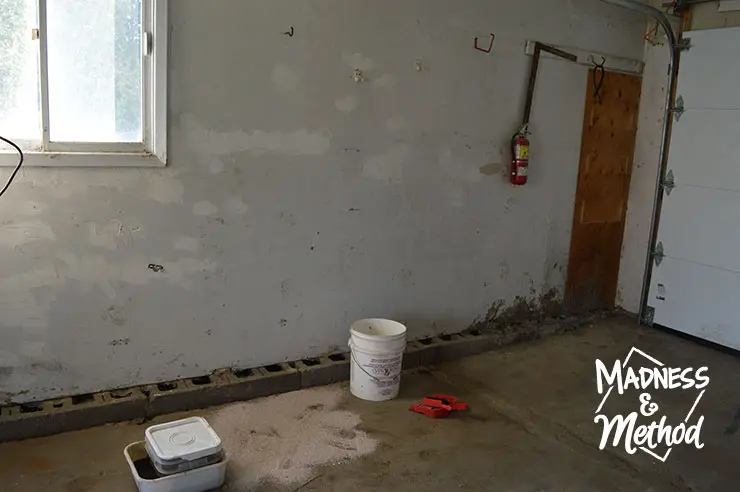 I was hoping to have everything everything out of there, but the Husband just wanted to get the floor cleared up for the concrete people.
I've finally written down our to-do list for our garage makeover, so here's what still has to happen:
Concrete floors resurfaced (happening this week)
Remove old heater
Remove cabinets/old peg board
Remove all random hooks + pieces on walls
Patch walls (and ceiling!?!?!?)???
Mix colour + paint walls
Purchase, paint + install new pegboard
Install casing around door
Install new shelving unit
Purchase + install new heater
Build + install overhead wood storage
Figure out (and install) tool storage hooks
Organize all our stuff
Since we have 3 more weeks for the One Room Challenge I'm hoping I can get at least 4 tasks accomplished each weekend.  We technically also need to give everything a good cleaning (I did vacuum a bit, but there's still some nasty cobwebs and dead bugs that would get in the way of my painting…) but let's just leave that one as a given.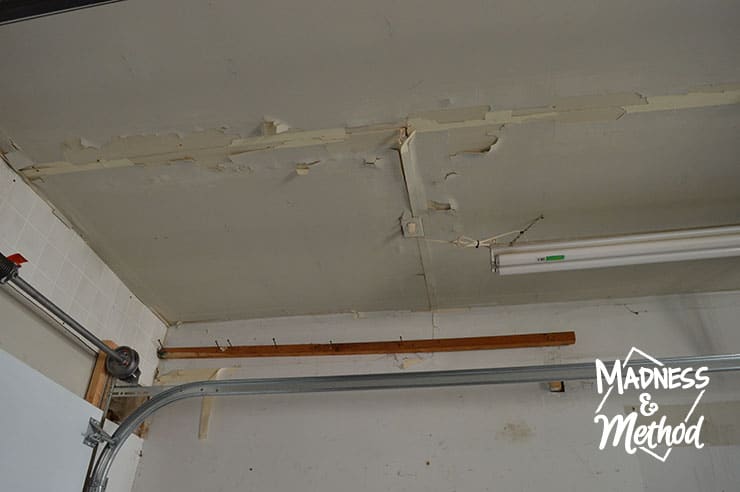 After taking a good look at the state of the garage, the Husband was kind of thinking we need to fix up the peeling ceiling too, ("because what's the point of making everything else look good if that looks bad").  But he didn't really jump at the chance to volunteer to patch it, you know what I'm saying?  I was also hoping to get by with a quick patch in some of our problem areas, but I was going to skip the whole sanding it and making it smooth…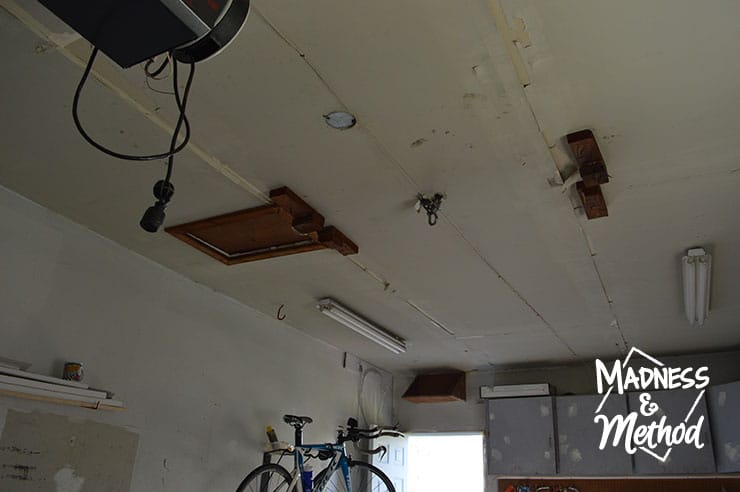 Oh, and the temperatures are starting to drop around here, and some days it's super chilly (not good for patching and painting!) so I'm thinking we may have to rush that heater install if I want to actually get a lot of this work done.
Hopefully we get a few more warm days anyways!
Ha, I just had to include a picture of myself showing off our too-tall cabinets.  Tootsie is just staring at me from the doorway wondering what the heck is going on!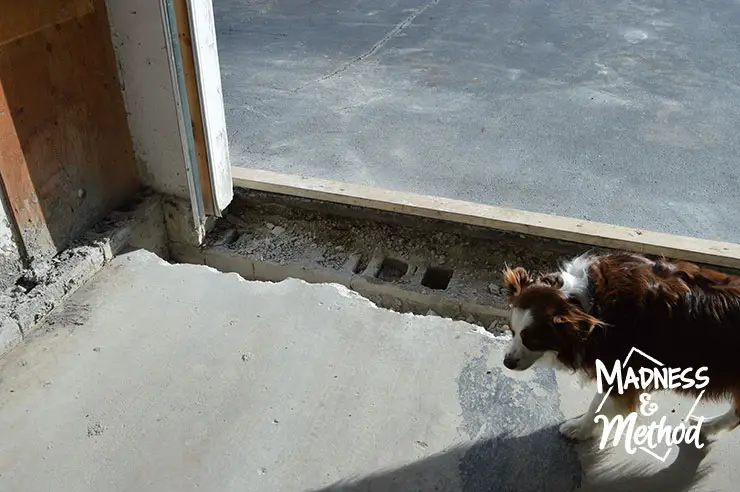 Today the concrete people had to come in and take a foot or so of concrete out from the end of the garage. They are pouring on top of our old slab, and they needed to be able to create a deep enough section at the end so it doesn't split off.  I think the pouring itself will happen tomorrow, so hopefully it cures in time for me to get in there to start the other tasks!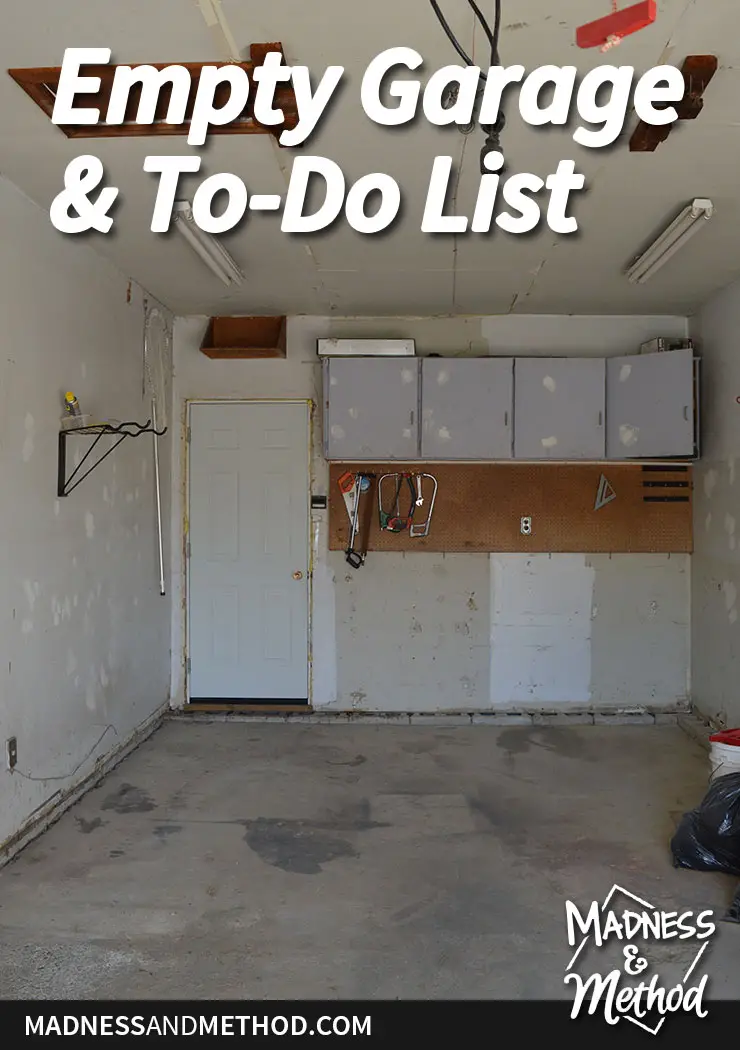 So that's pretty much it, and I'm worried that we haven't been getting enough done in the first few weeks. It will definitely be a mad dash at the end, but I'm pretty sure everything should be done in time! But for now, doesn't the empty garage actually look sort of decent? (You know, if you ignore the peeling drywall, sinking concrete and what not…)