Whoa, where did time go!?  Can you believe it's the second week of the Fall One Room Challenge already? There are a lot of great makeovers happening, and I bet bloggers around the world are knee deep in projects and ordering fun stuff.  Us?  Well… technically we haven't even started yet…  Rather than showing all the same bleak pictures as last week, today I am going to share our single-car garage plans instead.  I have a basic outline and colour scheme, so let's hope that's enough to get going and make it awesome!
And just a bit of a preamble: twice a year Linda of Calling it Home hosts a One Room Challenge wherein she invites 20 featured bloggers to share a room makeover that happens in real-time over six weeks.  Any (and all) other DIY bloggers can also link up their own room makeovers at the same time, so let's just say by mid-November there will be a BUNCH of fancy new rooms to show off.
I'm linking up for the third time (but first in the Fall!) and we've previously built a bathroom in our basement and updated a cool bachelor bathroom for my brother.
This time we're doing a makeover in our garage.  We've only got 4 more weeks to go, and we still haven't cleaned a single thing (and if you missed the before photos from last week, we're starting with a really messy space).
Garage Needs
We're hoping to keep the "work zone" functionality we have in there now, but the Husband really wants a designated area for biking.  He's kind of obsessed, and last winter he setup his stationary bike station in our basement.
You know what's annoying?  Trying to watch TV or work on the computer with a big hum of pedalling.  Not to mention the heat and sweat he generates after a few hours (yes I said hours, he trains like a maniac…).  Not to mention he can't really pedal while the baby is awake, since that's our designated baby zone and the little mister always wants to touch the moving gears (safety issue, much?).
Anyways, he mentioned setting up his bike zone in the guest bedroom (to which I said, no way – it's nice in there and the pedalling will be annoying for the mister when he is napping).  I suggested he could bike freely in the laundry room, but he said it might be too hot next to the furnace and there isn't that much floor space.  I also said I didn't mind if he used the upstairs living room, since it's a big open space… but I didn't want to have the bike in there all the time whenever he wasn't using it.
So that leaves the garage as the logical location, since it can serve as both storage and work zone.
Only problem is that it gets SUPER cold in the winter around here.  Like -40º cold (the garage is obviously a little warmer, but still, you don't really want to be out there too long when it's -25 or whatever it is in there).
SO we'll finally be installing a working heater in the garage.  Yay!
I mentioned last week that we're also getting the concrete floors resurfaced.  Those will probably be the two biggest expenses, and I'm hoping we can make the prettification super cheap and/or free.  We had looked into getting new heated concrete floors (kill two birds with one stone), but the cost was way more than we wanted to spend.
Single-Car Garage Plan Mockups
Our space is a long single-car garage, so it's just under 12′ wide by just over 26′ long (we'll go with 12×26 for simplicity).  A quick internet search (and measuring of my car) shows that we need about 18 feet of clearance for it to fit, leaving 8′ of workspace in the back.
I'd like to keep the sides as clean as possible, and I'm hoping we can get all our yard tools lined up on one side only.  I'm thinking the left/west/driver's side might be the best place to go, since our outdoor water tap is already there, and we're not planning on moving it.
I have the little mister's car seat on the right side of the car, and find that I need a bit more room to manoeuver him out (whereas I can always squish if I need to).  I had gotten into the habit of parking diagonally so that both me in the front left, and him in the back right, would have space.  But it would probably be easier just to reorganize our tool placement once and for all, right!?
I mentioned last week that I like our work zone already (aka my work zone since I use the mitre saw the most), so it will stay pretty similar here.  Our garage did come with some sort of propane heater thing, but we'll be ripping that out, along with the old upper cabinets.  (The yellow Xs mean that the stuff will sort of still be there, but cleaned up and maybe changed somehow).
I'm also thinking of getting another big storage rack and placing it along the back wall (under where the cabinets are now), and once we have the old heater out, we should have the space to move this one over a bit.  That way all the stuff on the ground will have a new home.
(Unfortunately I don't think we can buy the same model… grrr!)
The back/north wall will be going through the biggest (and hopefully best) change.  Out with the old, and in with the new!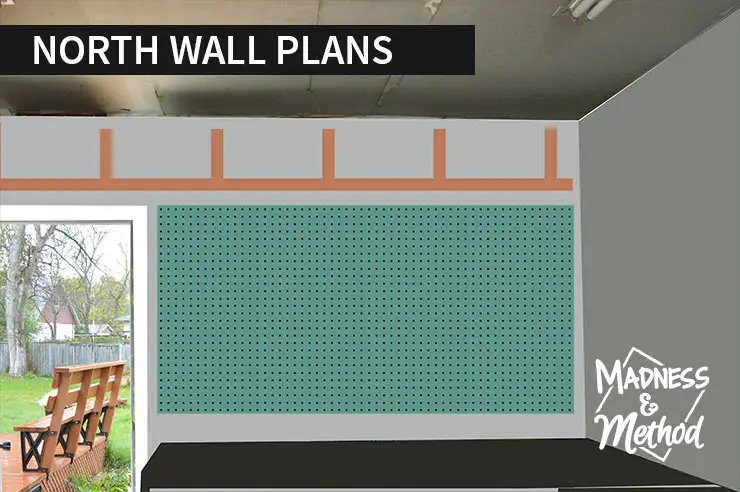 We'll be putting in a full 4×8 pegboard (I honestly have no idea how I'll organize it yet…) and I'll be building an overhead wood storage rack above that (again, don't know how yet).  The wood rack will hold all my extra long boards (like 2x4s, trim, etc.).  Last summer we moved my 2x4s to the shed, but I'd like them back in here so I can access them in the winter.
Right now we have a little Ikea Omar shelf here, but I'm thinking it'll just move over to the bike zone to organize the Husband's bike stuff.  I also have my winter tires in the garage, but we'll most likely move them to the shed (and by that I mean, put them on my car then put the summer ones in the shed).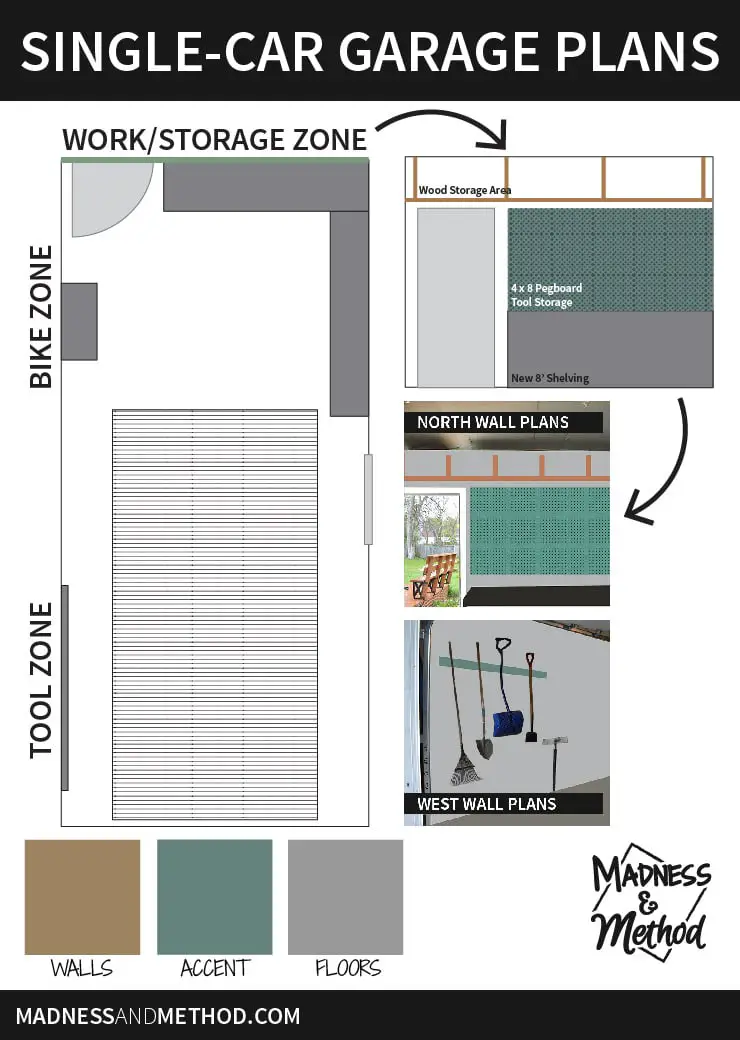 Here's an overhead view of the garage and how I envision the different areas.  Because we're looking to spend the bulk of our budget on the floors, the other two medium/large expenses will probably be the heater, then the storage rack.  I honestly have no idea how much heaters costs, and I told the Husband he was in charge of that (and he better start looking for options soon!).  The rest of the updates should cost little to no money, and I'm hoping to use as many materials and things we have already (like building the wood storage shelf out of wood I already have!)
I was thinking of we could skip painting the walls, but I'll just give them a quick coat or two to hide the scuff marks.  There are a lot of holes and patches that should be sanded, but I really don't want to do that at all in this room that will most likely get more holes!  For the colour, I was thinking of doing some sort of gray since I have a few options already, but I kind of didn't want to use what I have and may not have enough (I also thought about doing stripes in the different colours that I did have… but nope…) Then I remembered that I have SO MUCH beige paint for some reason, so I'll just mix up everything I have and go with that.  One thing I do know is that I want to use Para's Designer Indulgence (ps: now called Emerson 316 E) (leftover from my brother's bathroom makeover) as my accent colour.  I think it will be the perfect fun colour for our space, and should go with any beige or gray paint we end up using.
Apparently, we're getting the floors done pretty soon, so we need to hurry up and clean EVERYTHING out of the garage this weekend so they can actually do the floors. 
I think I've rambled on too much for today, so hopefully next week I can share photos of some actual progress.  It's hard to plan my One Room Challenge blog posts when I don't even know what will get done from week to week (which is a big difference compared to my normal, super planned ORCs from the past).
Might as well visit the One Room Challenge design bloggers who are more organized than me, or any of the other linking bloggers and check out their rooms!