I don't have many big changes in the kids' bedroom to share this week.  But, everything is pretty much getting set for the reveal next week!  I'm excited to be done done done this room, and I know the kids are looking forward to a finished space.  Although, Zachary did ask if his room would be ready for his next birthday (he literally just turned 5), ha. ha.  Either way, let's look and the new light and the primed walls!
– Note: This post contains affiliate links. See more information about affiliates here. –
Let's review the past few weeks of the Spring 2021 One Room Challenge, shall we?  Week 1: design plan, week 2: measuring/planning the room and week 3: wall treatment details.  Week 4: closet nook, week 5: custom wraparound headboards, and week 6: wallpaper!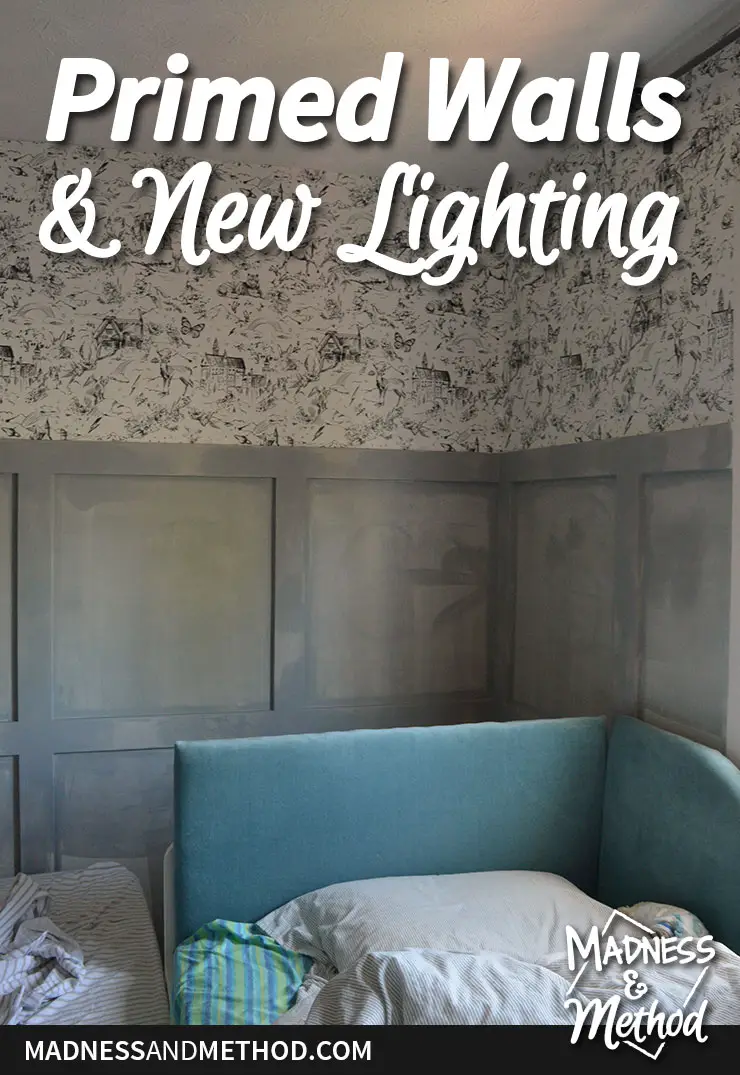 It's now the 7th week of this 8-week challenge, so I don't have many big projects left to go.  So excuse the million pictures of the 2 bigger things I did complete haha…
Projects Completed:
Finished the newly added wainscoting parts
Primed all the patches/caulk and sort of primed everywhere
Installed the new light fixture and covered old baseboard dial (thanks Husband!)
Figured out how to hang the mirror
Added: mouse door and patched walls
New Light Fixture
I ordered this new semi flush mount light a while ago.  It was back-ordered until mid-June, but came a bit earlier, yay!
Here's a reminder of what the old light/room used to look like.  If you look closely, you'll notice the two bulbs were different colours!
I had the Husband install the new light this past weekend.   The room's a bit different, right?
He was a bit tired of having me take photos (I took some for Instagram Stories too).  But he does "complain" sometimes that I don't have enough photos of him, so there ya go :)

Apparently, you can make the light fixture a flush mount by omitting the brass rod.  You don't see it too much, but I know it's there :)
I also took this opportunity to install matching lightbulbs.  I prefer neutral bulbs, but bought a super pack of the warm 2700K ones, so that's what we used.
Here's a shot of the pendants in our kitchen showing the two different bulbs.  We had cool ones there before, but all the other lights in our kitchen/living are warm, so I wanted to match.
Wrong Paint Colour
As soon as the stores opened up on Friday, I headed over to get paint and other small supplies.
Even though I thought I colour matched the curtain correctly to my Behr deck, once I then tried matching it to the Benjamin Moore paints, I chose the wrong one!  It was a lot more vibrant than what I was expecting… and I should have just brought the curtains in with me.
You can also see the new screw I added to that wall to hang their mirror.  And the updated flat wall plate.  There used to be an electrical baseboard dial/turner, but someone had upgraded to forced air long before we bought the house.
The orange colour didn't look too bad on that wall, but it was really apparent right next to the curtains.  I sat on it a few days, but just went back this morning to get it tinted darker.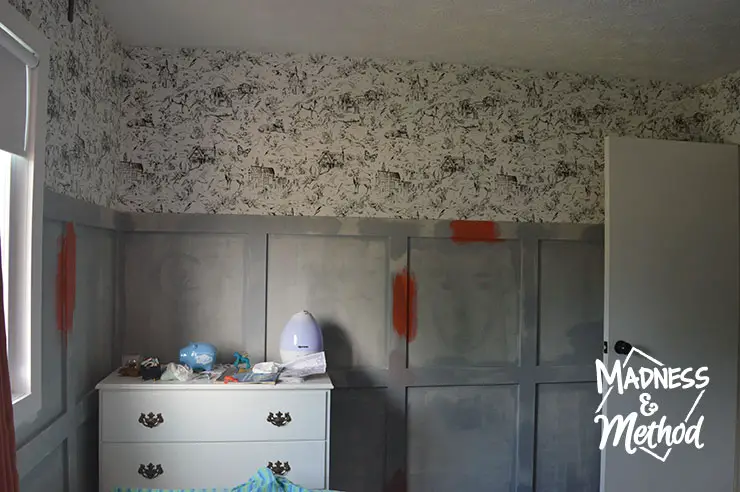 Unfortunately, the next lower colour on the swatch had a different base, but we still tried adding a deeper red to what I had.  The paint can was all filled up, so we couldn't add anymore – so we'll see how it goes…

Oh!  I also made a little mouse door using a leftover piece of hardboard I had.  I made a rounded top to match the mirror's shape, and glued it on the baseboard.  It doesn't actually open, but Zachary thought it was pretty cute (he has a stuffed toy mouse).
Although… I did tell him I was going to make a fake door for his mouse, and he didn't hear the "fake" part.  I caught him swinging a hammer to try and get into the bathroom.  So ya, had to patch some dents…
(And, you know, discuss demo safety, construction, etc.)
Primed Walls
Anyways, I also took the opportunity this past weekend to finish my gray primer and roll the walls.  I went around the orange paint swatches, so we'll see how the new colour compares.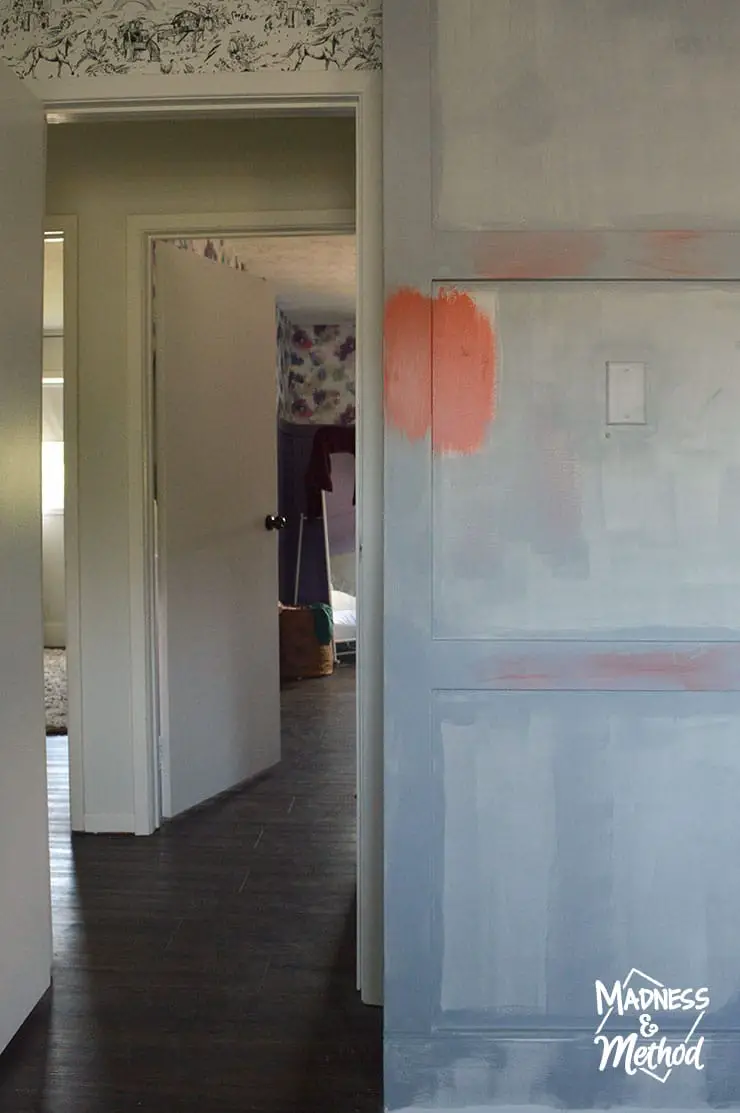 Not sure if I ever shared this view, but this is how their bedroom looks into ours.  I think I have our home floorplan here if you're interested.
Here's another view of that corner with the door closed.  Now you can see the full custom wall decal that I added last week.  The kids speak French, so I figured it made sense to translate the updated quote.
I ran out of the primer before I had the chance to really move the beds.  But, since they'll be there anyway, it shouldn't matter too much.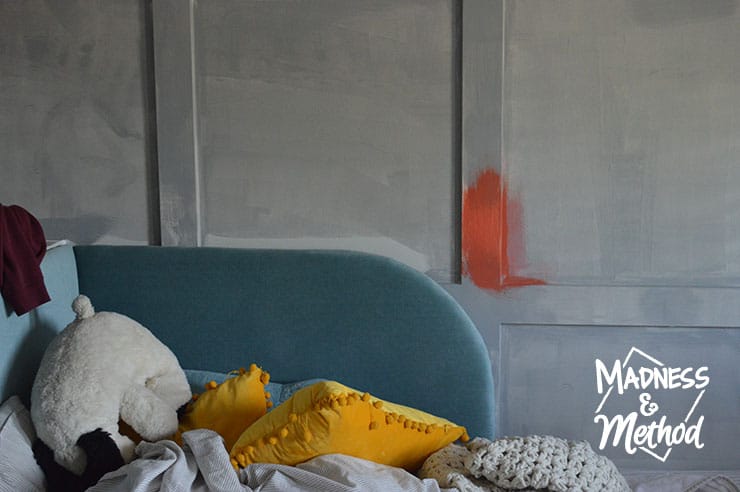 I don't know if I'll even paint the red in the closet cubby hole (behind the bed).  The idea is that we'd probably repaint before we ever sell this house, and I don't think we'll be changing the layout anytime soon.
Right now, it's kind of like a big sliding puzzle to get the beds moved around to do work.  We still have to bring the rug in (so it's been a lot easier to slide everything around), but that will probably be the last thing!
My plan is to paint/edge this afternoon, then possibly tomorrow and Thursday.  Then final things in and photos sometime during the weekend.
Wish me luck!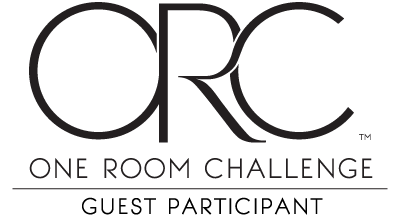 About the One Room Challenge
One week left!  So close to the finish line for the featured participants and linking bloggers on the One Room Challenge website.  Once again, here are the past posts for this year's project:
New Light & Primed Walls (this week!)
I didn't really mention it, but I impulse bought a plant this weekend.  There are hardly ever indoor plants available where I live, so I snagged it up quick!  Then, I put a few of the pieces into a new smaller pot, and Zachary claimed it as his own.
He even put it in his closet (I had it on the dresser, ha).  I'm most excited to get all their junk stuff cleared out and organized for the photos.  Maybe they'll keep it neat and tidy forever… hahahahahahahaha!
(PS: I just painted most of the trim/edges and the re-tinted paint is still too bright.  I do have a plan, but we'll have to wait until Thursday to fix it).