Since removing the monthly updates from my blogging schedule, I've still tried to keep everyone informed of the behind-the-scenes life stuff on a timeline that makes sense.  These family and life fall updates should give a small glimpse into what's been going on around here in the last few months (since the spring update of course).  But remember you can always follow me on Facebook or Instagram to get a better idea of what's currently happening.  Let's dive in!
– Note: This post contains affiliate links. See more information about affiliates here. –
Rental Renovation Updates
Next week I'm going to start sharing everything rental renovation basement related! We officially started demolition the first week of August and have encountered a wee bit of money set-backs. Time-wise, we were a bit delayed, but should be getting back on track soon. Because our rental is 2 hours away from where we live, and we're only ever there intermittently/part-time, it made sense to hire contractors to do the majority of the work. Had we been the ones to tackle the work 100%, it would have taken 10x longer to get anything done – and considering demolition was 3 bins worth of stuff, hiring it out has been the best decision.
I'll most likely be sharing all about the basement for the remainder of the year (with a few seasonal posts thrown in!), and I will have just a few more rental upstairs posts to share too. We'll be working on the basement kitchen for the Fall One Room Challenge, so as long as drywall is up by then, I should be good to go :)
House Updates
I'll go into more details on our basement set-backs in a later post, but just know that we had a 20k dollar expense come up that we were not prepared for. You're supposed to have a contingency budget setup when you do renovations, but that was beyond anything we could have expected. With that being said, we've had some discussions about selling our main house earlier than we were planning (the original idea was to sell this house, then build our forever house right after). That would mean that we would be living in the rental renovation full-time for a while, so it has slightly influenced the way I was designing everything. Nothing major, but things like adding a dishwasher to the basement kitchen, going with a bathtub instead of a shower, etc.
Realizing we'll be selling this house sooner has also put the brakes on any further big renovations around here. I'm still planning some smaller updates as the months go on, but finishing the laundry room has been scratched off the list. We've already put a lot of work into the house, (which I do not regret at all!), but we're going to focus on maintaining everything we have and keeping it clean and updated instead of adding anything new.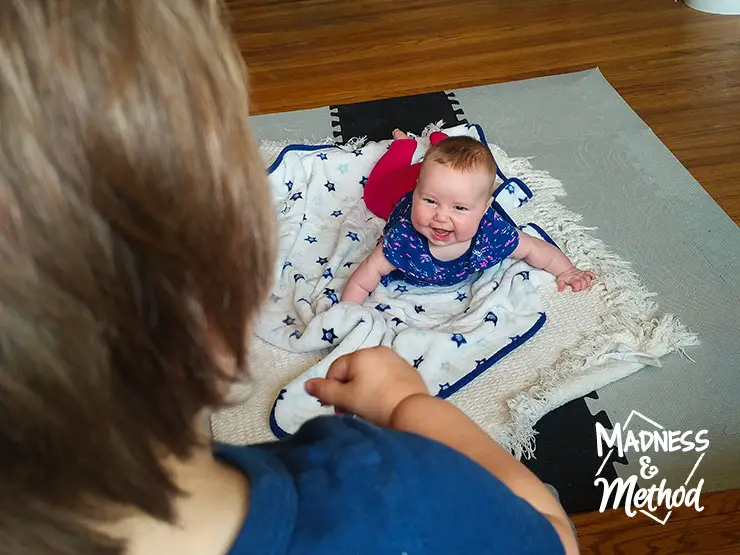 Family Updates
Oh, the part that our friends/family look forward to! Can I just mention that if you don't have kids, and then you do get them, no one cares about your updates as much as they do about the little ones, ha! But I mean, they're super cute, so of course that makes sense :)
Zachary: He's been a skinny bean for a long while now, and it never feels like he ever grows (been in the same size clothes for almost a year!). However, he can slowly start reaching higher things, so I guess he must be getting taller! He's also been picking up and looking at books more in the last few days, so I'm really trying to stop and read with him more regularly. In the past, he's been more go-go-go run around and play with toys, so hopefully he's diversifying his interests, ha! And, although he had used the potty semi-regularly before he even turned 2, since Élise has been around he's been less interested (or, we probably have pushed it less since we're a wee bit more occupied with other things).
Élise: She's a little round bundle over 4 months old already! I thought that Zachary was a little chunker as a baby, but comparing pictures of them at 4 months, it's clear that she takes the cake, ha! She's sleeping much better than he ever did at this age, and I think it probably has to do with the fact that we actually put her to bed with a routine every night. She was also a better sleeper/night-feeder right off the bat, so that might also have something to do with it.
Tootsie: Slowly getting used to staying at the rental house. The yard is maybe 1/4 the size of ours and it's not fenced, so the first few times we brought her there, she wouldn't know where the yard boundaries were and we'd find her over at the neighbours. We've brought her tie-out and it's been better to keep her out whenever she wants, without having to worry about her as much, but eventually I'd like to do something fence-ier.
The Husband: Wanted to let everyone know that he is still amazing and the best (his words!). Truthfully, I think he's happy when he gets to see us more often (aka when we go to the rental house); which is why he's the one that brought up selling our house and moving there sooner (which I so called by the way!).
Life Updates
Moving somewhere smaller (aka the rental house) has got me thinking even more about the stuff we own, and how I'd like to try getting rid of more stuff we don't use. Last year (in the month of August) the Husband and I (and our friend!) did the Minimalism Game, so I decided I would do it again. Actually, I decided that we would do a fun "Minimalism Moving Sale" before we move, kind of like an estate sale and garage sale rolled into one (aka letting people walk through the house and buy whatever they want), but that won't be for a long time and I still have stuff I can let go of before then.
In complete opposite news, I also signed up for Amazon Prime and have taken advantage of the shipping for a few things (our Halloween costumes will be ready early this year!). I also signed up for Subscribe and Save diapers for Zachary, and may eventually do that for Élise too (although I think she's nearing the next size, so I am waiting for that).
Anyone have any other favourite items they like to have delivered on a regular schedule?  Let me know!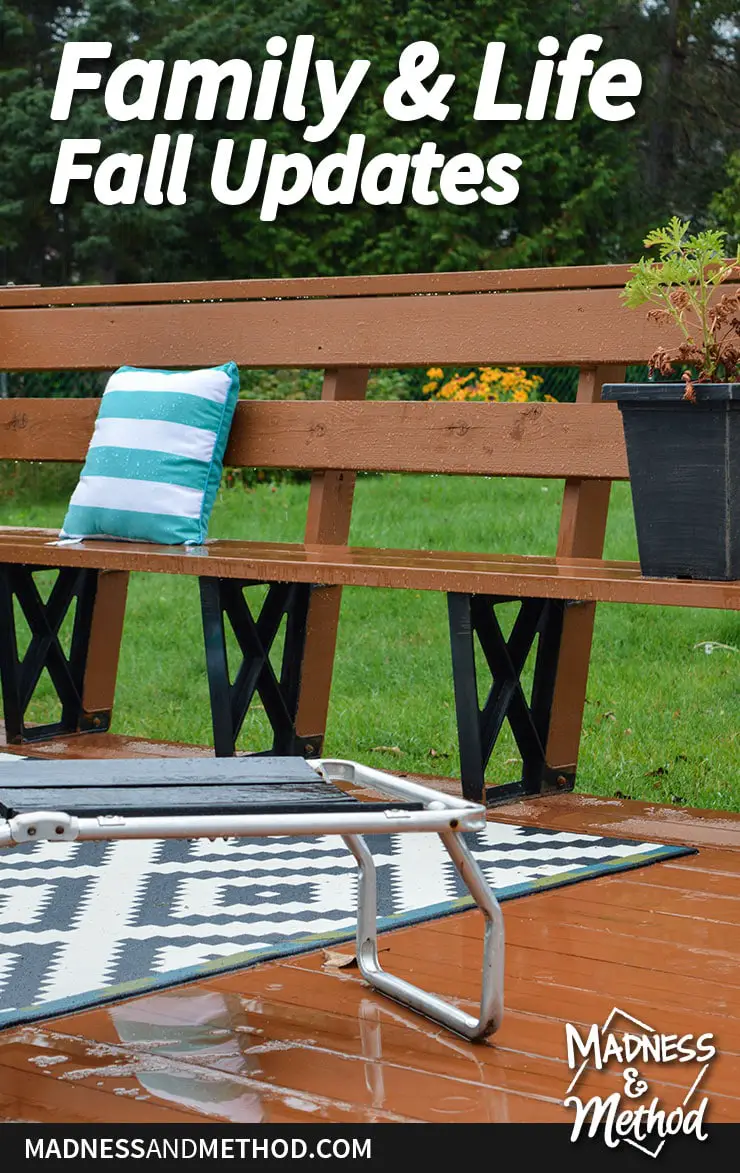 Hopefully these family and life fall updates have caught you up to everything that has been happening in our lives!  Remember to follow on Facebook or Instagram to get all my posts and news delivered to you directly, and you can even save everything on Pinterest if there's a DIY you want to do.
Let me know if you want to know anything else that I didn't cover here too!
HOLY TAMOLY I literally just saw that Peppa Pig is on Amazon Prime Video and Zachary has not seen those episodes yet and will be quite excited :)