It's my favourite holiday – HALLOWEEN!  Move over Christmas, it's the most wonderful time of the year :)  Last year, we went as Beauty and the Beast; and the year before we were The Little Mermaid.  I decided to stray away from the Disney theme but still stuck to a pretty recognizable childhood cartoon: Teenage Mutant Ninja Turtles.  Check out our DIY TMNT family Halloween costumes!
– Note: This post contains affiliate links. See more information about affiliates here. –
I was extra on the ball with getting our costumes ready for three reasons, I wanted to make sure that 1) we weren't scrambling at the last minute, 2) I could share them here so you can make your own this year too, and 3) I wouldn't interrupt the kitchen renovation posts (starting next week!).
This year, it's sort of a combination of some DIY elements, and some purchased elements, so I've included a list below if you wanted to DIY the costumes too:
DIY Materials List
TMNT Outfits List
Or you can always buy them outright – I found these on Amazon: Adult Donatello, Adult Michelangelo, Adult Leonardo, Toddler Raphael (similar).
But let me share how we made our costumes, okay!?
I ordered the bodysuits a while ago in case they took a long time to come in (I've made that mistake before waiting for items to ship across the world!).  I bought some yellow t-shirts as the belly/shell bases, but you should definitely go with a green one instead (and add the shell and yellow belly on top).  You can always stick those parts on your bases directly, but I wanted to keep them as-is in case we wanted to reuse them.

Anyways, using some yellow/beige paint, I drew out the belly shapes on our yellow shirts (I picked up the little ones a second-hand store).

Using a piece of dark green felt, I traced an oval shape and cut them out, then hand drew some shell shapes on each of those.  I hot glued the shells on the shirts (and left a bit of extra space at the top in case we wanted to stuff them to make them stick out more!).
Notice all the yellow that I had to hide?  I cut off as much extra material as possible, then ended up painting the sleeves and stuff green to match our bodysuits.  (Which is probably what took the most time).
You can skip that step if you go with a green shirt :)

For the small accessories, I cut out some circles and letters for their belt loops, then bought the appropriate fabric colours for each character.  The belts are brown, and their character colours are visible in the wristbands, elbow bands, knee bands, and eye covers.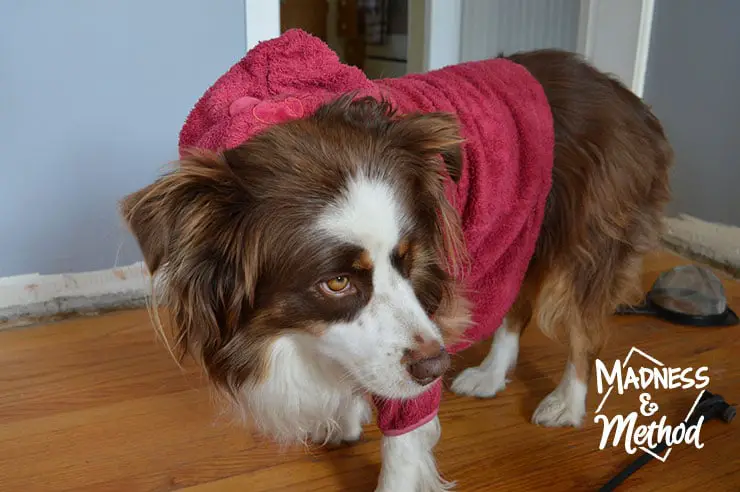 Tootsie is Master Splinter, and I thought it was so appropriate and funny!  I actually got a toddler's size housecoat second hand and dyed it deep pink (it was originally a pale yellow).  I wasn't sure the colour was right at first (I was thinking it was supposed to be a burgundy or brown) but then Husband said it was perfect!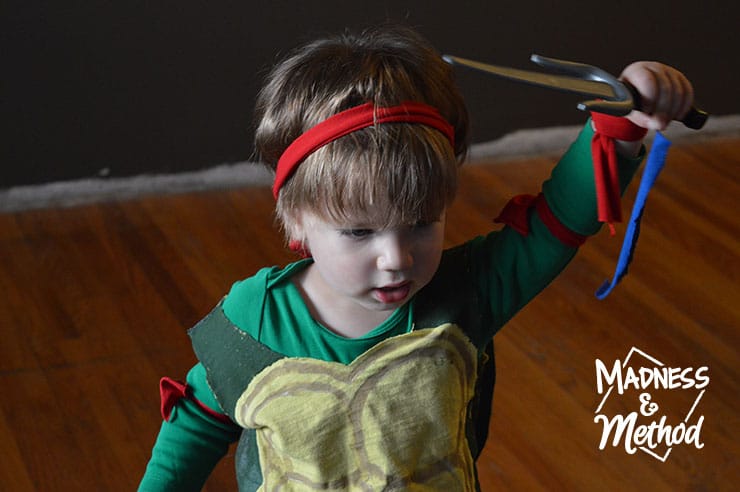 We already had a green long sleeve shirt for Zachary (the same one he wore in our Christmas photo last year!), and I just picked up some matching pants.  We actually decided he was going to be Raphael because the weapon was the least destructive!  My parents had these plastic ninja knives from when my brother dressed up as a child, and I knew he had the smallest chance of hurting people this way (ha!).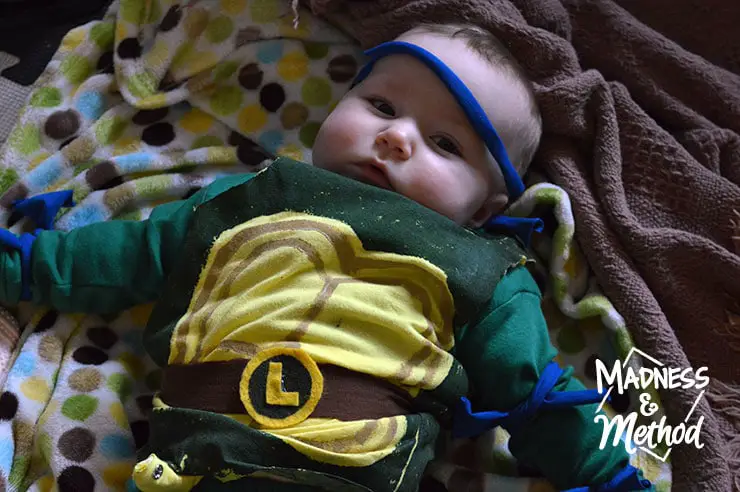 It worked out because the Husband wanted to be Donatello, and Michelangelo was my favourite character.  Élise was left as Leonardo, and I think she looks cute no matter what :)  I did cut eyeholes for both of their eye bands, but it was much easier to put them across the head than cover their eyes.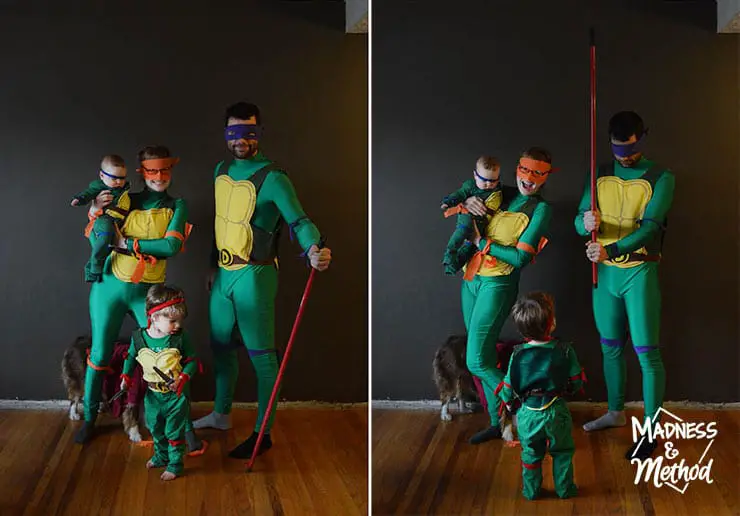 Speaking of eye holes, my orange fabric was a bit different than the rest (I bought some locally and they didn't have orange in the same material as the others).  I think I'll need to cut mine narrower to match, and I'll need to wear contacts on Halloween so I can actually see properly!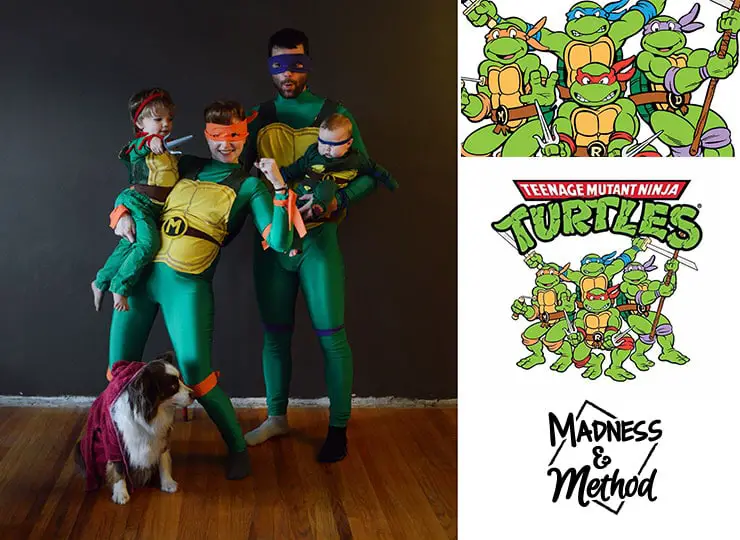 These were the inspiration photos I was referencing when I was planning/making the costumes, and I think we look pretty good!  My nunchucks will just be paper rolls and string, and we still have to finalize the Husband's bo (it's a broom handle!).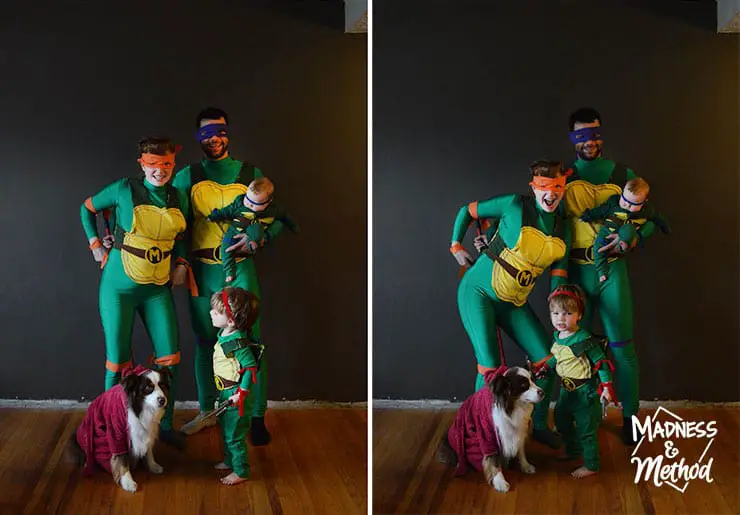 I love taking family photos (and I LOVE Halloween), so you can imagine how excited I was :)  The Husband?  It's pretty much his nightmare, so we try and get everything done as quickly as possible.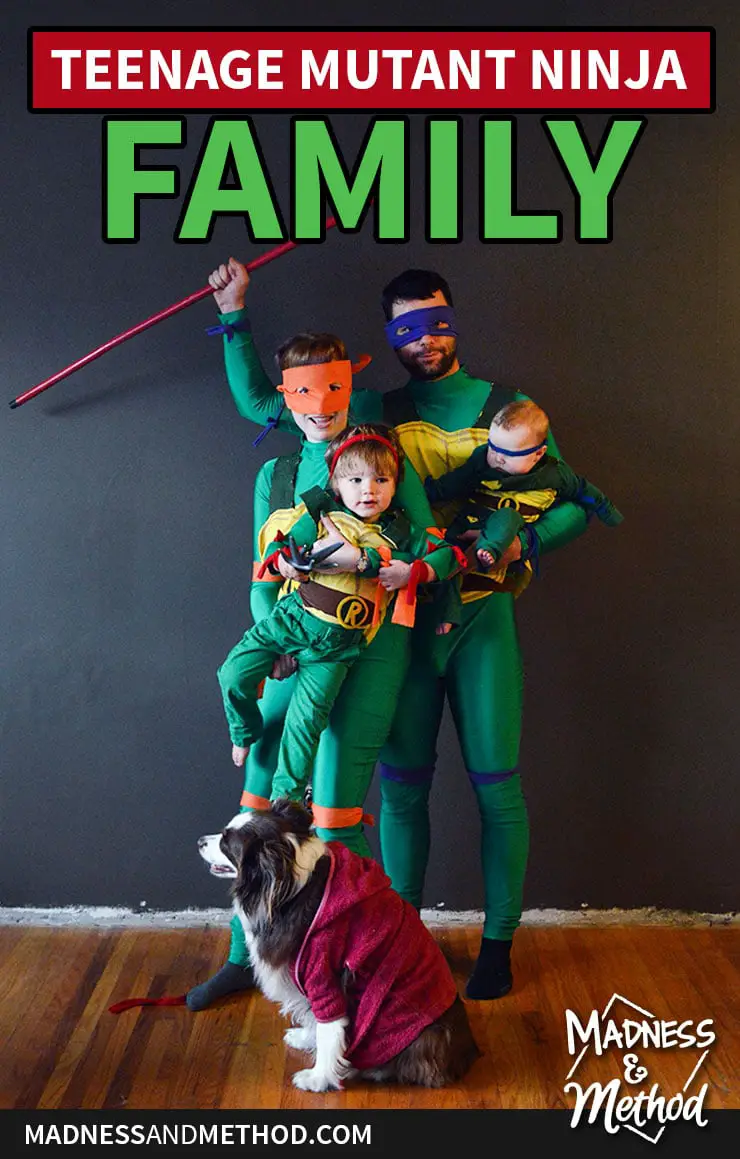 If only Tootsie knew to look at the camera, ha!
Check out this .gif showing a bunch more poses: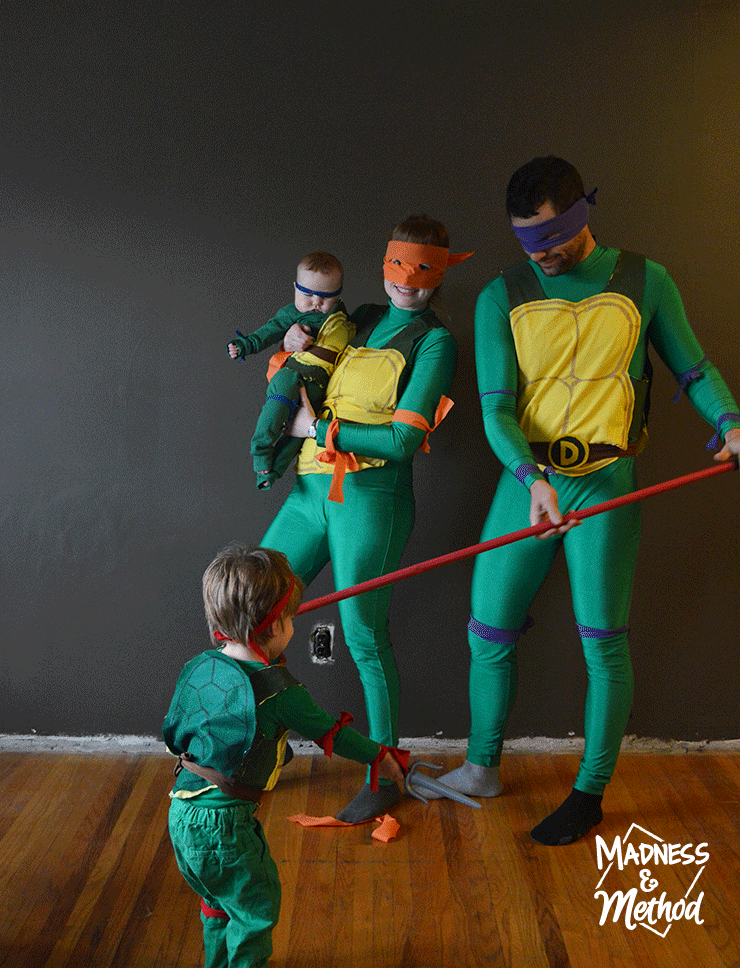 Because I couldn't stop myself and wanted to include them all!  BTW, we took these photos are the rental home (in the upstairs living room).  We recently painted and still have to refinish the floors, which explains why there aren't any baseboards at the moment.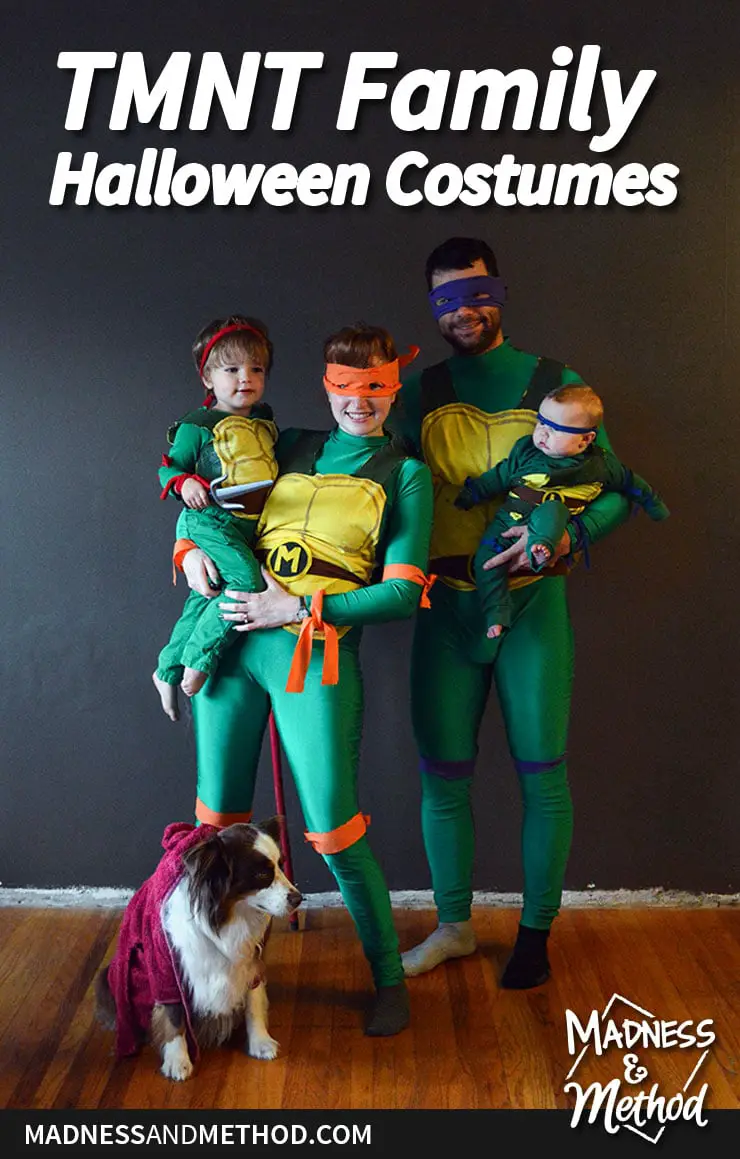 I think I decided on our TMNT family Halloween costumes last year (November 1st probably!) because I knew that we would have a little addition to our family to make the perfect number.  I have no idea what we're going as next year yet, but I have a running list of good group costumes that I will definitely be doing as the years go by.  Zachary is still young enough not to choose anything himself, but he sure loves dressing up and was a little disappointed we didn't take our costumes outside yet, ha!
Do you go as a group costume with your family, or is everyone on their own!? 
Please tell me I can keep this tradition going forever :)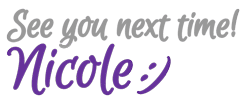 Oh, and check out how happy Zachary was when Tootsie was in her costume: