Are you looking for toddler gift ideas?  Wondering what items will be used and loved rather than ignored?  With three little children (now aged 2, 4 and 6), we have some experience here, ha.  Whether you're looking for your kids, other family members, or children of friends, this roundup of gifts for toddlers should have something for a little one in your life! 
– This post contains affiliate links and some products may have been received as compensation. Click here for more information on affiliates. –
Did you know that babies/kids are considered toddlers from age 1 to 3?  For the purposes of this list of gifts for toddlers, I'm going to include things for around that age, up to 4ish.  Because a 1-year-old is very different from a 3-year-old, I'm hoping this list is still applicable to a wide variety of toddler ages and abilities.  There are a few items we purchased/received before the toddler stage, but they seem to have been used more when our kids were older.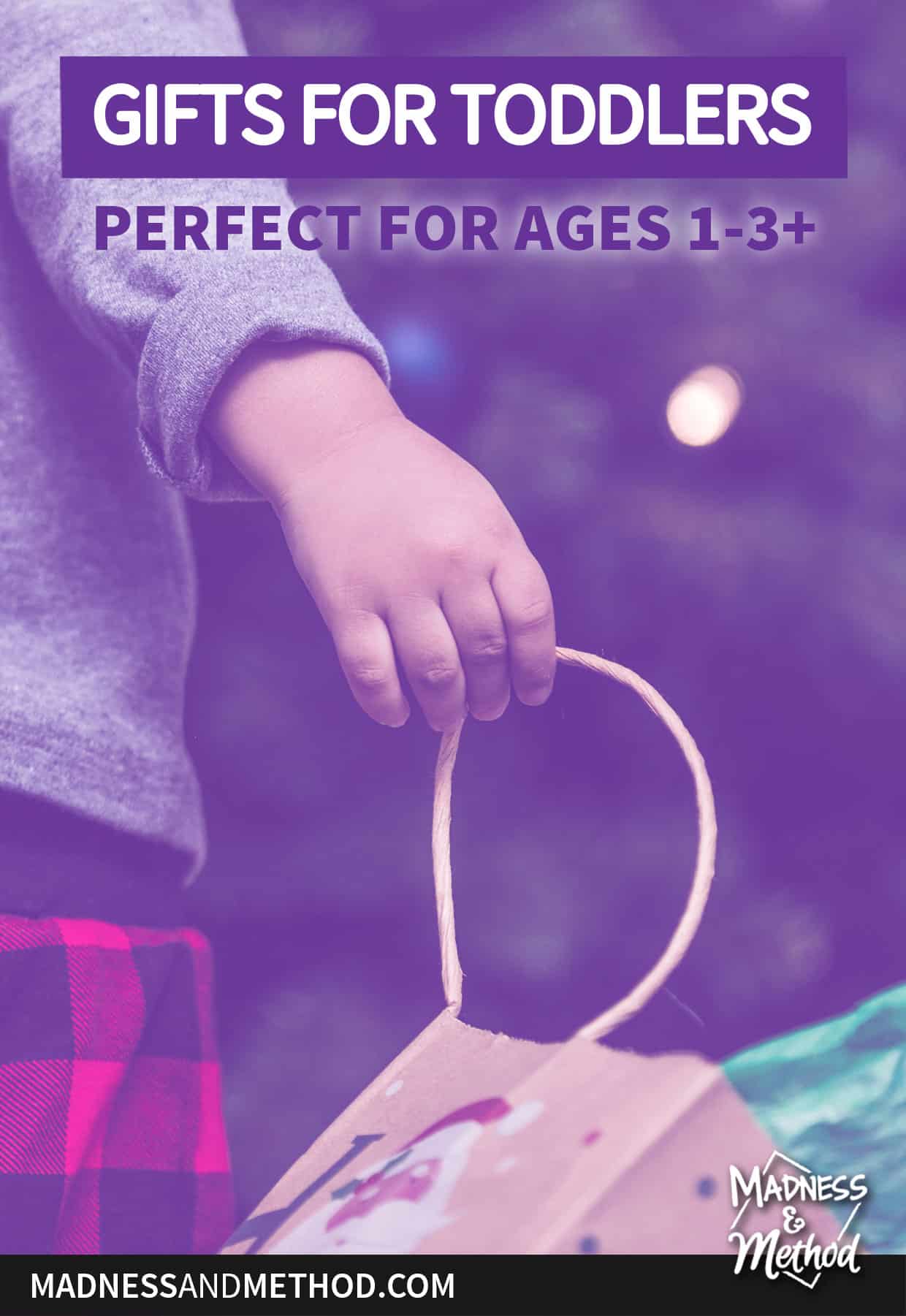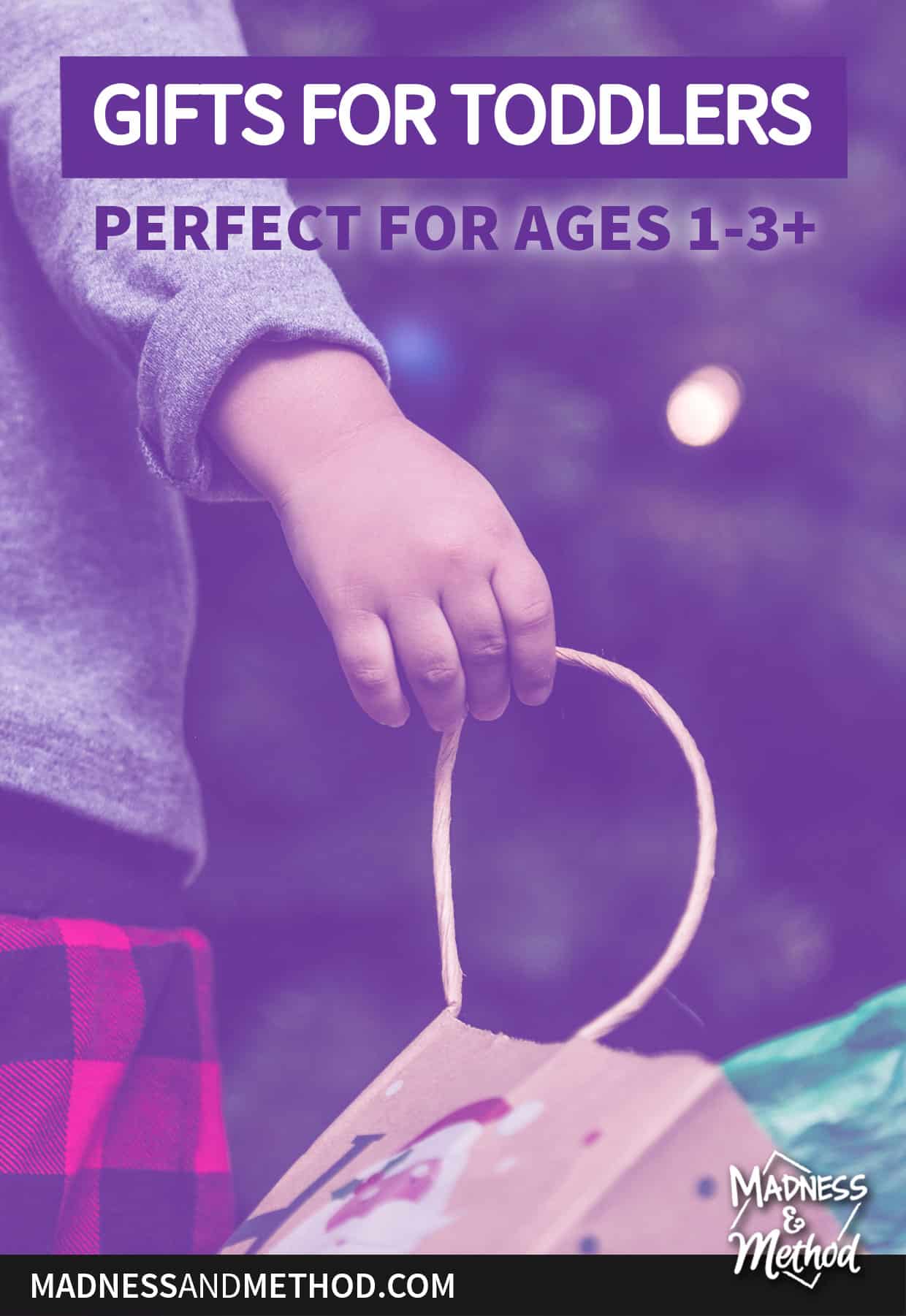 This post was originally written May 8, 2018. It has been refreshed and republished October 1, 2022.
When I originally wrote this post, or oldest was just about to turn 2.  I thought it would be a great opportunity to share some products that we loved (or were thinking of getting soon).  Since then, we've had two more kids go through the toddler stage (our youngest is almost 3 now!).  So we're a bit of an expert at toddlers (PS: that's a Peppa Pig reference).  
I've also reorganized the list into different categories, so hopefully, it's easier to browse! 
Gifts for Toddlers to Play
Shape Block (Tupperware Shape O' Toy)
We've had this shape block since Zachary was about 6 months, but obviously, he didn't get much use for it until he was a toddler. I think it's a great way to learn motor skills and practice shapes – and I'm pretty sure I had one when I was little too!  The one we have is from Tupperware and is a good price, but you can also buy them on Amazon.ca for a bit more money.
Puzzles
Puzzles are both fun and educational!  There are a bunch of types of puzzles for all different ages, and I tend to get mine at secondhand stores.  Here is a unique cube puzzle we got when Félix was going through a duck phase.  It has 6 different images, and bonus – the blocks can be used for stacking too.  Looking for something else?  This shape puzzle could be fun for older toddlers, and dinosaur puzzles will always be a hit.
Truck Set
I don't know what it is with vehicles, but kids, especially boys, love them!  This truck set is perfect because it has all the different construction vehicles, plus they don't make noise, ha.  We've had a lot of different trucks and vehicles around here, and my kids seemed to really like the little ones, and any that are big enough to ride on (whether that's their purpose or not). 
Pretend Play
From dress-up clothes to "grown-up" things that are made for kids, toddlers love to pretend play.  Some of our favourite things have been this cutting food, perfect for impromptu picnics.  We also really like this medical kit – it has the basic tools that kids will want to use, a carrying case, and not a million things that they'll ignore.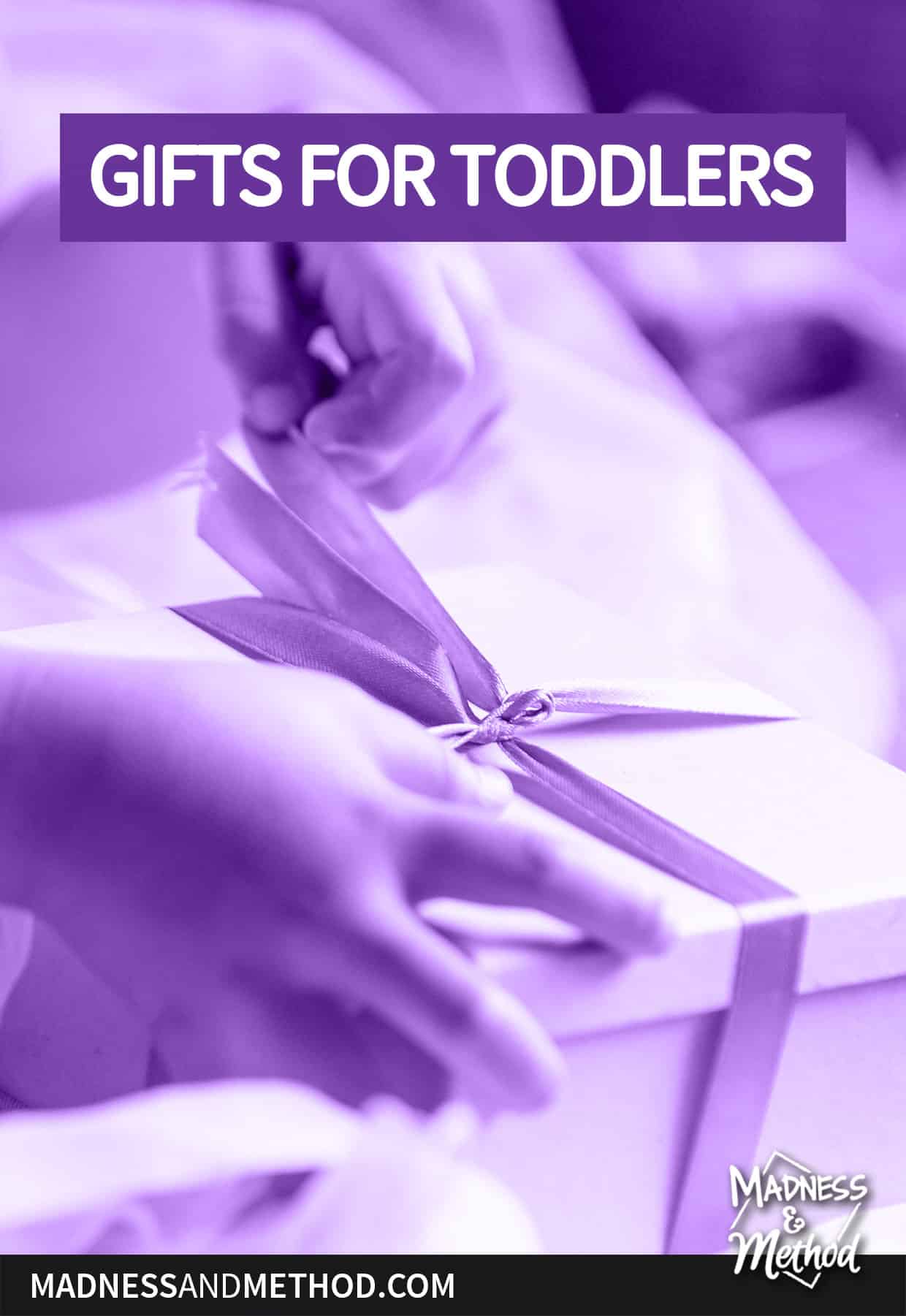 Art Gifts for Toddlers
My number one tip for getting art gifts for toddlers would be to choose something washable and/or non-permanent, ha.  Art gifts are also one of my favourite things to have other people get (without choosing anything specific) because there are often things that I had never seen before!  Here are some things we love: 
Playdough
Playdough is fun for building, moulding and getting hands busy!  Plus, it's something that you can add to over time (ie: getting more colours/dough) and the price is relatively low to start.  We've really liked this construction set, but a set of tools comes in really handy too. 
Drawing/Colouring
This is really dependent on your kids' age/abilities and can be anything from a set of crayons to sidewalk chalk, or regular pencil crayons.  Some mess-free options we love are these reusable Water Wow drawing books and these Crayola invisible colour markers.
Dot Markers
I'd put this under the list for older toddlers (or at least ones that understand not to colour everywhere).  On a plus, they have washed off easily, ha.  Dot markers are both fun for drawing, and getting frustrations out (or is it only my kids that seem to smash these!?).  You can buy specific dot marker books, and it's been a good activity to break out when you want something quick and relatively easy to set up.
Washing Toys
Have you heard of these Crayola Scribble Scrubbies before?  Basically, you get a kit with a little white pet and some washable markers.  It may also come with a bath/scrub brush and/or case.  Kids draw on their pets, and then give them a bath to clean them off.  In our experience, the markers do still stain the pets a bit (they don't go back to bright white) but it's a fun little activity they can redo over and over. 
Sticker books
Toddlers LOVE stickers, and I distinctly remember going through a big sticker phase as a child.  Nowadays, they have reusable sticker books for kids, so you can place (and replace) your stickers as much as you want.  Regular stickers are just as fun too, as long as your kids know that they can only stick them once, ha.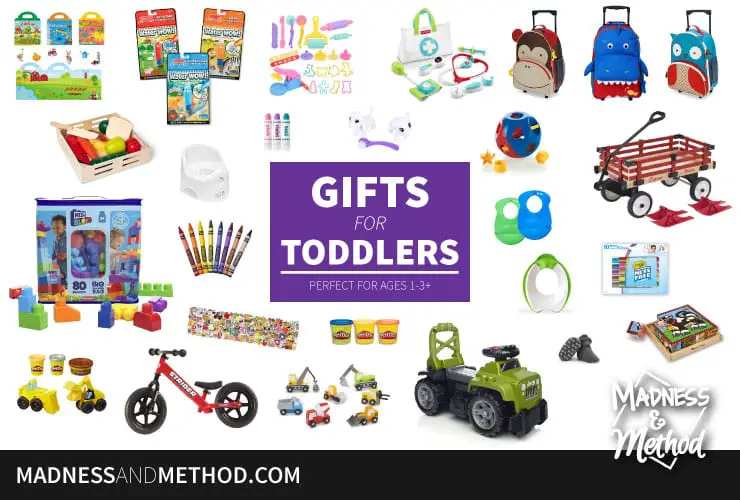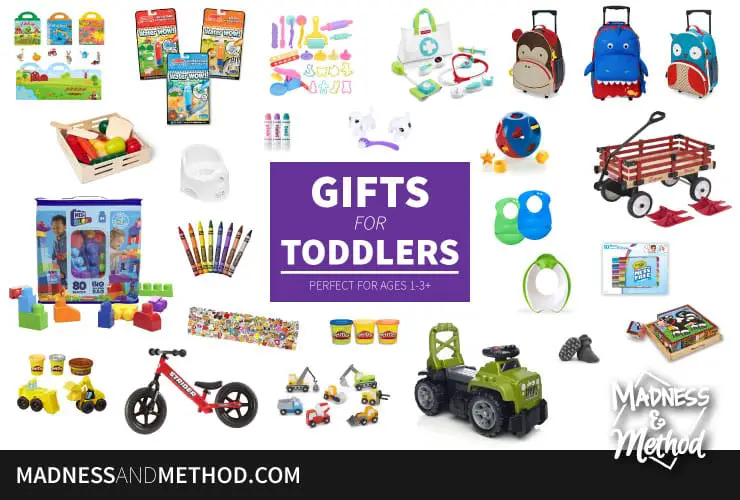 Gifts for Toddlers to Use/Wear
Slippers/Booties
We don't wear shoes in our house, but for a while, Zachary was obsessed with having something on his feet!  We got these booties in slate and I called them his little slippers (so he could match Momma!).  He really liked taking them off, and sometimes I wondered if he only let me put them on so he could practice taking the buttons off.  We still have the booties, but the other kids did not seem to like them as much. 
Hard Bibs
When we first introduced solids after 6 months, I was using the regular/cloth bibs that we had for drooling.  Obviously, the food made a big mess!  I finally got this two-pack of hard bibs and haven't looked back since :)
Potties
What goes in, must come out right!?  Potty training is such a big event, you want to be set up earlier than you think.  This on-toilet potty seat helps kids sit on the big toilet comfortably.  We also used a sit-down potty (it sort of looked like this one) which is easier for kids to sit down alone.  Our older two used both, but Félix refused any of them, ha. 
I'd also mention the "pretend play" again (see gifts for toddlers to play above).  Often, you can get fun costumes or things for dress-up. 
Big Gifts for Toddlers
The following aren't "big" in the expensive sense, but physically large.  I'd definitely only consider them if you have some space! 
Riding Jeep with Blocks
Building blocks are such a great toy for kids and the set we have comes with a little Jeep – here's a similar style. Zachary liked to put his stuffed monkey on it and push it around, so it's kind of like 2 toys in one.  If you don't have the space to store a big toy, it may still be a good idea to get some large blocks for playing either way.  All our kids still ride this Jeep often! 
Riding Wagon
You might want to skip getting a riding wagon if you don't plan on walking around a lot, although they could be handy for hauling things too.  Since we have Tootsie, it makes sense to take daily/weekly walks. The kids think the wagon is much more fun than using the stroller, and you can even buy sled legs for winter runs. Honestly though, with three kids I hate taking the wagon since they all want to be in it!  It's a lot of muscle work for me, ha. 
Balance Bike
This Strider balance bike was Zachary's Christmas gift (from the Husband) and it's supposed to teach children to balance on a bike (and hopefully skip the training wheels stage).  Not sure if it worked at all, but the kids all like taking it out!  Another good idea would be getting a fun helmet. 
Rolling Suitcase
Toddlers love pushing/pulling things around, and if you have any trips planned, a rolling suitcase will come in handy! I personally don't like branded characters because kids will most likely grow out of the design, or like someone else. (Plus, branded products are always more money right!?).  This shark one (or others) is cute, but I also like this monkey suitcase and this owl one too.  Plus they're gender neutral yay!
I hope this list of gifts for toddlers comes in handy!  If you know any little ones turning 1, 2 or 3, I'm sure they'd love something from this list :)  Remember, it's always best to ask the parents if they have any suggestions.  I'd also stay away from things that make excessive noise, have a bajillion little pieces, or make a big mess, ha. 
Do you have any other gift suggestions or products/things you've used that have come in handy for this age group?
I'd love to hear your suggestions!
Related Posts
PS: I think I'll be doing a "gifts for little kids" post in the future since we are/will be in that stage!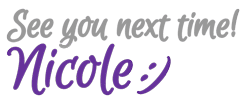 Some stock photos by Matthew Henry from Burst