As you may or may not be aware, last weekend was (Canadian) Thanksgiving and I went back home (in Southwestern Ontario) to visit my parents.  This year, the Husband and I were invited to the Lions' football game on the Sunday… and we were both excited to go!
You see, my Dad (and some of his friends) have season tickets for the Lions, and they decided to trade some tickets and invite us.  The stadium is probably a 30 minute drive from our house (although it's a bit slower for game-day traffic) and they wanted to go tailgating before… a great tradition!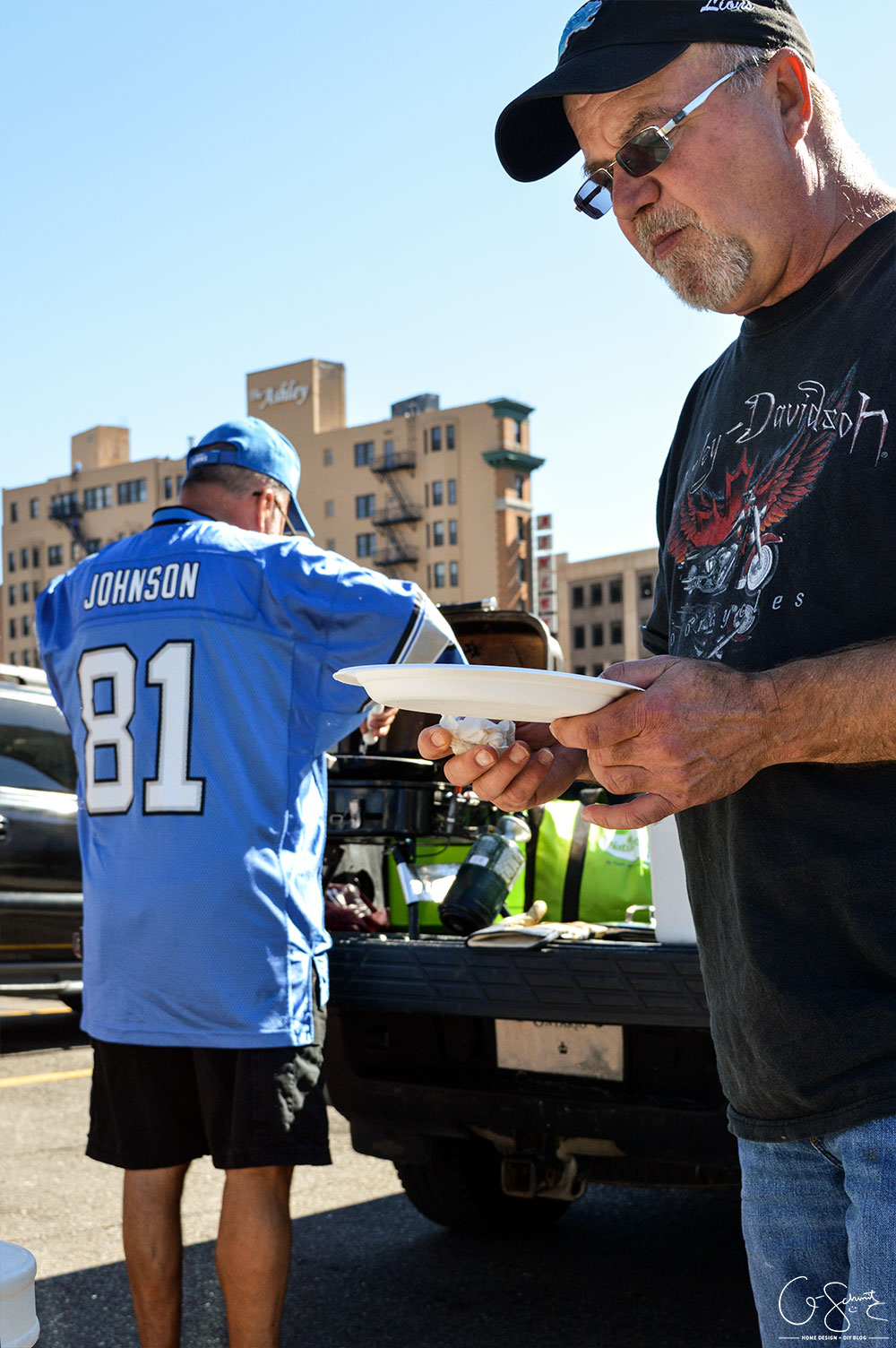 Now, coming from all the way in the north (and 8 hour-so drive away), we were used to some pretty cold weather… but I knew that it would be super nice down south… and nice it was!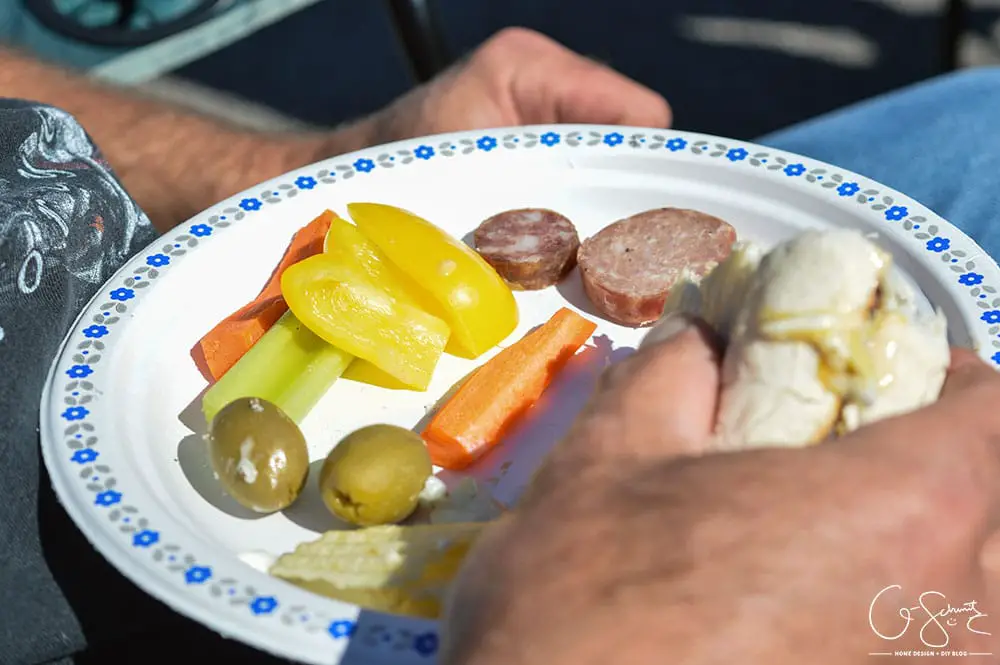 We actually had a pretty healthy spread of pre-game food (compared to your usual hot dogs and hamburgers).  And it probably helped that we celebrated our Thanksgiving on Saturday so we had a few leftovers too :)
There were a lot of people tailgating in the parking lot we were in (and all the parking lots around the stadium really).  The Husband enjoyed his first-time tailgating (and Football game!) experience.  (Even though he looks sort of grumpy in the picture above – but it's only because he has a mouthful of food and none of the others were any better).
For our main course, we had some (pre-made) pulled pork and brisket sandwiches on the softest buns ever.  I actually dropped my first one before even taking a bite because my little table/chair malfunctioned (or my elbow hit it…).
For those who might not know, the Ford Field (where the Lions play) is right next to Comerica Park (where the Tigers play… which is baseball btw).  Luckily, the Tigers didn't make the playoffs this year, because if there were ever two games scheduled at the same time, the downtown area would have been even busier.
There's also a multi-level bar (I think?) across the street, and you can see that it was already packed hours before the game even started.  So many people dressed in their supporting colours!
I've been to a few Football games before, but this being the Husband's first time, he was pretty excited with all the enthusiasm from the fans.  I don't remember all the game details, but let's just say the Lions lost, pretty badly…
And, even though I've been to games before, I'm always surprised at all the "strange" activities that happen throughout the event (and even sometimes when the players are still on the field!).  On Sunday, they had a "timbit" race (go Canadian Tim Hortons'!) and a pickup truck pull.  It actually worked out really well since my Dad's seats were right near all this action.  Our section's timbit did not win…
At halftime, little players take the field and play a few downs while the pro teams rest.  These little players are always so cute!
We left a bit earlier than the ending, and it was still gorgeous outside.  For those who don't know any Detroit architecture, the building in the background/center of this image is the Renaissance Center (or "RenCen") and I think was built sometime in the 80s to revive/rehabilitate the failing city (or something like that).  It's the tallest building (I think) in Detroit, and you can actually see it pretty far away from the Canadian side.
There was also a lot of pink banners (and many of the players wore pink accessories) because October is breast cancer awareness month.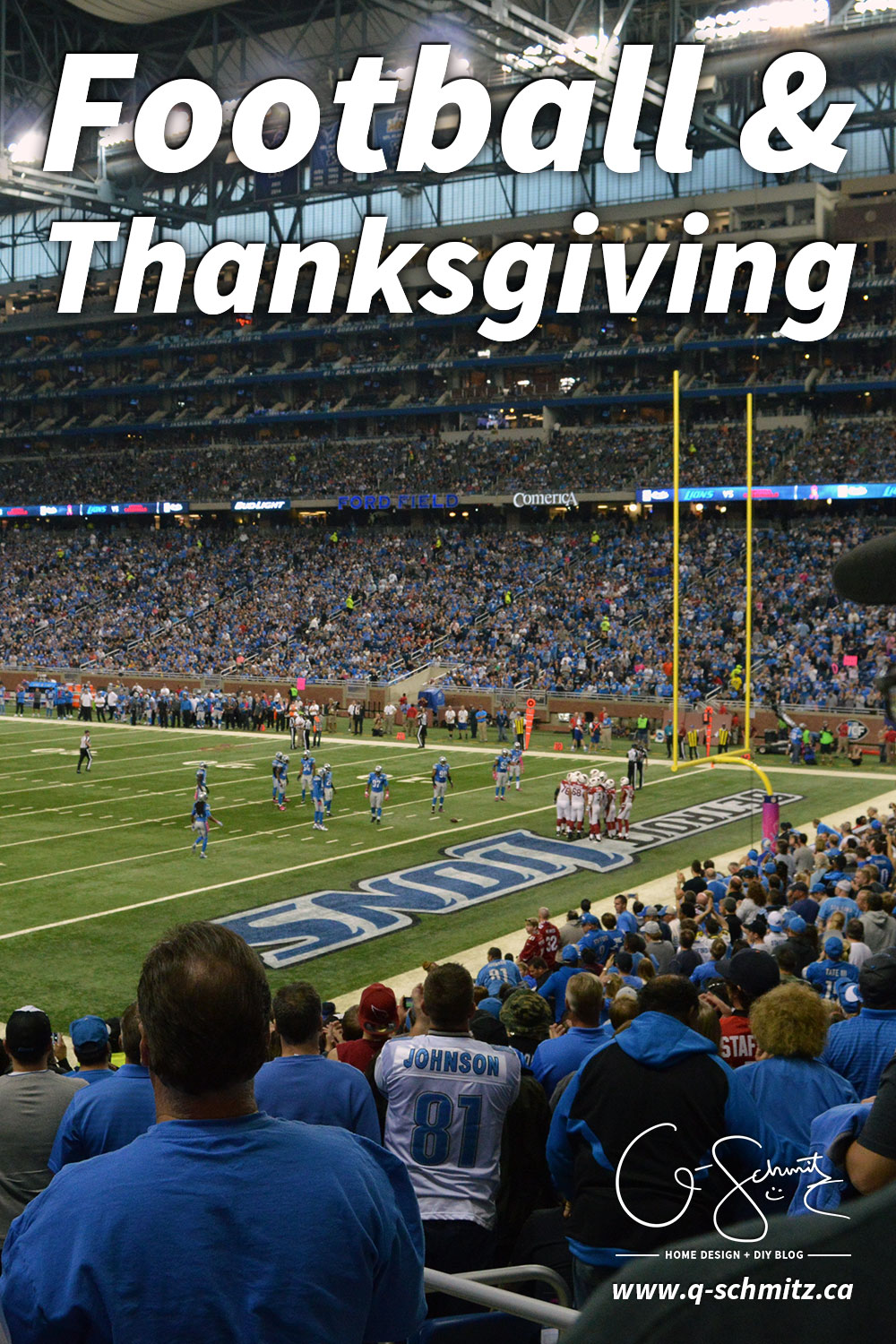 This weekend we are back in the frigid cold of Northern Ontario Canada (no seriously, I saw snowflakes coming down yesterday!) and forced into watching football on TV.  Football and Thanksgiving is definitely not associated as a "Canadian" pair, but it's HUGE in the States (and their Thanksgiving is a Thursday too… which is different).  So if you live somewhere warmer and get the chance to tailgate in late November (without freezing your bum)… take it!  It's an activity that you won't want to miss :)