Today is Halloween, which is probably my favourite holiday ever (dressing up and eating chocolate, yes please!).  A few weeks ago I shared the first part of my Halloween décor with you, and I'm back today to show you the updates!
Not too much has changed, but I did want to create a better path and lit area for when the trick-or-treaters arrive tonight.  As a kid, I always hated the confusion of walking up to a house and 1) not knowing if they had candy, and 2) not knowing what door to use (a big pet peeve of mine!).  Thankfully, I only have one front door – so that solves the second point.
I also don't want children traipsing around our unfinished section from when we finished the concrete.  I added some driveway markers (that show where your driveway is when there is lots of snow) and intertwined some white string around them to create a cobweb effect.
This morning I raked a big pile of leaves on the uncovered dirt area to make it look more finished.  I also added my leaf piles in front of the DIY gravestones in the shapes of body lumps.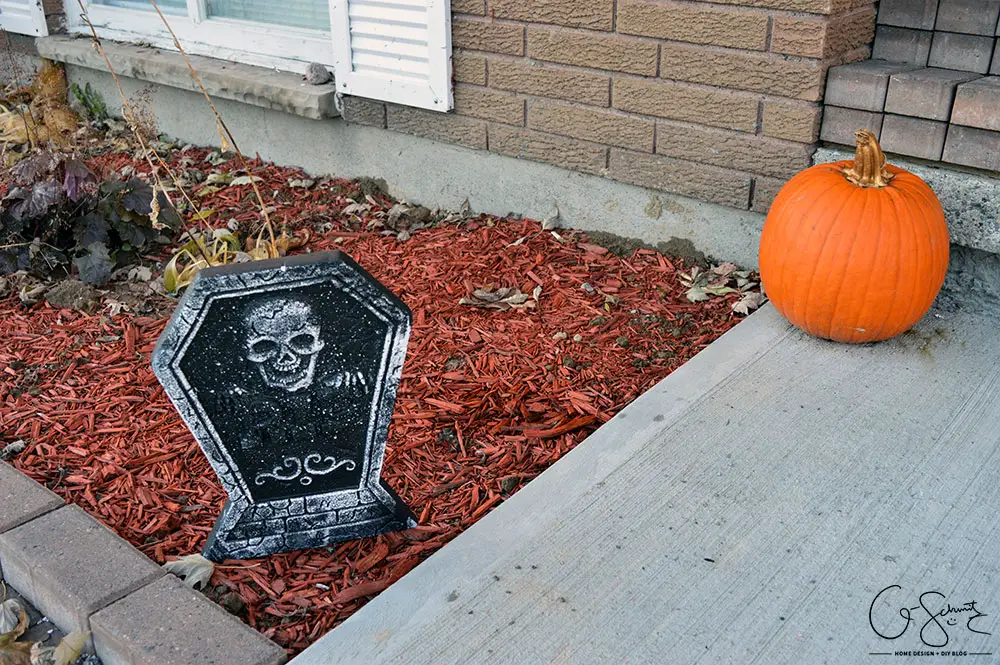 When I was getting my orange lights out from the basement, I found an unopened cheap gravestone from last year, so I set it up in our front landscaped area.  It's already fallen and come out a few times in the last 12 hours, so I'm happy I went with the homemade version for the yard rather than these.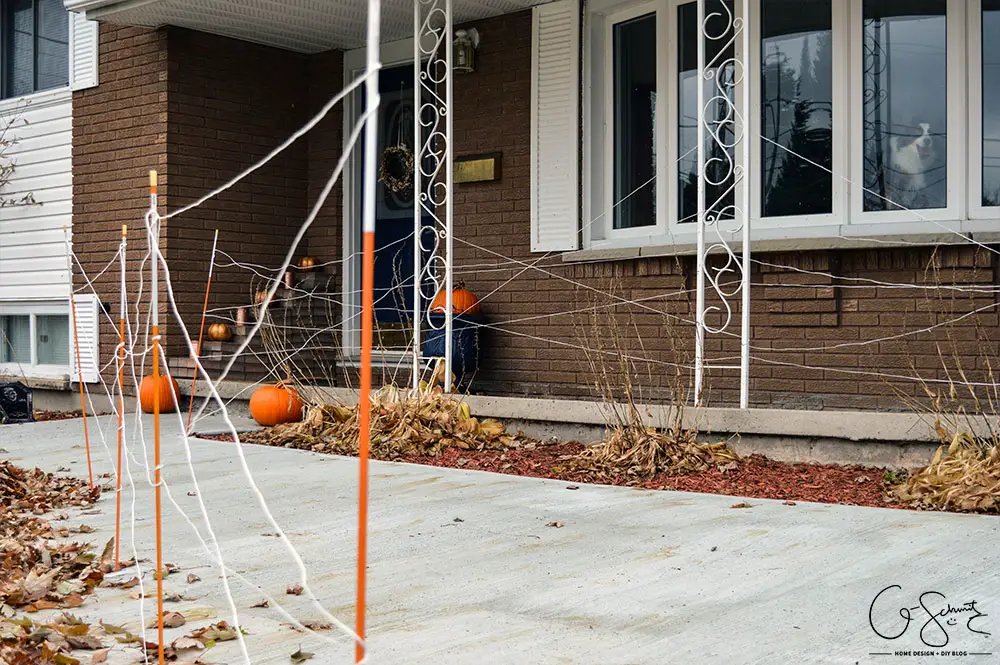 So now that we have a clear path established, let's look at what I added closer to the doorway to add some light.  Notice those little cans next to the golden pumpkins?  Those are some easy DIY can lanterns, details below:
I should probably mention that Step 0 was eat whatever is in the cans… but I think you might have figured that out?  Anyways, I figured that by adding the water/ice the can wouldn't squish in when you hammered it.  I also cheated and used a drill for a few holes, BUT it made jagged sharp holes on the outside and there were can shavings all over.  So definitely go with the nail and hammer method (or hammer and screw if you're like me and for some reason can't find a nail).
For the light, you can use a battery operated tealight or just a plain tealight candle.  They really look cool in the dark!
On the other side of the doorway I have my painted planter and pumpkin.  I wrapped a strand of the orange lights willy-nilly around the planter and pumpkin and I'll have it on when we are giving out candy.  I have another strand of orange lights in the bay window (you can sort of see it at the top right).
Inside the house I haven't decorated at all, unless you count my "Bonehead" Scentsy warmer that's been plugged in all month.  I would probably use this all year, but for some reason the Husband doesn't have the same love for skulls in home décor as I do… oh well!
So I think I was able to create a well decorated and welcoming front door for the trick-or-treaters this year.  We'll probably also have our porch light and inside light on too so we can see the candy and the visitors more clearly, but even if I didn't have all the lights on, our décor still does emit a spooky and festive Halloween glow.
While I did most of the prepping for trick-or-treaters last night and this morning, our other décor including the DIY gravestones and golden pumpkins have been up for a few weeks.  Now that the leaves have finally all fallen, it's only a matter of time before winter comes (it came really early last year!).
Well, just a few more hours before the kids start showing up now… I wonder how much candy I can eat in that time…
See you in November when I am larger :)