These shaped football cookies were one of my earlier blog posts, and I've recently updated the recipe and photos!
The original post appeared in addition to chili that I made for Super Bowl Sunday.  Here is a special themed dessert – football shaped peanut butter chocolate chip cookies!  (With the updated recipe a chocolate cookie – more similar in colour to footballs!).
– Note: This post contains affiliate links. See more information about affiliates here. –
I was feeling like making cookies the other day, and thought I'd also attempt updating the 'ole blog while I was at it!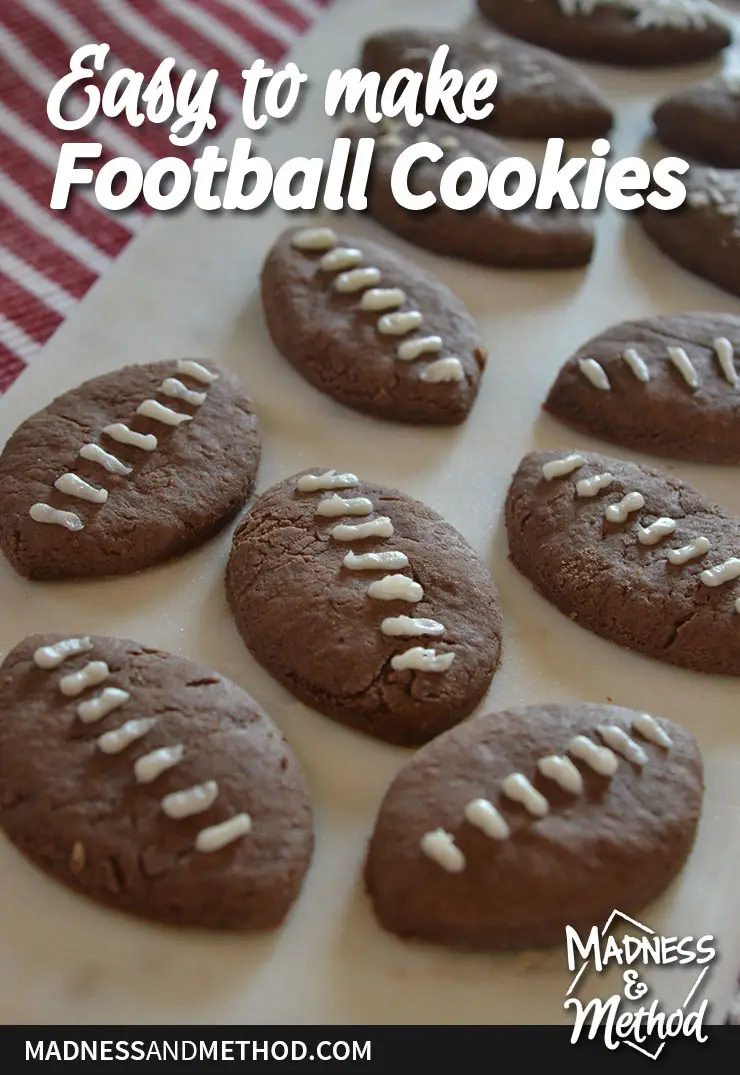 The new version of the football cookies are much more football-like in colour and design, but I'll include the original recipe/post in case you want to see that.
Oh, and I also have a more consistent football shape this time, but it was still a hack!  Buy these football cookie cutters to have perfect shapes :)
Original Peanut Butter Football Cookies
Here are the ingredients I used in the original recipe:
1 Cup of Butter, soft/melted
1.5 Cups of Sugar (it should be half brown, half white… but mine was more white)
2 Eggs
2 Cups of Flour
1 tsp Baking Soda
1 tsp Salt
1 tsp Vanilla (I actually didn't have any, so had to omit this :( )
1 Cup of Peanut Butter
Chocolate Chips
Normally, peanut butter cookies and/or chocolate chip cookies are drop cookies (meaning you spoon them out onto the tray, and maybe moosh them down a bit).  But because I was planning on shaping them, I added a bit more flour when I mixed them (maybe 1/2 cup).  There was also a lot of flour added when I was rolling them out so that they wouldn't stick, so be prepared to have extra flour ready.  First things first, set your oven to 350·F and here are the baking steps: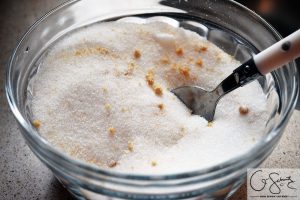 Mix up both sugars (again, that should be half and half).  I tried mixing it as good as I could and removing all the brown sugar lumps!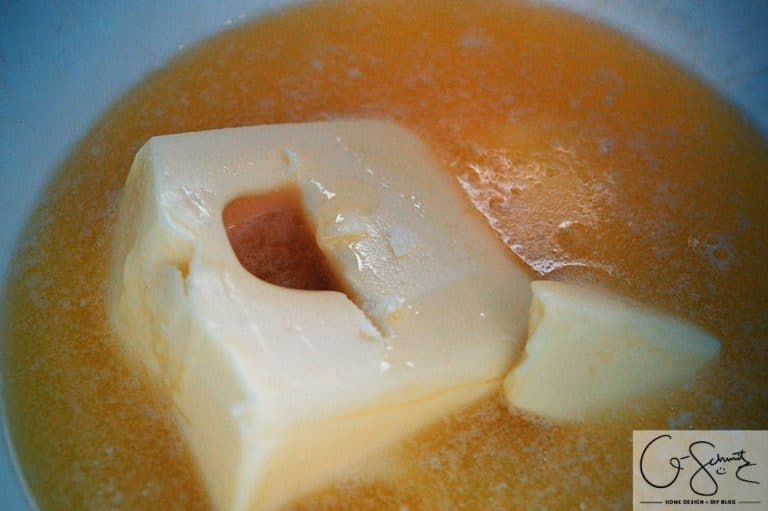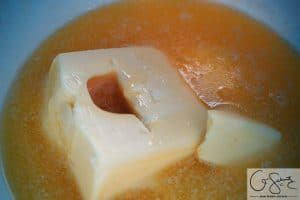 Now, I only wanted to soften the butter… but my microwave got a little carried away and melted half of it.  Anyways, beat this with the sugar and then add the eggs and beat again.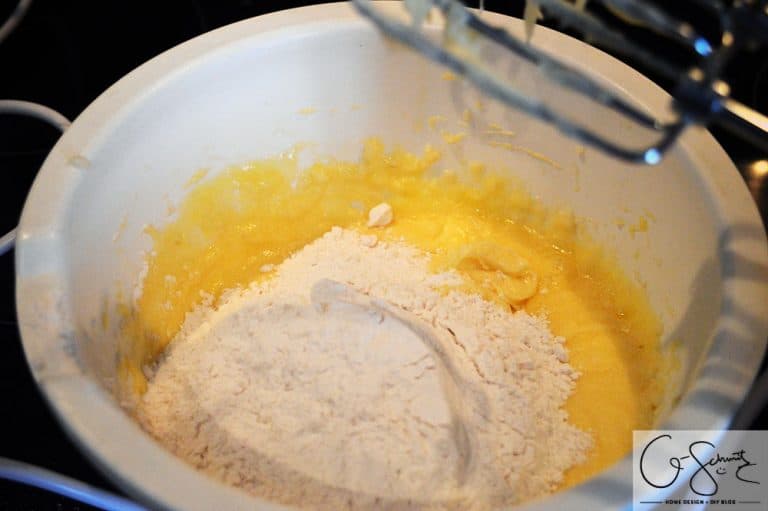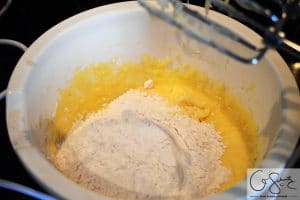 Add the flour, and if your recipe is too goopey, you may have to add more flour (if you're making the traditional drop cookies, more flour is not needed)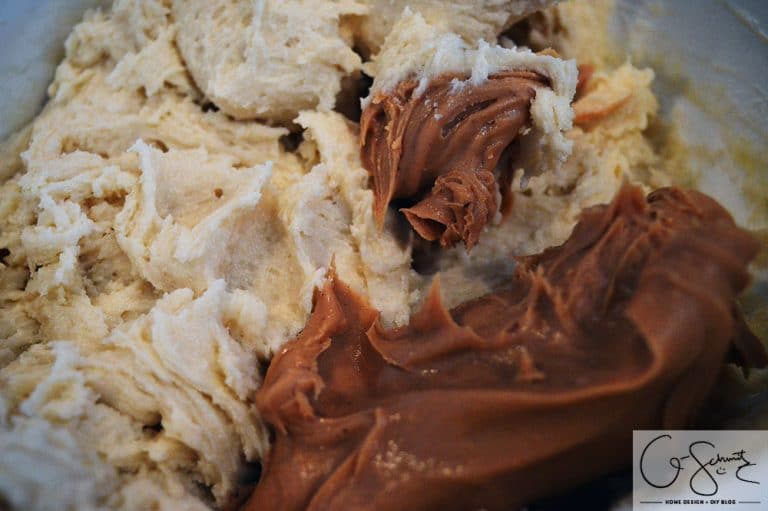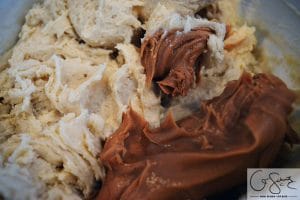 I added the peanut butter last, but again, you may need to add more flour if it's too wet/sticky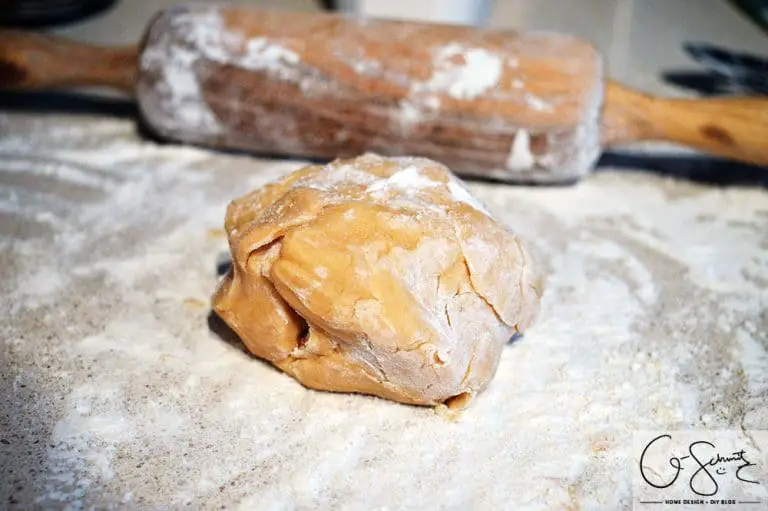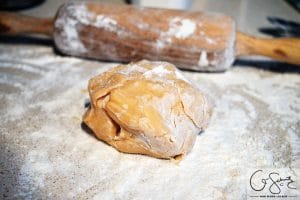 Roll out the dough evenly and coat with flour to make sure it doesn't stick to your rolling pin.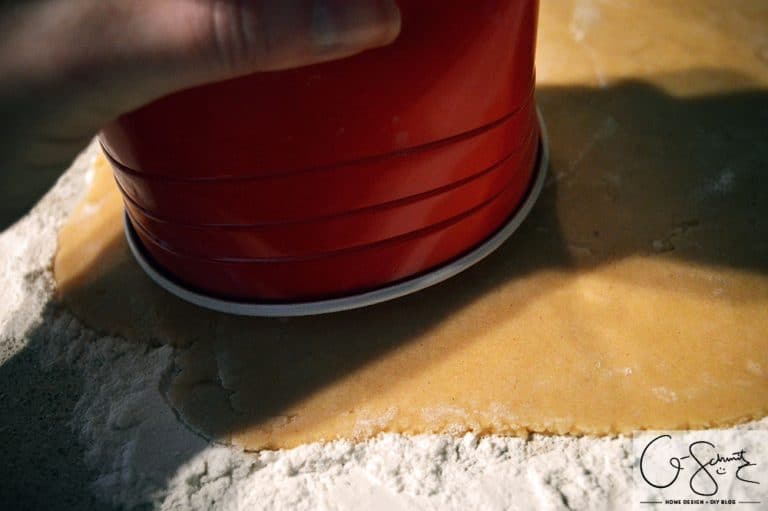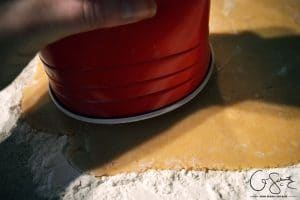 I didn't have any football shaped cookie cutters (basically, an oblong circle).  So I cheated and used a plastic cup that I squished into the shape I wanted.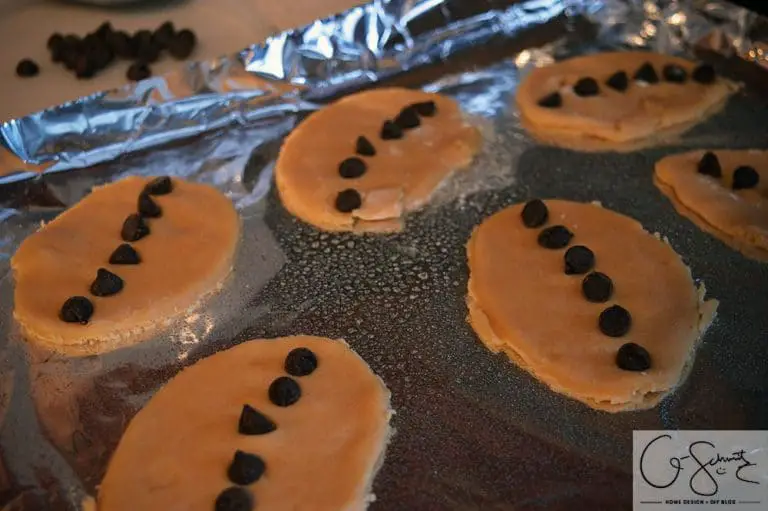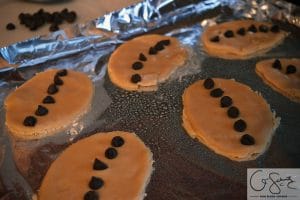 I placed them on a greased cookie sheet and took some chocolate chips, placing them down the center lengthwise of my shapes, (this imitates the lace along the seam).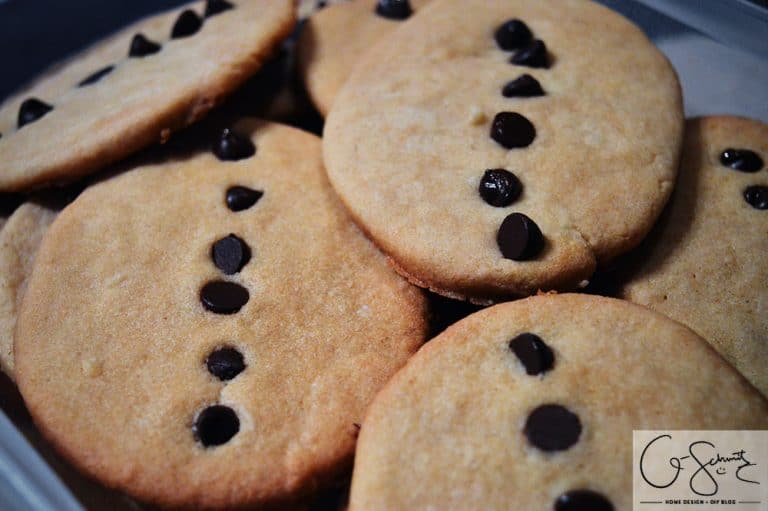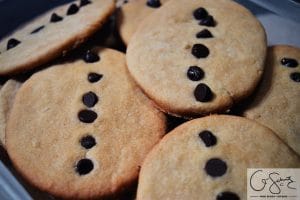 Put your cookies in the preheated oven and bake for 7-8 minutes.  I then removed them, left them on the sheet for another minute or two, then transferred them to a cooling rack until they were room temp.
Updated Football Cookies
And, here is my newest version of the cookies!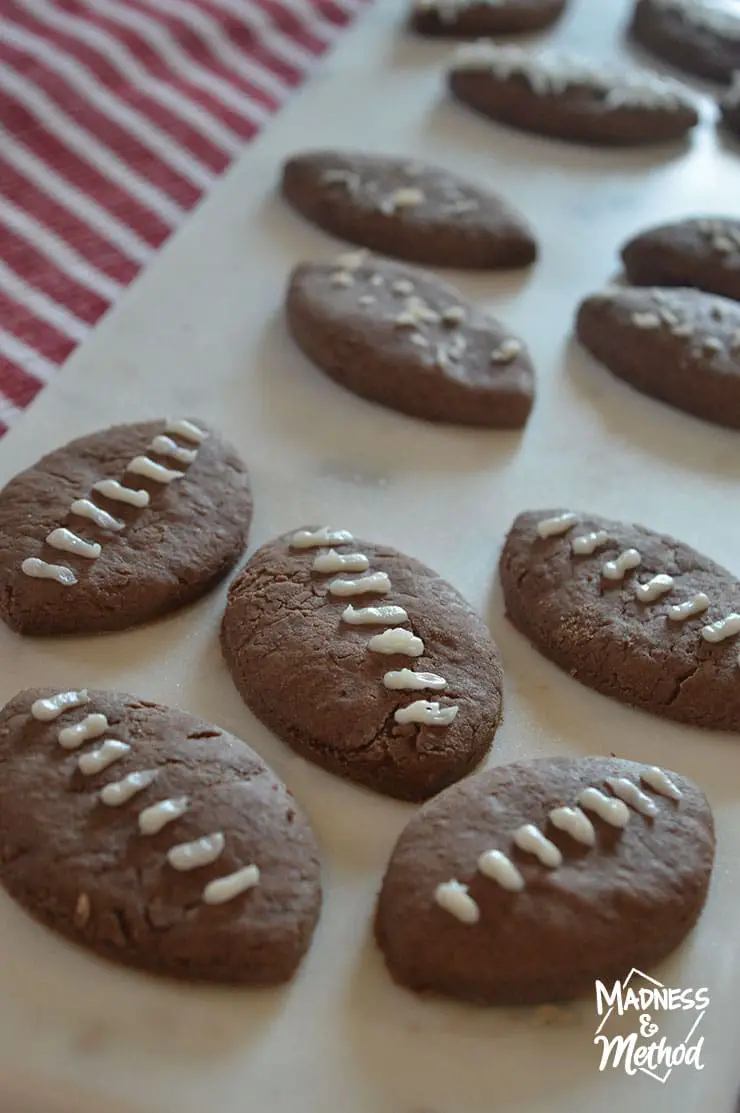 Essentially, I just made a chocolate cookie dough and decorated them with white icing instead of the chocolate chips.  They are much more realistic looking this way, but of course I did experiment with some other options: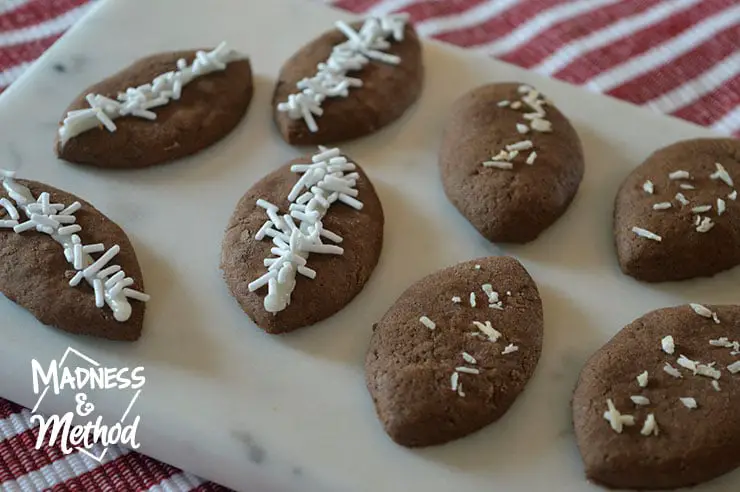 One tasty way to add the little white lines was to sprinkle some sweetened coconut on top before they baked.  While I tried to keep the line nice and even, I put the toddler on decorating duty and it was a free-for-all from the coconut that made its way to the tray (there were many flakes in his mouth and on the floor!).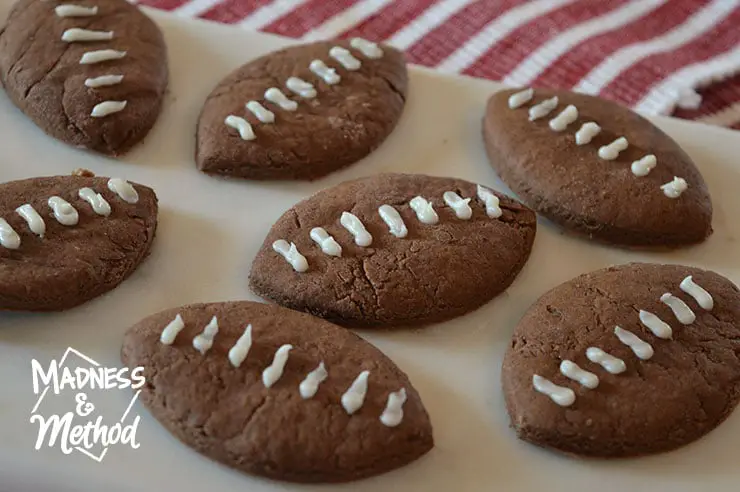 Print Recipe
Football Cookies (Updated Recipe)
These fun football cookies were just updated with a brand new recipe! They look more realistic, but the original recipe is still included too :)
Ingredients
1/2 cup butter, softened

2 eggs

1 tsp vanilla extract

1/2 cup white sugar

1/4 brown sugar

2-1/2 cups flour

1/4 cup cocoa powder

1/2 tsp salt

1/2 tsp baking soda
Instructions
1
Heat oven to 350 degrees.
2
Beat butter, sugar, eggs and vanilla
3
Mix flour and cocoa powder together in a separate bowl
4
Remove approx 1/2 cup of flour mixture for rolling
5
Add in the salt and baking soda, then combine the wet ingredients
6
Roll out onto floured surface
7
Make football shapes, and place on lined, un-greased cookie sheet
9
Transfer to rack to cool completely
Notes
Optional: Decorate with coconut flakes or white sprinkles before baking Optional: Decorate with icing/sprinkles after cookies have cooled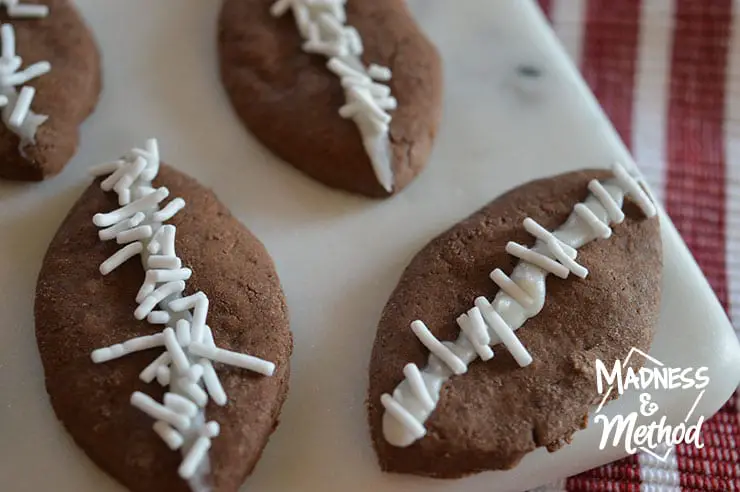 White sprinkles would have been another good pre-baking addition, but I didn't realize I had any until afterwards.  I experimented with adding a line of white icing, and then sprinkled them on top of that.  Yes, I did carefully place one row of them to match the threads, but it was very time consuming!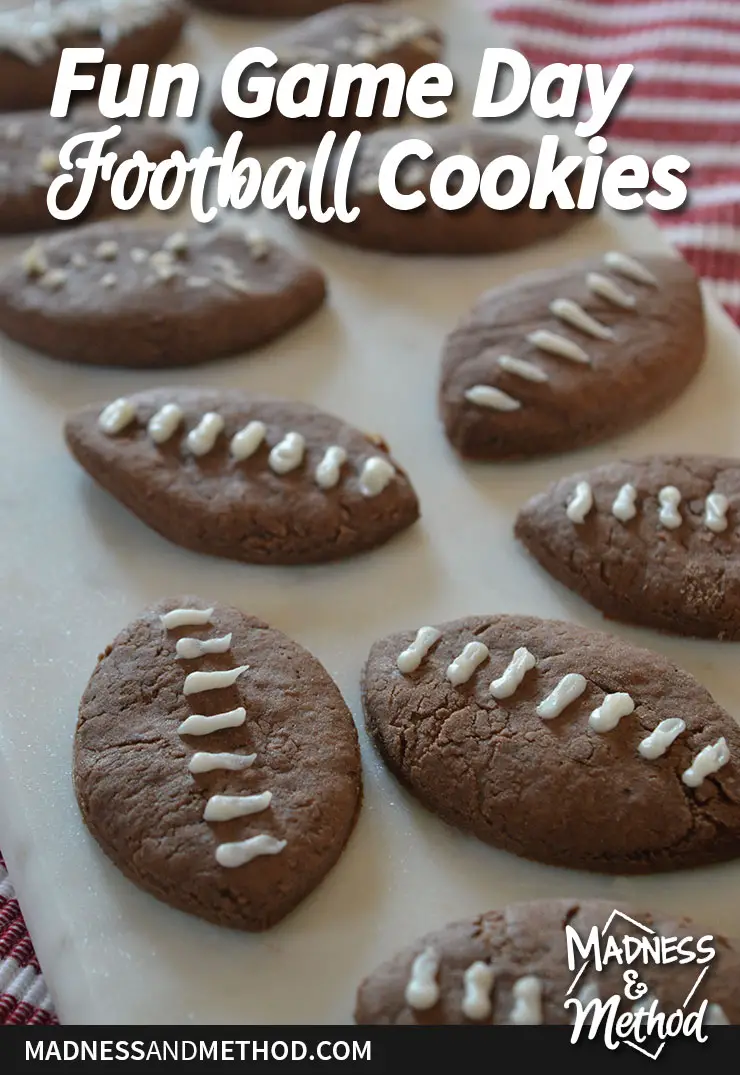 Oh, and my cookie cutter hack to get nice little football shapes?  I just used a circular mould (aka a plastic cup) then cut halfway through it from both sides to make intersecting circles.  But these football cookie cutters would be a lot more handy (and guarantee perfect sizes!).
And you know the best way to decorate the cookies?  (The basic chocolate cookie recipe was okay, super easy to roll and mix, but not the most delicious melt-in-your-mouth cookies, you know what I mean?).  Add icing between two cookies to make a little sandwich!  You could totally put the center icing in a team-specific colour, and then do your little stitches on top in white (or the sprinkle/coconut options).
Let me know which recipe version you prefer!