I am a pumpkin person…  The smell of pumpkin, the taste of pumpkin, everything!  I especially love this time of year because it's all things pumpkin :)  Of course, pumpkin pie is my favourite, but I know that not everyone is into pumpkin as much as me.  That's why I love this pumpkin pie cheesecake recipe.  The cheesecake cuts out some of the in-your-face pumpkin flavours, but it's still so perfectly festive.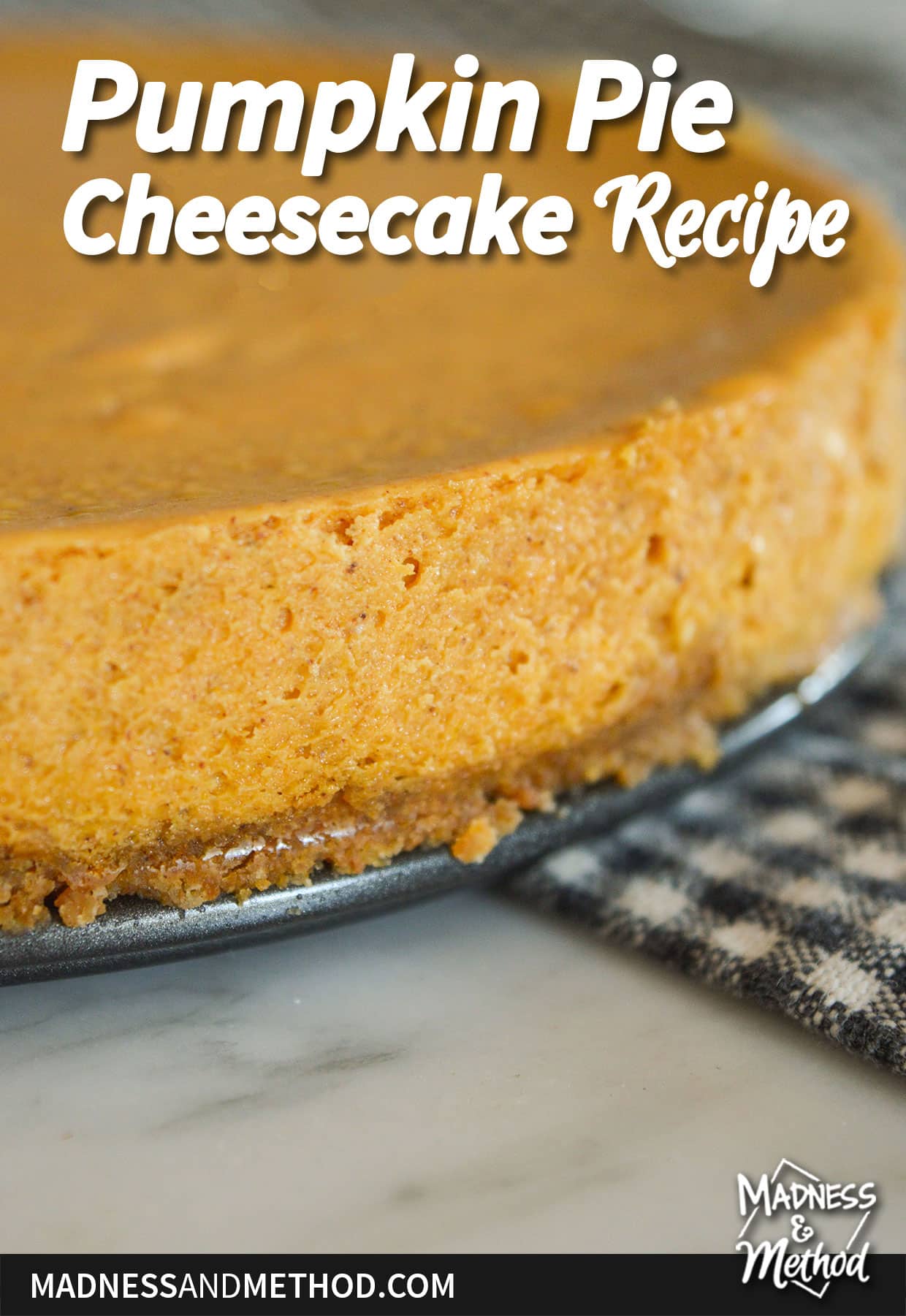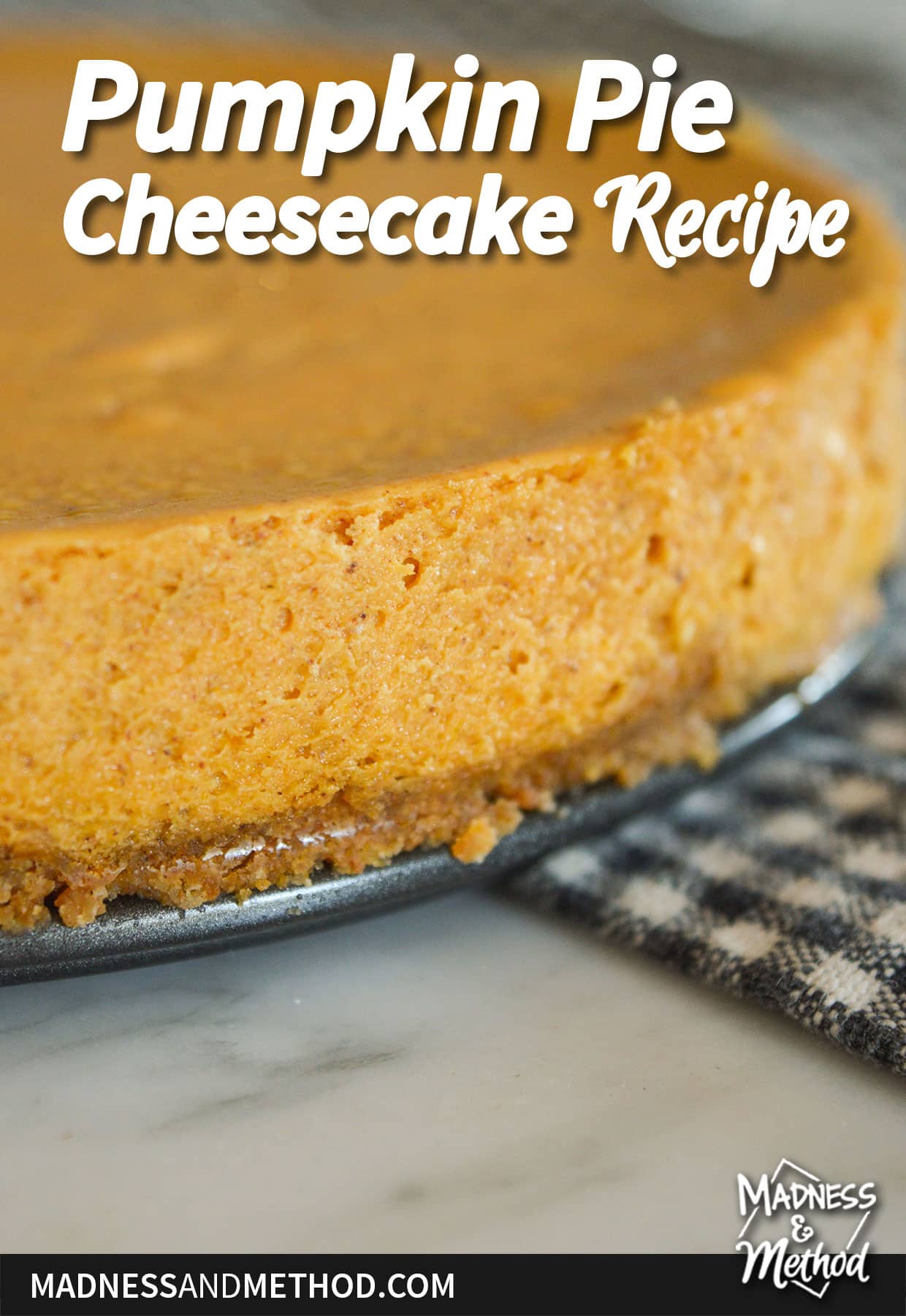 When I originally shared this recipe, I mentioned that I didn't like any other kind of pie.  I still don't prefer fruits as desserts, but I realized a lot of my hang-up was with the pie crust.  I had always had soggy bottom crusts and didn't know there was another way until watching the Great Canadian Baking Show ha. 
Either way, you can certainly make this pumpkin pie cheesecake with a graham cracker crust, or a traditional pie crust.  If opting for the regular crust (ie: dough), you will need to pre-bake it a bit.
This post was originally written October 24, 2015. It has been refreshed and republished September 10, 2022.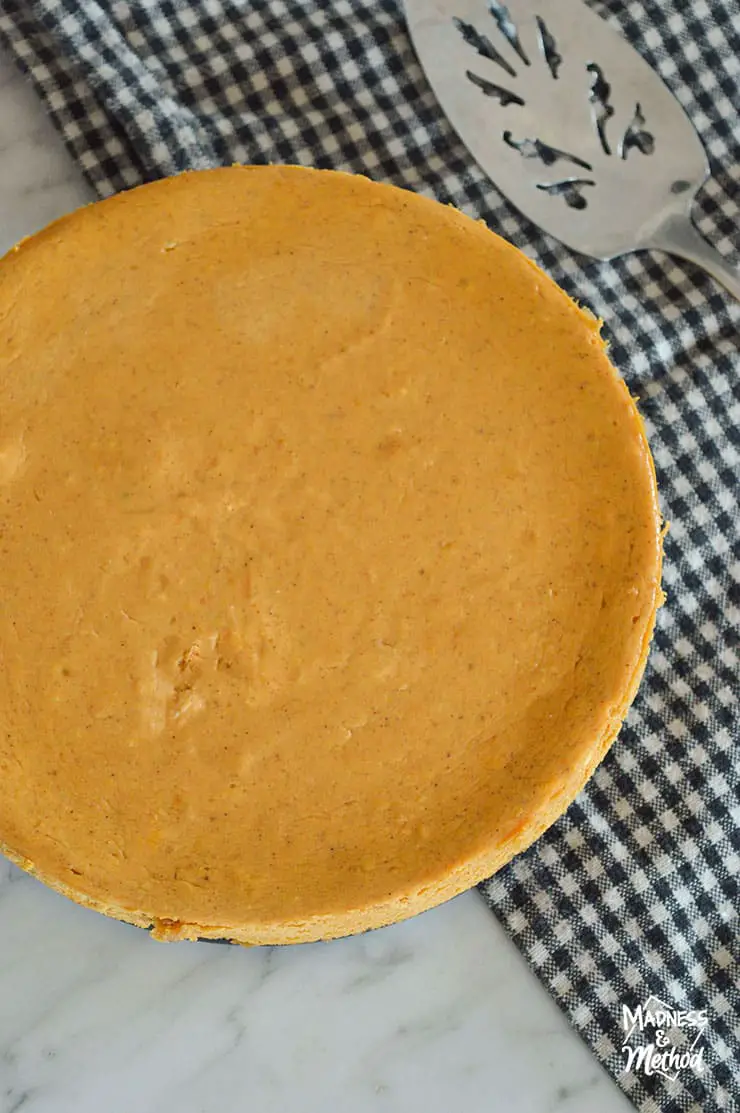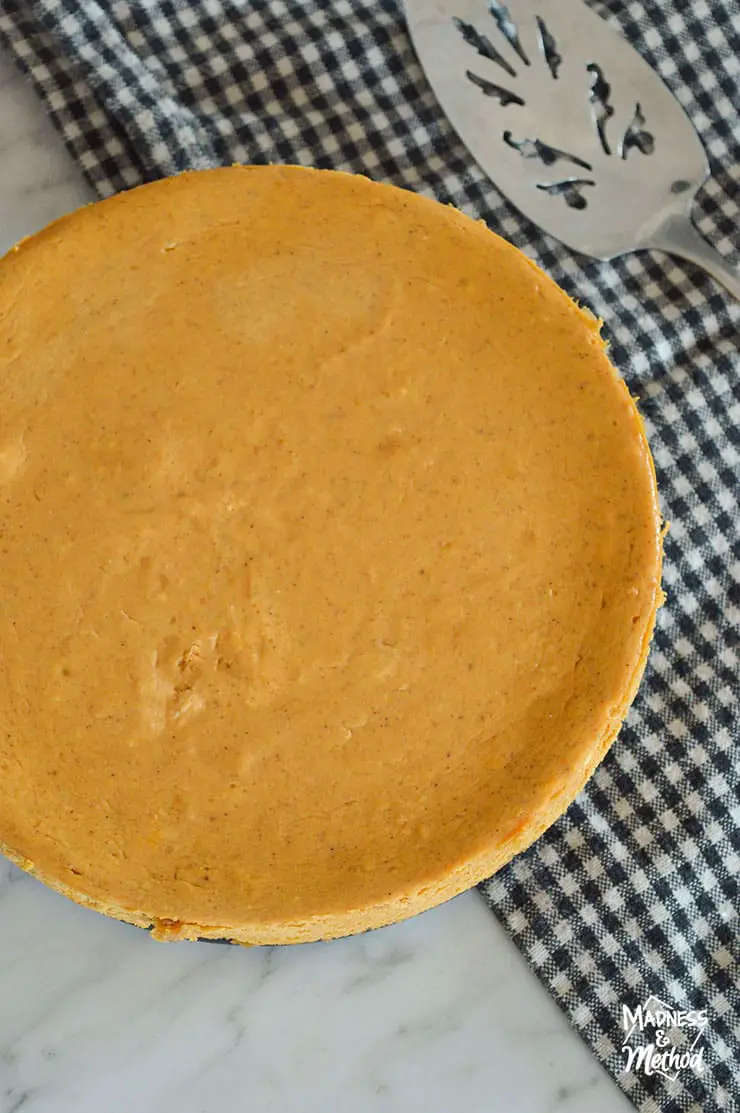 In one of my latest versions, I also experimented with a combo graham cracker and traditional pie crust.  Essentially I mixed two parts flour with one part graham cracker.  I couldn't roll out the dough like a regular pie crust, but it was easy to squish it into the bottom of the pan.  Here is the recipe I used: 
Graham Cracker Combo Pie Crust
1 cup flour
1/2 cup graham cracker crumbs
2 tbsp white sugar
1/2 tsp ground cinnamon
1/4 cup melted butter
With a traditional graham cracker crust, you would have 1 cup of graham crumbs.  Mix all your dry ingredients, then combine with the melted butter until it sticks together.  Press into the bottom of a pie pan and add your filling.
Not wanting the combo crust to be too doughy, I baked it for 10 minutes before adding my pumpkin pie cheesecake batter.  I actually preferred the combo crust because it was way easier to cut and serve than the crumbly crust.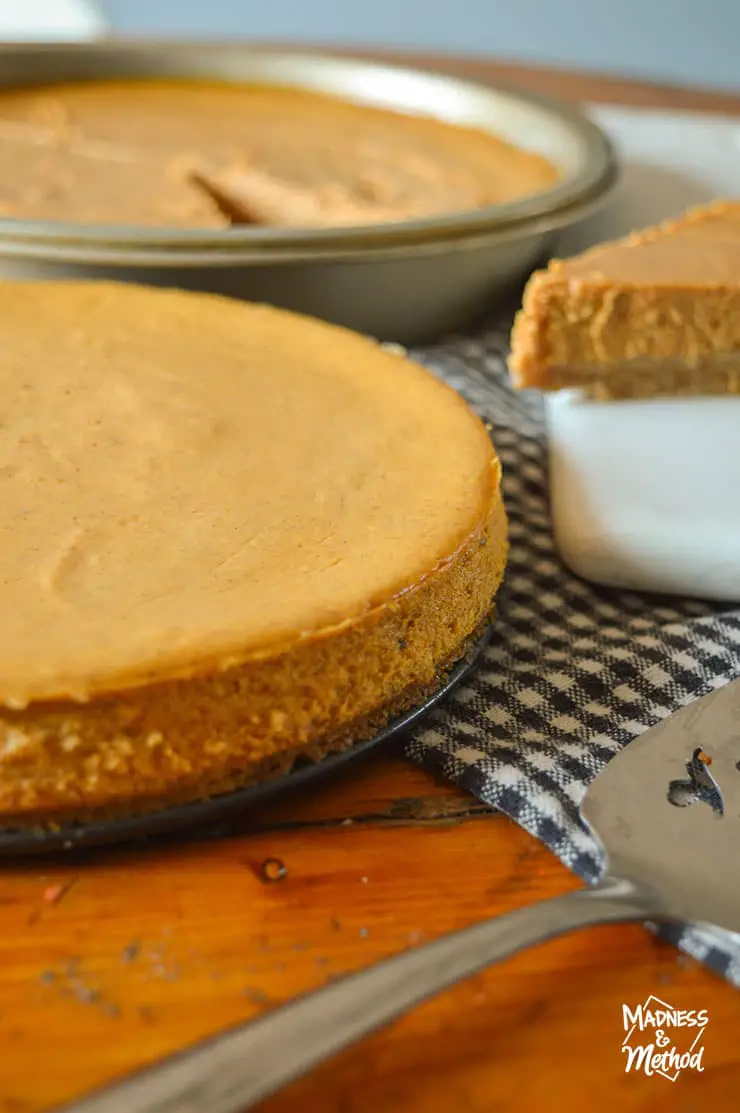 Cheesecake Baking Tips
I never used to know how long to bake my cheesecakes.  Thinking that they were supposed to harden completely on top, I often doubled the recipe cook times.  I'd end up with overbaked cheesecakes that weren't as yummy as they could be.
Cheesecakes are done and still jiggly on top.  Putting them in the refrigerator helps them set completely, and the edges should be slightly pulled from the sides.  Lately, I've been checking my cheesecakes with a thermometer.  Anything above 150º is good to go!  
Yes, inserting a thermometer will add a little mark on the top.  But, since it's not completely hardened in the centre, I've found that I can sometimes re-jiggle the cheesecake to hide it.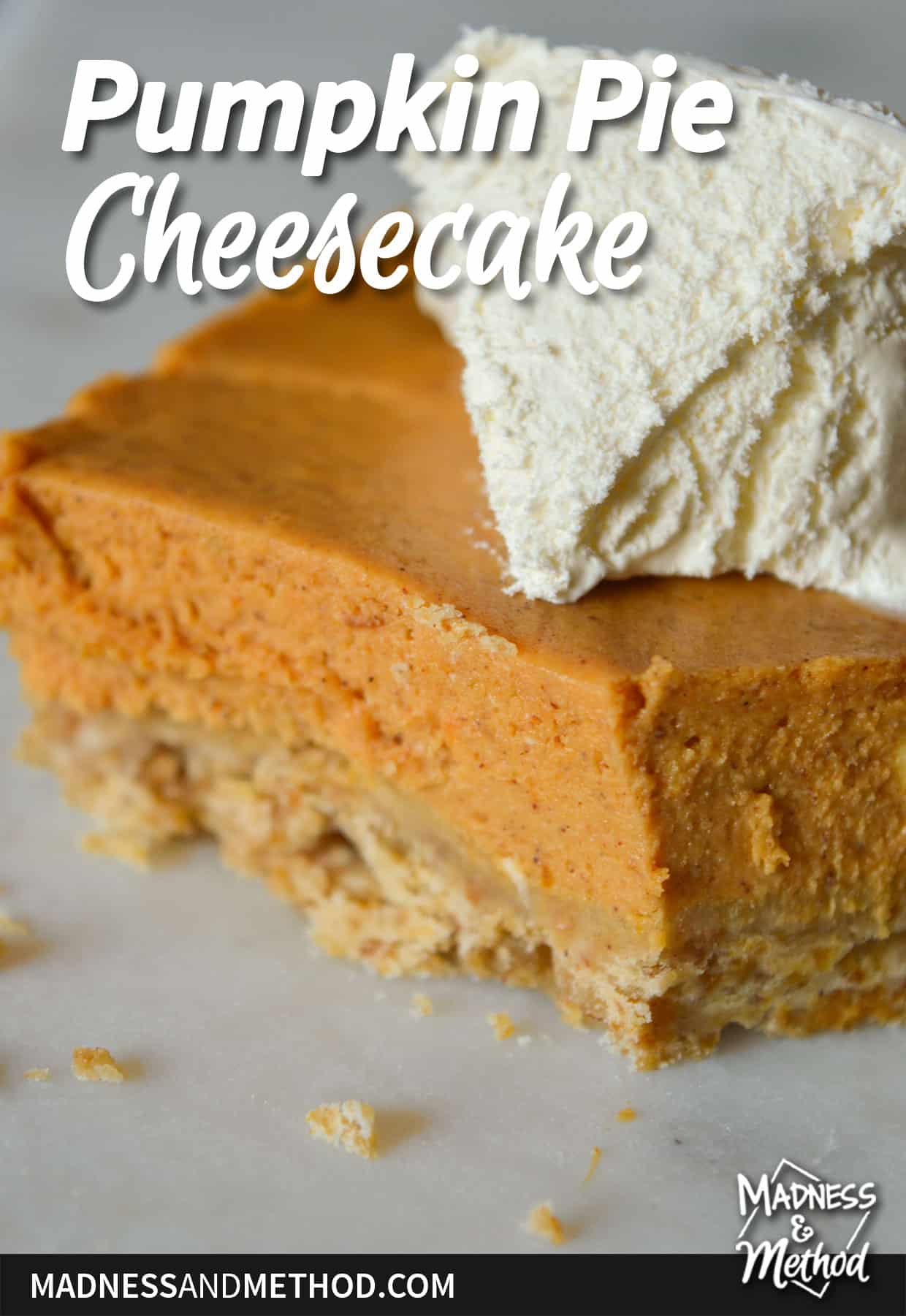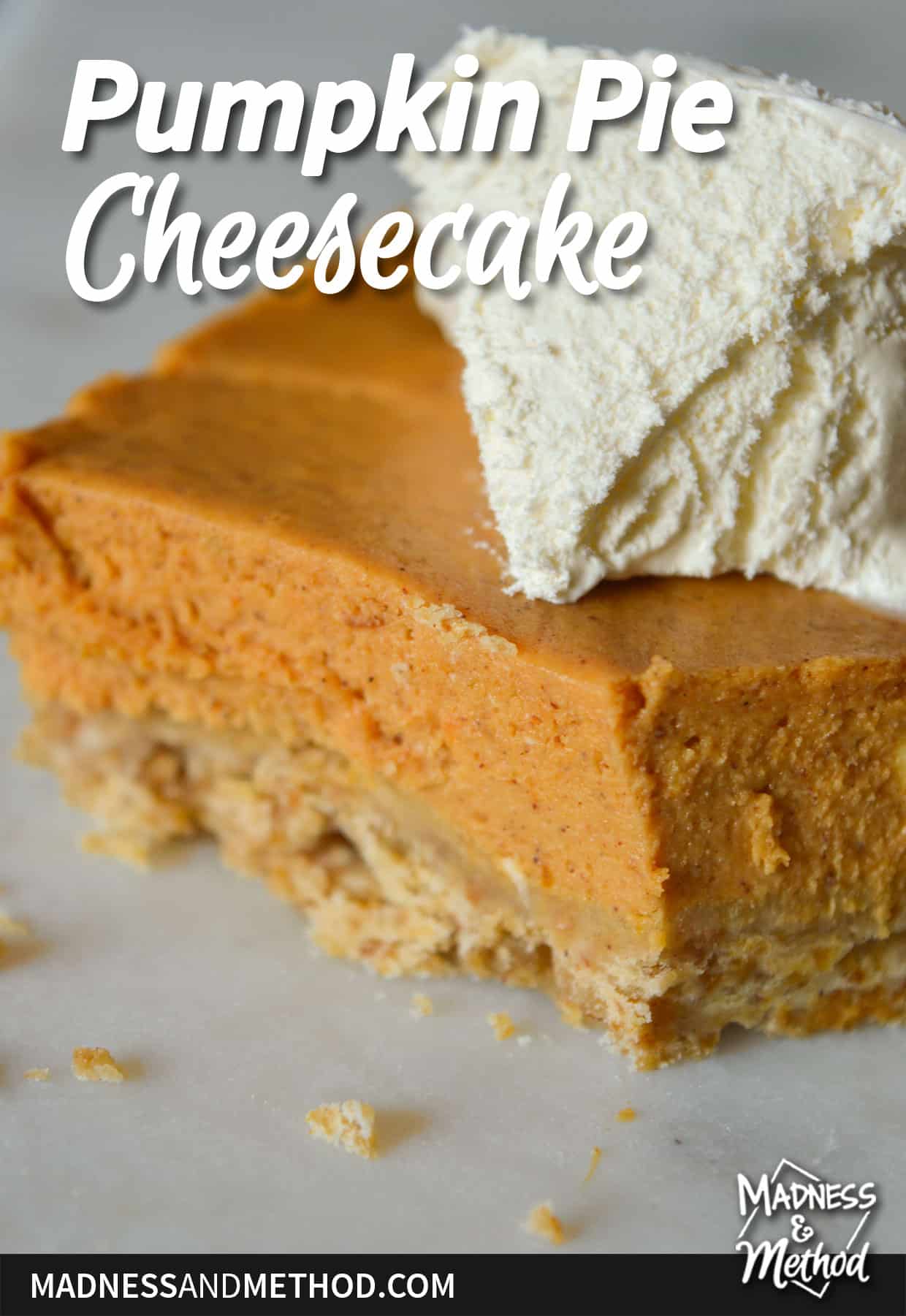 Making Mini Cheesecakes
When I first shared this recipe, I had a lot of extra filling and made mini cheesecakes in muffin cups.  Just make sure to bake them for slightly less time.  And remember, the more filling you have in your pan, you may need to add more bake time.  I've used both a 7″ springform pan and a regular 9″ pie pan, and they are pretty similar.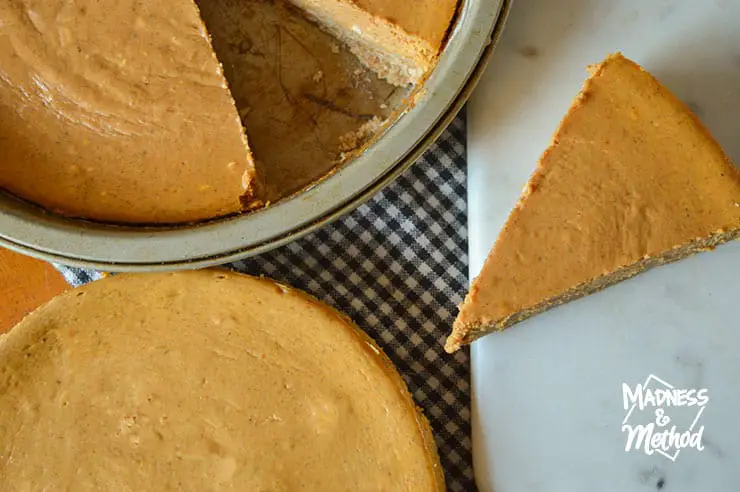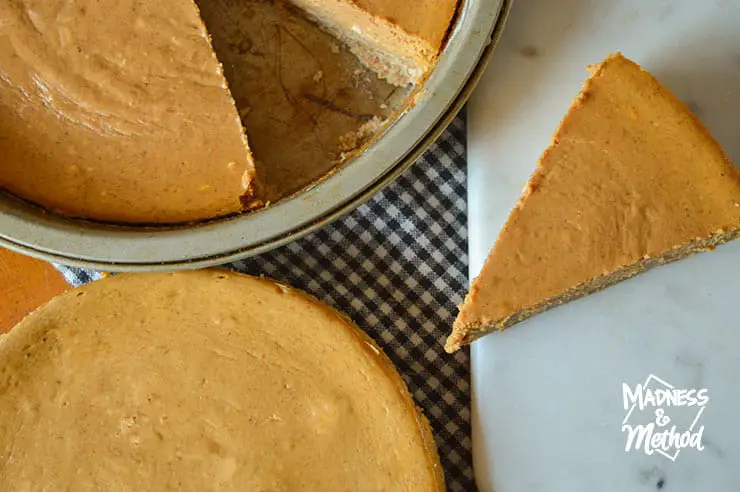 Recipe Substitutions
Want more pumpkin in your recipe?  Feel free to add another cup of pumpkin purée – just add an additional 1/2 cup of white sugar to balance the flavour. 
Want to use pumpkin pie spice?  Add 1 tablespoon and omit the cinnamon and nutmeg. 
Only have one pack of cream cheese?  You can halve the rest of the recipe, just know that it won't be as tall if you use the same baking pan.  And reduce the cooking time by 5 minutes.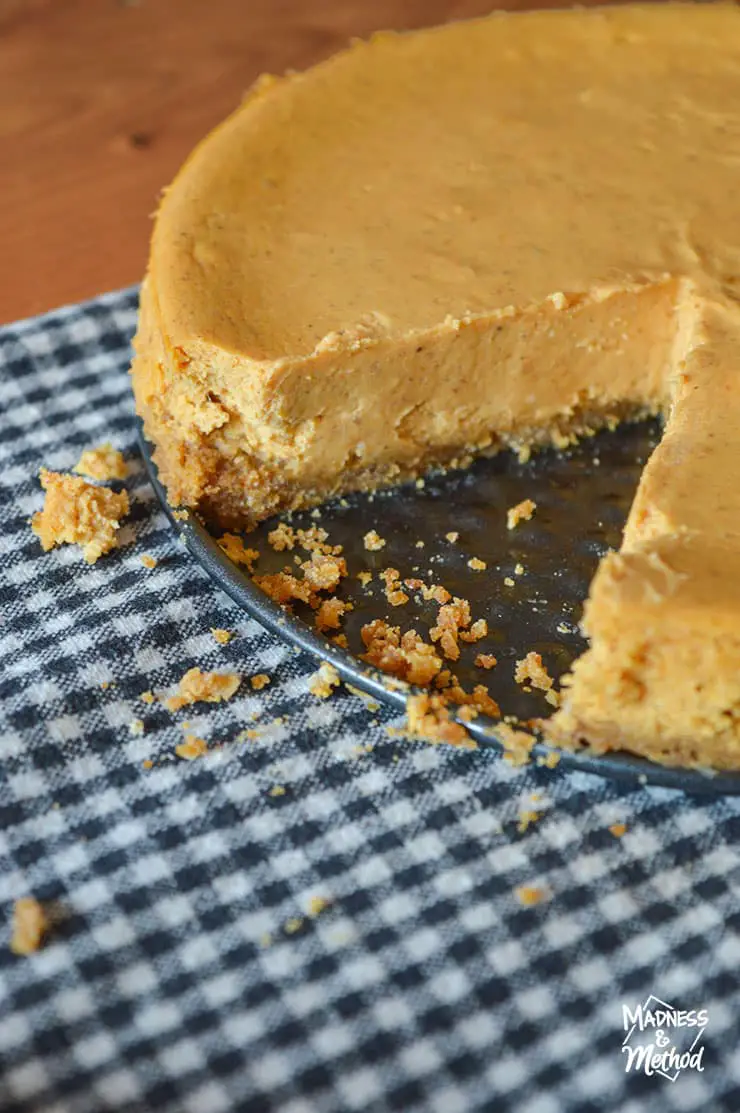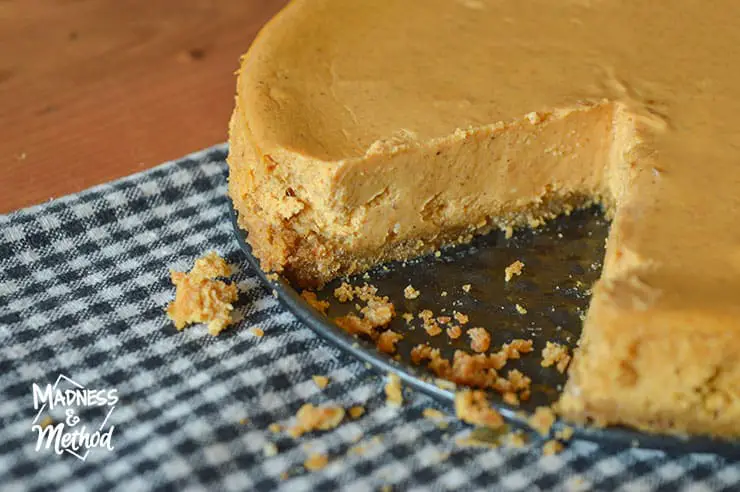 Print Recipe
Pumpkin Pie Cheesecake
Looking for a milder version of pumpkin pie? This yummy pumpkin pie cheesecake recipe is perfect for Christmas or as a Thanksgiving dessert! Full flavour, but not too pumpkin-y for picky eaters.
Ingredients
Crust

1 cup crushed graham crackers

2 tbsp white sugar

1/2 tsp ground cinnamon

1/4 cup melted butter/margarine

OR crust of your choice

Filling

2 packs cream cheese 250g each (room temperature)

1 cup of pureed/canned pumpkin (approx. 1/3 can)

2 tsp ground cinnamon

1/2 tsp nutmeg

1 tsp vanilla

2 eggs

1/2 cup white sugar

Optional: whipped cream for top
Instructions
1
Preheat the oven to 350ºF.
2
Mix the crust 4 ingredients together until crumbly
3
Press into the bottom of a 9" pie pan or 7" springform pan (or similar) and put aside
4
OR buy a ready-made crust (or see the post for details on making a combo pie crust).
5
Mix the cream cheese and sugar until well blended
6
Add the pumpkin purée, spices and vanilla, and blend well
7
Mix the eggs in, and pour the batter into the prepared pie crust
8
Bake cheesecake in the centre of the oven for 30 minutes
9
See the post for details on checking for doneness, and turn off the oven when ready. Leave the cheesecake in for another 5 minutes
10
Remove from the oven until cool, then place in refrigerator for a minimum of 4 hours (or overnight)
11
Slice and serve, with or without whipped cream!
Notes
If your cream cheese isn't room temperature, feel free to microwave for 10-15 seconds. See blog post for recipe substitutions and more details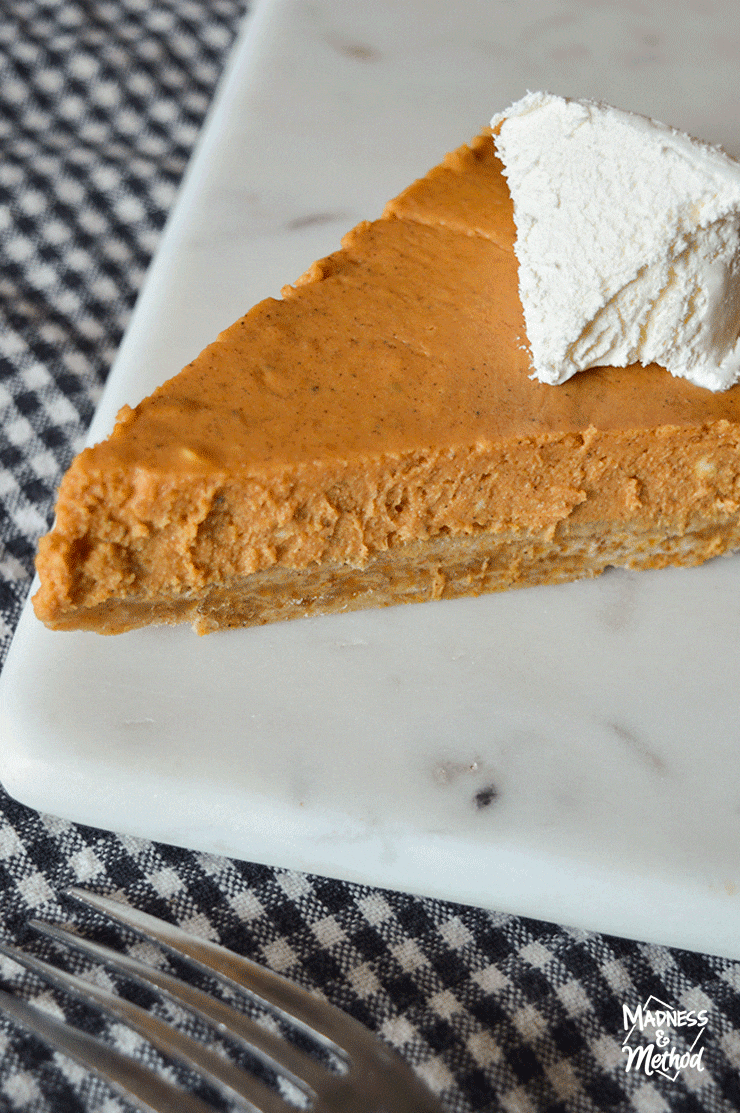 I just couldn't resist a slice disappearing animation…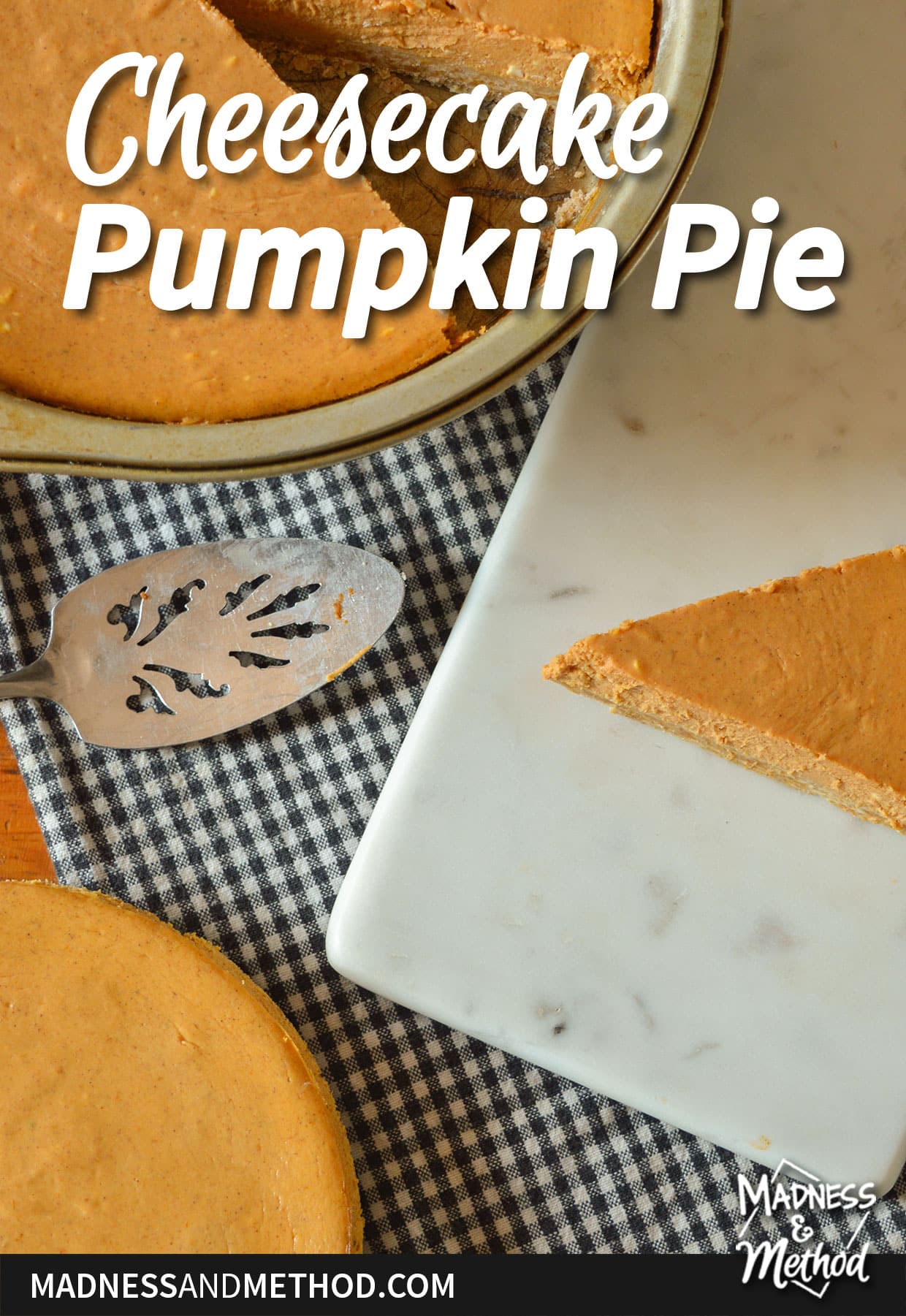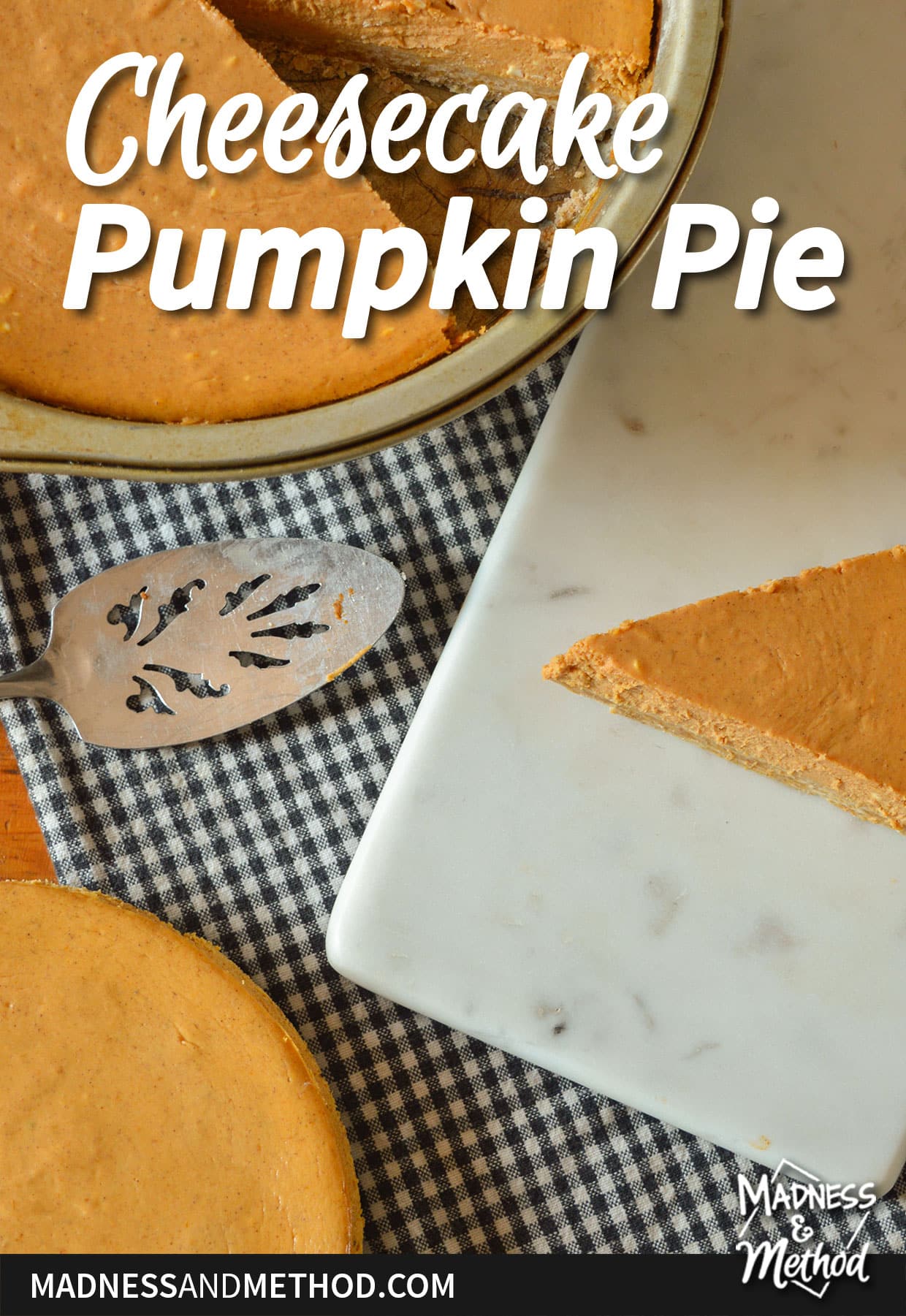 Hopefully, this pumpkin pie cheesecake recipe will satisfy picky eaters who don't like the super-pumpkin flavour of a normal pumpkin pie.  This milder cheesecake version is still holiday festive, and sure to be delicious! 
And, if you're someone like me that enjoys pumpkin pie AND cheesecake, why not try mixing these two delicious things together!?
Let me know when/where you'll make this yummy cheesecake pumpkin pie!  And feel free to save some for me :)
Happy baking!