So you know I love cheesecake right?  Well, did you also know that I love pumpkin pie too!?  In fact, it's my favourite type of pie AND the only one that I'll actually eat and enjoy (unless you count chocolate pie as a real pie).  But seriously, I could care less for any of the "healthier" pies like apple, cherry, blueberry… whatever!  I especially love this time of year because that's when all things pumpkin are in overdrive, and I can eat my pumpkin pie at all the family gatherings.  Today I'll be sharing a pumpkin pie cheesecake recipe… because why would you not mix two delicious things like pumpkin pie and cheesecake!?
I should also mention that my favourite type of pie crust is a graham cracker crust… none of that gross dough stuff for me!  (I can imagine the real pie lovers just having a fit over everything I am writing!).  So rather than get fancy and experiment, I went with a simple graham cracker crust for my pumpkin pie cheesecake.
Graham Crust
1 cup Crushed Graham Crackers
2 tbsp. White Sugar
1/2 tsp. Ground Cinnamon
1/4 cup Butter/Margarine
By adding a bit of cinnamon you can add an enhanced "fall flavor" to your crust.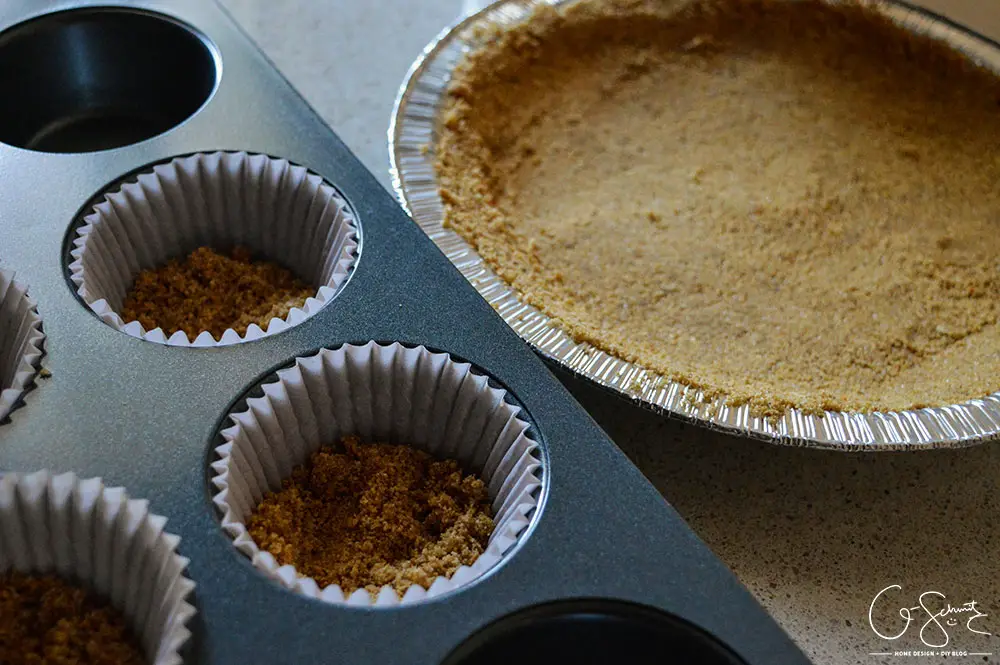 I had a bit of extra pie crust because I used a smaller pie pan again… oh well!  Again, just add your extras to some lined muffin tins and you're good to go.  You should pre-heat your oven to 350ºF now.
For the filling, I combined this Kraft Canada recipe and this Paula Deen one as well.  The first one didn't seem pumpkin-y enough for me and the second one looked like it would make an excess.  Here are the ingredients I used:
Pumpkin Pie Cheesecake Filling
2 packs Cream Cheese (room temperature)
1 cup of Pureed/Canned Pumpkin
1/2 tbsp. Ground Cinnamon
1/2 tsp. Nutmeg (?)
1 tsp. Vanilla (?)
2 Eggs
3/4 cup White Sugar
I put my larger pie and the mini-cheesecakes all in the oven in the same time; but took the mini ones out after 40 minutes, and left the large one in for another 5 minutes.  The small ones could have probably come out a bit sooner (and they might look less crackly) but they didn't taste overdone at all.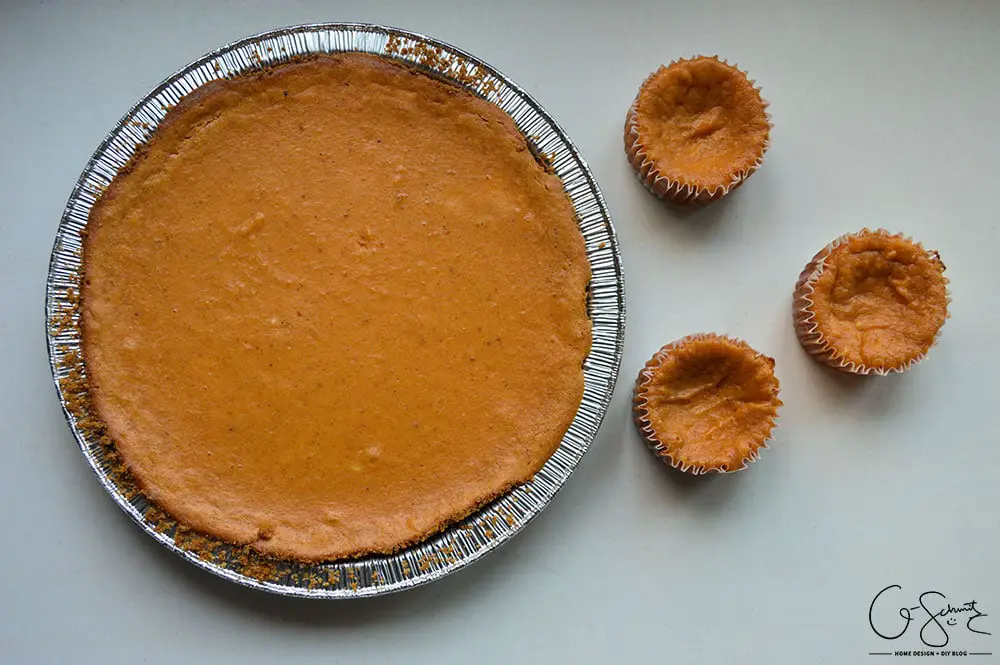 Basically, once it's cooled down a bit you just pop the mini-cheesecakes out and store everything in the refrigerator until they're ready to eat.  Or you could eat them all slightly warmed from the oven… no judgment here!
Why do a pumpkin pie cheesecake combination instead of keeping these two delicious things separate?  Well for one, if you have any picky eaters who don't like the super-pumpkin flavor of a normal pumpkin pie, this is a much milder version; and second, if you're going to make a cheesecake for your holiday meals, might as well make it more "fall festive" and give it that yummy pumpkin taste, am I right?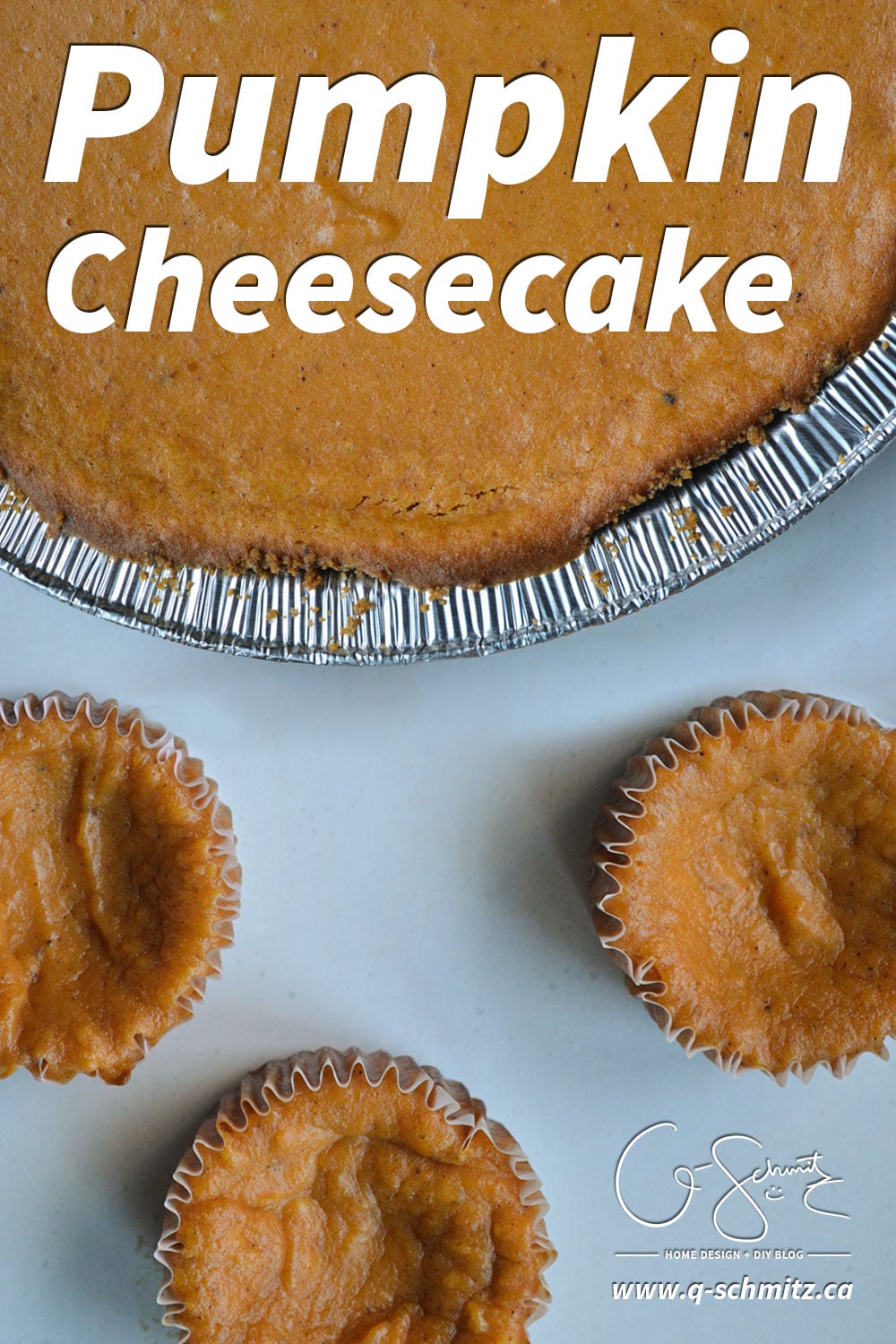 I actually made this recipe a month ago, but happen to have some leftover canned pumpkin… so guess what I'm making this weekend!?  Yay!
(Oh, and I stored the leftover pumpkin puree in the freezer until I was ready to use it, not sure how the opened can would last in the fridge).  Happy baking :)
Ingredients
1 cup Crushed Graham Crackers
2 tbsp. White Sugar
1/2 tsp. Ground Cinnamon
1/4 cup Butter/Margarine
2 packs Cream Cheese (room temperature)
1 cup of Pureed/Canned Pumpkin (approx. 1/2 can)
1/2 tbsp. Ground Cinnamon
1/2 tsp. Nutmeg
1 tsp. Vanilla
2 Eggs
3/4 cup White Sugar
Instructions
1

Preheat oven to 350 degrees.

2

Mix first 4 ingredients together and press into the bottom of a pie pan (and/or lined muffin pan)

3

Beat remaining ingredients together, then add to pie crusts

4

Bake muffin size cheesecakes for 35 minutes, and/or regular sized pie for 45 minutes

5

Once cool, store in refrigerator and serve chilled