Have you ever had a stacked brownie sandwich?  I came up with these heart-shaped ones a few years ago. Basically, it's a three-layer bar with the bottom as a traditional brownie, then a cream-cheese icing layer, then a red velvet top.  These have been a favourite of mine ever since, and I'm updating the post so that you can love them too :) 
– Note: This post contains affiliate links. See more information about affiliates here –
Well, technically, I updated these on the blog a few times!  The first ones were really a proof of concept, and the second ones were much more photogenic.  But now?  This is the third iteration, and I think I've perfected them.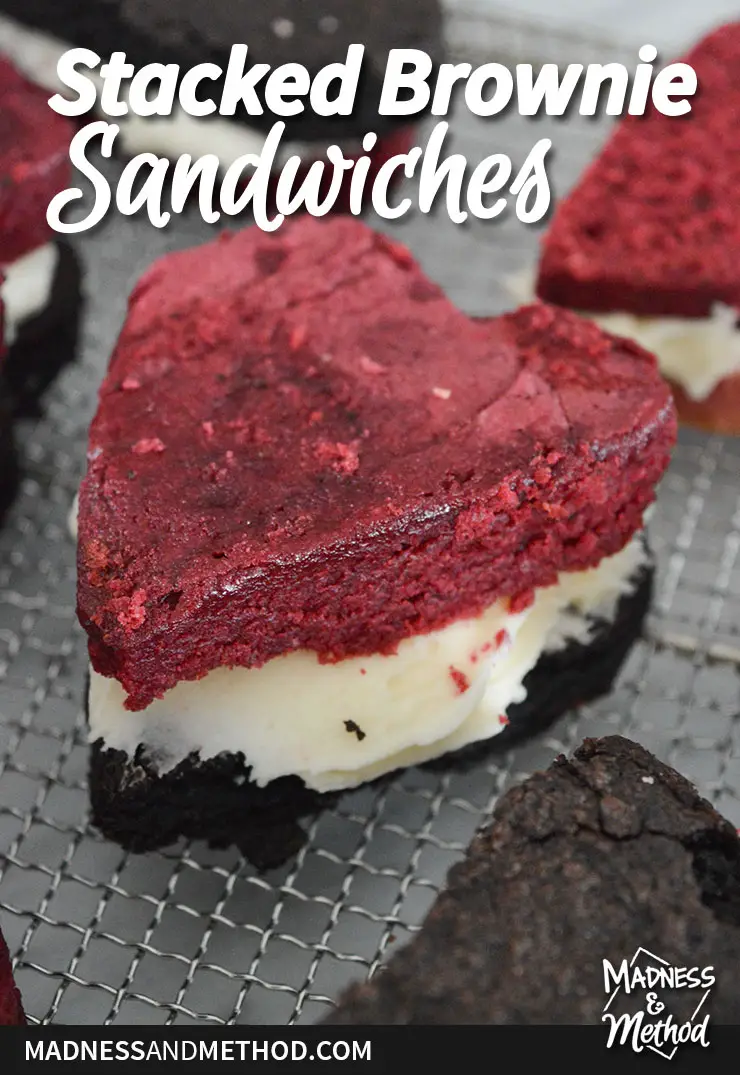 Of course, you'll need to check out my recipe for the best smooth red velvet brownies.  You can always make your stacked brownie sandwiches using two traditional brownie layers, but the red velvet really makes them fun! 
This post was originally written February 15, 2015 and titled "Valentine's Day Brownie Bars". It has been refreshed with new information and tips, and republished January 21, 2022.
The original post referenced my favourite: Taste of Home Baking Book.  It's where I found and tested the original recipes, so I figured I'd link it again.  These black forest brownies were my base – but you'll see that the recipe I ended up with is slightly different. 
Cutting Heart Shapes Into Brownies
If you're making heart-shaped stacked brownie sandwiches, you'll need some heart-shaped cookie cutters!  Otherwise, a steady hand and long knife should be good (for square shapes).

Always bake your brownies on a greased parchment or aluminum sheet.  That way, you can easily pop it out of the pan and cut the shapes.  Once your brownies have cooled, simply move the sheet to a flat surface, insert the cookie cutter and set your shapes aside.  You can even cut your shapes when the brownies are still a bit warm, but carefully set them aside to cool completely before you add the frosting.  
Remember: to make stacked brownie sandwiches, you'll need an even number of hearts for each brownie!
You can save the leftover brownie pieces to top ice cream sundaes.  Or, you know – eat them for testing purposes :)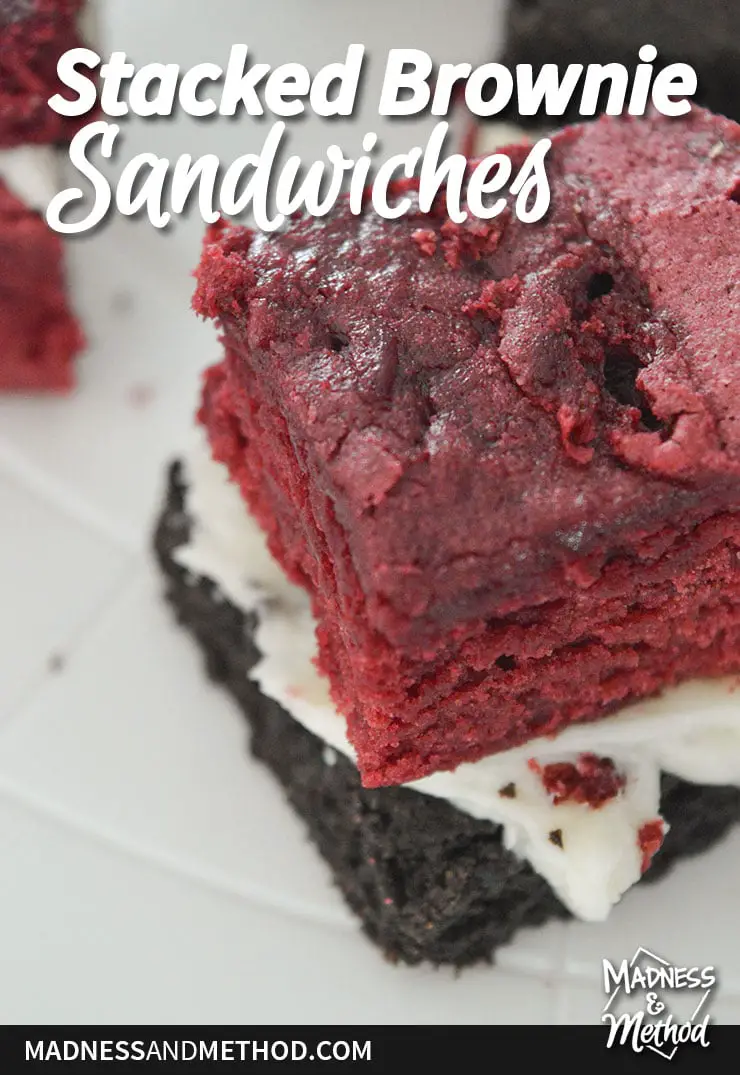 Don't have heart-shaped cookie cutters or not into Valentine's Day?  Leave them the traditional square shape! 
You could even make different sized sandwiches for a variety.  There's always someone who just wants a little bit of dessert, ha.  OR cut circle shapes to make your stacked brownie sandwiches extra fancy :)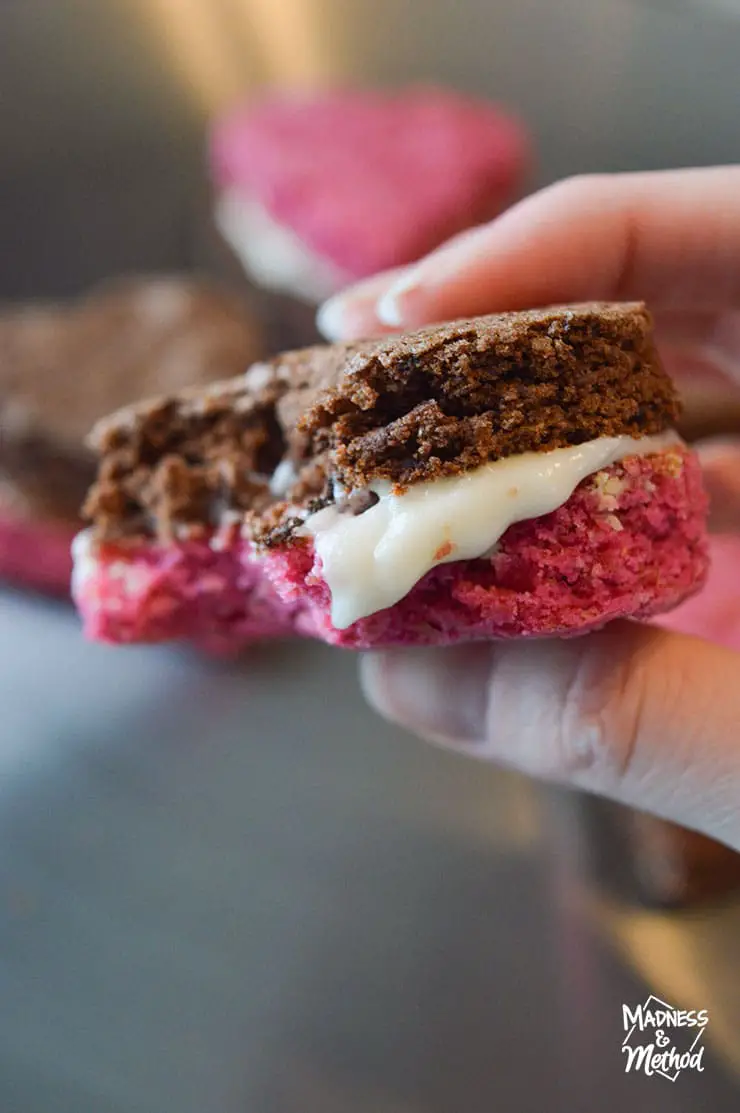 Then, whip up a batch of cream cheese icing, and pipe or spread it in between!  The thicker you mix your icing, the less messy it is when you bite into the brownie bar.  (The brownies above were from my second batch, the icing was a bit thin). 
Cream Cheese Icing
I wanted a nice white cream cheese icing for my center filling, and used the following recipe:
1 package of Cream Cheese, Softened (250g)
1/2 cup of butter (one stick), Softened
1 tsp Vanilla Extract
4-6 cups of Icing Sugar
For the icing, beat the cream cheese, butter and vanilla together.  There should be no lumps.  Add 3 cups of icing sugar and beat again.  Add more icing sugar, 1/2 cup at a time, until you reach the desired consistency. 
Because the icing is the middle layer between two brownies, it shouldn't be too runny or it will squish out when you take a bite down.  This recipe will make more icing than you need – but it can be stored it in the refrigerator and used it in a few days (or in the freezer for a longer time). 
Check out these photos that show my different batches of stacked heart-shaped brownies: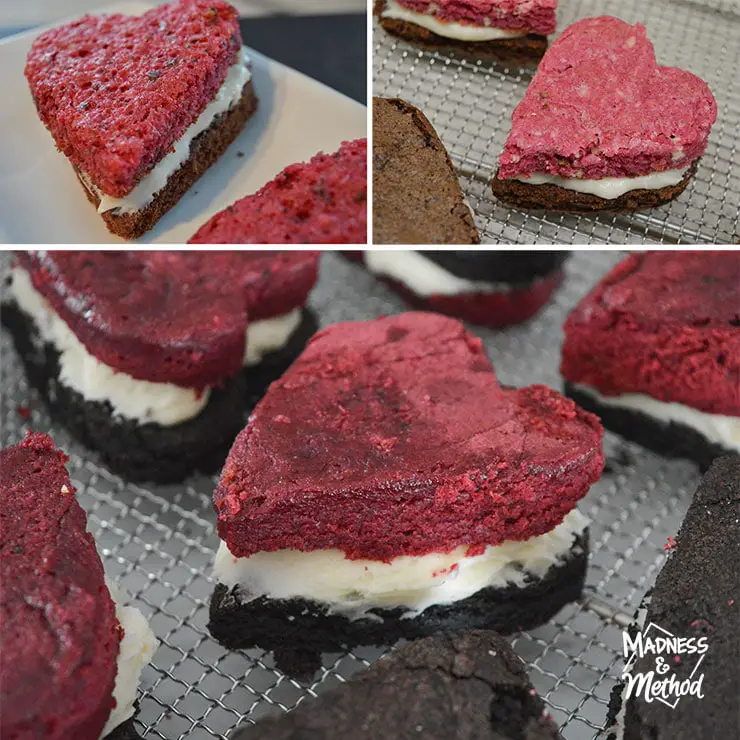 Even though the red velvet layers were slightly different each time, they were always delicious :)
Again, make sure to check out the perfected red velvet brownie recipe here!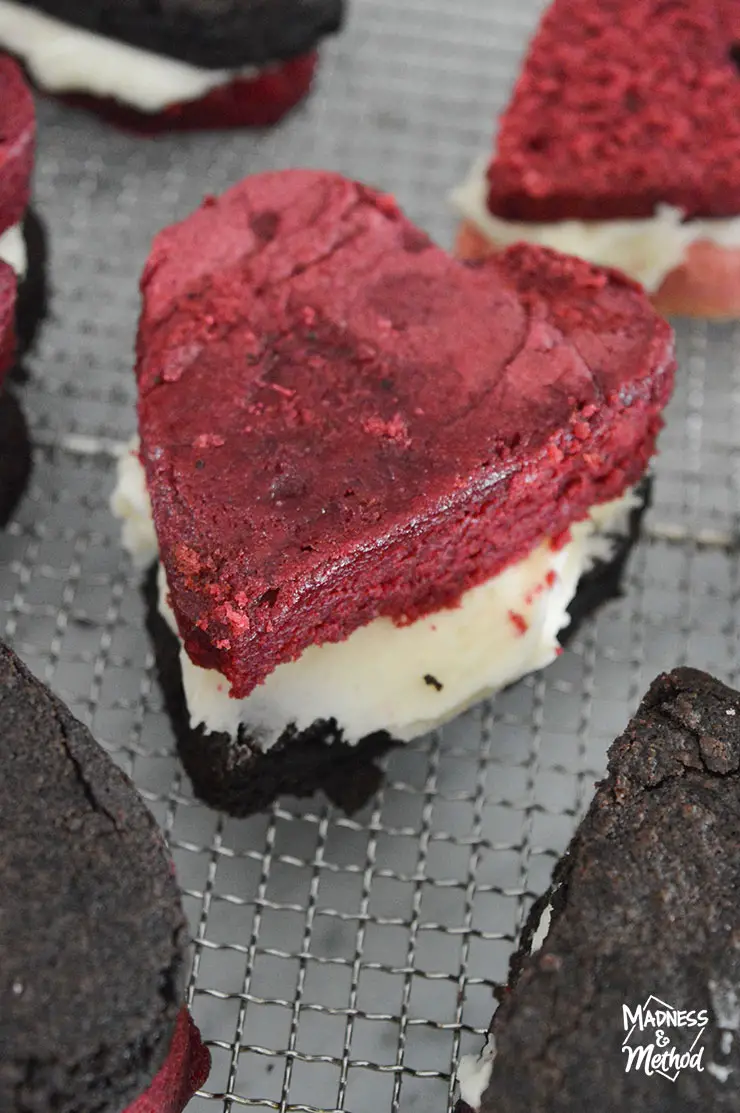 For my stacked brownie sandwiches, I used a spoon to spread the cream cheese icing.  It can also be piped on, and that would probably ensure that there are less crumbs.
Shop Related Products at Amazon.com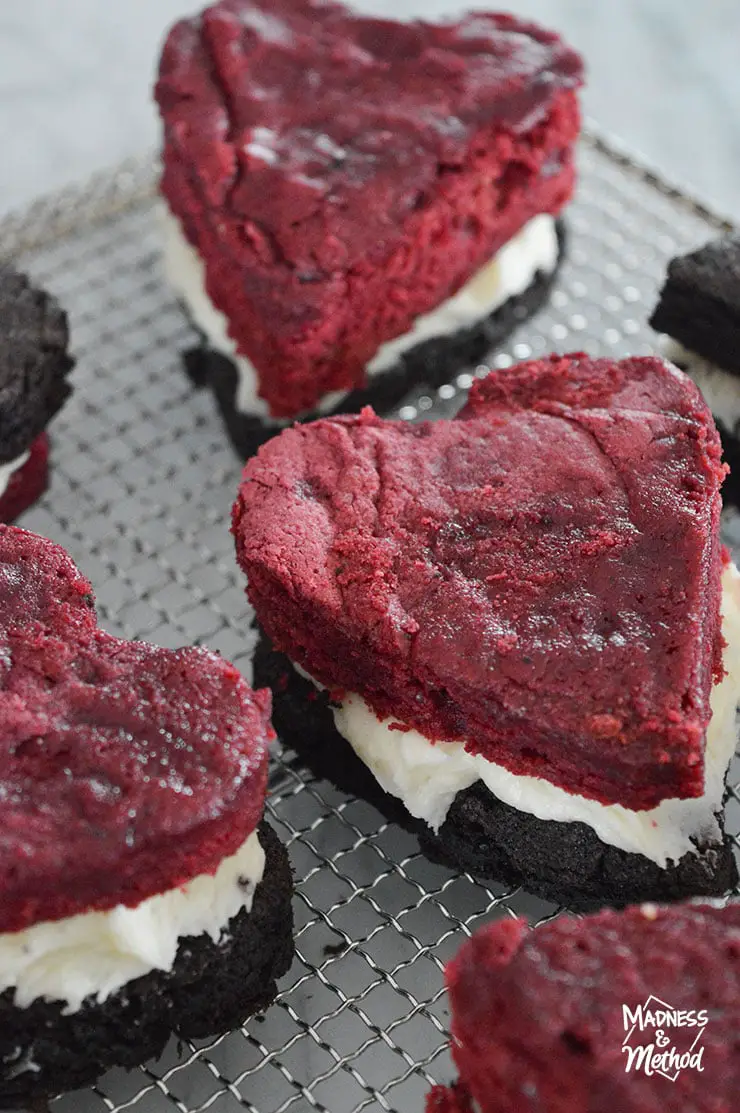 Even so, these heart-shaped brownie bars are always a show-stopper.  They look so good and taste great too :) 
Make sure to save this recipe for later!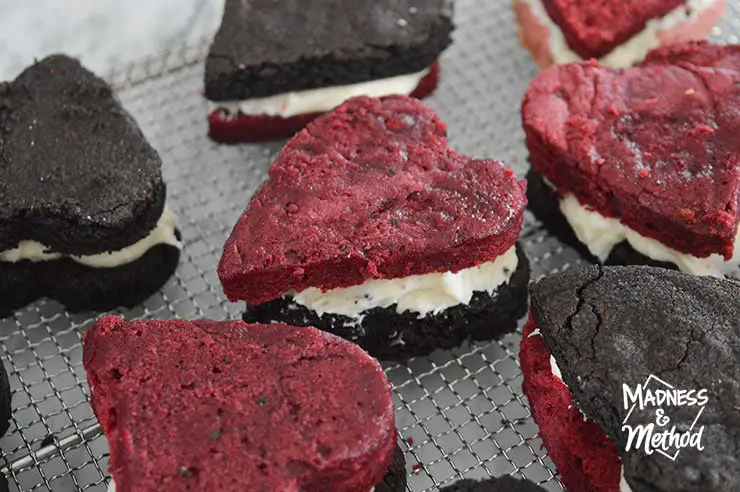 Print Recipe
Chocolate Brownies (Perfect for Stacked Brownie Sandwiches!)
This basic brownie recipe is the perfect base for stacked brownie sandwiches. Just add cream cheese frosting and a red velvet brownie layer for the most delicious treat! Perfect for Valentine's Day, but you can adapt the shape for any occasion.
Ingredients
Basic Chocolate Brownies

1-1/3 cups flour

1 tsp Baking Powder

1/2 tsp Salt

1 cup Butter

1 cup Cocoa

4 Eggs

2 cups Sugar

1-1/2 tsp Vanilla Extract

Cream Cheese Frosting

1 package of Cream Cheese, Softened (250g)

1/2 cup of butter (one stick), Softened

1 tsp Vanilla Extract

4-6 cups of Icing Sugar
Instructions
2
Melt the butter, add the cocoa, then the eggs, sugar and vanilla. Beat well
3
In a separate bowl, mix the flour, salt and baking powder.
4
Add the dry ingredients to the wet ones, and mix until combined.
5
Line a cookie sheet with oiled foil and bake for 20-30 minutes. (OR 2 square pans)
6
Let cool, then use a cookie cutter to make shapes
7
Beat the cream cheese, butter and vanilla together
8
Add 3 cups of icing sugar and beat again
9
Add more icing sugar, 1/2 cup at a time, until you reach the desired consistency
Stacked Brownie Sandwiches
10
Spread or pipe on cream cheese icing to the top of the brownie
11
Top with the red velvet brownie layer
Notes
This recipe makes enough brownies for 2 square pans (8x8 or 9x9) OR one cookie sheet (approx 10x16).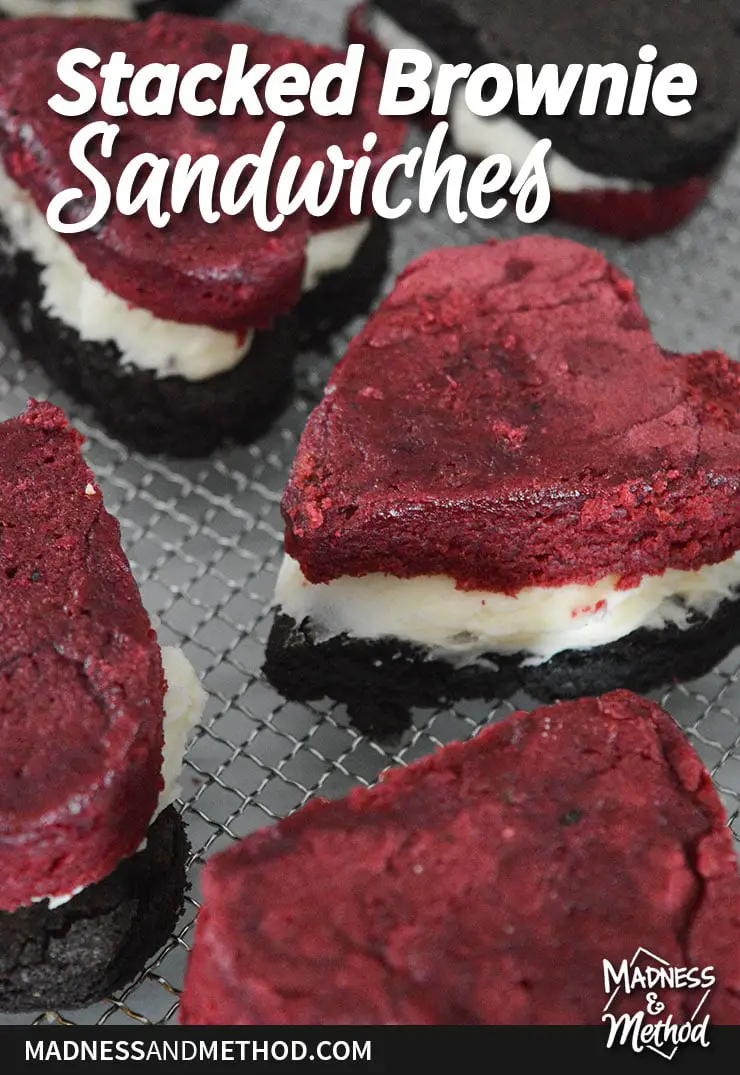 These gorgeous looking heart-shaped stacked brownie bars are simple to make, but really make a fun treat.  They are perfect for Valentine's Day, but the shape (and colour) can be adapted for any holiday/occasion.  
What do you think?  Could you see these being served at your next gathering?  What about altering the colour to suit the holiday!?  I'll let you know if I come up with anything :)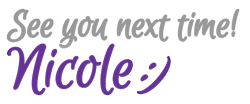 Shop this Post on Amazon.ca