I know I mentioned that I wasn't planning on doing any Valentine's Day projects this year, but I definitely had to tackle a dessert.  I got the idea to make these heart bars sometime during the week, and I was pretty sure I had most ingredients on hand.  Basically, I was envisioning a three layer bar with the bottom as a traditional brownie, then a cream-cheese icing layer, then a red velvet top; all in the shape of a heart of course!  So keep on reading for all the details…
– Note: This post contains affiliate links. See more information about affiliates here –
Update: I just remade these brownie bars to get some better images, so you'll see a mixture of both the original ones (with the old logo) and the new ones.  They still taste delicious!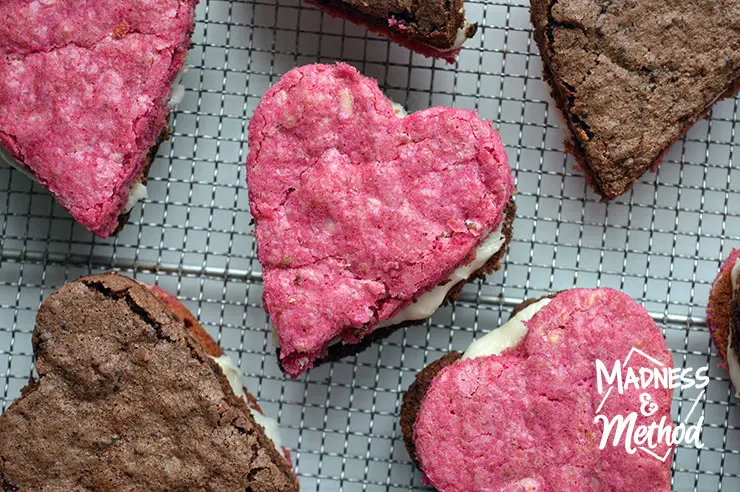 Brownie Layer
I make brownies semi-regularly, but for some reason, never remember which recipe I used last.  So I got out the Taste of Home Baking Book, and figured I would find an option or two that I could use.  For the regular brownie base, I chose the "Black Forest Brownies" recipe (from Toni Reeves in Medicine Hat Alberta, FYI) but omitted the cherries and nuts.  I also didn't have any almond extract; but other than that, followed the recipe from the book.
You'll also need some heart-shaped cookie cutters!
The recipe is as follows:
1-1/3 cups flour
1 tsp Baking Powder
1/2 tsp Salt
1 cup Butter
1 cup Cocoa
4 Eggs
 2 cups Sugar
1-1/2 tsp Vanilla Extract
1 tsp Almond Extract (omitted)
1 cup Crushed/Chopped Maraschino Cherries (omitted)
1/2 cup Chopped Nuts (omitted)
Preheat your oven to 350°F.  Melt the butter, add the cocoa and mix well, then add the eggs, sugar and vanilla.  Next, mix in the flour, salt and baking powder.  (Then stir in the cherries and nuts if you're using them).  The recipe calls for filling a foil-lined 9×13 x 2in deep pan and baking the brownies for 30-35 minutes; but I used cooking sheet (and a half) and only left in the oven for 15 minutes.  Don't forget to line your pan with foil and spray it too!
"Red Velvet" Layer
For the top section, I wanted to just make some "blondies", aka white brownies, and then add some red food colouring to make it more Valentine's Day themed.  I didn't have any white chocolate on hand, which all the recipes in the book seemed to call for; so I decided to make my own recipe from the items I did have (aka a bunch of random ingredients).  I used both the "Chunky Blond Brownies" (from Rosemary Dreiske in Keldron South Dakota) and the "Coconut Pecan Blondies" (from Anna Tokash Henry of Keller Texas) as inspiration.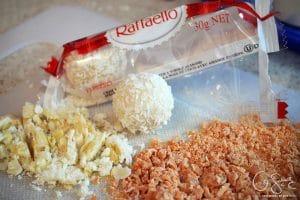 Here is the recipe I followed:
1 cup Butter, softened
1-1/3 cup White Sugar (I used half icing sugar the first time)
3 tsp Vanilla Extract
1-1/2 tsp Baking Powder
1/2 tsp Salt
3 Eggs
2 cups Flour
1 cup Coarsely Chopped White Chocolate (I originally used coconut balls, butterscotch chips, skor bits and semi-sweet chocolate)
Red Food Colour (about 1-2 tsp)
I mixed all the ingredients, first the wet ones (and the coarsely chopped chocolate) and then added in the dry ones.  Once again, I poured the mix into a sprayed, foil-lined baking pan (and a half) and baked for 15 minutes at 350°F.  I should also note that I used icing sugar as a base in this recipe because I ran out of regular sugar; and I'm not sure if that was the cause of all the holes in these brownies, or the fact that I might have been missing something else I needed?  Either way, these were a bit more stuck to the tinfoil, so I had to be extra careful not to break them when I was taking them out (and the shapes were a bit less crisp).  Update: when I made the recipe correctly, the holes disappeared.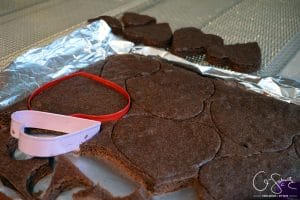 Heart Shapes:
After I removed the brownies from the oven, I let them cool off for a tiny bit.  When they were still warm, I pressed the heart shapes into the brownies, starting with the big hearts first, then the medium, then the small ones.  After they cooled off enough, I lifted the aluminum foil off of the pan and carefully pressed each heart out (using the cutter to make the shapes deeper if needed).  I was definitely glad I had gone the foil-lined route, because it made the shape extraction a very simple process!  I also made sure I had the same number of big hearts, medium hearts and small hearts for both the brown and the red layers, so that they would each have their own partner.  The heart shapes were then transferred to a cooling rack, and once they were completely room temperature, I made the icing.
Icing
I wanted a nice white cream cheese icing for my center filling, and used the following recipe:
1 package of Cream Cheese, Softened
1/2 cup of Margarine, Softened
2 tsp Vanilla Extract
4-6 cups of Icing Sugar
To make the icing, you mix your wet ingredients together first, then slowly add in one cup of icing sugar at a time until you reach the desired consistency.  Because I was using this as a middle layer between two brownies, I didn't want it to be too runny or it would squish out when you took a bite down.  With this amount, I had some leftover, but you can always store it in the refrigerator and use it in a few days.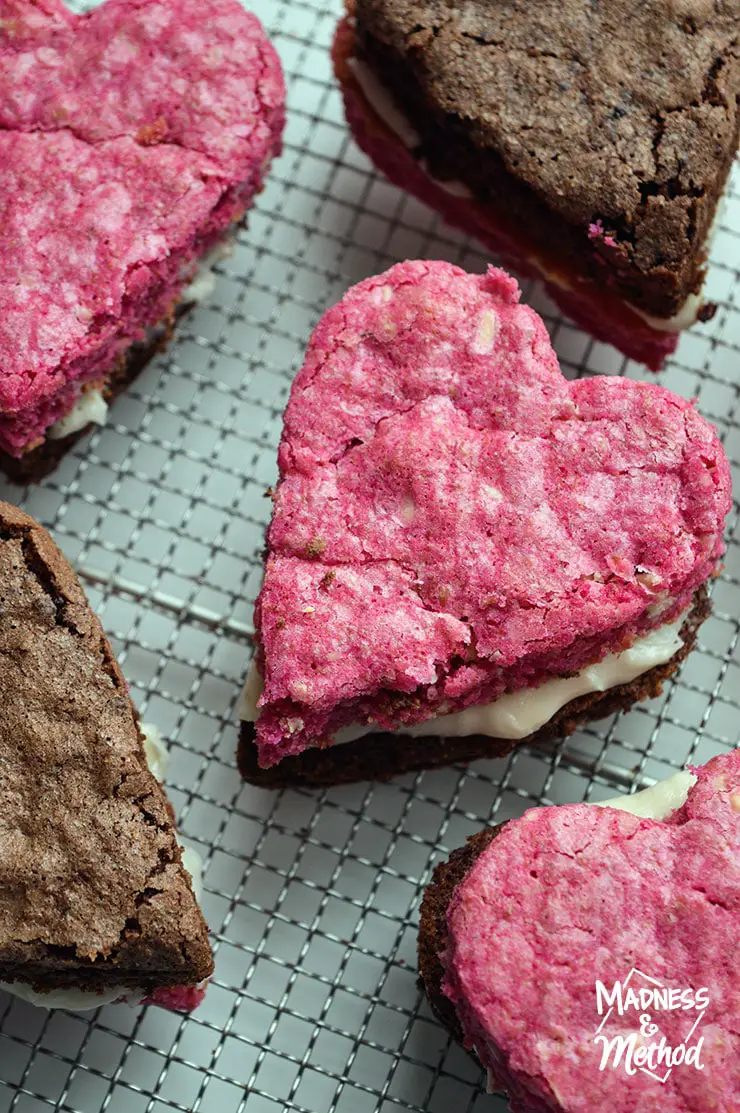 Once the icing was perfectly mixed, I used a spoon and slopped it onto of the brown layer then used the red layer to squish it down.  It you want a perfect layer of icing, you can always use a butter knife to spread it out evenly on the first brownie.
The thicker you mix your icing, the less messy it is when you bite into the brownie bar.
And that's it!  Some gorgeous looking heart-shaped Valentine's Day brownie bars, that weren't too difficult to make.  So what about you?  Do you have any special Valentine's Day recipes you like to make?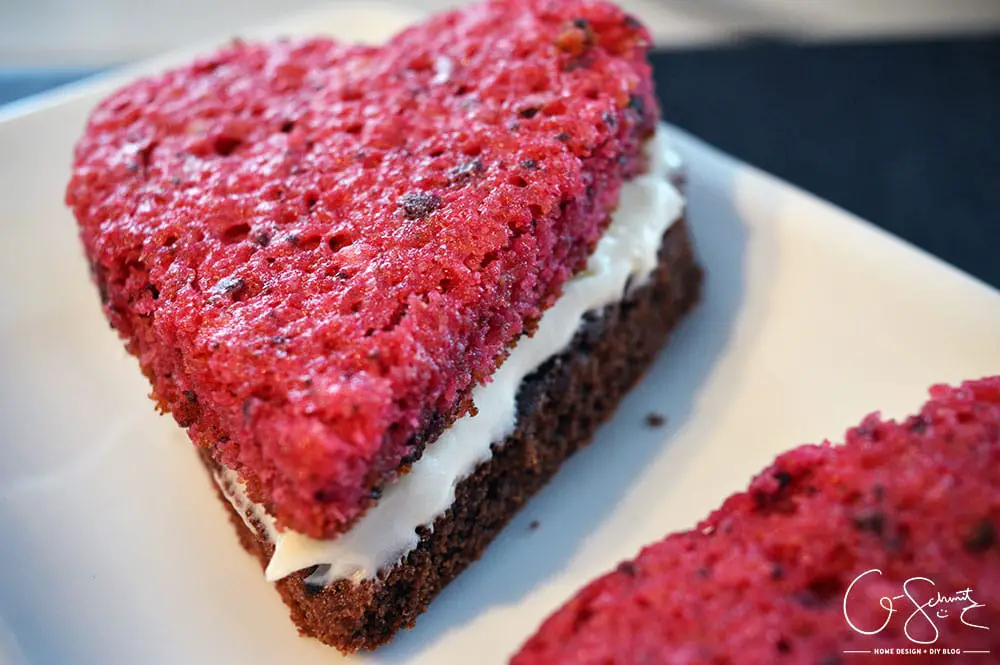 Print Recipe
Brownie Layer (see post for additional recipes)
Ingredients
1-1/3 cups flour

1 tsp Baking Powder

1/2 tsp Salt

1 cup Butter

1 cup Cocoa

4 Eggs

2 cups Sugar

1-1/2 tsp Vanilla Extract
Instructions
2
Melt the butter, add the cocoa, then the eggs, sugar and vanilla.
3
Mix in the flour, salt and baking powder.
4
Line a cooking sheet with oiled foil and bake for 15 minutes.
5
Let cool, then use a cookie cutter to make shapes
6
Add cream cheese icing then top with red velvet layer.
Shop this Post