It's Super Bowl Sunday!  And yes, even though I live in Canada, we still do watch and cheer for American Football.  This year, we were invited to friends' house to watch the game, and I decided to bring a game day staple: homemade chili.  And, to tie into the game day competition theme, I thought it might be more interesting to bring two types of chili, and see which one would win over the crowd.  Just a bit of a background, I usually make "red/regular" chili a few times a year (usually in big batches, and I freeze some for later); but it just so happens that I made some white chili for the first time last weekend.
– Note: This post contains affiliate links. See more information about affiliates here –
Red Chili
For my red chili, I learnt the original recipe from my Mémé a few years ago.  And, although she used onions, I hate onions and have of course omitted them.  Here are the ingredients I use:
Carrots
Celery
Mushrooms (fresh or canned)
Ground Beef or Pork
Canned Beans (red kidney is the best, but I usually like to add a can or two of "mixed beans" as well)
Crushed and/or Diced Tomatoes
Pre-Mixed Chili Powder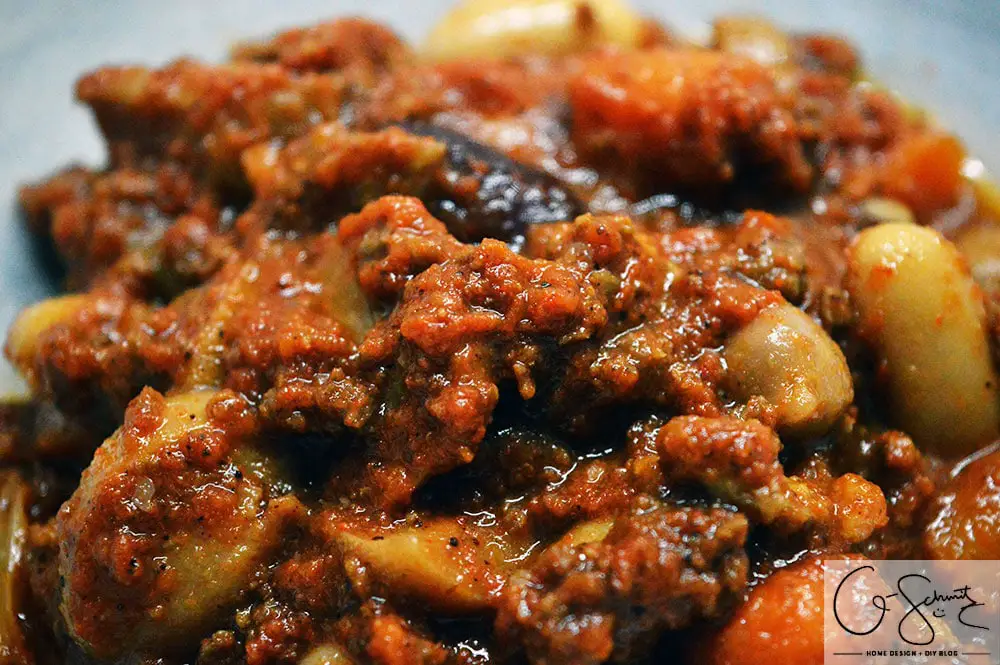 Basically, you brown your meat while chopping all your veggies into even sizes.  Then you add all the veggies and mix well, then the cans of beans and tomatoes.  Add the chili powder to taste, and simmer for a few hours until all your veggies are soft and the spice is all absorbed.  Feel free to omit and/or add whatever ingredients you like… not all chili is created evenly!
White Chili
Because it was my first time making white chili, I decided to search the internet for different recipes.  I adapted this recipe for White Chili (that I found and liked on Pinterest).  I say adapted strongly, because here is what I actually used
Ground Pork (I wanted to use ground turkey/chicken but I couldn't find any at the grocery store at the time)
Celery
Carrots
Mushrooms
Corn
Canned Beans (here white kidney beans are best used, to keep with the white theme of course, but again I used a few cans of mixed beans as well)
Chicken Broth
Cream Cheese
Oregano, Thyme, Maybe something else (I honestly just threw in spices when I realized I didn't have everything from the original recipe)
Salt and Pepper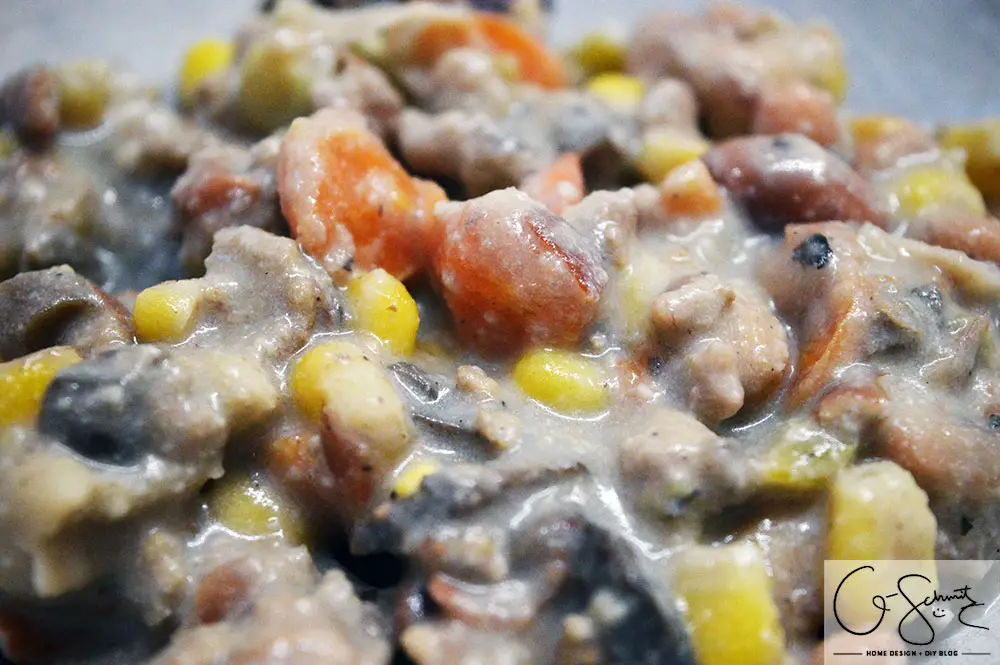 Notice my matching veggie theme?  You can never go wrong with celery, carrots and mushrooms!  But anyways, again I browned the meat, but this time I used my new food processor to chop up the veggies… and trust me, it was well worth it!  It probably took an hour less than it would have if I chopped them by hand (well, not really – there was a bit of a learning curve because it was my first time using a food processor of course).  But seriously, it took less time to cook because I got the veggies in much quicker than before.
Ok, so yes you brown your meat, add all your veggies and almost all of the beans.  Save about one can of beans to mix in the food processor with some chicken broth (this is what makes the liquid base, otherwise it's just a pot of beany/veggies) and incorporate it into the pot.  Then, you mix in the cream cheese and make sure it all melts, which adds to the creaminess of the chili.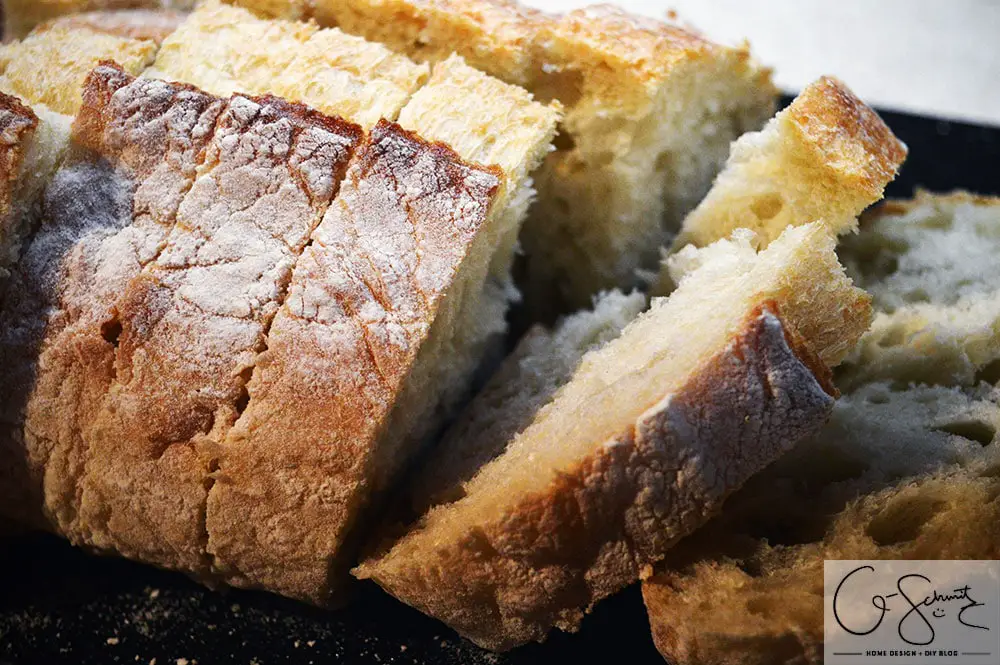 I now have both chilis warming up in their own crock pots, and I plan on serving them in small cups (so people get the chance to taste both).  And for good measure I also cut up some fresh bread – because this goes perfectly with nice warm chili!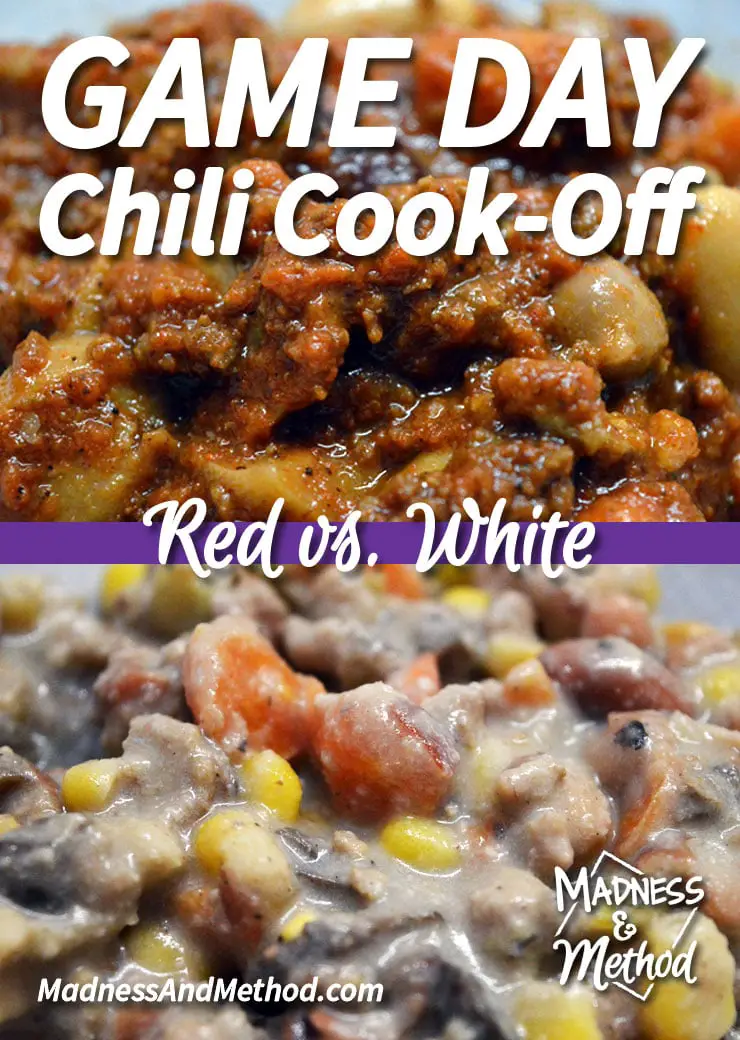 So there you have it, my Sunday Night Super Bowl Food!  Have you made both red and white chili before?  If so, which do you prefer? 
I'll be posting the crowd favourite via Instagram, so check that out to find out which chili our friends' liked best (along with more food pictures of course).
Looking for a dessert to go with game night?  Try these football shaped cookies!