Today our little mister is 1 – which is probably the most important birthday (that he will never remember, ha!). At least he'll have photos, and I'll make sure to share a bunch in the next few weeks. This will be a quick recap post, just to say happy birthday baby Zachary!
I shared our birth story last year, but all you need to remember is that he was a cute little 8 pound baby, with lots of dark hair.

For our baby book, I took photos every 2 months on the rocking chair in the nursery.

You'll see a transformation from the dark haired baby to some longer and lighter hair!

Two weeks ago we got his hair cut for the first time. Then Momma was thinking that his bangs were still too long, so I chopped them off myself. Mistakes were made. Let's just say there's a reason I haven't taken any photos of him the last two weeks!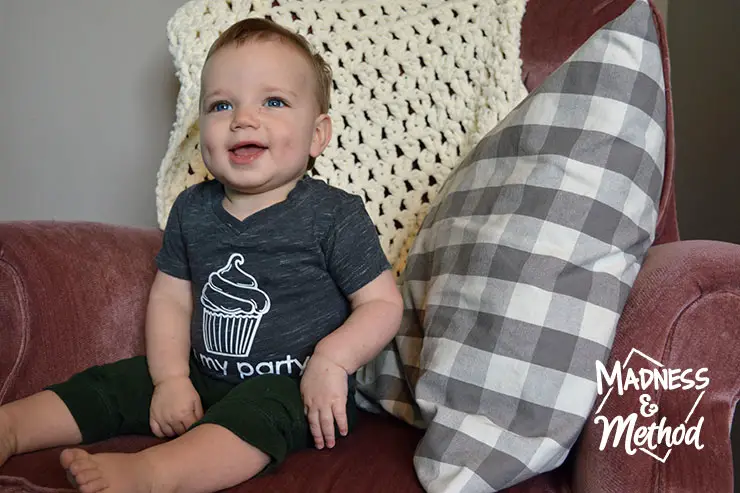 I think he's the cutest little thing, and although he has much lighter hair, he still has his baby blues. He's about 21 pounds (official weigh-in at the doctors' will be happening this week) and loves crawling all over the floor.  He stands and walks around things, but hasn't really stood or walked around all by himself.
About Zachary
Loves: Eating, sleeping, the vacuum, chasing Tootsie, exploring everything
Doesn't Like: Staying still (ie: getting changed) – he's very squirmy.
Sleeps: About 12+ hours a night, and 2 naps in the day
Eats: Everything, prefers strawberries and doesn't really care for cucumbers (they're the Husband's favourite!)
Nicknames: Little Man, The Mister, Mr. Magoo, Bébé (French for "baby")
Always Happy!
We took some family photos yesterday, and here we are all together: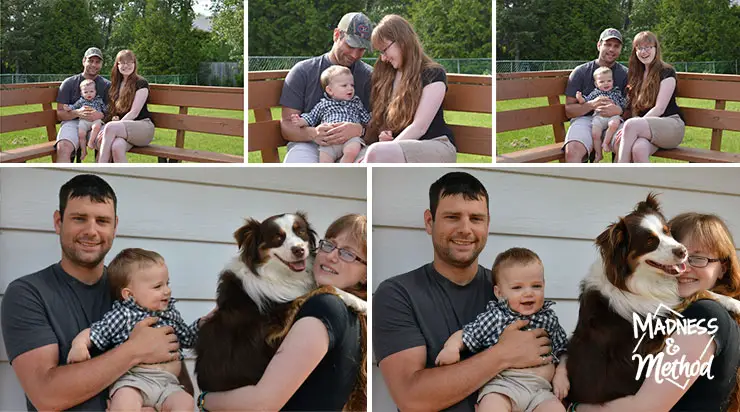 I really wanted pictures with Tootsie, but there weren't too many good ones with her haha!
Happy Birthday Baby Zachary!  I hope your first year was the best ever, and that you'll continue to grow happy and healthy :)
Today's a big day – so let's make it a good one!