I finally finished the nursery!  And by that I mean, I have all the essentials: crib, rocking chair, change table/dresser (all that's missing is baby!).  I would eventually like to add a few more elements (a bookshelf under the window perhaps?).  But for now, here is a basic neutral nursery ready for a little bundle of joy (boy or girl!?).
– Note: This post contains affiliate links. See more information about affiliates here –
Going back down memory lane, just a reminder that this used to be "The Blue Room" aka the guest bedroom.  I moved the guest bed to the Pink Room (I will share pictures of that room update next week) in anticipation for baby.  I also knew I would be painting most of the walls gray, and finally got around to that a couple of weeks ago.
No, we don't know if we're having a boy or girl – but we did choose to make this room the nursery because it is directly across from our master bedroom, and the Pink Room is a bit bigger so it's better for guests to have a bit more spreading out space.
Without further ado!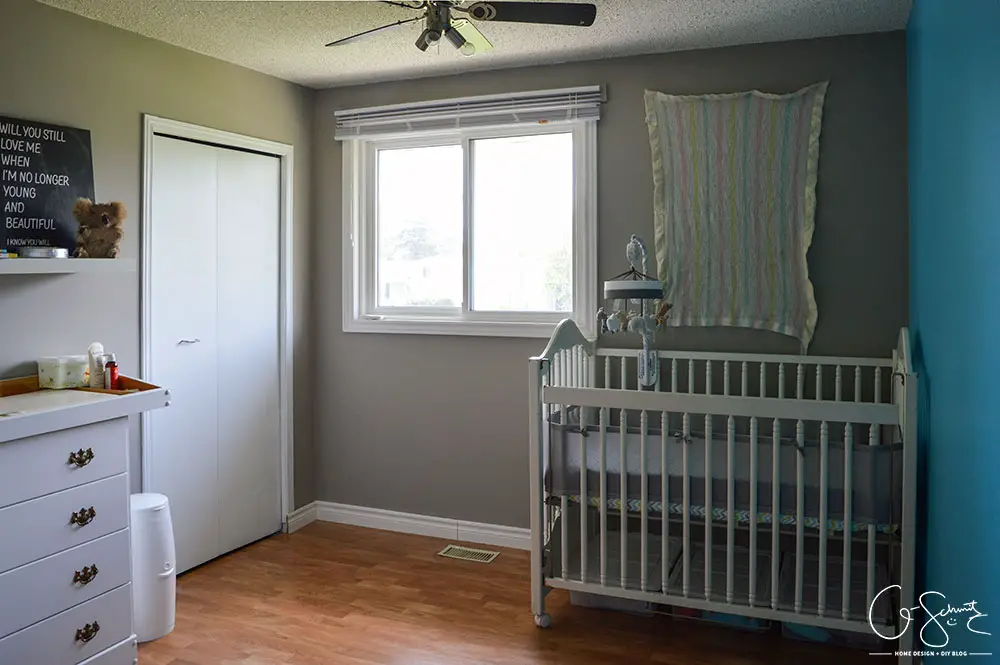 We chose to keep the right (West) wall bright blue, and I painted all the others using Rona Collection's Moon Gray (the same colour in our basement bathroom, about 50% whiter than our main "Taupe").
This is the first little section I worked on in the nursery, because we brought that dresser and change table top in a few months ago.  Remember the custom canvas I designed?  Well I've updated that shelf vignette a bit since then, now it has all of baby's things!
(Oh, and I read in this nursery blog post by Emily Henderson that she likes to keep the baby diaper pail in the photos because it's more realistic).
But if you've been around here long enough, you'll know I don't really like to fake a perfect look to my room reveals.  I like to show how we live (most of the time) around here (okay sometimes I do tidy up a bit… but not often haha!).  We have two types of diapers ready, and yes, I did interchange the two different brands between each other on my change table (OCD – yes!).
Back to that shelf – on the left in the green box are all the little baby toys we received at the baby shower.  Then I have a stack of books and baby memory things, then of course the graphic canvas, hand-me-down musical koala (and a handprint kit – that's the silver thing).
We have Dada by Jimmy Fallon, a fill-in baby book, a picture frame, Oh the Places You'll Go by Dr. Seuss, and a nursery themed baby fill-in record book.  I'm not sure if I will fill in both books for this baby (I'm planning on having more babies) so may save one for baby #2.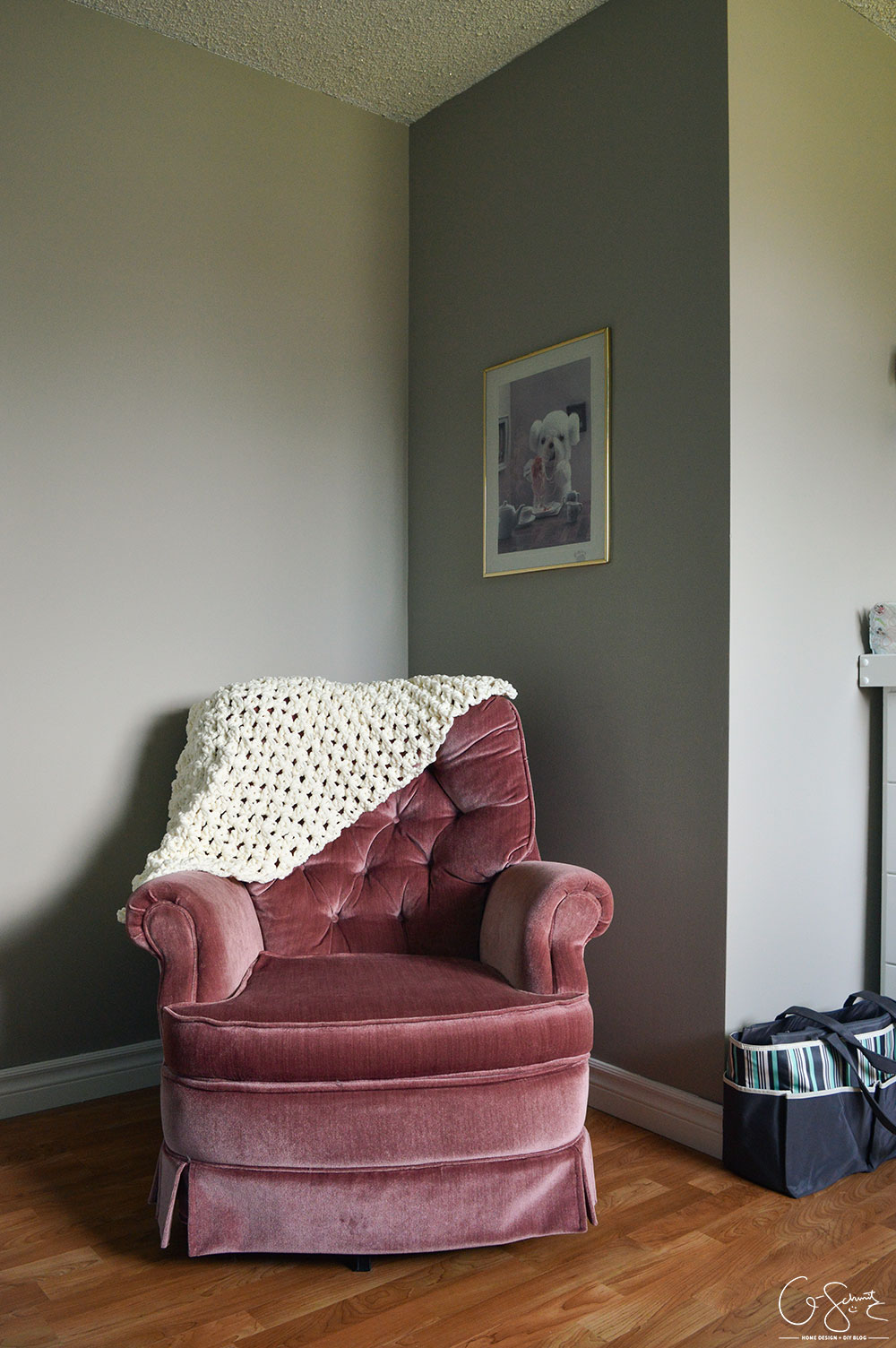 Around the weird corner/jutted out section is where I have the rocking chair.  I'm not much of a rocker (I get motion sickness easily) BUT I'm willing to suck it up for the baby and late-night feedings.  The diaper bag sitting nearby is waiting patiently for baby to arrive (although all I have in it right now are some diapers and little outfits).
I bought this chair second-hand back in January (I say bought… but it was FREEEEE!) with the intention to repaint it (which is why I was testing fabric painting here).  I kind of like the dusty rose velvet, and it definitely looks good against those neutral gray walls.  I am worried that if I do change it, the colour (which would have been gray) would clash with the walls.  We will see what the future holds!
(And yes, that's a handmade blanket that I received at the shower!).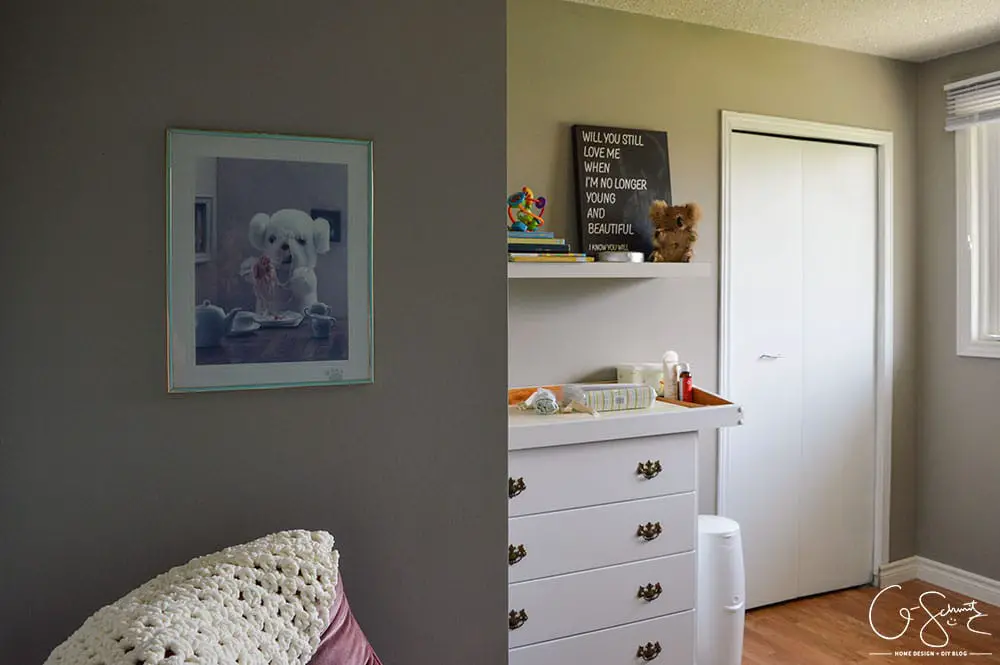 Can I introduce you to Mr. Spaghetti Noodles (aka the dog in the picture hanging above the rocking chair).  He actually came with the house I was living in with roommates in Ottawa.  They hated the dog, but I loved that crazy photograph of a white stuffed dog eating spaghetti (seriously, who came up with that concept?).  I named him Mr. Spaghetti Noodles and he hung in my bathroom (so the roommates couldn't complain) then I brought him with me here to Northern Ontario.  He stayed silently in the closet waiting for the perfect spot to be hung… and what better place than the neutral nursery!
Anyways… I figured I should show a picture of the closet (since I told you all I had cleaned it out and such).  Right now it just has some overflow diapers, an empty bin (ready to store clothing that baby can't fit in anymore) and the stroller "toddler" attachment which we won't need for another few months.  Oh and that green painter's tape?  It's been in there since we moved in apparently because the inside of the closet never finished getting painted!  (I did prime all the edges when I painted the rest of this room, but I still need to roll the center sections).
I told you I don't like to hide things around here!
And back to the crib, which is probably the most important thing in a nursery right?  It's actually a hand-me-down from my family (I think it was my crib, then my brothers, then my little cousins…) and the Husband and I assembled it together (it didn't come with instructions… so that was fun!).
I let the Husband pick which sheets would go on the bed, and I have all the backups in bins under the crib waiting to be used.  Yes, I did fix the mesh baby bumpers that the Husband put up – so now everything is neat and proper :)
This super cute animal mobile (which my Mom said I needed) works perfectly with the gray colours in the room (seriously, they all match… it's very weird!).  Those little animals and clouds get me every time!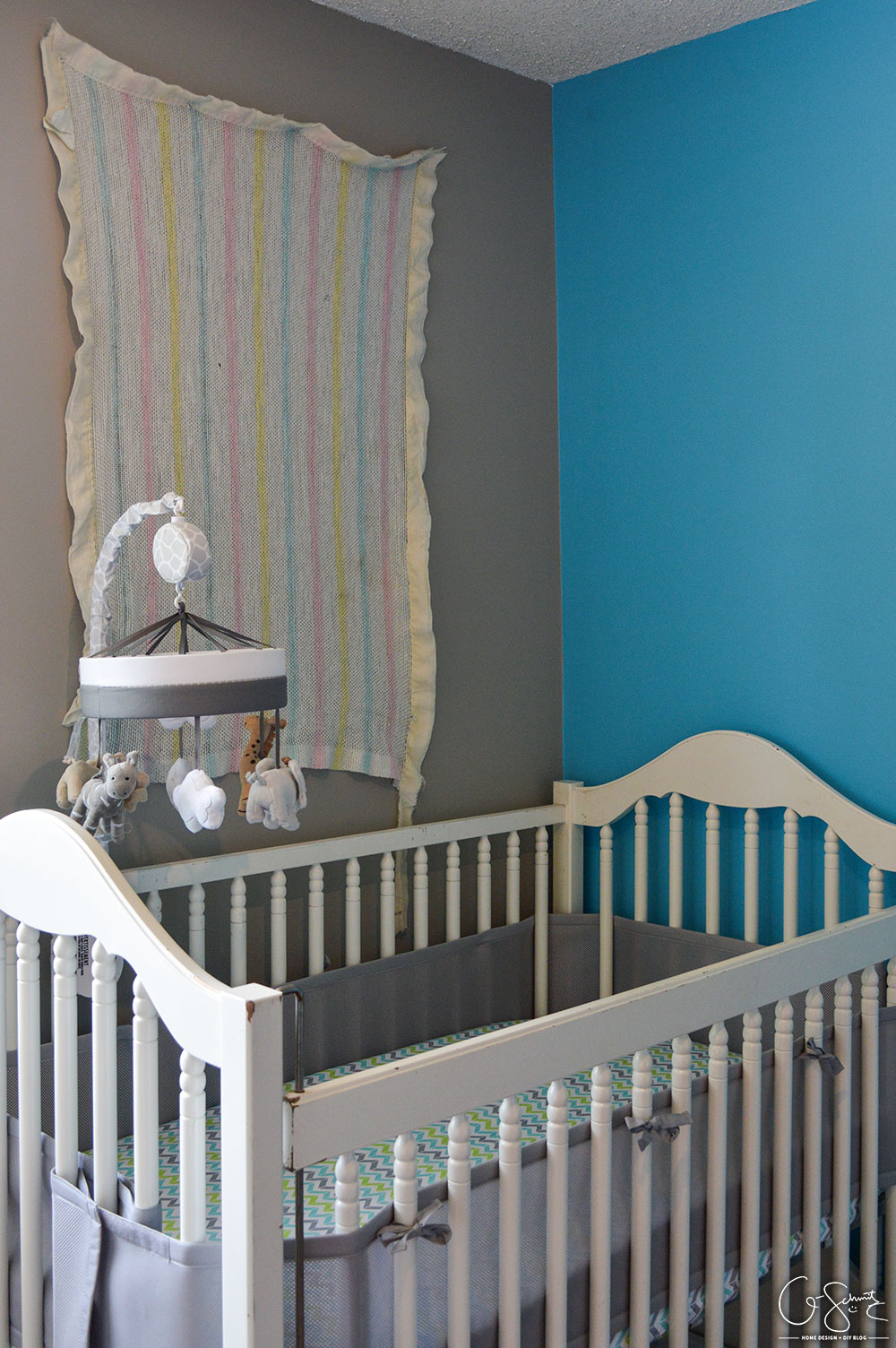 Behind the crib I hung the Husband's baby bankie (no, not blanky – bankie!).  It was stuffed/stored in our Master Bedroom closet, and a month or so ago I asked him if he wanted to give it to the baby. "NO! The baby will ruin it!" he replied (defiantly).  Well, I thought there was no point of it hiding in the closet, so I pinned it to the wall (with clear thumbtacks) as décor, that way it's still part of the room and hopefully the baby won't "ruin it".
(When I showed him the nursery, he said he wanted to cuddle his banky again… hahahah don't tell him I said that!).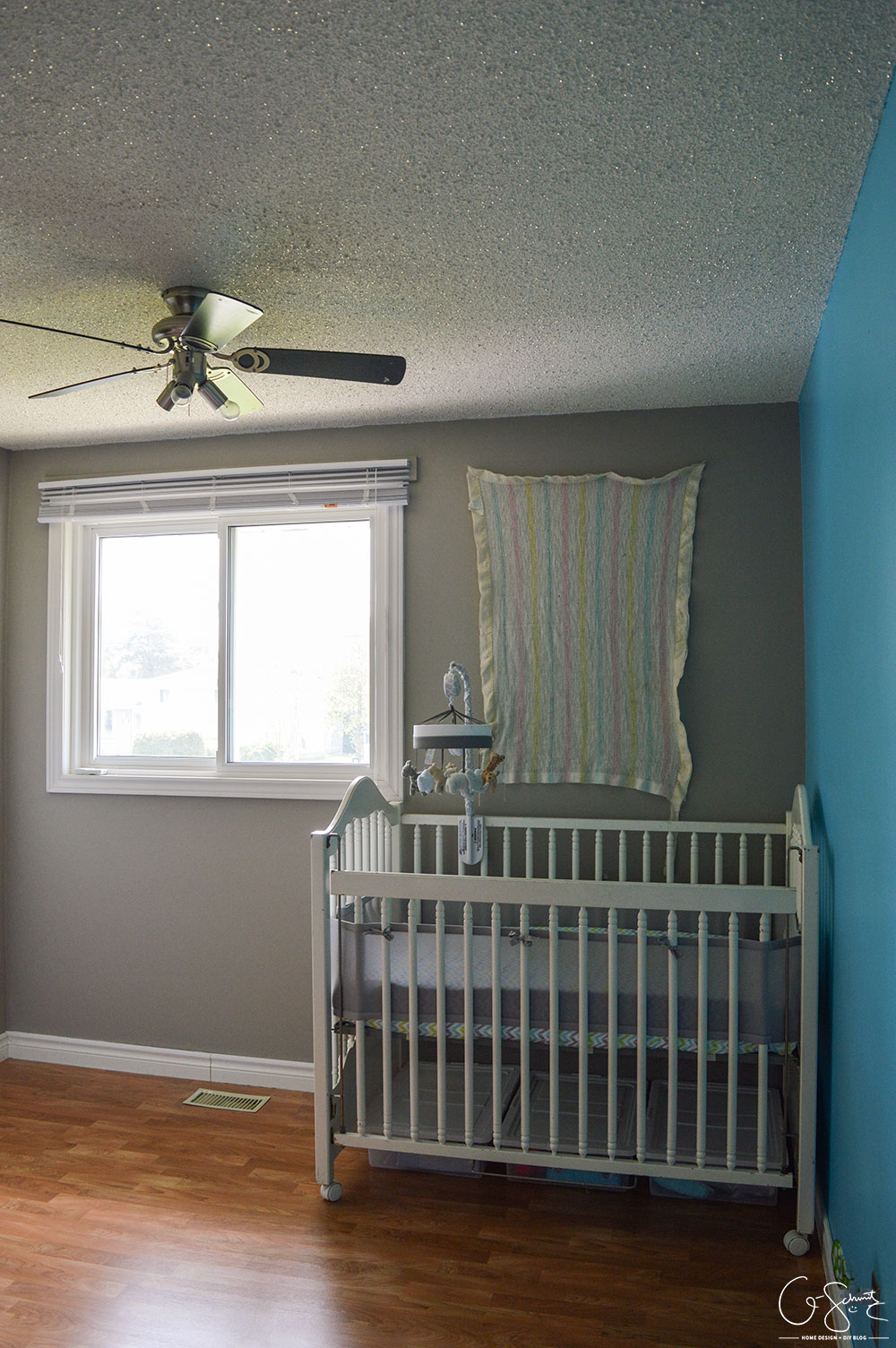 And that's pretty much it!  Like I mentioned, I am thinking of adding a shelving unit to go below the window (although I just realized that's where the vent is) and fill it up with baby books.  I am trying to keep the room as empty as possible for now, because I know we will slowly be accumulating more things as baby grows (which is why I am leaving the closet bare too).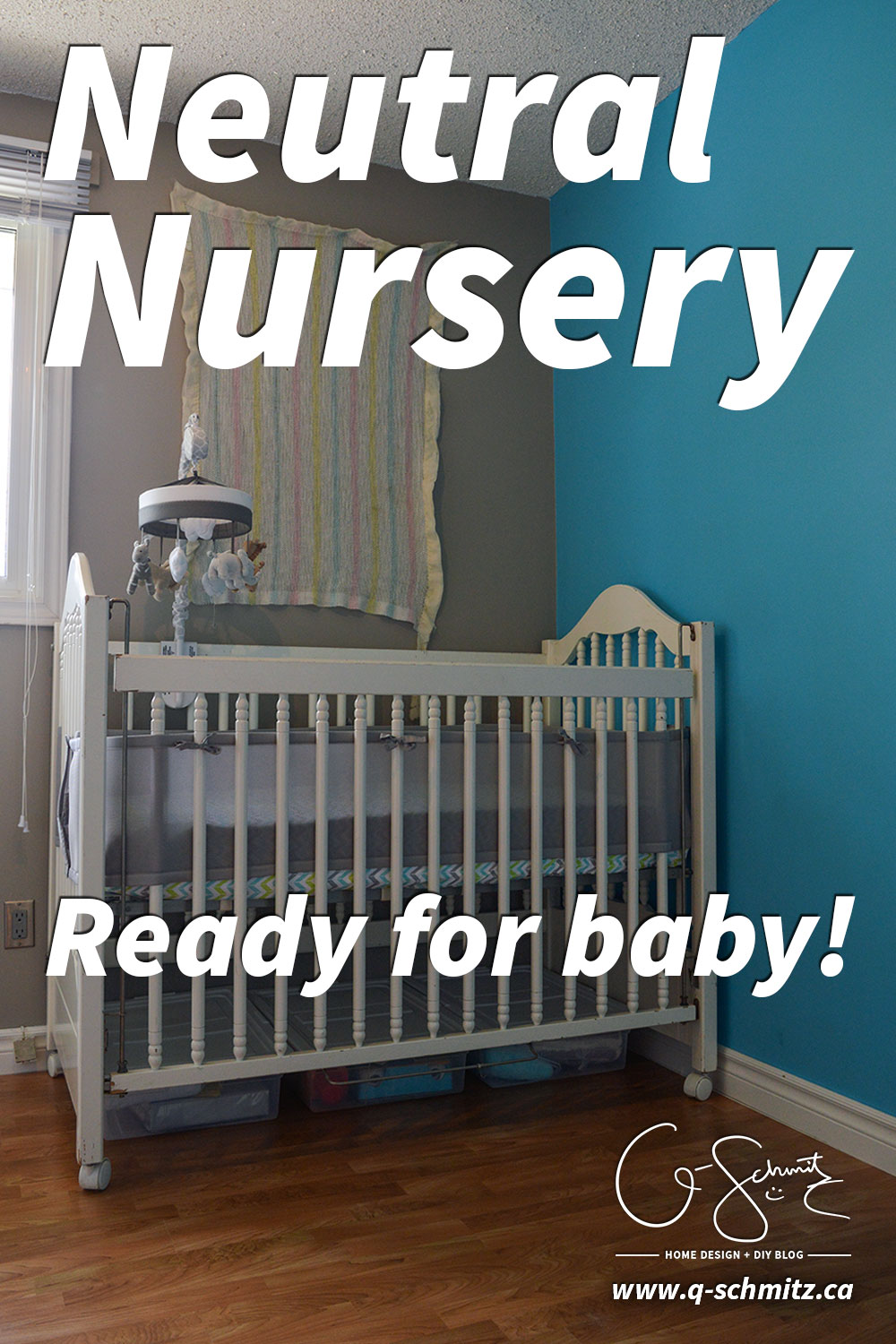 So there are all the pictures of our neutral nursery, and hopefully we'll be ready for baby soon!  To all you "extremists" out there – yes I know there is a blue wall still… but that does not mean we are having a boy and/or that we would prefer a boy.  We honestly have no idea what baby will be, and found that this bright colour could work easily with either gender.  (I also think pink works for either gender, but I know that I'm a minority in that school of thought!).
And I couldn't totally give up having some bright colours in this room…
WAIT!
Before you leave, would you mind helping me with a conundrum I've been having lately?
I mean, I'm not a rug person at all (like seriously, hated rugs almost my whole life… ground a room… nah they help make a room look smaller I would say).  But lately, I think I've been converted and I've been OBSESSING over rugs over the last few weeks… I feel like one would be the perfect addition to this room.  It would be a great cozy spot to place baby for some playtime, and would really "amp" up the space.
Here's what the ground area looks like now (basic laminate flooring), and although a gray rug would be my first choice (do you see an obsession with gray going on in this post?) it's too hard to judge rug colours based on photos online, so I'm thinking of going with something light like a white or off-white.  (I'm thinking I want to avoid colours so that they don't clash with the rest of the space).
And I'm really leaning towards a shag rug (because, if you're going to get a rug… why not get one that is the fluffiest and softest!?).  Besides, I think that's the reason I read Emily's nursery post in the first place – have you seen that dreamy white cloud rug?!  I WANT IT ALL OVER MY HOUSE!
(Oh wait, I am too cheap/broke and could never spend that much money on a rug).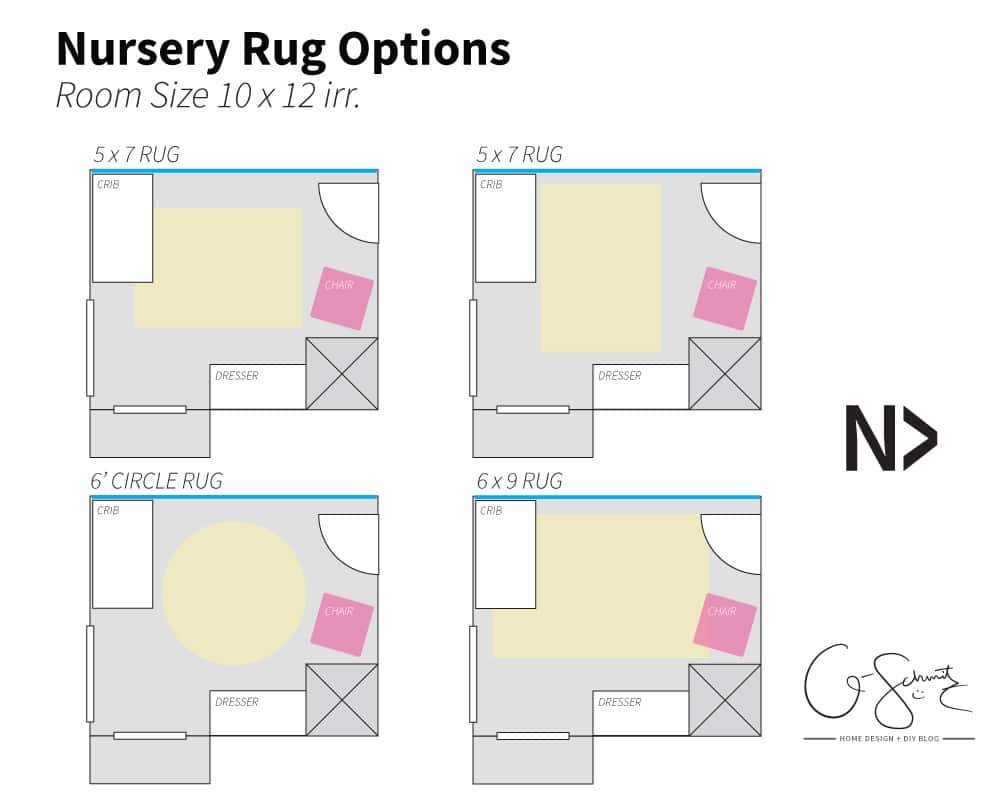 Anyways, my question is; if you were to get a rug, what size would you go with (and colour / pattern etc.).  Here's a little diagram showing the scale and furniture placement in the room.  We're not super set with the crib where it is now, it could be rotated so that it fits lengthwise on the blue wall; or even placed diagonally in that corner (basically, it doesn't have to be squished up against the wall) BUT we are a bit limited to rug size/placement because of the size and shape of our room (aka that jutted out corner space).
People always say to go with the largest rug that your room (and budget) allow – and for us, an 8×10 would never fit, so about a 6×9 would be the biggest we could go.  Oh and budget?  Ya think of a 2×3 size haha!  I've been mostly looking at pricing and styles of 5x7s because I feel like that's a pretty common size that could work either way in the space we have…
Thank you all for reading down to the bottom of this post (and for not mentioning that I talk wayyy too much on room reveal posts when they should all be about the pretty pictures!).  Again, I would love any inputs on these rug choices (like, how small can I go too?) and if you had any comments about our neutral nursery, that'd be cool too!
See you next time :)
Shop Items Mentioned