Can you believe that I have another rainbow cake to share!?  This time, I combined my orange cake recipe with a fun ombré rainbow frosting for Élise's 3rd birthday.  That's right, our little middle baby just turned 3!  For her birthday, I decided to keep working on my rainbow cake decor, but also incorporate something that she wanted.  (Well, not that she doesn't also love rainbows, ha).  Either way, check out my rainbow unicorn cake decor (and orange cake recipe)!
– Note: This post contains affiliate links. See more information about affiliates here. –
I'd say the taste of the cake and icing was 95% there.  Decor wise, closer to 70%, but I'll highlight what I would have done differently.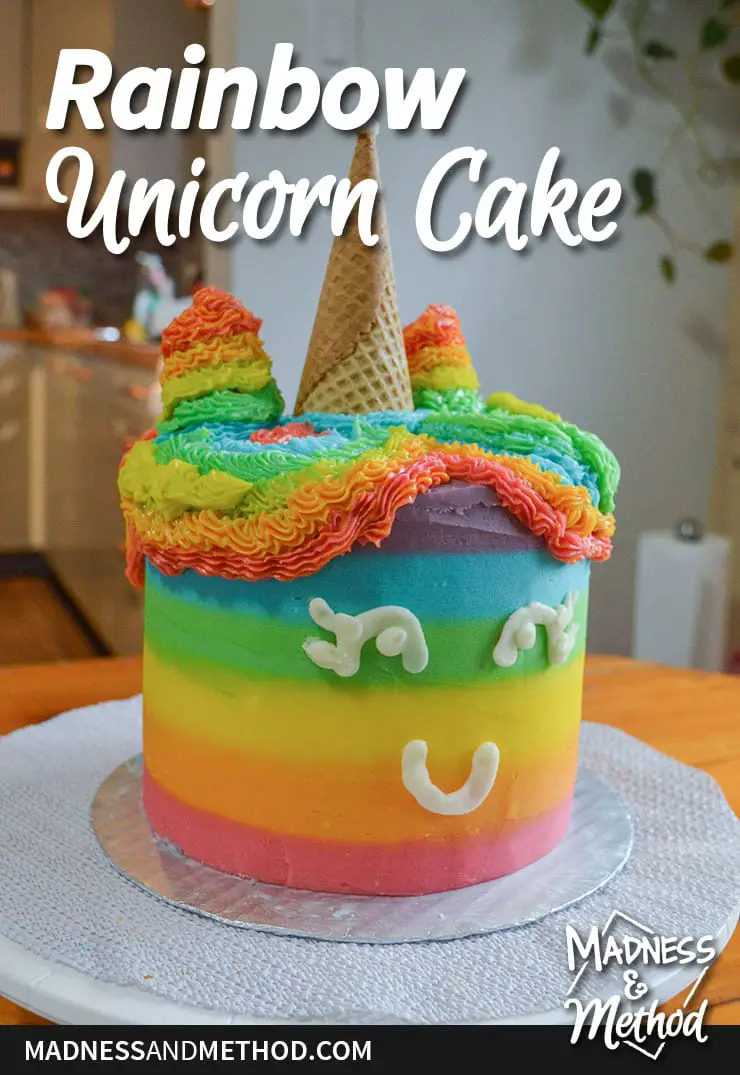 First up, let's chat about the basic construction of the cake: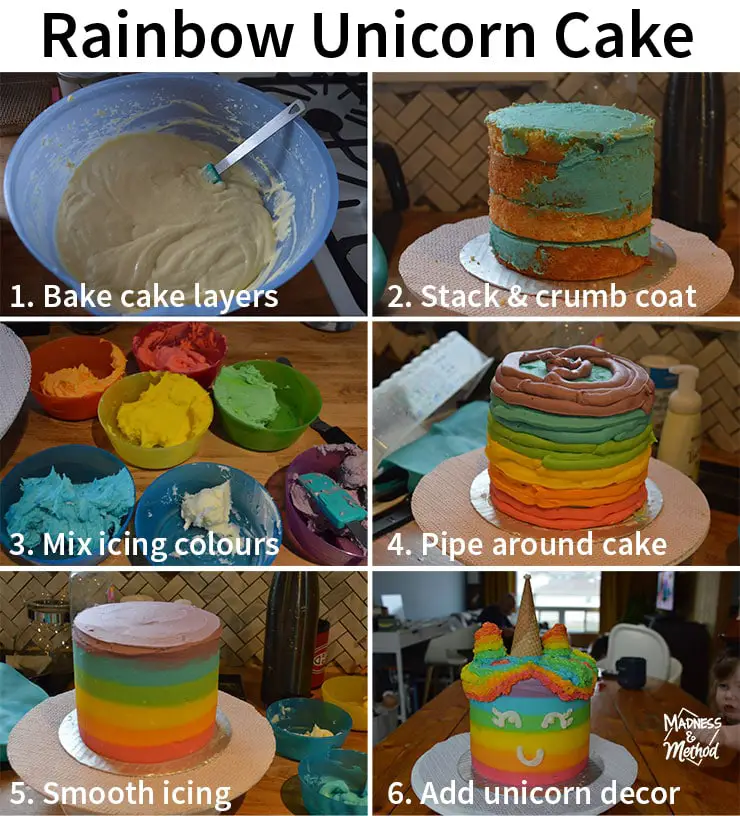 I made 4 layers of 6-inch cake and included the recipe below.  Then divided the icing into 8 even-ish portions, 6 for each of the rainbow colours, one for white, and the extras as the crumb coat.  For the crumb coat, I wanted to do all blue (Élise's favourite colour) but ran out.  I scraped some white from my small bowls and it was fine.
Shop This Post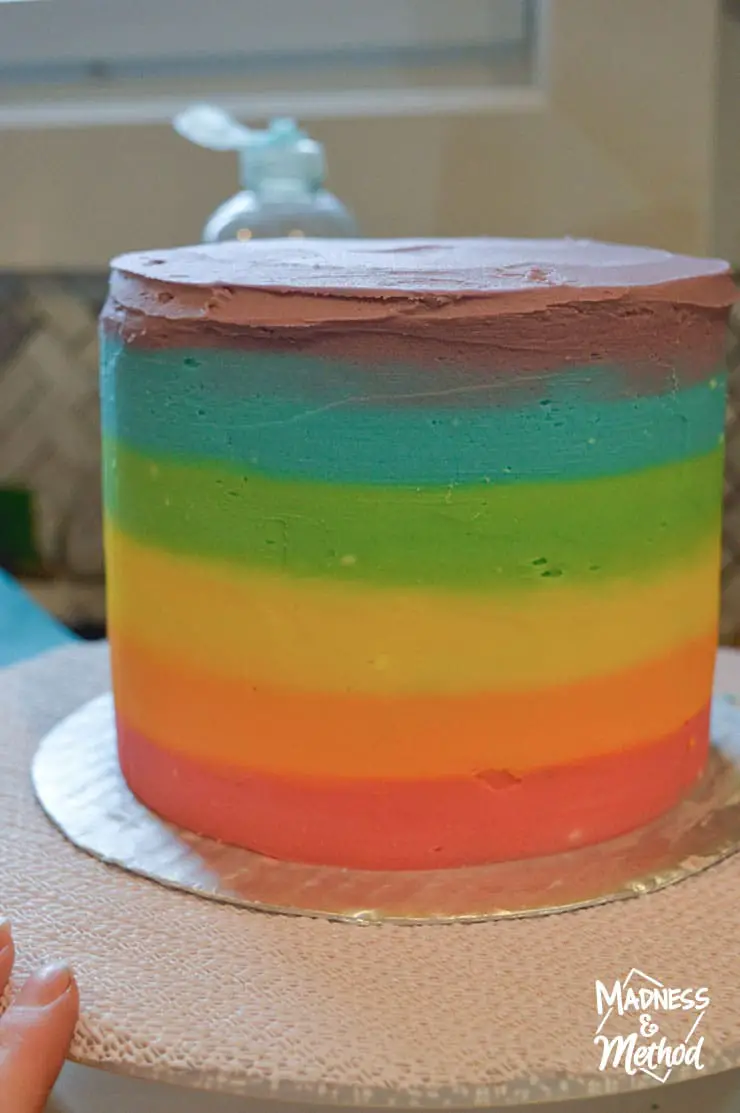 My cake was about 6 inches high, so I piped a couple of bands of each colour icing.  I then squished the extra icing back into the bowls and did the whole top in purple.
Next time I do an ombre icing, I think I'll try to make the top a rainbow pattern too.  (Red in the center, purple on the last edge).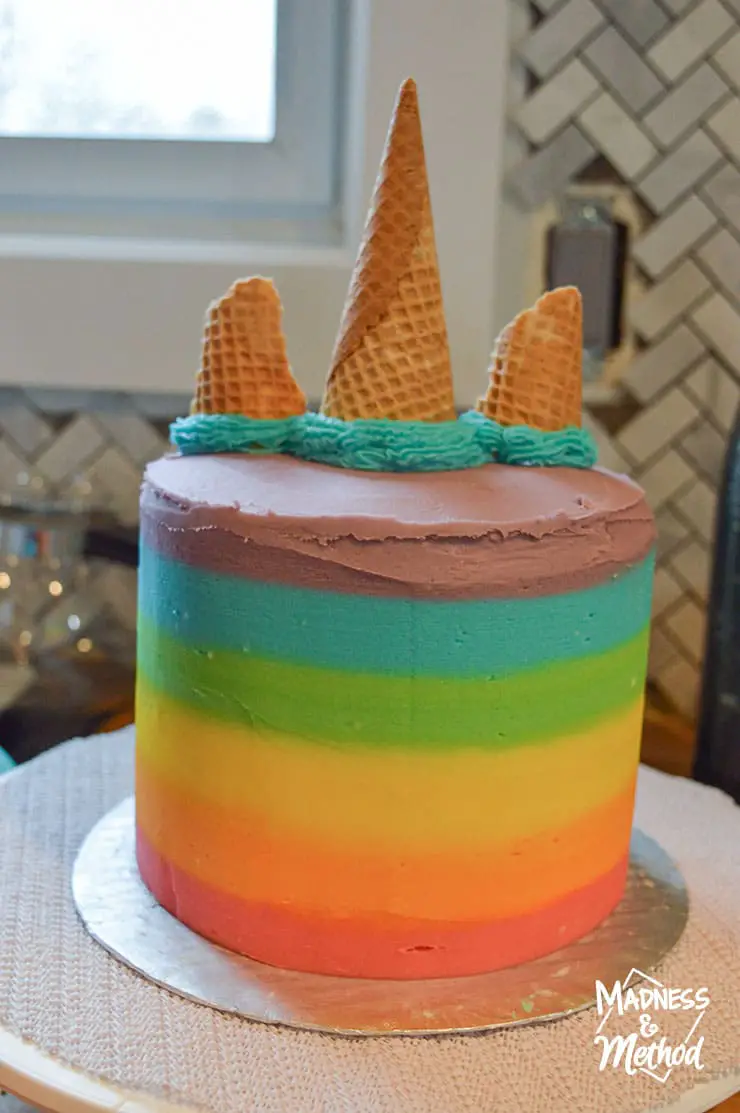 When it was time to decorate my unicorn, I completely forgot that they had ears…  I looked at reference images from other unicorn cakes, and was like, duh!  I cut some pieces on the extra ice cream cones that I had (it was tricky) and stuck them in.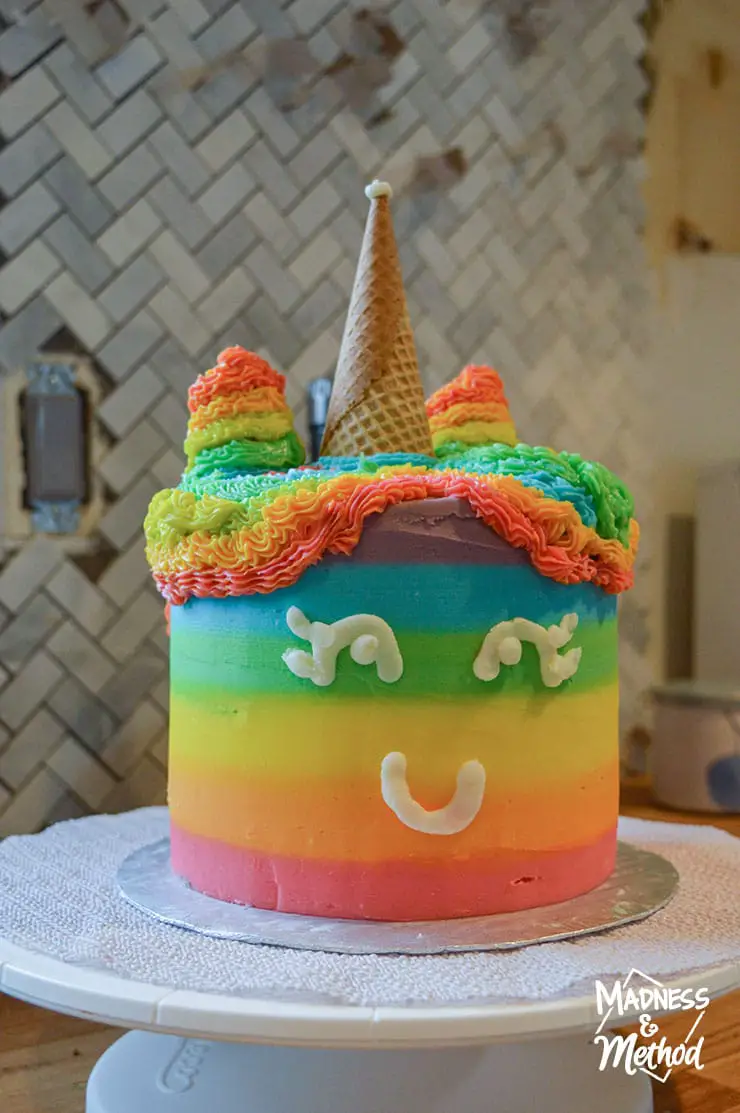 I knew I wanted to do a plain (ice cream cone) horn.  I like the uncovered look, and I definitely didn't want to do anything fondant/custom.  The rainbow ears are super cute too.
In hindsight, I would have done white icing hair.  The rainbow ears would have looked so much cuter popping out of the white icing.  (Plus, normal unicorn cakes have a white base with rainbow hair, so it would have been the opposite).
I pretty much just went wild piping different strands of hair.  I didn't clean out the bag between each colour this time, and it went much quicker.  (For some reason I couldn't find my second icing bag, so cleaning 18 hundred times took a while).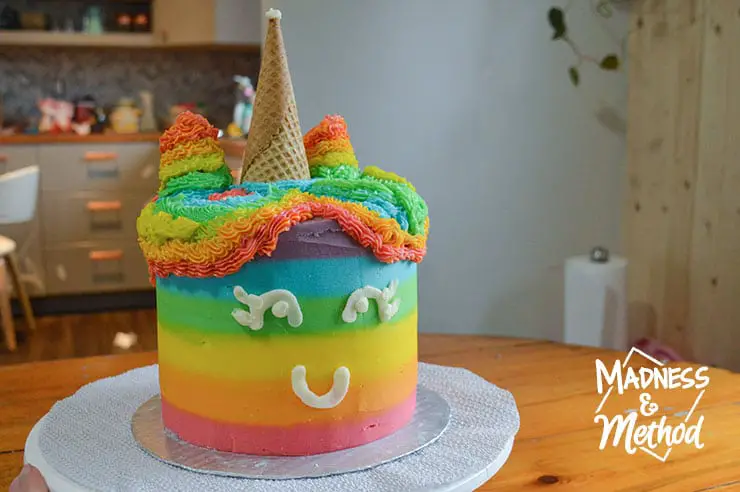 The contrast white eyes are similar to other unicorn cakes, but Zachary thought that we needed to add a smile.  It looks so cute though, right!?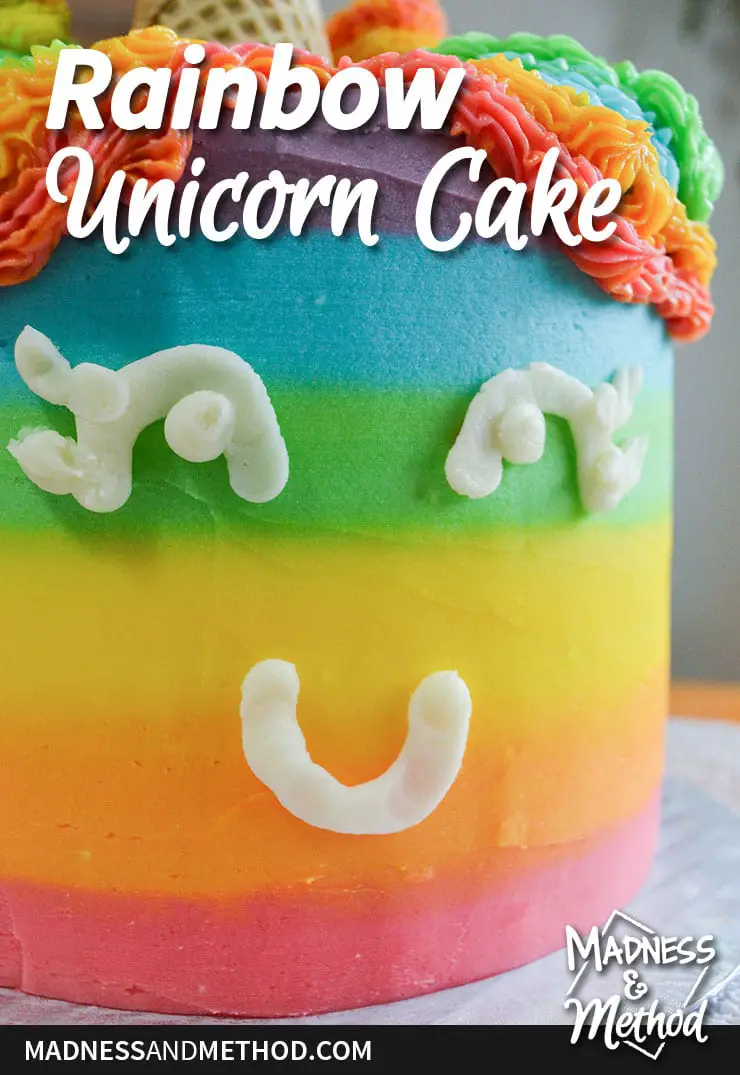 I kept the cake in the fridge for an hour or so as we made and ate supper.  But the leftovers are on the counter now and everything seems stable still (well, they're squished in a container).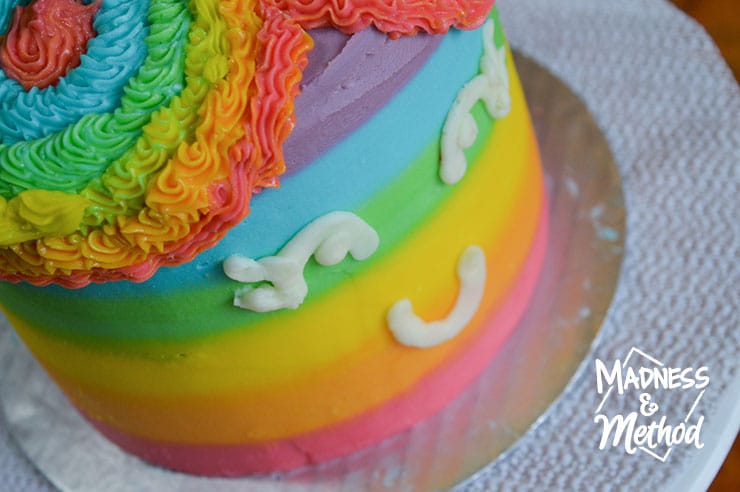 Print Recipe
Orange Cake Recipe
A subtle and delicious orange flavoured cake recipe. Makes 4 x 6-inch rounds, 3 x 8 inch rounds, or 2 x 10 inch rounds.
Ingredients
1 cup (2 sticks) butter, room temp

2 cups white sugar

2 eggs

1 tsp vanilla extract

1 tsp orange extract

3/4 cup milk

1/2 cup orange juice (OR approx 2 squeezed oranges)

1 tsp lemon juice

1/2 sour cream

3 cups all-purpose flour (I use unbleached)

3 tsp baking powder

1/2 salt
Instructions
2
In a small bowl, combine orange juice, milk, sour cream, lemon juice and extracts. Mix and set aside
3
In another small bowl, combine flour, baking powder and salt. Set aside
4
In a large bowl, cream butter and add sugar until well mixed
5
Add eggs, one at a time, beating well after each addition.
6
Pour half of the flour bowl and half of the sludgy citrus milk, Mix together.
7
Pour the remainder of the dry bowl and citrus bowl into the large bowl, mix again.
8
Divide into greased (and parchment-lined) baking pans.
9
Bake for 25-30 minutes, or until a toothpick inserted in the centre comes out clean
10
Cool for a couple of minutes, then reverse into a wire rack and cool completely before icing.
Notes
You may need to increase cooking time for smaller/deeper pans.
Icing Recipe
2 cups of butter (4 sticks)
1kg icing sugar (one large bag)
1 tbsp vanilla extract (or flavour of choice)
Approx 1/3 cup of milk (add as you need)
Food colouring of choice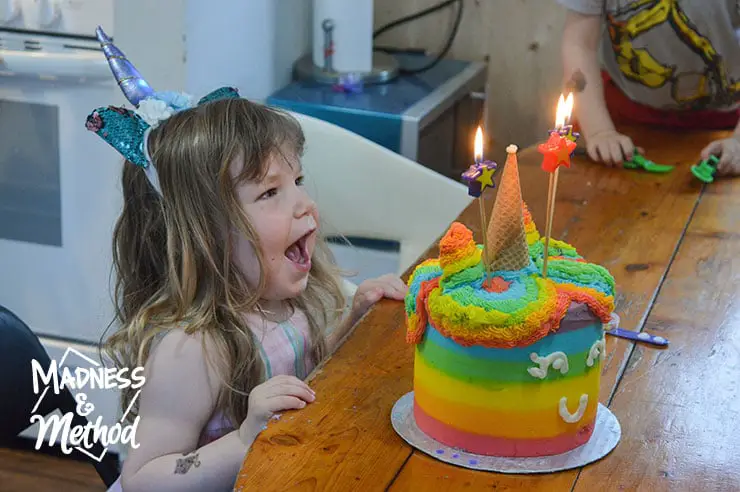 Élise was happy with her unicorn cake and played with (and ate) a lot of icing.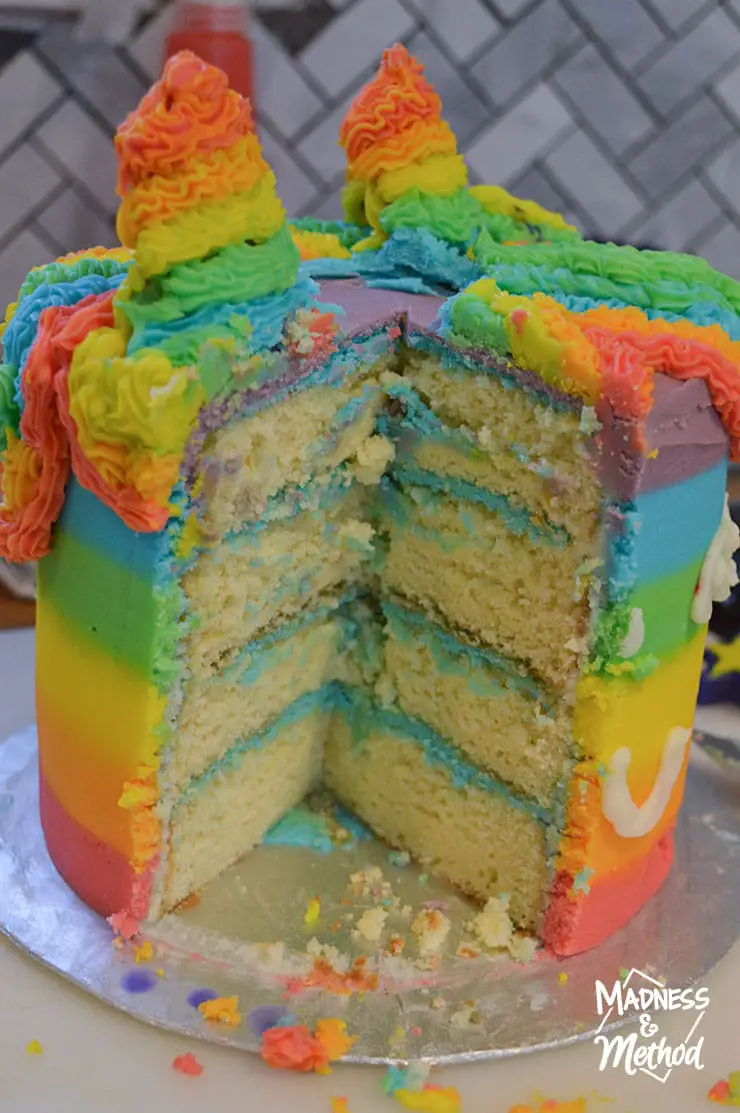 She doesn't like chocolate, so that's why I wanted to make her an orange cake instead.  My orange cake recipe has a subtle orange flavour, but she didn't really eat it…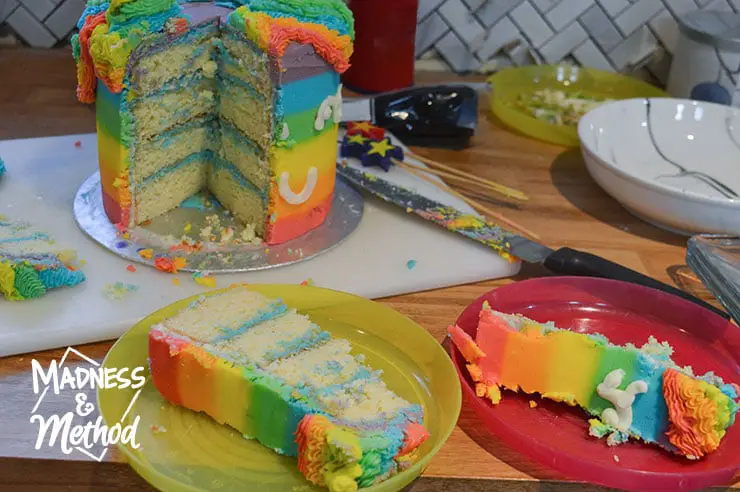 We'll guess it's because she was full from all the icing, ha.
I did find that the cake tasted better the second day (room temp) as opposed to cold from the fridge.  I mentioned that the flavour was 100%, and it's more so that I don't know if I nailed the icing and cake combo.  They were both good, but does a butter vanilla icing match perfectly with an orange cake?  There's got to be a better pair.
(I made this same orange cake for my seasonal cakes, it was the summer one, and I had it with a blue raspberry icing then).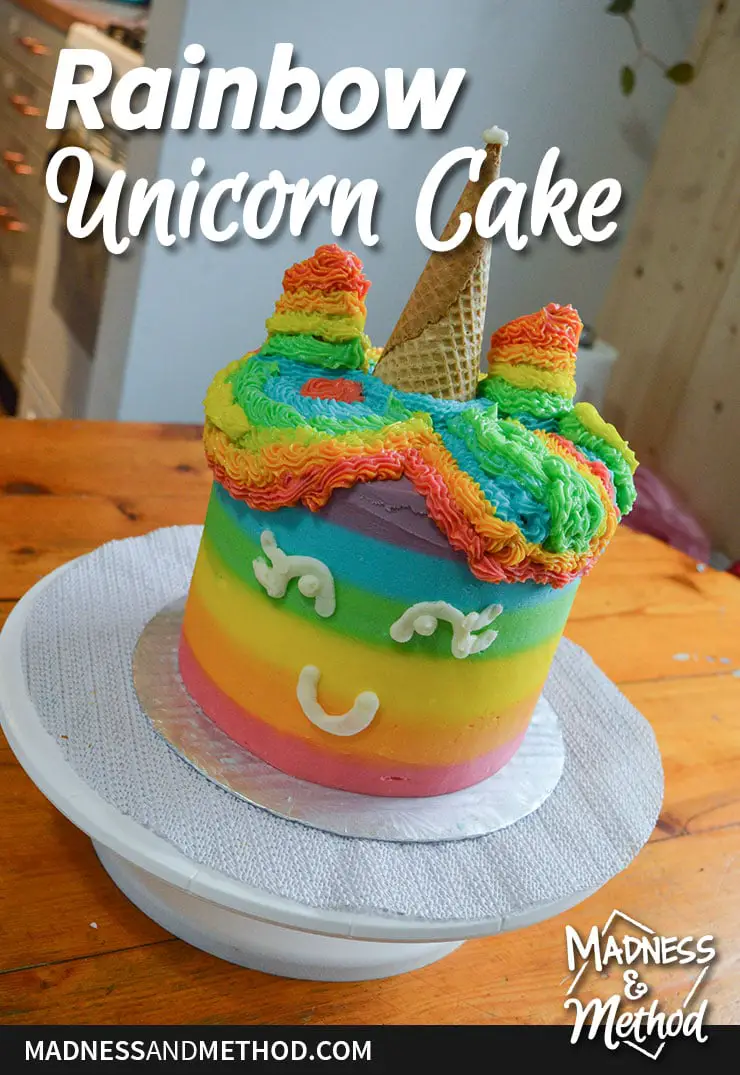 For the decor, again, I would have done a white unicorn mane instead of the rainbow.  Next time I think I'll sift my icing sugar since there were some tiny lumps (no big deal, but not perfect).  And maybe do a rainbow on the top too… or all purple again, but have big piping mounds of rainbow colours?
Decisions, decisions.
Let me know what you think!  Oh, and don't worry… the next cake I share won't be a rainbow one, ha!  Zachary has requested an almost copy of his cake from last year (chocolate/dirt/rocks/construction)… but I know there are some other new things I'll want to try out too.