For those who are signed up for the Madness and Method email newsletter, you may remember that I briefly mentioned a cake competition I was in back in November.  Today I'm sharing photos of the cake, details of the event… and of course the recipe for my Coco-Pumpkin Crunch Cake!
– Note: This post contains affiliate links. See more information about affiliates here. –
The Coco-Pumpkin Crunch Cake has 4 layers of delicious chocolate pumpkin cake surrounded by a decadent chocolate coconut frosting.  The entire cake is then wrapped in crunchy tempered chocolate walls and topped with various pieces of coconut.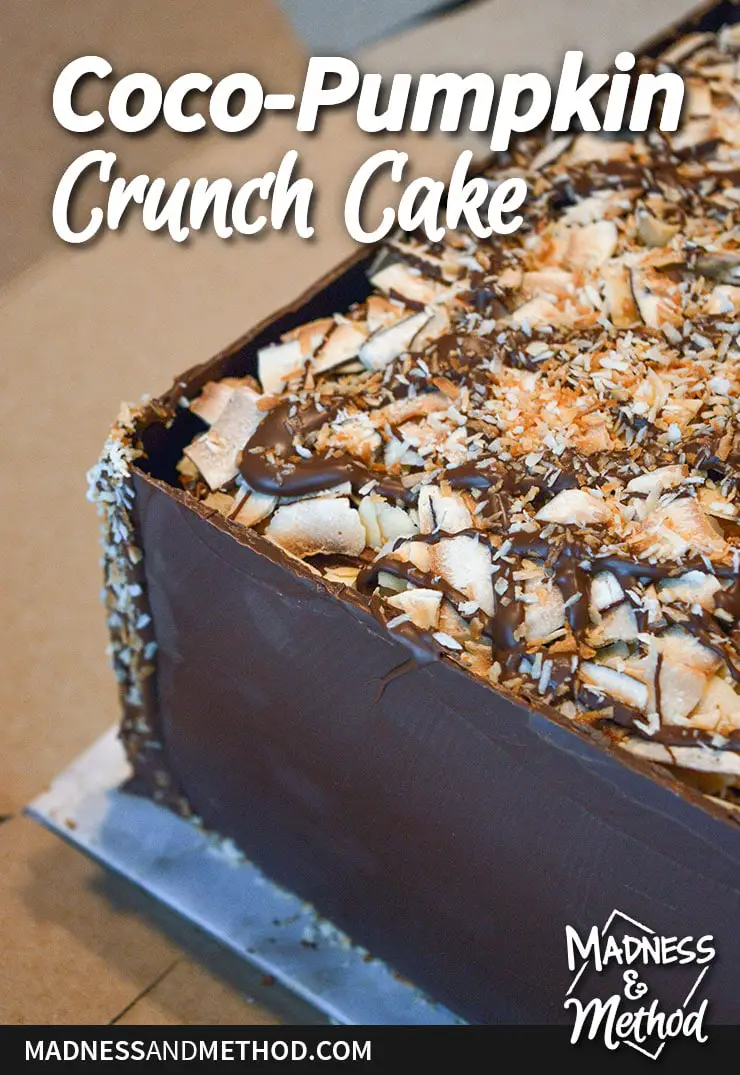 But first, a back-story!  Last year around December, our friends mentioned that there was a local event called the "Art of Dessert" held in November.  You know I LOVE desserts, so I was very interested in attending this charity event!  Local bakers could submit pies that would go for a silent auction, but the more adventurous ones would design intricate cakes (that sold in a regular type auction).

Well, I'm always up for a challenge (especially if I have zero experience).  So I signed up as a cake baker and got to work testing different cake recipes.  I came up with the name first "Coco-Pumpkin Crunch" because I thought it sounded good (Coco is a play on both coconut and cocoa).  I also had a can of pumpkin puree in my pantry that I wanted to use up… little did I know I would be buying a bunch more!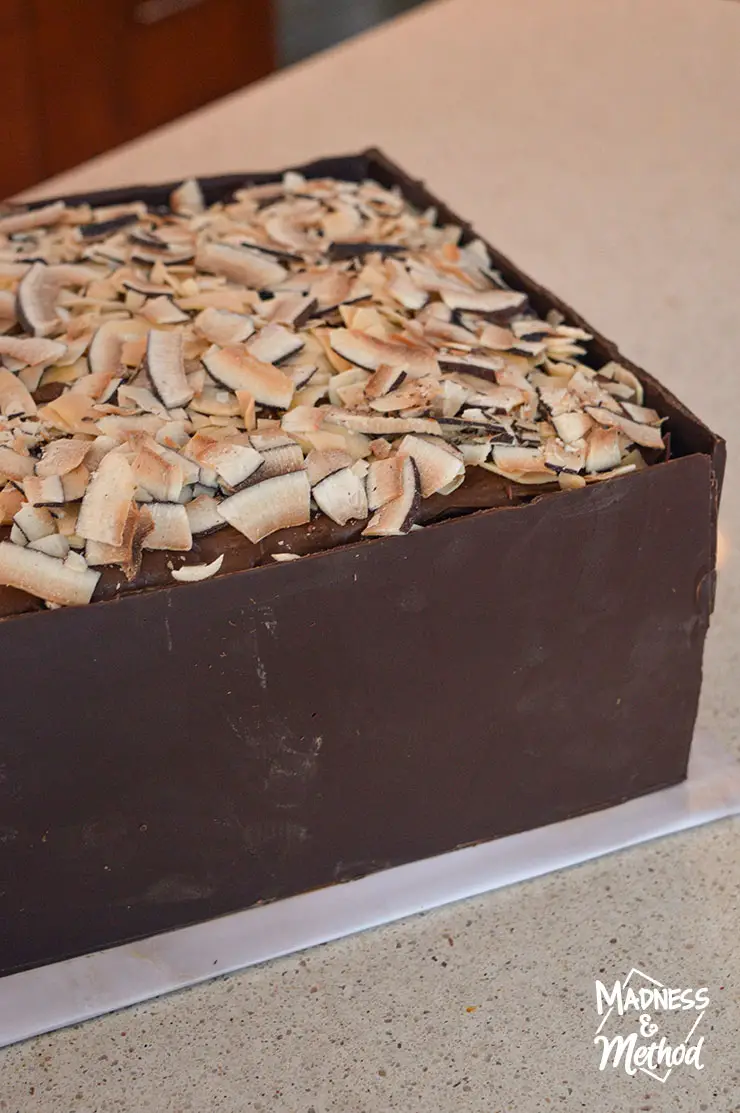 Throughout the year, I would make a version of the cake around once a month and slowly tweak the recipe.  While the first batches were delicious, the cake was way too moist, and wouldn't hold up well after a few hours.  (I was only making a layer or two to begin, and knew I would eventually want a 4-layer cake).

2019 Art of Desserts Event
Thankfully the event was at the start of November because I was a little bit busy at the end.  It was held at the Sudbury Food Bank and was actually a huge fundraising event.  (In addition to the cakes and pies, they also had a regular silent auction and a cookie auction too!).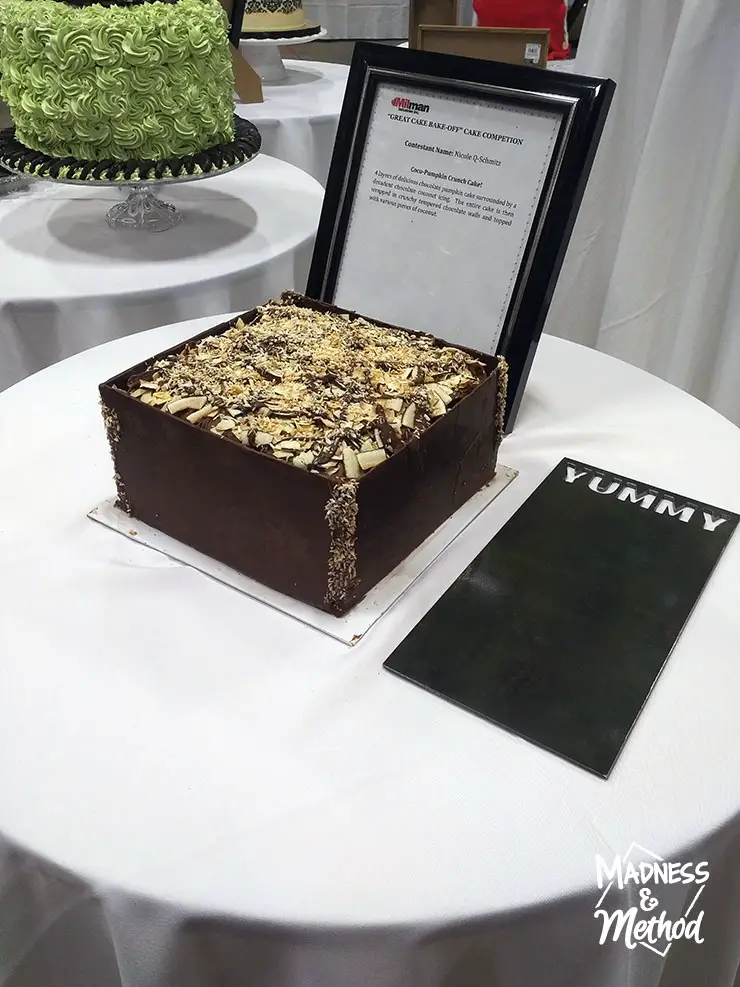 There were 9 cakes in total, and although mine sold for the lowest amount of $300, I had a lot of fun!  It was a great experience, and it definitely made me want to sign up again next year.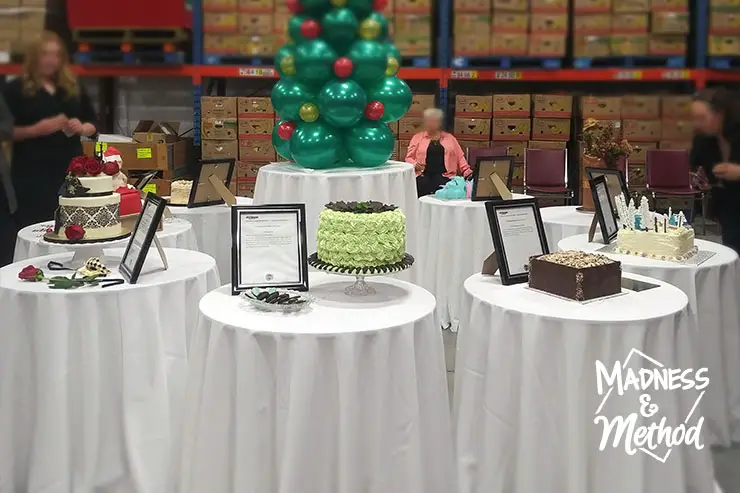 I didn't mention, but there was also a judging taste test for each cake, and they seemed to like the cake, ha!  (Each baker had to make a cake to display/auction off, as well as a few mini tasting cakes too).  I even designed some custom steel plates and painted them orange to hint at the pumpkin flavour.
I wish I would have gotten to taste each cake!  The judges selected the dog cake as the best tasting, and the winter wonderland cake (to the right of mine) sold for the highest price.
I'm pretty sure 100% of the other entrants to the cake auction were professional bakers.  So yes, it was a bit crazy to enter as a "normal" person!  That night, I was already thinking of ideas for next year and I pretty much have a whole design and flavour concept already.
Coco-Pumpkin Crunch Cake Recipe
Print Recipe
Coco-Pumpkin Crunch Cake Recipe
Love chocolate, pumpkin and coconut? This Coco-Pumpkin Crunch Cake is a delicious chocolate pumpkin cake surrounded by chocolate coconut frosting!
Ingredients
3/4 cups butter

4 ounces unsweetened chocolate

3.5 cups sugar

6 eggs

3/4 tsp vanilla extract

2.5 cups flour

1/2 tsp salt

1.5 tsp baking soda

2 tsp cinnamon

1 tsp nutmeg

1 tsp pumpkin pie spice

1 big can of pureed pumpkin
Instructions
1
Melt butter and unsweetened chocolate in a large bowl (or over a double boiler, then transfer to a bowl)
2
Stir in sugar, eggs, vanilla and pumpkin puree
3
In another bowl, combine flour, salt, baking soda and spices
4
Slowly combine both together, mixing thoroughly.
5
Pour into greased and floured baking pans
6
(Recipe will make 3 9" square pans)
7
Bake at 350º for 25-30 minutes
I'm also including the recipe for the chocolate coconut icing, in case you wanted that as well!  These are the half recipes from what I made because I needed a lot of cake.
Chocolate Coconut Icing
1 package white chocolate (about 6-8 ounces)
1 package semisweet chocolate
500ml heavy/whipping cream
About 3-5 cups icing sugar
5ml coconut extract
Melt the chocolate over a double-boiler and slowly add the cream until well mixed.  Add coconut extract and stir thoroughly (or add to the cream beforehand).  Transfer to a container or bowl, cover and refrigerate for a few hours.  Mix in icing sugar, one cup at a time until desired consistency is reached.
(I found that if I did all semisweet chocolate, my ganache would harden more and I would need less icing sugar.  But I wanted the lighter colour icing so I added the white chocolate).
For my coco-pumpkin crunch cake, I also did full tempered chocolate walls. (I learned and practised how to temper chocolate the month before).  I added different bits of coconut to the top, and also covered the edges of my chocolate with some coconut too.
This cake was heavy!  I don't know how anyone could carry the larger cakes (mine was among the smaller size), but I was also like 8+ months pregnant… Either way, I thought it tasted really good, and I know it was enjoyed by the family that won it :)