I was originally going to write all about our laundry hacks (that will be next week!) when I realized that this topic might be interesting too.  I'm sure there are other people who might want to know how to reverse a dryer door.  And get this – it's actually super quick and easy, ten minutes will save you a lot of future anger!
You may be wondering why you would want to reverse the swing on your dryer door.  For us, our dryer was on the left, and the washing machine was on the right.  However, the dryer door was a right swinging door and it was so annoying.  I even mentioned that I wanted to move our ducts/plumbing when we renovated our laundry room so it would be easier to load.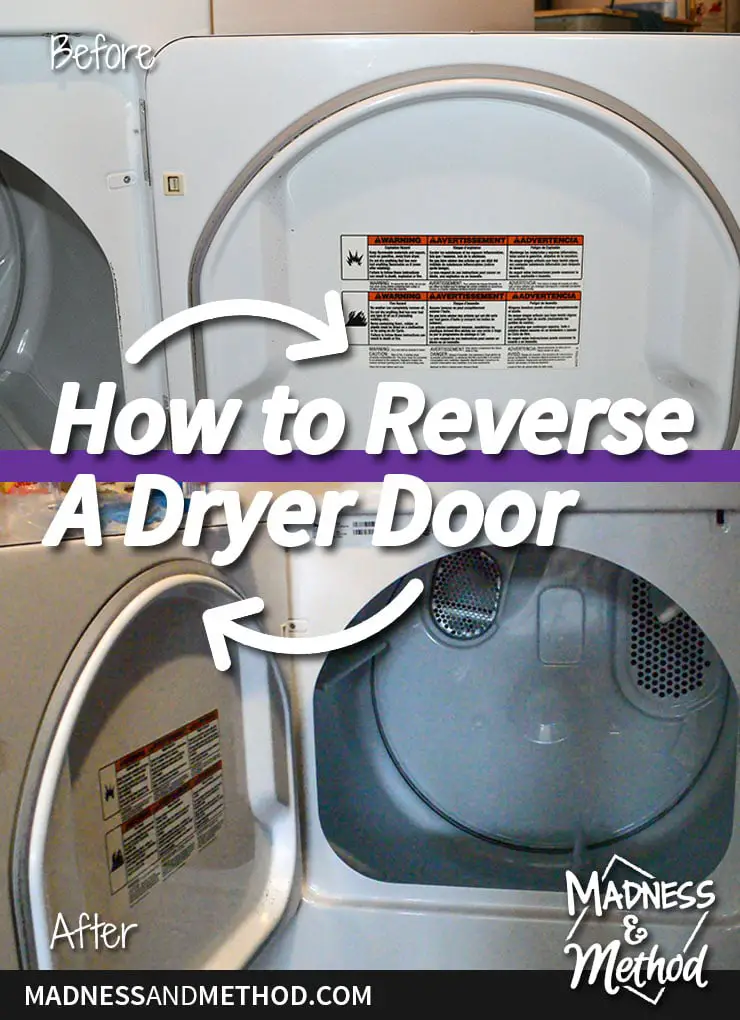 Well, fast forward years later when I realized that dryer doors may be reversible!  And so I attempted to switch ours over, and even made a video showing the process so you can do it too.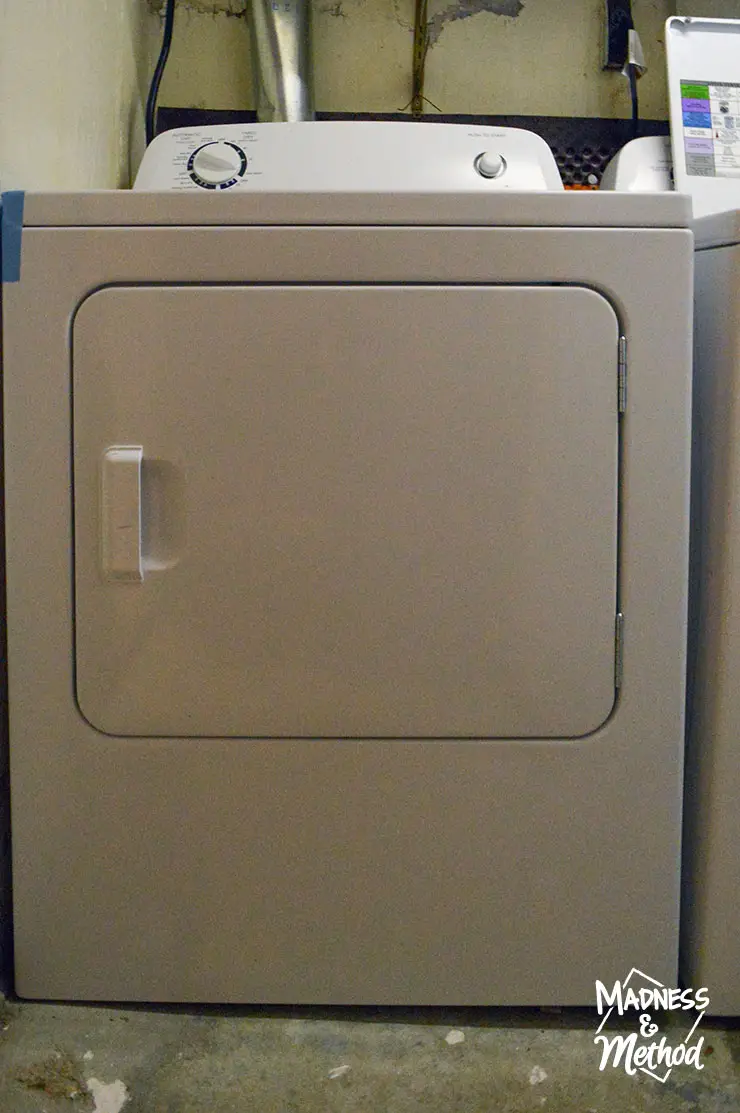 Even the dryer door at our Rental Renovation is the "wrong" way, and that one is extra annoying because the machine isn't level so it keeps closing.  So, as I mentioned, it takes just a few minutes of work to save yourself annoyances in the future.
I go through everything pretty much step by step in the video, but here is the basic outline:
Step 1: Analyze your Dryer Door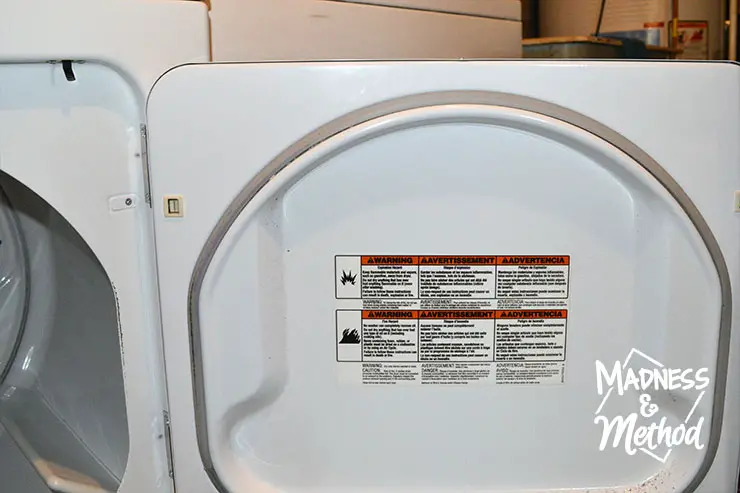 After opening our dryer door for years, I just noticed that there were the same holes/openings on both sides of the dryer (and the door).  I was about the attempt to reverse the door, when I had a late night thought (as one gets when they're up nursing a baby) that I couldn't reverse the door because of the handle.
Step 2: Unscrew Hardware Pieces + Remove Door from Dryer
The inner part of the door has a dome shape on the top, so I knew that I couldn't flip it upside down.  But, lo and behold, I discovered that there were little screws all around the edge of the door.
I knew that the holes/hardware were mirrored on both sides, so I figured the worst that could happen would be me just having to re-install the door the original way (assuming you couldn't flip it).
Step 3: Separate Front and Back of Door + Flip
Once you determine that the hardware pieces/holes are on both sides, use a screwdriver to remove everything you need.  Pay attention to how the hinges were placed on the door (we screwed this up… four times!).
Luckily, all our screws were the same throughout the door, so it was easy to use the screwdriver to take them all out.  Thankfully, the front of the door easily popped off from the back, and I just put it back on the other way.
(There was a random piece of cardboard between our door panels, I just left it there).
Step 4: Re-Attach Door and Reverse Hardware on Dryer
You just need to re-install all the screws back where they belong, then swap all the opening hardware from left to right (or right to left) on the actual dryer.  For us, that meant moving the closing clip to the other side, then putting the cover where the original clip was.
We also had to pry off some plastic plugs.  After trying to remove them with a flat head screwdriver, I found it was easiest to get under them with a nail file.
Step 5: Re-Install Hinges and Attach Door to Dryer
In case you ignored my warnings above and forgot how your hinges were attached, the photo above should help you figure it out!  We had to remove and re-install our hinges four times… so that part definitely took the longest.
And, up until this point, you could probably have done everything by yourself, but you may need a buddy to hold the door now.
Assuming everything was done correctly, your door should properly latch and open, yay!
How To Reverse a Dryer Door (Video)
As mentioned, I have everything outlined on this video:
We had a lot of "help" from Élise, and I had to re-record the audio because there were too many little noises (and distractions).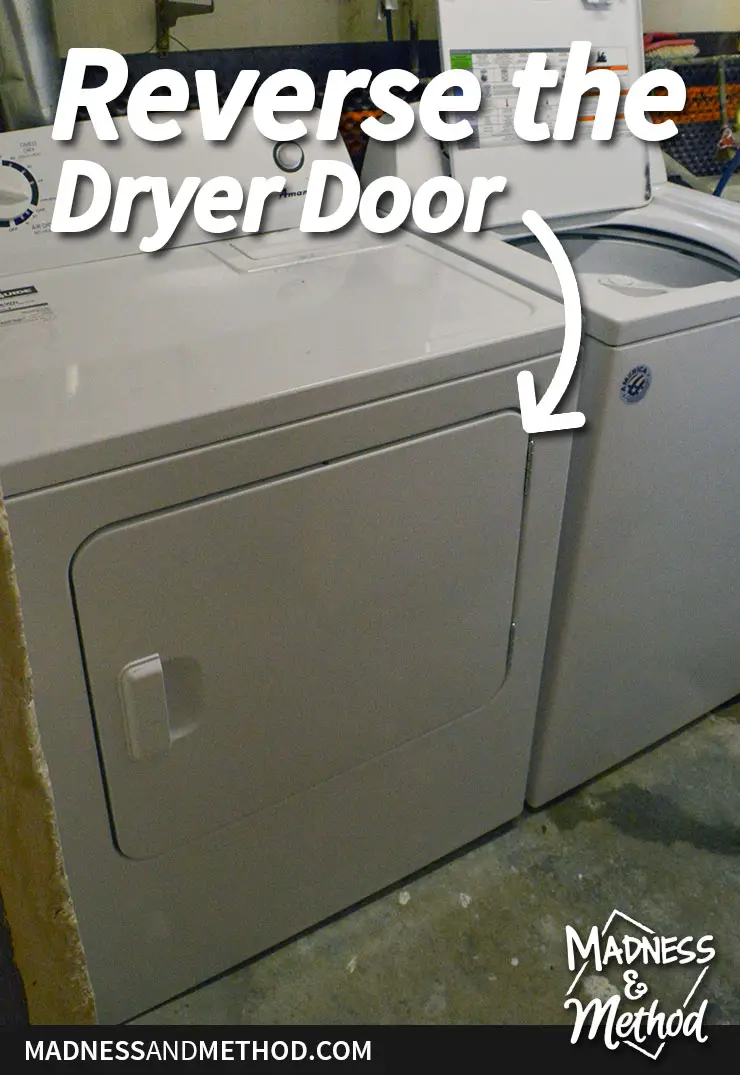 Hopefully this tutorial detailing how to reverse a dryer door was useful if you had the same issue!  Now, we just need to do the same thing at our rental home and we'll be set.
Make sure to come back next week for my lazy laundry tips, and let me know if you had a "backwards" dryer door as well!