I have to admit – I'm not a curtain/textile person.  We literally only have two sets of curtains in our entire house… and both are too short!  So I thought I'd share some great DIY curtain hacks to fix curtains that are too short (or too long, too wrong, whatever!).  Thankfully I have linked to other blogger's projects, because my solution to fixing short curtains is to just hide them with furniture :)
– Note: This post contains affiliate links. See more information about affiliates here. –
And remember to visit the links directly and pin from the source!
Ha!  Not even joking on that last one, because the curtains (that came with our house by the way) in our upstairs living room are about a foot short.  You can see more of them in the living room tour, but maybe you didn't notice because they're behind the couch?  Oh and when Tootsie was a puppy she chewed a good chunk of one of the panels too…
Update: We installed longer living room curtains, and I bought some more for the bedroom too.
The curtains in our master bedroom?  Those are super short as well, but you wouldn't notice because the bed is hiding them!  In our original master bedroom tour you can sort of see them in their stubby glory.
So, how can you actually "fix" curtains that are too short?
The obvious solution would be to purchase them the right length, but in case you wanted to work with what you've got – check out these handy DIY curtain hacks:
Fringe 'Em
Corinna from A Designer at Home added a fringe border to the bottom of her curtains and they are so fun!  They look super fancy, and you can definitely DIY something like this (would you believe she made the custom fringe too!?).
Add a Border
When I think about what to do with too-short curtains, it would definitely be to add more fabric along the bottom (you know, if I knew how to sew).  Kathy from Up To Date Interiors chose a fun pop of colour for these curtains, and she has lots more tips for short curtains too!  The knot thing?  Genius!
Curtains Too Long?
Maybe you have the opposite problem, and have some curtains you love – but they're a bit too long.  Meg from Green with Décor has some handy tips on how to hem the curtains AND add a liner.
Want to know the best curtain hack for curtains that are too long and you don't want to cut them!?  I literally just folded them at the correct height and used some Heat N Bond Iron Tape.  It's been a few months and they've held up great!
Custom Curtains
Did you know you can make curtains out of (almost) any fabric you want?  Amanda from A Crafted Passion has a tutorial to make curtains for non-sewers… and it kind of looks easy…
Who knows, maybe one day I'll replace the curtains in the front living room with something custom!  (PS: I just picked up some regular ones and used Heat N Bond)
By now you might be thinking, great I have the curtains I want, but those curtain rods are so expensive.
Have no fear :)
DIY Curtain Rod
Heather from Craft and Tell has instructions for a DIY curtain rod – and you won't believe how easy it is to make!  Think about the possibilities (imagine little animals on the ends for a kid's room!) and you'll never go back to "real" curtain rods again.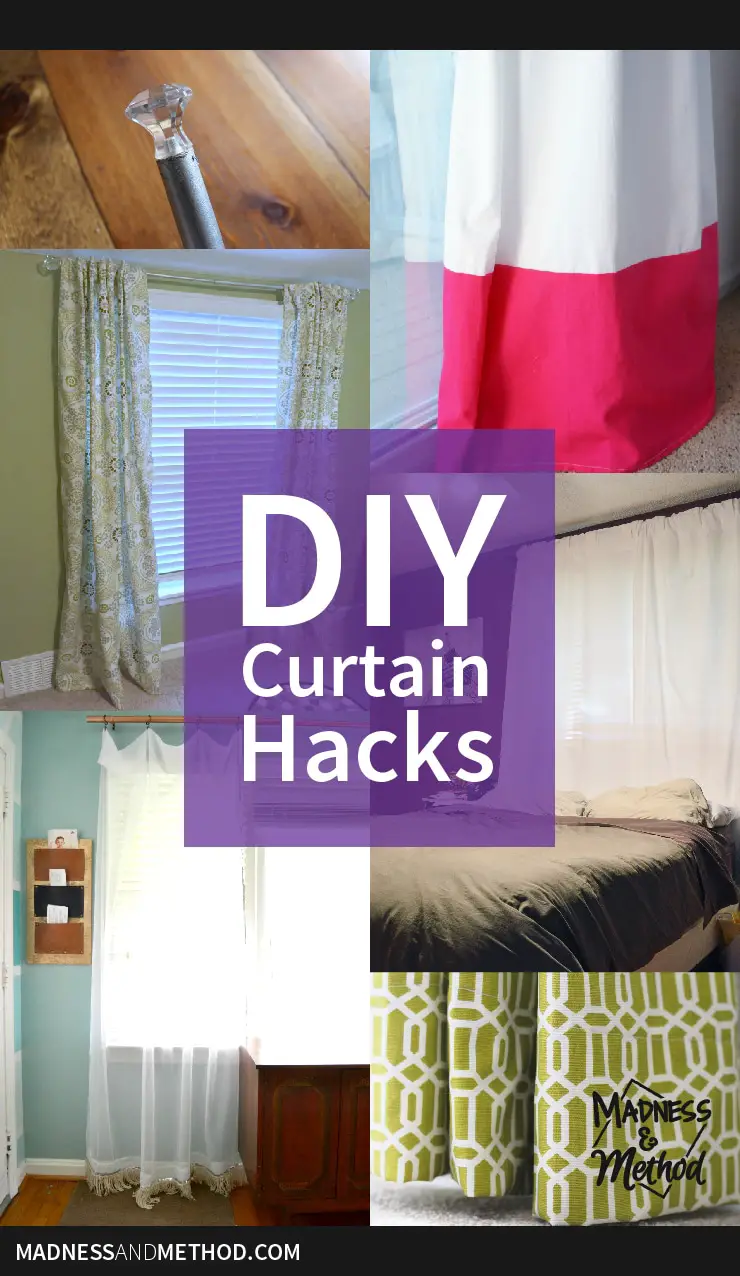 Were those some easy DIY curtain hacks or what?!  Although we won't be installing curtains in the basement (I want plain 'ole blinds), trying to find some that will work has really gotten me thinking about window treatments in general.
Curtains can definitely be a fun way to decorate and enhance a room, but there's no need to spend a fortune (just don't forget to hang them high!).
So tell me, which one of these DIY curtain hacks will you attempt?