I used to reserve smoothies for special occasions, like when we had people spend the night and I could serve them some delicious fruit smoothies with their breakfast.  It was mostly due to the fact that I never seemed to get my fruit combo correct, and I always had to add liquid to help water down the smoothies (or you would need a spoon to eat them!).  Over the past little while though I've been making smoothies almost every day just for me.  I think I've finally come up with the perfect solid to liquid ratio so that you can actually drink the smoothies!  Today I'm going to be sharing the "secret" combination, as well as recipes for three delicious single-serve summer smoothies!
– Note: This post contains affiliate links. See more information about affiliates here –
In the wintertime I have my kettle out 24/7 so I can always boil some water for hot chocolate whenever I feel like it.  Now that it's summertime and warmer, I swap out my kettle and bring out the blender – so I can have smoothies when the mood strikes!  In order to whip up some smoothies, you'll also need a few ingredients in your arsenal.  I have different frozen fruit ready to go in my freezer at all times (right now we have mangoes, raspberries and blueberries); and I usually always have some bananas or other fresh fruit too.  For the liquid component, I like to stick with plain 100% juice (think orange juice), but you can always switch it up and go with a dairy-based smoothie.
Remember when I said that I didn't get the combo right?  I would literally keep adding ingredients until my blender was overfilled… and sometimes I even needed to dump half out and add more liquid just to get a good drink consistency!
But not anymore :)
Want to know the super simple ratio of fruit vs. liquids to make the perfect smoothies?  When using frozen fruit, you want to go with an even fruit to liquid mixture.  So if you add 1 cup of frozen fruit, you'll need 1 cup of liquid.  If you're using fresh fruit, you'll only need about 1/4 to 1/2 of the amount of liquid (depending what type of fruit you go with).  Sounds simple right?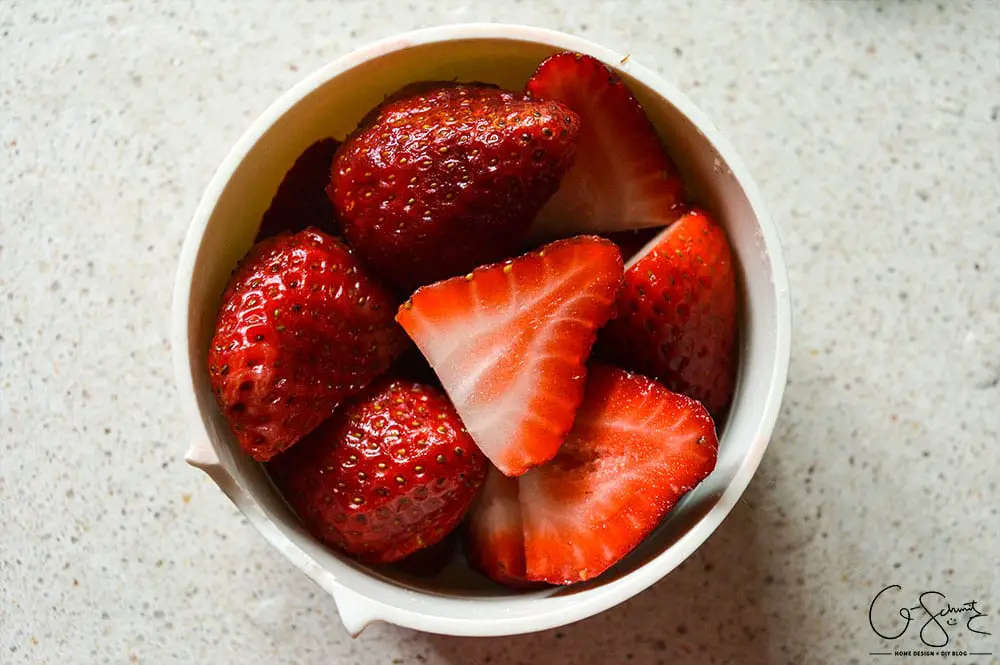 I use a dry measuring cup to measure my ingredients, and I like to chop up the fruit in manageable chunks so that they blend easier (and you'll get a bit more fruit in the cup too).
Then, you simply dump everything in the blender and mix it all together!
Yes, my blender is a hand-me-down and super old.  The Husband has a Magic Bullet, and I could always attempt to make smoothies using my food processor; but for now this old blender works perfectly for me :)
Let me share with you some of my favourite recipes for single-serve smoothies!
(Note: when I say single-serve, I mean a nice big glass full of about 500ml).
 Berry Berry Banana Smoothie
1/2 cup frozen blueberries
1/2 cup frozen raspberries
1/2 banana
1 cup orange juice
This smoothie has a nice vibrant colour from the blueberries and raspberries; however the raspberries do leave little seeds which can get annoying.  If you are serving smoothies to a picky eater, maybe switch out the raspberries for something less seedy.
Tropical Sunshine Smoothie
1 cup pineapple juice
1 cup frozen mangoes
1/2 banana
This is the smoothest smoothie recipe of the three, and it has such a nice tropical flavour.  Where do you get pineapple juice you may ask?  Whenever I use a can of pineapples, I usually drain the juice and save it for later!  You can always use the whole can of fruit for your smoothies too, and it opens up a lot more possibilities since you have longer shelf life than with fresh fruit.
Fresh Pink Smoothie
1 cup fresh strawberries
1 cup fresh cantaloupe
1/2 cup orange juice
This smoothie is a bit chunkier than the others, but it could have been because I didn't blend it 100%.  Either way, I do really like the chunks and this one has a really nice fresh flavour (and isn't as cold as a smoothie made from frozen fruit).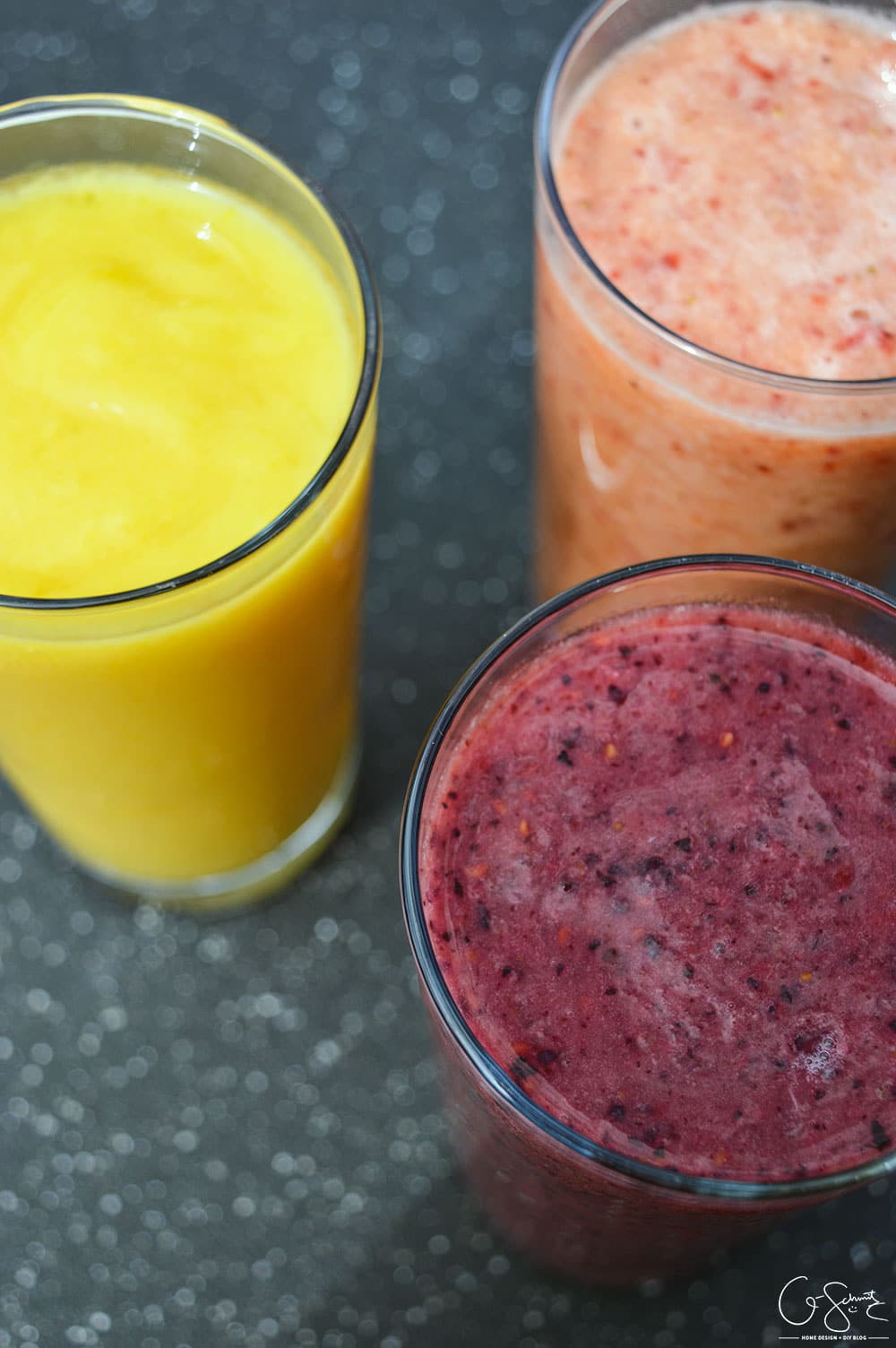 So now that you have the golden ratio of smoothie making down, you can start to enjoy these fresh and delicious beverages all the time!  I usually whip up a smoothie in the morning to accompany my breakfast, but they are so refreshing in the afternoon when it's really hot too (and is a great way to fill up your belly in between meals).  Drinking smoothies is also a great way to get your daily fruits in, and they are super healthy!
I've been mentioning making smoothies out of fruit, but you can certainly make smoothies with veggies, or even add healthy grains and what not to your smoothies as well.  I have the Smoothie Bible, and there are so many great recipes that I would love to try.
Other Smoothie Recipes
I've also found and saved these great smoothie resources online, so check them out for more ideas!
Okay… that last one isn't really a smoothie, but I did mention I loved hot chocolate right?  I had to include it :)
Do you regularly make smoothies, or only save them for a special occasion?  I'd love to hear your thoughts in the comments!
Shop this Post