Once you have the perfect smoothie ratio down, it's exciting to find new smoothie recipes!  My preference for smoothies is the fruity and frozen kind, but smoothies can be made with almost any fruit or veggie.  Hot or cold too.  Either way, today I'm sharing my go-to single-serve summer smoothie recipes.  And I bet you already have (or can easily get) these ingredients. 
In the wintertime, our kettle is out 24/7 to make hot chocolate.  Now that it's warmer, we try and use our blender to make smoothies whenever the mood strikes!  We recently upgraded our blender, so making smoothies (and cleaning up) has been a lot easier.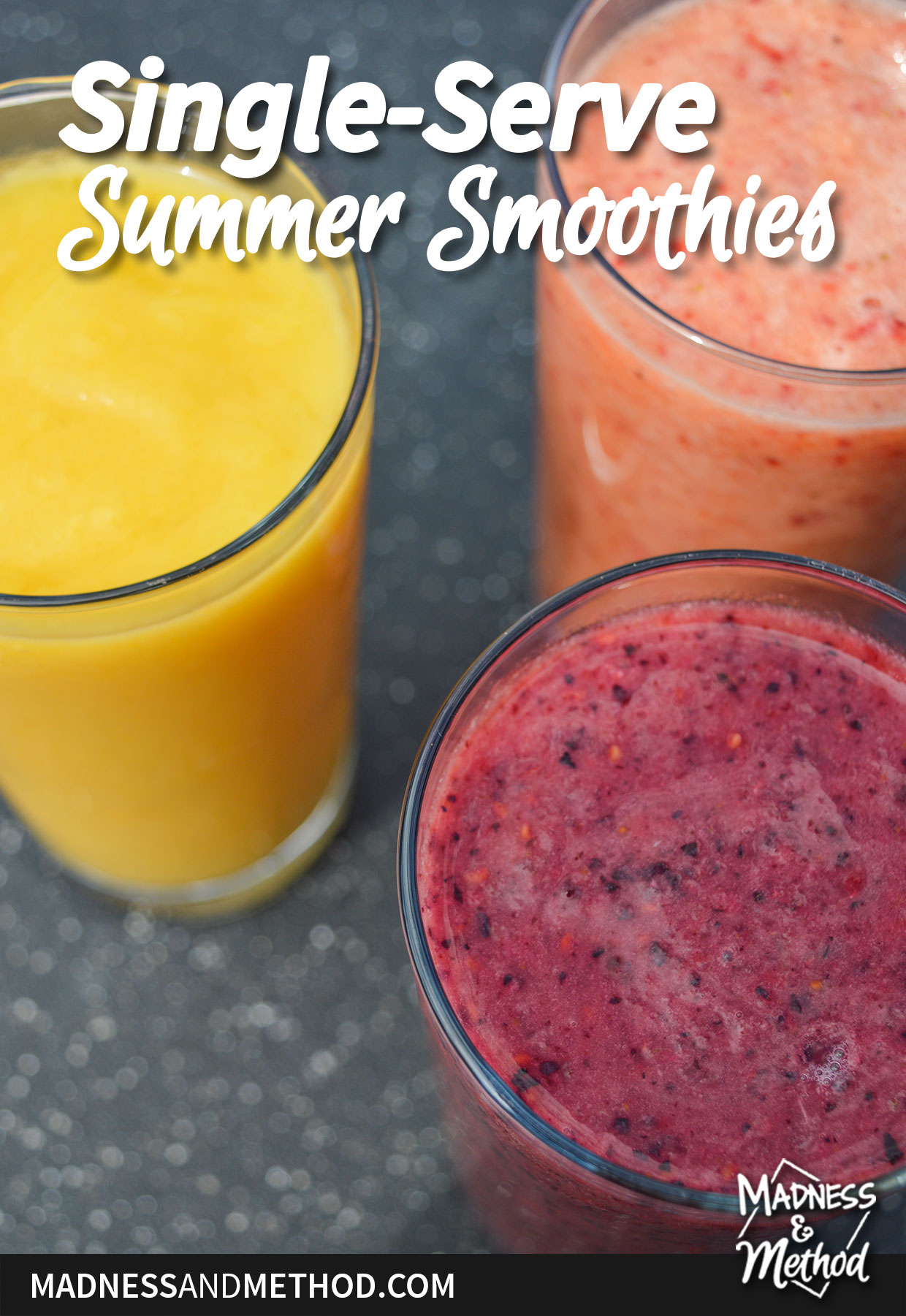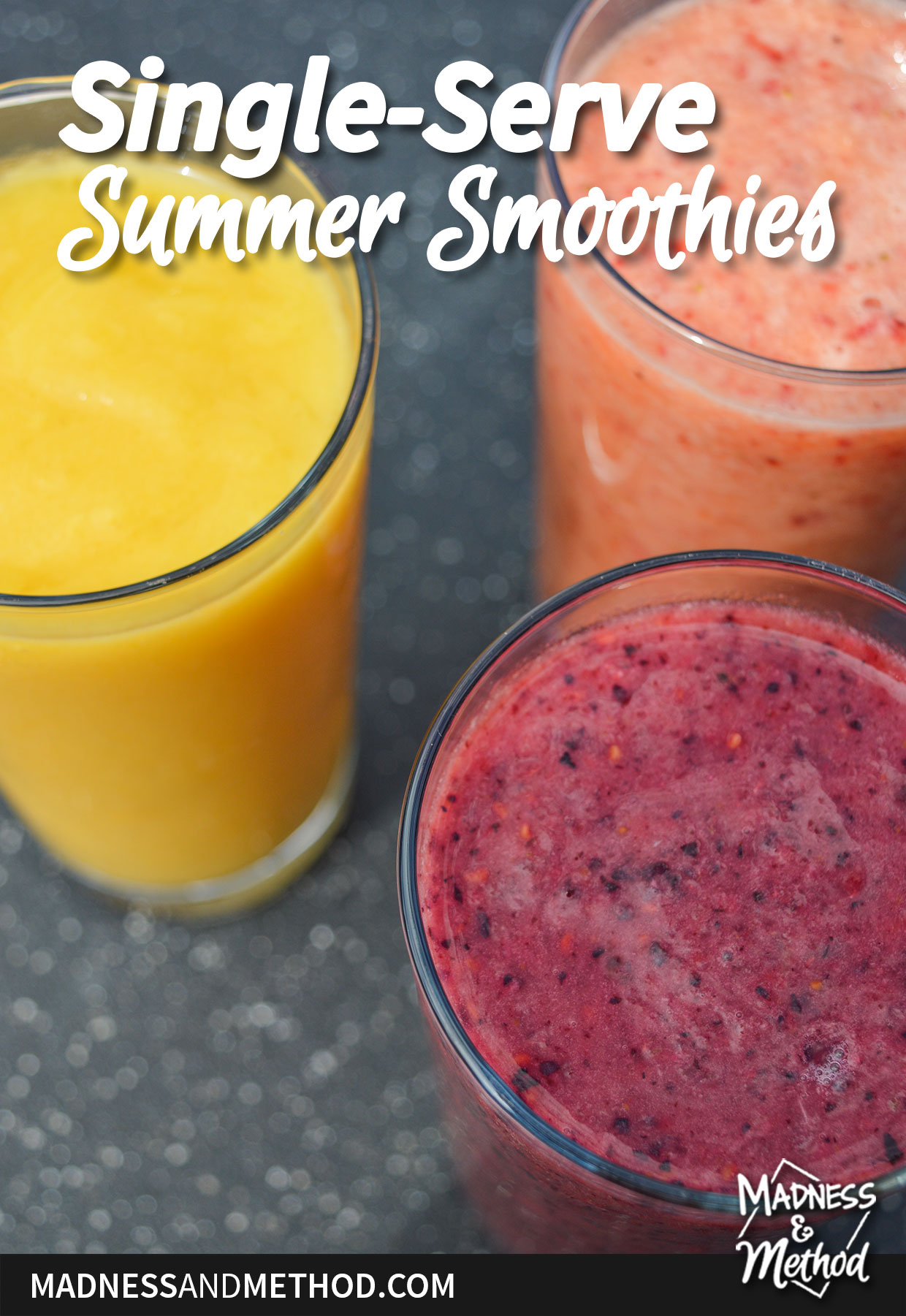 Our oldest, Zachary, loves making smoothies.  He always wants to come up with the craziest combos – but I definitely reign him in a bit.  (Although let's be honest, almost all fruit taste good together).  
This post was originally written July 16, 2016. It has been refreshed and republished June 24, 2022.
My original blog post was filled with a lot of good smoothie-making tips, including the perfect smoothie ratio.  Definitely check that out if you want some smoothie basics.  And for a list of different smoothie ingredients. 
Today I'm highlighting my 3 delicious recipes for single-serve smoothies!  You can easily double or triple the ingredients to make more portions, but these will all make a nice big glass full (about 500ml). 
Before I begin, let me remind you that it's easier to blend your smoothies if you prep (and pre-chop) your fruit.  Think bite-sized pieces.  You'll also get a bit more fruits into the measuring cup that way!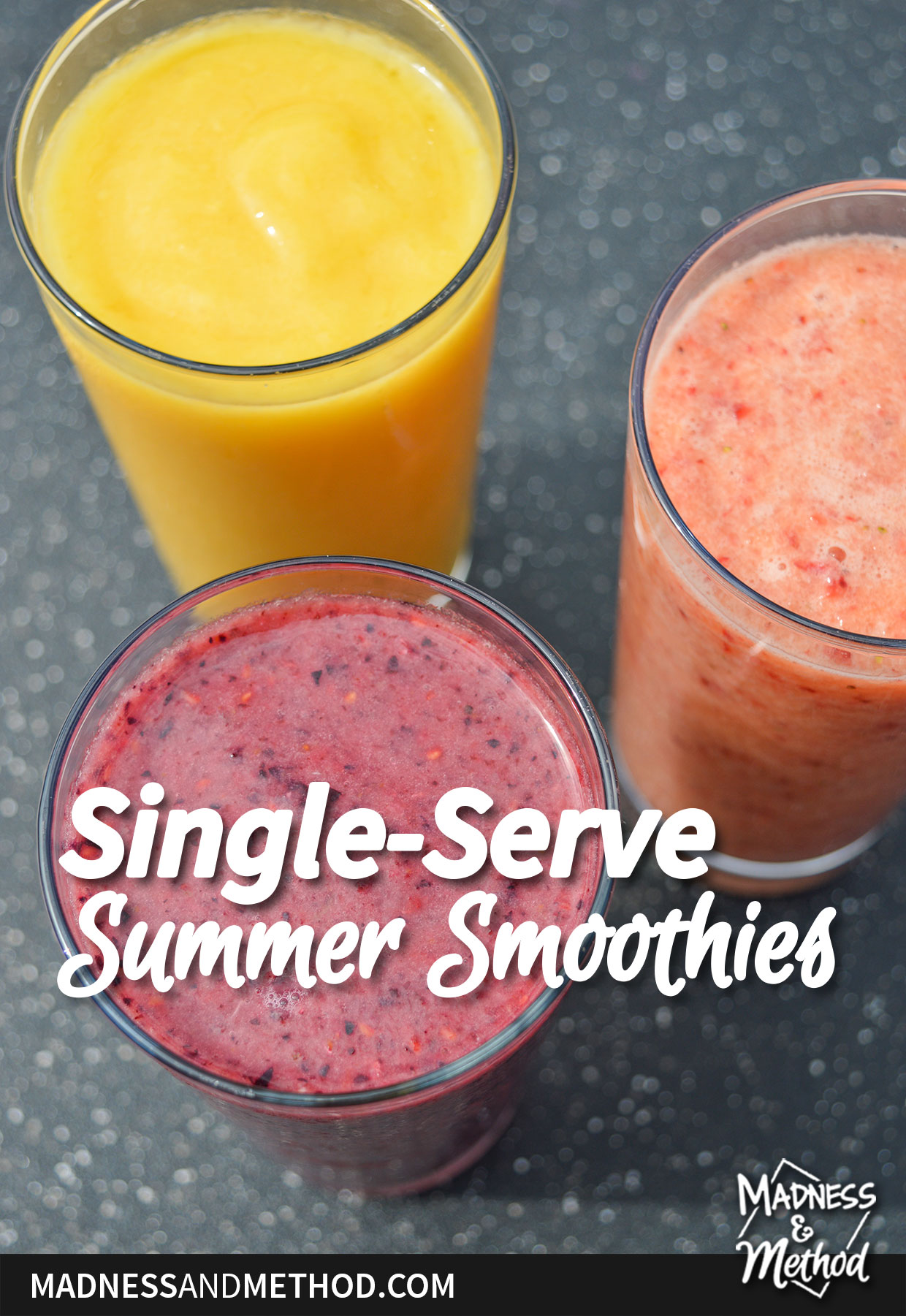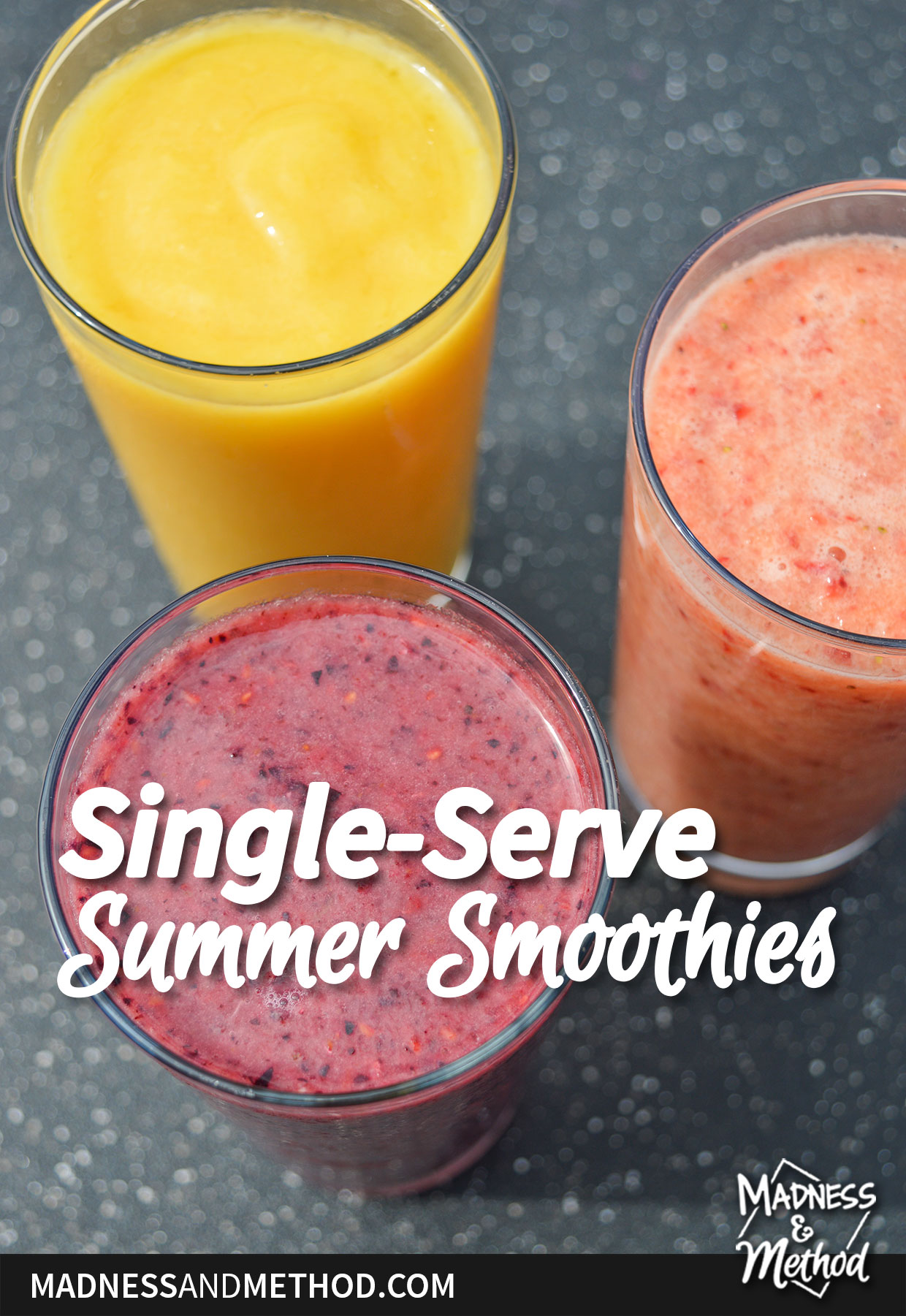 Berry Berry Banana Smoothie
1/2 cup frozen blueberries (or fresh)
1/2 cup frozen raspberries (or fresh)
1 banana
1 cup apple juice
This smoothie has a nice vibrant colour from the blueberries and raspberries; however, the raspberries do leave little seeds which can get annoying.  If you are serving a picky eater, maybe switch out the raspberries for something less seedy.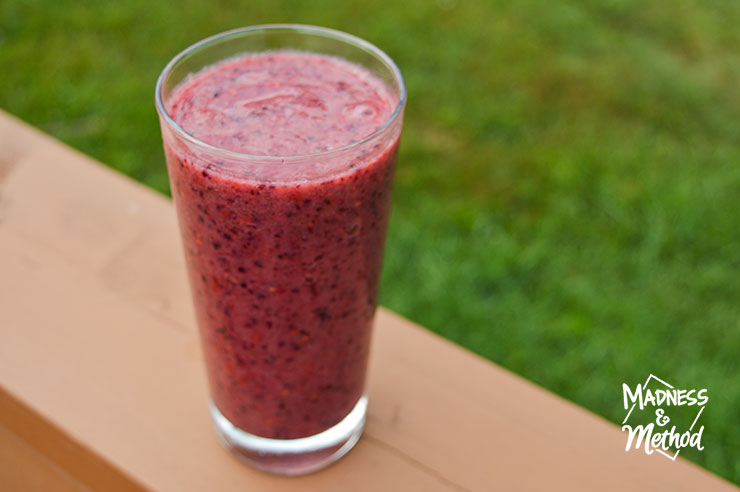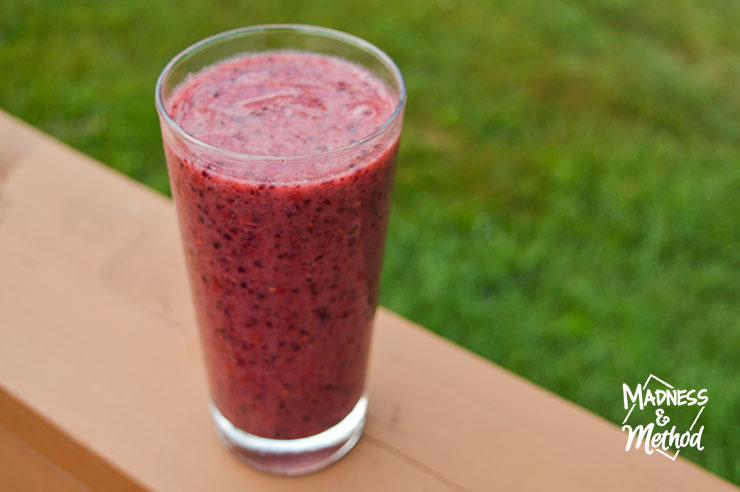 Tropical Sunshine Smoothie
1 cup pineapple juice
1 cup frozen mangoes
1 banana
This smoothie recipe has a lovely tropical flavour.  Where do you get pineapple juice you may ask?  Whenever I use a can of pineapples, I drain the juice and save it for later!  You can always use the whole can (plus the fruit) for your smoothies too, and it opens up a lot more possibilities since there is a longer shelf life than with fresh fruit.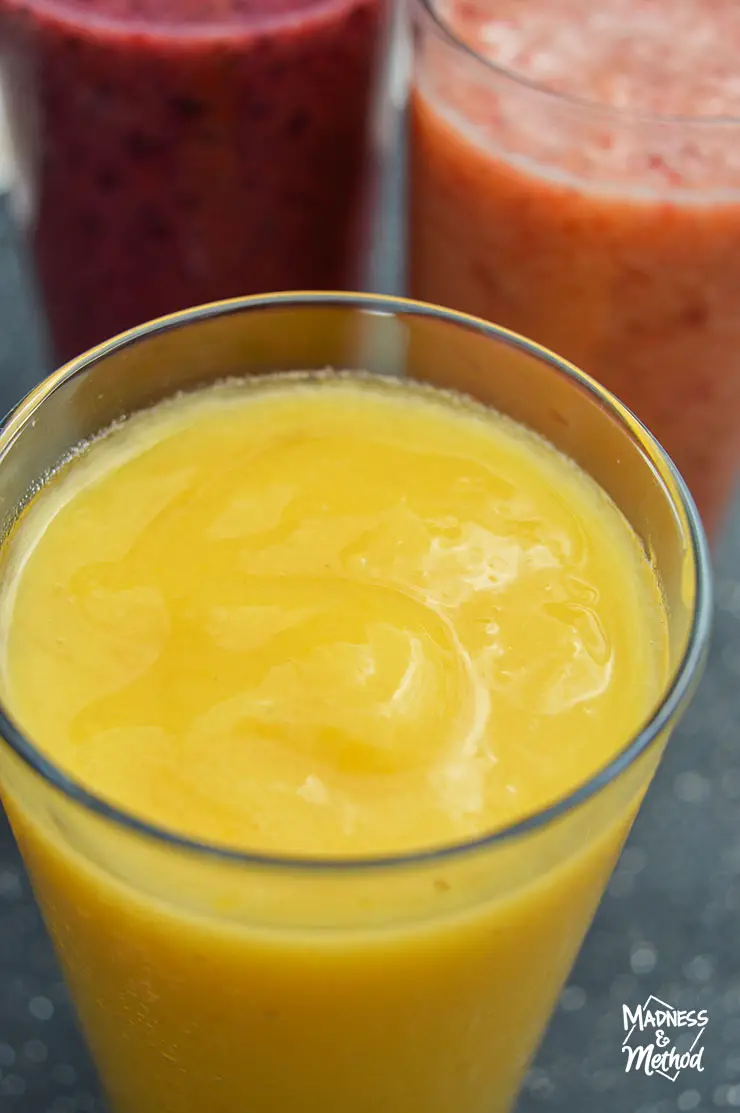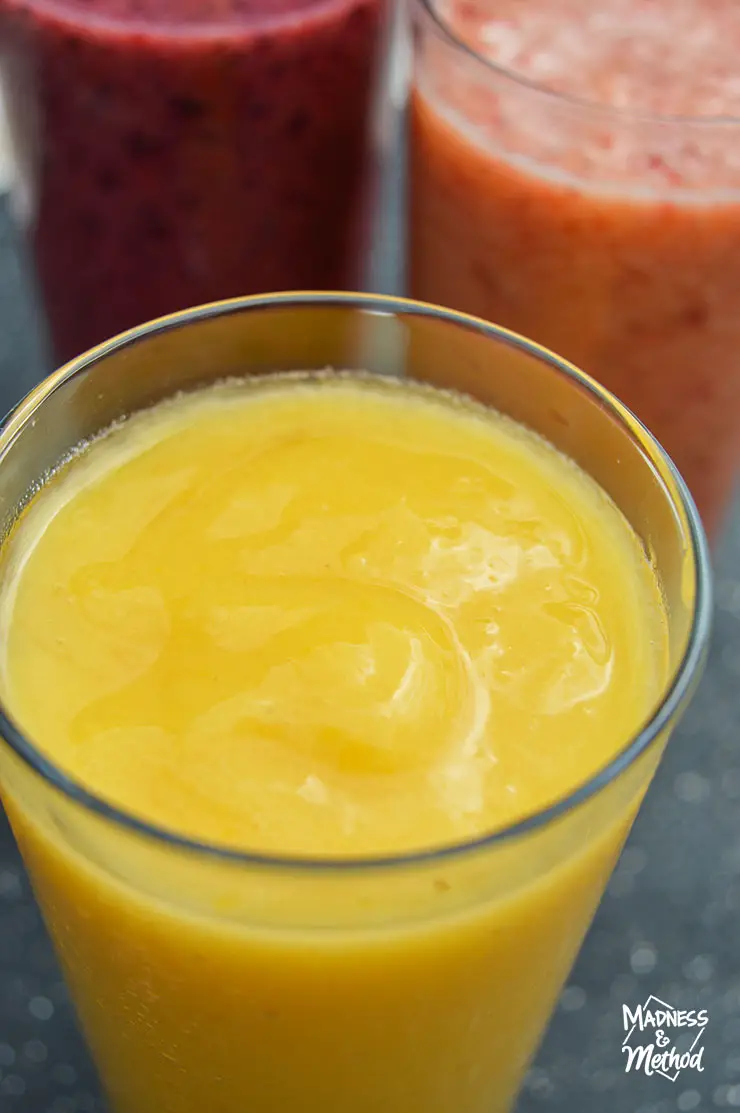 Fresh Pink Smoothie
1 cup fresh strawberries
1 cup fresh cantaloupe (chopped)
1 cup orange juice
Cantalope is a less-often used smoothie ingredient!  But adding it to smoothies is such a good way to use up a bunch. This smoothie has a really nice fresh flavour (and isn't as cold as a smoothie made from frozen fruit).  Feel free to substitute with watermelon if you prefer.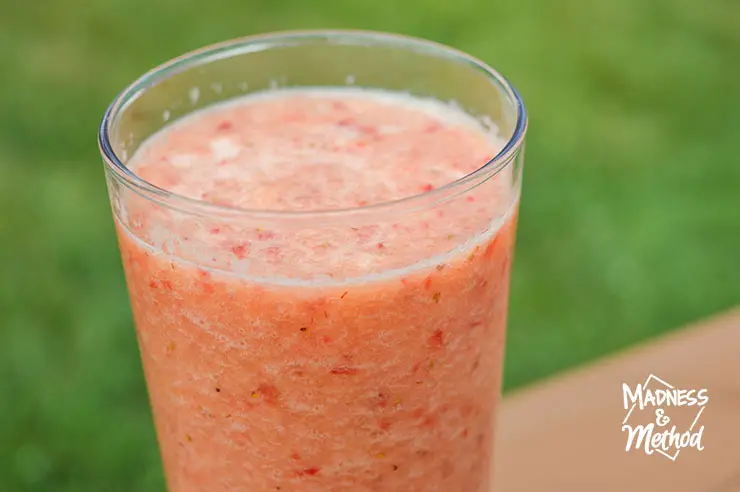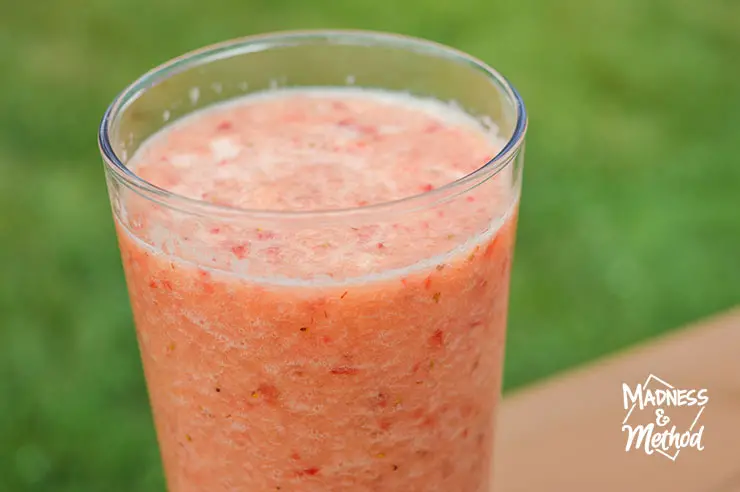 Remember to check out my post with the perfect smoothie ratios to see other ingredient ideas!
Other Smoothie Recipes
I found and saved these great smoothie resources online, so check them out for more ideas!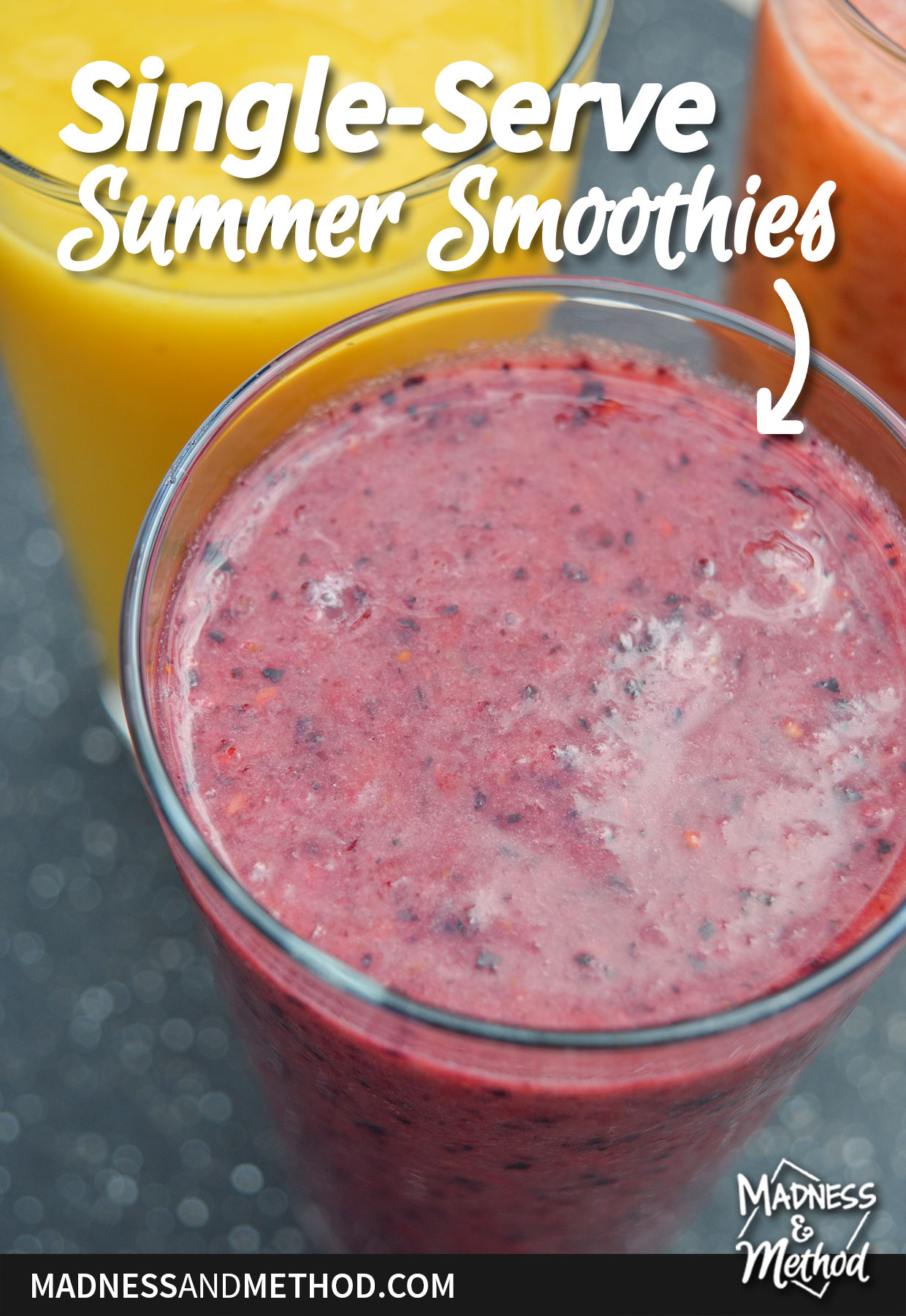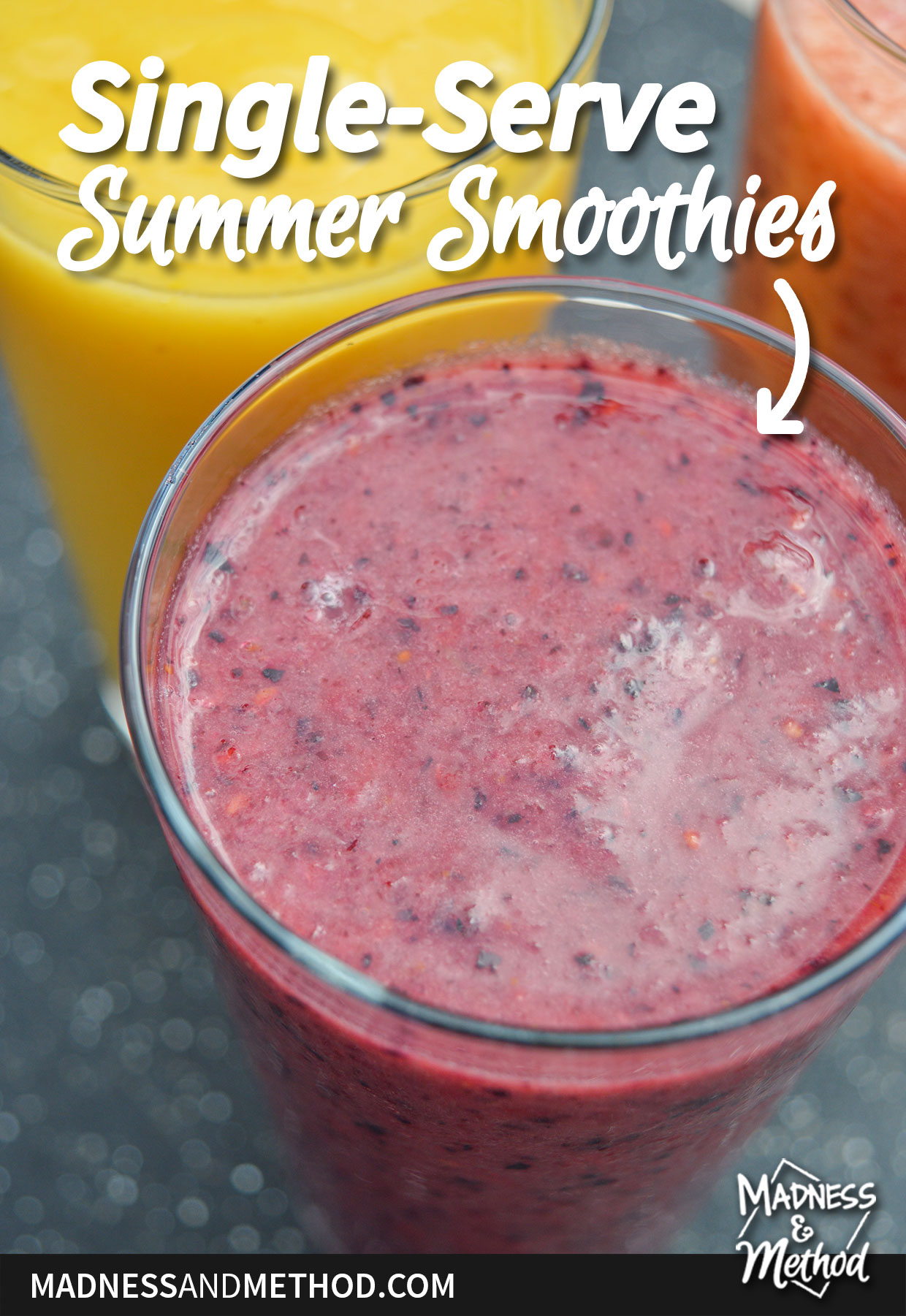 Okay… that last one isn't really a smoothie, but I did mention I loved hot chocolate right?  I had to include it :)  Plus, milkshakes are smoothie-adjacent.  Or like, smoothies' less-healthy, cooler older cousin.
What types of smoothies do you like?  Have you ventured into the healthy/green smoothie realm?  What about a warm and savoury smoothie (aka soup in a cup)?  I could definitely see myself trying one of those in the colder months!