My basement is definitely "country".  Think plaid and dark wood paneling, and that pretty much describes this space.  You know what style I am not?  Country!  But, let's look at pictures of the basement anyways, along with my lovely little comments of issues I would change…
Update: We completely transformed the basement
I don't want to upset anyone here, there's nothing wrong with a country decor style… it just isn't me.  I definitely like things plain, more minimalist with clean lines, squares… that sort of thing (closer to how the upstairs living room looks like).  There's one thing I won't argue about though – this basement is comfy!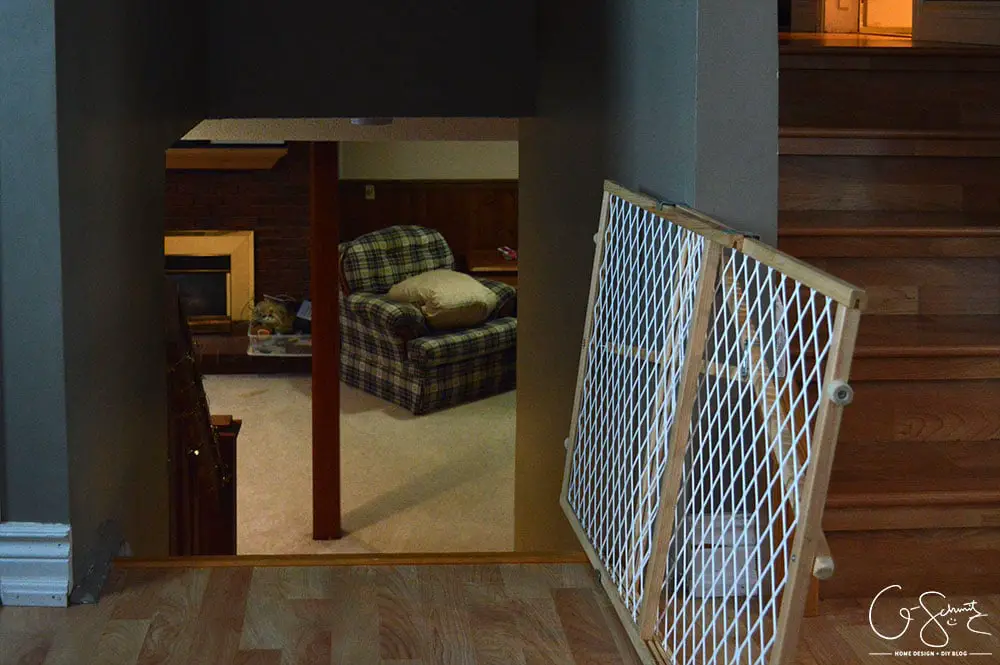 So let's go down into the basement together shall we?  A reminder that we live in a 1970s side-split – and you can see the house layout here.  We normally have the Tootsie gate closed, and she's only allowed down there when we let her (something about a shedding dog and carpet that don't mix).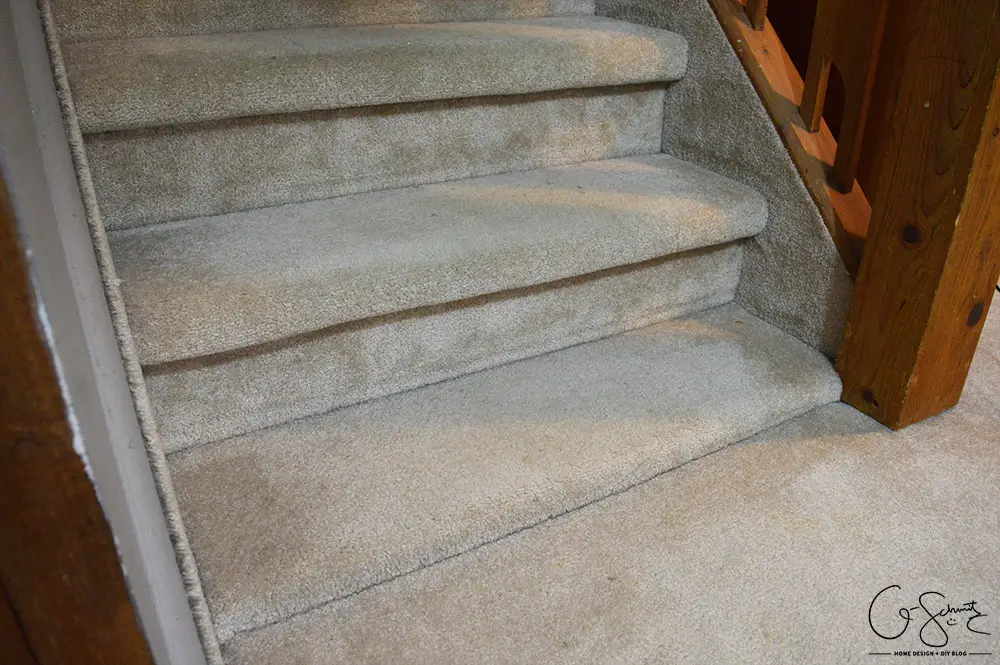 Issue 1.  There's a strange stair "nubbin" at the base of our steps.  I think at one point they added a raised platform throughout the living space of the basement (the laundry room and crawlspace is a step down) but never altered the steps to match.  If only I could stretch out the risers on the staircase!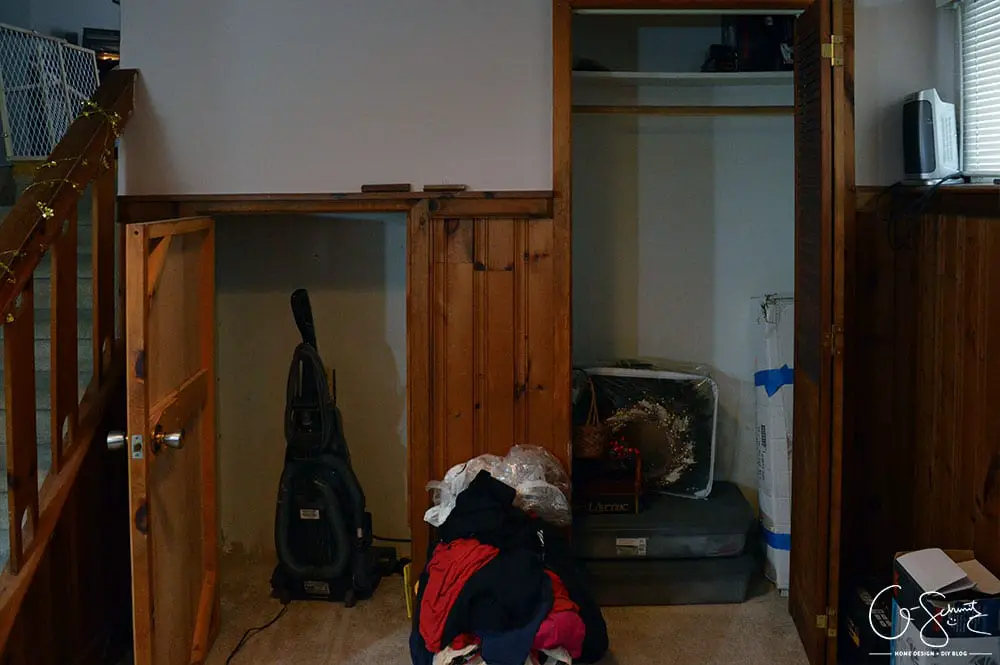 To the left of the staircase as you go down (or right if you are facing the upstairs) we have two closets.  The little baby one on the left I call the "Vacuum Closet" because it fits our two vacuums perfectly and has an outlet too.  The right closet is where I keep all my holiday décor, and eventually we'll put our coats down here once little babies take up space in the bedroom closets.
Yes, that is a box/pile of stuff I need to clean in the center there… I figured it was easier to shame myself into getting it done than try and hide the mess and pretend we're super clean around here.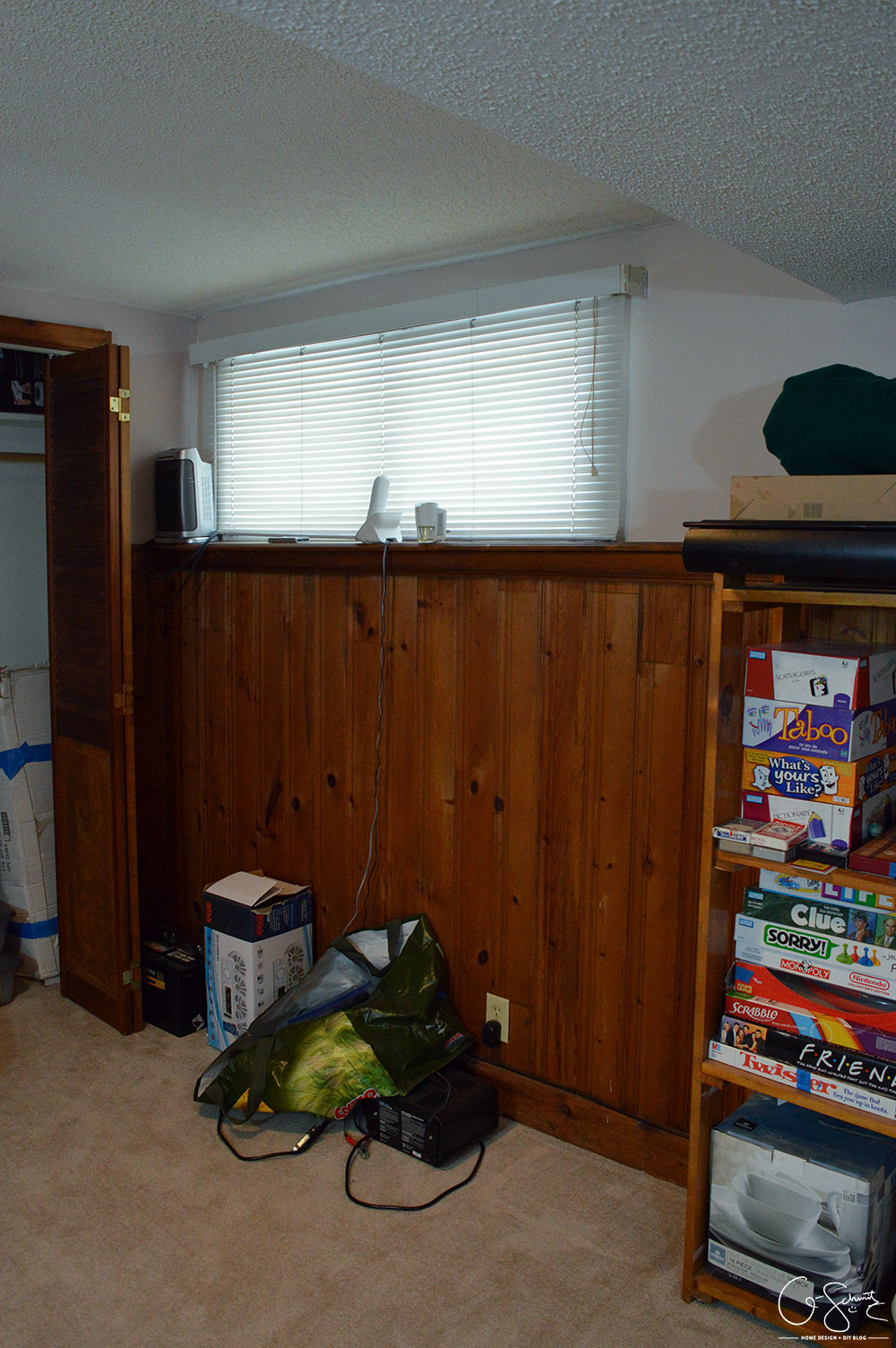 Anyways!  Moving along the south wall, we have some of the Husband's messes (those boxes) and the bag where our Christmas lights go.  I can't take them down yet, so why move the bag?
Issue 2. There's something wrong with that phone and I have not gotten around to fixing it…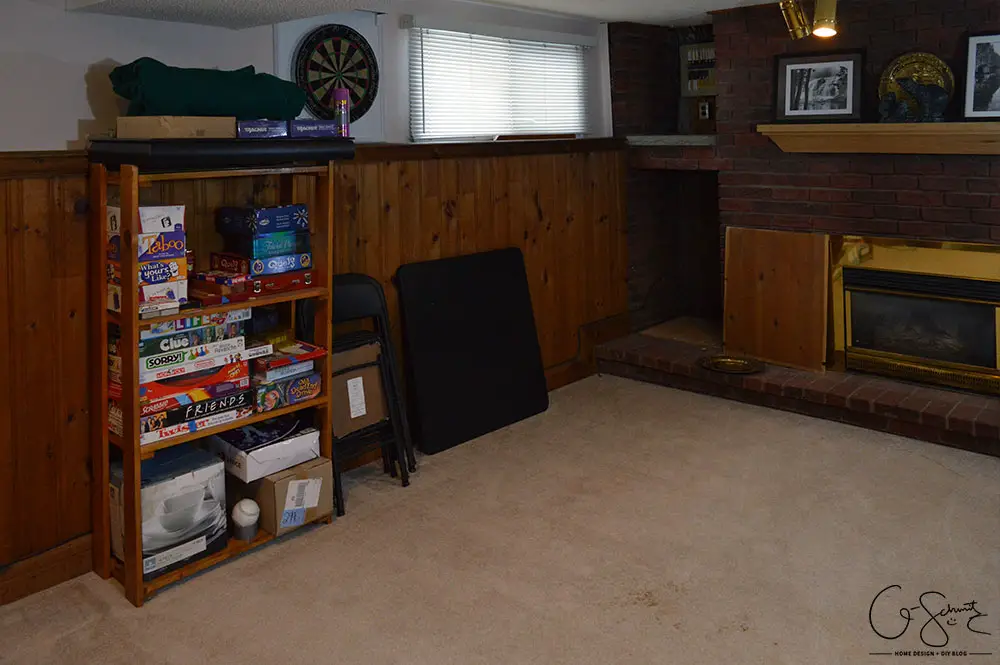 We have a shelving unit in the center of the wall that houses all our board games and cards, and we have a folding card table along this wall too.  Sometimes we open it and play games here.  Recognize that hole to the left of the fireplace?  That's where the mini-fridge used to be!  (I sold it in December and now the space is open).
Issue 3. Our electrical panel is in the hole above, and that piece of wood on the hearth is what is supposed to cover it.  But clearly it is not doing its job!
Issue 4. Our house came with a dart board.  We have never used it (although the Husband insists I keep it up).  I think I will be moving it to the garage this summer…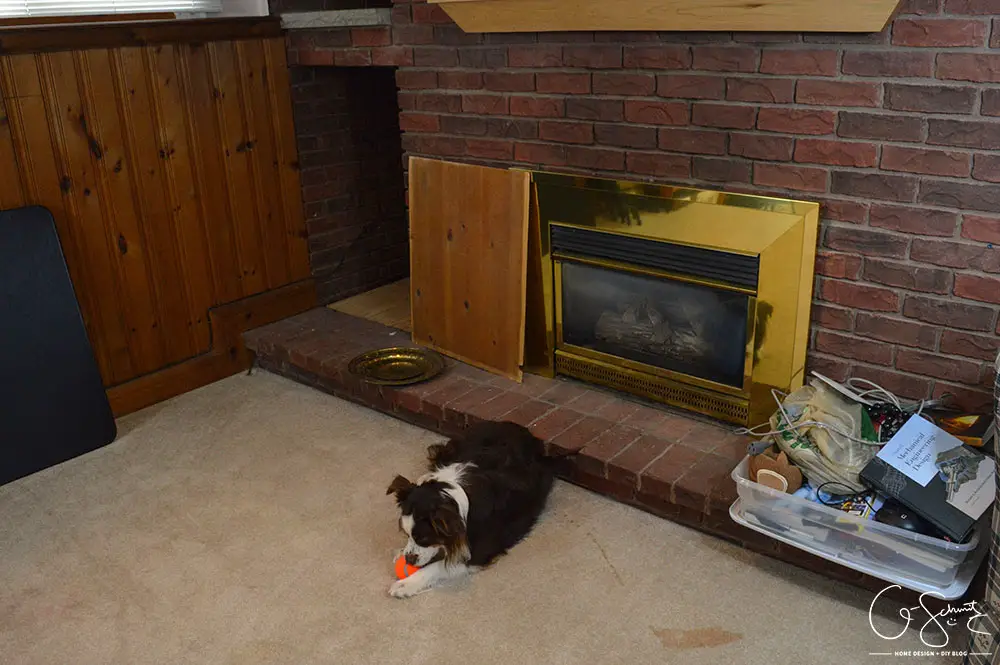 Tootsie lovveeesss the basement.  So much open space to run and play around (she instantly gets hyper when we let her down here).
Issue 5. See those plates lying on the hearth too?  Another pickup from my Grandpa's house (like this lipstick holder) but I need to get brick clips to put them up.  See that clear bin of stuff?  The Husband's things to go through when we cleaned out the crawlspace (last year guys… last year…).
Issue 6. Don't really want to point this out… but notice those nasty stains on the carpet?  No, they aren't from Tootsie… I would say 80% of them were inherited from the previous owners, and I told the Husband we needed a new carpet.  He didn't believe me for months… but then I made him vacuum down there once and actually look at the carpet – so now he agrees with me on the carpet replacement.  The other 20% – definitely the Husband!
On the mantel we hang our Christmas stockings (aren't you proud of me for putting them away?) and some posters I've had since university, another plate and a bear statue (again from my Grandpas').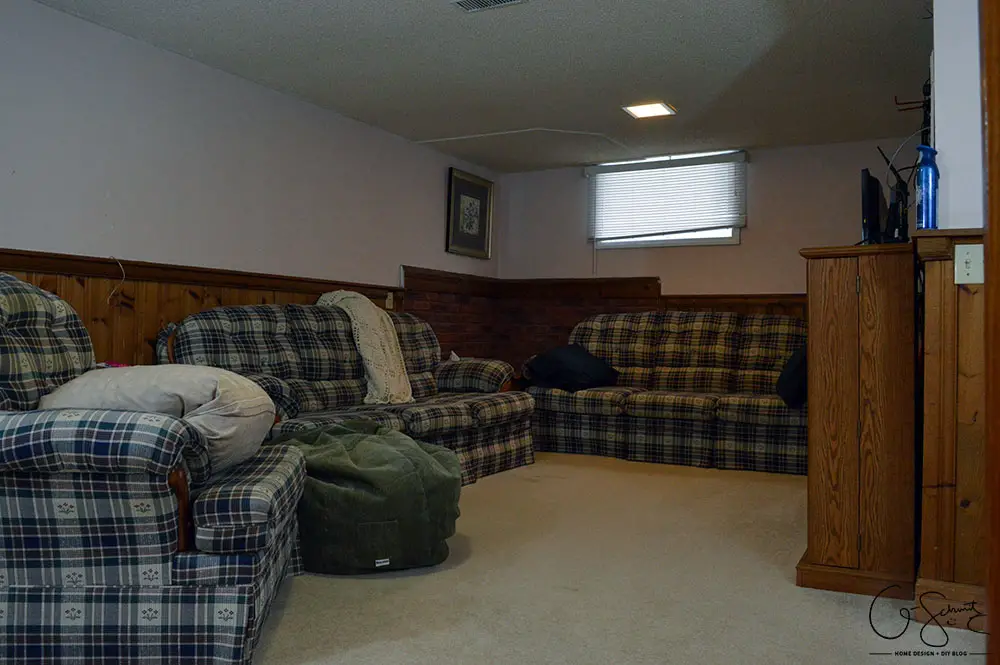 Moving on to the actual living room part of the basement, we have our country plaid couches!  These were given to us by my parents when they got new furniture (oddly enough, the living room they were in also had dark paneling, it's like it was meant to be).  We also have a bean bag chair :)
In the corner (and in between one of the couches and the chair) we have some wooden tables. I think this is where the old wood burning fireplace used to be, because it is brick here, there is a weird drop in the ceiling and a patch behind that flower painting (left behind from the previous owners).
On the opposite wall we have our big TV and all our video game consoles (and my workout hula hoop in case you were wondering!).  I found this shelving unit on the side of the road, painted it, and it works great.
Issue 7.  Okay, it worked great… when our TV was smaller.  But now that we have the big TV here (and the small one in the living room upstairs) you can see it's started to bow under the added weight…
But did you see the cool cut-outs in the wall for our consoles and electronics?  You guys – our house came with these holes, like clearly it was meant to be that the Husband had an X-box that fit in there.  And yes, I do have a VCR player, and yes I do still watch VHS' (you could say this basement is very 90s!).
Issue 8. The X-Box no longer works :(  I might have convinced him to recycle it and then I'll need to patch the hole.
Here is the newish cabinet I got from my Grandpa that holds said VHS tapes and DVDs.  Okay, I don't think we bought anything that is in this basement… other than the video game systems, the hula hoop and maybe half of the games?  The rest has been donated by family/friends or was free!
Issue 9: Too many wood tones… I love the cabinet space-wise, but I've contemplated painting it…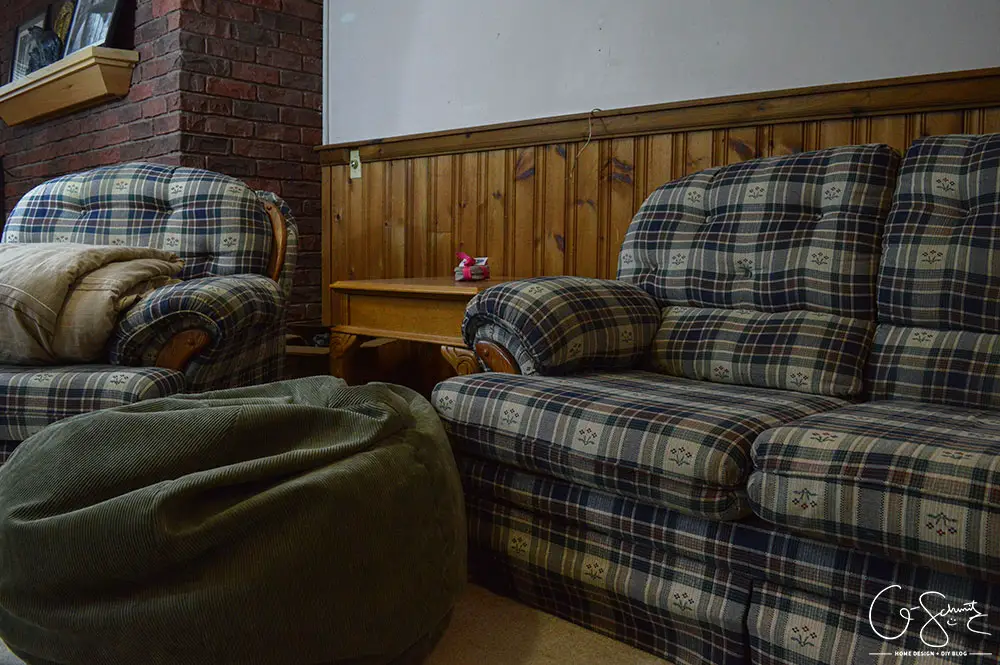 And here is the view looking back to the chair/couch/beanbag.  We have an extra duvet blanket down here that we snuggle up with when it's cold (which is a lot considering the fireplace only works half the time), but we go in this space less since having Tootsie around.  Whenever we have an overflow of guests come over (and the guest bedroom is filled) we bring out the sheets and blankets and they sleep down here.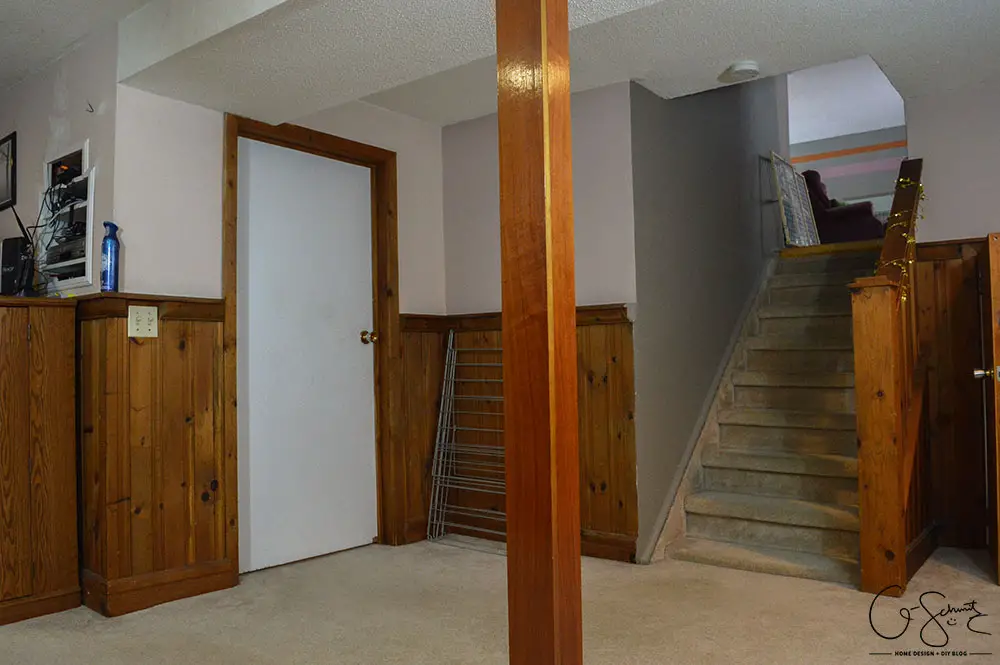 Finally, we go back to the center-ish of the basement area and look at the wall on the other side of the staircase and behind the TV wall.  That door leads to the laundry room (which I will show pictures of next week – but seriously, brace yourself… it's like a horror movie in there).
Issue 10: We have some gold star tinsel/garland on the staircase leading down to the basement (which has been up since last Christmas by the way!).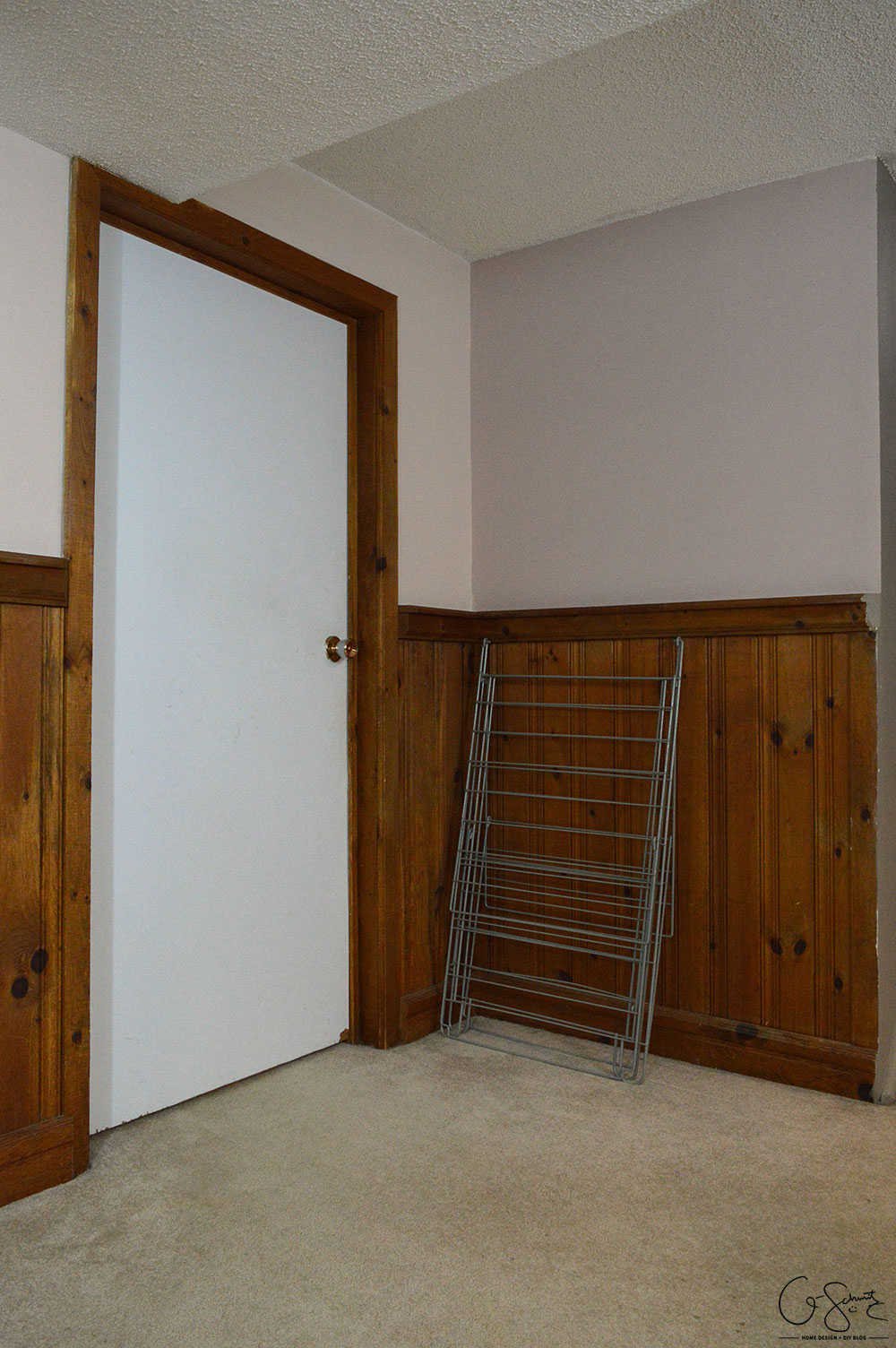 And see that little wall space where my extra Ikea laundry drying rack is leaning against?  That's where the future bathroom door will go!  I'll show more behind-the-scenes of this space next week (well… more like behind-the-walls) so you can get a better idea of the space (but again, the whole house layout is on the Current Home Tab).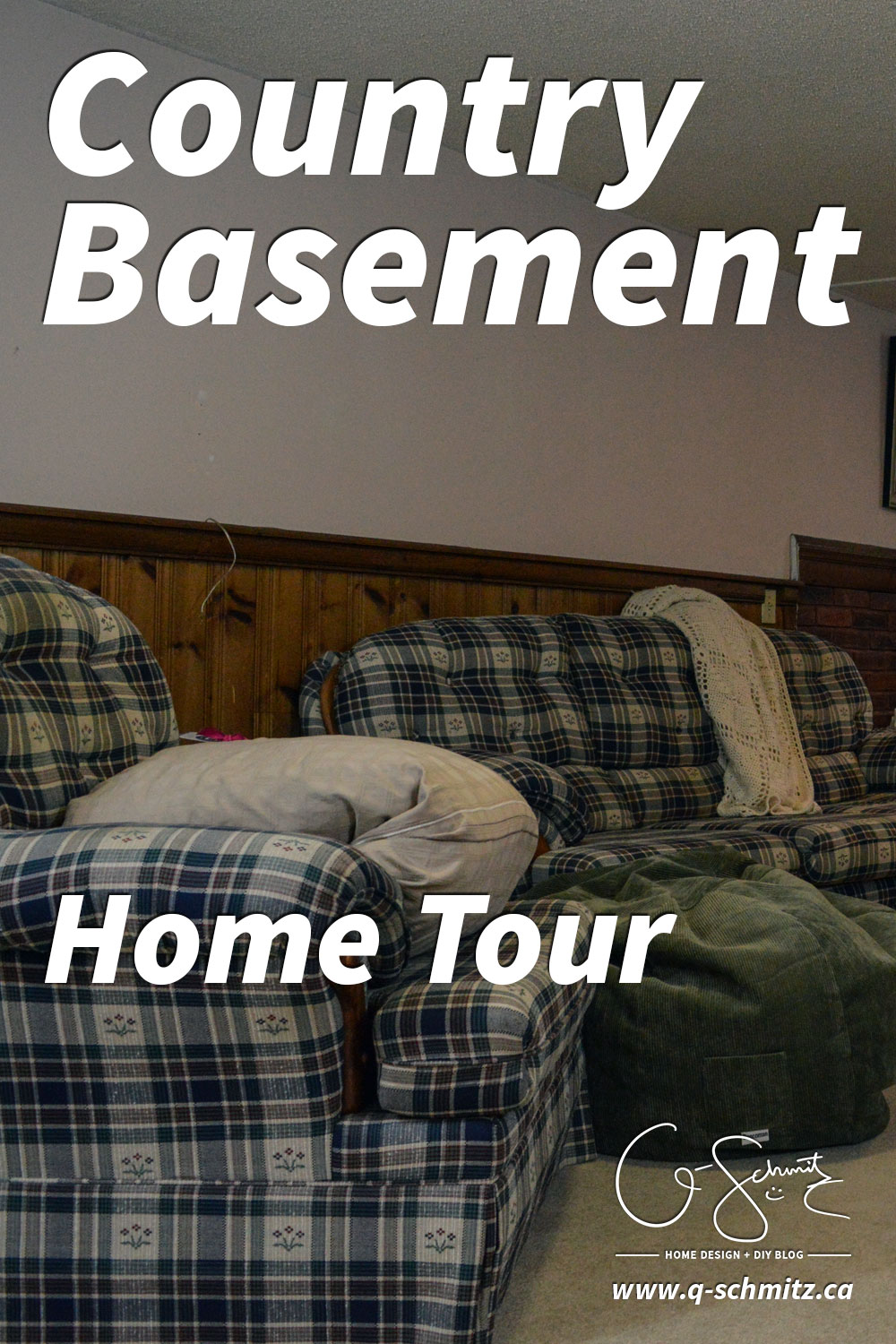 Other than move all our junk stuff down here, we haven't touched the basement at all.  I can't wait to get some time and energy to tackle this space once and for all… I bet you're dying to find out what my plans are!?  Come back next week when I show you the laundry room, then the week after that I'll share all my basement plans!
Have any suggestions?  I'd love to hear your thoughts in the comment (hey – maybe you're a country décor lover and you want to tell me all about how you love this space?).
As an aside, if you're ever stuck decorating a room, I invite you to take a picture or two and then see if you can point out anything you would change and/or need to remove (like all the things/issues I've been sharing with you today!).  Let me know how it works out!
Remember to see how the basement looks now
See you next time :)