When I was thinking about how we would decorate our Christmas tree this year, I was not sure what style/colours to go with.  I gathered examples from some fellow bloggers and I'm excited to share these Christmas tree decor ideas with you today!  In the end, I decided to go with a "winter wonderland with pops of blue" theme – so I'll be showing images of our tree as well :)
Let's remember that last year our tree was in the living room upstairs.  In fact, we had placed it there every year since living in our house… but this year the Husband and I thought it was time for a change, so we set it up downstairs!
I decided to put it next to the fireplace, where our chair and table was (you can see more photos of our country basement here).  This was the easiest spot to get to, and had the least amount of furniture to move.
I also "splurged" on a white faux fur tree skirt this year.  And by tree skirt, I actually just mean a piece of bulk fabric I bought and cut a tiny hole in the center.  It's over 5′ x 5′ and was on sale, so I'm happy I didn't have to buy a "real" tree skirt which would have been much smaller and cost a lot more.
In our future house, I'm planning on having a much larger tree – so I figured that having a big tree skirt would work better then too.  Even the little man got into the Christmas spirit as I decorated our tree!
Here's a little sneak peek of our tree in the daytime, but I'd like to share some other great trees before I continue with mine!
Christmas Tree Décor Ideas
Rachel at Craving Some Creativity decorated a small Christmas tree last year, but you can't even tell it's mini:
My favourite part is that the little boxes are actually gifts, aka décor doing double duty!
Check out this wacky whimsical tree from Brooke at Re-Fabbed:
There's a lot going on, but the cohesive colours and wild nature go together nicely.
Kathy at Up to Date Interiors did a contemporary/classic, vintage and glam tree, and it turned out great:
I really liked the copper and DIY elements, which is very similar to what I did last year.
Don't have a tree or have the space to set one up?  April at Uncookie Cutter has a few options for you:
Both are very rustic and natural looking!
---
Our Winter Wonderland (with pops of blue) Christmas Tree
Without further ado, here are some pictures of the tree we setup this year:
I used the same silver garland as last year, but decided to add some white feather boas around the tree as well.
Most of our balls are silver, but there are some bright blue ones scattered throughout as well.
I really like how the white feathers glow in the lights, and they add a lot of fullness to our fake tree.
I was originally going to do a winter wonderland with pops of pink, but decided on blue at the last minute.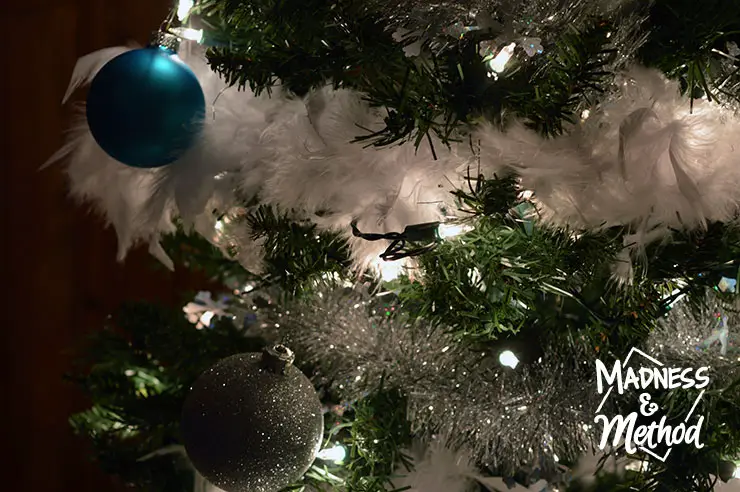 Yep, just might have to reuse the feather boa idea next year!
I think our tree is just at 6′ tall, and it fits nicely in this space in the basement.
Hey look, there's the Husband watching me take photos…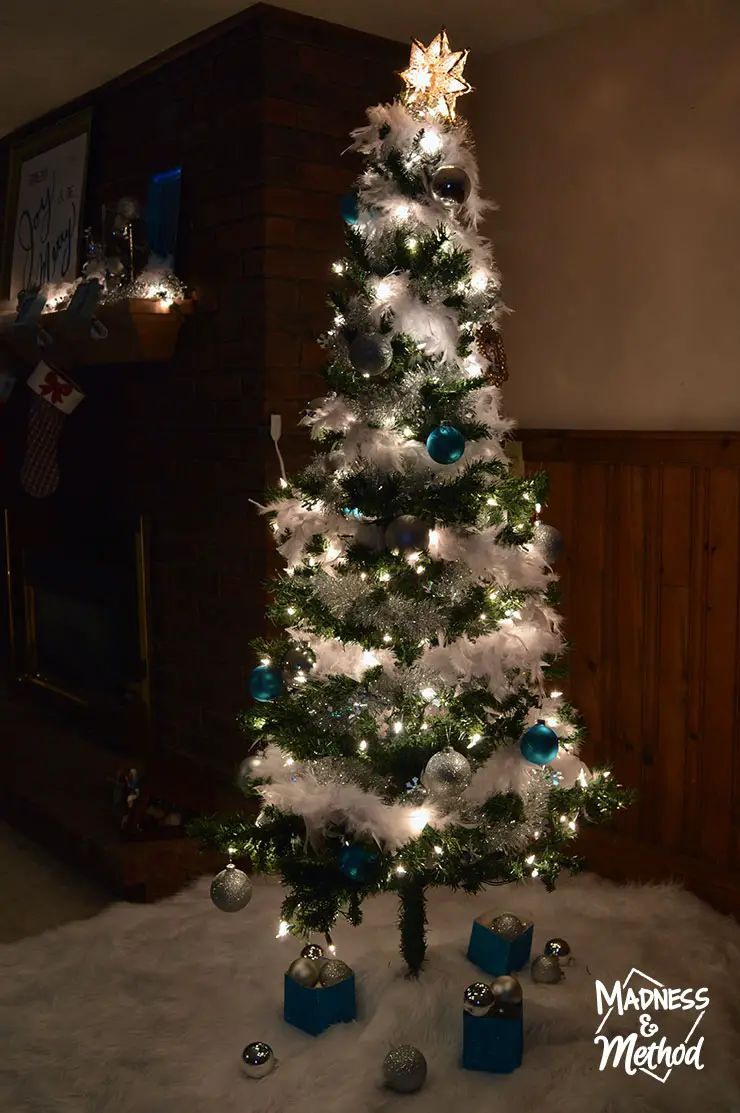 And here's the tiniest sneak peek of our decorated mantel (which I will be sharing with you soon!).
I even added some fake little "presents" at the base to match our theme, and sprinkled some silver balls along the tree skirt as well.  And yes, those are the DIY wedding vases I made.
I'm really happy with our tree this year, and I hope you have some more Christmas tree décor ideas if you haven't set yours up yet.  Next year I might go with a "wine and champagne" coloured tree, but who knows what I'll feel like then!  (Last year I thought that I would do a pink on pink on pink tree).
Do you decorate your tree the same way every year, or do you like to switch up the style?
I'd love to hear your thoughts in the comments!