For those who remember, last spring I went on maternity leave in anticipation of our little bundle.  Because I had the time off, I was able to get some work done around here – most notably our basement bathroom addition for the One Room Challenge.  What you may not know is that the Husband figured that I had SO much extra time and that I could help him with redesign of his work office.  For the rest of this month I'll be going over the before and afters of the industrial office renovation that we did, and today I'm starting with the storage room makeover.

This post contains affiliates links. See more information about affiliates here.
The Husband has a fabrication/welding shop and they mostly make mining equipment and bridges (did I mention I live in Northern Ontario?… it's kind of the norm around here).  There is a large building (the shop) where all the work gets done, and there is a little office in the front where people come in, the computers are setup, etc.  Here is a rough layout of the space: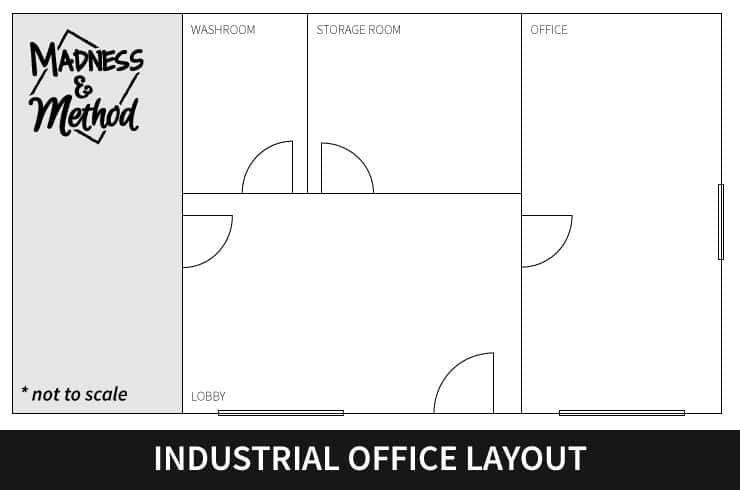 Basically, we needed to tackle the four main areas where potential customers/suppliers could come in: the main room/lobby, the office, the washroom and the storage room.  The room to the left (in gray) is the "employee" room, and that's how you get into the shop.  (Other than some cleaning and re-organizing, we didn't do much in there).
I'll be going over each of these rooms in the order that we renovated them, so first up is the storage room makeover!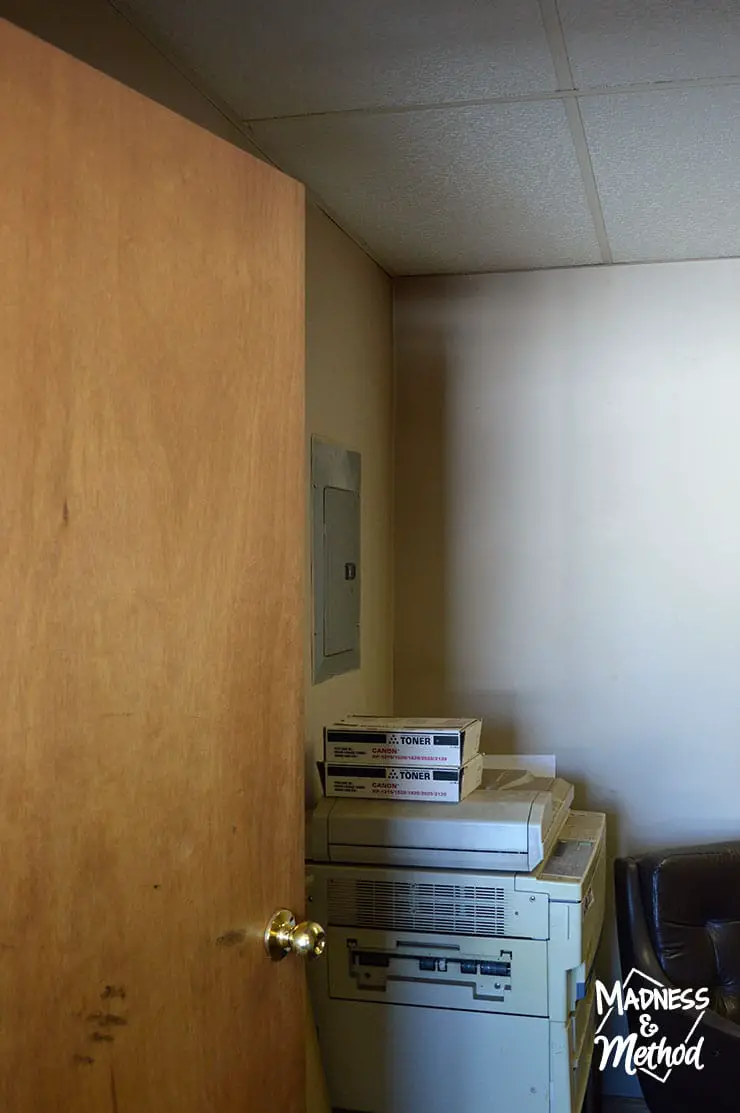 It couldn't really be called a "storage" room at first, unless your definition of storage room is a place where people put anything (and everything) and forget they are there?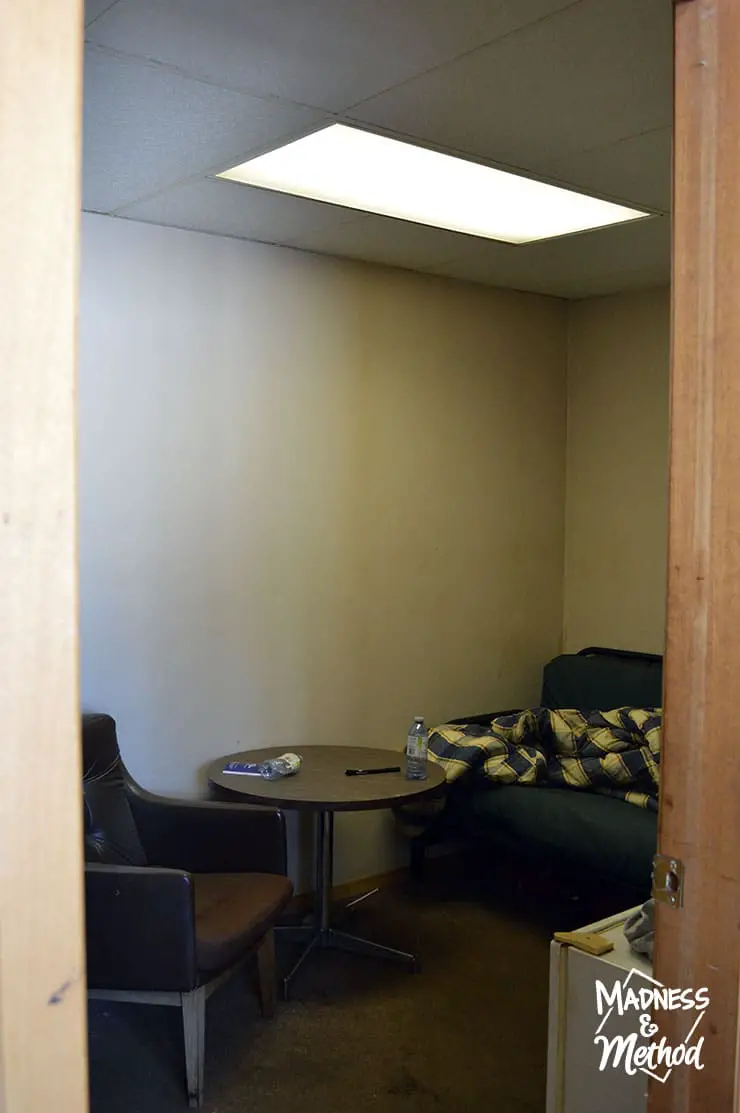 For some reason there was a lot of furniture in this room, yet no one ever used it.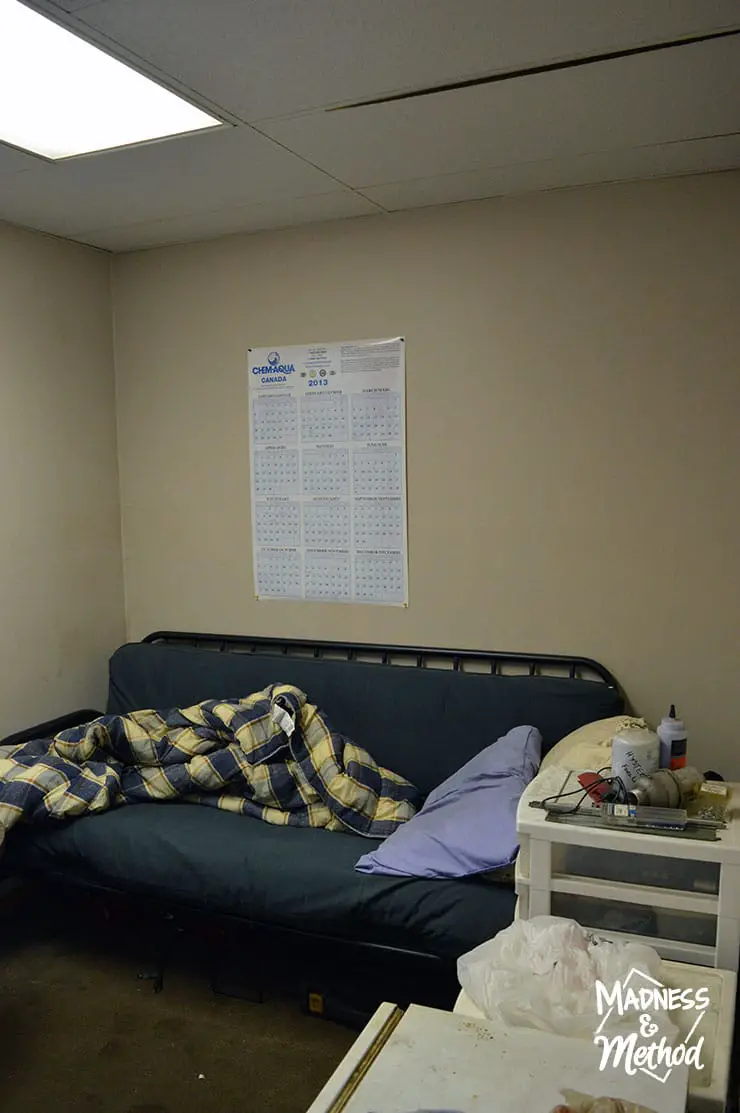 There was also an old futon that the Husband would sleep on from time to time.  (I should mention that his work is not very close to where we live), but let's just say that the cleanliness of said futon was very questionable…
The only "storage" things that were in the room were a couple of rolling drawer units, and I knew that this entire room was being wasted with the current setup.
We took everything out, and I gave the walls a good cleaning (a few times!).  Because it's attached to the fabrication shop, there's a lot of welding dust that carries into the office space.  I had never seen carpets as dirty as these, and thankfully they were only installed in this one room.  (I made the Husband dispose of those, I didn't have a hazmat suit handy haha!).
The main goal for the whole industrial office renovation was to organize everything, clean all the stuff, paint the walls and install new floors.  His business colours are black and (a bright) orange, so I used the orange as the starting point for our design: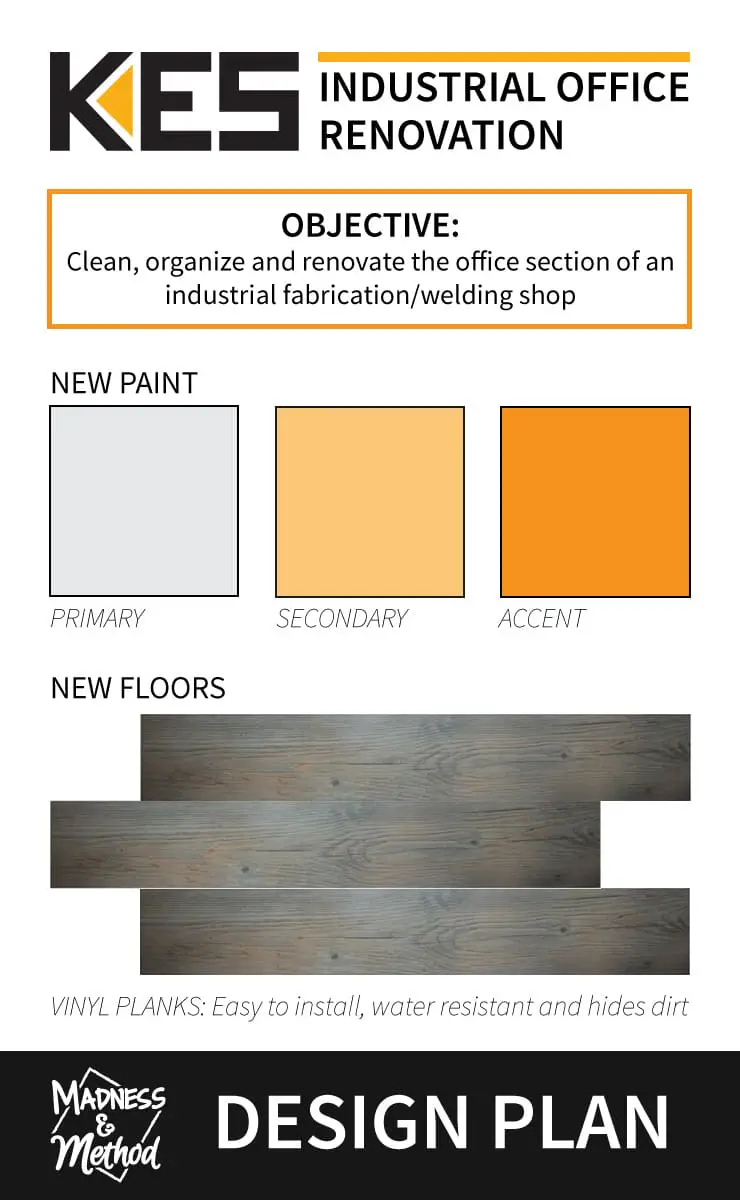 We went to the local hardware store and I matched his orange to one of the swatches of paint.  We got one quart of that, then a gallon of a lighter orange from the same swatch (a few shades down) and chose some vinyl plank flooring.  From there, I held a bunch of gray paint swatches against a piece of the floor and chose one that would match it (and the orange paints too).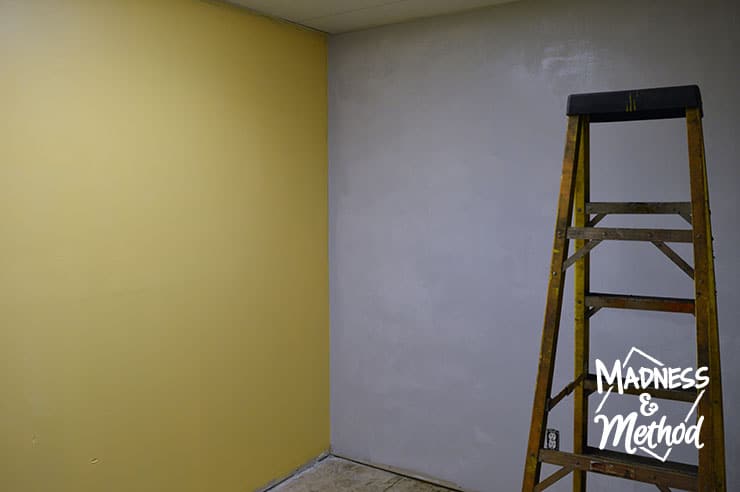 I then got to work painting the walls and the Husband installed the floors when I was done.
He purchased some shelving units then we slowly started organizing his supplies and putting things back in the room.  (I actually took all these "after" pictures recently, so it's a few months after we did the initial renovations).
Because there is no more furniture in this room (or a large, old printer), there was so much more space for actual storage.  The office fridge also used to be housed in here, but we moved it into the employee room (where they actually eat lunch) and it's a much more convenient location!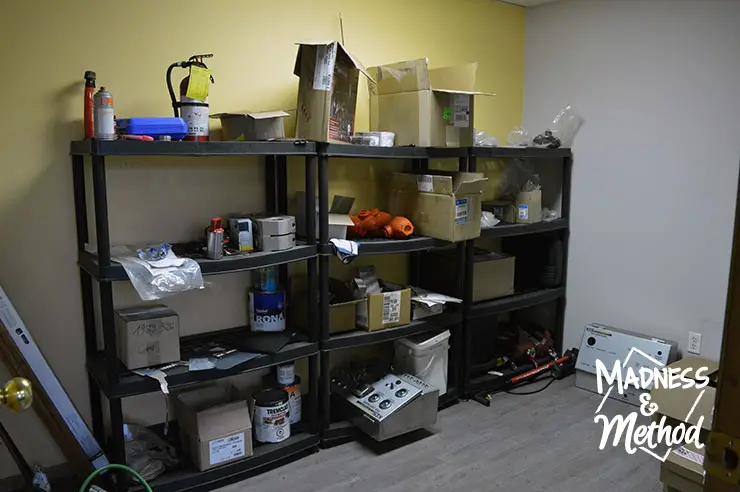 It would be nice if the shelves were labelled, but seeing how it's been a few months since we went in, I'm super impressed that they've managed to organize things their own way and not just dump everything onto the floor.
The storage room makeover was actually the quickest transformation of the rooms we did for his industrial office renovation, and it just goes to show you what a little cleaning and organizing can do!  We technically didn't have to paint the walls, but the paint really did freshen it up… but yes… that floor did need to be replaced!
You know what I discovered during this process?  It's so easy to clean out other people's things because you don't have an attachment to them.  Think about it, the hesitation that you face when trying to purge your own items is caused by your emotional attachment to them.  Even if you don't think you are "emotionally attached", you still walk around with blinders because you've been surrounded by these things for some time, and the longer you own things, the harder it is to "see" them, or even get rid of them.
Which was probably why this room had a calendar on the wall from 2013… or a HUGE printer that no one used anymore.
It's a mentality of "that's always been there" so why do I need to consciously think about it?
If you've taken away anything from this post, remember to look at your surroundings with "fresh" eyes if you're trying to get rid of things.  If not, physically remove everything from the room (or closet, drawer, whatever) and store it somewhere else for a few days.  Here's the kicker: while you're taking it out of its original spot, you should have a clearer idea if you actually need it.  It will be similar to "I don't really want to store this somewhere else" kind of feeling, and you should probably get rid of it right away.
You don't own things to store things.
Got it?
Good :)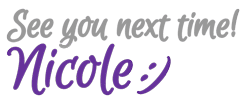 PS: next week I'll be talking about the washroom renovation, so there won't be some big message to the post like this one.  Except about cleaning supplies.  Aka use them!