Have you heard? Every year Pantone releases their colour of the year, and the 2017 colour is Greenery! I love me some bold and bright colours, so today I'm going to share a few ways you can bring some accessories into your home to create a Pantone greenery nursery!
– Note: This post is sponsored and contains affiliate links. See more information about affiliates here. –
It all started when Wayfair.ca asked if I could share ideas on how to incorporate "greenery" into home décor, and I knew the perfect theme I wanted to base my ideas on: a nursery!
But don't worry, even if you aren't planning on decorating a nursery anytime soon, you can still use a lot of the products I featured in almost any other type of room (just omit the crib and change table haha!).

A disclaimer for friends/family: no guys, I am not pregnant. The little baby is just over 7 months old, and although I do want more little babies in the future, we are not planning any right now!
Speaking of babies, last year when Pantone released their colours for 2016, Rose Quartz and Serenity, my immediate thought was how traditional those colours were for a nursery. Keeping within the same idea, I thought it would be a great way to showcase how you can decorate a nursery (or kid's space) with the gender-neutral greenery. If pink and blue are quintessential/traditional nursery colours, than greenery is the choice for a super-hip, fun-loving and bold space. My kind of room!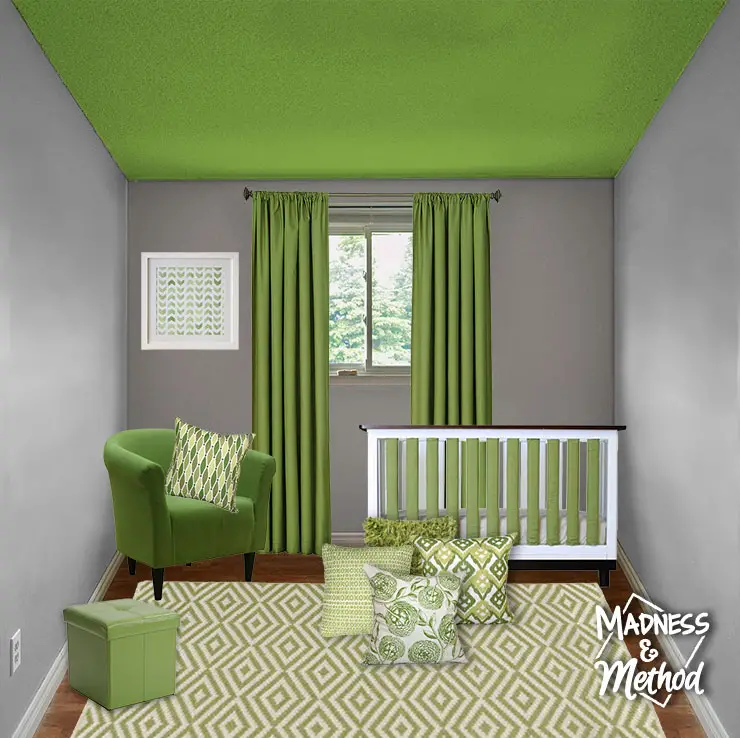 First up, I wanted to start with some neutral, gray walls.  Now, if you anything about me, you'd know that I would most certainly paint the walls green (because I LOVE bold colour).  But, because I would be highlighting some green accessories, I didn't want to be too green on green on greenery.
Instead, I decided to (virtually) paint the fifth wall: the ceiling!  In my Pantone greenery nursery, I would have a bright green chair for nursing/cuddling, some green curtains to block out the sun for naptime, a green ottoman (with storage) so I could kick up my feet while sitting on the chair.  I even found a lovely green print and some rail covers that matched my greenery theme perfectly :)
Shop Items on Wayfair.com
Full item list in the Nursery Idea Board below! 
Remember when I said that you could incorporate greenery into your décor, no matter if it was a nursery or not?  Well, pillow covers are an excellent, low-commitment way to do that – and I have LOTS of green examples in this nursery.  Add in a fun rug, and those pillows come in handy for afternoon playtime (or Momma naptime!).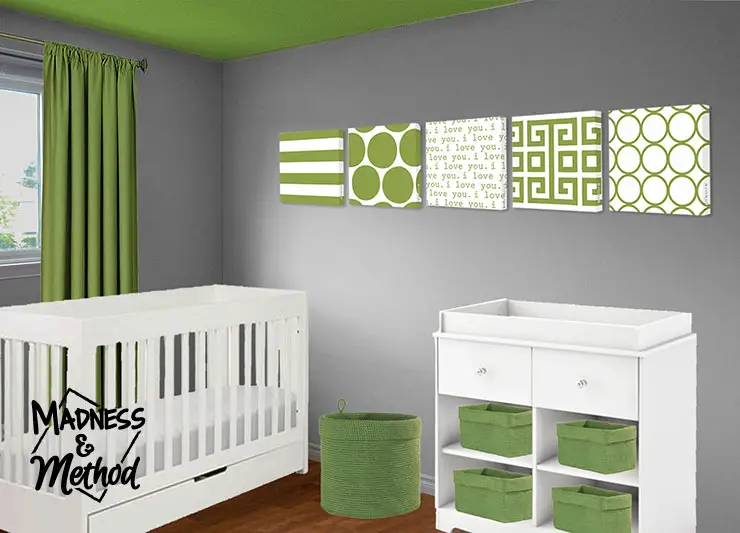 On the other side of the room, we have the change table area with some nice green storage baskets.  (Pretend that crib didn't change – but I actually prefer this one with the storage below!)  I envision the big basket on the left as a makeshift clothes hamper, but it could even be a great place to corral some toys too.  There are a bunch of awesome prints on the Wayfair.ca website that would make a fun gallery wall, and here are a few of my favourite ones.
More Pantone Greenery Nursery Décor Items
I have SO many more items that I didn't include in my mockups, so make sure to check out my Nursery Idea Board for all of them, but here's a sample:
Some of the item thumbnails aren't green, but they do all have greenery options if you click through.  (With the exception of the hard furniture, because I really like white furniture!).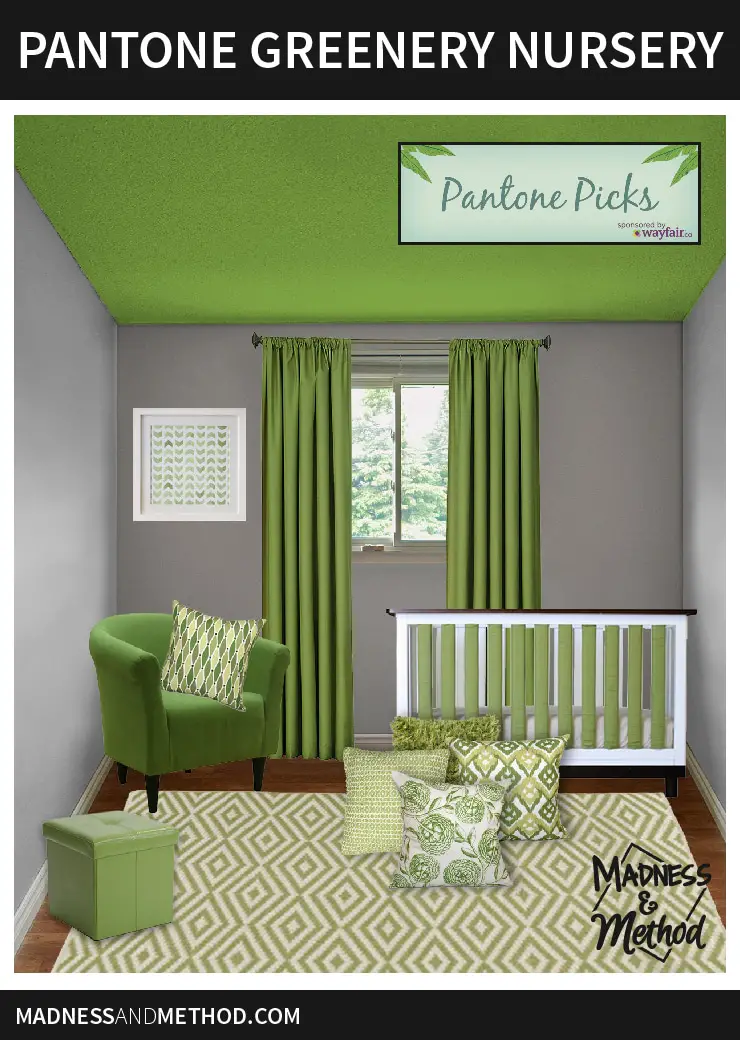 I had so much fun putting this post together, and it definitely got me thinking about nursery décor and some fun greenery accents.  Actually, we could totally paint the blue wall our current nursery green, and the room would be pretty similar to this one!
What accessories from my Pantone greenery nursery would you bring into your house?  I bet you can find at least one thing that would work in your décor!  If not, time to start fresh for the New Year :)