After patching the holes and bumps in our walls, I was ready to give everything a nice coat of paint!  Actually, I started painting the basement on Christmas day (seriously!) and that way we were gone when it was drying.  Let me show you a few pictures of the progress, and a couple of tips I have too :)
– Note: This post contains affiliate links.  See more information about affiliates here. –
Materials you May Need:
Some of the items I mentioned were specific to the area I was painting, so let me go into detail and explain what I mean.
The paint we were using had been sitting for a few months, so it needed to be thoroughly stirred before we could paint.  Ever since we got our mixer attachment, I've been using it whenever I can!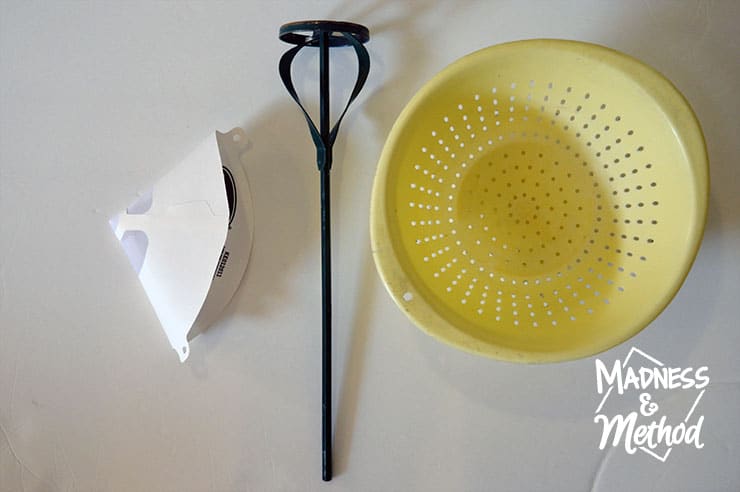 I also find that whenever I use large 5-gallon buckets of paint, there is a higher chance that there will be dried glops of paint that need to be removed.  It's really annoying when you're rolling on your colour and little traces of dried paint are being swished around everywhere.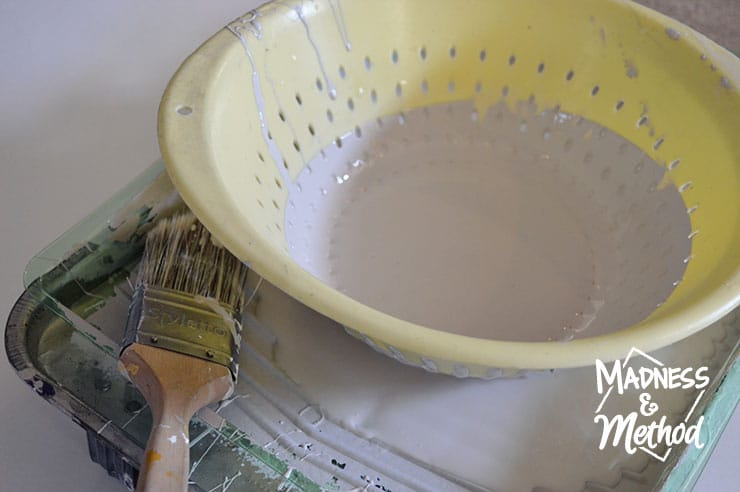 We bought some small mesh sieves, but these required two people (one to pour the paint, one to hold the mesh) so that the paint could be strained.  The guy at the store said that using old pantyhose worked even better, especially for 5-gallon buckets – but I did not have any around!
I also found that I could get the large clumps out using a regular kitchen colander, and I didn't need the Husband's help to pour the paint out.  The smaller lumps would still make it through, but I was painting the bricks at this point so they were more hidden.  (I only use this colander for my DIY projects, don't worry!)
All the primed patches were starting to get covered!  I wanted the walls to be a light gray, and I'd say it's a few shades lighter than the moon gray we have in the basement bathroom, and quite a bit lighter than the taupe gray we have upstairs.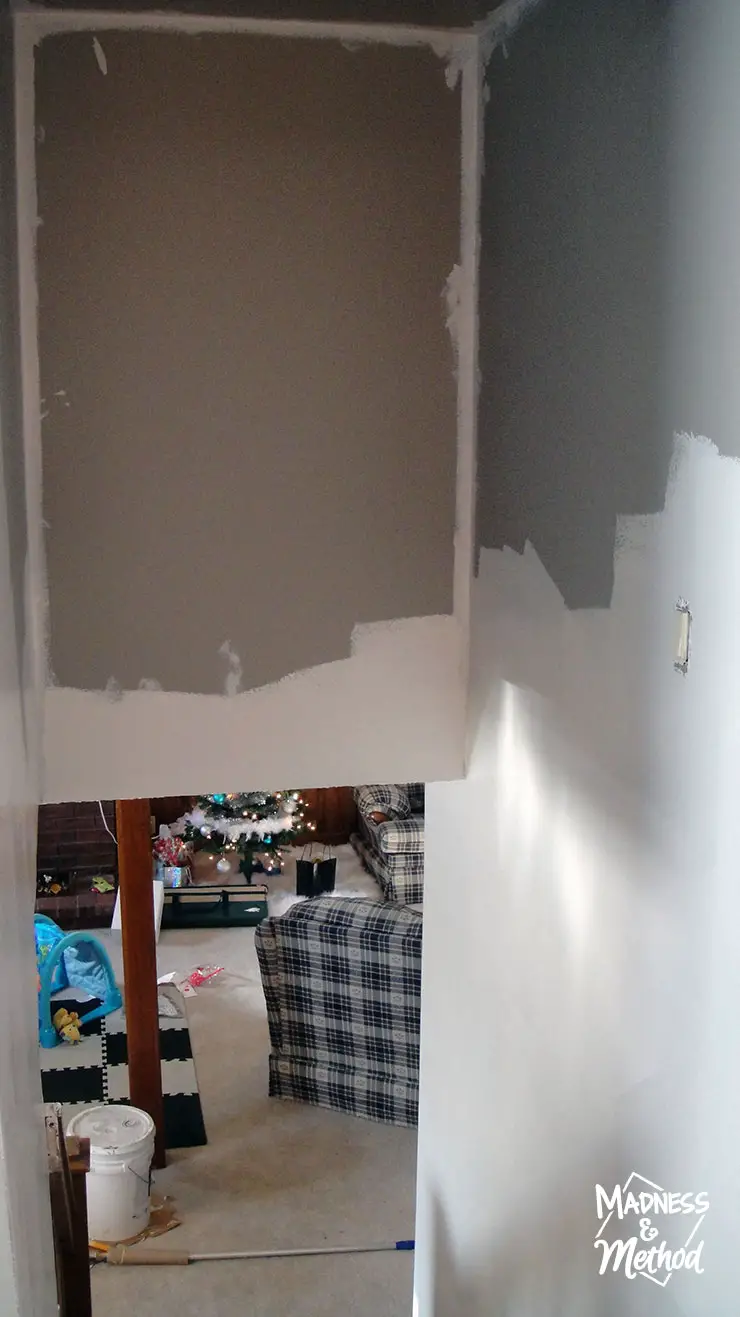 Speaking of the darker gray, I decided to bring the light colour all the way up into our stairwell, and you can see how much brighter it is.  In order to reach those corners, I had to build myself a brush extender (you can see it in the photo below, along with our Christmas setup haha!).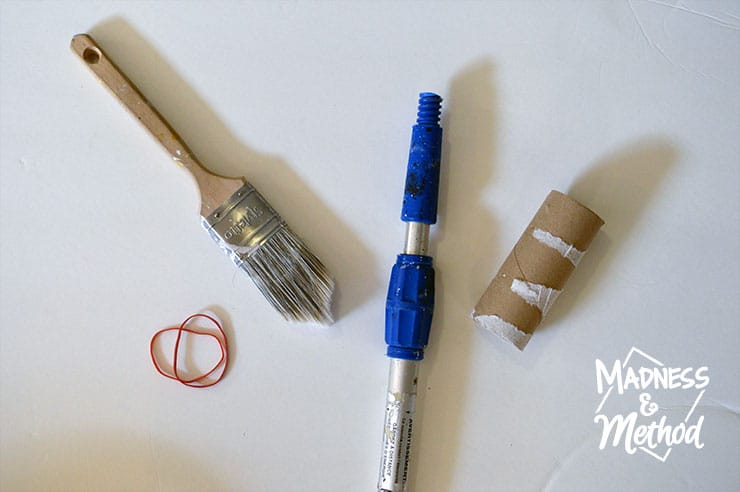 I don't know if there is a brush you can buy that screws on to the handle extender, but I didn't want to have to buy anything else.  I used a few rubber bands, an empty toilet paper (or paper towel) roll and the regular brush I had been using.
I would just wrap the rubber bands around the brush and the handle extender, and the paper roll added some support so it wasn't too wobbly.  (I also put some elastics on the outside to hold the roll in place).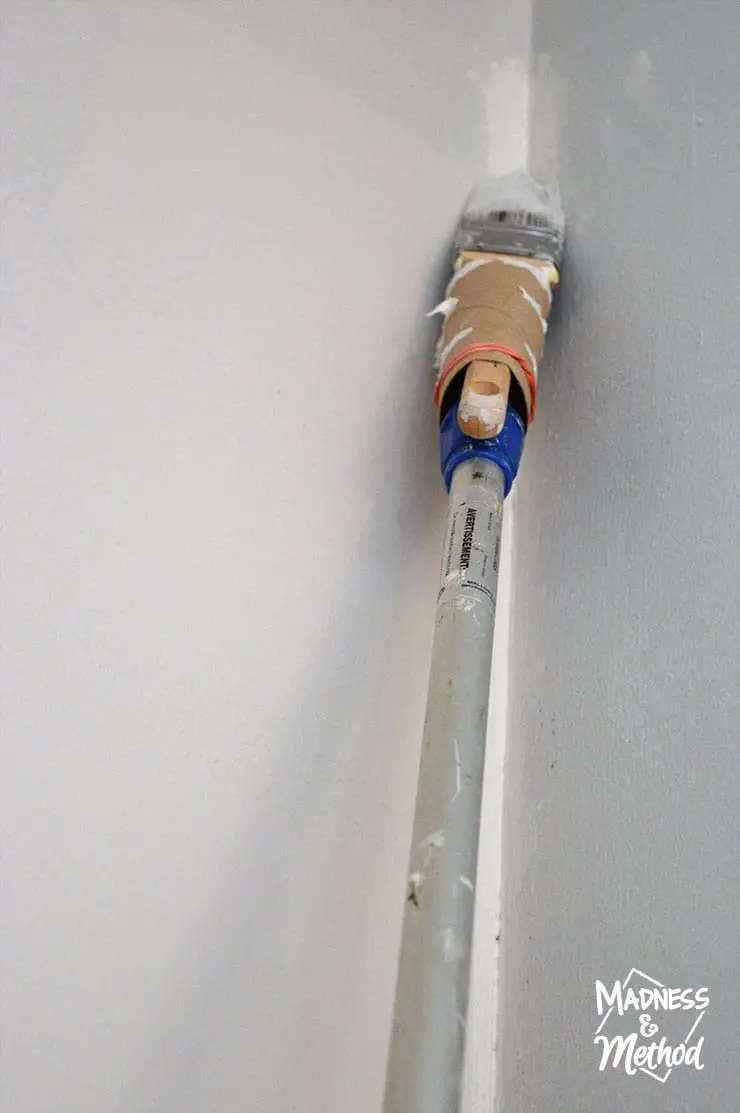 Then you can reach all the far areas!  I was pretty lucky in that the ceiling here was the same colour as the walls (so I didn't have to be too careful) but there are some spots in our house where the brush did make a mess on the ceiling (and I'm sure I'll fix it eventually…).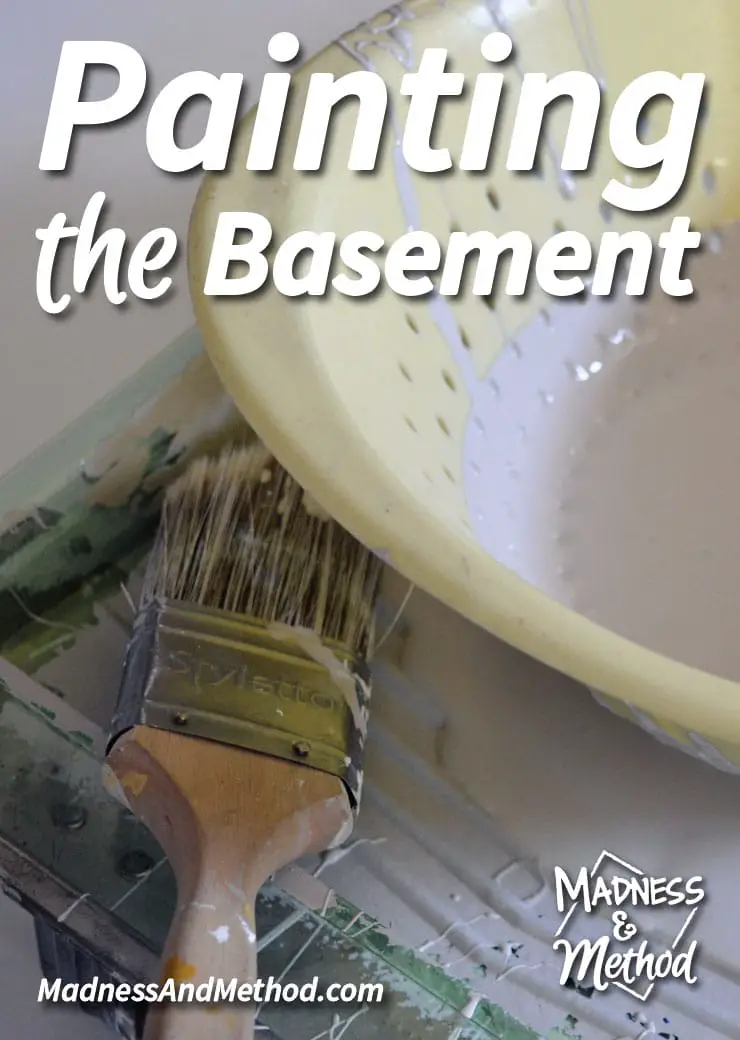 Hopefully you can use those tips in case you are painting the basement as well (or any area really).  And I did share some more painting tips here, if you wanted to check those out too!
Now, you may be wondering… umm where are all the after photos!?  Well, I'm actually hoping to do a big reveal when I get EVERYTHING done, so you may have to wait a couple of months :)  Of course, you can always follow along with the basement progress here if you missed anything.
And did you catch that tidbit above where I mentioned I painted the bricks!?  Come back next week for another sneak peek!