Welcome to the first bedroom stop in our current home tour!  Unless you count our Master Bedroom closet organization… We've already seen the kitchen reveal and the bathroom renovation, so let's dive right in to the farthest bedroom down the hall, which we aptly named: The Pink Room.
Because we painted it pink!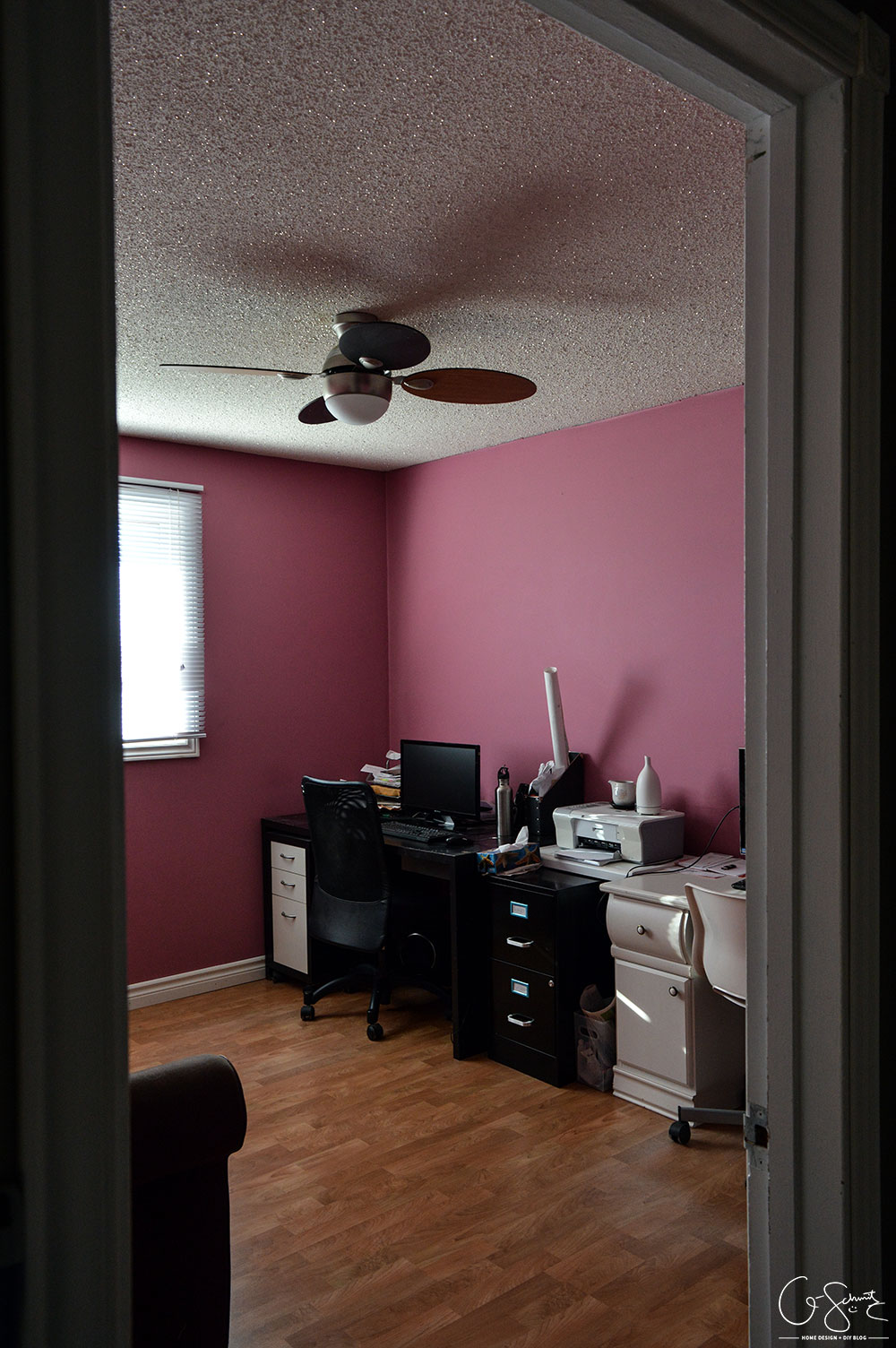 In case you do not know, as soon as we moved into our house (just over 3 years ago) we painted (almost) all the rooms right away.  Like that same weekend, right away!  I had a lot of leftover pink paints from the house I lived in before (in Ottawa, that my Mom rented out) and mixed up a custom colour for this room.
It's kind of like a muted Pepto-pink… brighter than a dusty rose, but definitely not as vibrant as a full on fluorescent.
And I love it!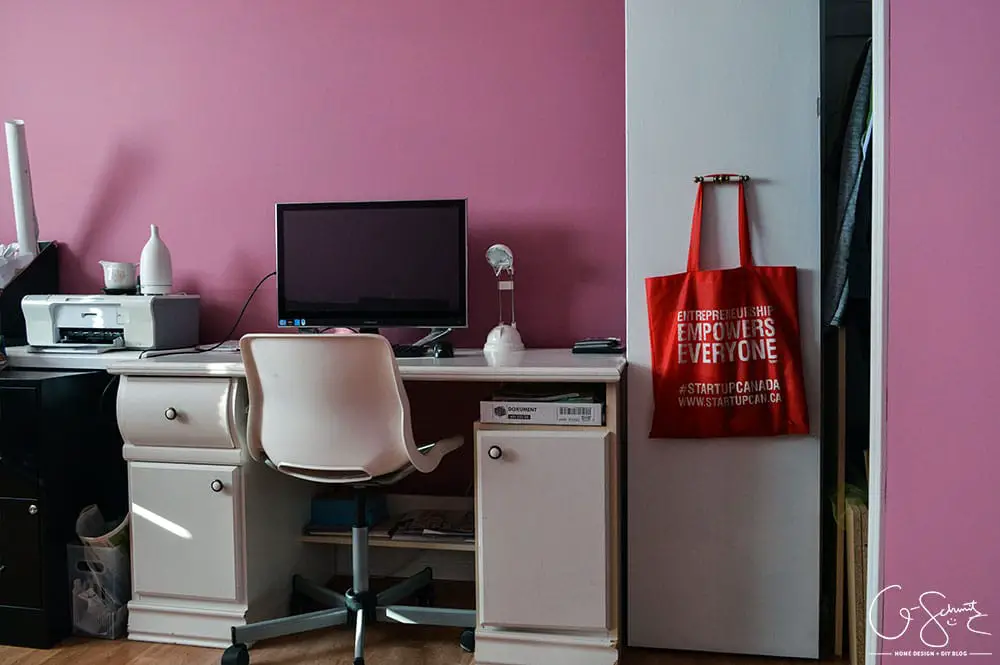 You might remember seeing these pink walls when I talked about organizing my office desk.  So you've obviously guessed that we are (currently) using this room as our home office.  I even have plans to add some inspirational posters to the wall where our desks are.
The Husband's desk is the black Ikea one on the left.  It's actually pretty clean right now… and no, I won't clean his desk for him just to get a perfect picture!  Mine is the white one on the right… I've had it since I was pretty young, so I have no idea where it came from.  Yes… there are a couple papers on it now, but it's what I'm currently working on.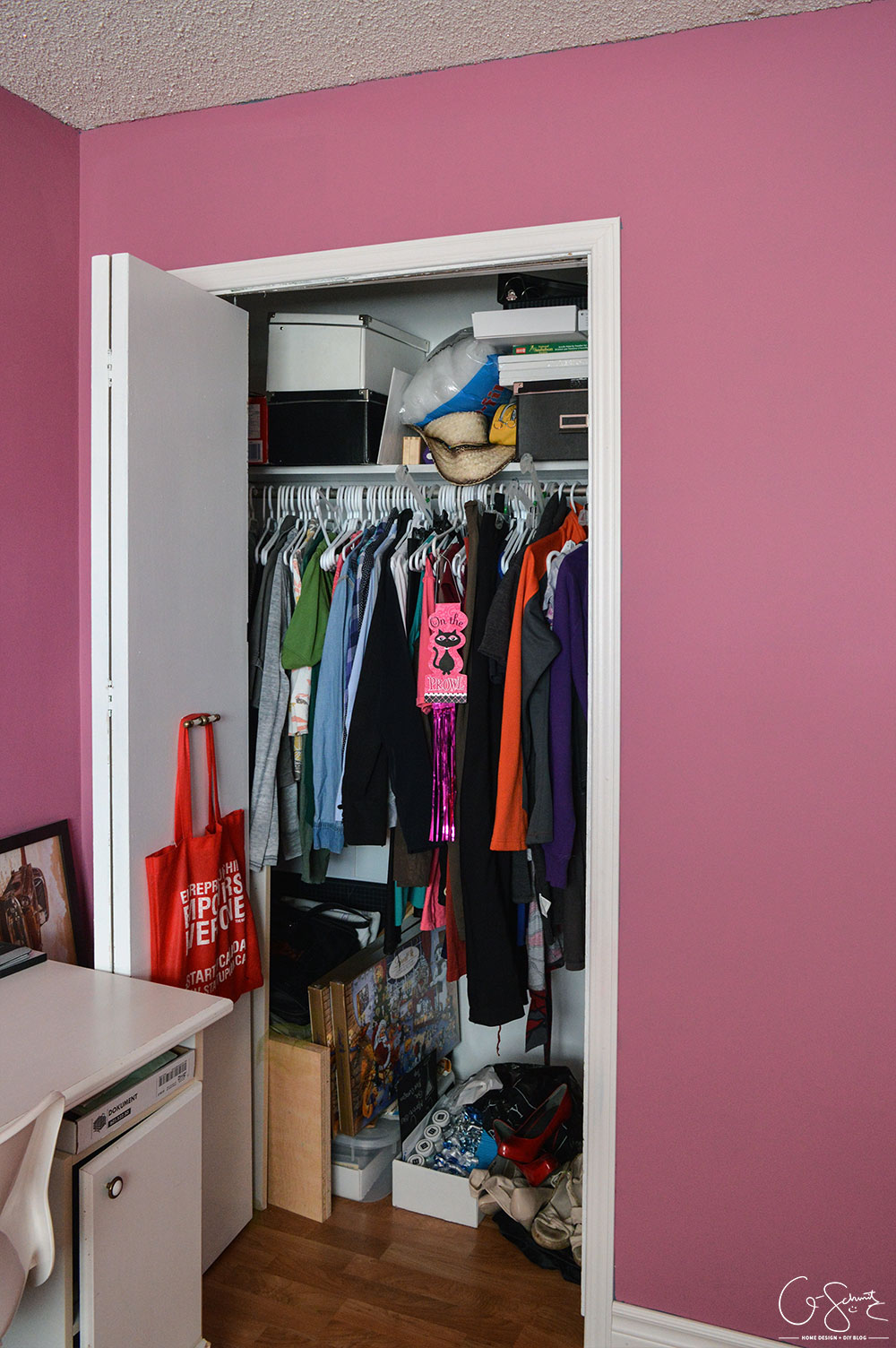 Right now I'm using the closet in this room to house all my sweaters/pants/dresses because our master closet is a bit destroyed.  I also have all my craft supplies in this closet (the stuff on the top and some stuff on the bottom) but I plan on relocating those into the master once that project is done.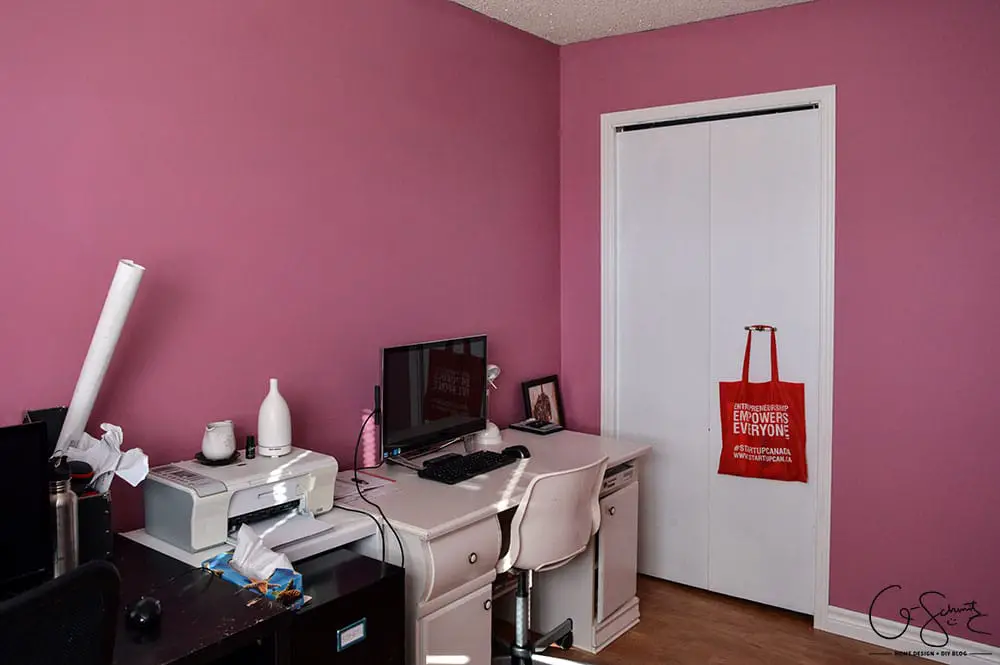 For the most part I keep the door closed and pretend everything is clean.  Just kidding, we hardly ever close the closet doors around here (for some weird reason).
Why Pink?
So you may be wondering: why would you paint this room pink?
Other than the fact that I had the paint colours on hand (so free!) and LOVE bold colours, I actually had a grand scheme to go with our bedroom planning.
You see, the other bedroom (which I will show you next week) is called The Blue Room, and they're a cute little pair.  Naming your rooms after the colours they're painted HELPS in so many ways.  We refer to the rooms by their names (ie: The Pink Room or The Blue Room) all the time, and I don't think we've ever said "in the office" or "in the guest bedroom"…. That would just be weird.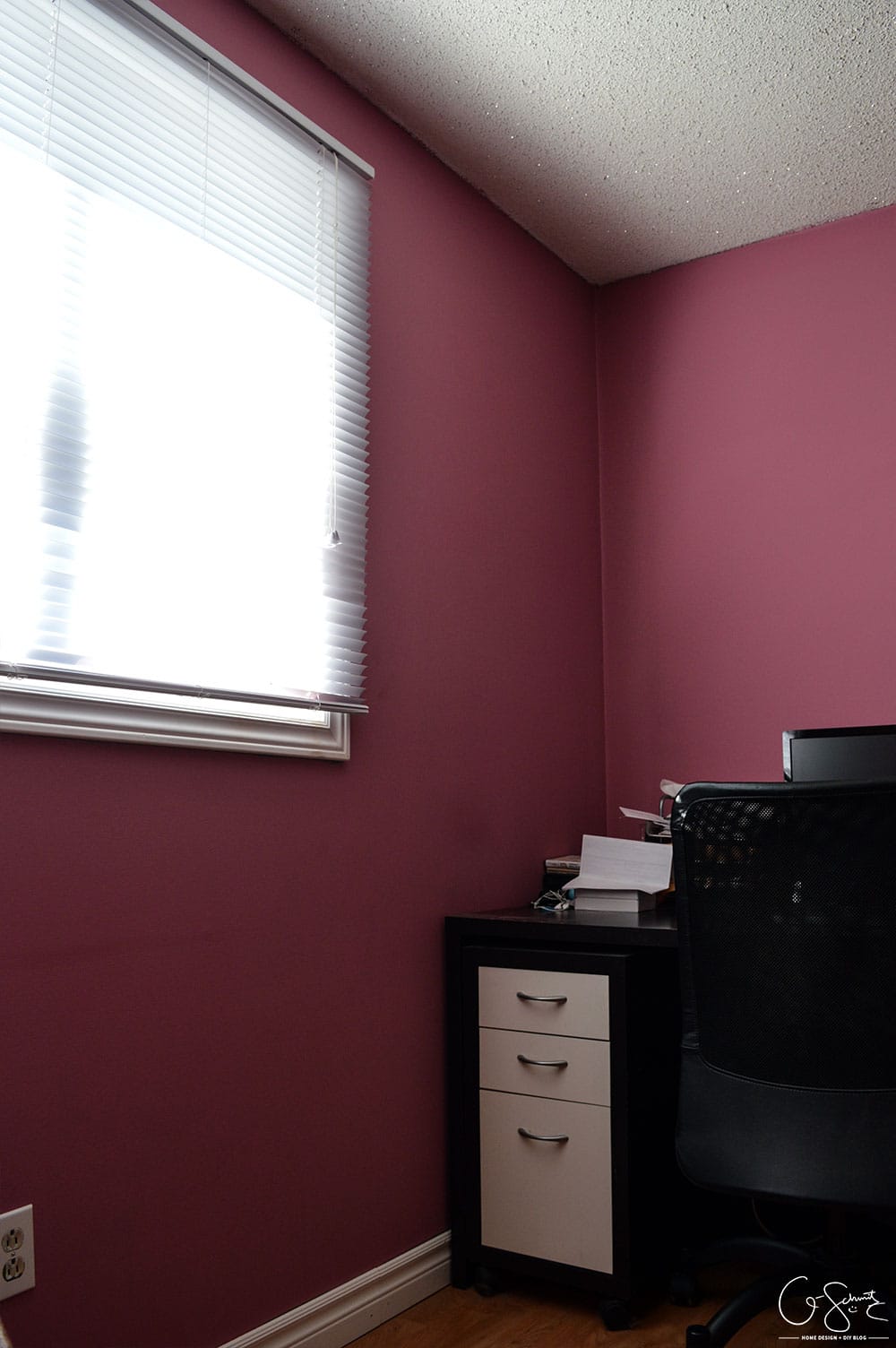 Yes, back to the master plan!
SO the idea was that whenever we would have children, the rooms are already painted and ready to go.  I've always said that I don't want to know the gender of our first baby, and so the plan was to just have the baby, and put it in whatever room made sense.
But then I remembered that I'm one of those "new-age" people that doesn't care what colour kids rooms are or what they wear.  Boys can have pink rooms and girls can have blue rooms.
(Which I believe is a controversial subject, so I'll leave it at that).  Besides, this is DIY blog so let's try and keep it light :)
Um, let's not forget to mention the CRAZINESS that would be setting up a nursery AFTER a baby arrives.  Like really, I've never had kids so I can only go with what I know and have read online… but I think childbirth is hard right?  Imagine having to come home and moving around furniture… ya right!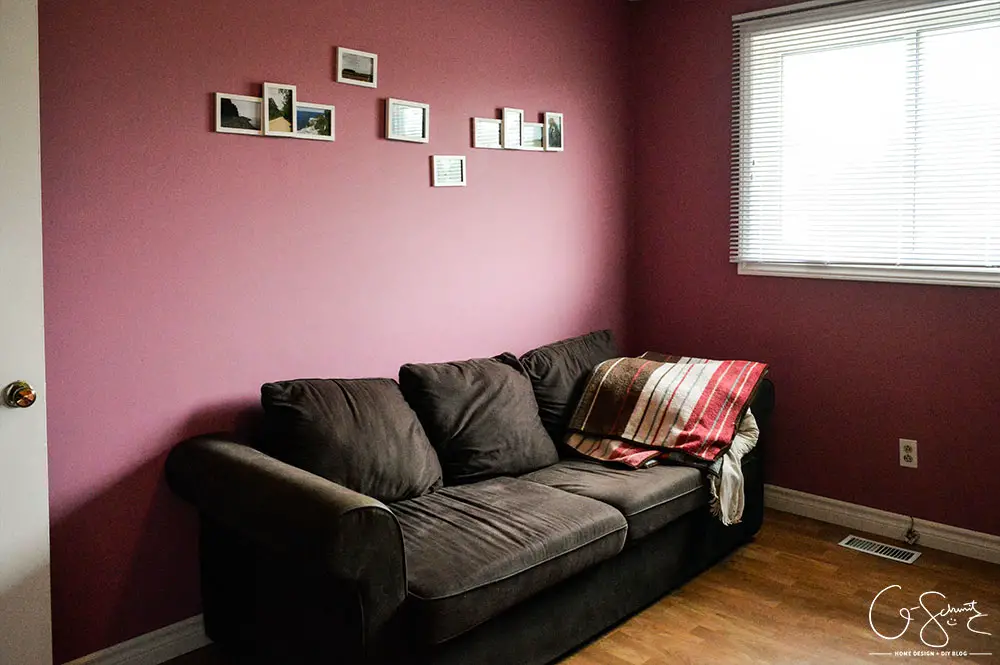 This brings me to the couch…
This brown Ikea sofa (the Husband's from university) is actually larger than the doorway.  We tried several different ways to maneuver it into the room, but it wouldn't squeeze around the hallway at all.  We had two options: 1) dismantle the couch (it's from Ikea after all) and bring it in piece by piece, or 2) bring it in through the window.
We went with Option #2.
This was of course pre-blog, so let me paint a picture for you to accurately describe the challenge.  We backed the Husband's truck (with the couch) as close to the house as we could get it.  We live in a split level, so we needed to use the truck to make up some height to get to this window.  I was on the inside and had removed the window screen and opened the windows outwards (because apparently they can do that) and guided the couch in (there were two guys in the truck pushing from the outside).  Before this ridiculousness went on, we did measure the couch to make sure it would fit in the first place (that would have been a major fail if it didn't!).  The neighbours probably thought we were crazy…
So yes, in the case of any future babies, we will be moving this couch out way before they plan to arrive.  (The idea is to move it into the master… so there will be another truck lift in the backyard needed to get it in there too!).  And all our office stuff will be going into the basement.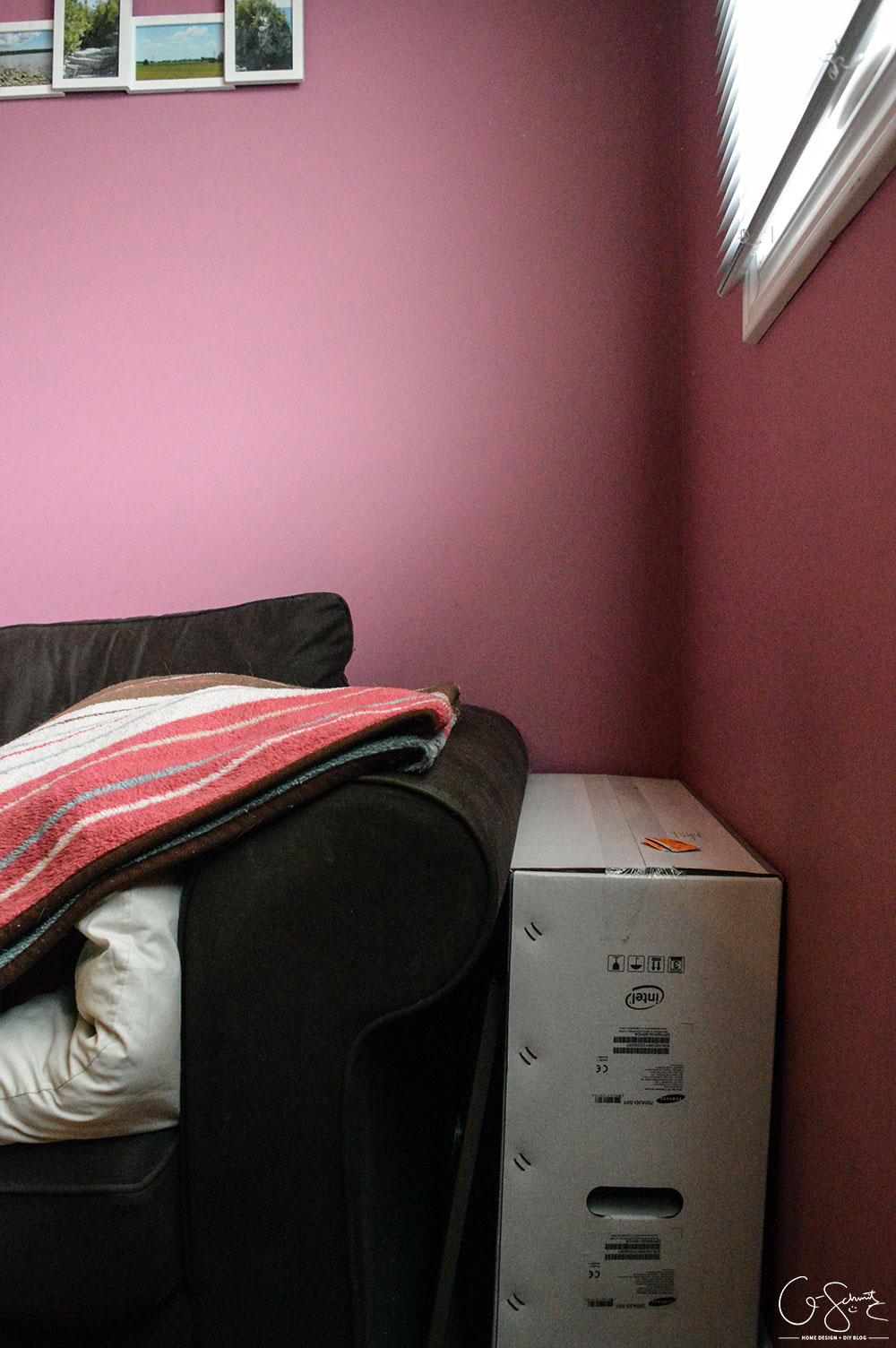 Want to know a secret?  I have a makeshift side table in between the couch and the window wall.  And yes, it is just a box (from my computer actually) but it just so happened to be the perfect height + width; and I needed a place to put the box anyways, so we put it to good use here.  The Husband usually has a dish (or two, or three) on the table/box but he's managed to keep this room pretty clean the last while… it's strange but I won't complain!  You would never know there was a box there unless you were staring at it from the Husband's desk area.  So let's all pretend we didn't see it okay?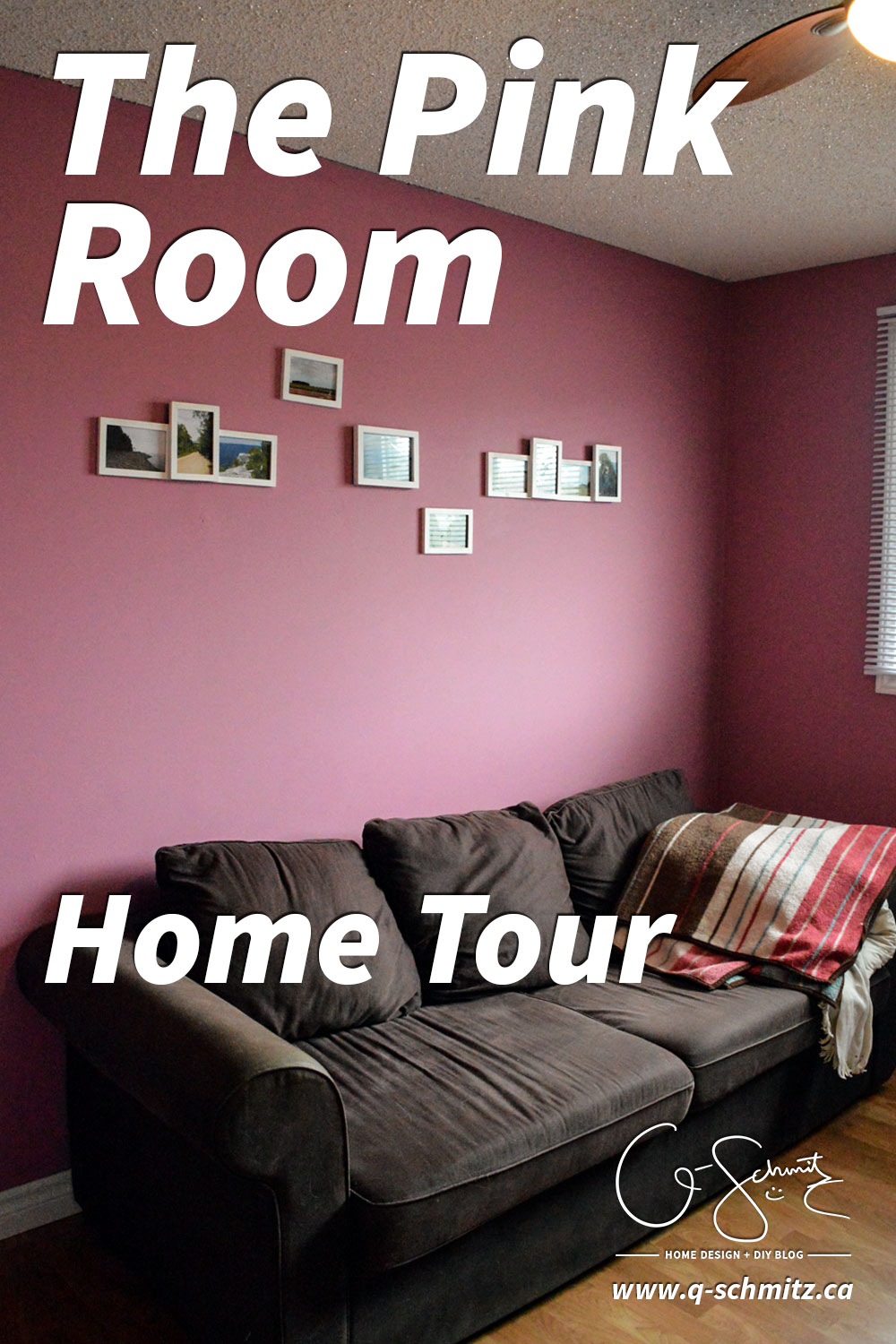 Now, I didn't think I could talk this much about The Pink Room (it's literally just a room painted pink after all), so let's just leave it where it is now, and next week we will venture next door into The Blue Room.  (Dun dun dunnnnnn!) <- that was supposed to be dramatic music…
See you then :)
WAIT!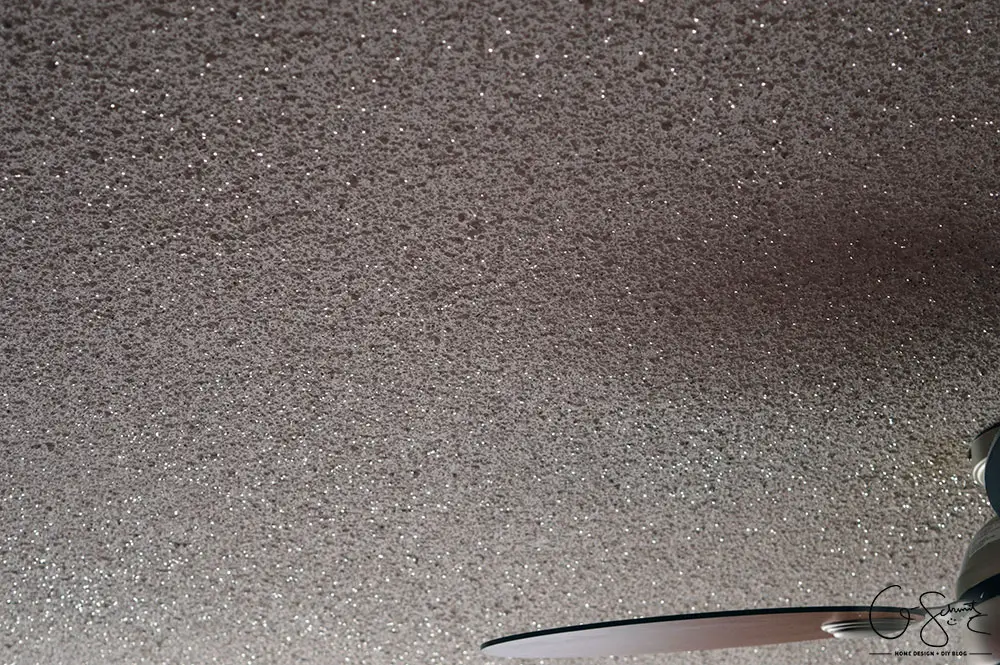 I almost forgot to tell you one of my favourite parts of this room… we have a sparkly popcorn ceiling!  Most DIY'ers and home bloggers abhor popcorn ceilings and claim they are the worst things ever… but seriously, just add some sparkles AND THEY BECOME AMAZINGGGGGG!  And no, I'm not even joking… I love sparkles :)