This (long) weekend I wanted so badly to be able to be outside and stain our deck – but unfortunately, the weather wasn't cooperating on that one.  Then, after realizing I had cleaned the garage as much as I could (and by that, I mean barely at all) – I decided it was time to tackle a project inside the house… cleaning and organizing our home office!  While I try and keep up with filing and organizing my paperwork as much as I can, I realized that there were a few key areas in our home office that weren't as optimized as they could be; so I knew I had to focus on these areas to remove the bottlenecks in the organization process.  Read on to see how you too can focus on organizing the home office!
I should mention that our home office is located in one of our extra bedrooms, which we have aptly named "The Pink Room" (because we painted it pink when we moved in).  Both the Husband and I share this room as our office space(s), and we have our desks setup along one wall, with a couch on the opposite wall.  When we have kids, we'll eventually be turning this room into a bedroom and moving our office area downstairs, but until then, I'd like to try and keep everything neat and tidy.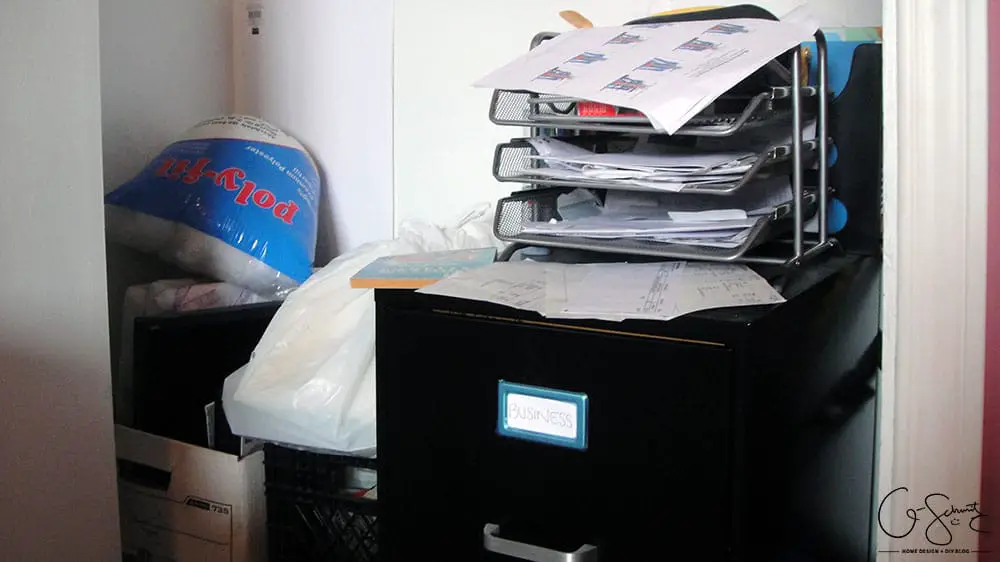 The first bottleneck I focused on was my filing cabinet area.  The filing cabinet is located in the closet, and I also have a filing shelf above it … and even another hanging filing system behind that (as you can see from the photo above).  I realized that having multiple paper filing systems was unnecessary, and actually caused more paper clutter than it helped.  When I got papers I had to file, I would put them in the three-tray system, then once that was full, I would file my papers in either the cabinet or the hanging filer.
This was essentially making me do twice the amount of work, because rather than file everything away properly the first time, I'd actually just be piling it up for the future.  Trust me on this, it's WAY easier to put things away as soon as you can, rather than create a lot more work for your future self.  I also had a box at the top of the closet where I would file things (which I used before I actually got the cabinet) but I hated bringing the box down and then moving all the papers and files just to put one thing away (so obviously I left it to pile up!).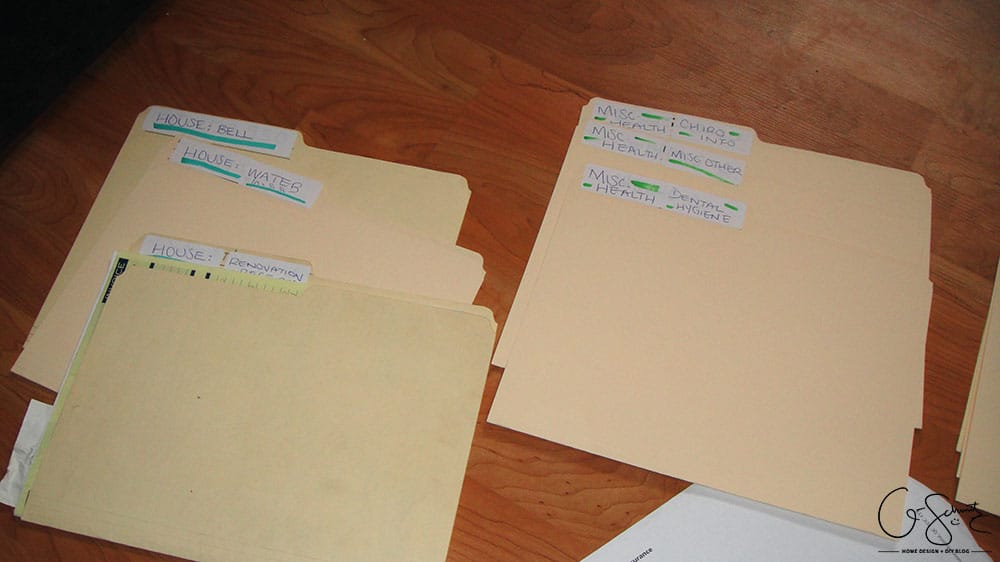 I decided that I would reduce my multiple (count them – 4!) filing systems into just one – actually using my filing cabinet as it was intended to be used!  For those of you who don't have a filing cabinet, you might want to invest in one.  I know they're not always the nicest things to look at, but you can probably find a lot of cute ones (or even DIY an ugly one); but for me, I like the practicality of the normal metal cabinet.  Anyways, I started by taking out all my papers from my current holding spots and then sorting them into categories and placing them in appropriate file folders.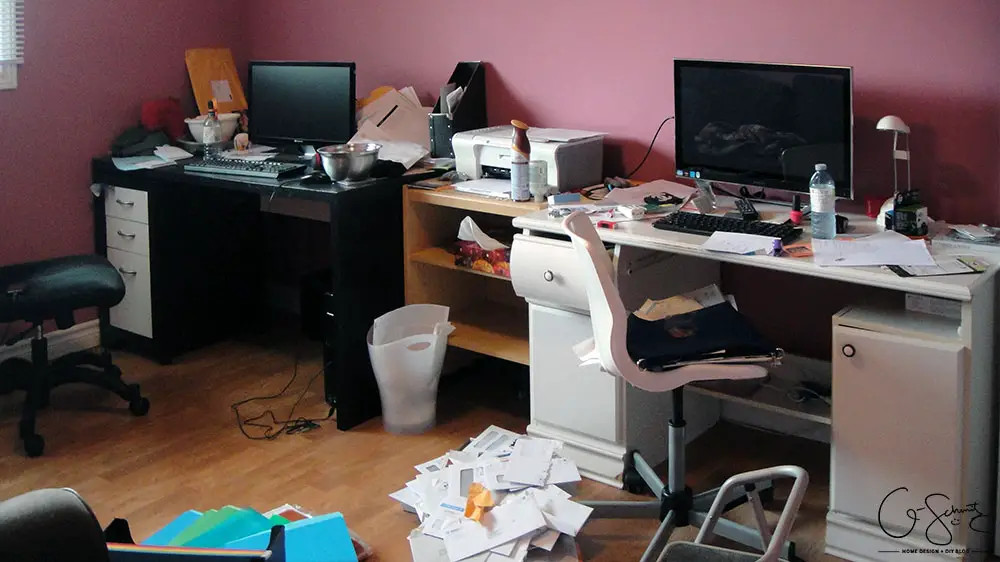 This is what our Pink Room looked like halfway through my filing, and don't worry, my desk isn't always that messy (the Husband's on the other hand… well that's a different story – his is the black one on the left… in case you couldn't tell!).  When you're going through your paper stuff, make sure to have a designated pile (or bin) for recycling.  See that pile of envelopes in the middle of the room?  Now imagine 3 piles that size, and you'll get a sense of how much paper garbage I actually had stored away in this room.
Of course, it did take a long time to go through all my files, which is why I stress how important it is to actually file everything as soon as you get them!  It also didn't help that Tootsie would want me to throw her ball every 20 seconds, or sit on my papers while I was organizing them…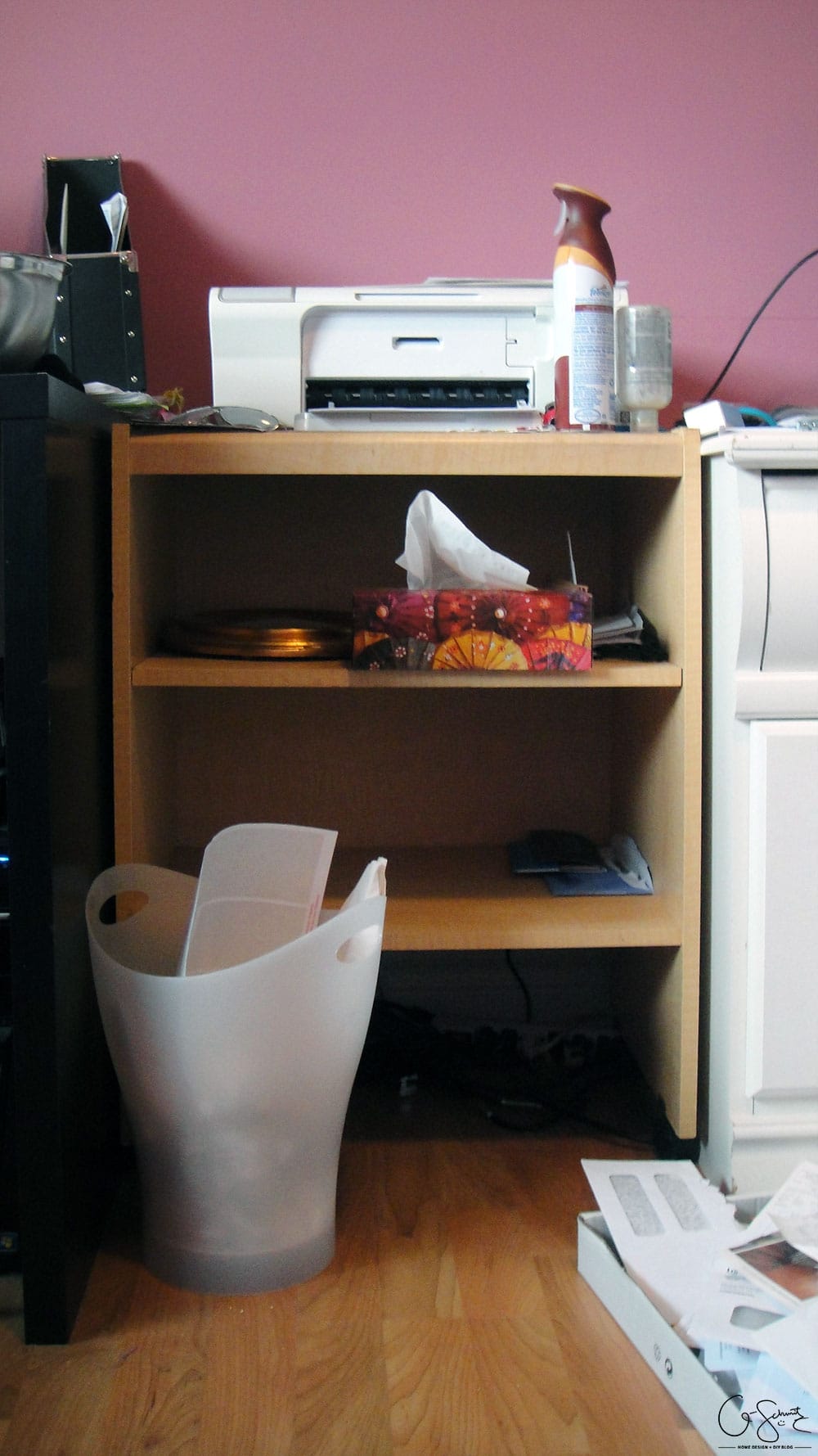 Having my filing cabinet in the closet caused a few issues.  I was losing floor space in this area as I couldn't access anything to the right of the cabinet (this caused another buildup of household "stuff" that I never used) and I would either have to leave the closet door open, or keep opening and closing it every time I wanted to file something.  We also had a cabinet in between our desk that held our printer.  I liked that I could put things on the shelves, but again… this just became a buildup area of paper that should have been filed somewhere else.  I thought about moving the filing cabinet to this area, but unfortunately the top wasn't wide enough to hold the printer.
Then I got a genius idea!  Why don't I just take the shelves out of this cabinet, and put the filing cabinet underneath!?  After measuring the height to make sure it would fit, I started by unscrewing the shelves to create the open space I would need.
But obviously I didn't always like the colour of this cabinet as there were just too many different furniture finishes clashing in this room.  So I rolled the cart into our living room, and set out to paint it white.
After one coat of primer, and one coat of white melamine paint (with an extra coat on the top), my rolly cabinet was looking much better!  I even caulked the edge along the top where the front piece was coming off to cover up this seam.
Back in the office I had a few more spots to clean out.  I had recently gone through the shelve areas of my desk to purge the stuff I no longer needed in preparation for an upcoming garage sale, but I neglected to clean up the "junk drawer".  It seemed like lately I was missing pens (it's weird, you either have way too many pens, or not enough) and after cleaning out all my stuff, I was able to locate some pens and organize this drawer so I could actually find them.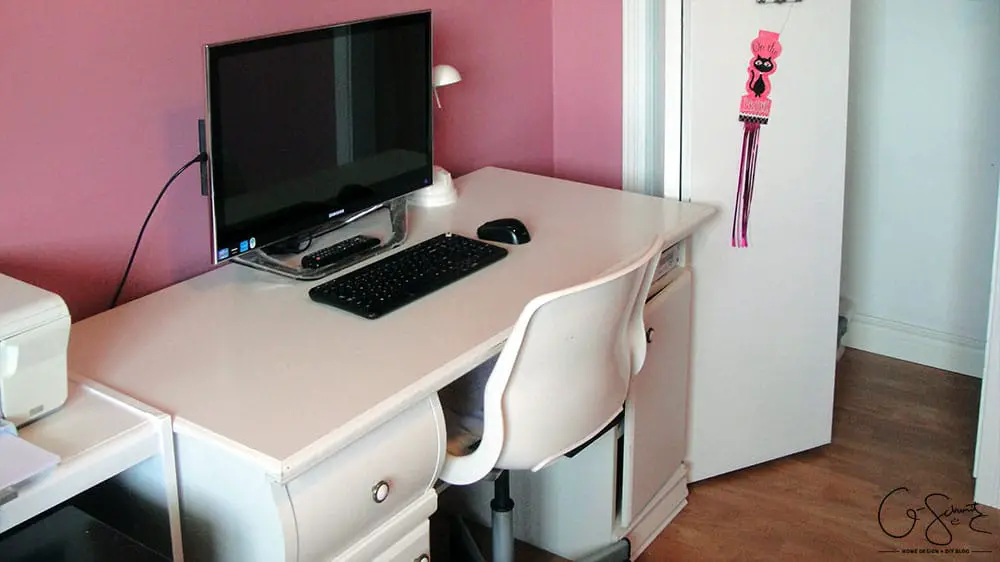 In the end, I was able to clear out space in the closet, purge about 1/3 of my paper stuff and recyclable junk that I no longer needed, and get my desk back to its clean and organized crowning glory!  It took me a few long hours over two days (but that also involved the whole DIY painting of the cabinet), and obviously had I kept up with the filing all along, I would not have to have gone through this.  Please, organize as you go people!  (I'm hoping that if I become an advocate for this, I'll "practice what I preach" too!).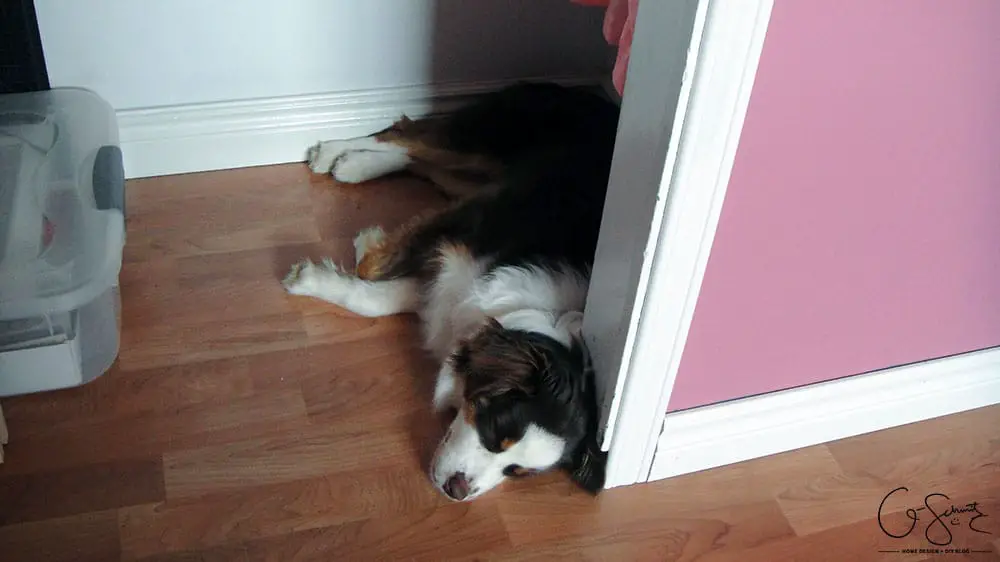 And yes, Tootsie was happy I cleared out a space in the closet… apparently she thinks it's just for her!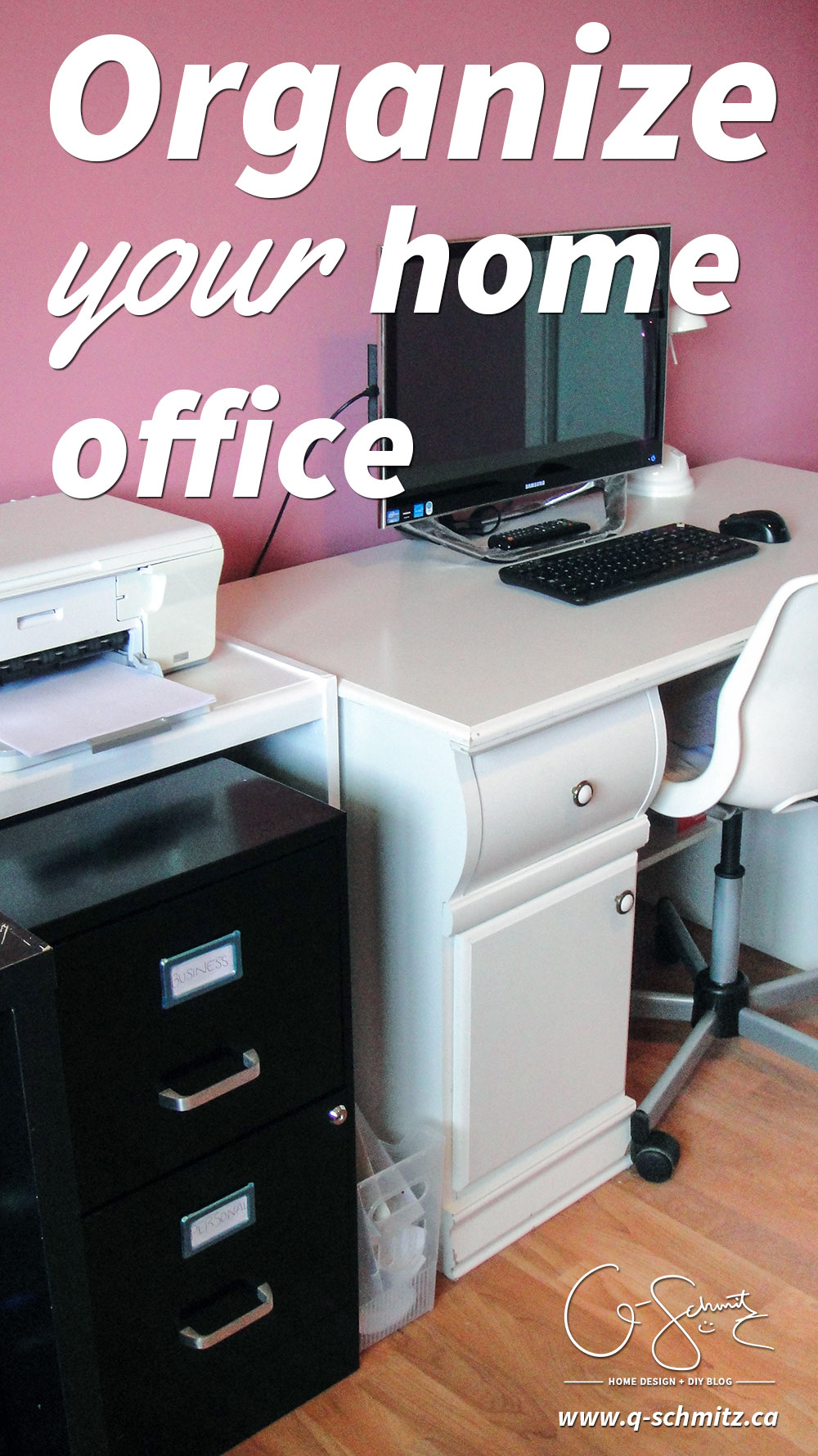 I've also recently started better organizing my Pinterest boards (both for this blog and my personal boards) and am hoping to continue incorporating great images to pin.  So please go ahead and pin the image above to share it with your friends :)
How about you?  Do you have a designated home office space… and has your filing become neglected like mine was?  I'd love to hear how you're going to tackle your office space – or maybe you have tips and tricks of your own?  Share your thoughts in the comments!