We've been officially out of our main house for a month now.  Because we did things a bit differently and bought this house before we sold, we had been slowly moving our stuff for a while.  Nevertheless, this is such a bittersweet post to write – the final home tour of our first house!
I did a video walkthrough (scroll down to see it, or go watch it here) of how our house was set up when we listed it.  As we moved furniture over, things slowly shifted (mostly the bedrooms).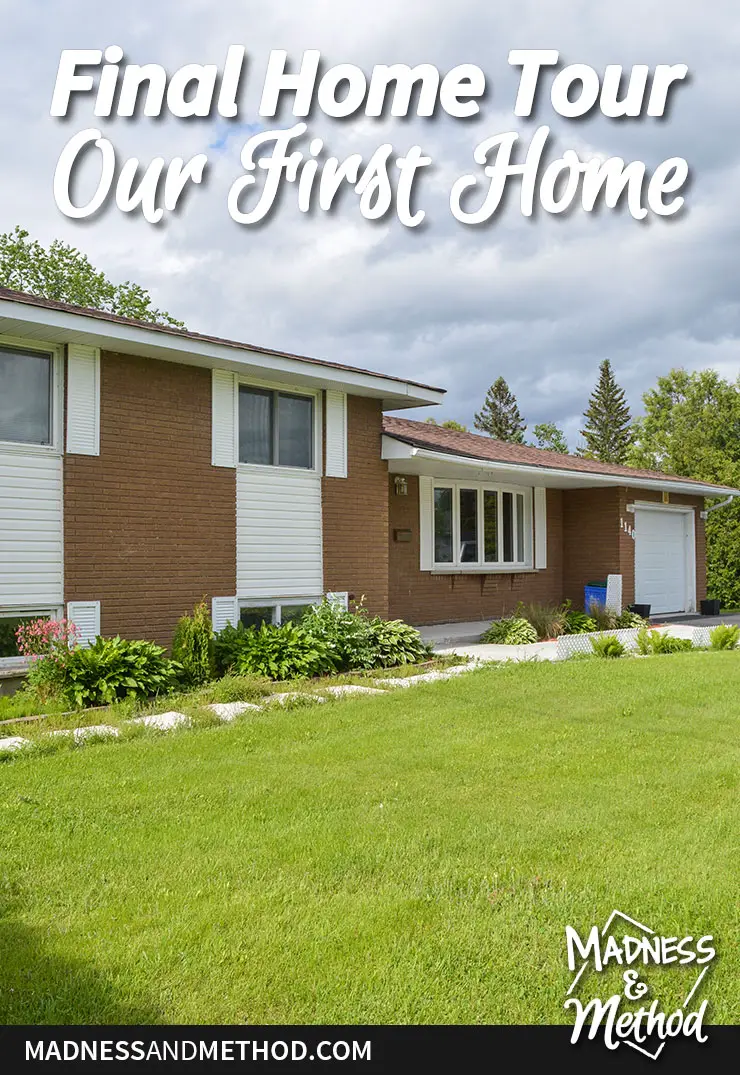 I believe the photos were taken the day before and of our closing.  Essentially, what the rooms look like when they're empty!
Starting with the exterior, last year I removed our dogwood and planted a small evergreen in its place.
When we listed in the Spring, the plants (and grass) were still dead looking.  Thankfully, they had started filling in nicely, so we quickly weeded and added more mulch.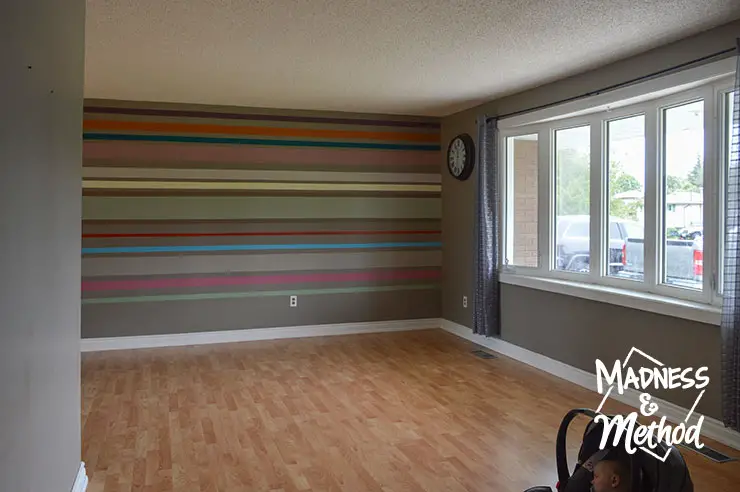 Starting in the living room, we had just added our last stripe to the accent wall after completing the yellow nursery.
I swapped most of the curtains, but otherwise, everything looks the same (minus our furniture).
We sold a lot of furniture (including all our sofas, dining set and desks).  We couldn't find a buyer for the stools in time, so we left them with the house.
Don't worry, I brought Mr. Félix with me, ha!
Upstairs Tour
I tried to touch up all the paint around the house so that it was nice and fresh.  (For both the real estate showings and the new buyers).
You can see that I left some things in the closet (like special lightbulbs, info, whatever).  Check out my list of things to keep when you sell your house.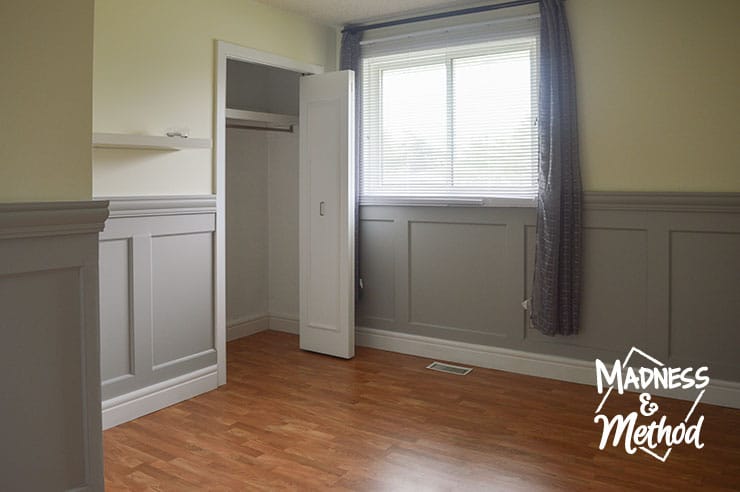 The last room we updated before we moved was the not-so-neutral nursery.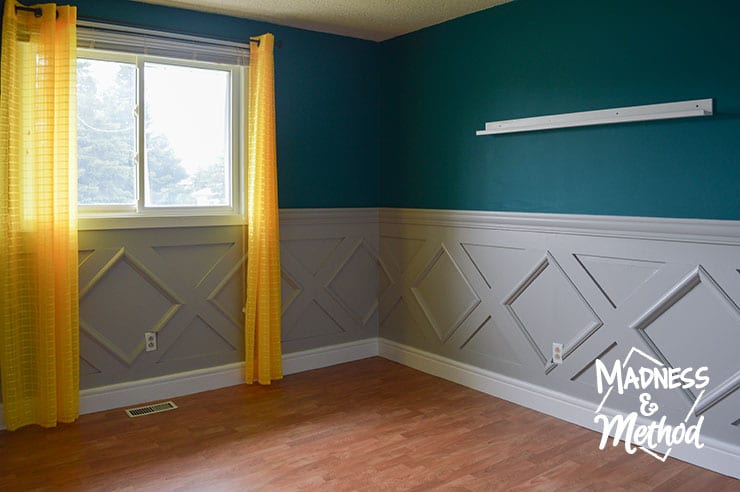 And of course, the teal nursery (that became the combo kids room) will probably be one of my favourites!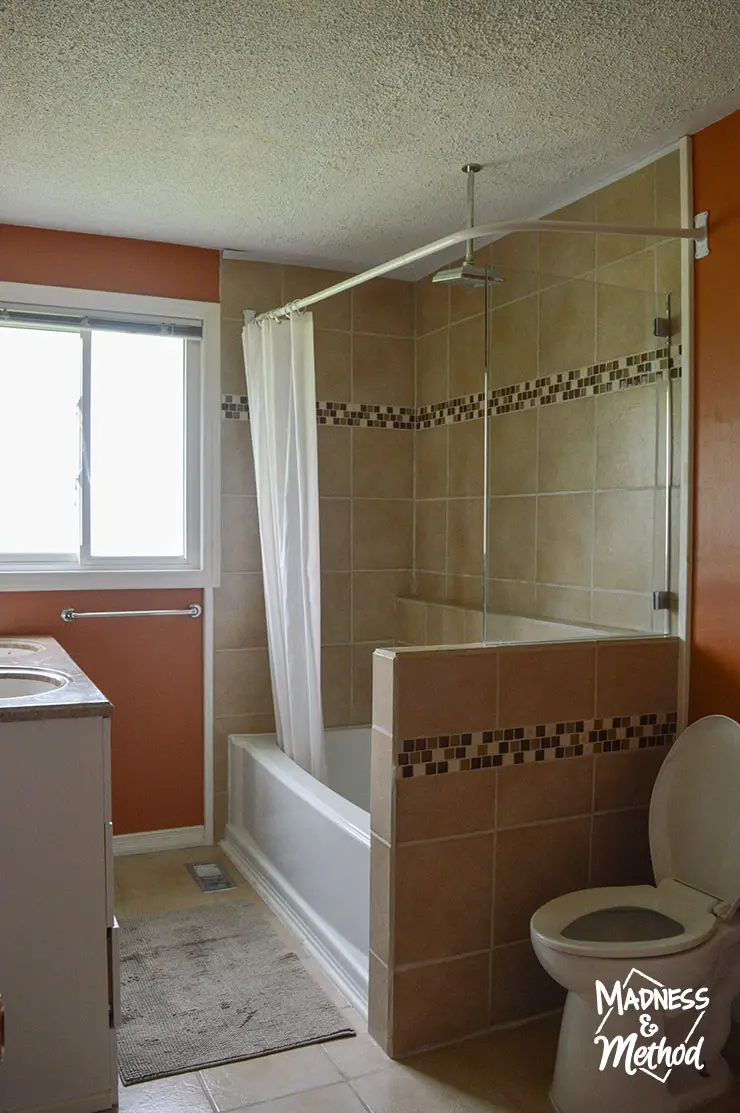 Our orange bathroom also remained unchanged since we renovated it.  (The first room we ever tackled!).

Our room got a minor refresh last spring.  For a few of the listings, we moved our bed to the other wall (instead of under the window).  It makes the room look so much bigger that way.
Basement Tour
The basement probably underwent the biggest transformation of them all.  It used to be such a dark and dated space until we painted the panelling and the brick fireplace.
Other big changes also included adding a half-bathroom from unused space.  And of course, building our saloon-style baby gates (that we kept with the house).
The laundry room remains the last un-touched space in the house.  If we hadn't sold our house at this time, I would have probably done a quick/cheap makeover instead of doing our new master bedroom.  Think, painted floors, easy install wall panels, maybe a drop ceiling?

Our crawlspace also didn't change at all.  Other than removing all our stuff and giving it a good vacuum.
Outdoor Photos
Alright, there are going to be a lot of outdoor photos!  The last night I spent at the house, we had crazy dark skies with a sunset.  Then rain and a rainbow – so I went a little overboard.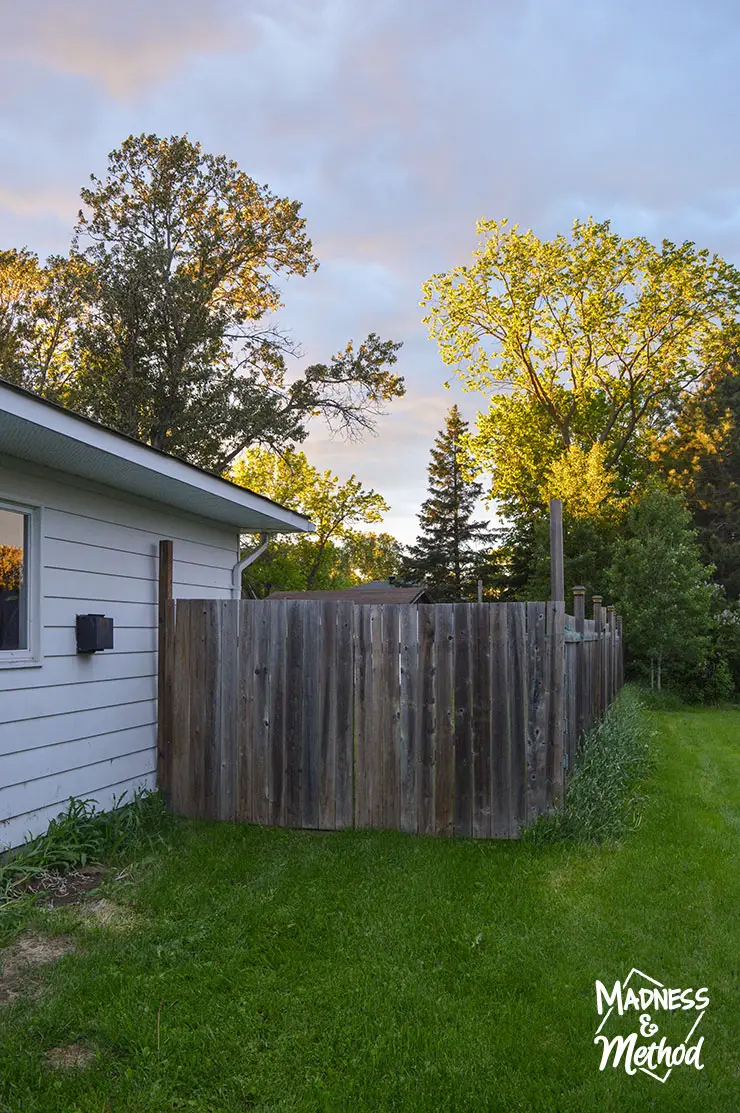 We had a few dump runs to do the clear out some of the junk stuff we accumulated.  (Thank goodness the landfills re-opened just in time!)
I'm going to miss the yard the most.  At 100×150, it was twice as large as traditional city lots.
Especially now that the kids are getting older (ie: playing outside all. the. time.)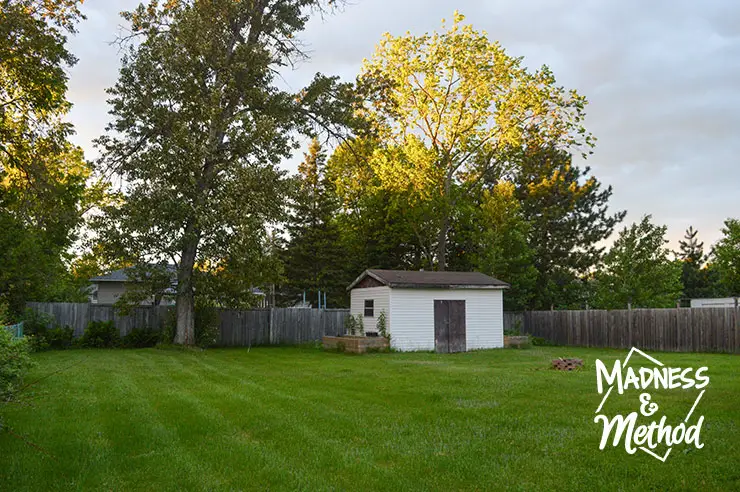 By comparison, our current yard is 55×120, so it's like half the size.  But, it's also shaped differently, so we don't have nearly as much open space.  (I'll share more photos/details next week).
We sold the riding lawnmower to the new owners, they'll definitely use it!
Technically the photo above is mostly overgrown weeds, but it's also showing off the custom gate we built.  Truth time, I don't think we ever used it!
I mean, look how lush and green our yard looks?  It didn't look nearly as good in the listing photos (or for the majority of the showings).
Goes to show you what just a few weeks will do.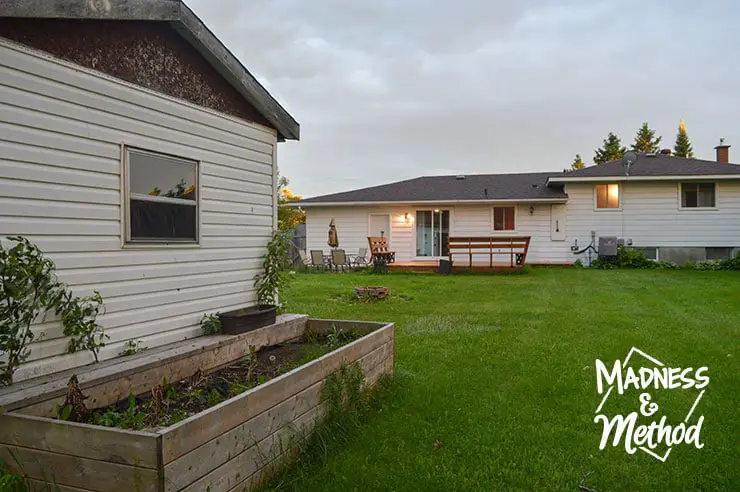 I hope the new owners will take advantage of the raised garden beds we built.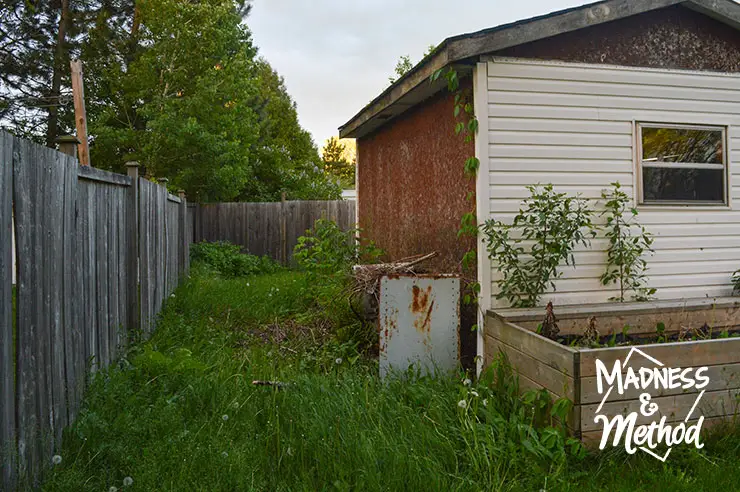 And maybe add siding to the back of the shed?
Not sure if they were able to plant anything.  But we did have some strawberries that came up each year.
I think the photo above is my favourite of the back of the house!
That sunset lighting is *muah* (aka kissing noise with fingers near mouth).
If you think this is too many photos… just imagine how many I didn't include!  (PS: we planted the little tree you can just barely make out to the right of the shed).
The new owners also took the patio table set.  I hope they love this yard as much as we did.  (But also, more!)
And we'll just leave this last photo with the double rainbow :)
Video Walkthrough (Before Listing)
I know those were a lot of photos, but I also have the video walkthrough that shows what the house looked like with our stuff.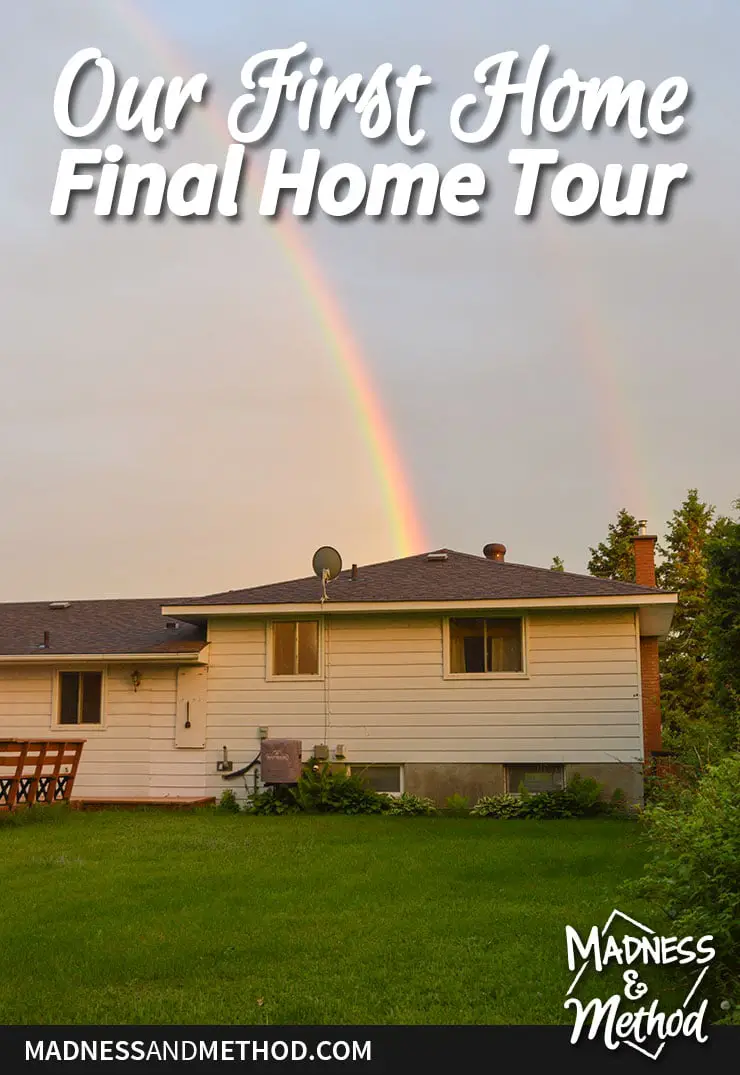 Okay, so I literally just noticed the difference in siding colour behind our BBQ storage rack.  I think the weird deck cut-out (and that siding spot) used to be an exterior door!  AND that's probably why there was a pantry in the kitchen (that we removed).
Hunh… you think you know a house!
Anyways, I hope this final home tour of our first house gave you a good overview of how everything looked before we moved.  And of course, if you never watched our other video tour, now you're caught up with the layout.
The plan is to do them more regularly with this house, ha!