What's your go-to party food style?  Do you like a traditional sit-down meal, or a more casual (serve yourself) kind of thing?  For our most recent get-together, we went with a serve-yourself ice cream bar and it was definitely a good summer choice!  Today I'm sharing a couple of photos of our setup, but I also wanted to show how you can use the same red and white table décor in a more traditional way; so you can recreate this look no matter the occasion or party style!
– Note: This post is sponsored and contains affiliate links. See more information about affiliates here. –
Last weekend our little baby turned 1 and I really wanted to celebrate his big day and make it special.  After a late rain sprinkling kept our party indoors (I briefly mentioned it when I talked about our deck plans), we still managed to fit everyone in and have a good birthday party.

At the same time that I was thinking of his birthday plans, Wayfair.ca wanted to know if I could share some Canada-themed décor with you.  It's actually a BIG celebration this year (Canada's 150th!) and I knew that I could incorporate Canada's colours into our party.
I'm pretty sure I browsed Wayfair.ca forever, trying to find the perfect table scape décor and I came up with a pretty good list of red and white accessories that I liked and could work in our house. Actually, it all started with me looking for outdoor rugs…
Thankfully, Wayfair.ca has a great Canada 150 resource page with some Canadian (and red/white) items already organized.
I ended up getting a nice striped table runner (similar runner at Wayfair.com) and some round red placemats (buy from Wayfair.com here).  I knew that they would go well with the red accents in our living room, and I could easily reuse them for different occasions.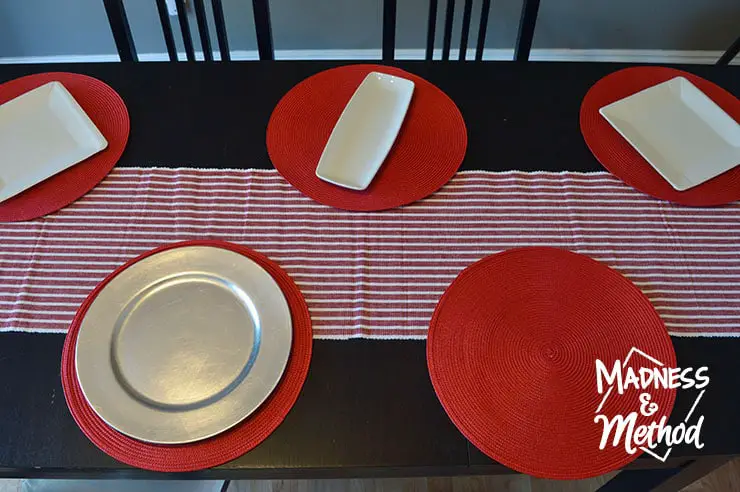 For our serve-yourself ice cream station, I used five round placemats as our different stations.  The two with the square plates would hold the mini cupcakes, the one at the back had the toppings and the two in the front had the cones/bowls and ice cream.
The plan was to have people grab their ice cream and eat them outside; but with the rain we improvised and just had everyone sit around the table and in the living room.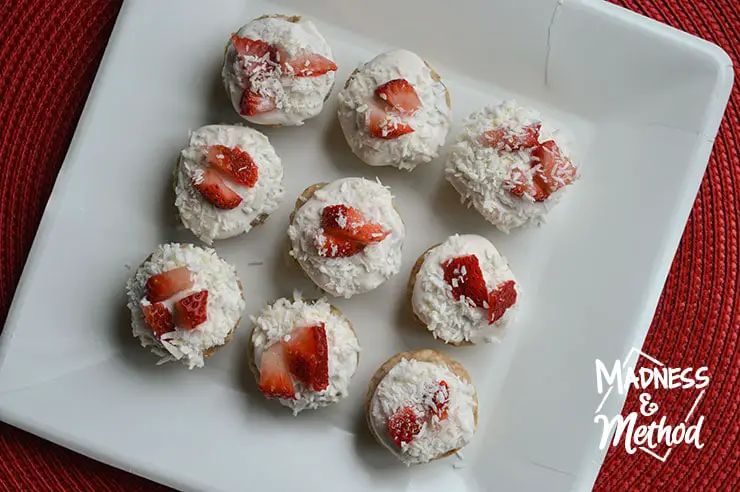 We had both vanilla and chocolate cupcakes for the party, and I'll be sharing the baby-friendly recipes next week!  (Yes, of course they matched the colour theme haha)

I actually had a lot of cones and waffle bowls already, so that's why I came up with the cake and ice cream idea (actually, I had all the toppings too!).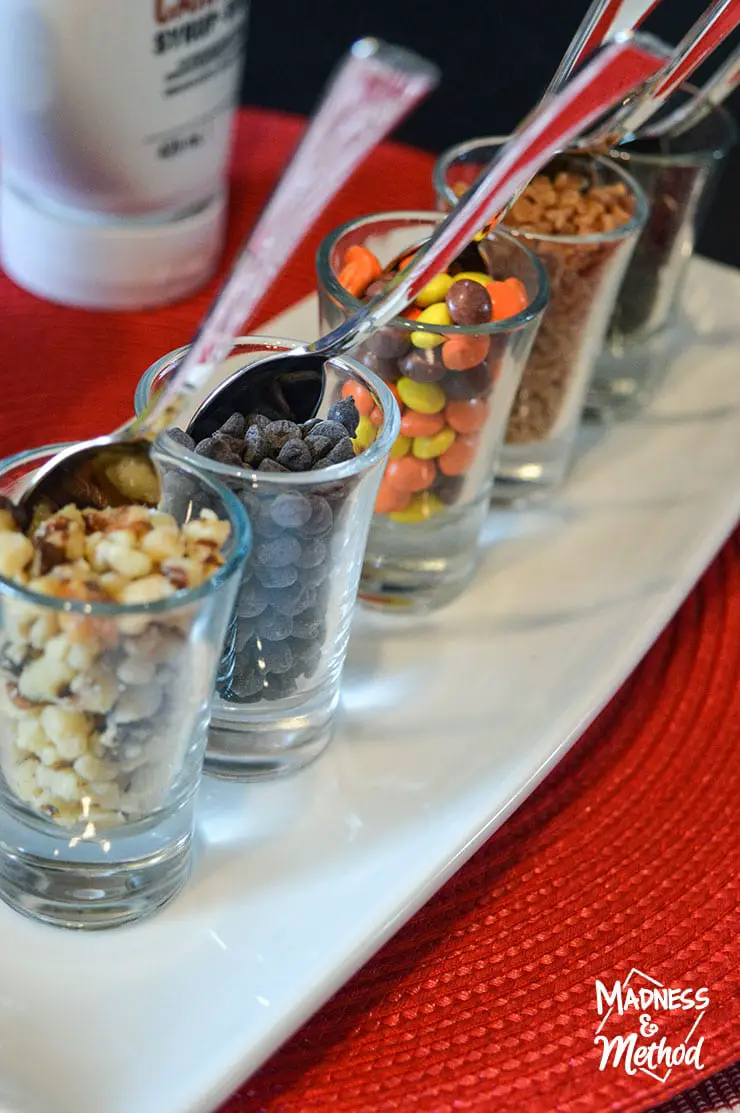 The toppings were placed in shot glasses and scooped with little spoons. You can also use clear glasses or bowls, but I didn't think we would need that many toppings.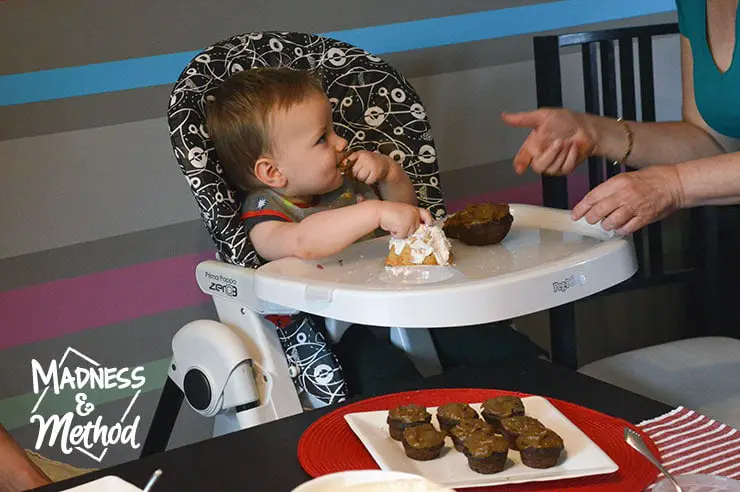 The mister really enjoyed his cakes and I'm sure everyone liked the ice cream (the cakes were sugarless, so good thing we had all those topping options :)
Red and White Table Décor (Traditional Setup)
If you're planning to host a Canada Day dinner, you definitely need to bring out the red and white décor!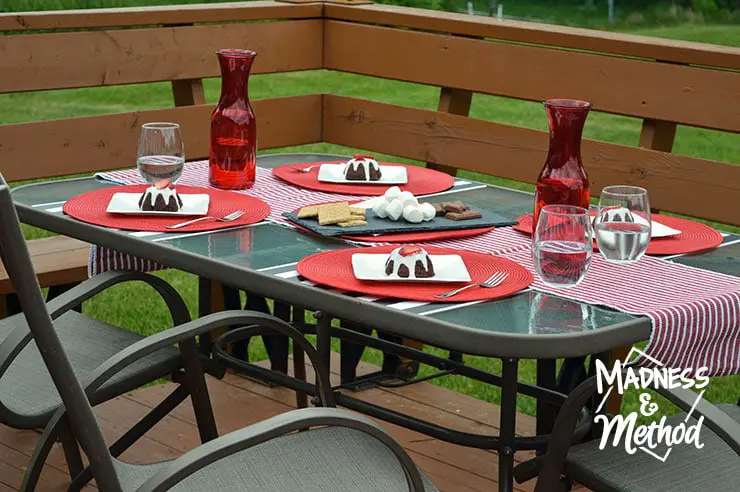 Since Canada Day is July 1st, the weather is bound to be nice (and by that I mean there won't be any snow haha!).
Which means it's the perfect opportunity to host an outdoor event!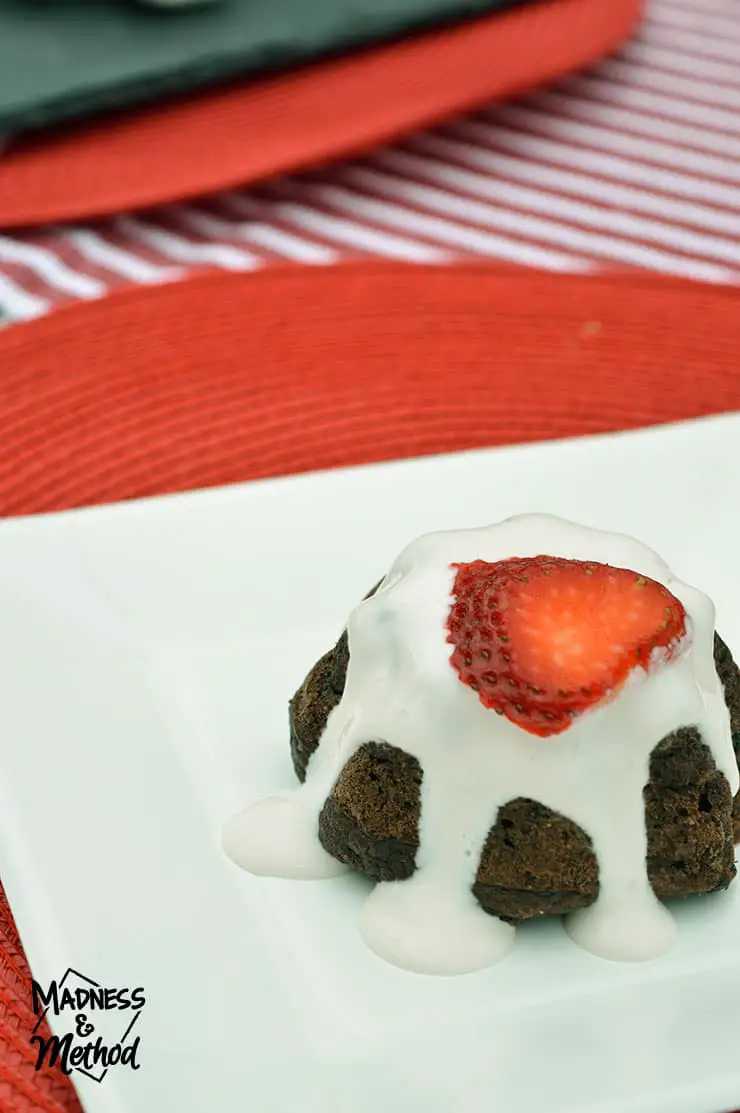 I had some baby cakes leftover, so I set them up for my photos.  I think it's a really fun idea to use square plates on the diagonal to play up all the different geometric shapes.
Of course, for our Canada Day party, we would most likely be having a bonfire – and some smores!  If you're having an afternoon event, you could do the ice cream bar; and if you're having an evening party, you could setup a smores bar :)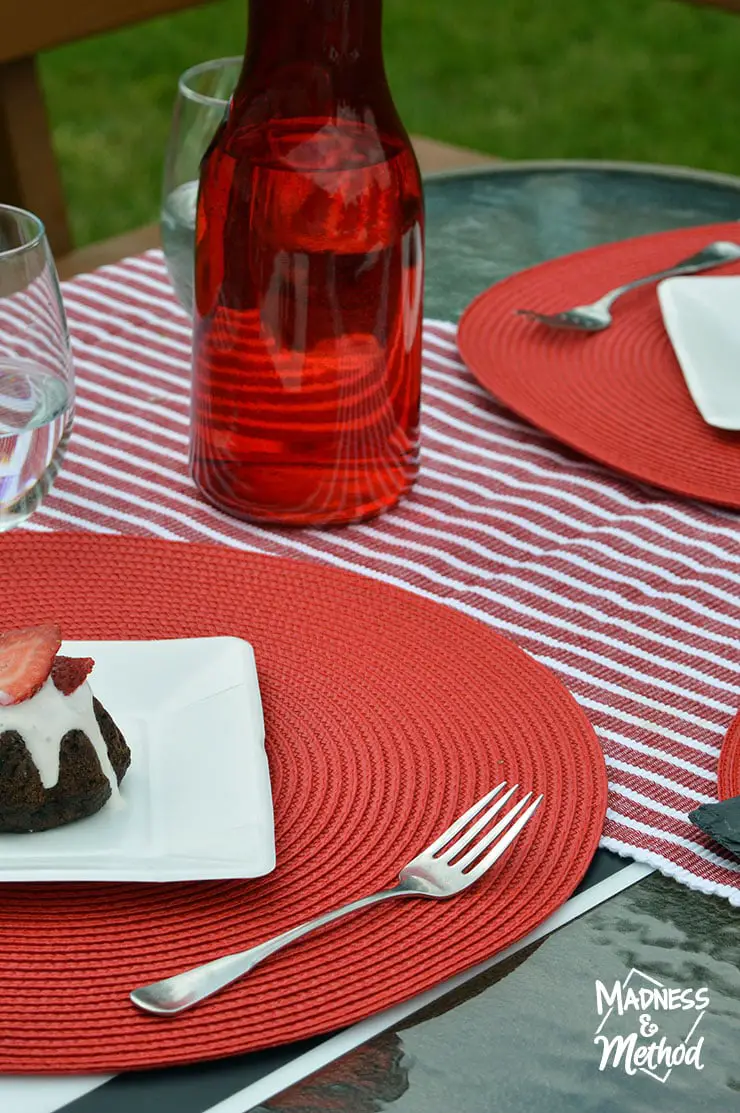 Actually, I'm not yet sure what our plans will be for the big 150 celebration. Did I ever tell you that I lived in Ottawa (the capital of Canada) and never once went to the SUPER huge celebration they have!?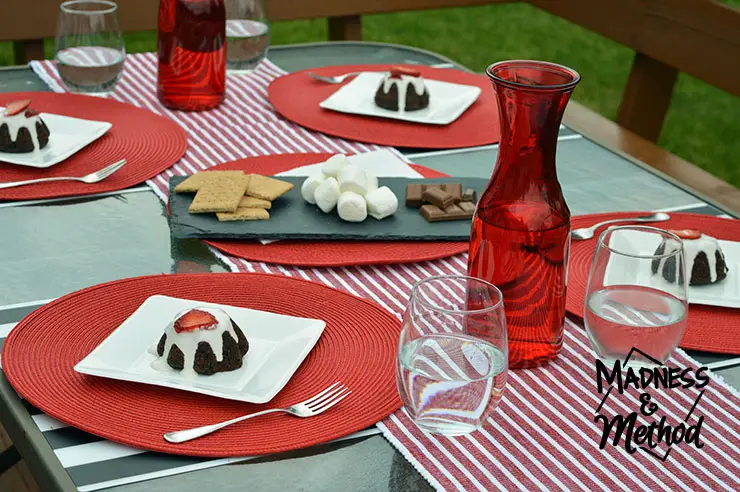 I'm definitely more of a low-key person, and completely content with just relaxing at home and celebrating Canada Day in style :)
Do you know what you'll be doing this July 1st?  Let me know how you're planning on celebrating the big event – and don't forget to check out Wayfair's Canada Day-core section if you want any fun ideas and items to add to your home.  (And remember that I made a red and white table decor idea board too).