Can you believe Christmas is less than 10 days away!?  If you're organized and you've been planning for awhile, then you may be surprised to find out that there are some people who probably haven't even started to buy gifts yet!  I wanted to share a few last-minute gift ideas so that those late birds can see that there are still some options that don't involve walking around the stores and grabbing whatever they think might work (ahem Husband!).  AND I even have some handy tips for general gift-giving, just in case you have no idea where to start :)
– Note: This post contains affiliate links. See more information about affiliates here. –
Now, you do still have a bit of time if you're thinking of ordering something online.  Just make sure that you can get your shipping in time (plan for a few days early if possible) and don't forget things like Amazon Prime, which usually offers faster shipping.  However, because we're in Canada (even though sometimes I may order from Amazon.com), I would really suggest avoiding any cross-border shipping at this busy time.  Amazon.ca offers a bunch of great options too, and some sites like Wayfair even have the option to browse by quick shipping!
But before you start aimlessly searching online (or worst, walking around the stores without a plan!), there are a couple of things to consider:
Who are you shopping for? 
I like to make a list of all the people I'm going to get gifts for, then see if there are any common threads.  Last year I made some yummy dessert treats – so I had to make enough for all the people on my list.  (This year I'll share what I got everyone, but you'll have to wait until after Christmas so there aren't any spoilers!).
Also, is there anyone on your list that other people might be shopping for (and that you can buddy-up with)?  For example, gifts for your parents can always be gifts from all the siblings (ie: if Mom and Dad have 6 kids, I hope they don't expect 6 separate gifts!).  Joining with others on gift-giving is a great way to reduce the number of gifts AND a way to stretch your dollars a bit more.
Determine a budget
Unfortunately, you'll probably have to spend a bit of money around the holidays – but if you carefully plan (yes, even with less than 10 days left!) you should hopefully be able to control your spending.  Do you need to spend the same amount of money on everyone on your list?  No, definitely not!
So take the list of giftees that you made, and try and figure out your max budget for each person.  For example, if you have 3 children, it's probably wise to spend the same amount of money on each of your kids (don't play favourites!).  My mom also tried to make sure that we had the same amount of gifts to open, but let's try to stick to one gift per person, okay!?
Find out what they want
If you're lucky, your friends/family should have given you a list of things they want for Christmas.  Now, let's not go overboard!  Just because someone gave you a list of 10 items, does NOT mean you need to buy everything on their list (stick to 1-2 items!).  Sometimes, I like to do a bit of research on the items and see what the costs are, then I might work backwards and determine my budget afterwards.
Unfortunately, if you don't have a list of what they want – then it might be a bit tricky.  But hopefully at least one of these last-minute gift ideas should fit!
Last-Minute Gift Ideas
Food (for now): Like the dessert treats I made, this involves food that the giftee has to enjoy right away (or within the next few days).  Other examples are holiday cookies, chocolate (homemade or store-bought), fruit cakes, etc!
Food (for later): Would your friends/family like to eat?  What about making them a casserole that they can store in the freezer or even taking them out to a restaurant at a later time.  Also think about "canned" goods, like mason jar soups, cookie recipes, etc.
Drink: Coffee beans for the home-brewer, fancy tea for the host with the most, hot chocolate for those with kids, or the 'ole staple: alcohol for the adult drinkers in your family.
Something Handmade: If you're crafty, you can always start working on some DIY gifts this year.  Examples include homemade candles, DIY ornaments, or even sew some mittens, tuques or scarves (if you can!).
Something Handy: Are you good at cleaning, painting things, babysitting?  Why not offer your services to your loved ones rather than giving a physical gift?  You can still get a card (or even make your own) and that way you're almost guaranteed that they'll want what you got!
Other Gift Ideas
In the past, I've shared Gifts that Keep on Giving, which has plenty of ideas that are available to the last-minute gifters.
If you know anyone who's recently moved into their own home (or will be in the New Year) then check out Gifts for First-Time Homeowners.
Attending a party this year?  If you're in charge of bringing some food, you can even sneak in your fancy serving piece as a gift – just make sure not to leave the host in charge of washing everything!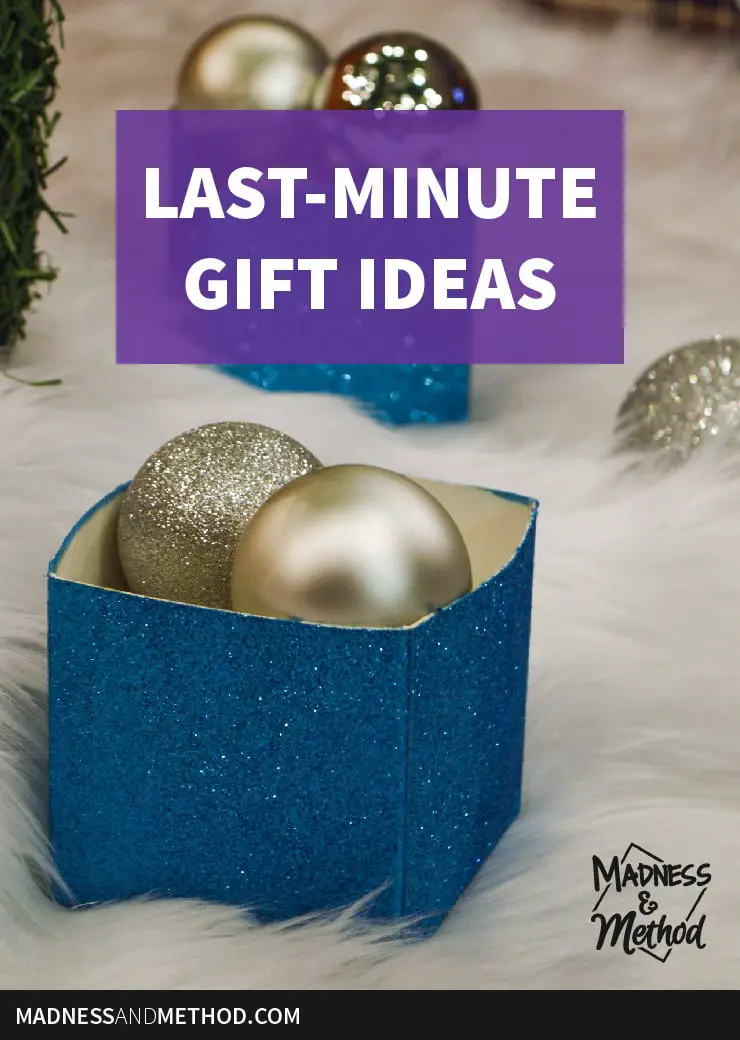 Hopefully, you can come up with something from these last-minute gift ideas (or at least you have a better idea of where to start!).
For me, it's a bit tricky this time of year because I love promoting minimalism and how you do not need to buy excess things this time of year (or whenever, really!).  Remember that little part of not walking around the stores looking for stuff?  Ya, the Husband did that for my gift last year, so I received a clear hodge-podge of stuff…
I personally think it's better to NOT give any gifts at all, rather than gifting someone an item that they do not like, or will never get any use out of.  (At least with the consumables I mentioned, they'll hopefully disappear and not take up a lot of space!).
What do you think?  Are you a last-minute shopper, or pre-season pro?  Have you thought about giving fewer gifts this year, or same-old-same-old?
Let me know!