Wondering what to pack for your trip to the delivery room?  As a third-time momma, I think I have everything figured out in terms of what to bring to the hospital when giving birth.  So, I thought it would be a good idea to share the list of baby hospital bag essentials and that way I can pack everything too :)
– Note: This post contains affiliate links. See more information about affiliates here. –
Our nursery is complete, so I pretty much only have the baby bag to pack!  Before we dive into exactly what should go on the list, let's discuss when you should actually pack your baby bag.
When to Pack Your Baby Hospital Bag
If this is your first time giving birth, you may be extra excited/nervous and have your bag packed months in advance.  That's probably not necessary, but you should be thinking about packing your bag around the 36-week mark (about one month ahead of your due date).
Spoiler: I'm just getting my bag ready this week and I'm around 38-weeks!  For my first two pregnancies, I gave birth right on their due dates and had lots of time to prepare in case I didn't pack my bag.  (For the first baby, I had contractions for 12+ hours before going to the hospital, and the second one was a planned induction).
But I also know some people who have gone into labour a few weeks ahead of time, so it seems like two weeks is a good time for me :)
What to Pack in Your Hospital Bag (for Momma)
Your birthing centre (whether a hospital, midwife office, etc) will most likely have a list of suggested items to bring as well.  I'm going to mark all the items on the list with an asterisk* that I won't be bringing.  
Here's what our local hospital suggests to pack: 
Underwear (2 or 3 pairs)
Bra (nursing bra and pads)
Toiletries (don't forget hair ties/clips!)
Sanitary pads without dry weave mesh (no tampons)
Nightgown, housecoat and slippers * (will bring PJs, see tips for clothes below)
Chapstick or lipstick * (I count this as toiletries/always have on me)
Loose-fitting clothes for the ride home (see tips for clothes below)
Pen and Paper * (see below for more details)
Pillow * (may bring one to share with the Husband, but I didn't see the point in bringing my own when they have some)
Reusable water container
Health Card
Insurance Coverage Info * (we don't have insurance)
Stuff for a support person * (the Husband can pack his own stuff!)
Snack food
Music * (I'm not a music-on-all-the-time person, and wouldn't want to disturb the other mommas after giving birth)
And here's what I'll be adding to the list:
Cell phone and charger
Agenda/planner (rather than loose papers, I like everything in one place)
Tablet/mini-computer (our hospital has wifi, I made the Husband bring me my travel computer last time)
Breast pump (will help get milk started and help with uterine cramps!)
Nipple shield (just in case, had to rush to the store the first time when baby wouldn't latch)
Shower shoes/flip flops
Adult diapers (easier to deal with when you leave compared to the huge hospital pads)
Hospital undies + peri bottle (I have multiples from the last times, I don't need more!)
Playing cards, books to read, crossword puzzles (things to get your mind off of labour pains – assuming you're there for a while)
List of possible baby names (we have about 15-20 names for each gender)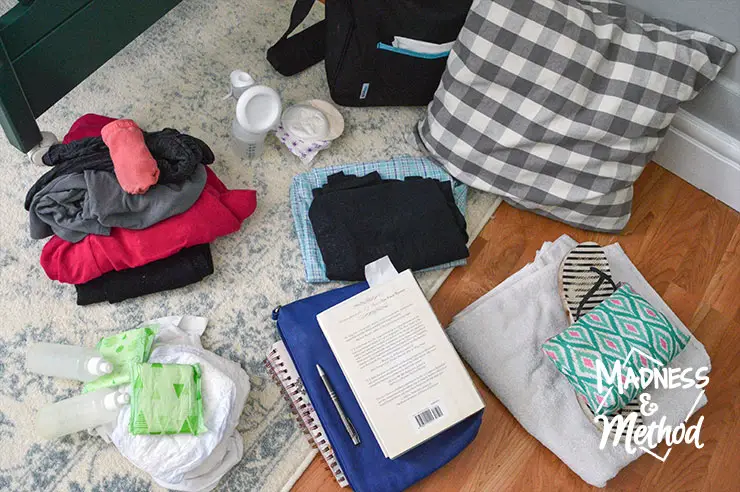 My Hospital Bag Clothing Essentials
First off, I barely remember what I packed the first time around.  We ended up having to get a C-section, and I was so out of it during the labour (and the days afterwards).  I'm pretty sure I just stayed in the hospital-given gown until they made me leave.
But the second time?  Oh man… I remember being so HOT in the hospital, and I hadn't thought to bring a wide range of clothing options.  So here's a more detailed list of what I'll be packing clothing-wise (other than the stuff mentioned above):
Pyjamas: t-shirt, pants AND shorts
Sweater with a zipper or cardigan (easy to nurse)
Seasonally appropriate pants and shirt to leave (similar to what you would wear when you go in)
Socks and easy to put on shoes (like slippers or sandals)
Outerwear (I'll most likely leave it in the car with the car seat because coats take up so much space!)
Oh, and you know how some people say to pack clothes in the size you could fit in around 6-months pregnant?  Don't!  Just pack stuff that you know will fit you now (ie: fully pregnant), because it will still fit after giving birth.
There's nothing more upsetting than packing clothes a bit smaller and not being able to get them on.  Ask me how I know :)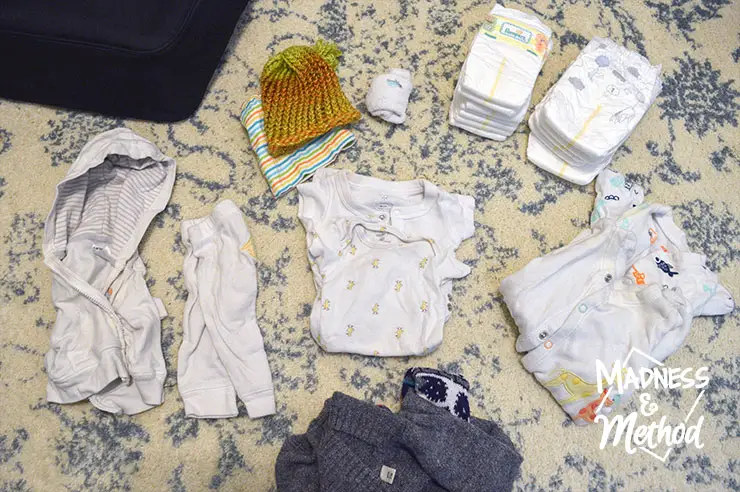 What to Pack in Your Hospital Bag (for Baby)
Ready to see what to pack for the baby?  This time, I'll include the list of what the hospital suggests, then I'll mark the items I'm adding with an asterisk*.
T-shirts
Sleepers
Diapers (*bring a couple of 'newborn' and some size 1 just in case – although our hospital usually provides all the newborn diapers you would need for your stay)
Baby Wipes
Socks/Booties
Hat
Sweater
Light receiving blanket
Car seat (only when taking baby home)
Nursing blanket(s)*
Possibly a small pillow for nursing * (like a throw pillow vs. a regular one)
You'll probably have to double-check with your birthing centre, but our hospital usually provides all the diapers, wipes and baby soap you will need.  They also put baby in a little outfit and hat and wrap them in a blanket too.  We've been given the hat as a keepsake both times but had to swap out the clothes and blankets before we left.
What I'm saying is, you might not have to go crazy and pack all.the.baby.things., but do make sure you have enough to keep baby warm.  Although, baby clothes are pretty little so wouldn't take up that much space in your bag.
OH!  And make sure to pack different sizes if you need.  Mostly newborn stuff, but maybe a size 0-3 months (which is larger BTW) sleeper just in case you have a chunky monkey :)  And, if the baby comes super early, they also have premie clothes. (But that's definitely not something you can plan easily!).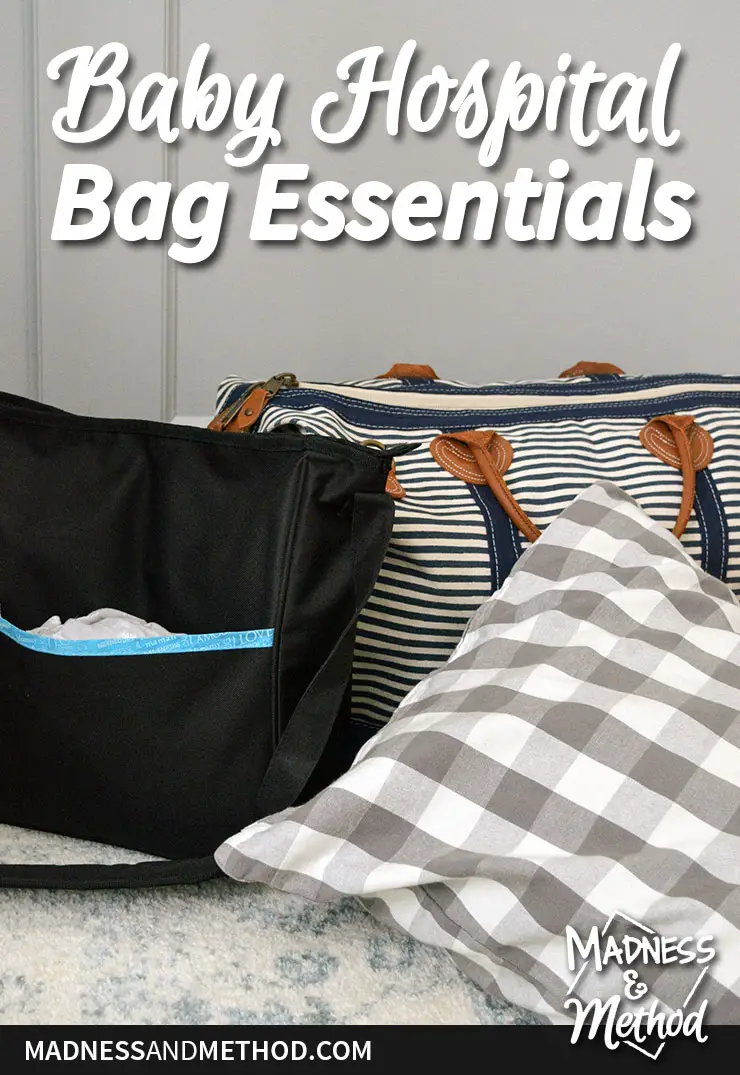 I hope these lists for both baby and mom come in handy when packing your baby hospital bag essentials!  Let me know if there is anything you brought that I didn't include, and/or if you thought some things I had weren't necessary for you.
I just checked out this packing list from Pampers, this one from Baby Centre and this one from The Bump, and they're all pretty similar!  (Although a water spritzer/sponge seems excessive… ha).
Packing for giving birth is like taking your normal travel stuff (which I have at the ready at all times) but then adding random baby things to the mix.  Instead of sand, sun and souvenirs, you get labour pains, bleeding/milking and little bundle :)