We're inching closer to completing the basement at the rental renovation (and by that I mean, having walls done so we can start putting things in).  And with each step closer, I've been trying to get things properly set up for us, as well as for our future renters.  Today I'm sharing our small back door entrance makeover that makes the perfect entry for renters, as well as some photos of what the space used to look like, and my plans for the future!
– This post was sponsored by Schlage Canada and may contain affiliate links.  Do you need to update your door hardware?  Check out the Schlage website for more entry door knobs, door locks and hardware! –
I was actually a bit apprehensive when I was taking these photos the other day because the back door entrance is not as beautifully set up as I would like.  I wish I could have painted the door frame so that it was more presentable/finished-looking, but unfortunately, it's the middle of winter and you can't really paint in the cold!  (Ha, although I did a bunch of research thinking that I would try… but at least I have a photo below showing what I plan for the space so you can see where I'm going).
Back Entrance Before
Once I was prepping this post, I pulled the photos of the back door when we bought the house, and it honestly looks so different today!

There used to be an enclosed patio area that was built between the garage and the house.  When we discovered the cracks in our foundation, we realized that the garage was actually falling forwards and essentially pushing this little structure towards the house.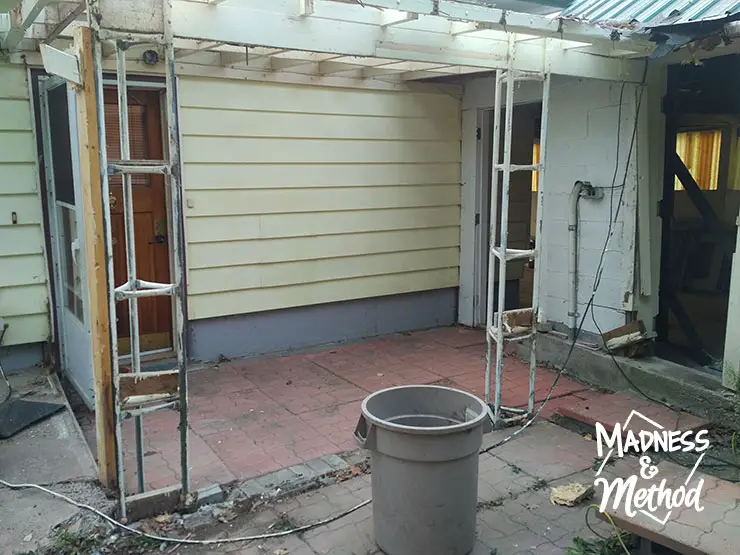 We had our contractors take it down (as well as brace the garage so that it's held up until we deal with it) and the area is completely open now.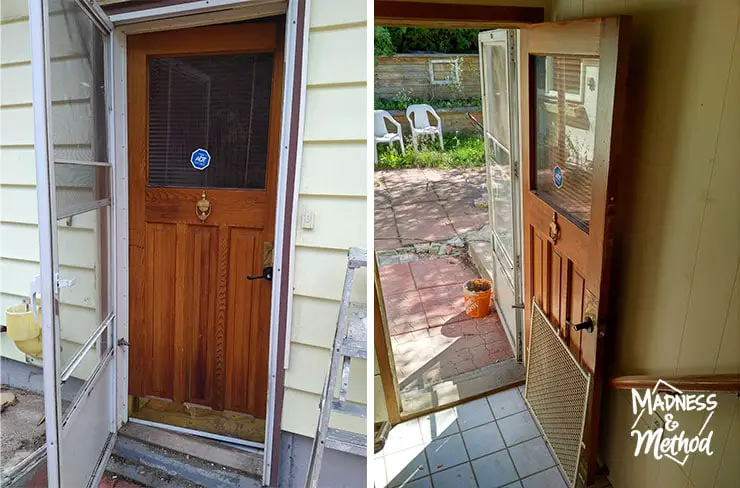 I'm pretty sure this back door is original to the house, and it definitely had a few issues when we moved in!  It was super tight in the frame (for a while you'd have to slam into it to open it… not ideal).  I trimmed a bit off of the frame, and I think our contractors had to adjust the hinges a bit because it was getting worse as the weather was starting to cool.  There was also a weird metal grate on the window, but we took that down almost as soon as we moved in.
Back Door Makeover
The good thing about the tight door was that people always thought it was locked!  For the most part, we kept this door unlocked, but also because we didn't actually have a key to the old doorknob.  I've mentioned before that it's a good idea to get the keys/locks changed when you move into a house, but we held off as we had lots of work to be done and I wasn't sure what we were doing with this door.
Because it's original to the house, it's not as energy efficient as a newer door and we were getting a bit of a draft along the edges.  And, hidden behind the little brass plate was evidence of a few extra holes…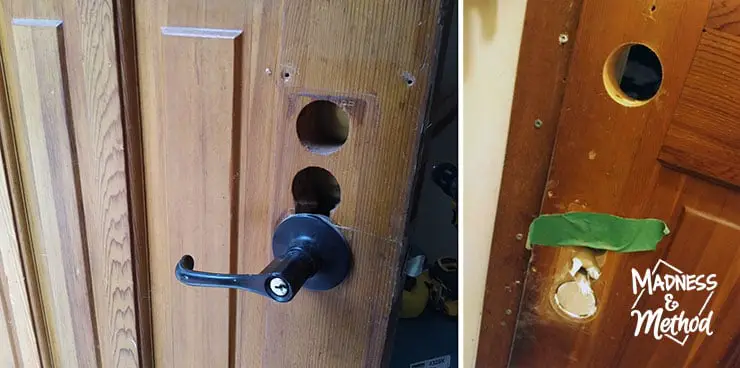 I knew we had to update the lock for the door, and decided to get the Schlage Keyless Deadbolt with matching Century Handleset which I was certain could hide some of the old damage.  Even so, I still had to drill my own hole for the new deadbolt and fill in the old holes I wouldn't be using (seen in the photo above on the right).
But more importantly, it's actually the perfect lock for our needs and I knew that having a keyless option would be great for renters.  It's so much more convenient than having to get a bunch of keys for the different renters (or when we decide to do short-term rentals of our basement space).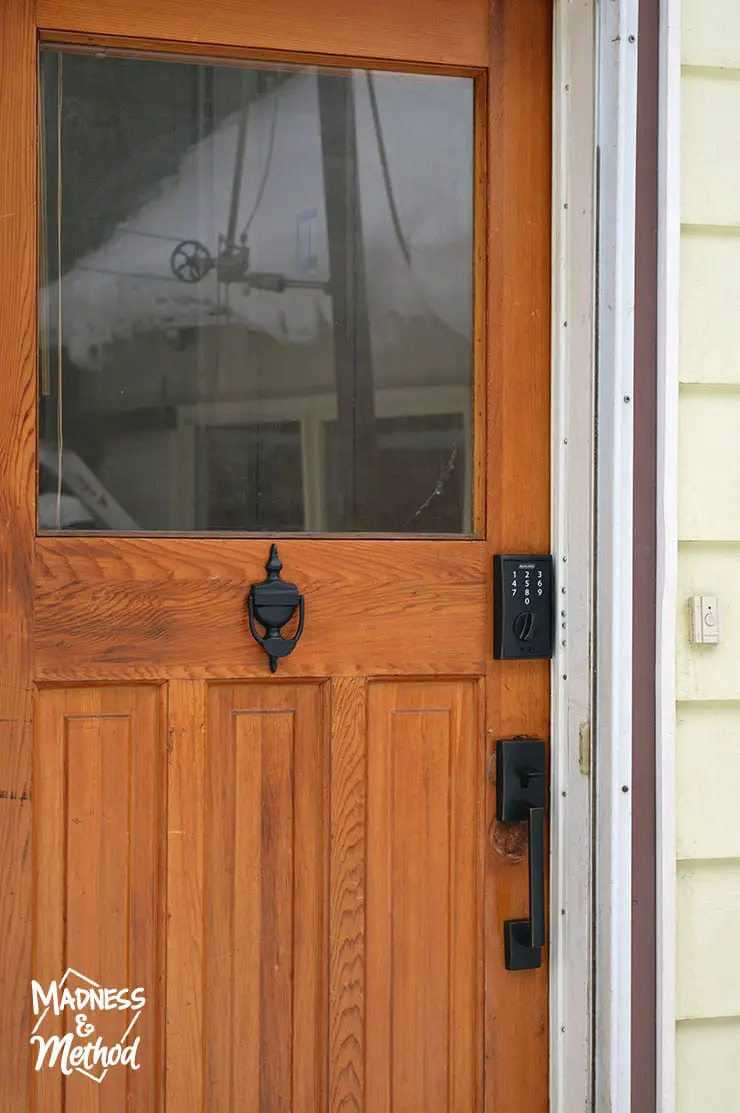 I installed the Schlage Keyless Touchscreen Deadbolt perfectly centered along the horizontal break of the door and positioned the handleset in the top original hole (which I still had to enlarge to fit).  That way, the bulk of the old hole patch is covered, but I still tried my best to fill in and stain it to match the door :)
Oh, and you may have noticed that I also painted the brass door knocker too, ha!  I took off the brass kickplate at the bottom and was going to paint that as well, but I do like the look of the door without it.
The Schlage Keyless Deadbolt has already come in handy with our contractors as they are able to get in and work on the basement.  Once all their stuff is completed (I'm hoping early January!), then we can easily change the code without having to go through the hassle of switching the locks and making new holes :)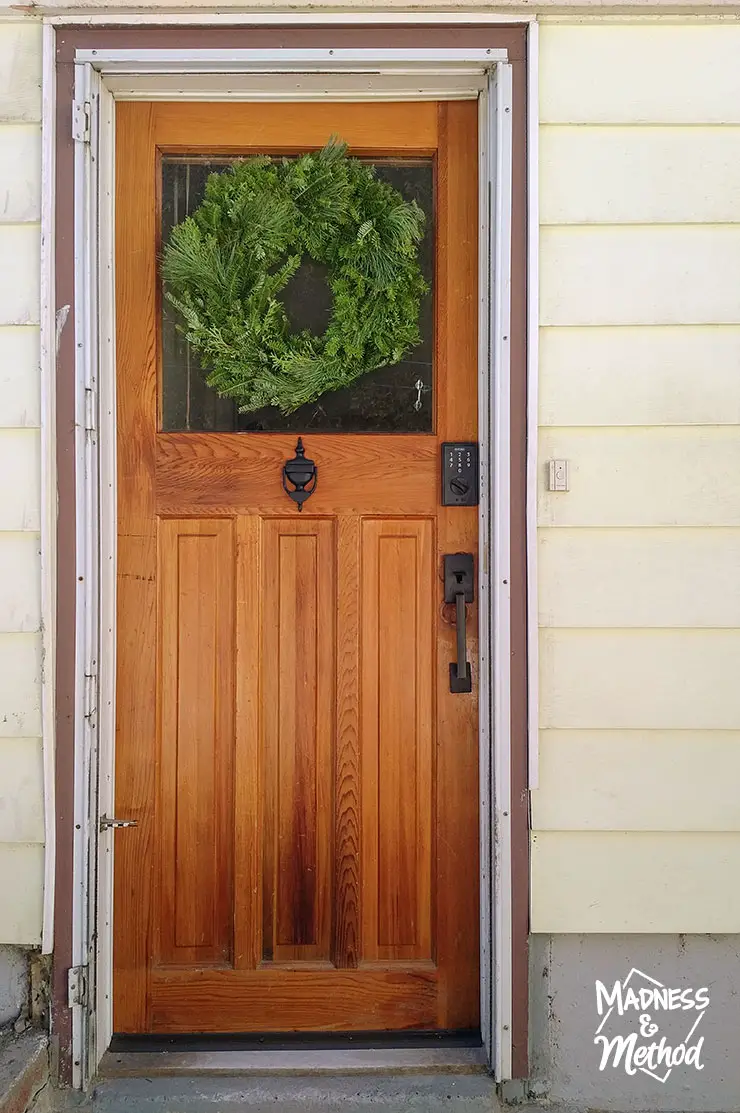 Adding Weather-Stripping to the Door
I mentioned that the door wasn't as efficient as it could be (oh, and I should also say that there is still the storm door that needs to be added back, but it was removed when they were bringing all the drywall sheets down!).  At one point I even looked into replacing the door completely (when it was at its super-stuck-you-couldn't-really-open-it stage), but it's such an awkward size, that it was nearly impossible.  It's actually the door frame itself that should be fixed, but winter hit us early this year and I didn't feel like having a big hole in the house while we replaced it and the door (plus, the original wood door is just so charming!).
So I ended up just picking up some foam weather-stripping tape, a similar v-joint weather-stripping tape and a new threshold for the bottom of the door too.  You could see a lot of daylight within some of the cracks, and now everything is tightly sealed and ready for winter!
And decorating the door for winter helps make it look extra nice too!
Oh, and want to see how I envision this doorway to look once we have some time (and weather) to devote to the outside?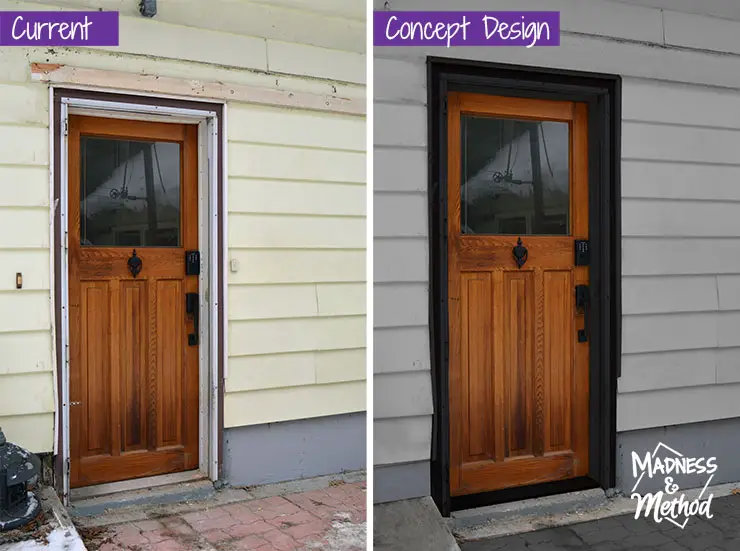 I really want to paint the frame and bottom threshold black to match the nice Aged Bronze hardware, but like I said… winter happened!  And, since I made this mockup of how it could look, I also went ahead and "painted" the siding gray and updated the red patio stones (which we will eventually remove).
Although, I think that I might be able to move the storm door into the house and paint that black, so at least it will look a teensy bit better when it goes back on.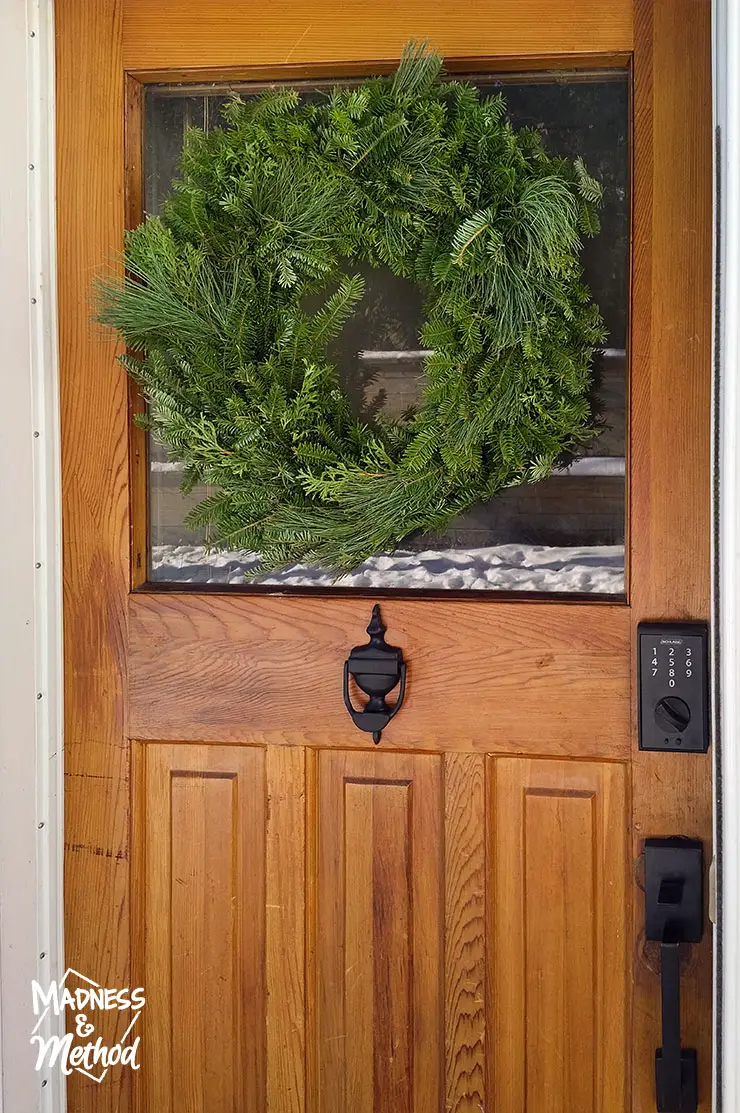 A great tip I read for people who do rentals (especially short-term, like Airbnbs) is to get a keyless lock and program the code to the renter's phone number.  It's much easier for them to remember the code, and you don't have to worry about dealing with keys.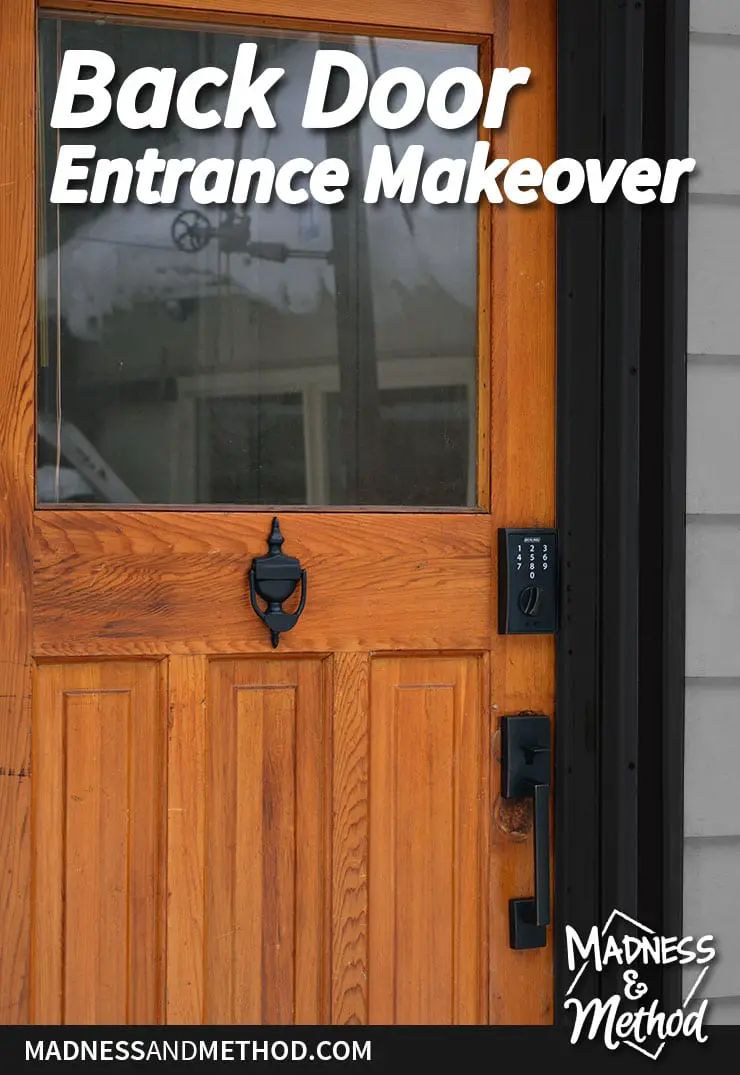 Either way, I really like the look of the new Schlage Keyless Deadbolt and Handleset and am satisfied with our back door entrance makeover for now.  You'll definitely have to come back once we update the rest of the area because I know it's going to get even better :)
(And yes, the photo above is another mockup of what it will look like, ha!)