I'm back again with another post on our potential yard updates; and this time, I'll be tackling my plans for our vegetable gardens and backyard configuration.  And once again, the Husband thinks everything we have is perfect… but you can always improve!  The snow is 95% gone from our yard (it's all gone from the front, but there are some shadowy areas in the back that are still covered) so I thought it would be a great opportunity to check out what we have to work with.  And just a reminder, my plan is to build some raised garden beds for our veggies…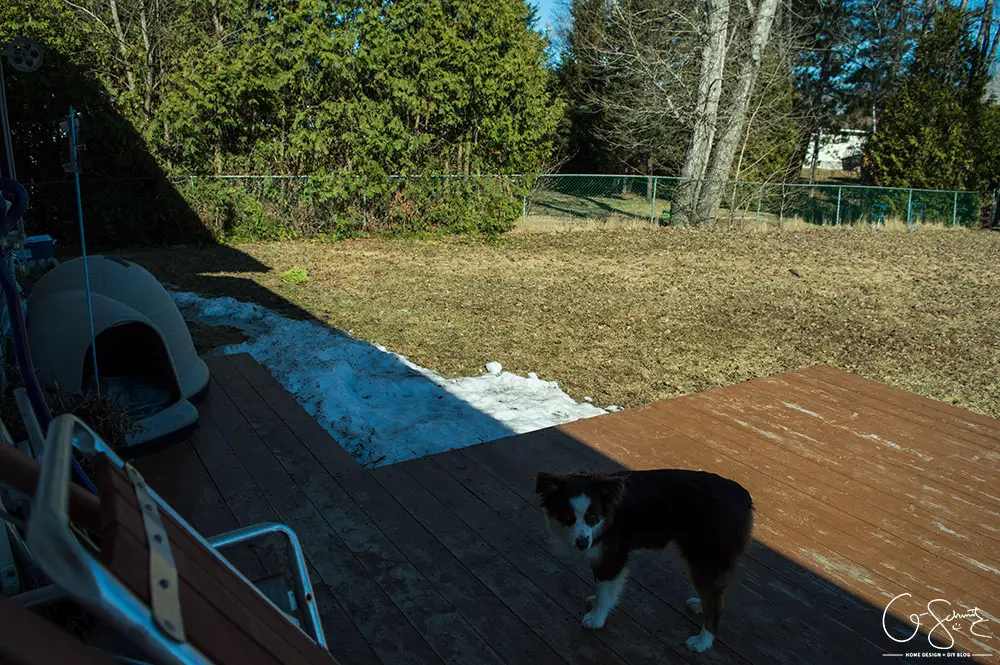 We have a deck that is accessed via sliding doors off of our dining room, and to the left we have a blank canvas of grass to work with.  I would love to put our raised garden beds here (there is easy access to the hose), but unfortunately this area gets the most shade from our house.  In the afternoon, the neighbours' trees also create some shade (that is the West side, FYI).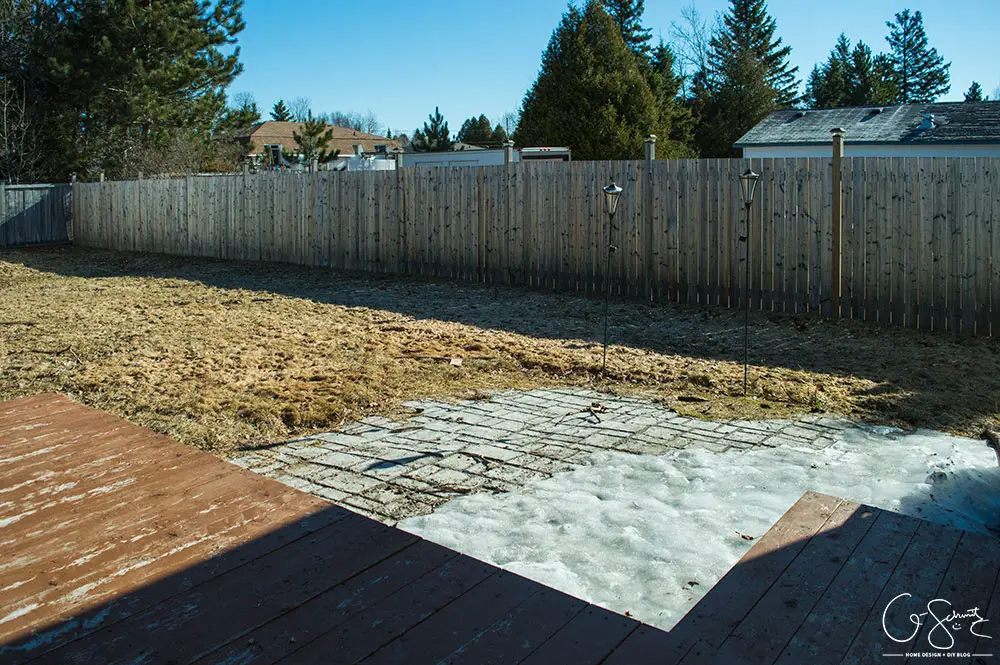 To the right of the deck we have a nice wooden fence that provides another great space to have potential built garden beds.  The sun would only be blocked in the morning time, so this is always an option.  However, I'm not sure where I would start and stop the garden (and an over 50′ garden might be a bit excessive!).  You can see our concrete patio that I was mentioning last week when I was discussing the front walkway plans.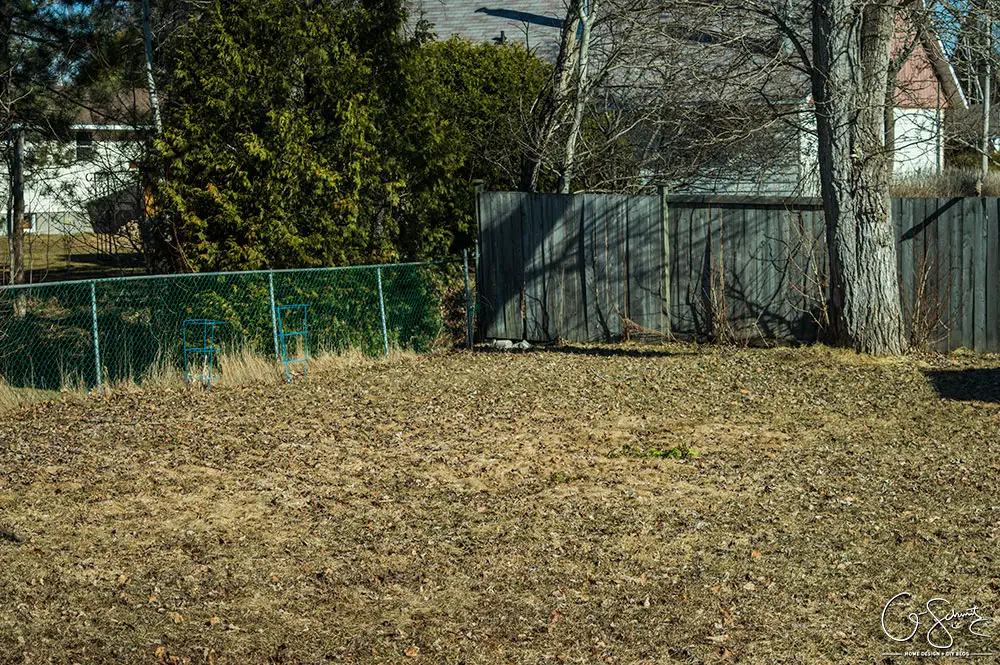 Last year, my lovely Mother planted us a little veggie garden (see it along the fence in the photo above?); it had two tomato plants, a zucchini plant and a cucumber plant.  They all grew really big, and the small 2′ x 8′ space just couldn't accommodate them all (the zucchini plant took over the cucumber plant).  This was a good spot since the light hit the area for most of the day, but I didn't like that the grass started to grow back into it (and I hate weeding!).  Now that we have a dog, I feel like our only option is to build a raised garden so that she can't eat our plants (and also, so there will be little to no weeds and grass!).
Pin: Garden Bed Along Fence      Pin: Raised Bed on Fence
I had found some great resources on Pinterest showing some raised garden beds that were along a fence.  But again, for this summer we are probably just going to start small and build something a bit easier.  I had to then do some research on how to actually build raised garden beds, and found a few plans.
Pin: Raised Garden Beds      Pin: DIY Raised Planter
This morning, I went out in the yard and started measuring where all our obstacles were.  The last few days, I've been trying to have a look outside at different times to see where the shadows are.  Of course, it would be easiest to just build our garden in the middle of the yard, but that's not very practical in terms of space (what if we want to set up a badminton net or something?).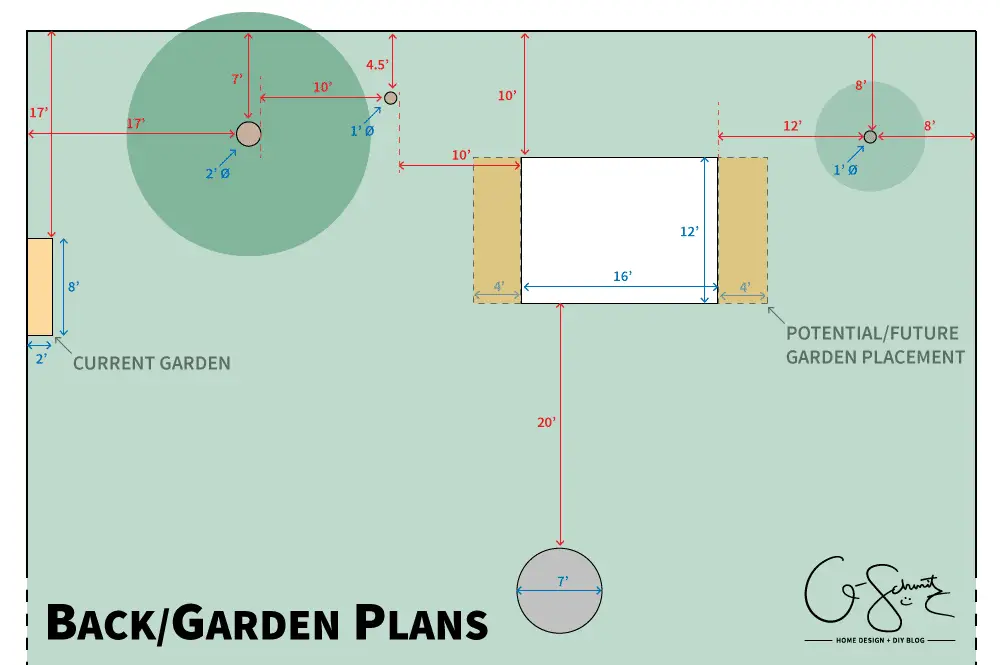 In the graphic above, you can see the dimensions of the various things we have in our yard; and I've also shown where our current garden is (along the fence on the left).  I am thinking it would be most space-effective to have our raised gardens flank either side of the shed.  Assumingly, they would get the same amount of shade, the one side would get the morning shade, and the other side would get the afternoon shade.  The only problem is that I have no idea how much shade our tree creates (since they leaves haven't come in yet) so I just made a pretend radius of what I thought it would be (although I think it is much larger than that).  Notice the little radius on the right side of the shed?  We planted an evergreen tree (maybe a pine?) and it's still a little baby, barely 6″ tall… that radius is again my assumption of its size in the future (at least 5+ years from now); but of course, you need to plan for everything!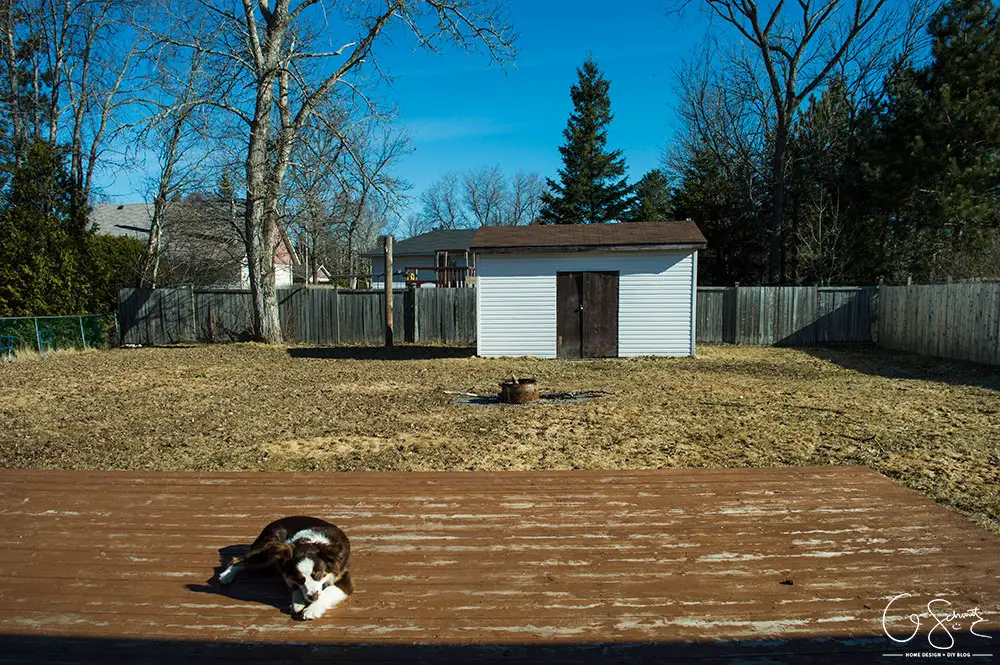 So here's a picture you can use to compare the top-view plan to what we actually have.  I'm thinking I'll plant the same veggies in both gardens to compare which is in the most optimal space; then maybe next year, we can build more raised beds on whichever side is best.
Update: Our backyard is looking pretty different …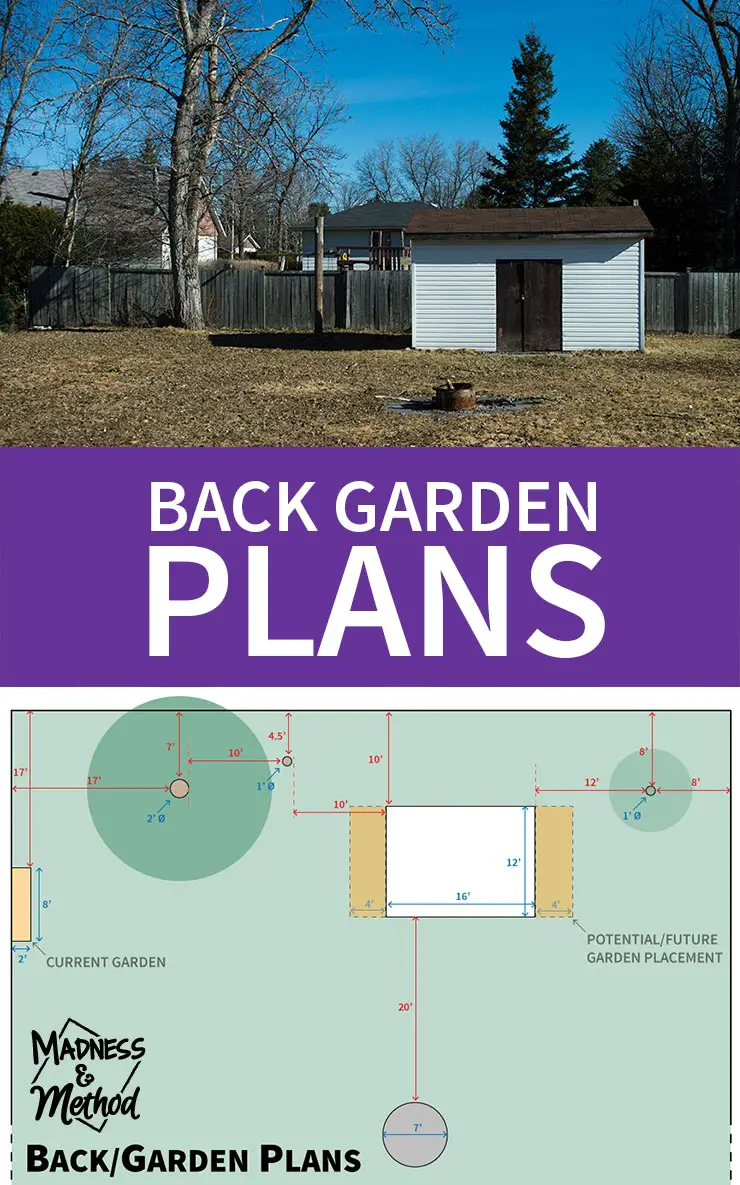 Stay tuned for more information on our raised garden building adventures; and feel free to comment with your thoughts on some good garden placement ideas!