We're done working on the backyard this summer.  No, I didn't say "done" as in done-done… but definitely done for this summer.  It seems like updating the yard is a never ending task, so rather than spend the entire year working on projects solely based on aesthetics, I figured we might as well stop and enjoy the fruits of our labour, right?  So let's take a look and see what was accomplished, shall we?
During the month of April + May, I had blogged about the projects we would be tackling in our yard this summer.  This included the following plans:
But first, let's go back to what the backyard looked like before:
Oh yes, that squishy spring grass really makes everything look dreary doesn't it?  While we hadn't done any major overhauls to this view, we did manage to scratch off one item from our list, which did fix it up some!
That's right; our first completed DIY project involved building our raised garden beds along the shed, and then subsequently filling them and planting our veggies.  Today I report that our veggies are doing well (except for the replanted lettuce butt, which may have died because we didn't water it?).  Oh well, we can try that experiment again next year!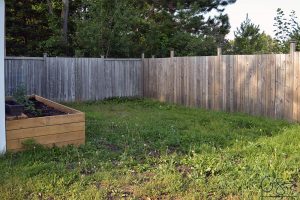 Yes, we even have some tomatoes that are starting to turn orange :)  I can't wait for everything to continue growing.  (It's weird, some blogs I read from the States are already mentioning having veggies grow and finish their seasons, and it seems like ours haven't even started yet).
Anyways, then the next major project we tackled was the actual deck area which included a few different DIYs.  The original "future" plan was as follows:
The future is now people!
First, we purchased and installed deck brackets to make a straight bench (location as shown on the diagram above) and also a nice corner bench (also on the diagram).  This really added a great feature to our deck, and we have gotten a lot of compliments on this project.
Then, we added a step to get onto our deck and stained all the deck surfaces.  Instead of building two steps (like the diagram shows) we only did the one section, which ended up measuring 5′ instead of 4′.  We decided NOT to add the step closer to the house, because that ground level was much higher to the deck than in the front, so it was pretty much step-height at this point.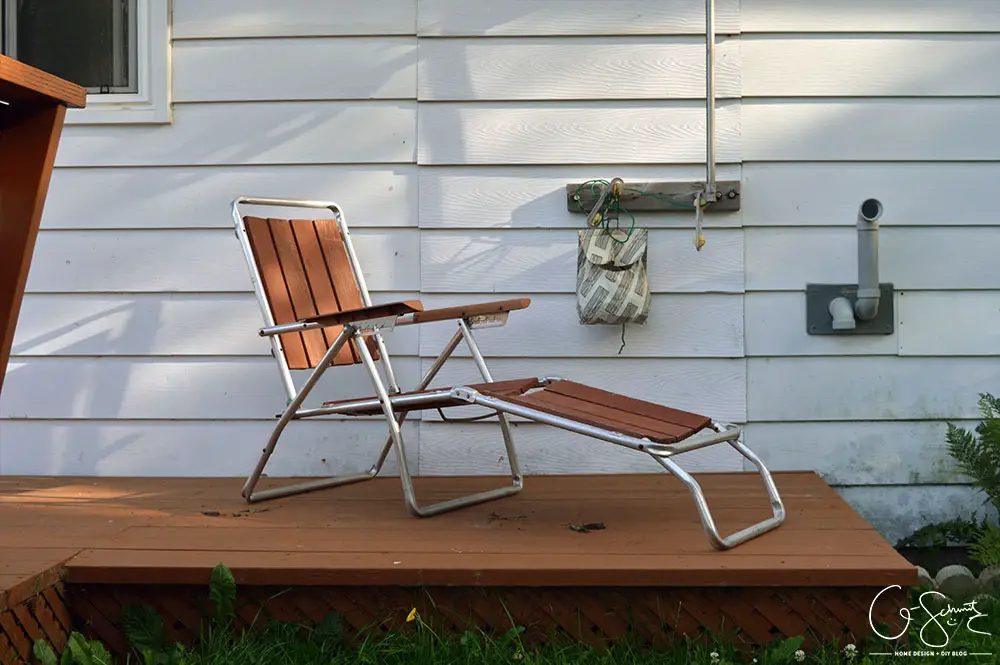 This is the same area that we had our BBQ on last year – but we've since left it at the lower/concrete level and I have this lounge chair in place.  Also notice how the grass (I should say weeds) has not been cut in a while?  Ya, you remember I'm busy right?  Plus it's super-hot out, so I'm staying inside tonight as much as I can!
Although we did have wood leftover from the projects we worked on, and I did want to create some nice DIY planters; I just didn't have the motivation to tackle this DIY project yet.  There are some things you work on that are super easy, but take a lot of time; and there are others that require a bit more thinking.  The planters would fall into the second category.  So instead of coming up with a great design on how to build custom planters, I simply used what we had from last year.  (Remember the ones that were on the deck when I was cleaning up before staining?).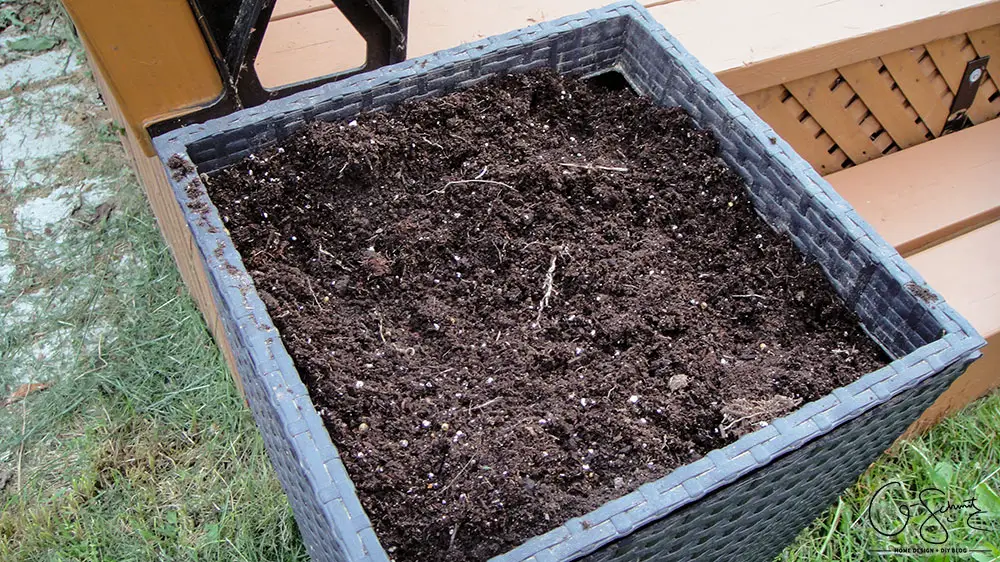 These were some great cheap planters (that we even used as décor at our wedding!), and they just happened to be filled with dirt from last year!
DIY/PRO Tip: When I filled these last year, I used my sneaky/frugal method.  Rather than fill an empty planter with dirt all the way, which would waste a lot of dirt, and be much heavier to move around; I simply place an empty plastic plant pot (aka the ones you get for free when you buy plants) upside down, so that the dirt goes around it, but there's an empty area filled with air under the pot.  Does that make sense?  If not, let me know and I can make a diagram or show pictures or something.  This works great for planters that are super tall, because there's no way you'll ever need that space at the bottom, and the plant roots should never get that long either.
So we have two tall planters that I placed on either side of the deck step (and also help guide people to the step in case they don't see it right away).  We were at Costco buying things when I noticed this plant (which would go perfectly into these planters); but the Husband was being all kinds of weird and only wanted to buy one.  One plant.  For two planters!  I didn't want to argue, (since I had already forced him to go to Costco – which he doesn't like) so we brought it home and I literally had to hack away at the roots/branches to split it in two even sections.  I was so worried that it would die from the mutilation!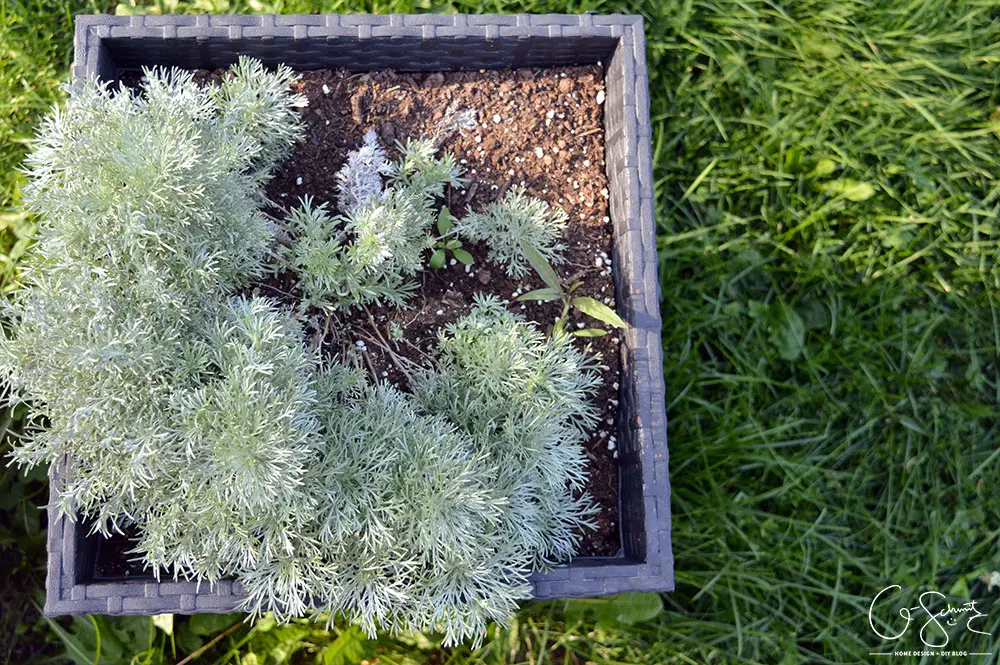 Well I'm happy to say that after a few weeks, they haven't managed to die yet.  Although, the plants do kind of look weird because they aren't nice little circle shrubs anymore.  Does anyone have experience with plants in planters?  These are supposed to come back every year, but is there some sort of way I'm supposed to take care of them in the winter?  Last year I left everything out and they all died (and I was sure they were perennials too…).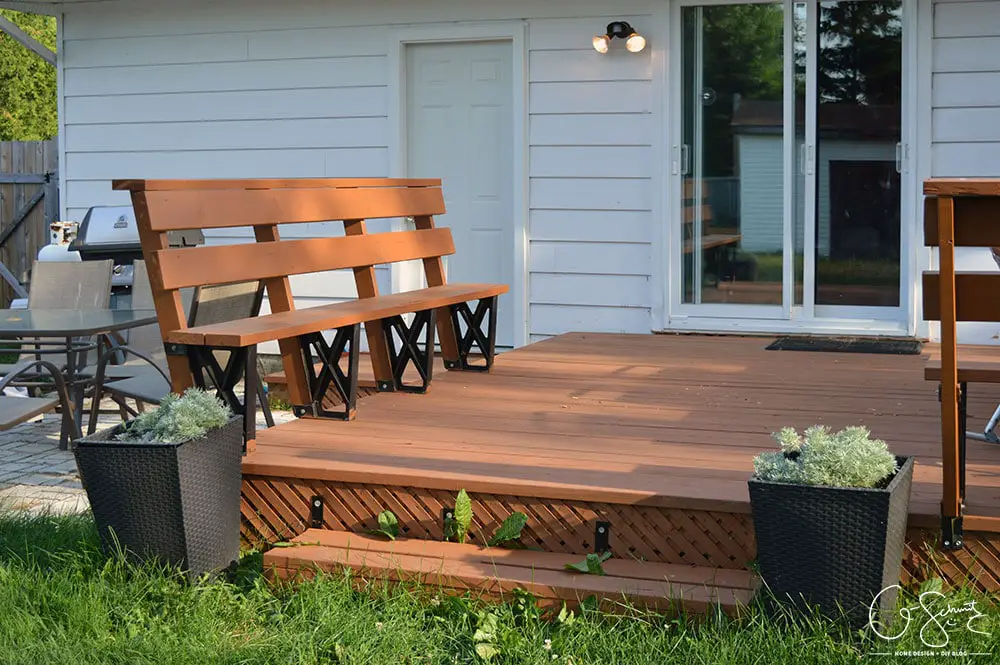 Anyways, back to the backyard "reveal" – which is just my fancy way of saying we're done for now, as mentioned way above.
The final project we added to our deck was the custom patio table, and I really do think it helps tie everything together.  This was definitely more of a project that falls in the "super easy but takes a long time to do" category.
I mentioned that the side yard plans were semi started?  Remember when we clumsily added the hardware to our main gate… but that the closing clasp since broke off?  Well, we still have not fixed it, so the gates are being held shut by a cooler we need to throw away.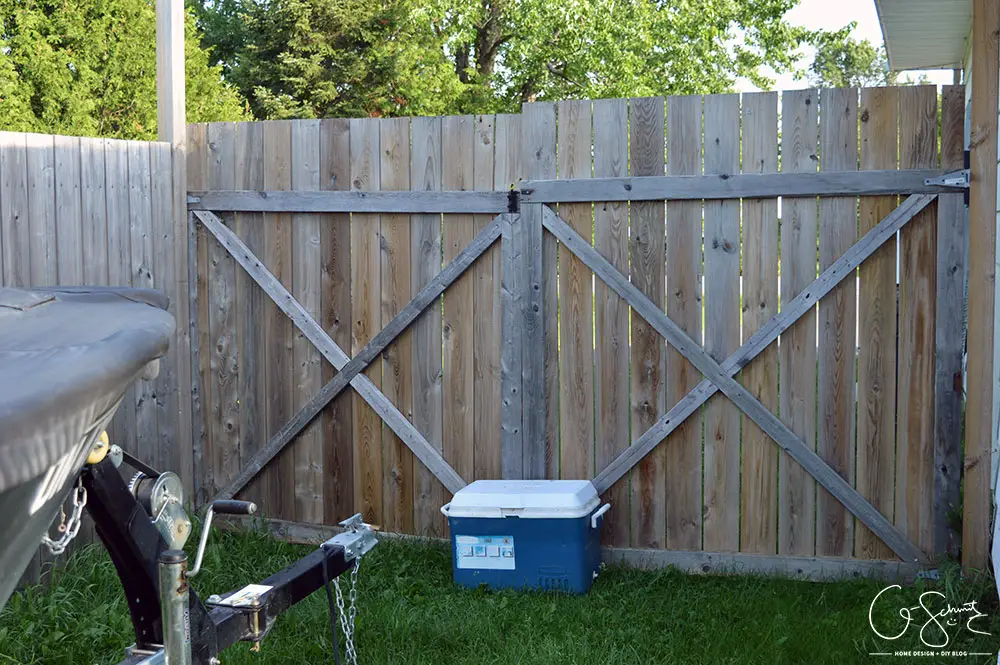 Talk about a failed DIY!  And no, I don't think the cooler could save us from people coming in our backyard, it's more to prevent the doors from swinging open and closed and our little Tootsie running away.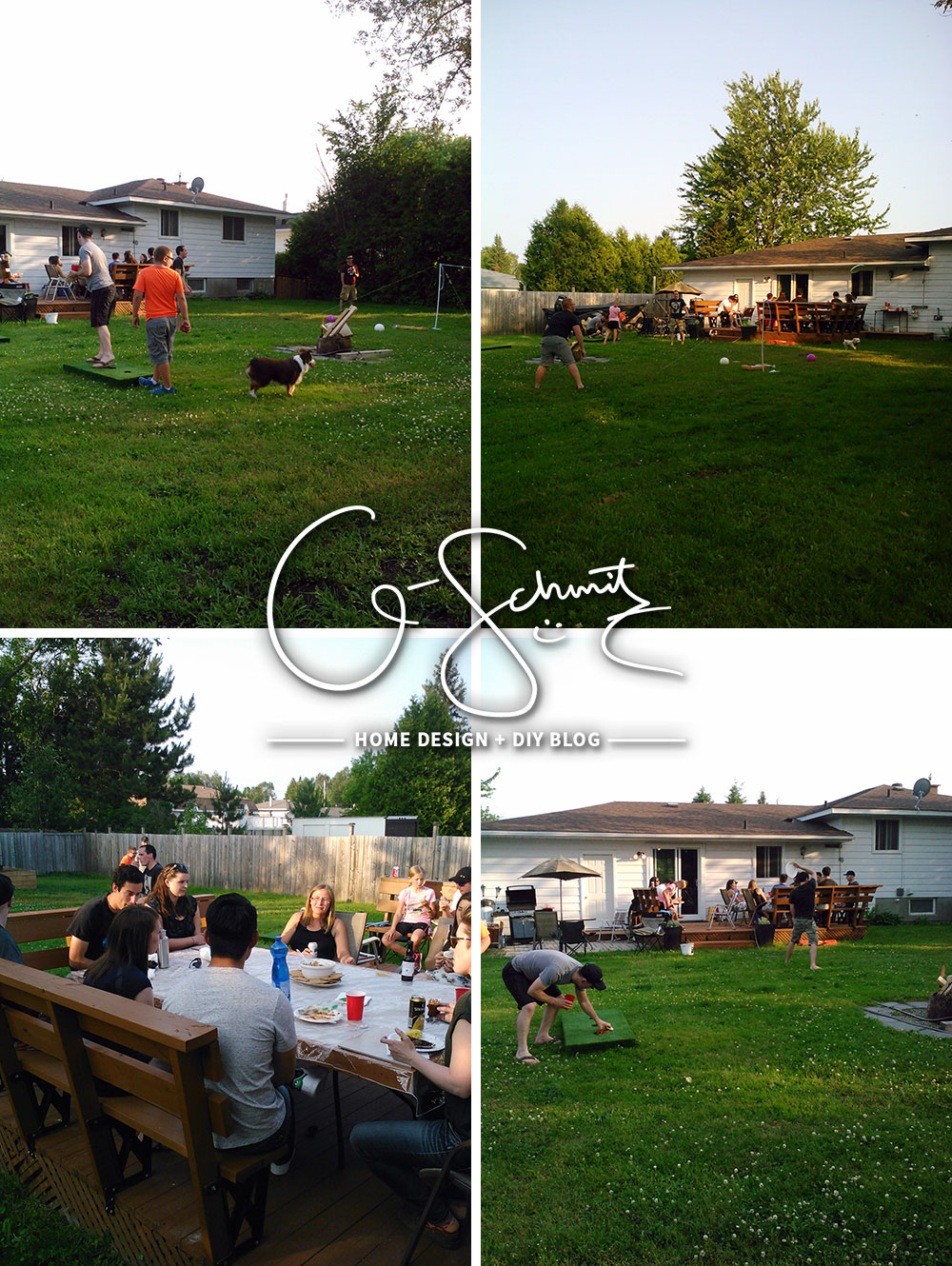 I don't actually have any good photos showing an overview of our back yard.  And because I'm too lazy to go take pictures now (and by that I mean: mow the lawn and clean up the yard), I decided to show a mashup of images I took on my cell phone from a barbecue party we had a couple weekends ago.
Okay, I didn't actually ask anyone if they were fine with me taking their photos and posting them online, but that's gotta be a given when you visit a blogger's house right?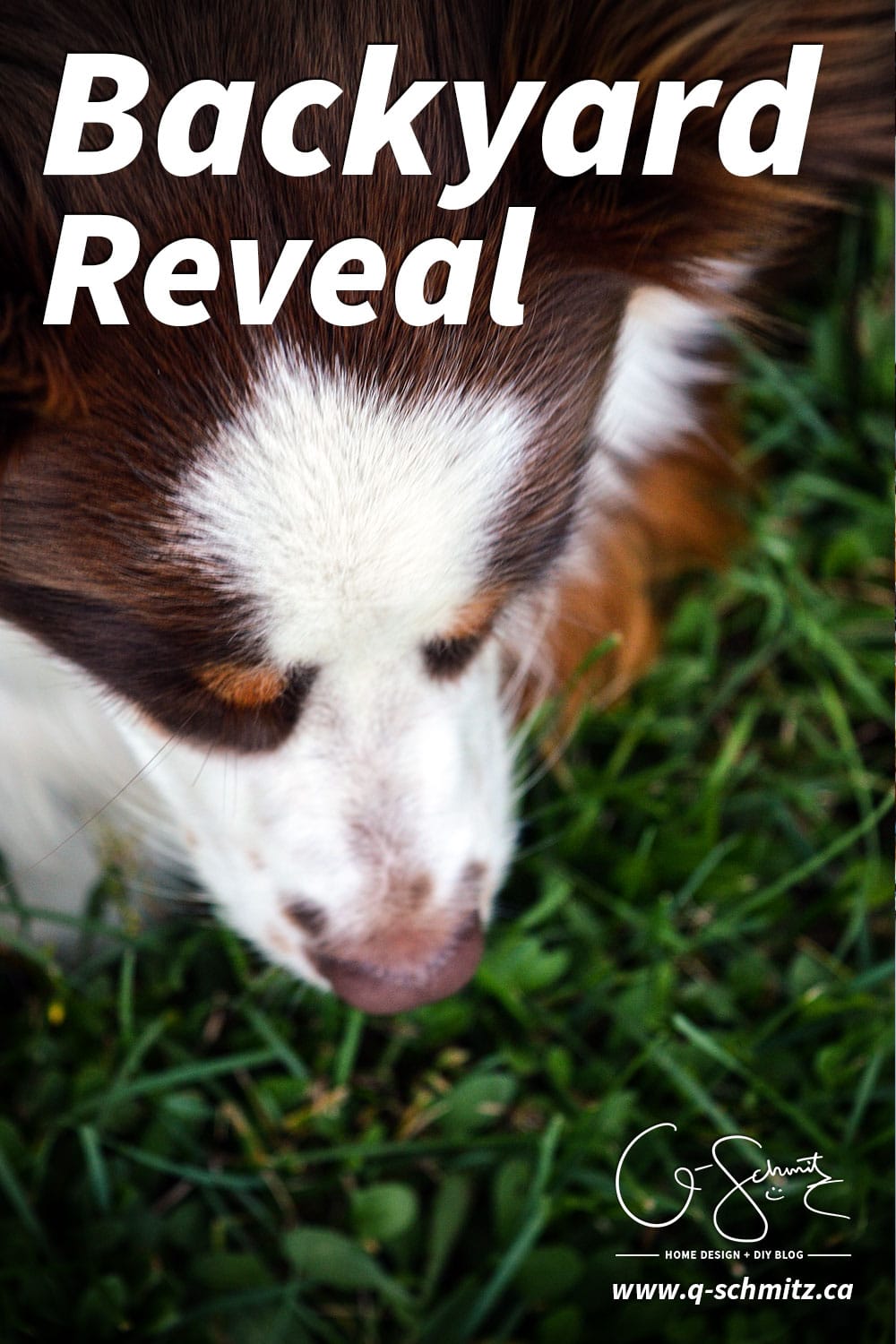 And so I leave you a close-up of Tootsie and one final question.  Since we only have one month left of summer (I'm assuming it will be cold in September… but we may get warmer weather beyond August), which project should we tackle first: the side yard (on the left/west side) or the front walkway?  I'm thinking the side yard will be quicker and less labour intensive; but I've been wanting needing to fix the front walkway for a long time.
As always, let me know your thoughts in the comments!