I'm SUPER excited about this post because it's a simple update that made a big difference in the visual appeal of my brother's bathroom.  Using spray paint I was able to do a dramatic bathroom counter transformation, and I'm going to share the process with you (along with some warnings/disclaimers too).
– Note: This post contains affiliate links. See more information about affiliates here. –
As a reminder, I am updating my brother's bathroom as a linking participant in the One Room Challenge hosted by Linda of Calling It Home.  Twice a year, 20 featured bloggers transform a space in 6 weeks, and other bloggers get to join in on the fun too!  I say fun, but of course there is a lot of blood, sweat and tears.  Thankfully, I'm a little less crazy ambitious this year, and we decided to do a bathroom makeover rather than build one completely from scratch.
I shared the before pictures and design plan in week 1; and the demolition and progress in week 2.  We have a BIG list of things to update (trying to keep as many original things in the room as possible), so I'll just update everyone on all the new things that have been completed.
AND just to make it a bit more interesting, my brother lives 6+ hours away from me, so we've had to get as much done as possible when I go down to visit him.
Here's what we've completed so far:
Remove mirror (save to put back up after)   Can't do this
Clean floors
Paint floors gray
Fancy floor paint
Reinstall mirror
Paint countertop (+ clear coat seal)
Clean and paint register
Before we painted, we realized that the mirror was glued to the wall.  Because we would be putting it back up in the exact same spot, we decided to keep it up and paint around it.  Two less tasks to do :)
Bathroom Counter Transformation
Today I'll be highlighting one of my amazing sponsors for this bathroom renovation project.  I've worked with Krylon on a couple of posts before, and I really wanted to try one of the textured sprays for the counters in my brother's bathroom.  (Check out the other project sponsors highlighted at the bottom of the post!).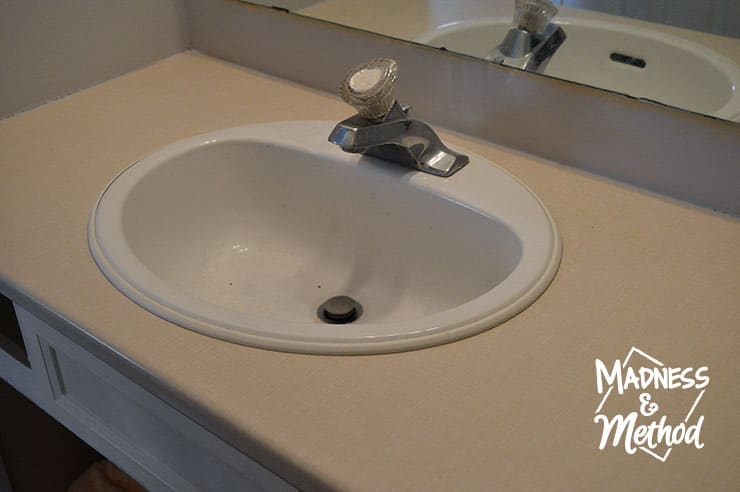 I gave the plain laminate counters a good cleaning and made sure everything was dry.  Fun fact: the counters had the exact same pattern/material as the doors on the vanity cabinet…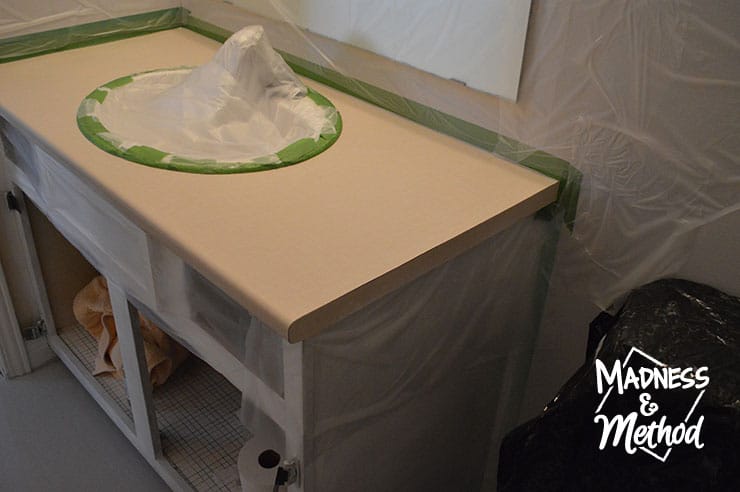 I then taped around the sink and edge of the counter and covered the outside area with my trusty peel and stick.  Tip: Make sure the surrounding coverings are also taped at the edges near the counter.  I did have some peel/fly up near the edges where I was spraying, and it was much more difficult the tape it once it was covered in paint :)
Materials Required
Painter's Tape and plastic to cover areas
Exacto/Utility knife
Piece of cardboard to hold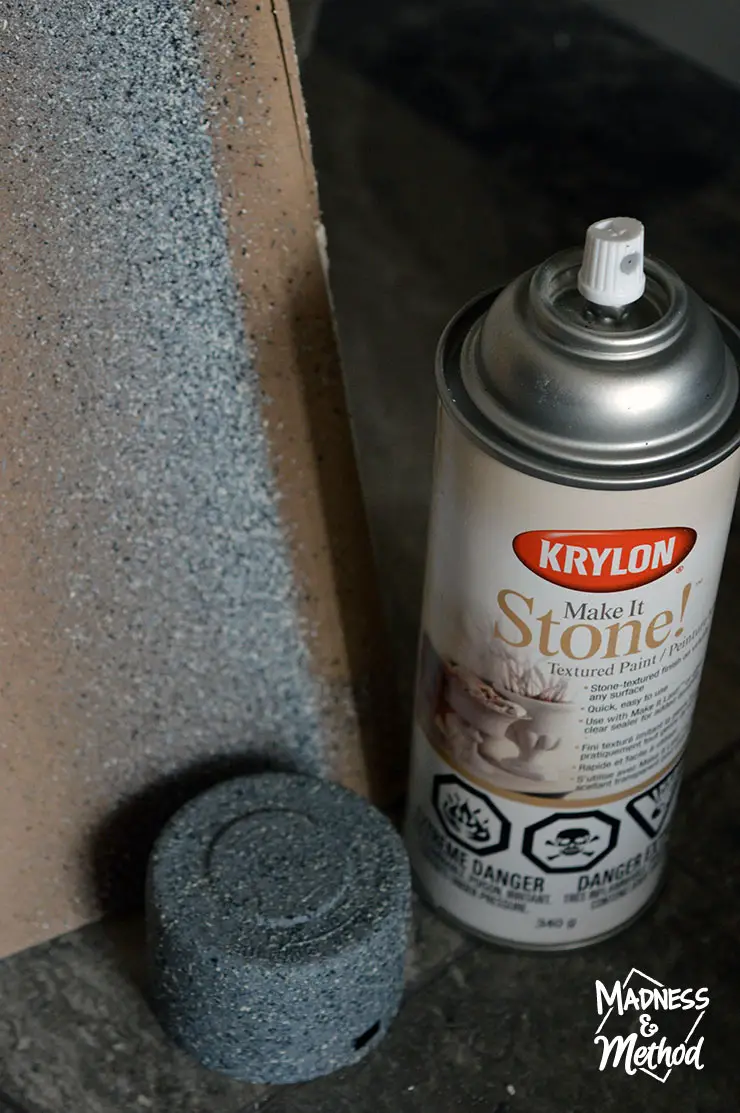 I used Krylon's Make it Stone! Texture Paint in Black Granite, which is actually a nice medium gray colour.  I followed the instructions on the can (only shaking for a few seconds and holding it a bit farther than normal spray paint) and also had a piece of cardboard in my opposite hand to catch any overspray (and by cardboard I mean a random piece of drywall).
Buy Make it Stone! Texture Paint in Black Granite online here or here for a bit cheaper

Don't worry, the first coat isn't going to be perfect.  You're supposed to do multiple thin coats, and each coat will fill in any patches.  You can respray after 15 minutes, but I found it best to wait about 30.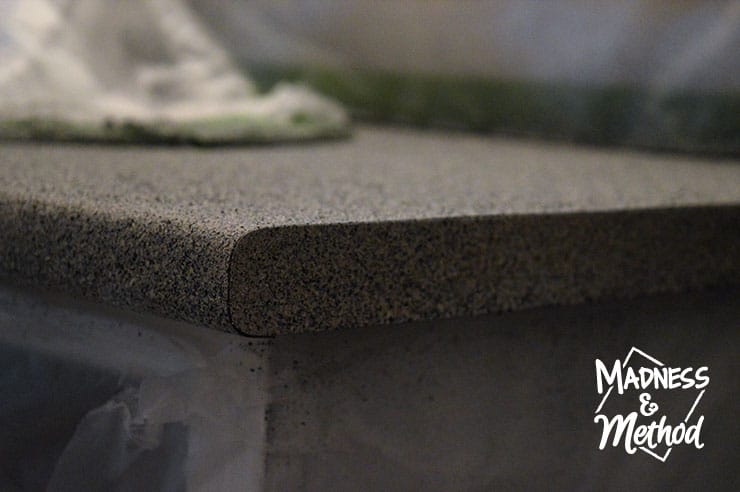 You definitely don't want to spray too closely, because sometimes it will move your little "stones" around.  (I believe the stones are actually just little clumps of paint).  I tried to go all around the edge of the counter, but didn't worry as much on the parts that people wouldn't see :)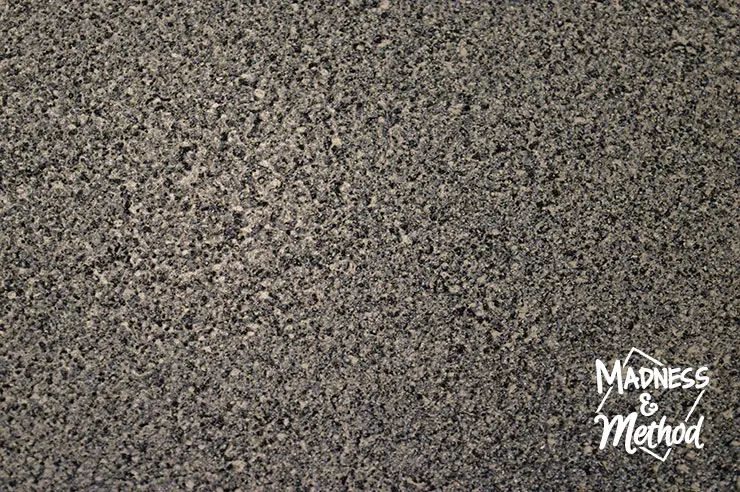 Like the can mentions, you will probably still be able to see a bit of the undercoat (ie: the original beige counter).  If you have a super bright surface you're trying to hide, it might be better to paint it a neutral colour ahead of time.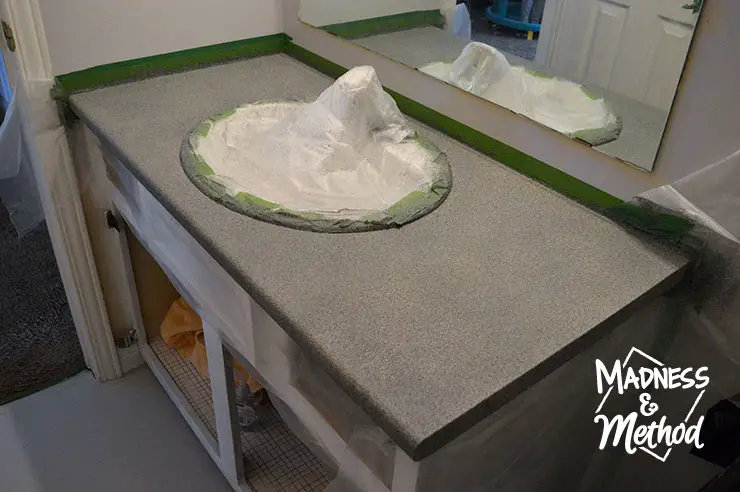 Once you're happy with the coverage, leave everything dry properly for another 6+ hours.  I think I did 3 or 4 coats and let it set overnight (I used one entire can).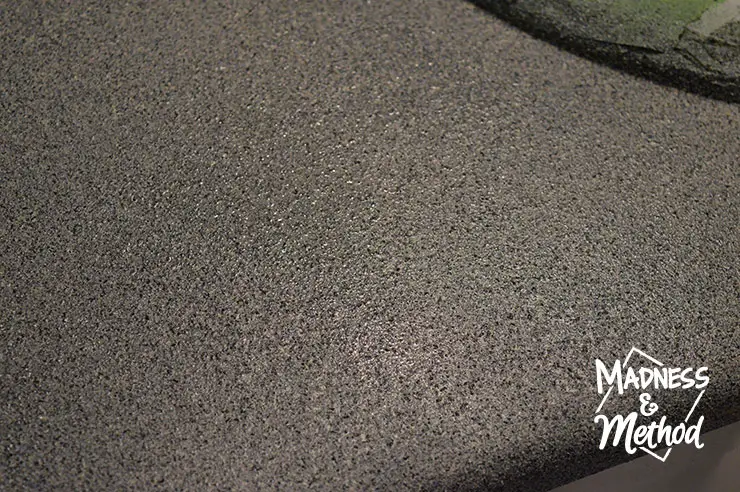 The next day, I gave the counters a few thick coats of the Make it Last! Clear Sealer.  I should note that the Make it Stone! Textured Paint didn't actually smell super strong (more like a regular paint maybe?) but the sealer was more similar to a traditional spray paint.  We had windows/doors open and a fan blowing, and it wasn't too bad.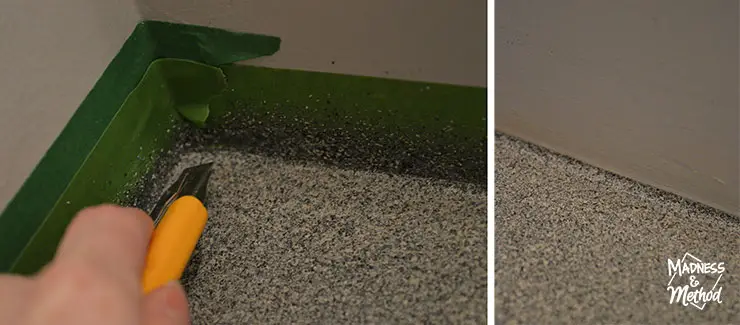 Finally, once that was dry, I removed the painters tape along the edges and carefully peeled everything away.  I honestly had more issues with the tape for this project than the paint!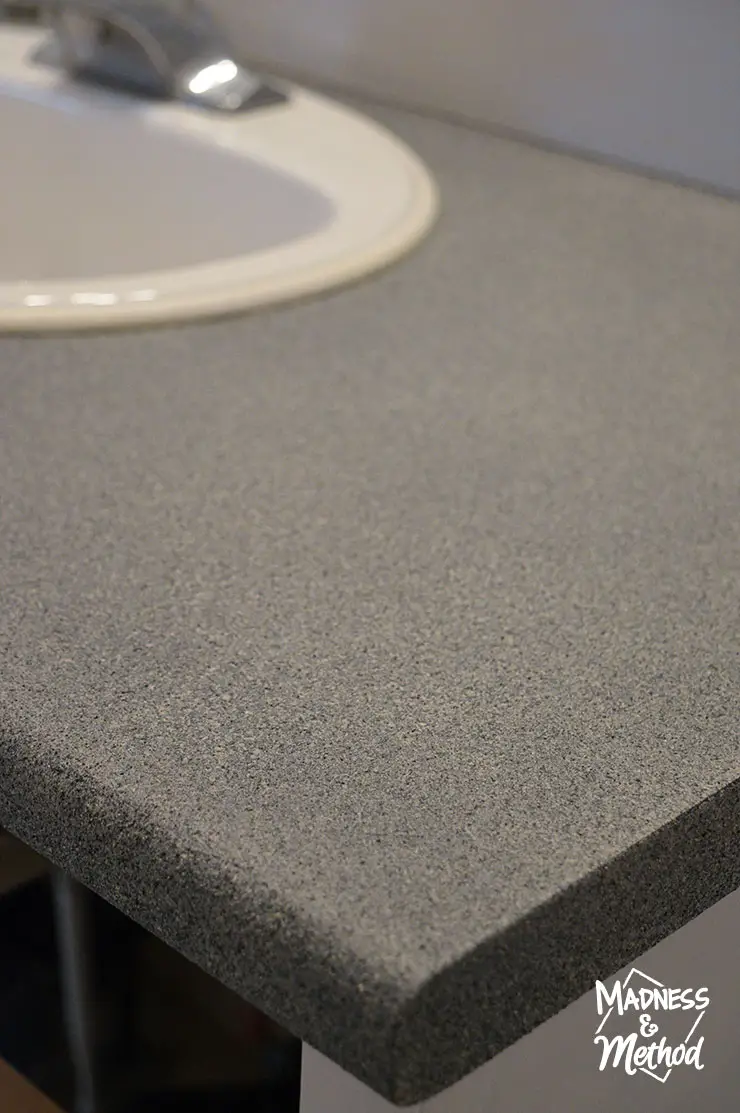 AND IT LOOKS AMAZING!  After the second coat I even bumped a small area and exposed the bare counters.  I just gave it another extra spray or two and it blended in perfectly.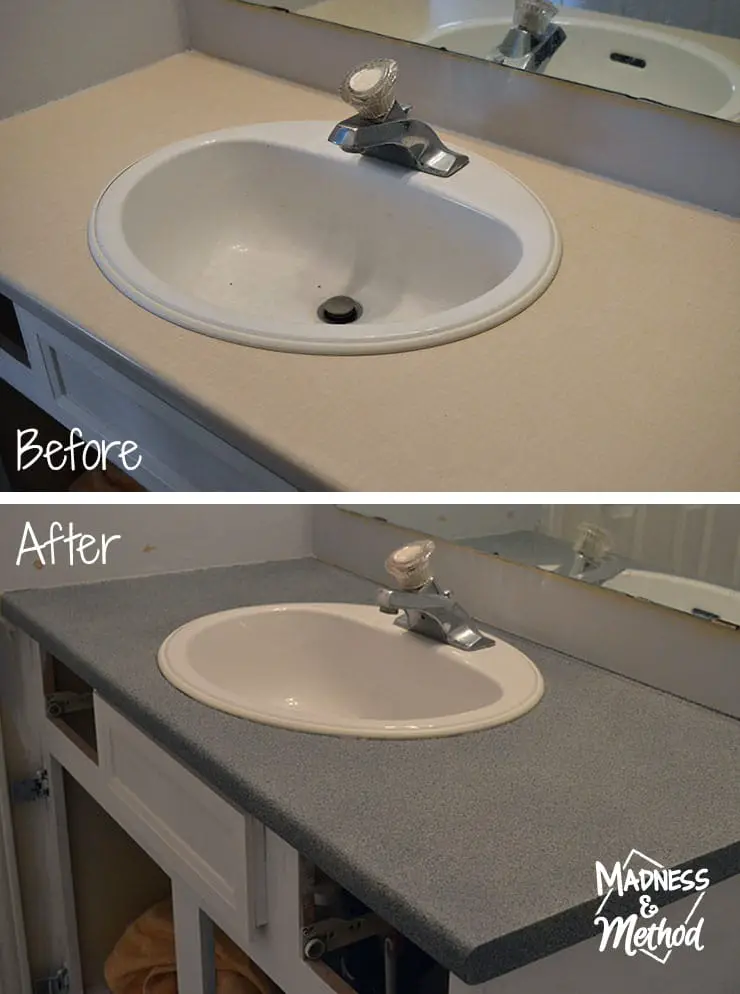 Seriously, check out the difference!  Although the original counters were smooth, you should know that they now feel bumpy (like textured sand).  There's also a Fine Stone Paint available, so I'm thinking that one might be a bit smoother.  Anyways, I'm hoping the bathroom counter transformation holds out well (my Dad was worried about deep scrubbing/cleaning) and I will make sure to let you know :)
Buy Krylon Natural Stone paint in Granite here (I think it's a similar colour)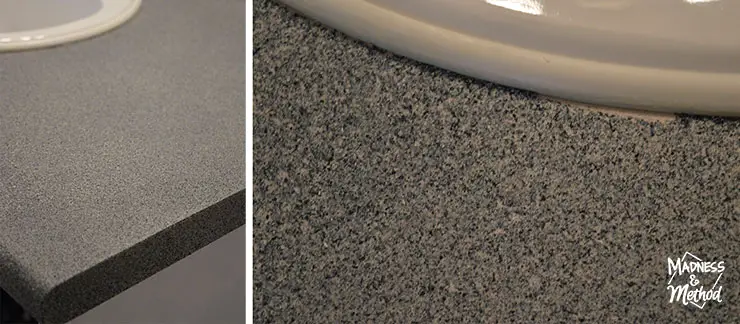 I was able to cover the edge seam almost perfectly, and I just had a spot or two around the sink that didn't get coated (blame my bad tape job!).  To hide the area, I actually went in with a toothpick (I didn't have my small paintbrushes on hand) and dabbed on some of the floor paint (which is about the same colour).  I tried to match the pattern as best as I could, although you could always re-tape (properly) and spray it again.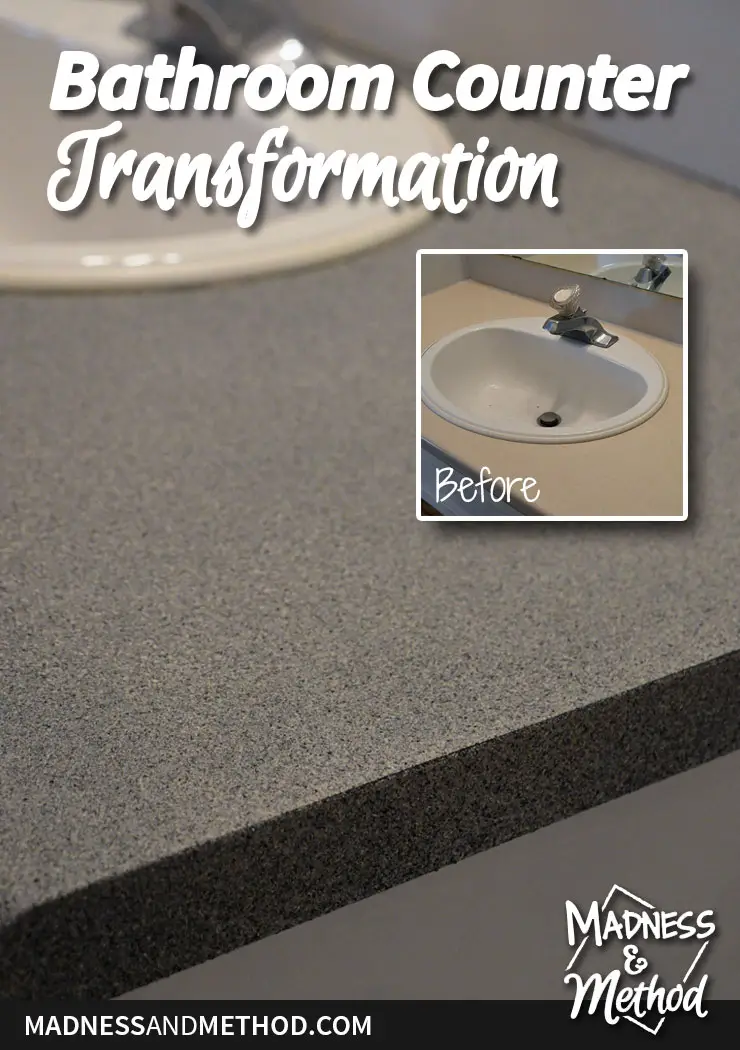 So far, I'm really happy with how the space is turning out, especially now that the bathroom counter transformation is complete.  The floors are also looking AMAZING but you'll have to wait a week or two before I share those :)
We've started on a few other tasks but the floors took some time to dry, so we couldn't be in the room while that was happening.  I'm hoping that we can get everything else finished the next time I go down to visit my brother…
So what's left?
Cut + install baseboards
Added: Paint second coat gray on walls
Tape wall pattern
Paint wall pattern
Paint cabinet (started this)
Install cabinet hardware (purchased!)
Added: but doors/drawers back on
Remove old faucet
Cut + install mirror frame (started this)
Install new faucet
Install towel holder
New light fixture?
Install prints
Paint touch-ups
Added: Install GFCI
Still Undecided/Not Yet Purchased:
Light fixture
Accessories
Frames for prints
Prints
Toilet paper stand
And I think we'll be buying a new light fixture, rather than going with a DIY option.  My brother said he doesn't like the one now (mostly the lightbulbs) and I've sent him a bunch of links for options that could work.
We will see what he picks…
PS: Don't forget to support the other One Room Challenge linking participants (and feature bloggers!) too :)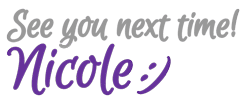 This Project Has Been Sponsored By:
Shop This Post: