Hello everyone!  This week I've got some in-progress photos from my brother's bathroom project which I am completing as a linking participant in the One Room Challenge.  I'll also be sharing a mockup of how I envision the accent wall, and let you know what we've finished so far.  Let's dive in!
-This post contains affiliate links. Read more information about affiliates here.-
Completed:
Remove toilet paper roll + towel rack
Remove cabinet above toilet
Patch, sand + prime holes
Remove baseboards
Paint walls gray
Remove toilet
Paint toilet (see story below)
Reinstall toilet
Remove cabinet lips/wood pieces
Install cabinet framing pieces
Patch, sand and caulk pieces
And, in case you needed a reminder of where we started:
This is the main floor bathroom (that guests would use) at my brother's house.  I'm hoping to bring it into this decade with some simple, DIY updates that don't involve ripping everything down to the studs and starting from scratch (like when we redid our main floor bathroom a while ago).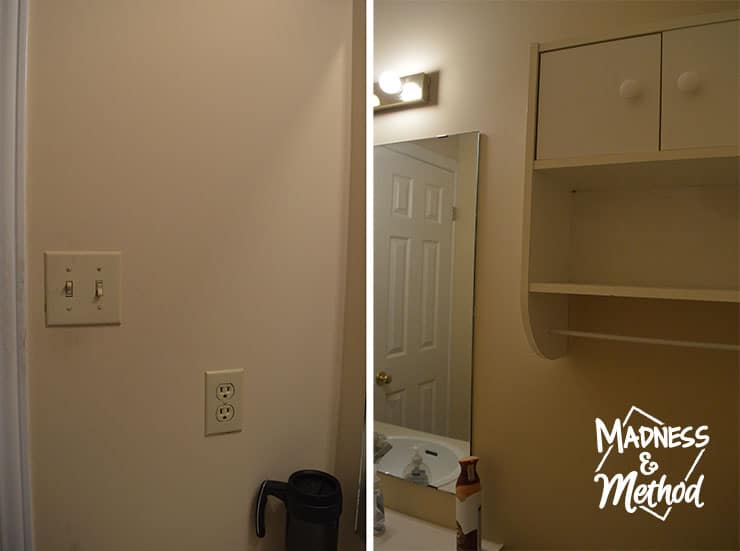 The towel used to be hung from a bar that was facing the vanity.  I much prefer towel rings/hooks so decided that we would be hanging it just to the right of the mirror.  I was thinking of putting it on the left wall (where the outlets are) but didn't want to have to move the electrical.  Still don't know if we'll switch out the outlets/switches to white ones… but we should definitely upgrade to a GFCI.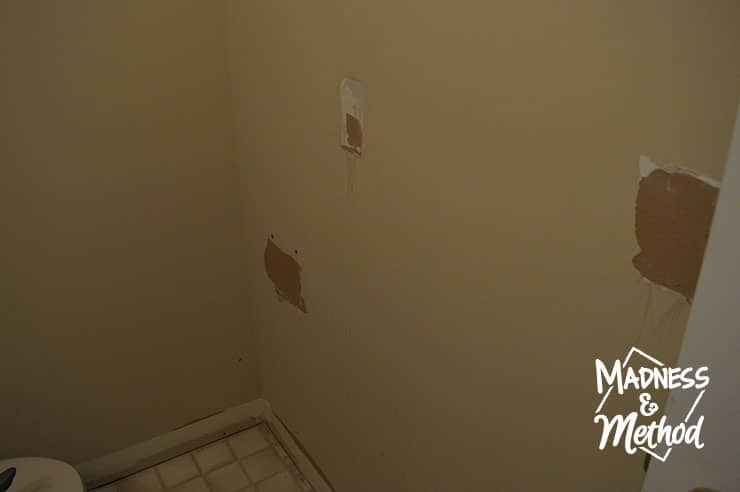 Goodbye towel bar and toilet paper roll!  Fun fact: the first time I changed a roll of toilet paper at his house, the springy thing flew out of my hands and into the toilet… I think it's been my vendetta to get rid of it :)  (It's because the spring thing was in 2 pieces, and not one solid bar like I'm used to!).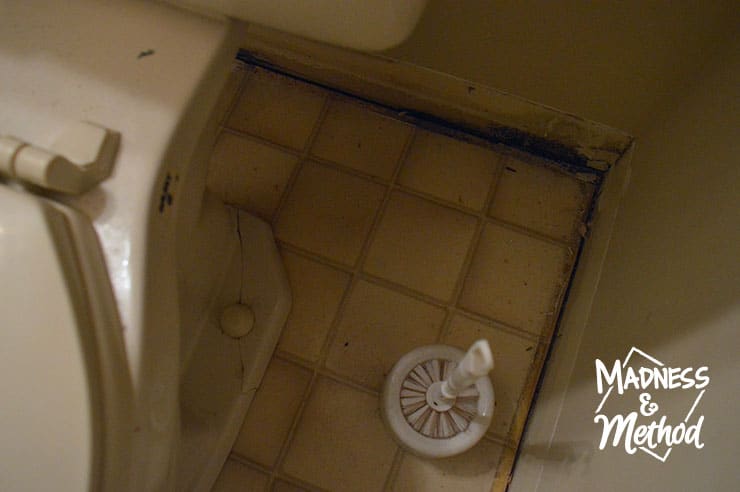 We also took out the old baseboards in anticipation for painting the walls and floors, and unfortunately my Papa noticed that the base of the toilet bowl had cracked.  This was an issue since I was planning on removing the toilet to paint it white, and to paint the floor too.  Because of the crack, there was no way to remove it and put it back in place.  I could either paint it in the room (we could take off the tank and paint that elsewhere) or replace the toilet.
My brother said "Well, because you're here you might as well get a new toilet.  Maybe with a dual flush?".  There happened to be a sale on a dual flush at the nearby hardware store, so we got one that was just over 100$.
Design Decisions
I'm sharing a bit more insight into some of the choices we've made (and still have to make) in this room.
Accent Wall
My original idea was to go with some bright colours, but the brother chose a more complimentary colour scheme instead. I also was thinking of doing some sort of brick or herringbone pattern with the paint, but then I saw Jenna's (old) dining room wall, and I was inspired to do our own diagonal grid pattern (that I am calling the "waffle wall").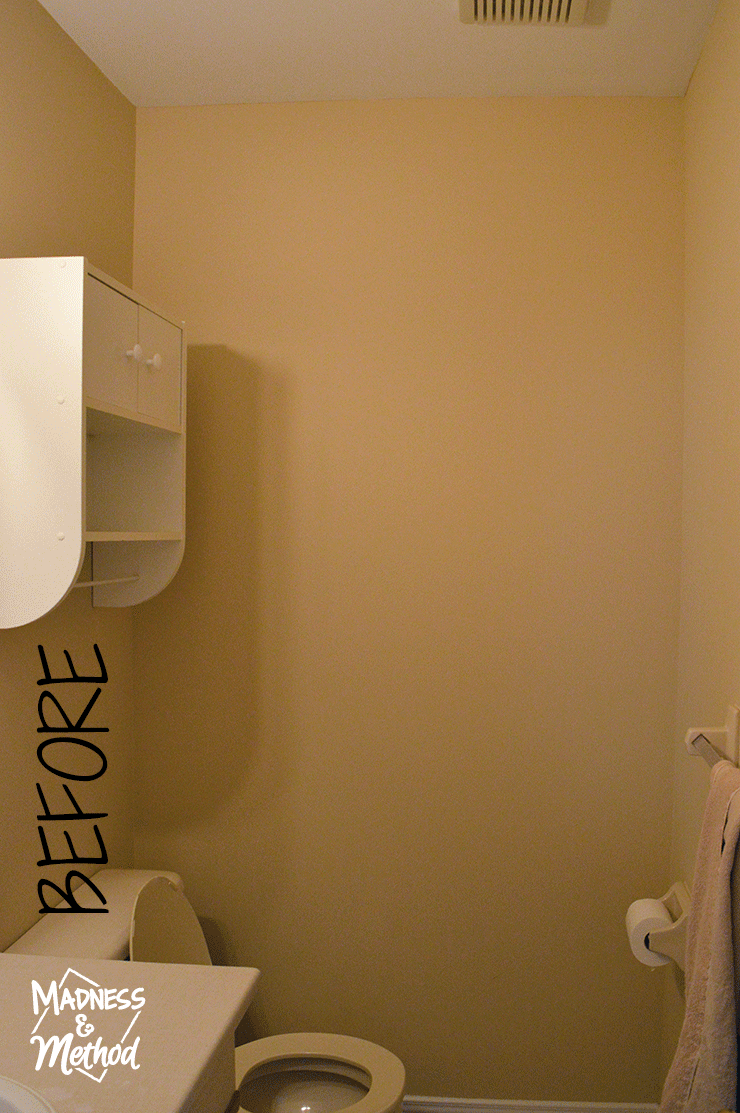 The plan is to tape off the diagonal parts and paint the inside squares in the colours my brother chose.  The animation above sort of shows how it will look.
Vanity Light Ideas
So… you may remember that I mentioned last week (and on Instagram) that I forgot about the light fixture?  Well, since then, I've been thinking of taking what's there already and doing some sort of DIY hack.
Maybe something like this DIY industrial light?  I really like this wall sconce , but imagine it with 4 bulbs of course.  Or maybe cool, long bulbs like these Himalayan salt lamp bulbs.  I found some angled light socket adapters that may help achieve what I want (like this one, or this bendy chrome one).  But the issue is that the bulbs have a small base, so I would also need a size adapter (like these).
But I'm scared I'll end up with a Frankenstein light…
The other problem?  I haven't really explained this DIY vision to my brother… so he could either a) veto the whole idea and keep the light we have (in which case I would still paint the base).  B) choose a new light fixture instead (à la new toilet); or c) fall in love with my DIY idea… in which case I would have to find/buy all these things and hope that it looks okay.
Where We Are
At the top of this post I shared that I also completed a good portion of the work on the vanity, but I'll share that project later (once it's complete).  The brother did decide that he prefers pulls to knobs, so now I just need to find something suitable.  (Oh, and in case you didn't know, I'm doing a spending freeze for Lent this year – so I haven't been able to buy anything extra yet!).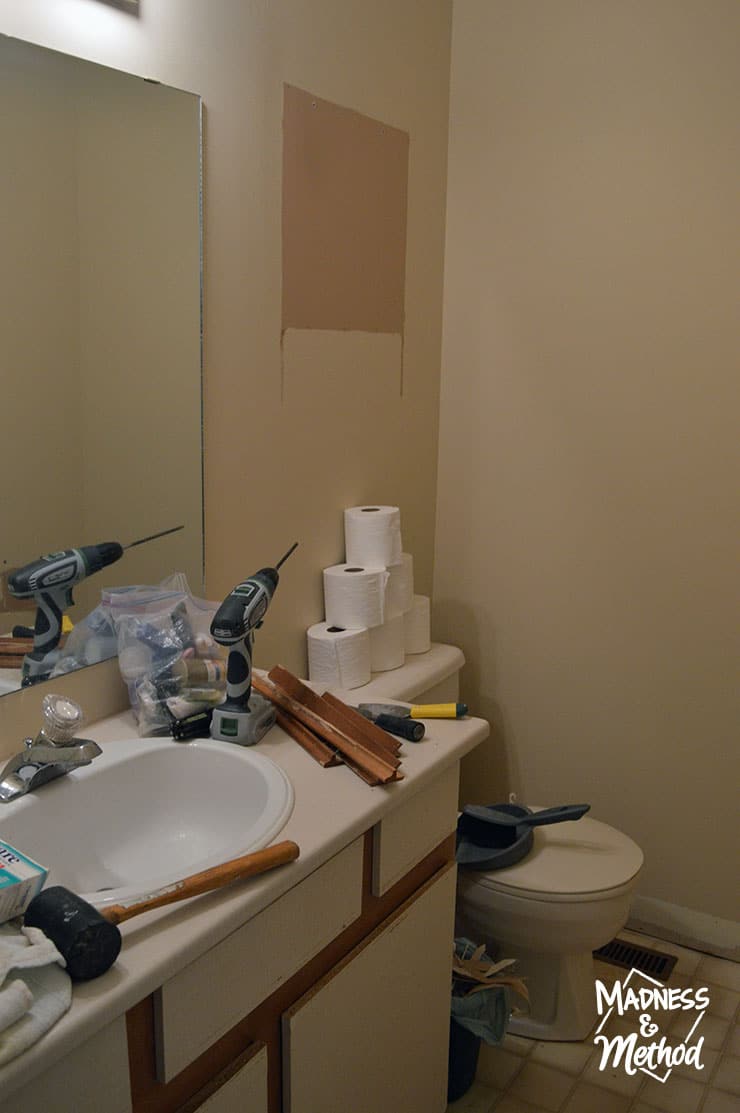 A small sneak peek at the sort-of updated vanity, and the room without the medicine cabinet. In one of my original plans I was thinking of doing a small shelf there with some accessories (and originally a towel bar) but it was too far to dry your hands… so now I'm wondering if I need something there to fill the void.  Maybe put smaller versions of the prints there, and not on the big wall??
Oh and that Ziploc bag of stuff?  Did I mention this is the bathroom I normally use when I visit him… I remembered to move them when I was doing the drywall patch sanding at least :)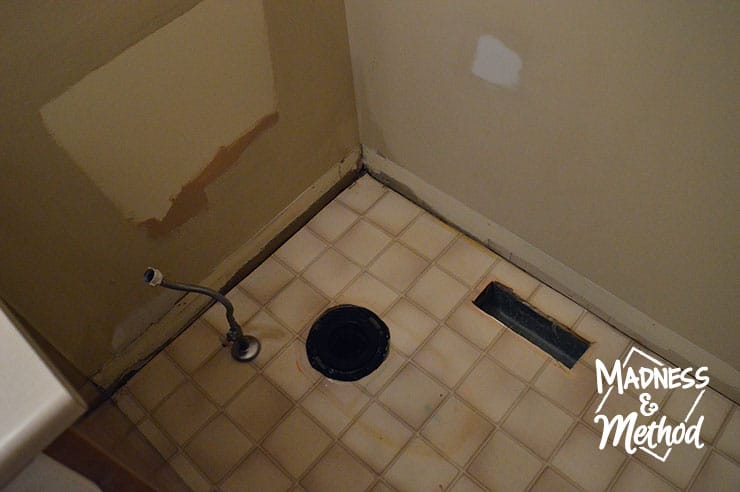 We were going to just buy the new toilet and install it later, but then figured it'd be easier to paint the wall when it was out.  I haven't done the floors yet, but the new toilet is in and my Mom said she did a coat of gray on the walls (I was gone by then).
To Be Completed
Remove mirror (save to put back up after)
Clean floors
Paint floors gray
Fancy floor paint
Cut + install baseboards
Tape wall pattern
Paint wall pattern
Paint cabinet
Install cabinet hardware (need to buy still)
Remove old faucet
Reinstall mirror
Cut + install mirror frame
Paint countertop (+ clear coat seal)
Clean and paint register
Install new faucet
Install towel ring
New light fixture? (either DIY or buy)
Paint touch-ups
Put up prints (need to print + get frames)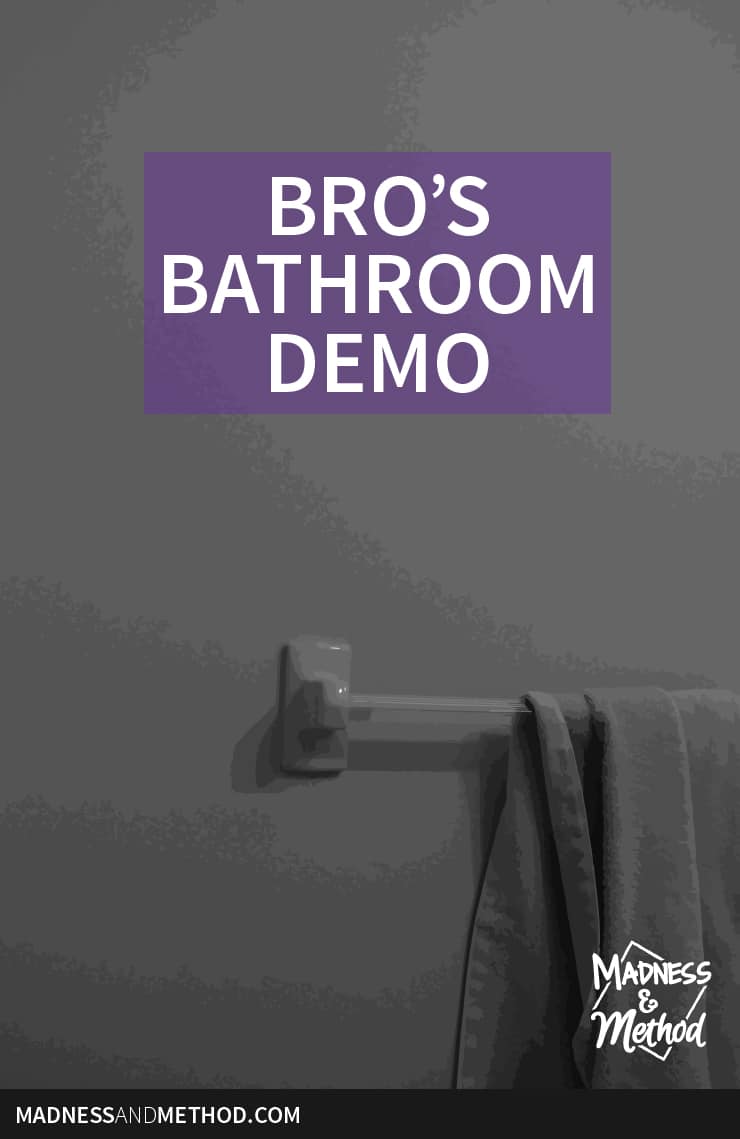 We're slowly chugging along with this project, and of course it's a bit more difficult because my brother lives so far away.  I'm hoping this week I can get almost everything completed, and leave all the touch-ups/accessories for the last week I go see him.
Don't forget to check out all the featured Spring 2017 One Room Challenge blogs and all the linking participants too!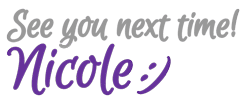 This Project Has Been Sponsored By: