My birthday came and went and I didn't really celebrate it at all (well, the Husband took me to dinner) but I didn't have a special cake this year! By the weekend, I decided that I would make myself a birthday cake… but I couldn't decide what kind.  Originally, I wanted to do a nice purple velvet layer cake with cream cheese frosting, but I had that last year so I wanted to switch it up.  After going through my baking cabinet, I realized I had a bunch of cute cupcake liners, so I figured I'd incorporate my next favourite thing: rainbows!  All I needed were some rainbow sprinkles to complete my creation – "funfetti" themed birthday cupcakes.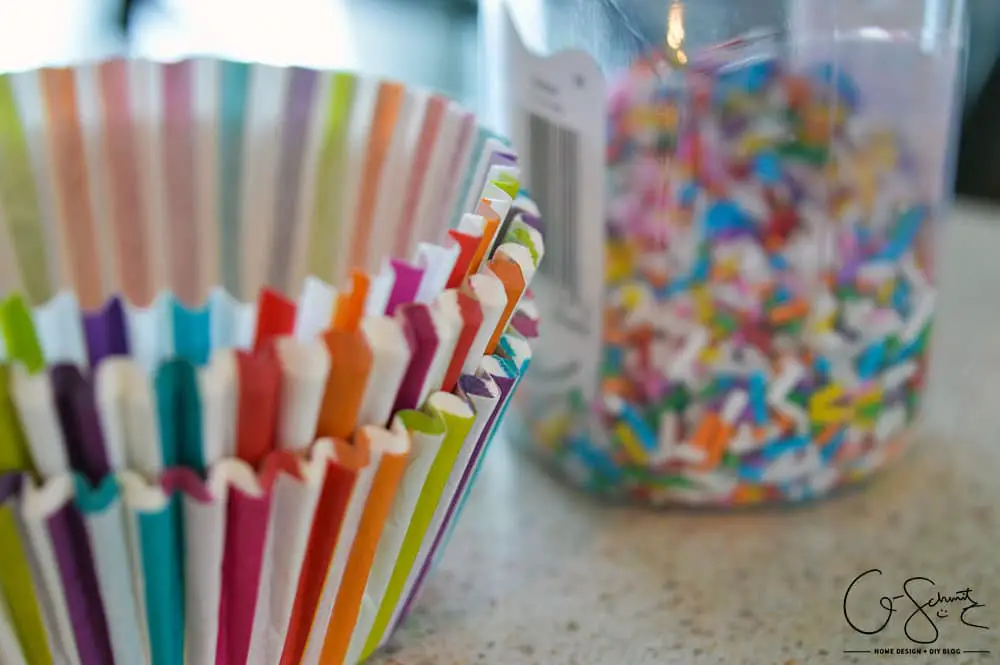 To make my cupcakes funfetti-ish, I simply adapted a plain white/vanilla cake recipe and added some sprinkles.  Here is the recipe I used:
White Cake Recipe
Preheat the oven to 350°F
1/2 cup Softened Butter
1-1/2 cups Sugar
3 Eggs
2 tsp. Vanilla Extract
1-1/3 cups Buttermilk
Beat the first two ingredients together, then mix in the rest.  I didn't actually have buttermilk so I substituted a cream/vinegar mix instead (just add about 1 tsp. of white vinegar to cream or milk and let stand for a few minutes until it gets sort of chunky).
In a separate bowl, mix the following:
2 cups Flour
1 tsp. Baking Powder
1/2 tsp. Baking Soda
1/4 tsp. Salt
Then slowly add the dry ingredients to the wet ingredients and mix/beat well.  Like I mentioned, I added some rainbow sprinkles (about half a container) and mixed it all up.
If you're making a cake, you can pour the batter into a greased and floured pan and bake for 30-35 minutes; if you're making cupcakes, pour the batter into a muffin tin with cupcake liners (I lightly sprayed mine).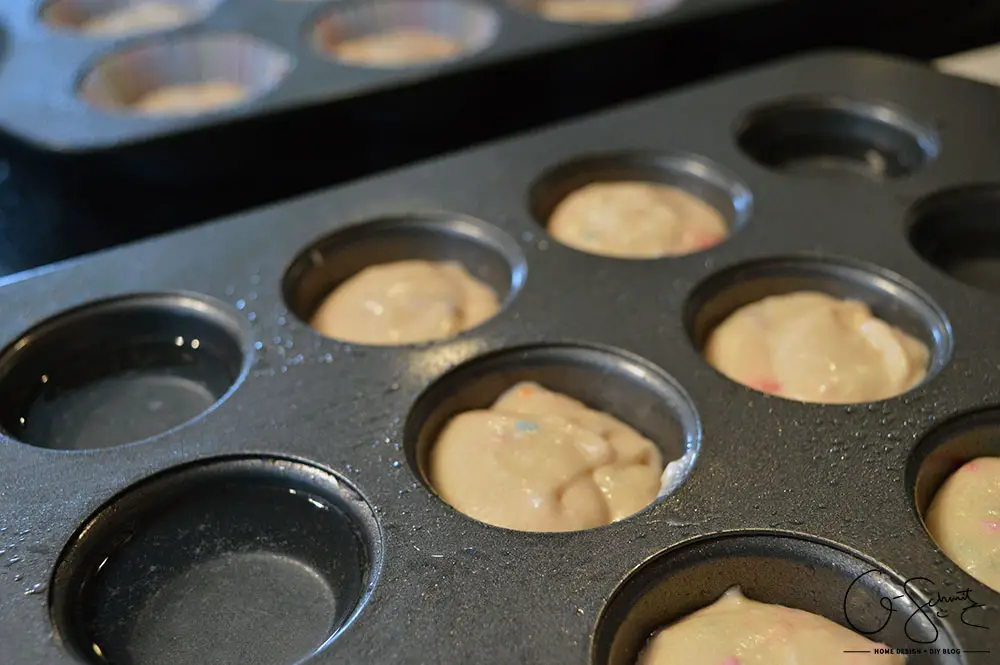 This recipe gave me 24 full sized cupcakes, and 6 mini cupcakes (although I'm sure I could have added a bit more batter to the regular sized cupcakes instead).  DIY/PRO Tip: If you have empty cupcake sections, make sure to fill them at least halfway with water so the pan doesn't burn when it's in the oven.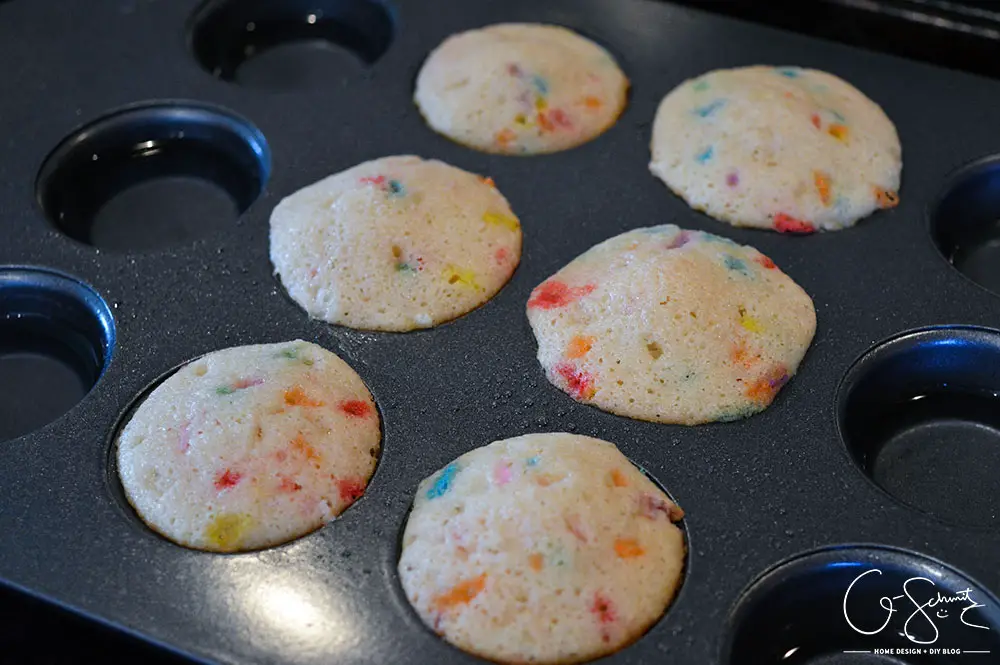 I put the mini cupcakes on a cookie sheet (because they always seem to slip through the cracks on my oven rack) and kept them in the oven for 10 minutes.
I left the regular sized cupcakes in the oven for another 8 minutes, although it would have probably been okay if it was only another 5 minutes, as they were a bit golden.
Whenever I am cooling muffins or cupcakes, I always flip them on their sides.  It's easier to scrape them out when they're still warm (in case any batter got stuck to the sides or bottom), and you also don't need to use another tray just to cool them off.  Once they are completely cooled, it's time to make the icing!
I mixed up one batch of icing, and made it just a bit runnier than normal.  I then separated it into 4 different bowls and added a couple drops of food colouring to each.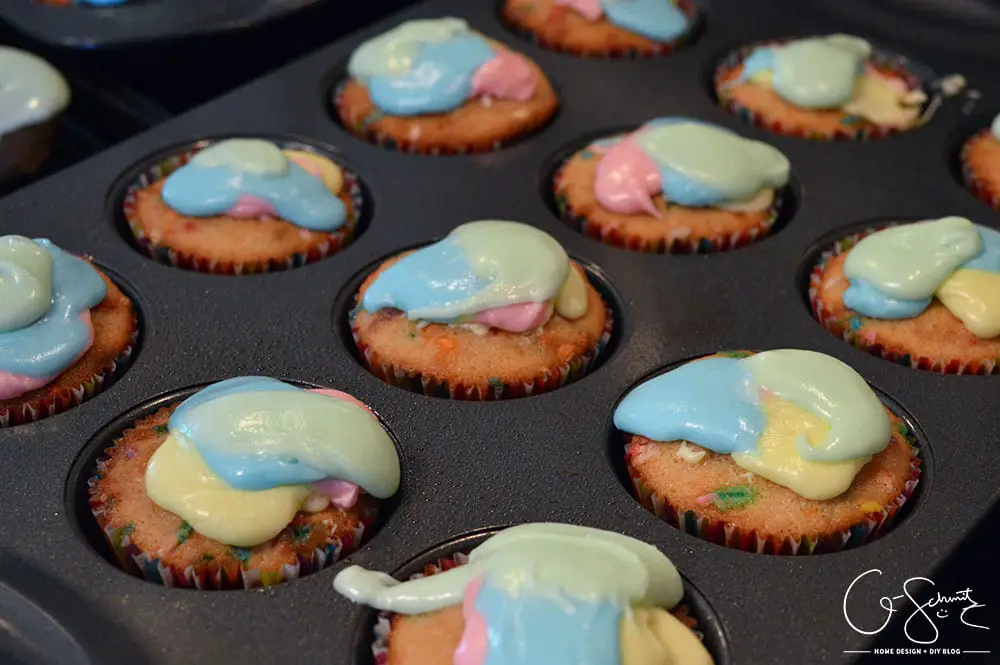 Once the icing colours were mixed thoroughly, I literally plopped them onto the tops of the cupcakes with my spoon.  I tried to make sure there was the same amount of icing from each colour on all the cupcakes, but I ended up with a bit more blue and green.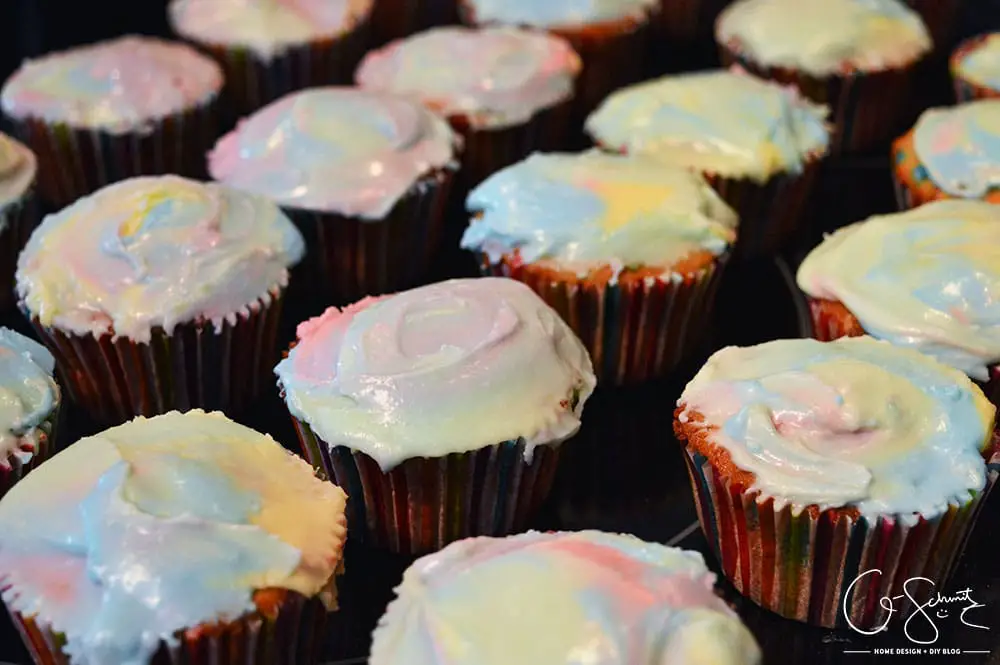 I loosely blended the colours using a butter knife, being careful to preserve the different colours and not to mix them all together.  I kind of like that they look imperfect – and I debated using a piping bag to put the icing on, but I was afraid that the colours would mix too much together.
Print Recipe
Funfetti Birthday Cupcakes
Ingredients
1/2 cup Softened Butter
1-1/2 cups Sugar
3 Eggs
2 tsp. Vanilla Extract
1-1/3 cups Buttermilk
2 cups Flour
1 tsp. Baking Powder
1/2 tsp. Baking Soda
1/4 tsp. Salt
Rainbow Sprinkles
Icing
Food Colouring
Instructions
1

Preheat oven to 350 degrees

2

Beat the butter and sugar together, then mix in the eggs, vanilla and buttermilk.

3

In another bowl, mix the flour, baking soda, powder and salt.

4

Combine both together then add sprinkles.

5

Pour batter into a lined (and sprayed) muffin pan

7

Remove from oven when done and cool cupcakes

8

Prepare a few bowls of icing, and add one colour to each bowl

9

Swirl the colours together on the cupcakes
An easy (and fun) recipe to try, whether you're by yourself, or even if you have some helpers!  The pastel icing is perfect for Easter/spring time, and you could always adapt the colours depending on what holiday it is.  I was even thinking it might be cute to have blue and pink mixed icing for a baby shower.  So what do you think?  What are some other ways you could incorporate some rainbow icing into your life?