It's my birthday month (I swear, I'm not one of those people) but I figured I had to bring back these yummy desserts!  This recipe for homemade funfetti cupcakes is probably the easiest hack ever – you won't be tempted to go back to the box mix again.  Plus, you can customize the colours of the sprinkles this way too! 
You know I love a rainbow treat, and these homemade funfetti cupcakes are like a subtle rainbow.  Since I've made them a few times, I'm also going to share both ways I've frosted them in the past.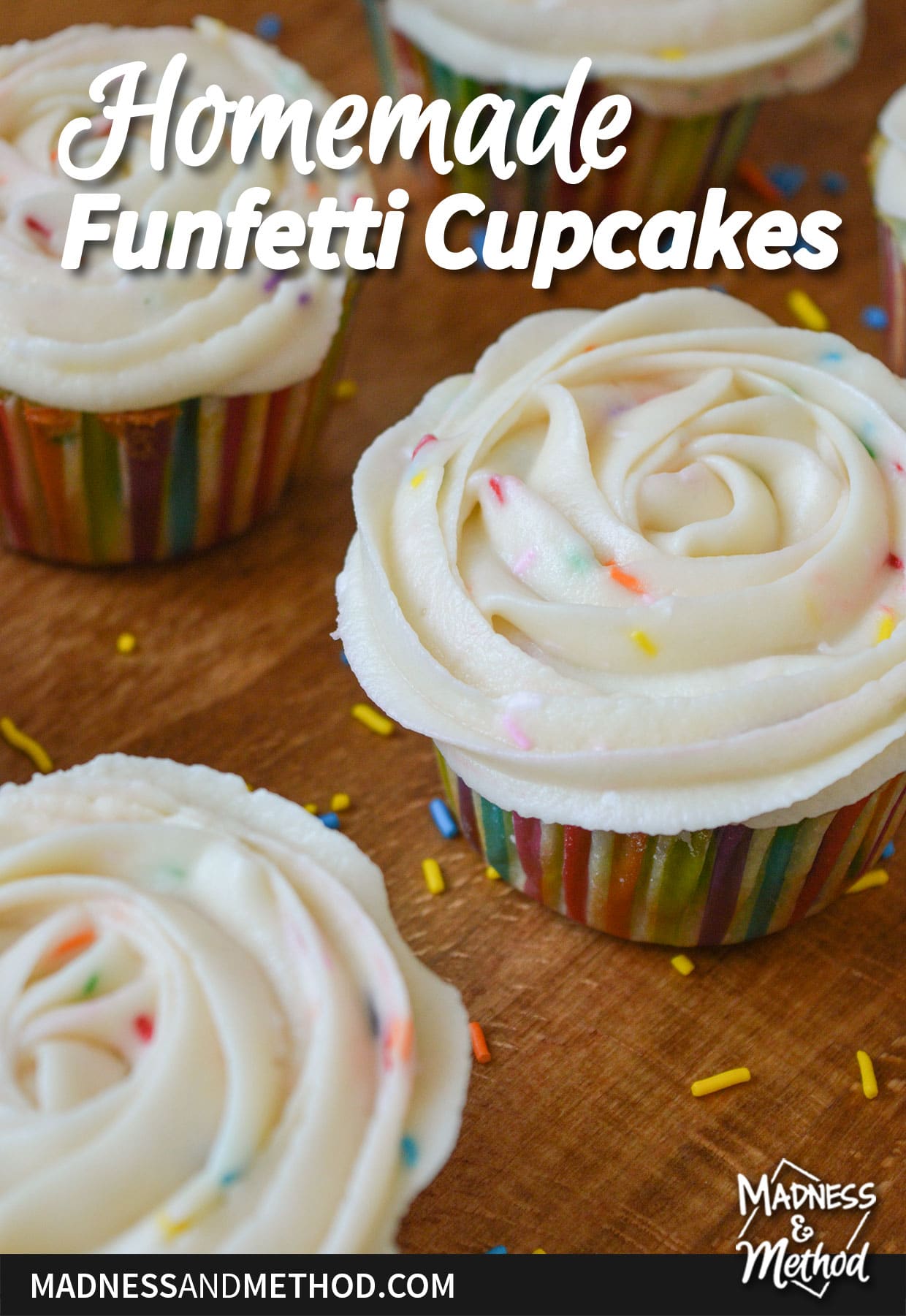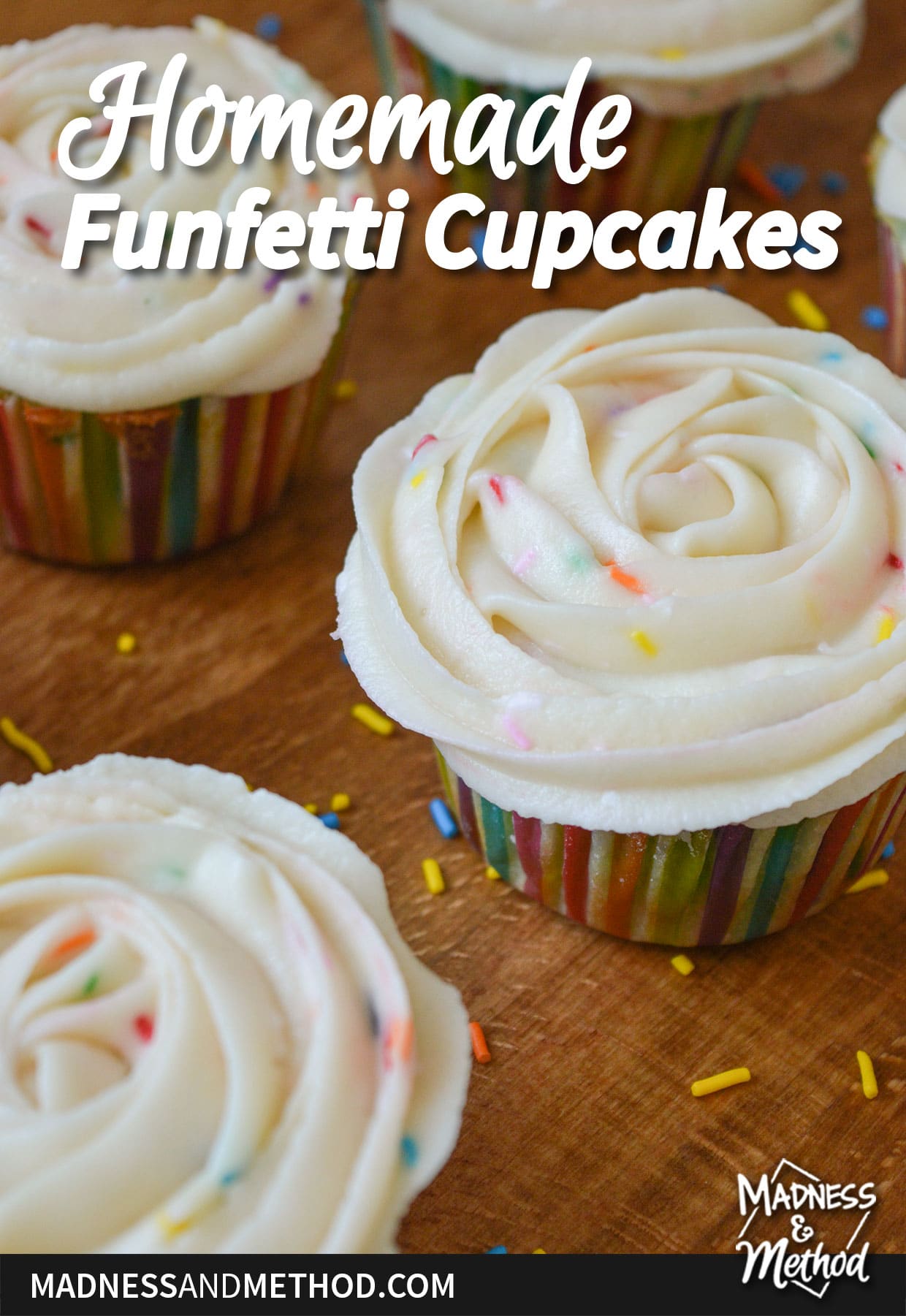 This time, I went with the traditional funfetti icing, but check out how I've done a rainbow marble too.
The original recipe came about because I happened to have a bunch of rainbow sprinkles and cupcake liners.  Spoiler, I still had the leftovers all these years later (and luckily I've calmed down my impulse shopping ha). 


To make homemade funfetti cupcakes, you need to add sprinkles to a batch of vanilla cupcakes!  I've updated my recipe to make a batch of 12 cupcakes, so it should make the perfect amount for a muffin pan.  Plus, you can always double it to get more! 
Scoop the batter into a lined muffin pan, making sure each cupcake is filled about 2/3 high.  Do not spray the tray or the liners, or the cupcakes will be extra greasy.  Lightly tap (pick up and drop) the muffin pan so that the batter settles down a bit.
Bake for 18-24 minutes, until the tops are set and the centre is cooked.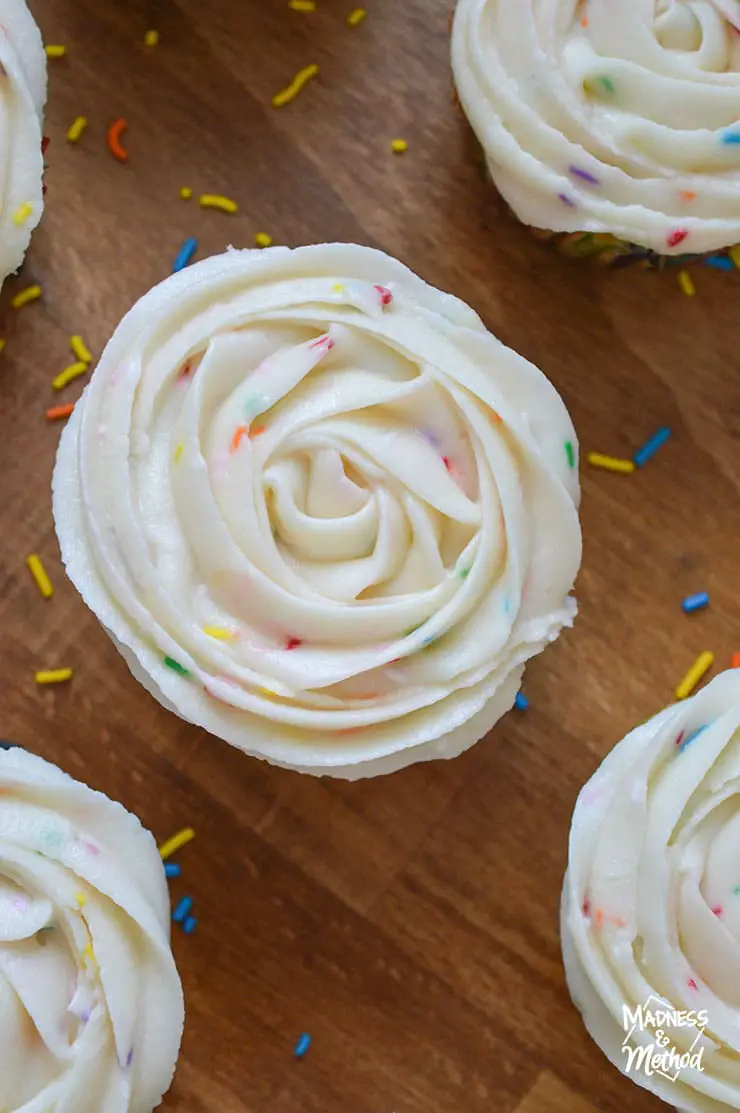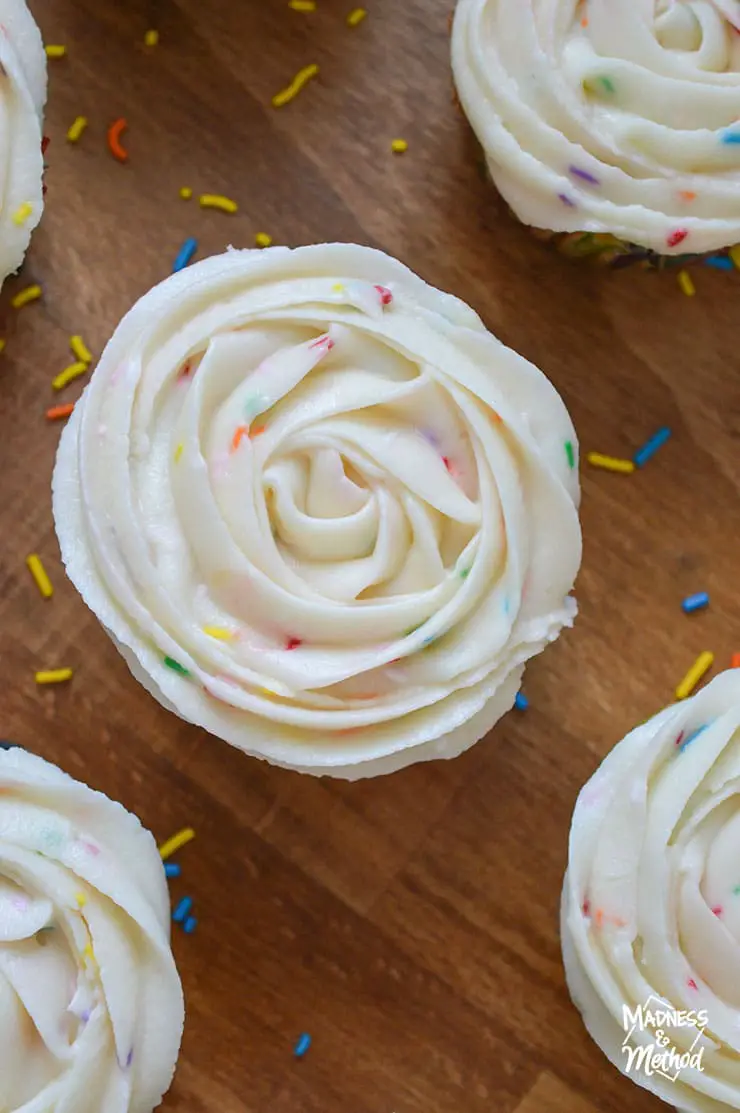 You should end up with 12 perfectly flat cupcakes.  For this newest batch, I made some funfetti frosting as well.  About 2 cups of icing was enough to cover my cupcakes, but if you like a really high frosting, you might need a bit more.  
Make Homemade Buttermilk
I'm always making cakes that call for buttermilk, and I don't think I've ever bought buttermilk.  Maybe the real stuff is better (?) but it's really easy to make your own!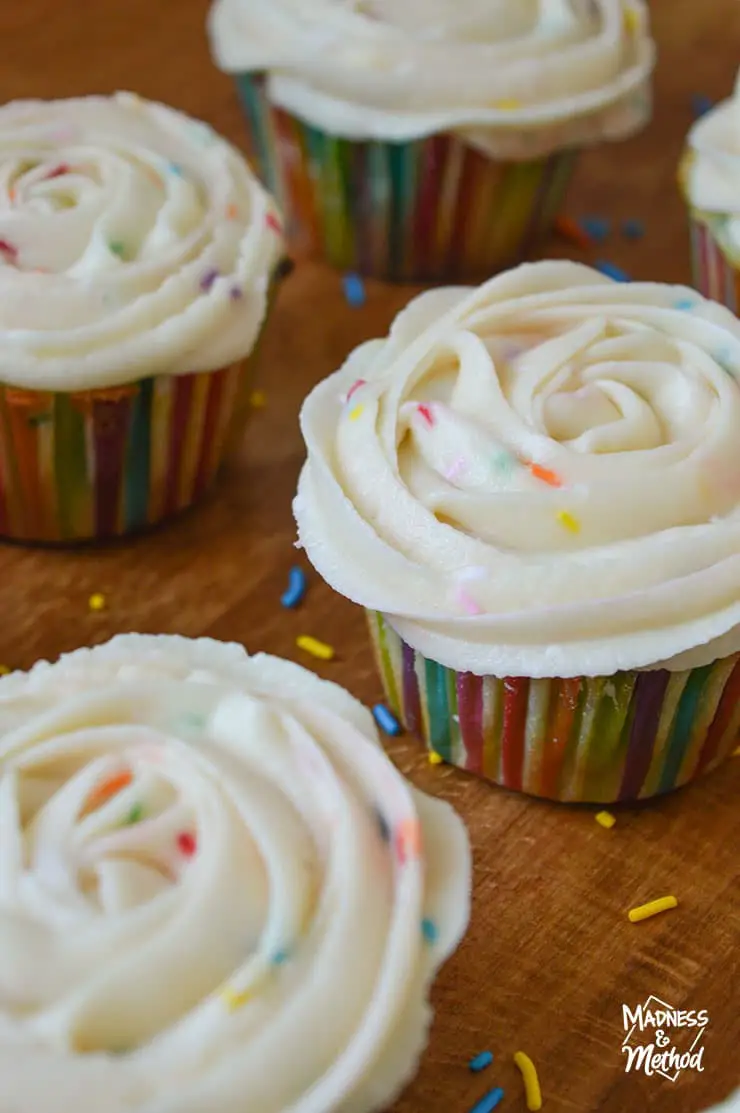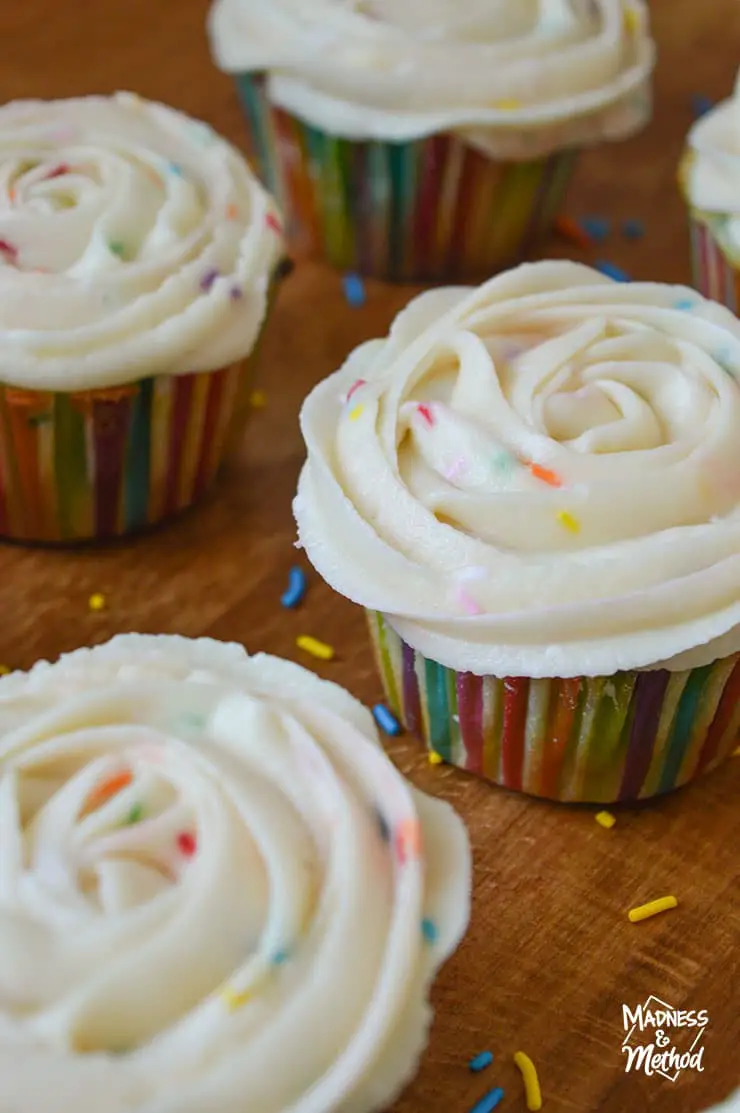 Simply measure a cup of milk (I use homo, but 1 or 2% is fine too) – then add either a bit of white vinegar, or lemon juice.  The acidity will cause the milk to curdle.  
I like to start my buttermilk and set it aside to bubble while I mix the other ingredients.  
Marble Rainbow Frosting
The first time I made homemade funfetti cupcakes, I decorated them with a marble rainbow frosting.  


I mixed up one batch of icing, and made it a bit runnier than normal (but regular consistency could have worked too).  Then, I separated the frosting into 4 bowls and added different food colouring to each.
Once the colours were mixed, I plopped a spoonful onto each cupcake.  I tried to make sure there was the same amount of icing from each colour on all the cupcakes, but I ended up with a bit more blue and green.


I loosely blended the colours using a butter knife, being careful to preserve the different colours and not mix them together.  They all had their own unique look, and I thought it was super fun!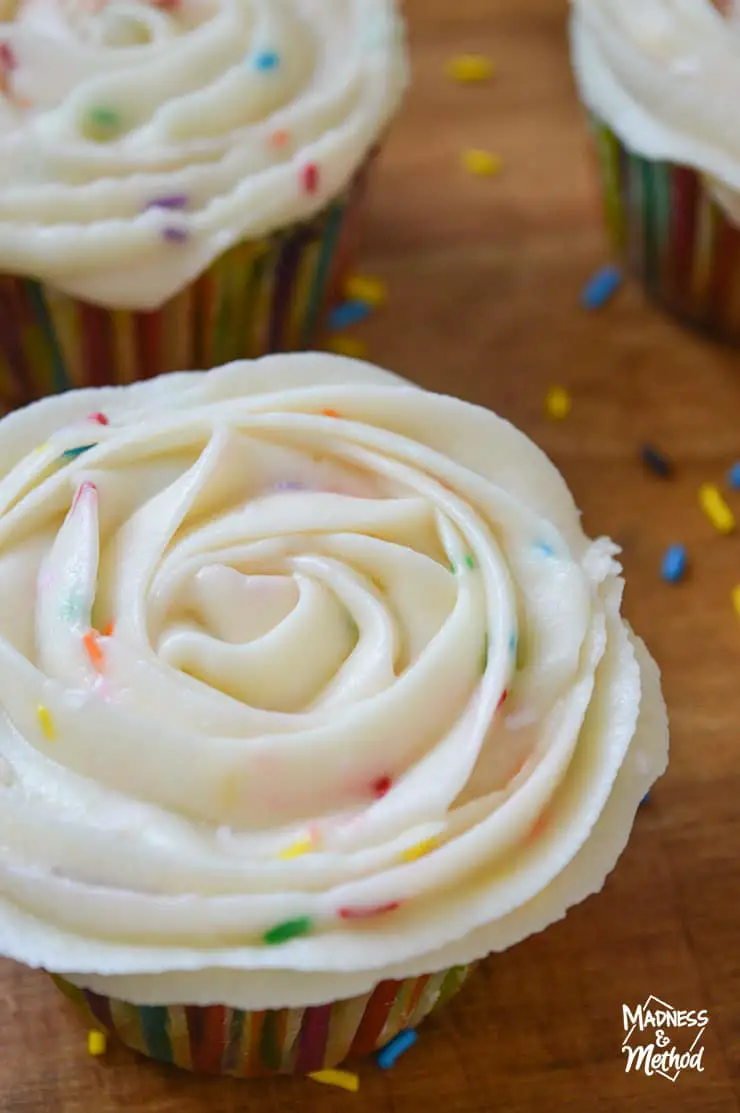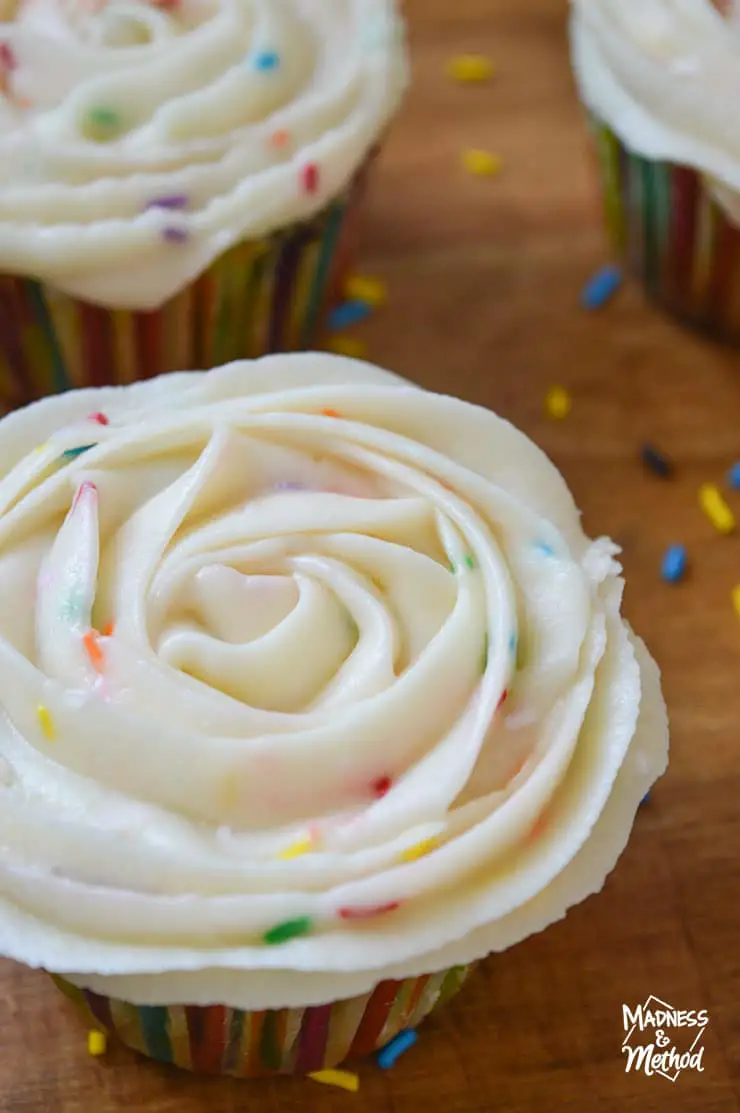 This time, I mixed up a batch of buttercream and once again, added some rainbow sprinkles.  
Although this time, I was running out of my rainbow mix so added the single colours I had (blue, yellow and orange/black).  The blue sprinkles made the cupcakes a bit bluer this time!
Imagine funfetti cupcakes with all red sprinkles for Valentine's for Canada Day.  Or green for St-Patrick's Day!  The possibility are endless :)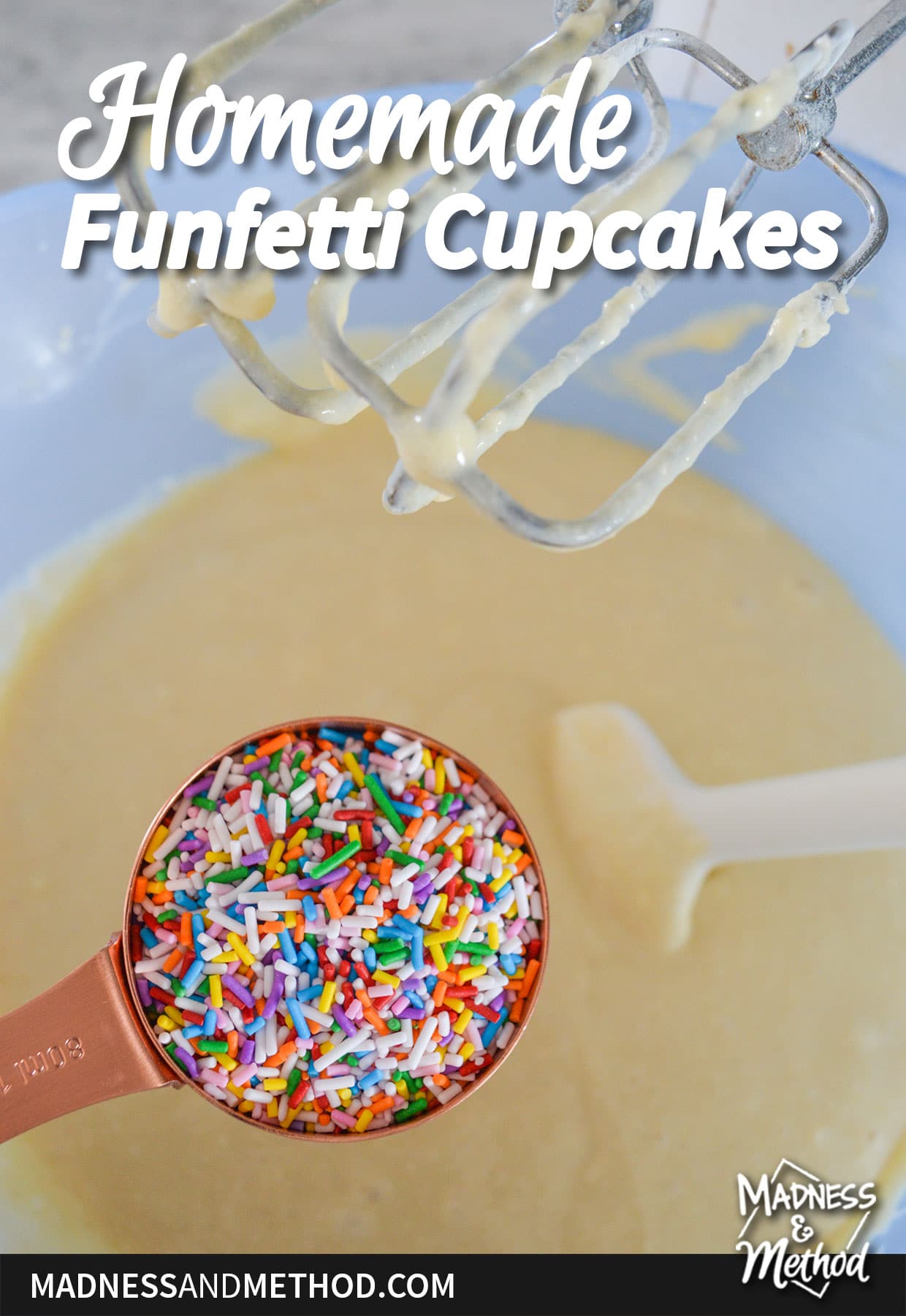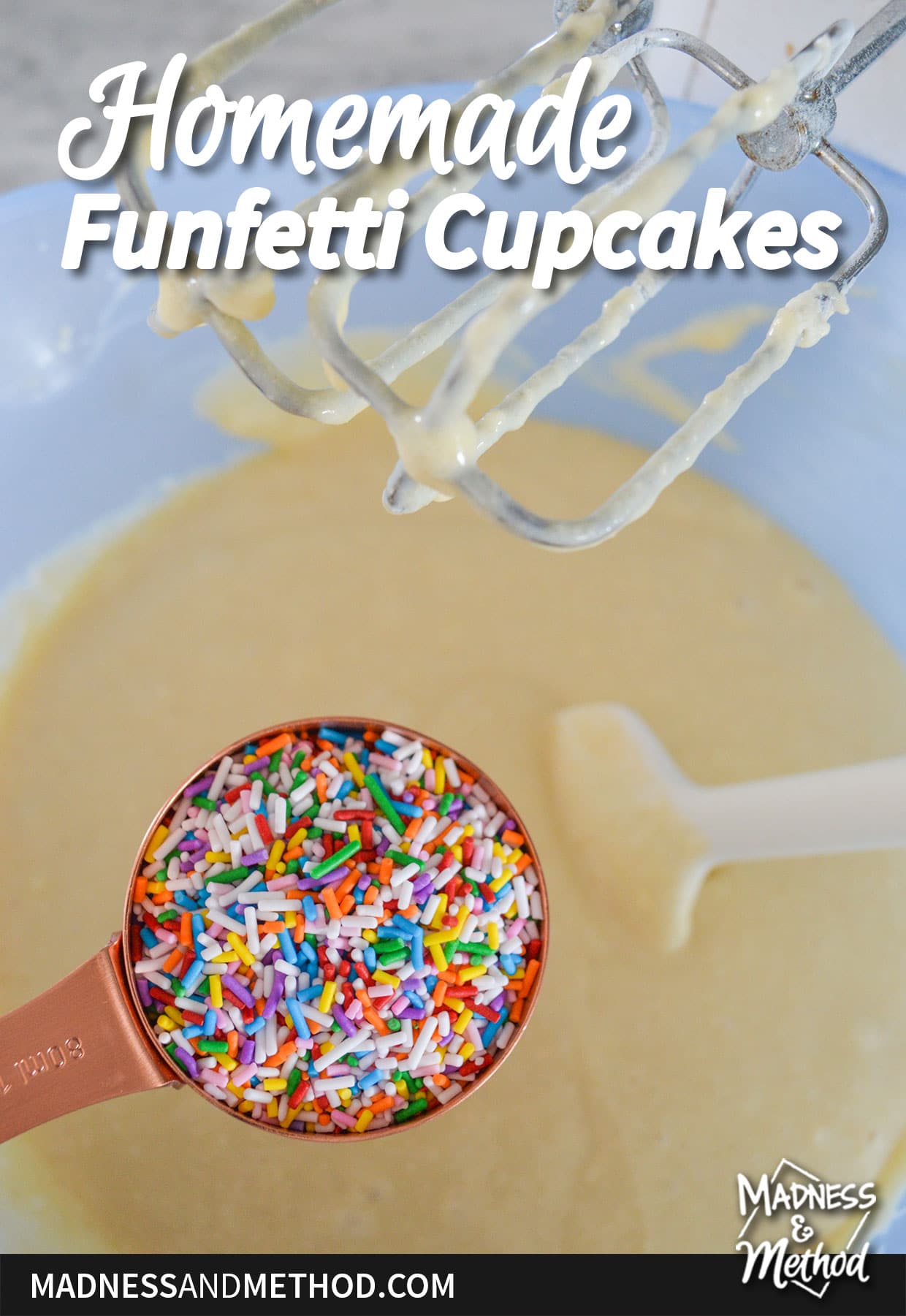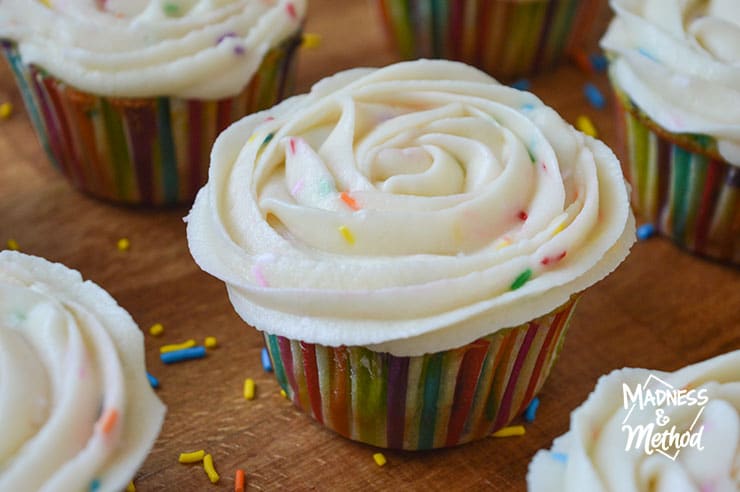 Print Recipe
Homemade Funfetti Cupcakes
Check out this delicious recipe for homemade funfetti cupcakes. You can adapt the colours for any other occasion, and decorate them how you like!
Ingredients
1/4 cup (half a stick) softened butter

1/2 cup sugar

2 eggs

2 tsp vanilla extract

1/2 cup buttermilk (see post for how to make your own!)

1 cup flour

1/2 tsp baking powder

1/2 tsp baking soda

1/4 tsp salt

1/4 cup sprinkles

Icing (approx 2 cups)

Optional: food colouring
Instructions
2
Prepare buttermilk, set aside
3
In a small bowl, combine the flour baking soda, powder and salt
4
In a large bowl, beat the butter and sugar together
5
Add in the buttermilk and flour mixture to the big bowl, mix again
6
Scoop in desired sprinkles, and stir
7
Pour batter into a lined muffin pan
8
Bake for 18-24 minutes, until cupcakes are set
9
Remove from the oven and leave the cupcakes in the pan for a couple of minutes, then transfer to a wire rack to cool completely
10
Prepare icing and decorate as desired
Notes
See the post for tips on how to make rainbow marble icing, or funfetti icing!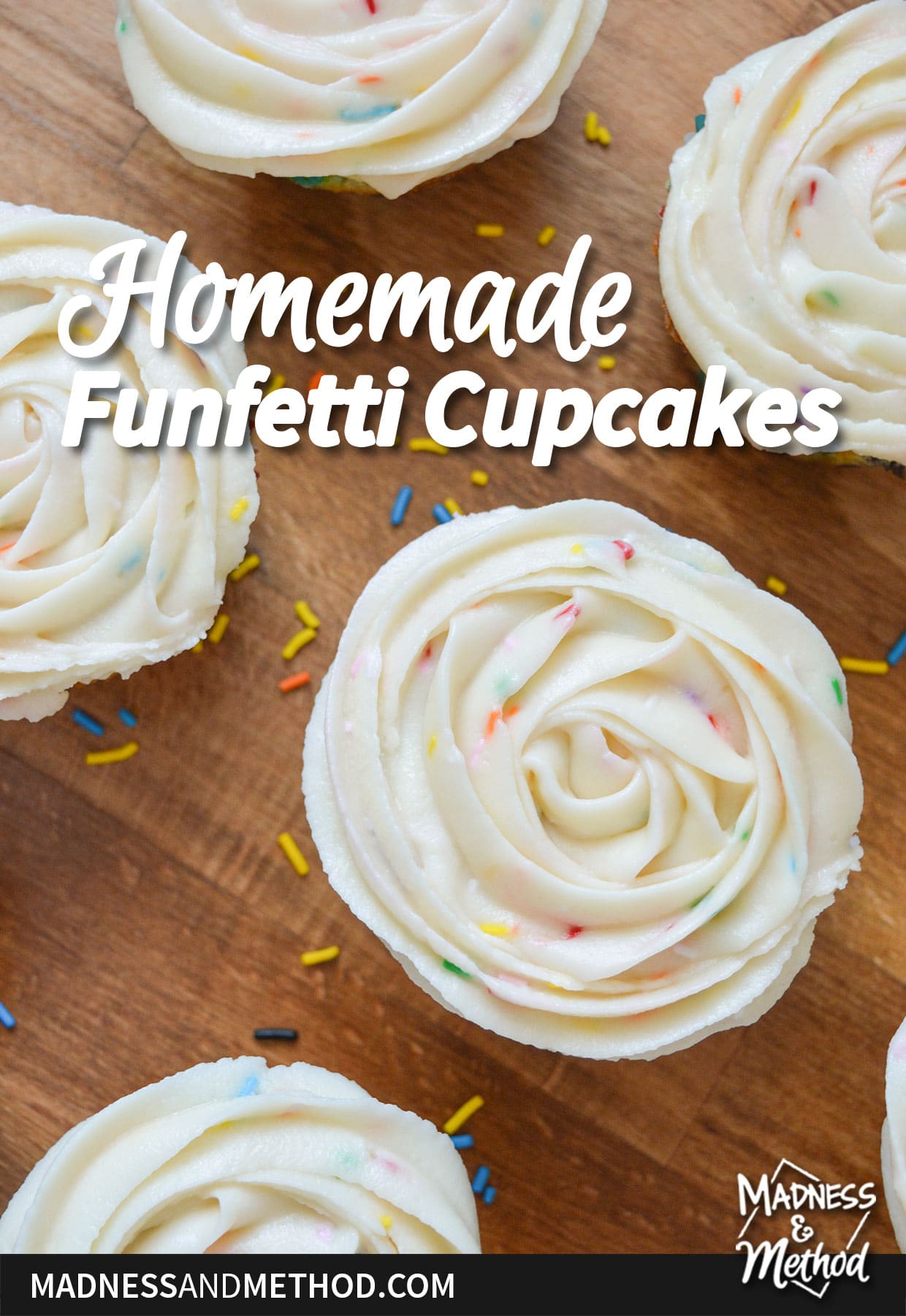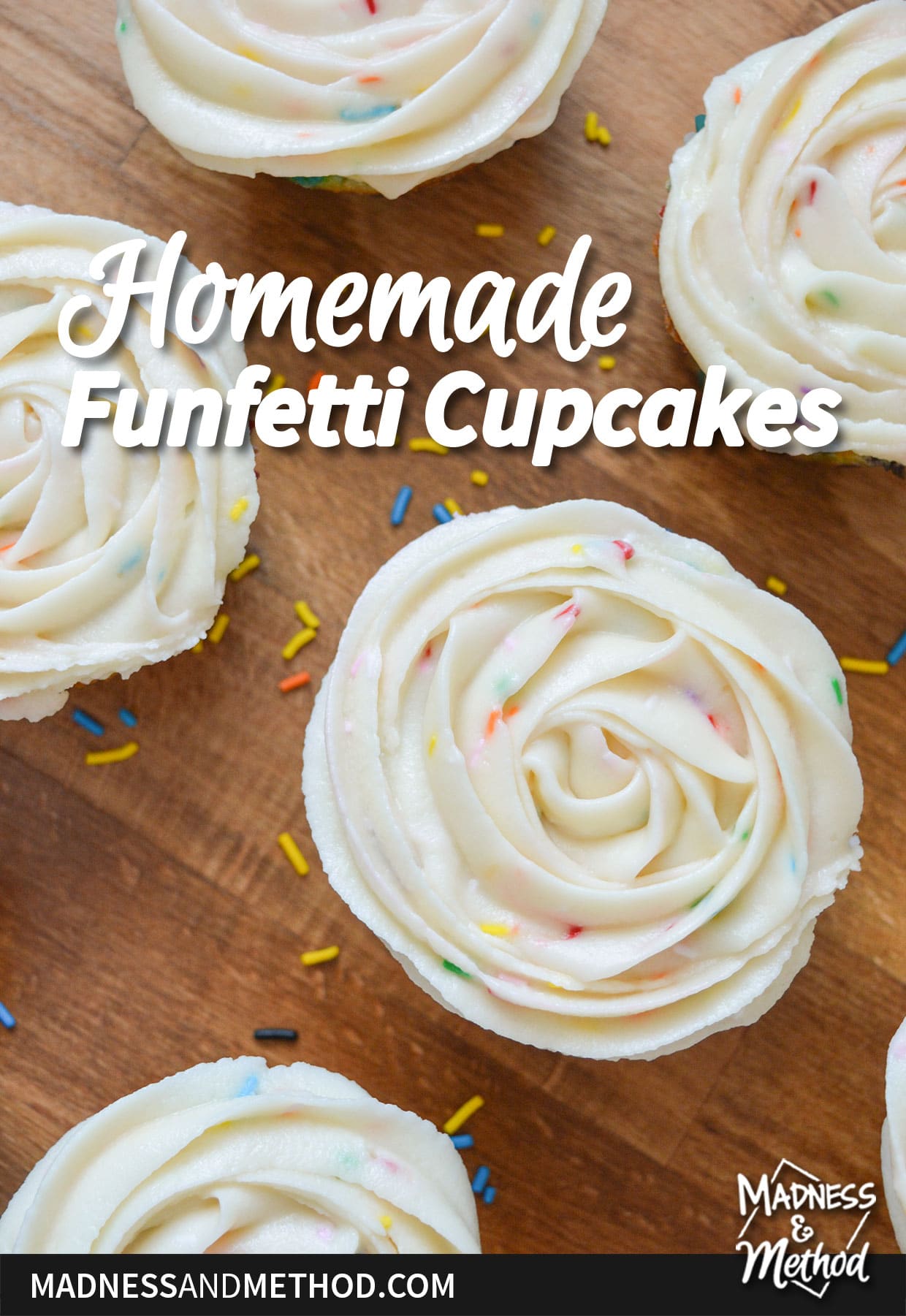 I hope you enjoy these homemade funfetti cupcakes!  Like I mentioned, it's a simple concept, but totally customizable to what you want.  Do you prefer the marble rainbow frosting or the funfetti vanilla one?  PS: I used a 1M tip to make the rose-style, it's really easy, but looks so fancy!
Let me know if you adapt the recipe sprinkle/frosting colour for a specific occasion :) 
Related Posts: