I'm kicking it old school today with something that I used to do regularly.  And by regularly, I mean yearly: counting my clothes!  My first time counting the things I owned was over 10 years ago, and since then, I've tried to live more intentionally, with minimalism in mind.  So I figured that I could share my latest numbers (and my history) counting and purging clothes!
March is a good time to go through your wardrobe!  My birthday is this month, and I always love doing a reset around that time.  Plus, we're on the tail end of the winter season and getting into spring/summer clothes.  I live in a cold/wintery climate – so I definitely need clothes for all four seasons.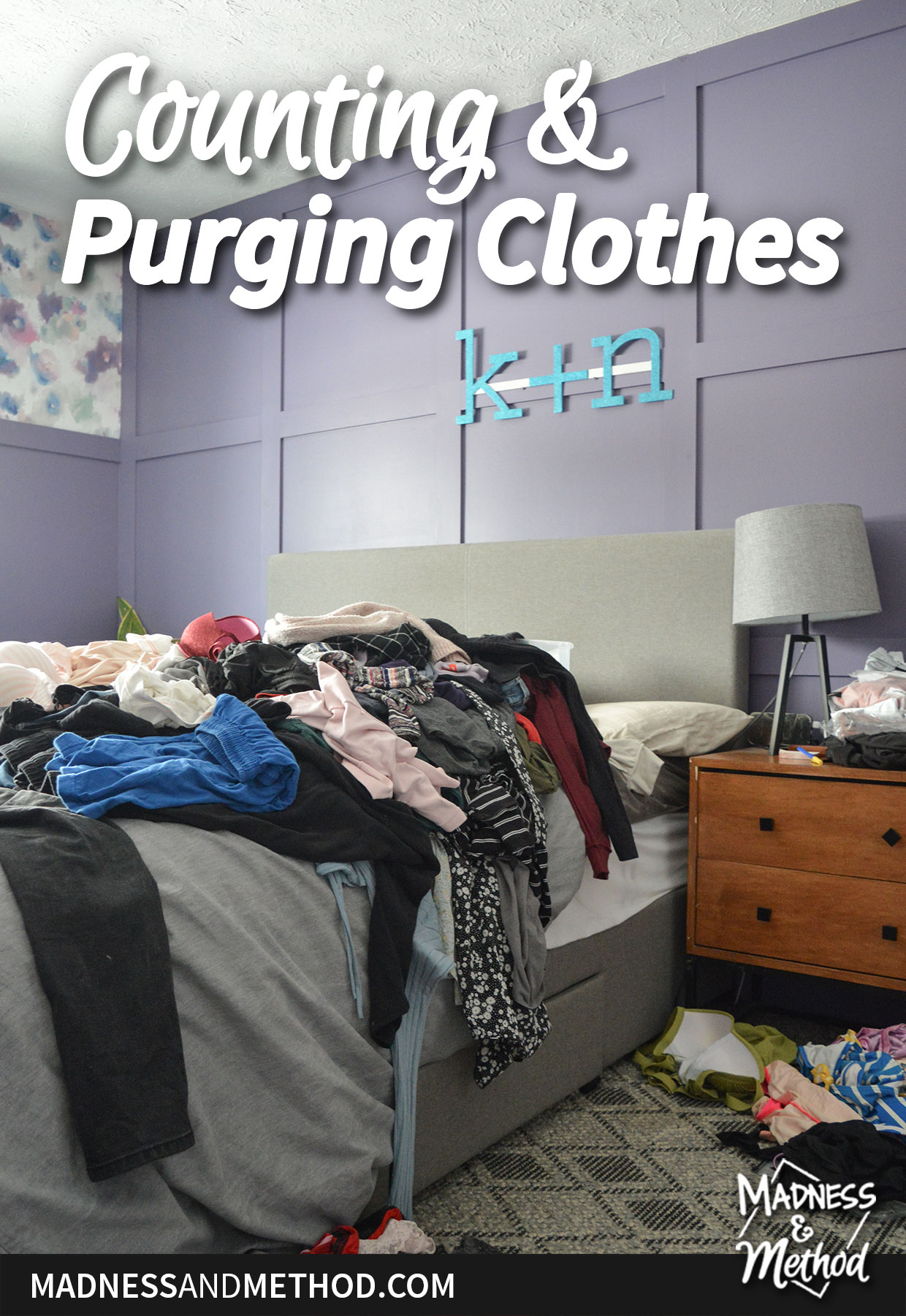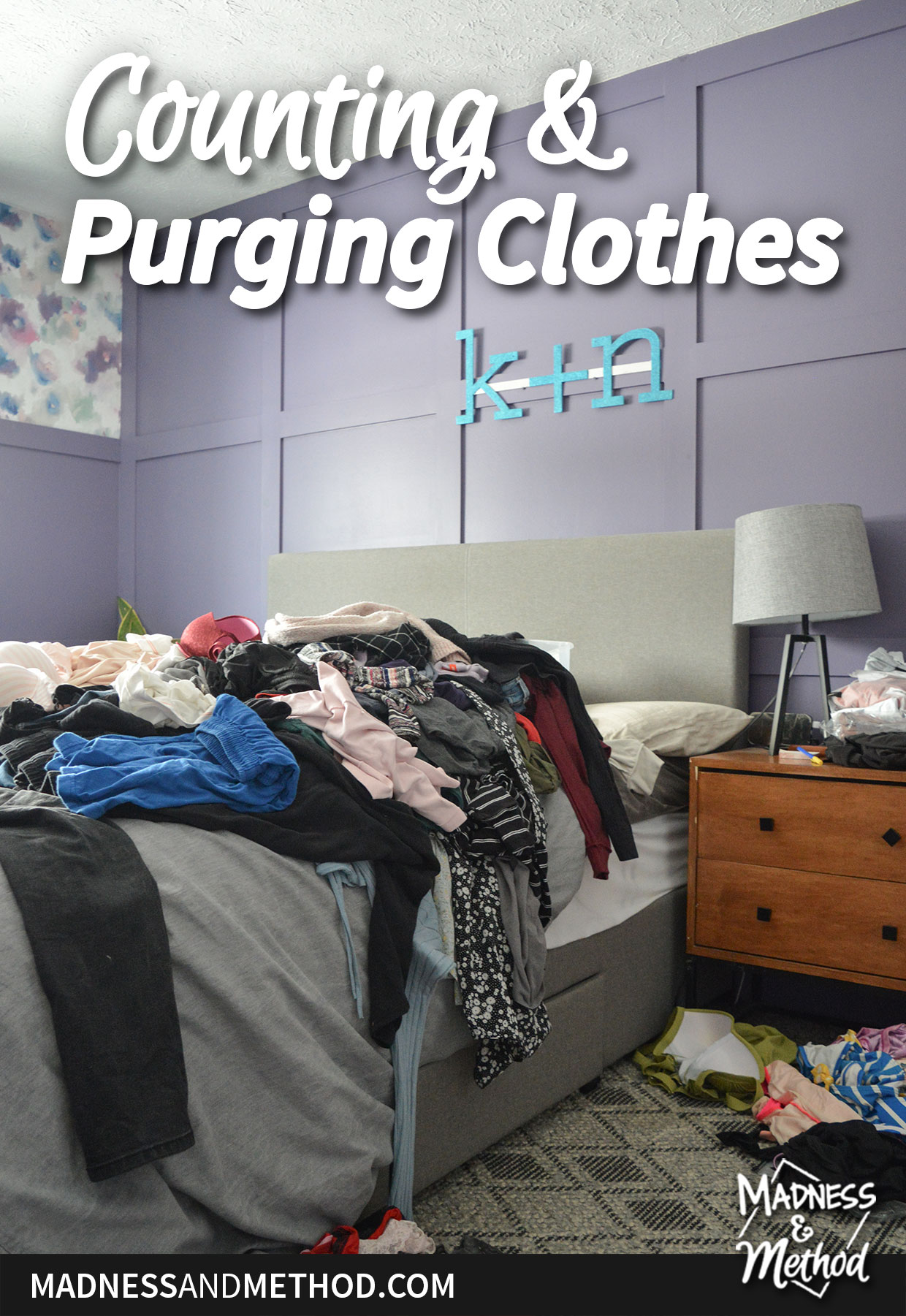 Counting your clothes in March is a great opportunity to look at what you have been wearing, and look forward to what you will be wearing when it's warm.  Other good counting and purging times could be January (when everyone is resetting for the New Year) and September (my other favourite "back-to-school" reset time).
Before we dive into my clothes count for this year, let me remind you of some of my past year's numbers:
2011: 512 items
2015: 480 items (see the blog post here)
2016: 445.5 items (here is my clothes count for that year)
In 2015, I consciously decided to adopt minimalism and made a goal to diminish my clothes by 50%.  As you can see, I did not get there.  I didn't count my clothes for years after (maybe I was upset, ha) – but more likely it's because I had 3 kids since then.
Good news/bad news: pregnancy changes your body a lot (both during and after), so I went through different clothes at that time.  I'm now done having babies, so I can realistically evaluate all the things I have.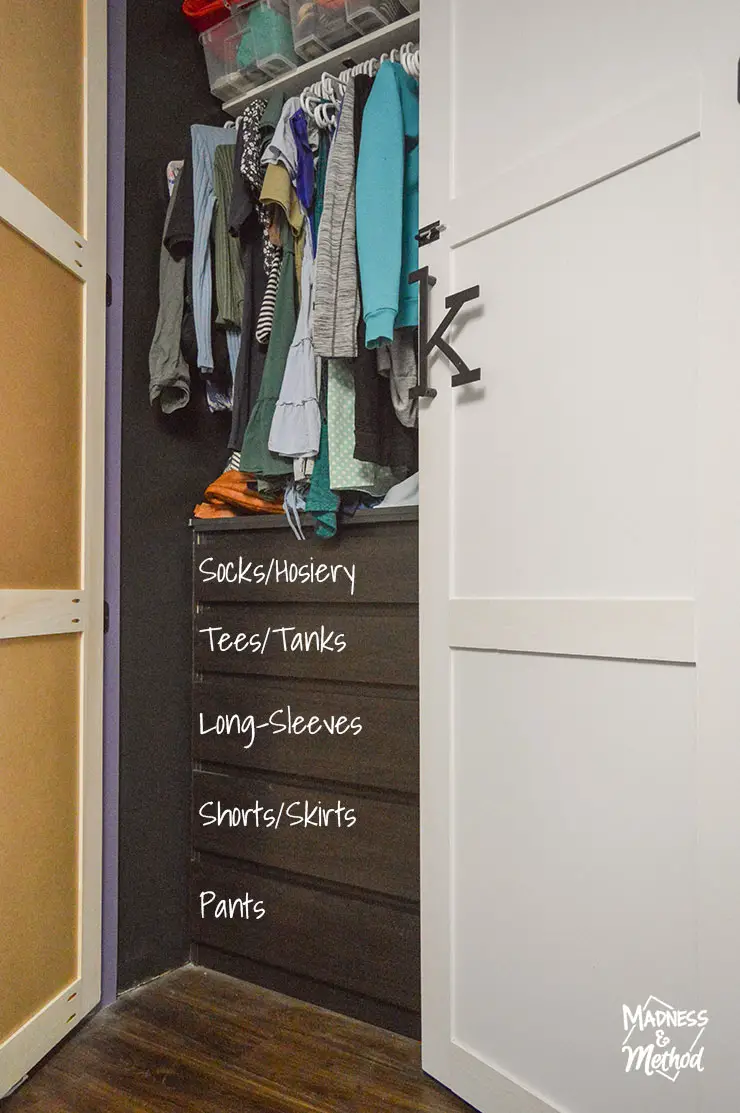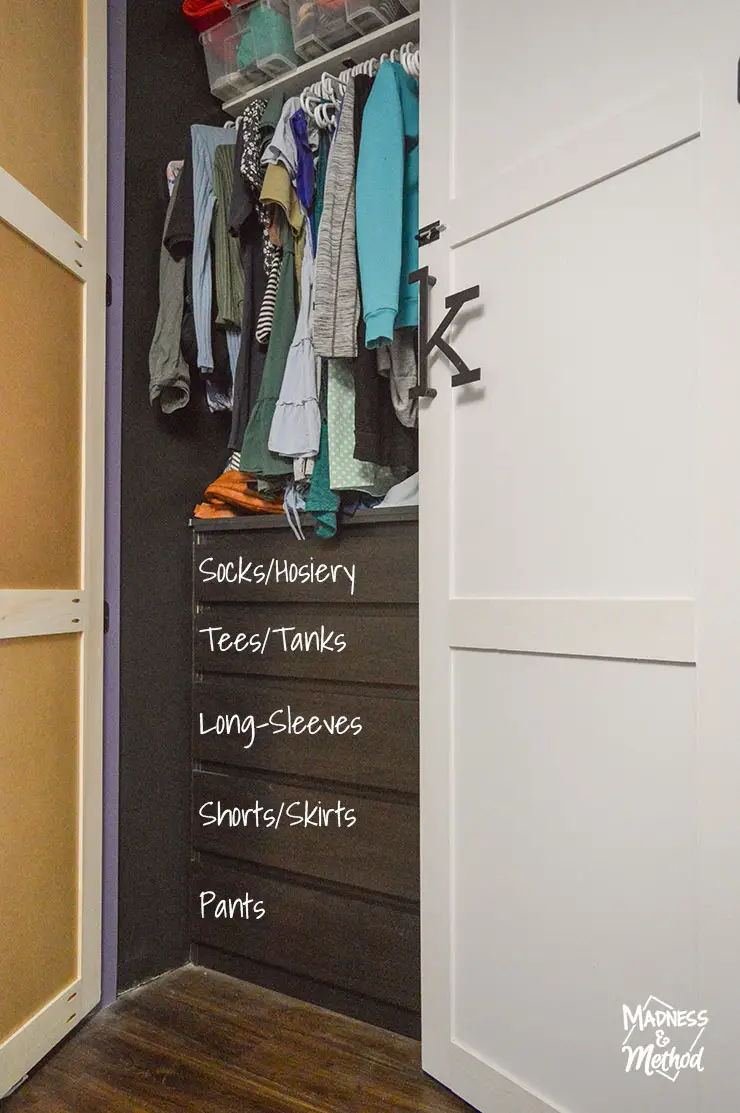 This Year's Clothes Count & Purge
This year, I only counted clothes – so no outerwear, shoes or accessories (ie: purses/belts).  Honestly, I have less than 30 of all of those combined now, so I knew it wouldn't be a big factor.
Additionally, I used the KonMari method of going through my clothes for the first time. Essentially, I threw everything on the bed, then went through them individually and only put back what I wanted.  (I counted them as I took them out).
Here is my list for this year:
35 Hanging things (dresses, sweaters, one-pieces)
25 Tees/Tanks
18 Long Sleeves
16 Shorts/Skirts
10 Pants
28 Nightstand items (PJs, workout wear, leggings)
10 Bras (it was less than 10 – maybe 6?)
40 Undies
9.5 Bathing Suits
30 Pairs of socks/hosiery
Again, I didn't do outerwear/accessories – but the total of that list: 221.5 items!
(And yes, I have a bathing suit bottom, but not a top, ha).  I'm pretty sure the list is accurate, but there may have been things that I missed in the laundry.
Either way, that's a lot better than the 450+ items I used to have :)
From there, I sorted everything into "keep", "get rid of", and "try-on".  In the end, I purged another 30 items (most can be donated), so that brings my list to under 200 items!  
Whoop whoop!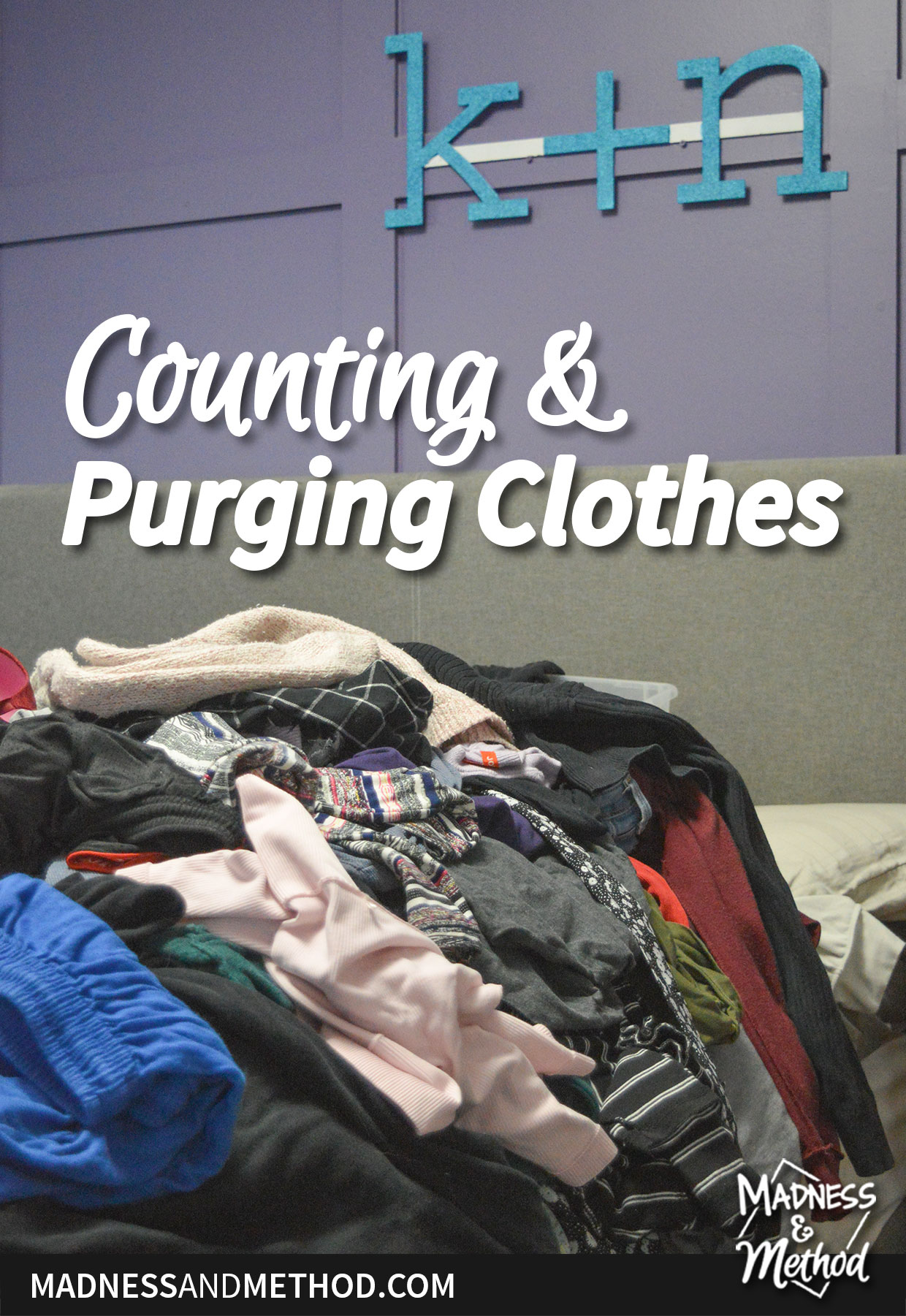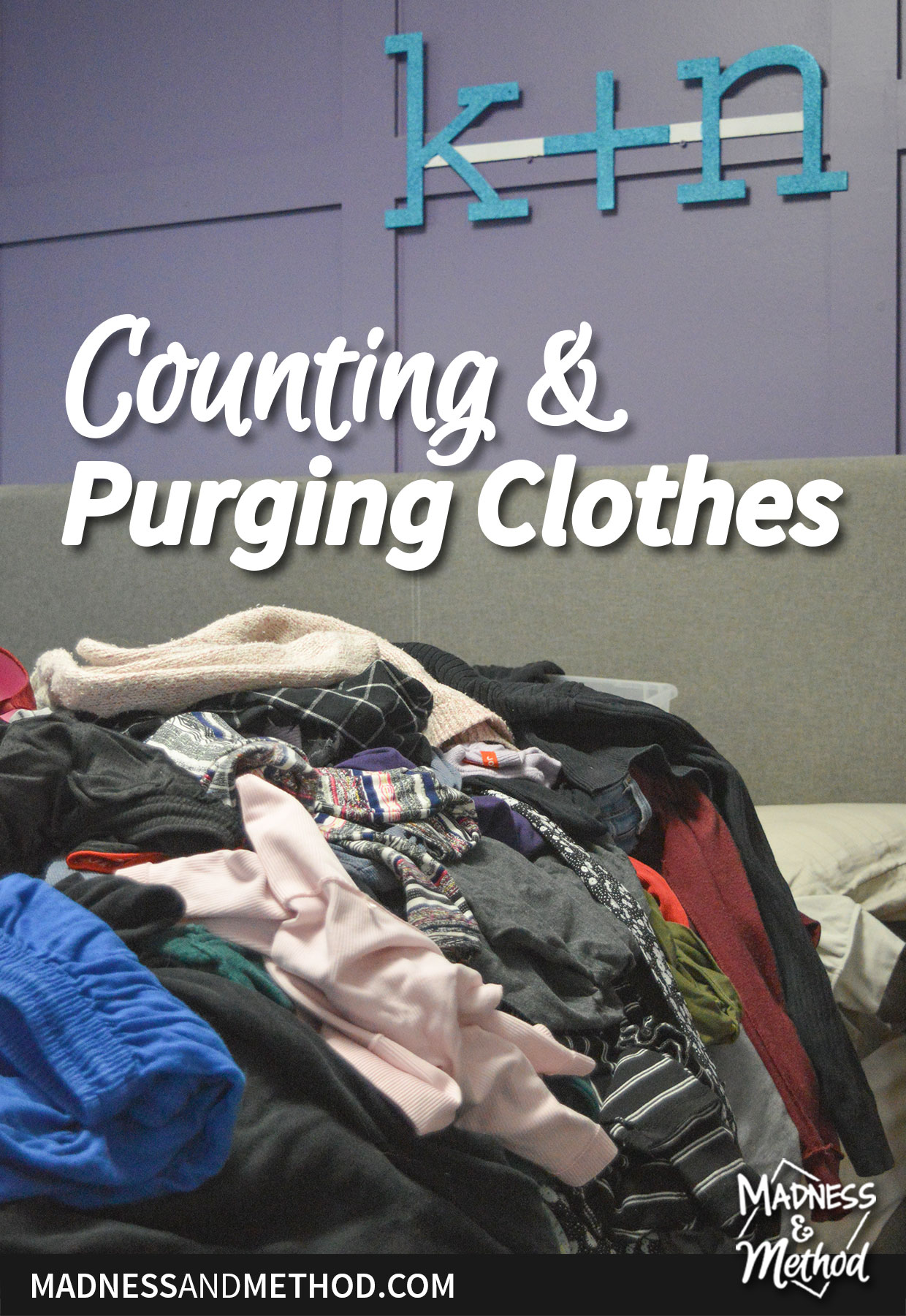 Ways to Minimize Clothes
I'm going to go over a few ways to minimize your clothes if you have too many things.  Or, if you find your closet overflowing, things getting lost, whatever!
Do a big purge: this KonMari method was good, and I think it will helps to show how much you have
Box it away: I did this a few years ago, essentially you take everything out and store them in bins/boxes.  When you want to wear something, you can then put it back in your closet/dresser (may not work for out-of-season clothes)

Similar: putting your hangers the opposite way, then hanging properly when you wear them.  After a month or so, get rid of the items that are still in the original "wrong" position

Laundry day: before you put away your clean clothes, make note of what was leftover in your drawers.  Always have the same item(s)?  You probably don't wear them!
After Wear: ever wear something annoying?  Whether it's the wrong size, fit, or shape – get rid of it!  I've had success getting rid of bras and pants this way.  If it's not the best, and it's just "meh" – then it goes!
One-in-one-out: If you want to buy something new, get rid of something you don't like.  If you want to get rid of a lot of things, do a 3:1 or 5:1 ratio (I just got another pair of tights that I wanted, after getting rid of 2 that I didn't like/wear).
Vacation Clothes: A few years ago I was packing for a trip, and realized that I wanted to bring my "nice" clothes.  Why would I prefer some clothes over others?  I've been thinking about how I can wear more "vacation clothes" all the time, no more mediocre things that I don't love!  (And if it's not the best, but I still need it, I make sure to let it go once I've found something better).
Minimize Storage Space: This was probably a contributing factor for my closet, literally getting rid of the dressers or bins that store your clothes.  The fewer places you have to store things, the fewer things you should own.  Right now, all of my clothes fit in our closet, my nightstand, and one drawer under our bed.
Conscious Shopping: Be mindful of what and HOW you buy clothes.  Is it a new season and you want the latest styles?  That's okay, just make sure you don't have anything similar already, or worse, the new styles from last time that you haven't worn yet.  Fast fashion is real, and advertising is everywhere (trust me, I click on so many clothing ads) – but by saving items in a wishlist and returning later, or having a list of things I need vs. being influenced by things I might want, it's helped me avoid a few random orders.
No Polyester: This has been my rule (for the past year+) and it has definitely helped with the conscious shopping.  Polyester sucks for a few reasons (cheap, bad for the environment – but also staticky!).  I hate clothes static so much, and by just reading the material label and refusing the buy anything that's 100% polyester (or more than 50, really) I've avoided a lot of impulse shopping "sprees".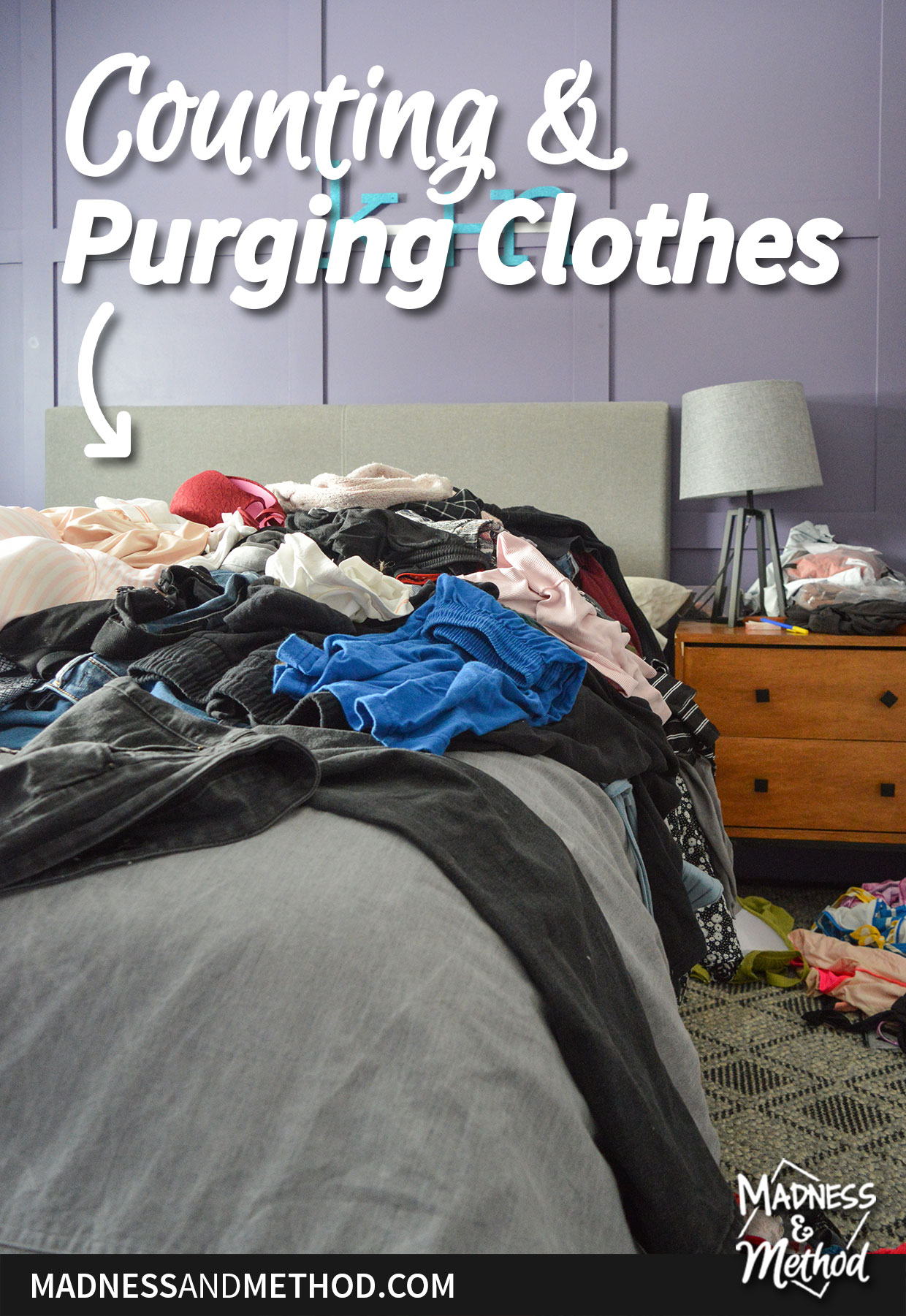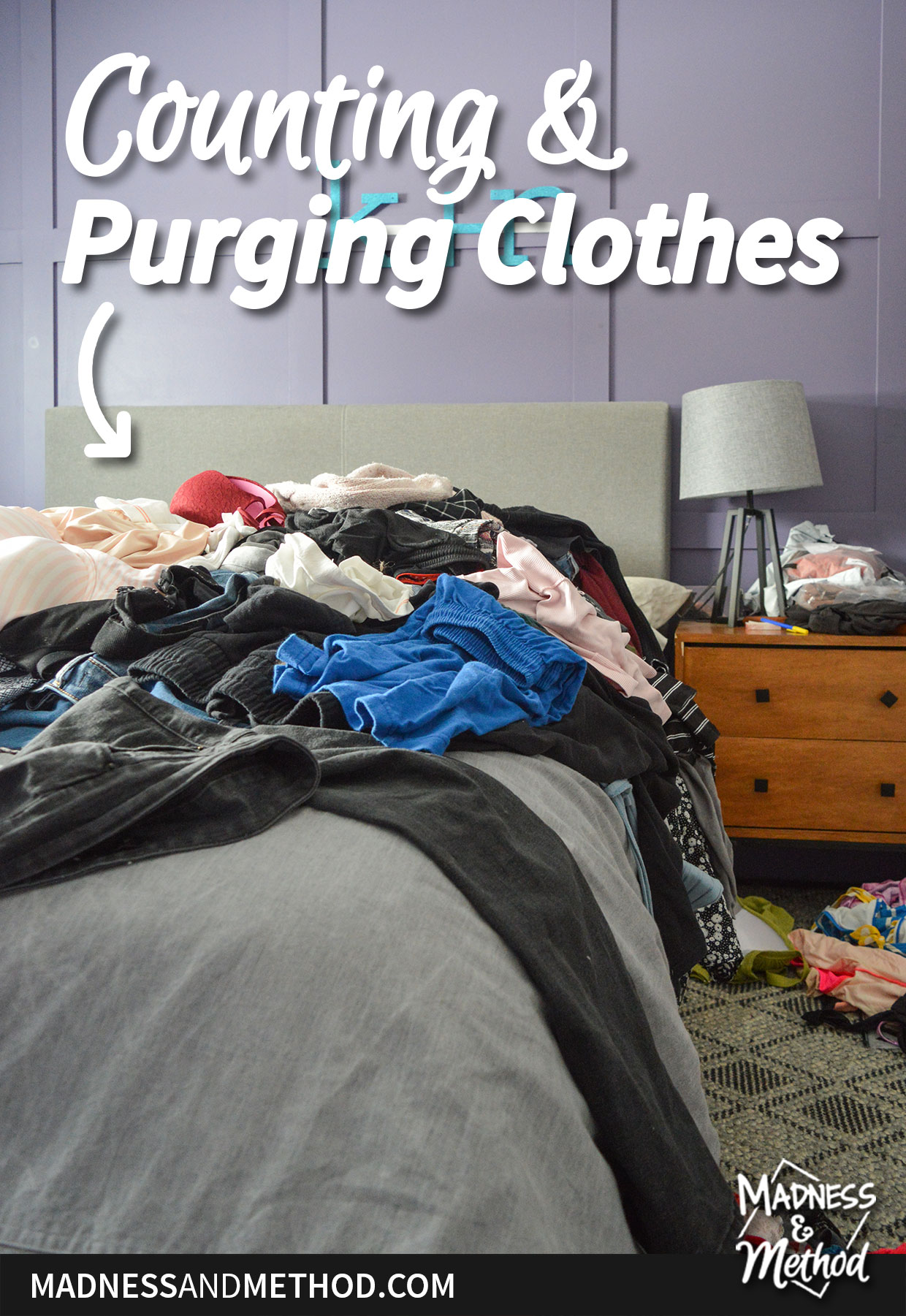 What's your shopping rule?  Maybe no online shopping?  Or, not shopping after bad news?  Or maybe you even have a budget (price or item #) that you can't buy more of – whatever!  Let me know :)
Either way, I hope you found this post on counting and purging clothes useful!  I know I feel a lot better about all the clothes I decided to keep, and 200 is a much more manageable number for me.
Related Posts: