You know the saying: you are your own worst critic?  Well, you've never had to deal with the Husband.  He's very picky about certain things, especially when it comes to cooking and food.  And his absolute favourite dessert, cherry cheesecake, is definitely no exception.  If I don't make it exactly like he's used to, I never hear the end of it.  Well, I decided to be bold and make him a dessert for Valentine's Day this year inspired by his favourite… but I made these cherry cheesecake tarts just a bit different so he's not too upset about my creative freedom…
He ate a lot of butter tarts over the Christmas holidays, and I figured I could come up with something to combine both desserts.  Kind of like a handheld mini cheesecake!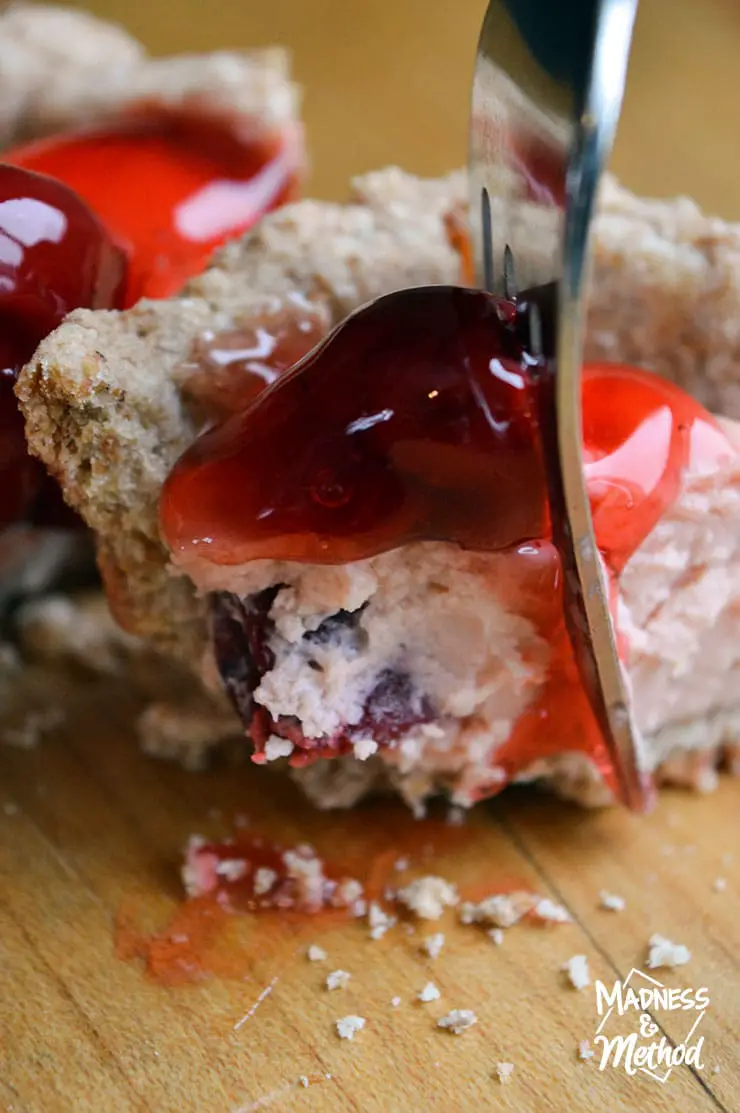 Let me just mention (I think I said it here too) that I don't like traditional pie crusts.  In fact, I had a LOT of issues with the crusts for these tarts, so please, if you have a go-to recipe for your crusts, you may want to stick with that.  I'm not sure if it's because I used whole wheat flour – but I just could not get my dough to roll out properly.
In fact, my original idea was to call these "cherry cheesecake heart tarts" and they would all have a little cut-out heart on the top made from dough.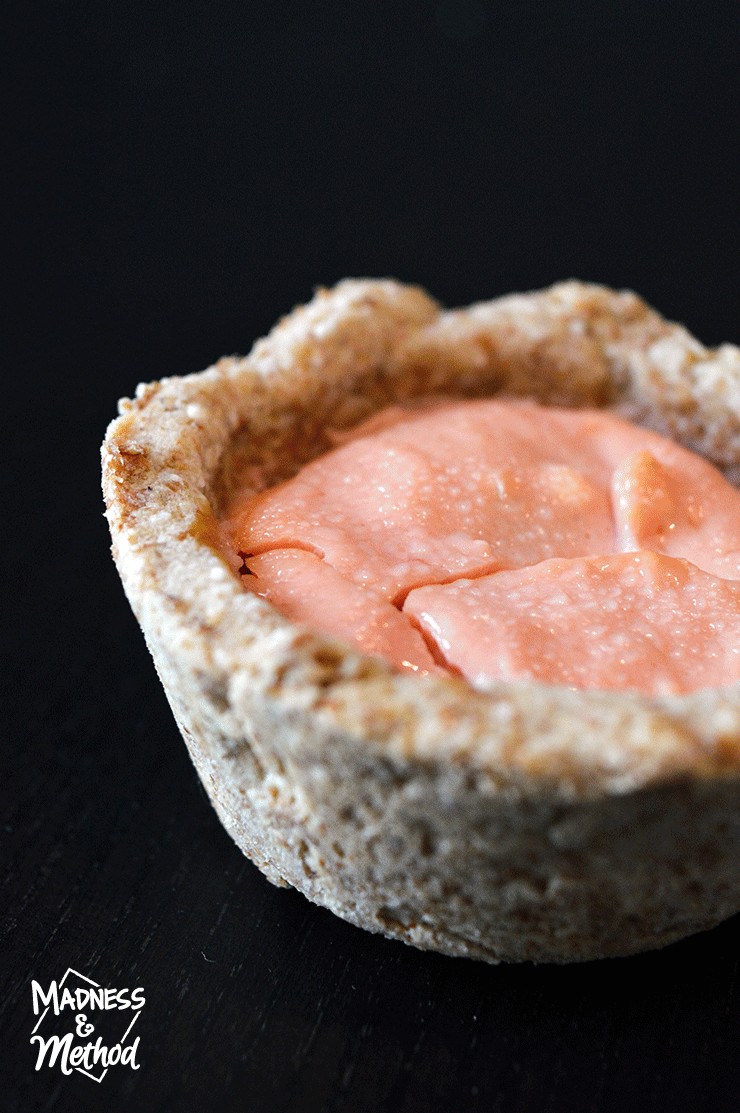 Thankfully I came up with a better solution, but I still find them too crusty for my liking.  Haha I tried to get some good shots of me pouring the cherry pie filling into the tart, but it was a bit difficult so I made this sort-of fake timelapse animation instead!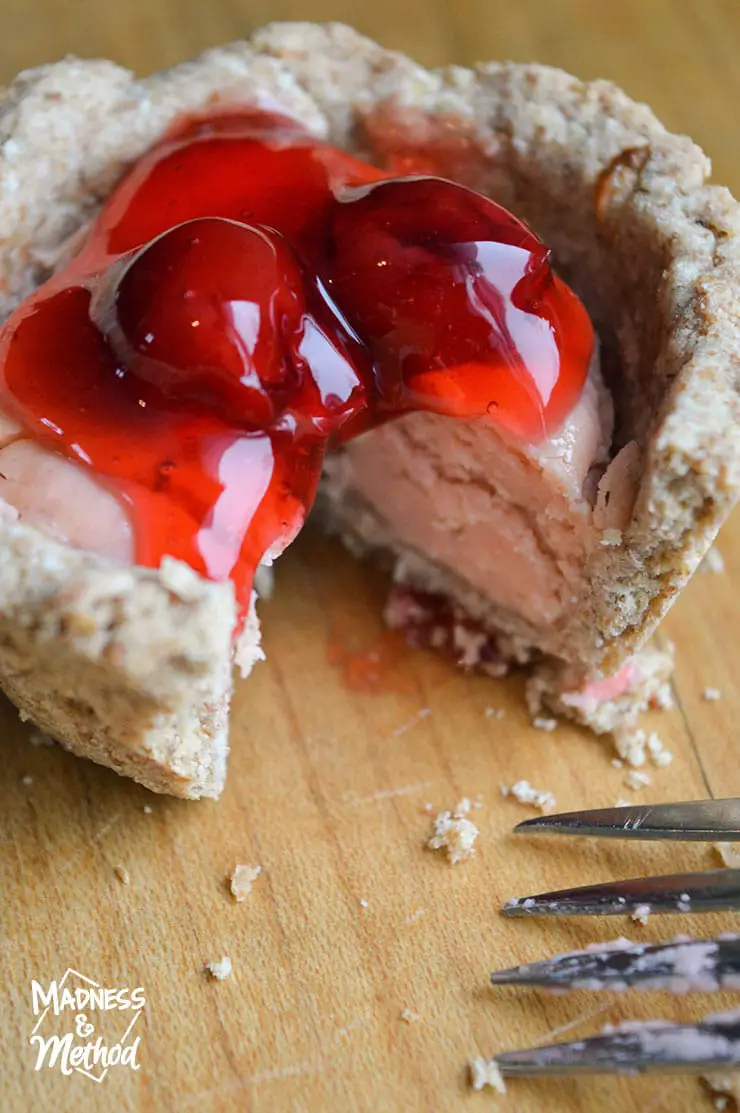 Crust Recipe
3 cups flour
1 tsp salt
1 cup softened butter
Cup of ice water
To make the dough, I started by cutting in 1/2 cup of softened butter with 1-1/2 cups of flour and 1/2 tsp salt.  Then I slowly added a tablespoon of ice water until everything was mixed properly (maybe about 5-6?).  One recipe I read said to chill the dough for 4 hours/overnight – well I had it in maybe an hour or two and the ball of dough was hard.  Like I had to microwave it to heat it up, hard.
The next batch I made wouldn't roll out properly.  I didn't chill it at all, and it kept sticking to the rolling pin and I had to add more flour and more ice water.  I gave in and put it in the fridge for a few minutes, and it sort of worked out better.
Once the dough was rolled, I used a round container (around 4″ in diameter) to cut out circle shapes, then squished them into my muffin pans.
Print Recipe
Ingredients
3 cups flour

1 tsp salt

1 cup softened butter

Cup of ice water

2 packages of softened cream cheese

1 egg

Squirt of lemon juice

1 can of sweetened condensed milk (it has to be Eagle Brand for the Husband!)

1 can of cherry pie filling (divided)
Instructions
1
(See further instructions for dough in center of post)
3
Beat cream cheese until soft and fluffy, then add an egg and beat again
4
Squirt in lemon juice and add a can of sweetened condensed milk
5
Once everything is mixed, pour half a can of cherry pie filling (about a cup) and stir by hand.
6
Scoop cheesecake batter into prepared muffin pan crusts
7
Bake for 30-35 minutes, until cheesecake is set
8
Cool, and store in refrigerator
9
Add a spoonful of remaining cherry pie filling if desired
Notes
Try and get a least one full cherry in each cup!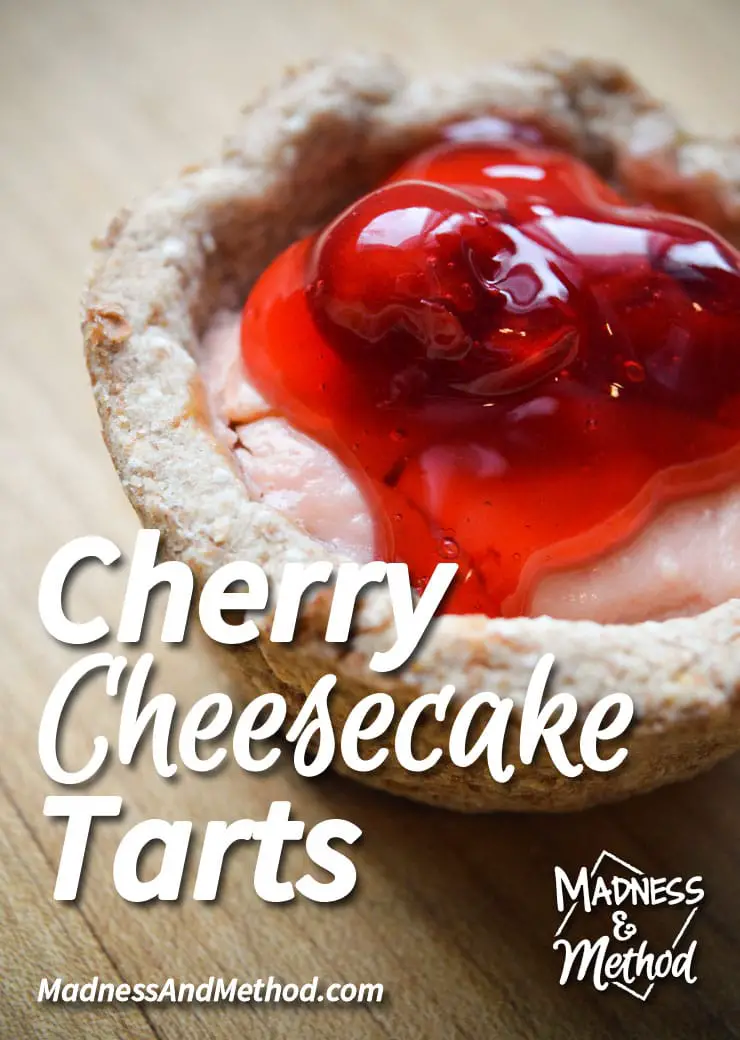 So what does the Husband think of these cherry cheesecake tarts?  He ate 3 before I could even take pictures… so at least I know he likes them :)  Although… he did only have the "plain" ones without the extra pie filling – so I'm sure once he sees these pictures, he'll want to try a few of those too!
I found that the cheesecake really expanded at the end, but once I removed them from the oven, they settled back down to a normal height.  I like how they aren't right at the top, so there is still room for extra pie filling, or even a dollop of whipped cream or two :)