We just celebrated our 5th wedding anniversary and decided to throw a party for our friends and family.  It was also Zachary's 3rd birthday, so it was a combo event!  First up was the perogy party for us, and then a cake for the little one (and balloons, and hats, and blow-outs – his 3 requests!).  Now you may be wondering, what the heck is a perogy party?  Well… let me tell you more!
So yes, a perogy party is something I sort of invented – but it goes back to our wedding 5 years ago when we served a midnight perogy bar.  Actually, that was a custom request too (although they did have a mashed potato bar on their list of options – so it's pretty similar).
Anyways, perogies are like awesome little hand-held mashed potatoes pasta things so I figured that it would be easy to make fun combinations for our party.  Similar to the wedding perogy buffet, but instead of the traditional onions, bacon, sour cream – there would be a lot more options!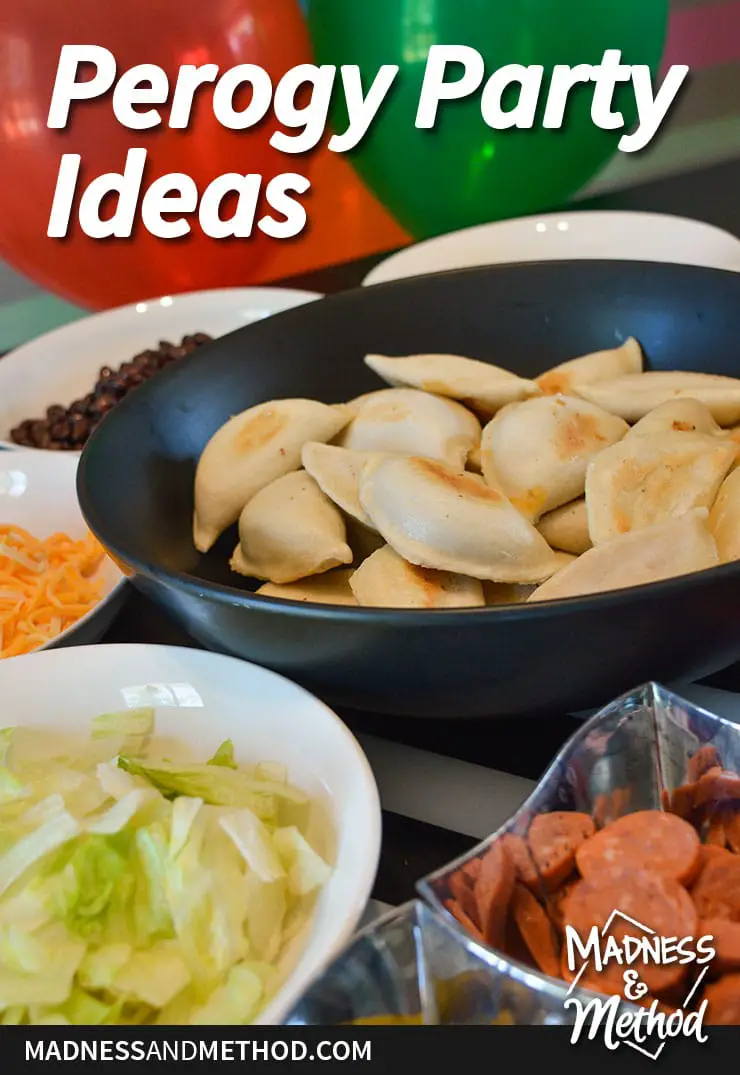 Oh, and I am aware that there are a lot of spelling variations for the word perogy, like pierogi or pirogi.  I'm going to use the same "perogy" throughout, but I do mean pirogi/pierogi if you're more used to the traditional spelling.
So the three main perogy offerings we had at our party were Pizza Perogies, Taco Perogies and Regular Perogies.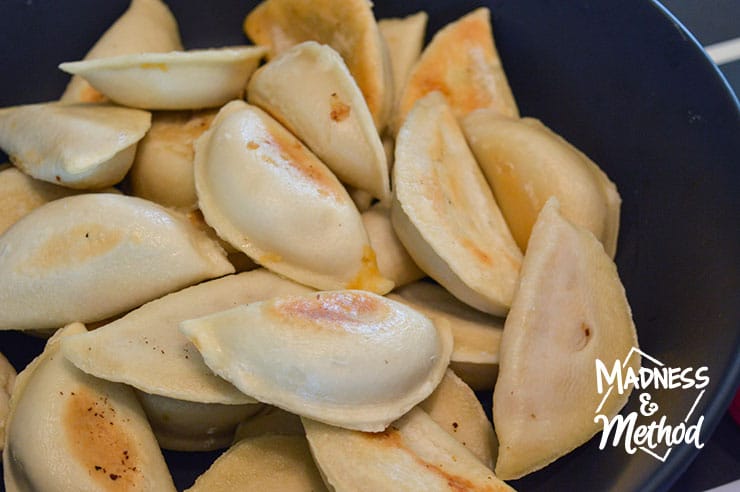 Traditional/Regular Perogies
To me, typical perogies always come with bacon and onions.  I personally don't like onions, but still cooked one for our guests (we should have gotten 2 though!)
Bacon
Fried onions
Grated cheddar cheese
Sauerkraut
Sour Cream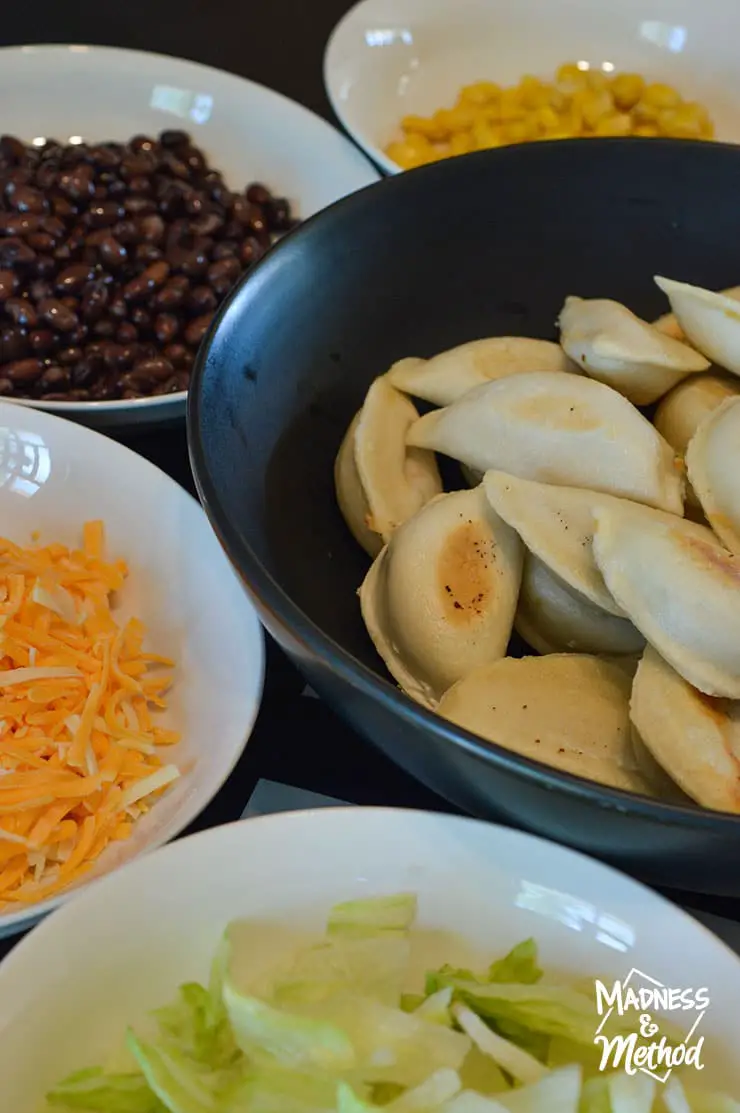 I wouldn't be satisfied with just the regular perogy toppings and got the idea for our next perogy "station" because of the sour cream.  I thought to myself – what other types of food uses sour cream – and bingo: tacos!
Taco Perogy Toppings
Our pitfall with the taco perogies is that I bought avocados that were too hard, and it was really difficult to make the guacamole.  But other than that, I think that the taco perogies were the crowd favourite!
Sour cream
Guacamole
Salsa
Grated cheese
Shredded lettuce
Black beans
Corn
Ground meat with taco seasoning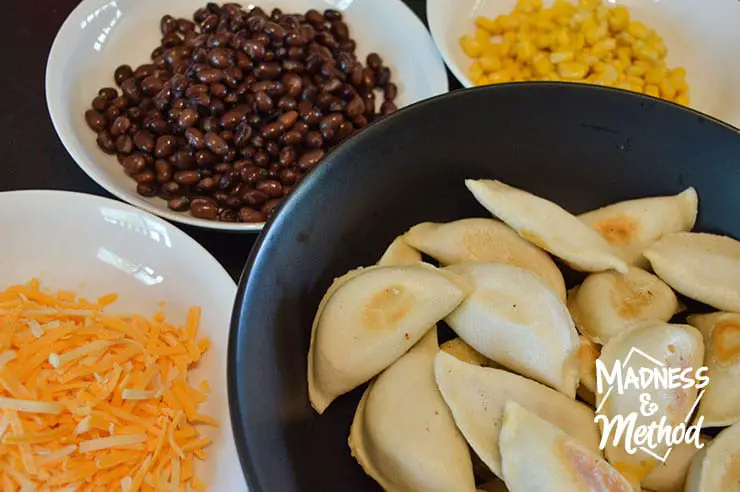 To me, those are the usual taco toppings, but you could always add different items depending on your Mexican (or Tex-Mex) tastes!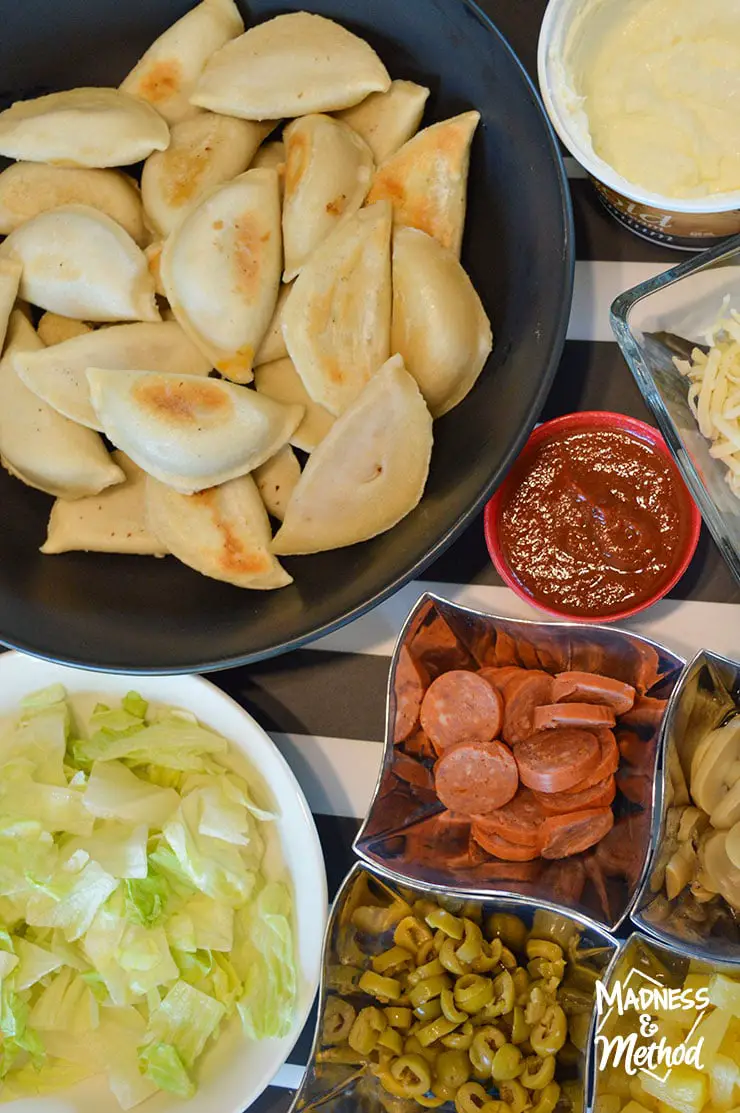 Our third and final perogy flavour was the pizza perogies!  These ones were probably conceived because I liked the double-p name, but also… people LOVE putting their own toppings on their pizzas.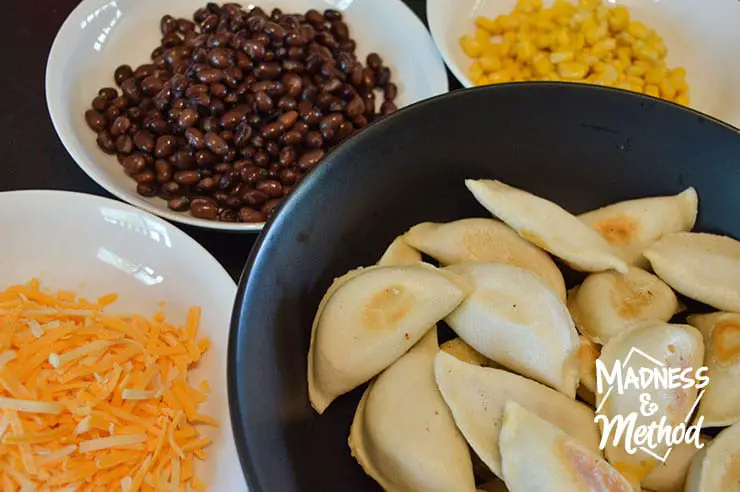 Pizza Perogy Ideas
Like the taco toppings, pizza toppings are probably a lot more debated – so feel free to include the items you like.  I went for super simple (ie: things I didn't have to cook ahead of time and could just throw in a bowl).
Grated pizza mozzarella cheese
Pizza sauce
Pepperoni slices
Pineapples
Olives
Mushrooms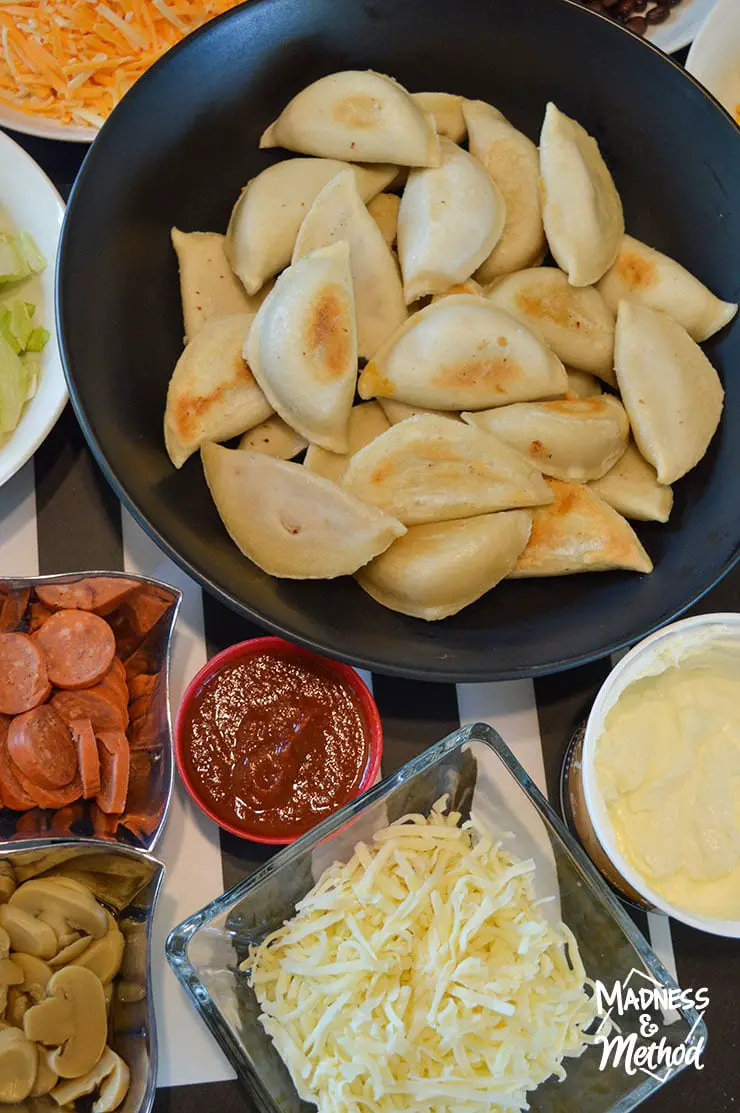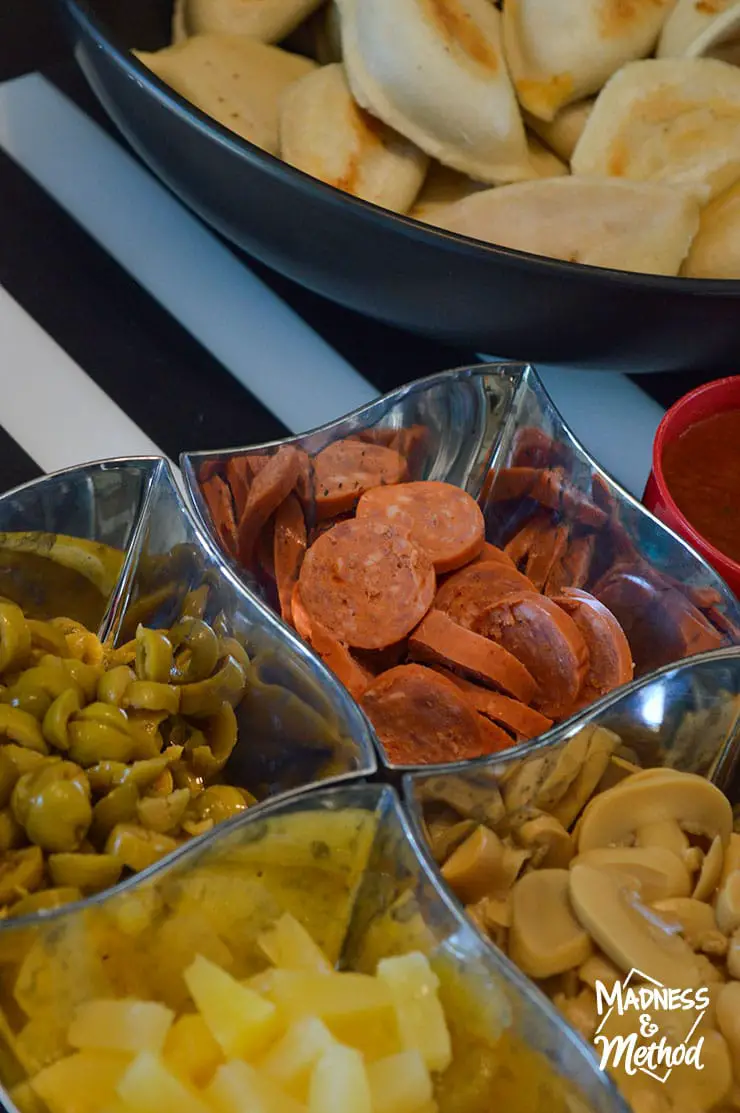 What other pizza toppings are there?  Peppers, bacon, those gross onions?  Ha!  As I said, feel free to update the toppings however you like!
BONUS: Perogy Poutine
I just thought about this one yesterday actually: perogy poutines!  Poutine is a stereotypical Canadian dish that consists of fries, cheese curds and gravy.  Now just substitute the fries for perogies, and you can bet that it would also be a hit at your perogy party!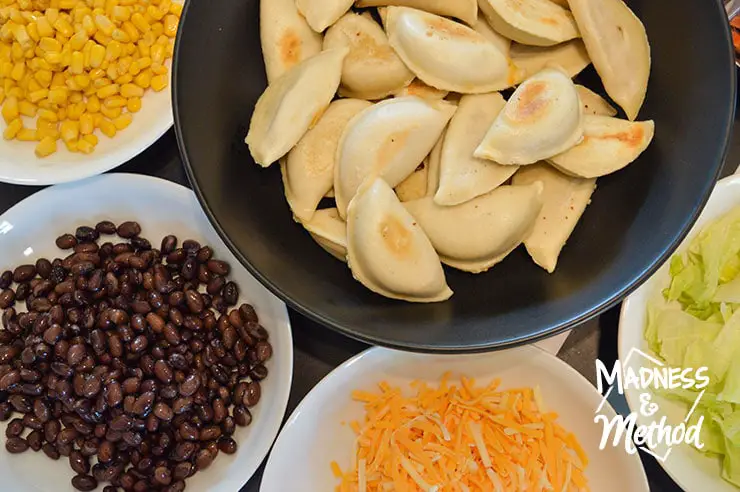 Prepping for a Perogy Party
I usually like my party prep to be easy and quick, and I tried to plan the perogy party with that in mind.  Most of the toppings just had to be opened from their cans/jars and put in a bowl (I even bought the pre-shredded cheese!) but some things required a bit more time.
Here is a run-down of what the pre-party prep looked like:
Chop and fry onion
Bake bacon then chop into little pieces (you could also buy bacon bits)
Fry the ground beef with taco seasoning
Clean and chop lettuce
All items in bowls
Make guacamole (see notes above about hard avocadoes, ha!)
Cook perogies
We had maybe 20 guests?  We didn't count everyone, but let's say that's a good number.  I cooked 3 bags of 2kg of perogies, and we had a bit of leftovers by the end, so possibly used 5 kg of perogies for 20 people (that's over 10 pounds!).  I just bought the plain perogies (ie potatoes and cheese) but I know there are a lot of pre-made perogy flavour options too.  So you could always go that route with more traditional toppings!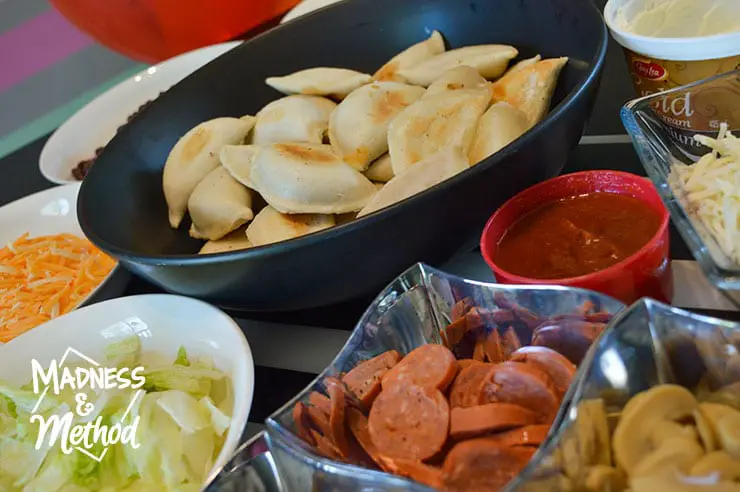 Perogy Cooking Tips
The bags of perogies I bought said to either boil them or pan-fry them.  Usually, when we cook perogies just for us, I do a combo and par-boil them, then finish in the frying pan.  I knew that you could also bake them, and I was able to get about 1 pound of perogies per baking sheet (and did 2 pounds at once).
I boiled and pan fried one of the bags, but it required constant watching/standing over the stove.  By comparison, they only take about 15 minutes to bake in the oven and it's pretty hands-off, so that was definitely the most convenient option!
My big takeaway would be to possibly bake/cook your perogies ahead of time.  While I had a good batch or two ready for our dinner time, our house was pretty hot by this point (and it was the hottest day so far and we hadn't turned our A/C on yet!).  It would have been a good idea to have them cooked and staying warm in a crockpot or our toaster oven or something (or even throw them back in the oven right before).
Lesson learned!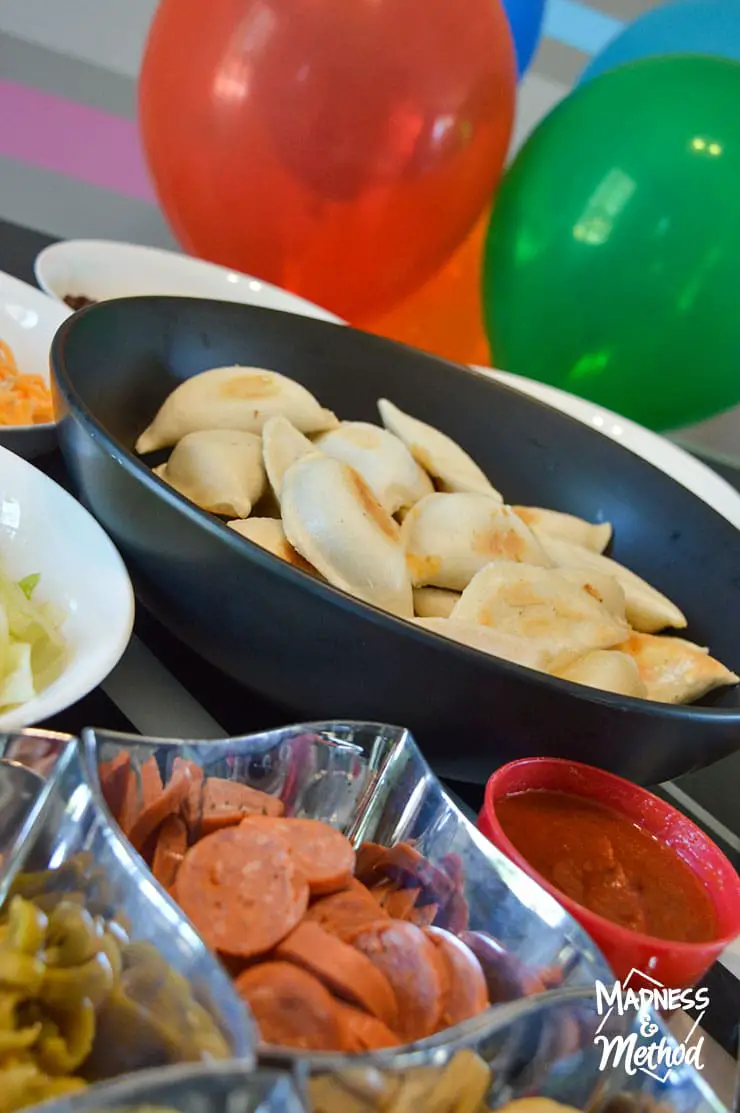 Either way, I think the perogy party was a good idea because people could pick and choose how they wanted their perogies.  I did warn people ahead of time that perogies would be the only thing we were serving (and not to expect salads or something), so hopefully, we didn't dissappoint :)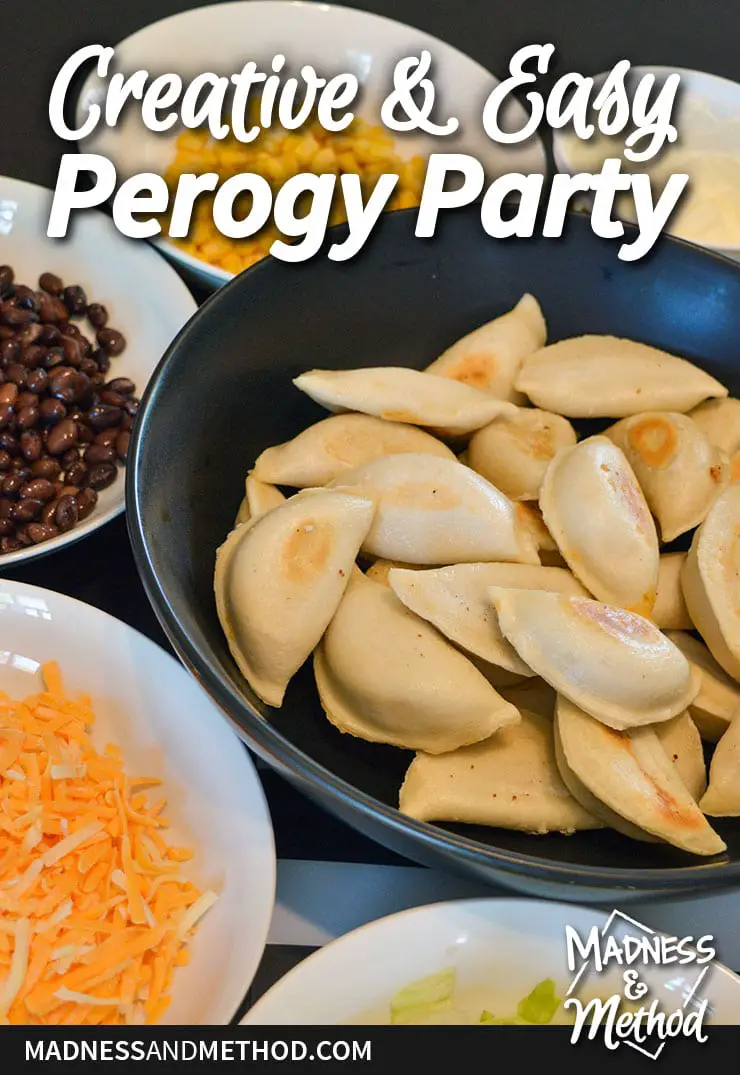 So, are you ready to host your own perogy party now!?  I would definitely do it again (maybe it will be our thing?), and you could always come up with different combinations of toppings.
Like… dessert perogies!  Now there's something I can totally get behind :)
Oh, I just remembered one last thing!  I had bought two types of sour cream, a regular one and a "premium" one.  I found the latter to be a bit hard, so people definitely went for the one they recognized (and could easily scoop out of the container).