We did a little art swap in Félix's room recently as part of a slow/small makeover of the space.  I figured that it would be a great opportunity to share how to hang artwork.  So, I made a video of my process, and I'm including all the details (and more!) below. 
– Note: This post contains affiliate links. See more information about affiliates here. –
Do you have a lot of art (or photos) in your home?  I've slowly added different things throughout the years… and I've definitely gotten better about how to hang art!  You won't believe some of the mistakes I've made in the past (well, you will because I'm sharing them today, ha!).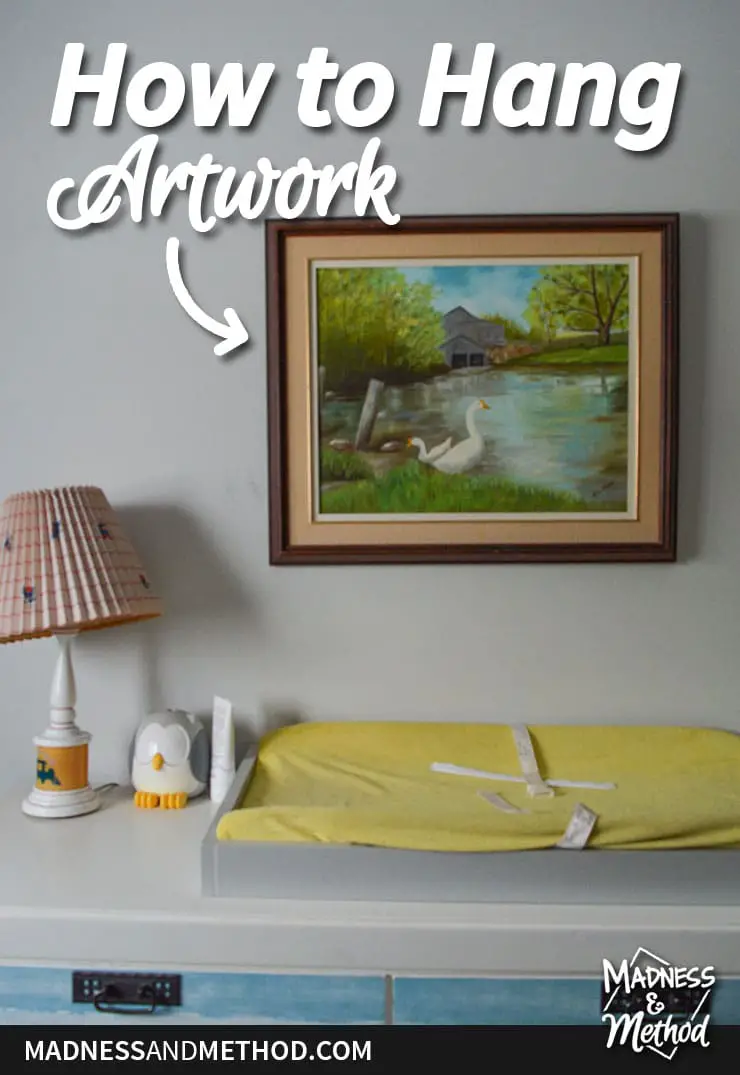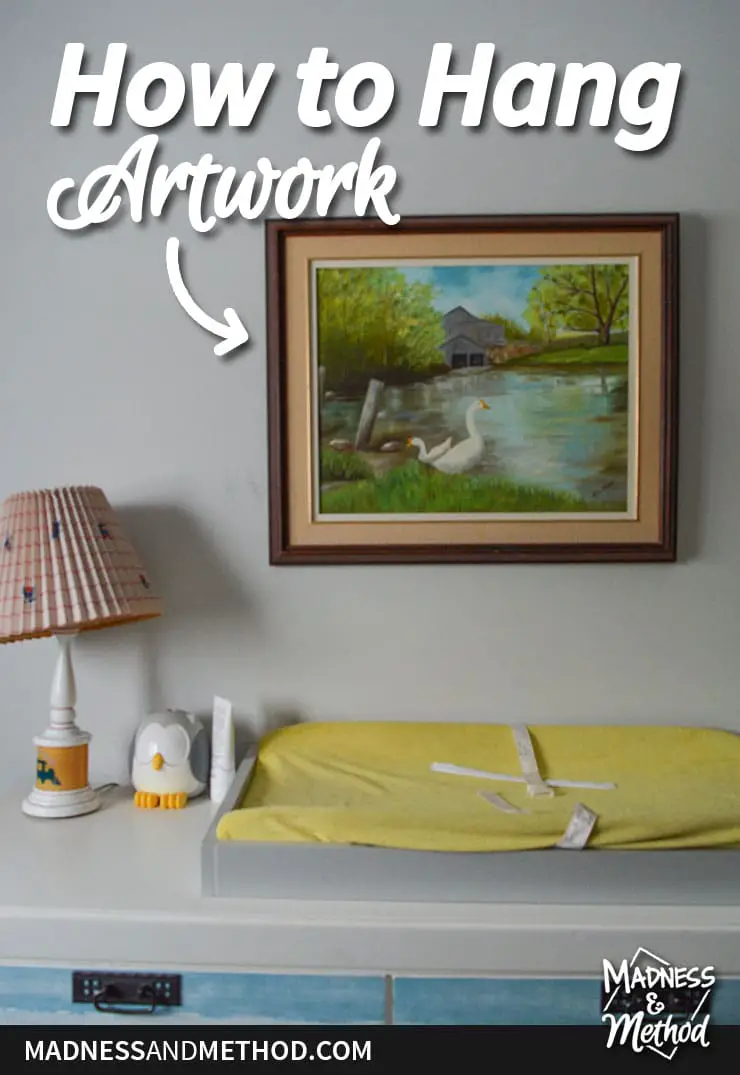 Before I get to how to hang artwork – let me talk about where/what we had before.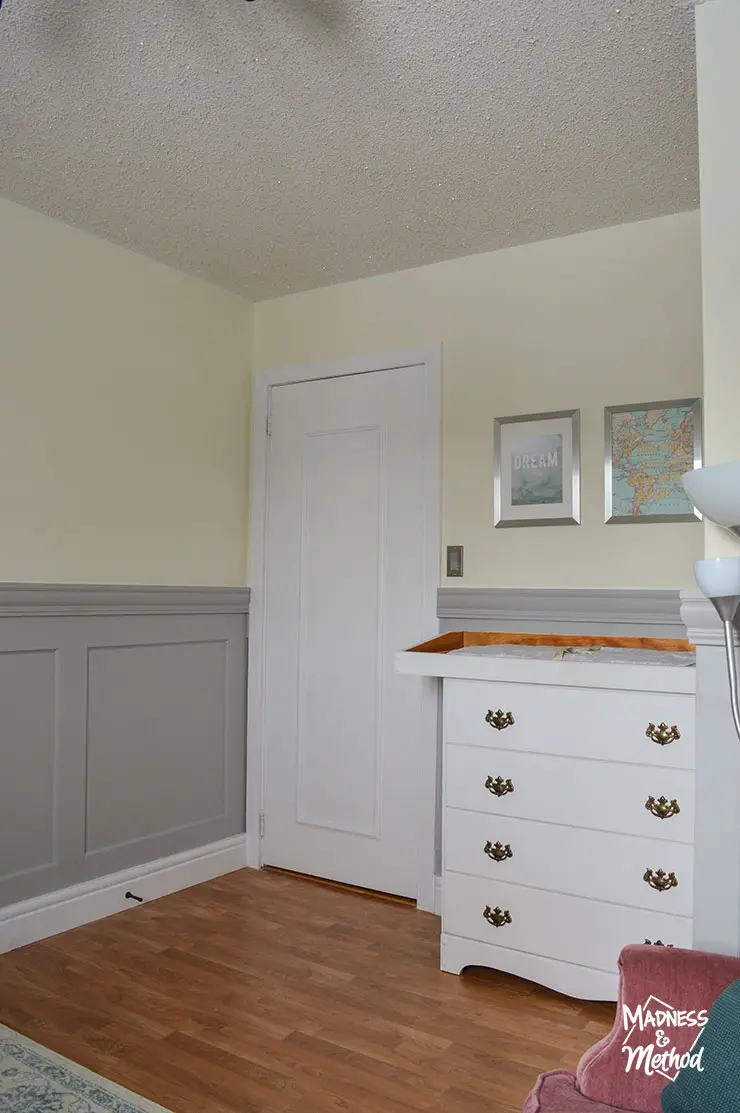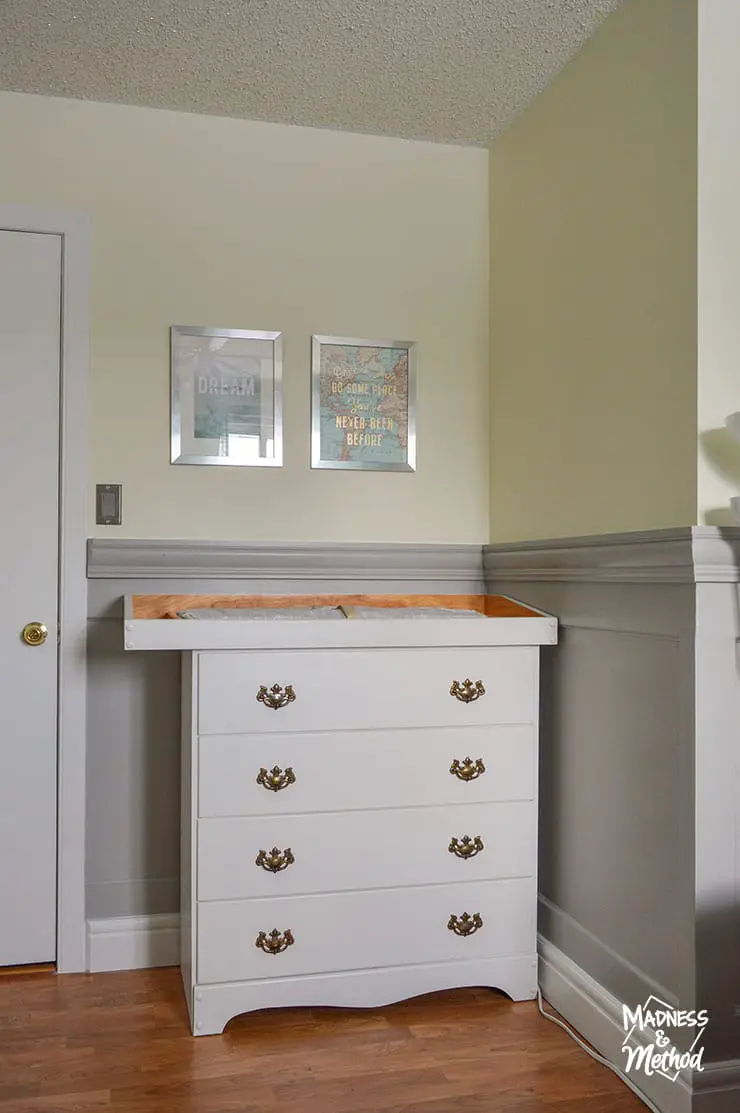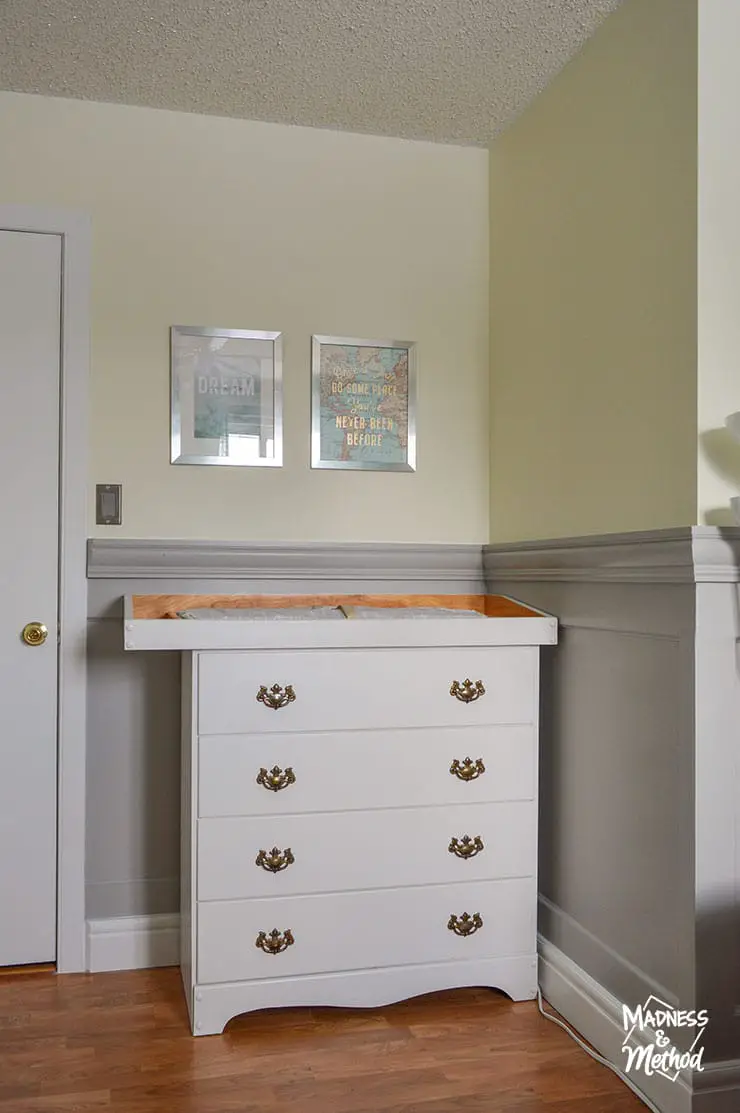 In our old house, I renovated a light yellow nursery before our third was born.  I picked up some art prints and had them hanging above his change table.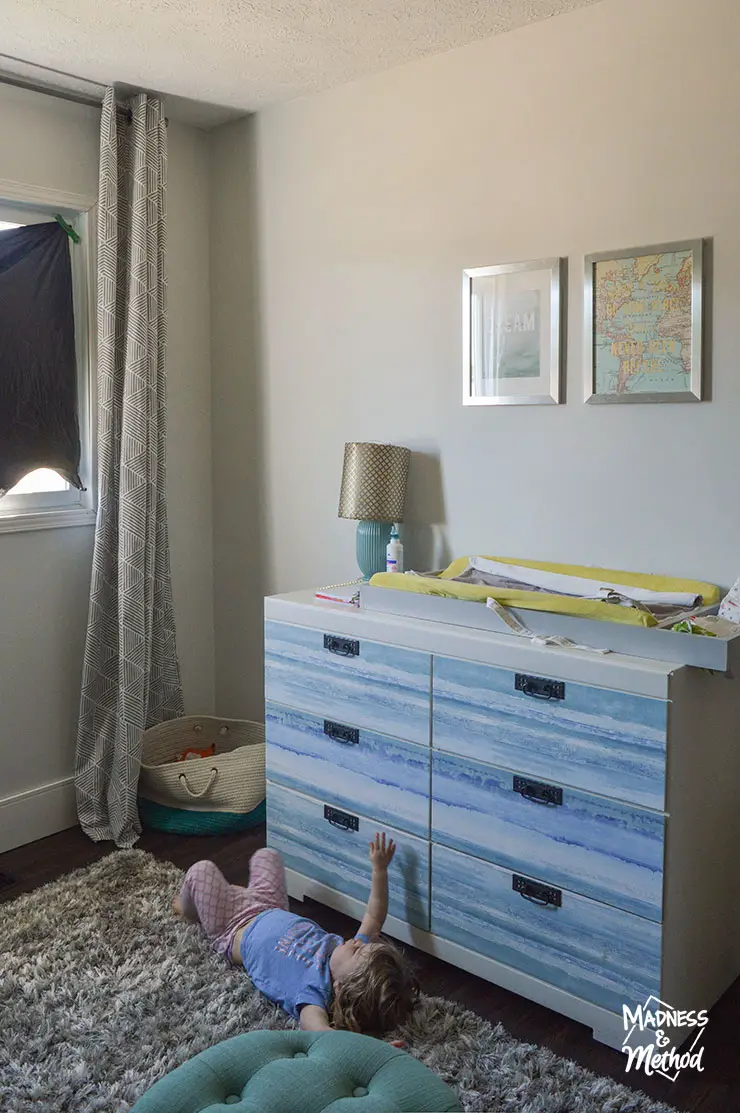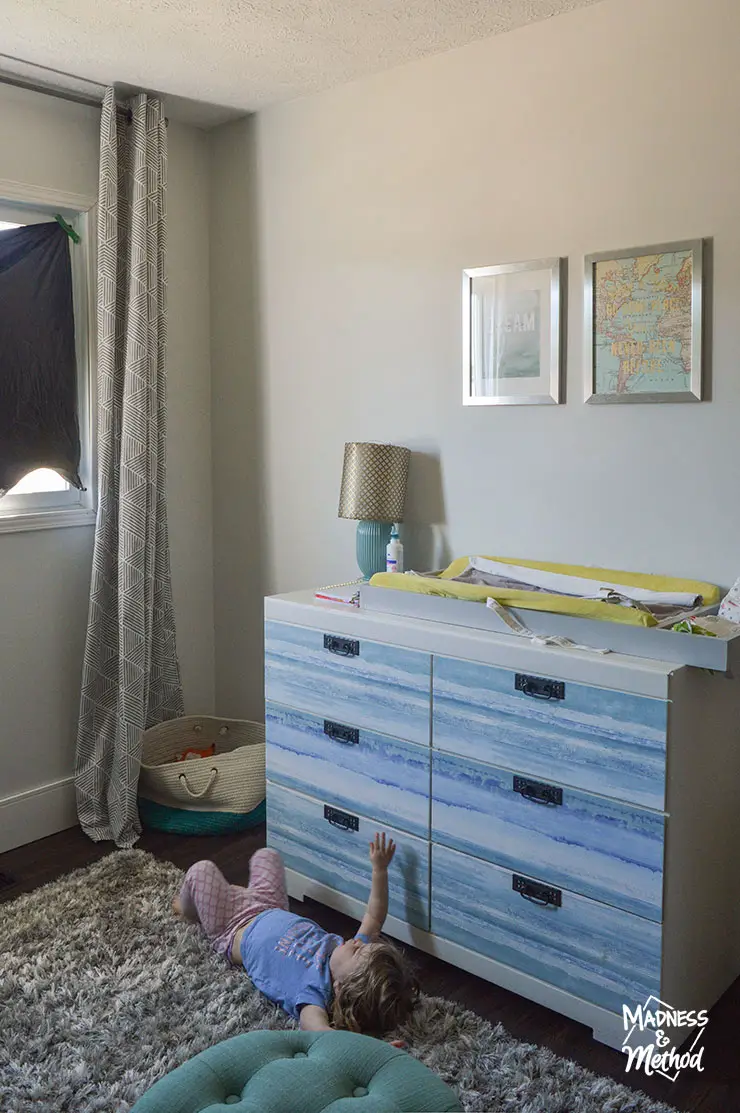 Fast forward to our new house, and I pretty much hung them in the same location!  (Well, we did swap for the wallpaper dresser because it fit better). 
I realized that I don't take too many photos of Félix's bedroom, ha.  The one above is shortly after moving in.  Notice the lovely garbage bag blinds?  The cheapest/quickest blackout if you don't have stuff yet. 
How to Hang Artwork
Check out the video below for my tips on how to hang artwork!  If it doesn't load, you can watch it on YouTube here. 
My number 1 tip when it comes to hanging artwork: use a nail into a stud!  A simple finishing nail (about 1-1/2″ long) will be perfect.  If your artwork is light/flat on the back, I recommend Command Strips.
AND if you want to hang your artwork and make sure it stays where you want – use a nail to hold the weight, and a Command Strip to secure it in place.  (Or even painter's tape too). 
Looking for an alternative to Command Strips?  Use sticky putty!  They also have some adhesive tape, but I've never used that.
Make sure to check out my video for more tips (including what to do when you want to use a stud, but you don't like the location) AND how to easily cover up a small nail hole. 
Do you have to use a nail into a stud?  Yes and no.  I would say yes if your artwork is really heavy, large or expensive.  But no, you can most likely just put your nail into the drywall and it should hold fine.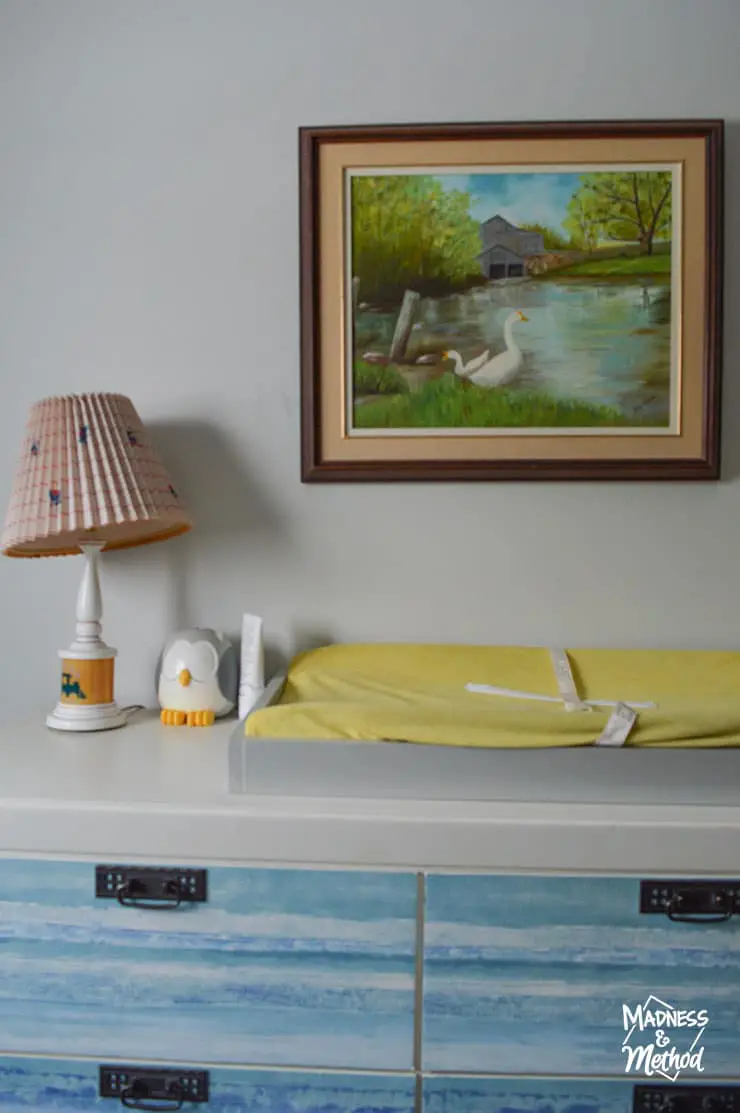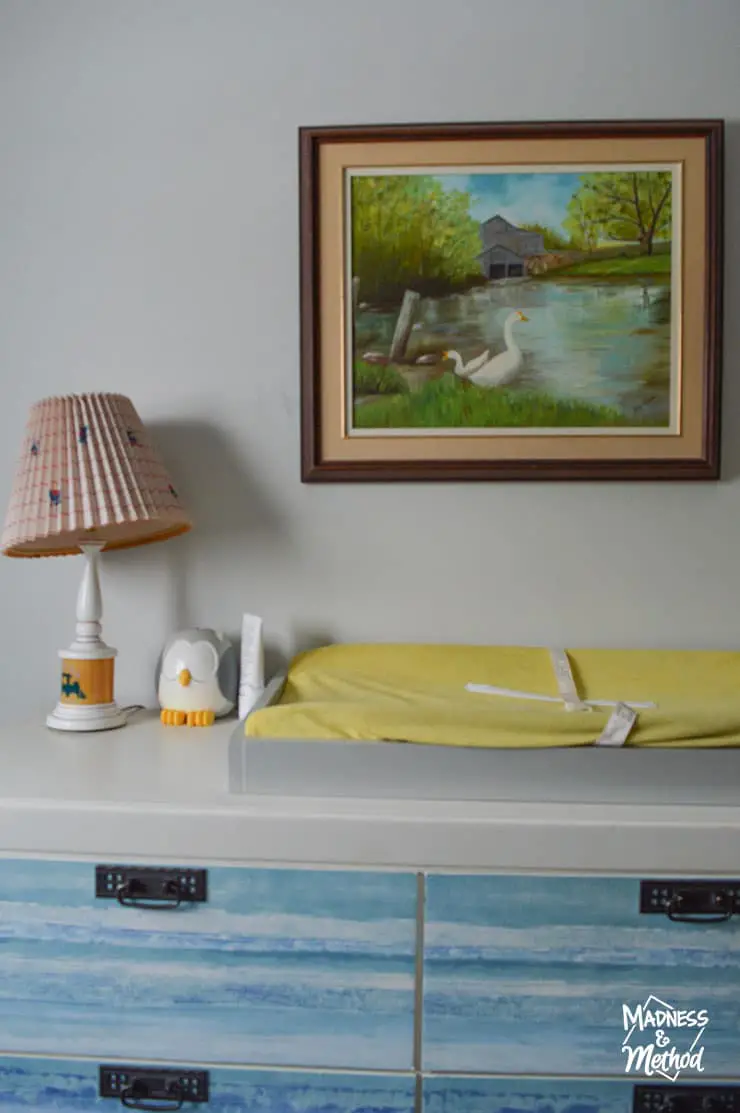 Spot any other changes in his nursery?  We swapped out my DIY lamp(shade) for this train lamp that was my brother's as a child.  I'm also still using the dresser change table top (but I imagine we will potty train eventually). 
Other Art Hanging Tips
Let me share how I've hung some of the other art around our house.  Including some BIG mistakes I made in the past, ha.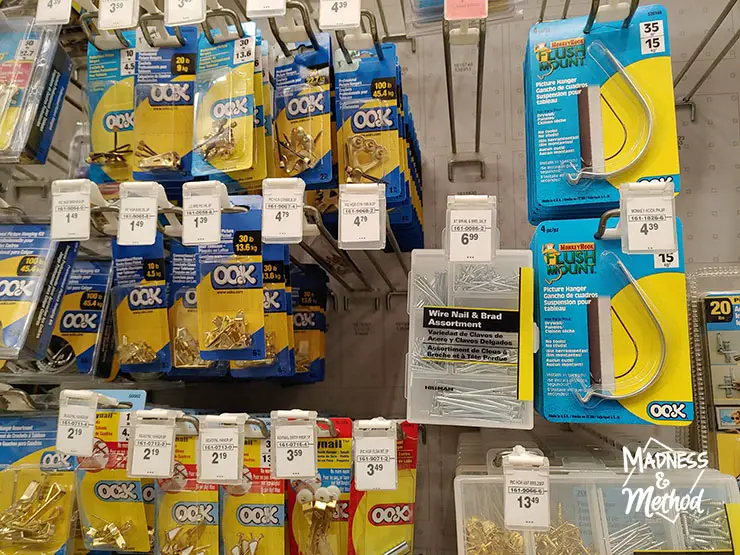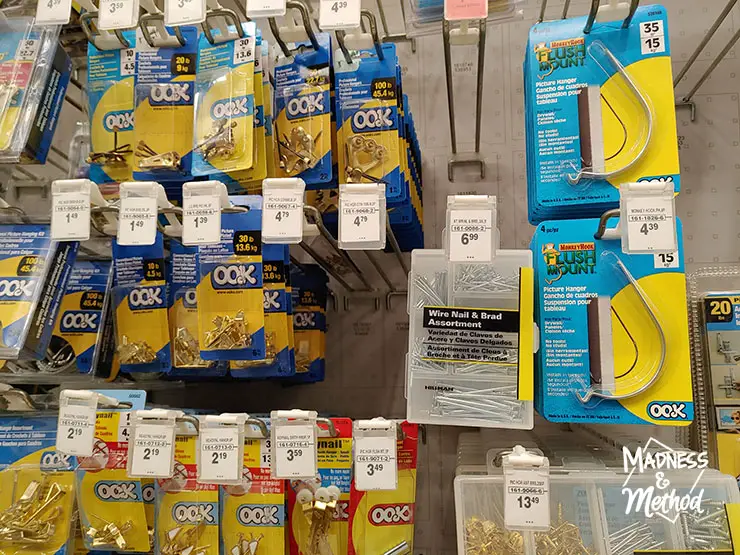 First, let's chat about the art hanging hardware aisle.  There are SO many options but I loveeeee using nails because it's so simple.  (Plus, a pack of bulk finishing nails is a good deal).  I have always wanted to try those big picture hanging hooks – but I've been on such a nail hanging kick that I don't know if I can change my ways :) 
Oh and the traditional hanging hooks?  I've never used them, but they seem like they don't come out very far and are a hassle to put in.

So, let's talk about my wedding photo gallery wall!  We've had this same setup in our last primary bedroom, and now in our basement hallway.  These are hung entirely using Command Strips – because they are light and flat on the back.  Whenever I take artwork down, I make sure to keep the strip on the back, that way I don't have to use as much when I hang again.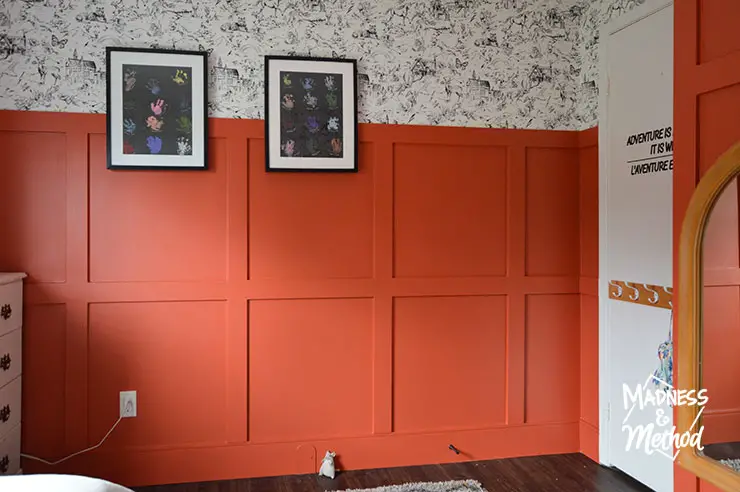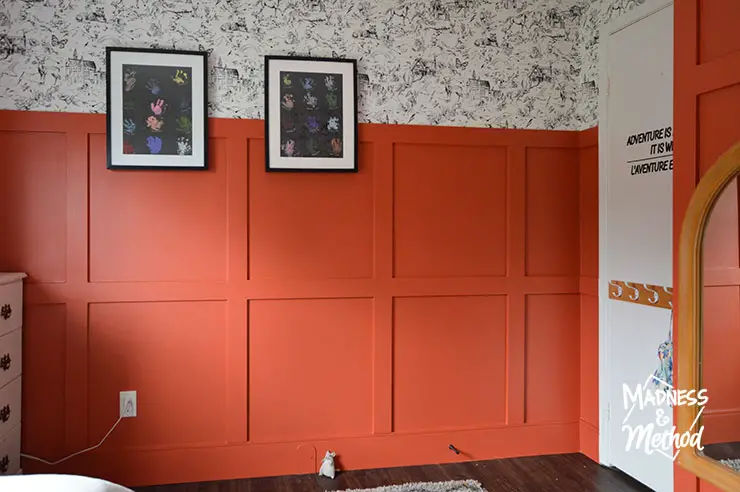 Want to hang art over panelling?  For these baby handprints in our kids red bedroom, I have the nails in the studs on the wallpaper. They are sticking out a bit more than normal, so that they catch the frame over the panelling.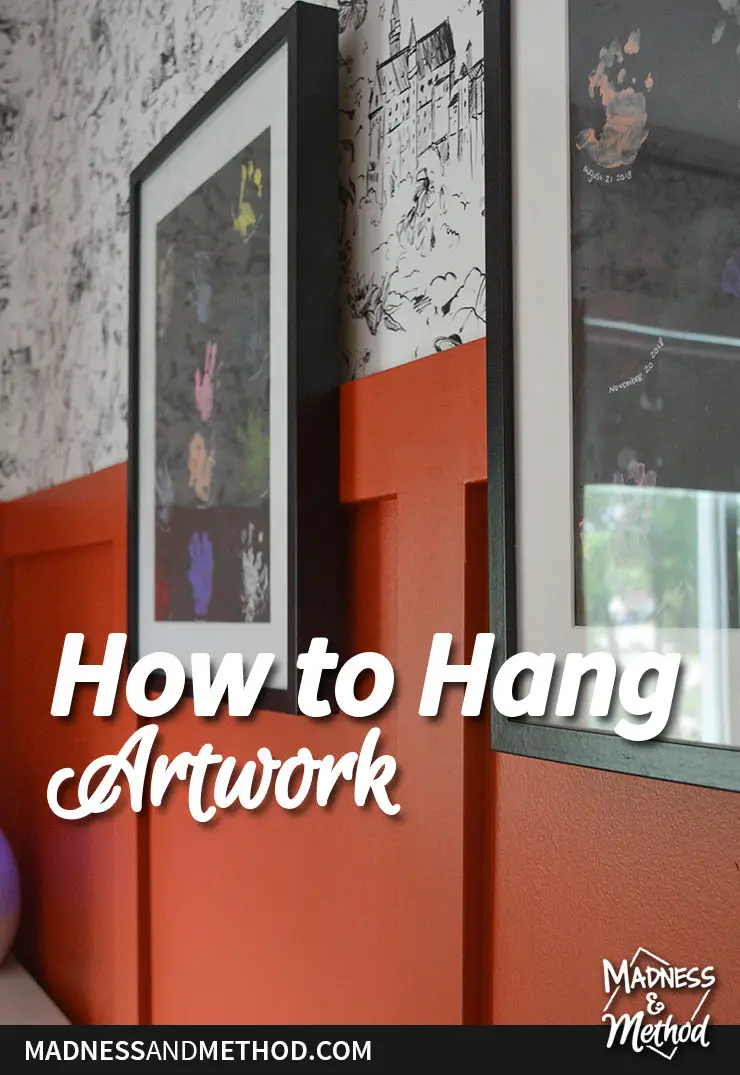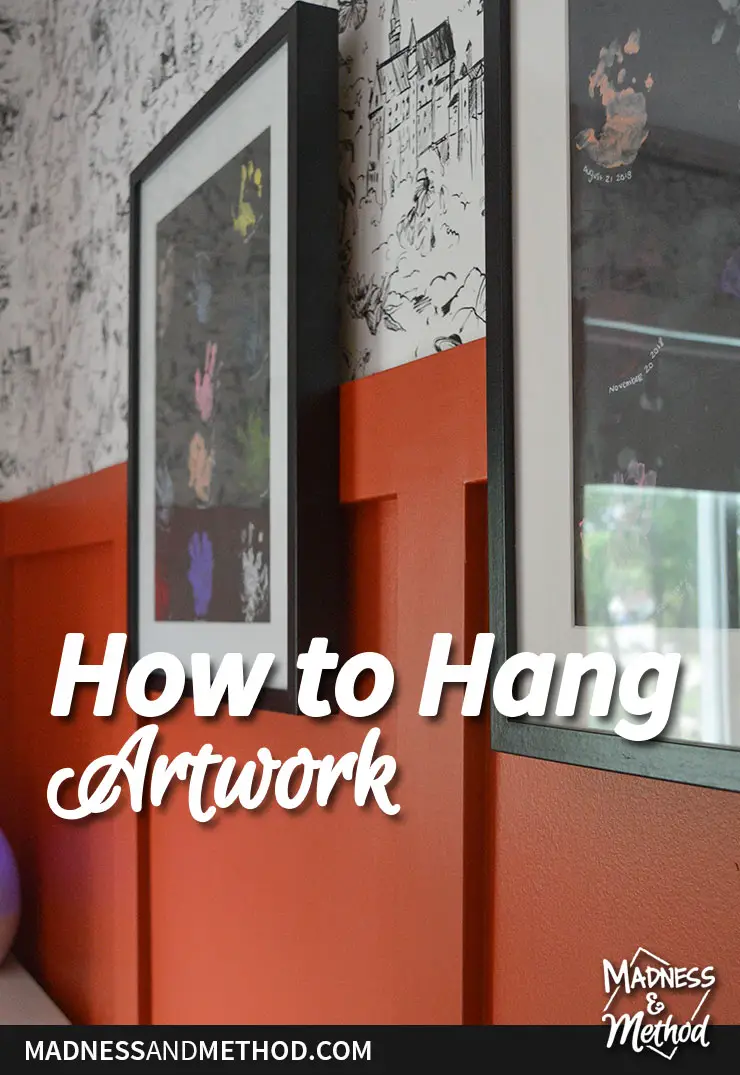 The photo above shows it a bit better from the side.  I was also going to use Command Strips on the panelling part, but they have surprisingly stayed on the wall just fine.  (Although, hopefully that doesn't change now that I said something, ha!). 
Hanging Art with Screws
Hopefully I've convinced you that hanging art with nails is the way to go!  But if not, let me share the only time I use a screw now.  And, the problem with using screws (aka my mistakes of the past).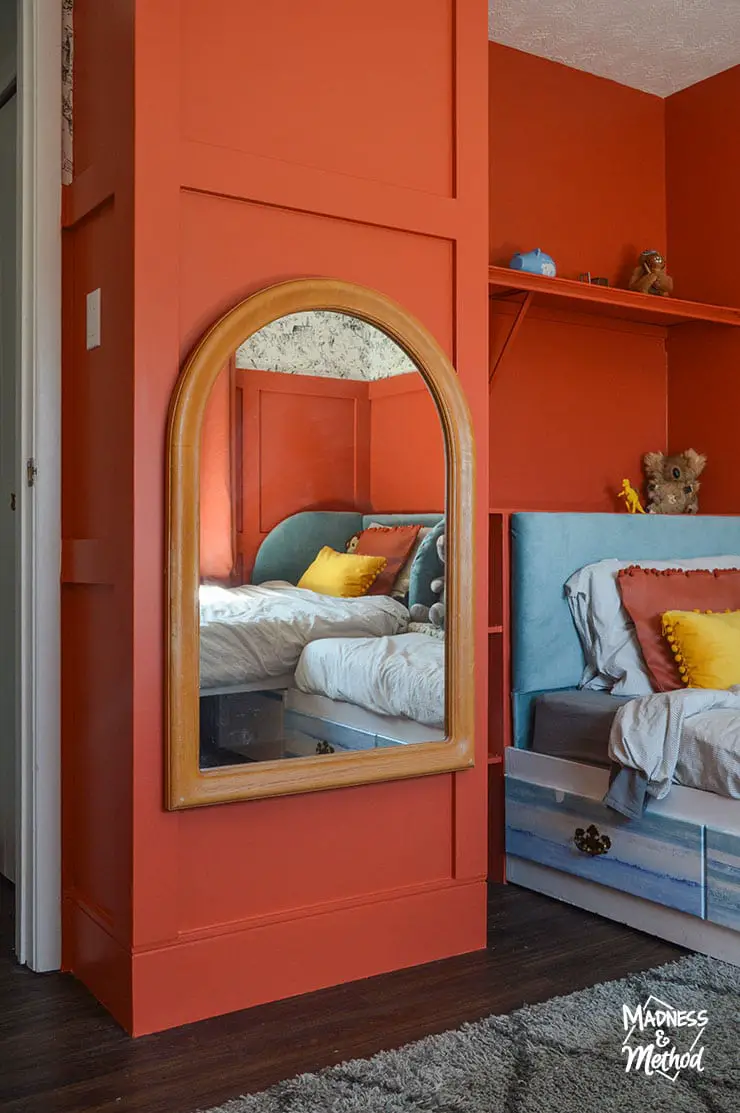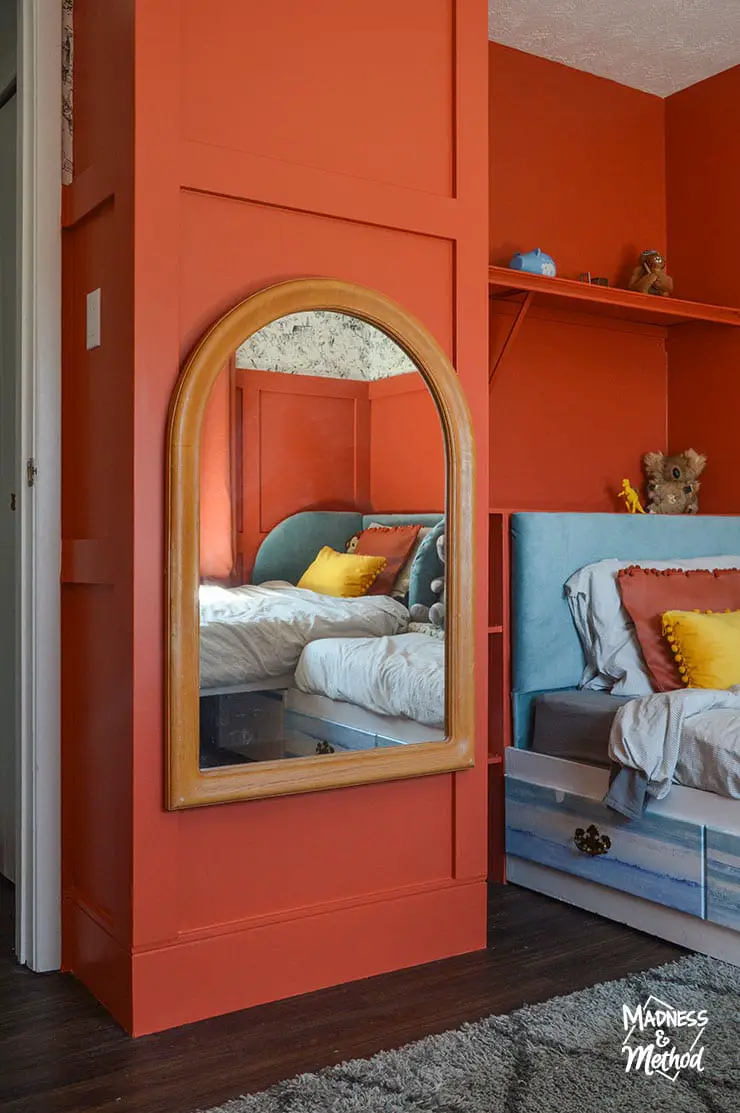 Also in the kids' shared bedroom, we have a big heavy mirror.  I hung it to their height – but I definitely didn't want it to fall.  Therefore, I used a screw (I think a 2″ long #8) and put that in the panelling part, and then into a stud.  I also used some Command Strips on the bottom section, to really hold it.
(Although to be honest, I only had the mirror hanging on some string that did break.  I've since used picture hanging wire and it's much stronger). 


Previously, I ALWAYS used screws to hang my artwork.  Even little things that could have been hung with Command Strips.
Do you know the problem with using screws?  The hole to patch is so much bigger!  Sometimes when you're taking them out, you get a bit of extra drywall pieces, and it's not a clean look.  
To fill a small nail hole, you can use a bit of caulk or drywall patch.  Or, even leave it/paint it and you probably won't even see it.  But screw holes?  You definitely see those!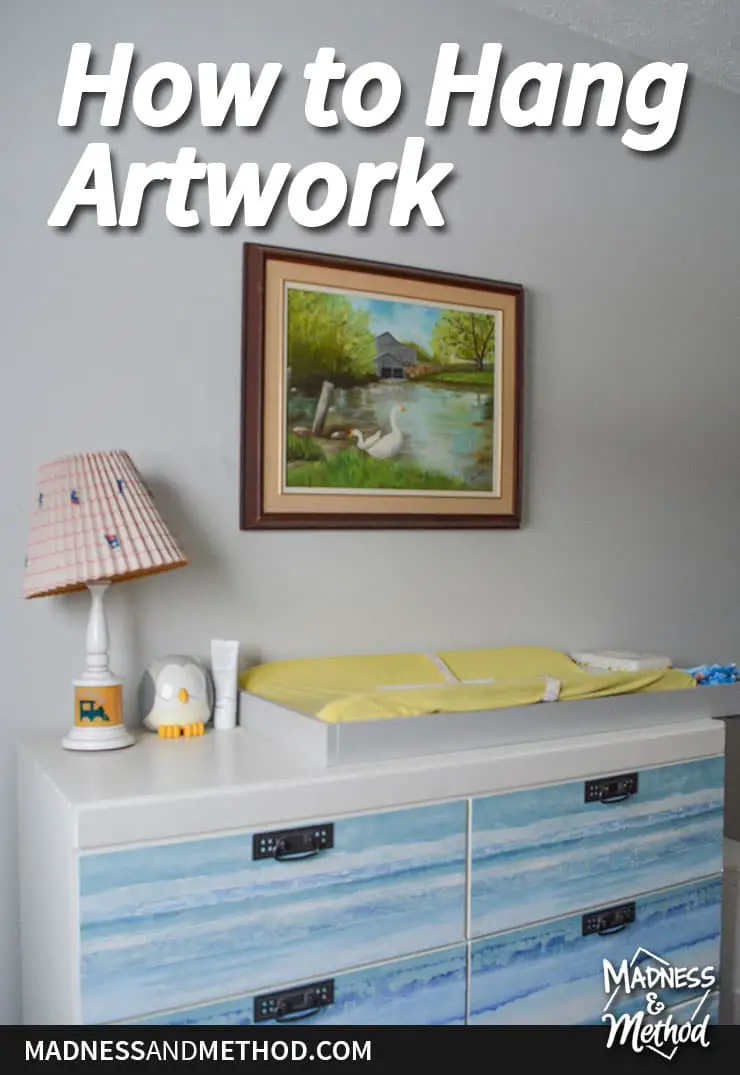 I hope this information about how to hang artwork comes in handy!  Remember, if you want to cause as little damage as possible, a small finishing nail is your friend :) 
Oh, and yes, I have ripped some paint up using Command Strips in the past.  BUT it's because I didn't take the strips off correctly (make sure to check out the end of my video for the proper technique). 
Let me know if you have any questions, or if you have some picture hanging tips of your own :)