Have you heard of puppy chow before?  These chocolate cereal treats are also called "muddy buddies", "dog treats", "Crispix treats" or some variation of those.  Let me tell you, they are super easy to make and insanely addictive!  If you have a sweet tooth and/or love chocolate, puppy chow is the treat for you :)  Today I'm sharing the basic 3-ingredient recipe, plus a bunch of variations to make them unique.  Enjoy! 
I originally heard about puppy chow when I was in grade school.  One of the moms came in with some to try and shared how to make them.  That version included peanut butter (this was before the school bans, ha) and is super delicious.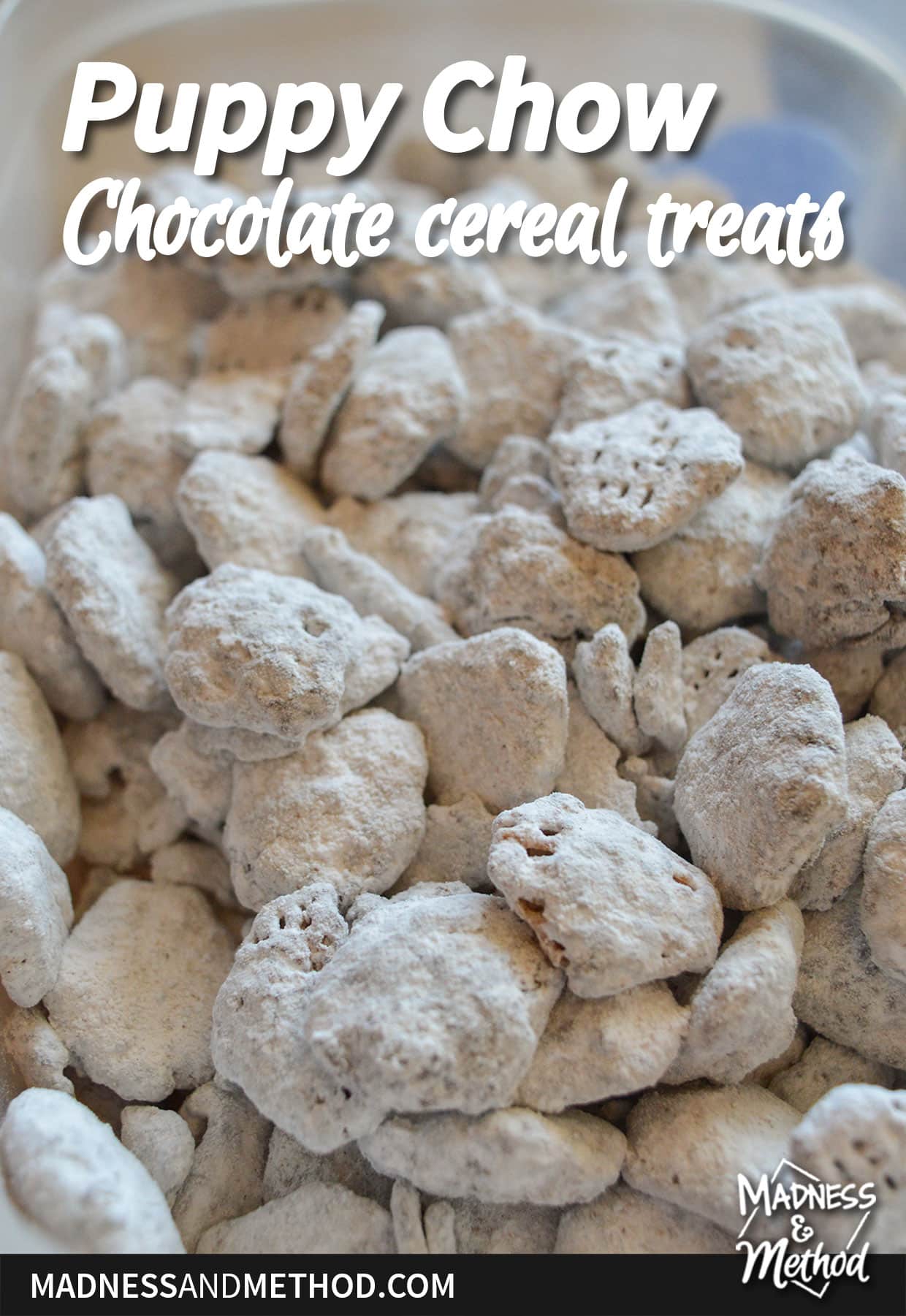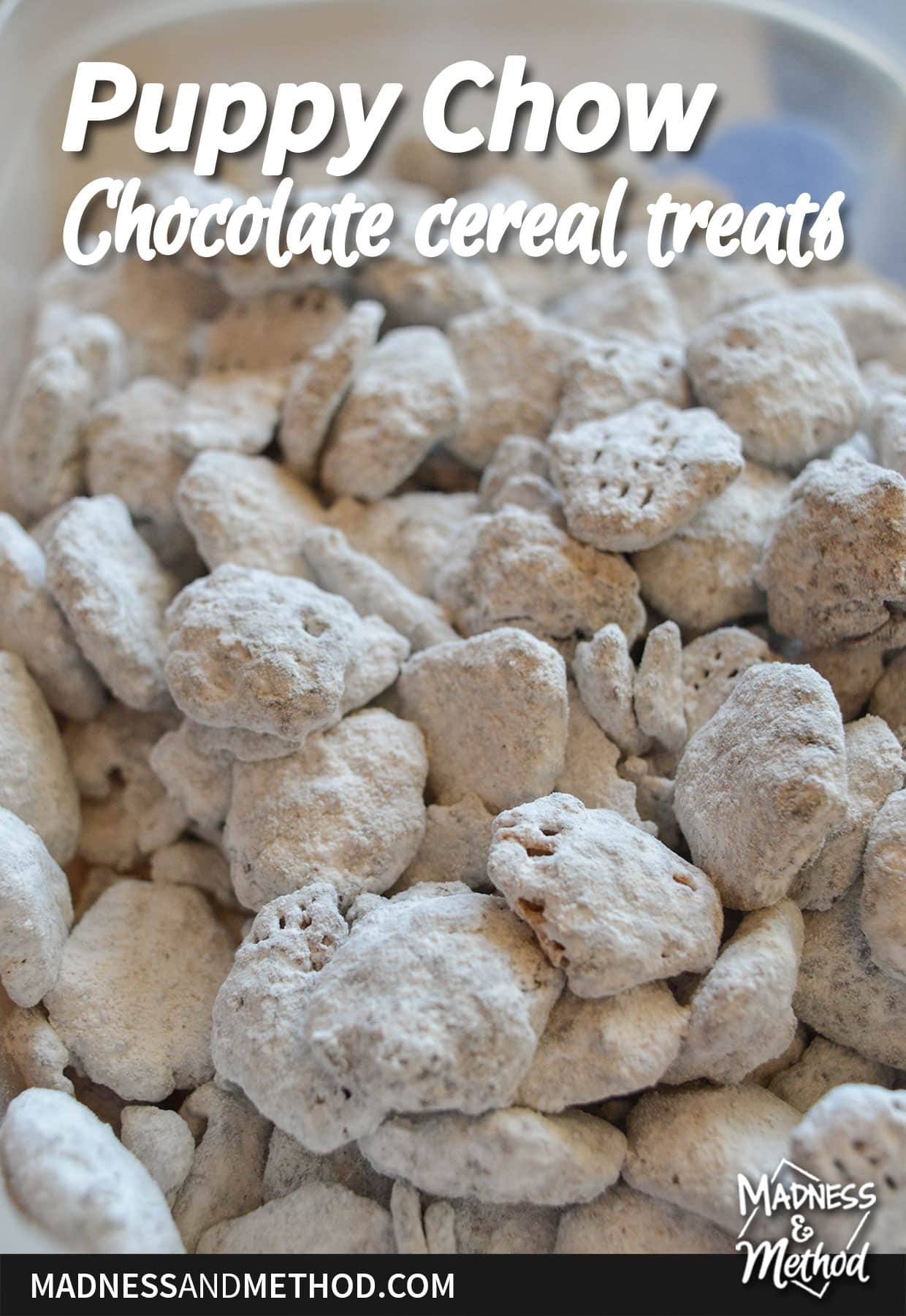 Either way, my quick and easy chocolate cereal treat recipe doesn't have peanut butter, so is good for allergies.  And again, I have a bunch of variations below if you want to experiment!
This post was originally published May 31 2015 and titled "Chocolate Cereal Treats". It has been refreshed and republished December 17, 2022.
When I originally shared my version of puppy chow on the blog, I didn't include the written recipe.  Granted, it's super simple to follow (and update), but some proper measurements are always nice, ha.
Let's just not look at the calories and grams of sugar okay :) I mean, you probably won't eat the whole batch yourself, but be warned that these are sweet.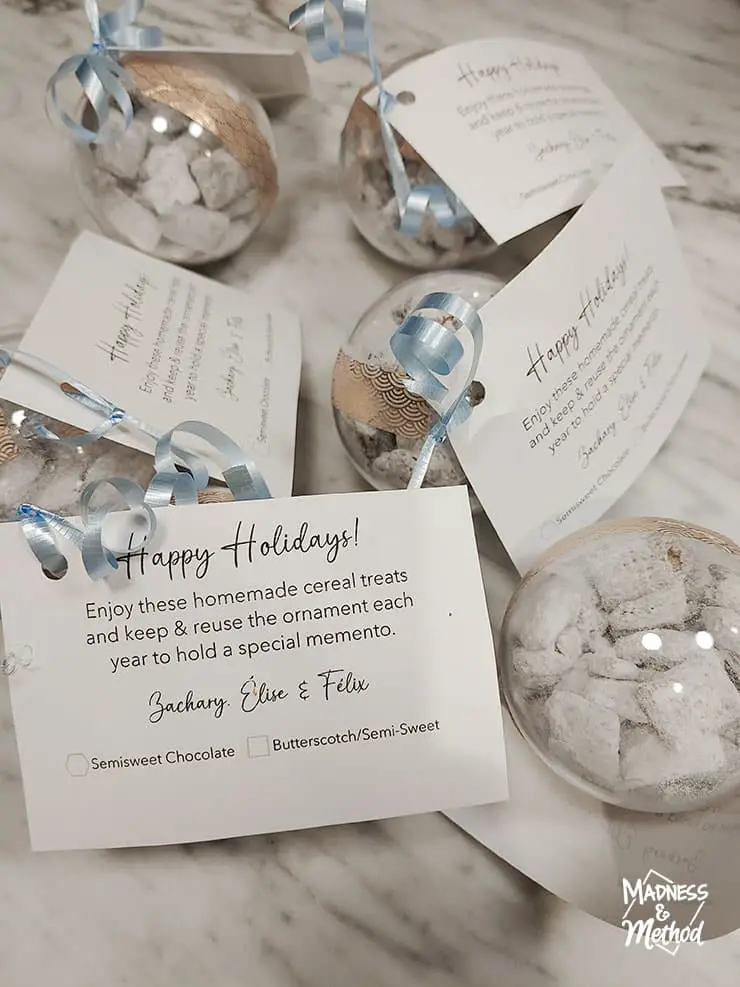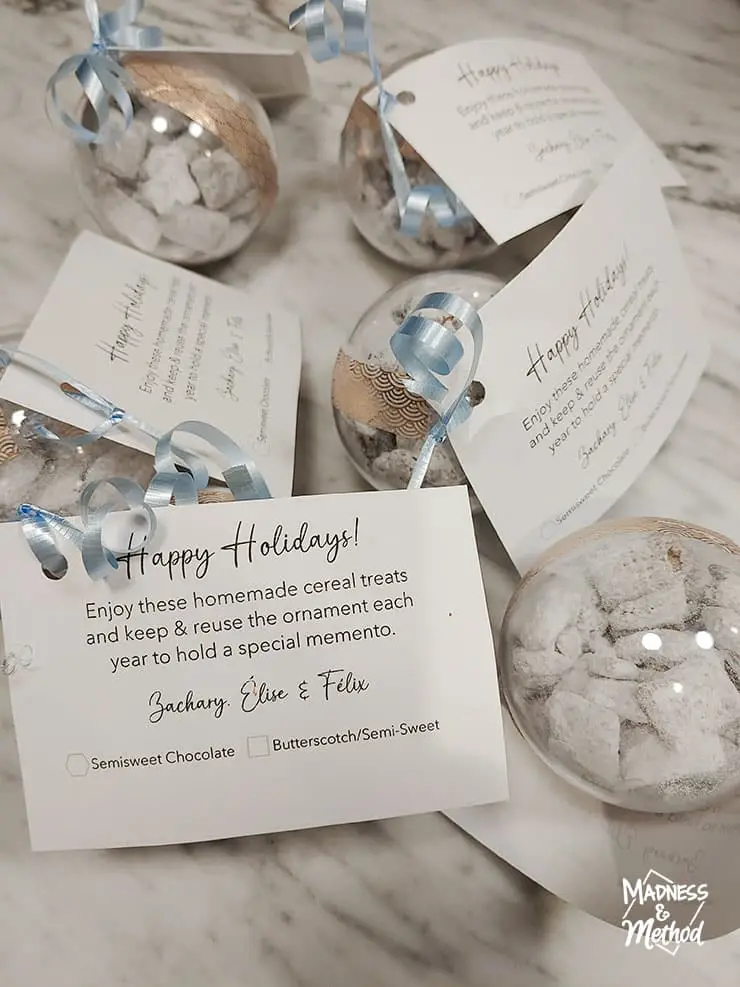 This year, I made puppy chow to give as homemade gifts.  (In the past I've done desserts, truffles and even savoury hand pies).  I put them in reusable/fillable ornaments and am going to make a video of that process soon. 
Making Puppy Chow Cereal Treats
The basic puppy chow recipe only includes 3 ingredients: cereal, chocolate and icing sugar.  The trickiest part might be finding the perfect cereal as your base. 


You see, I've always made my chocolate cereal treats with Crispix.  Not sure if it's because of the pandemic, or where we live, but it has been hard to find them in stores.  (They're randomly seasonal now?).  This time, I experimented with both rice Chex and Life multigrain (similar in shape to the Crispix, but less puffy/different flavour).
Essentially, you want a cereal without a lot of flavour (nothing sweet!) and a big enough shape so that they can be nicely coated. 
Heat your chocolate on a double-boiler or in the microwave (doing 30 seconds intervals and mixing in between).  Once it's all melted, add half of the cereal and mix until coated.  Then, add the rest of the cereal, and mix again until coated.
(If you add all the cereal at once, it will be really hard to mix it nicely and get everything even).
From there, scoop/pour your coated cereal treats into a large Ziploc bag filled with icing sugar OR in a large lidded bowl.  Then, simply shake shake shake until it's all covered in the powder.  In the past, I always used bags but found they would get gummy easily – plus, better for the environment to reuse a bowl :) 
Finally, sift the excess powder with a colander or scoop out the puppy chow with a slotted spoon.  You can save the icing sugar to remake another batch too.  (Just store in an airtight container, and use within a few weeks).  
Let your chocolate cool/harden and enjoy – super simple right!?  Puppy chow can be stored in an airtight container for a week or so, but I don't think I've ever had mine for that long!
I mean, they're cereal, right?  So eating them in a bowl with a spoon is totally acceptable!?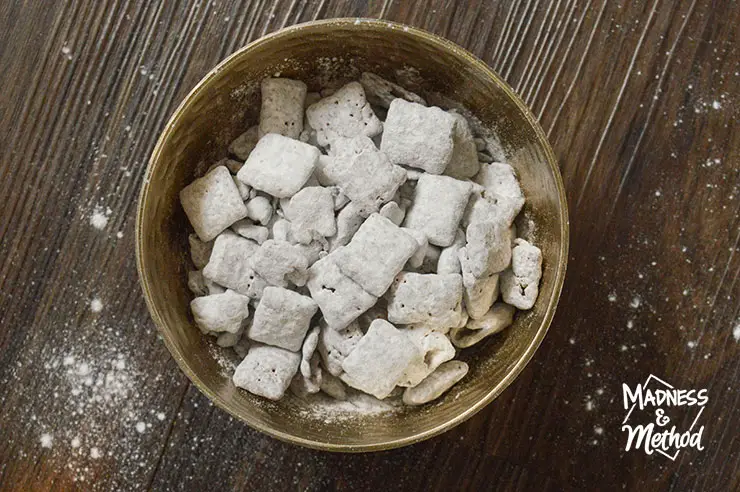 Print Recipe
Puppy Chow Recipe (Chocolate Cereal Treats)
Whether called puppy chow or muddy buddies, these chocolate cereal treats are delicious. This simple 3-ingredient peanut-free recipe is the best! And, check out the blog post for a few more variations :)
Ingredients
1 cup Chocolate Chips (I uses semisweet)

4 cups Cereal (see post for options)

1 cup Icing Sugar
Instructions
1
Melt chocolate in a double boiler (or in the microwave in 30-second intervals, stirring between)
2
Add 2 cups of cereal, stir until coated, then add the other 2 cups and stir again
3
Transfer chocolate-coated cereal to a large Ziploc bag or large (lidded) bowl filled with icing sugar
4
Shake shake shake until all coated, then sift out the excess icing sugar
5
Cool to room temperature and enjoy!
Notes
You can use only 3 cups of cereal if you want a really chocolatey version, but I find 4 gets the perfect coating :) // See the post for more recipe variations and ideas! // Nutrition info based on 1/2 cup serving using Chex rice cereal
And there you have it; an easy, peanut-butter free way to make basic chocolate cereal treats!  But what if you want something a little bit extra?  Check out all these variation ideas!  
Puppy Chow Recipe Variations
Butterscotch Chips
This time, I made a batch that was 50% semisweet and 50% butterscotch. I haven't tried a full butterscotch chip version yet though :)
Peanut Butter
The classic recipe I learned. Add 1/2 of peanut butter when melting your chocolate. I haven't substituted it with peanut chips, but that's an option too!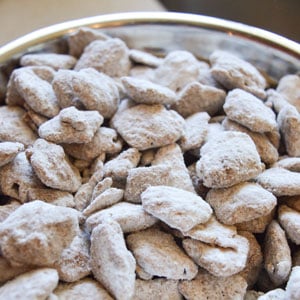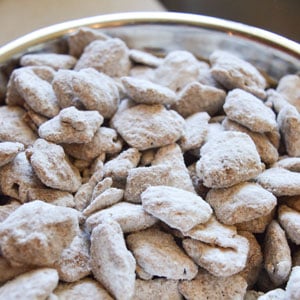 Dash of Cinnamon
Add 1 tablespoon of cinnamon to your icing sugar before you mix everything together. It really plays on the cereal element :)
Coloured/White/Different Chocolate Chips
Make the same recipe but substitute a different type of chocolate. Experiment with colours too!
Honestly, I came across this Nutella puppy chow recipe recently, which got me thinking about these!  How good would a mint chocolate chip version be too!?  The possibilities are almost endless!  (Like… what about a flavoured cereal too!?).
What do you think?  Have you made puppy chow before!?  What about one of these altered recipe suggestions?  I think I'm due for a peanut butter version soon, ha.   
What other combinations do you think would work together?  I'd love to hear your thoughts!