Every now and then I get a craving for something sweet (okay, it's usually pretty often!).  I realized that I had a lot of plain chocolate leftover from various holidays (I tend to hoard chocolate and eat a little at a time rather than devour everything in one sitting).  Rather than just eat it as is, I figured I'd melt it down to make chocolate cereal treats, also known as "dog treats" or Crispix treats.
Now, there is a recipe on the box of Crispix that includes peanut butter; but this time I wanted to make it a bit differently – so I decided to add something else (a secret ingredient) to make it extra yummy!
I also didn't follow exact measurements, and just filled bowls with the ingredients I would be using.  The main ingredient is Crispix cereal, and one batch should use up just half of the regular sized box.
As mentioned, I used leftover chocolate I had on hand and filled one bowl with a mix of different types.  It turned out to be more milk chocolaty, which is fine – but most times I make these using semi-sweet chocolate chips.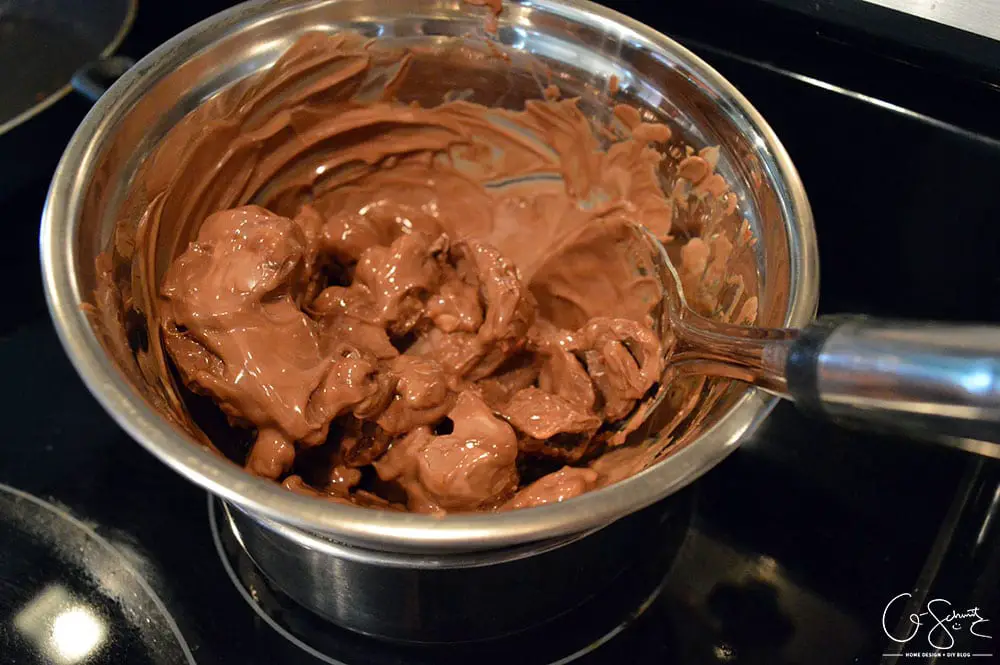 When I was a kid, I used to make this straight in a frying pan, but if you're worried about burning your chocolate, go ahead and use a double boiler.  As your chocolate pieces are melting, this is when you prepare your icing sugar mix… with the added secret ingredient!
I filled an empty bowl with icing sugar and added a tablespoon or two of cinnamon.  You want to stir and taste the icing sugar and cinnamon mix as you go before you add more cinnamon.  At this point, you're looking to see little specks of cinnamon in the mix and you should be able to clearly taste it.  If you're using milk chocolate (as I was) feel free to add a bit more cinnamon to counteract the sweetness of that chocolate.  If you're using a semi-sweet, you can just add enough cinnamon to taste.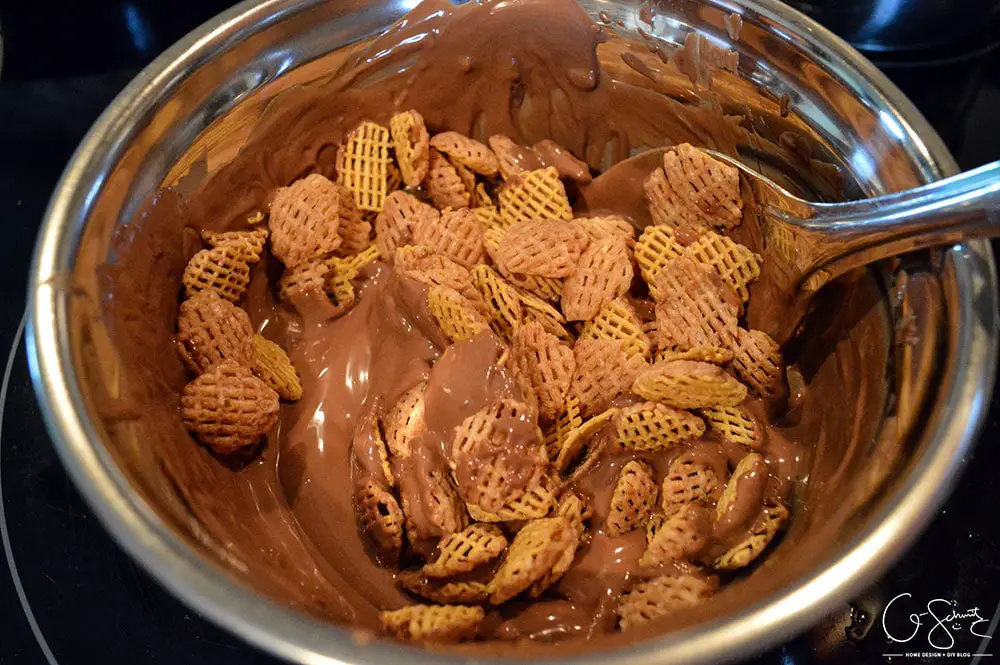 Once the chocolate is completely melted, slowly pour in your Crispix cereal and mix carefully, making sure not to break the pieces (but don't worry if it happens!).  You want the cereal lightly coated, but not too thick, and in my experience it's always best to add the cereal as you go, rather than pour it all in and try and mix it that way.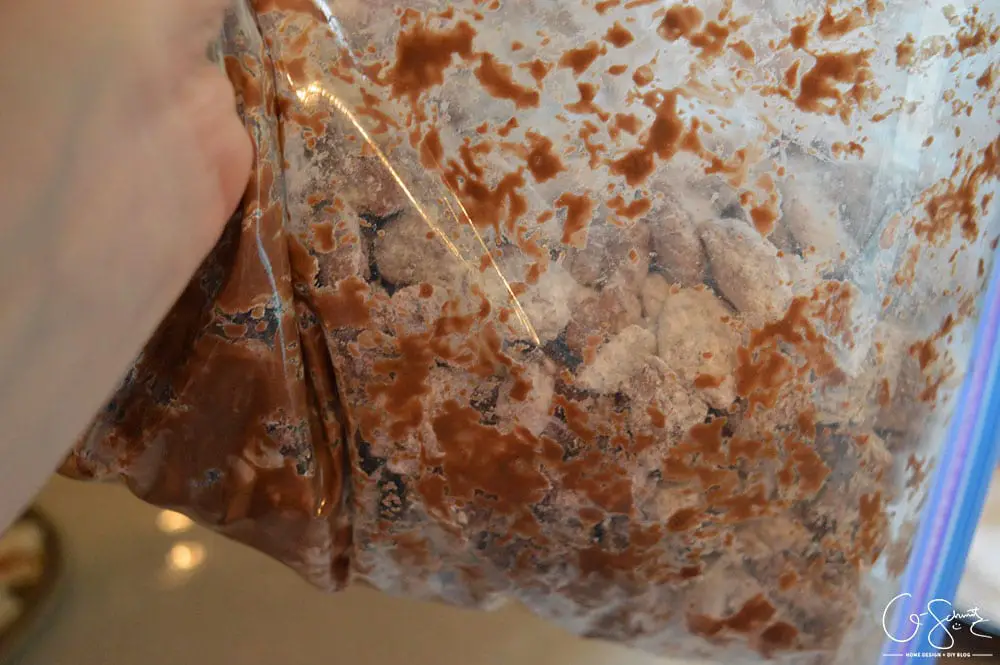 I then spoon the chocolate covered Crispix into a large Ziploc bag filled with a bowl full of the icing sugar mix.  I have another bowl ready with the mix, and then I can add a bit to the top once the cereal is all in.  You just seal and shake the bag like crazy until all the chocolate cereal treats are covered.  If you open it up and need to add more icing sugar, you can do so as long as the treats are still a bit warm and not completely covered.  Keep shaking until the treats get closer to room temperature (if you pour them out at this point, or let them stay in the bag, they may stick together in one big clump… a delicious clump!).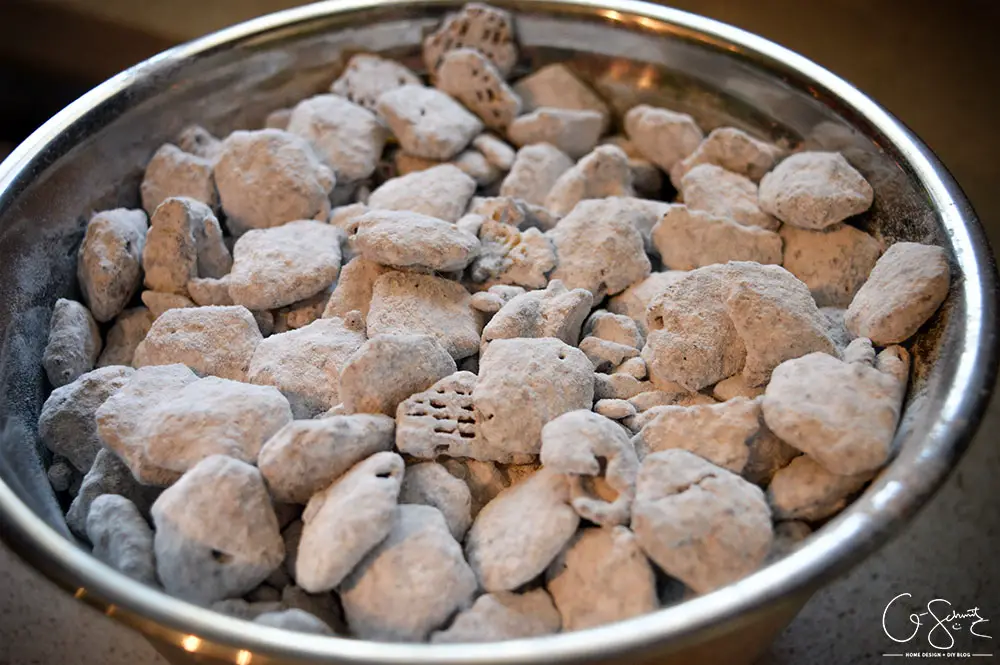 And there you have it; an easy, peanut-butter free way to make the classic Crispix chocolate cereal treats!  I find that the cinnamon really adds a nice kick/extra punch to the chocolaty icing sugar flavour, and it almost tastes like other breakfast cereal by adding it!
Here's a recap of the ingredients and measurements I used:
One bowl of chocolate
One bowl and a half of icing sugar with cinnamon
Two bowls of Crispix cereal
If you're making a smaller batch, just make sure to double the Crispix by whatever amount of chocolate you used.  If you want to be extra frugal, you can even store the unused icing sugar mix in a bag or container for the next time!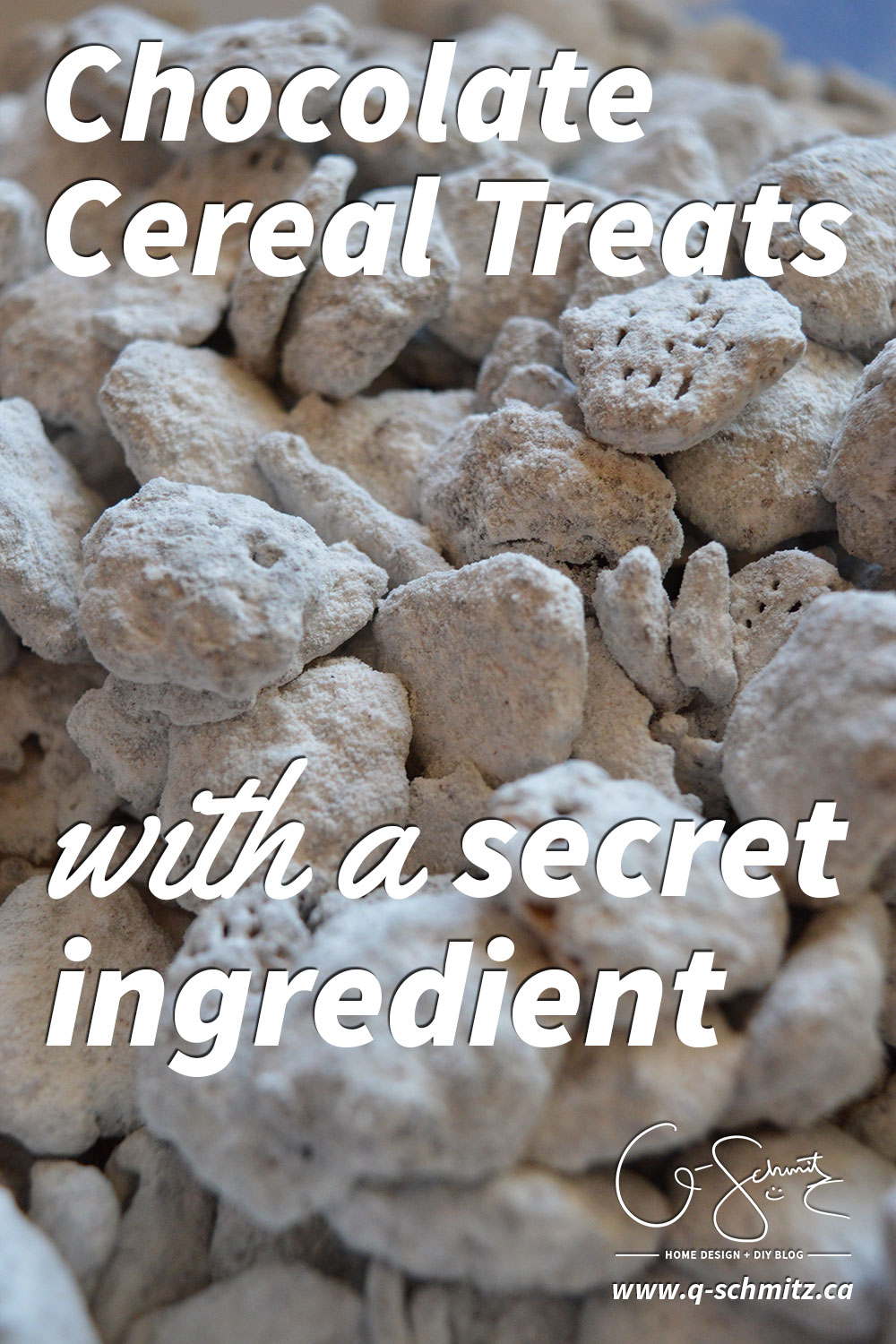 Making this altered version really gets me thinking of other ways you can add/subtract ingredients to make this classic treat different.  For example, you can try making it with dark chocolate and cayenne pepper for a foodie version, or even peanut butter and butterscotch chips.  I haven't yet tried it using cinnamon sugar (which I'm assuming you can buy at bulk food retailers) and I bet it would taste good too, and sort of similar to the ones I made.
What do you think?  Have you made an altered version of the Crispix treats before?  What other combinations do you think would work together?  I'd love to hear your thoughts in the comments!