I have a totally different post today than what I was planning!  Rather than discuss my yearly recap (that will be next week), I want to talk about savoury hand pies.  Why savoury hand pies you ask?  Well, this year I decided that instead of baking something sweet for gifts, I would go in the opposite direction.  So yes, I made a bunch of different savoury hand pies, and I'm sharing all the recipes.
Typically, I like to gift friends/family something sweet.  Whether it's assorted desserts, or homemade truffles, I LOVE making sweet things.  Buttttttt I also know that everyone likes to bake sweet things for the holidays.  So, I decided to go against the grain and do savoury instead!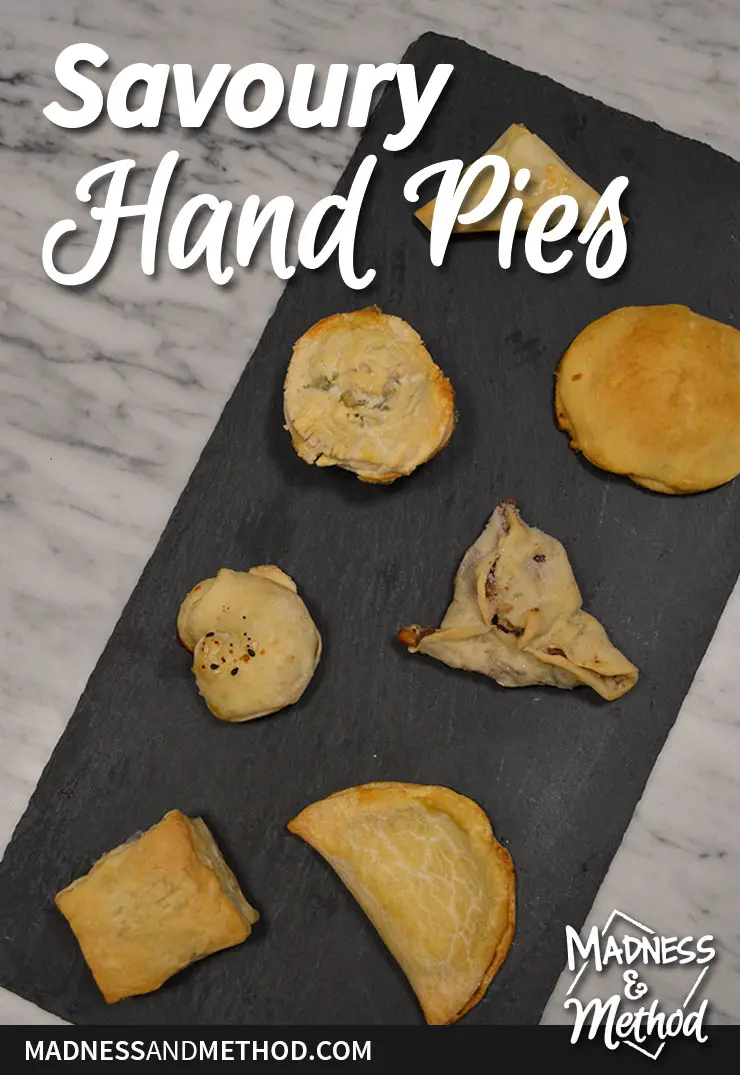 The idea was that I'd gift the frozen treats, then people could heat/eat them whenever they wanted.  While the easiest thing would have been to make a different recipe each week, I kinda waited until the last minute and did a big baking blitz this week.
Without further ado, here are the recipes I used!
Savoury Hand Pies
Lebanese Meat Pies (Sfeehas):  In university, my friend always brought these for lunch.  While I never did get her recipe (and it's been years since I had them), I think this was a good substitute.
Spinach & Feta Spanakopita: These are probably the most well-known (or at least, the easiest to find in the freezer aisle).  It was my first time ever using phyllo dough – but they were fun to make.
Mushroom Puffs: I wanted another vegetarian option, and liked the use of olives in this recipe.  I also wanted to use puff pastry for one of the hand pies, so figured I'd make my own recipe.  Turns out, mushroom puffs are already a thing, so I updated this recipe a bit, with added olives.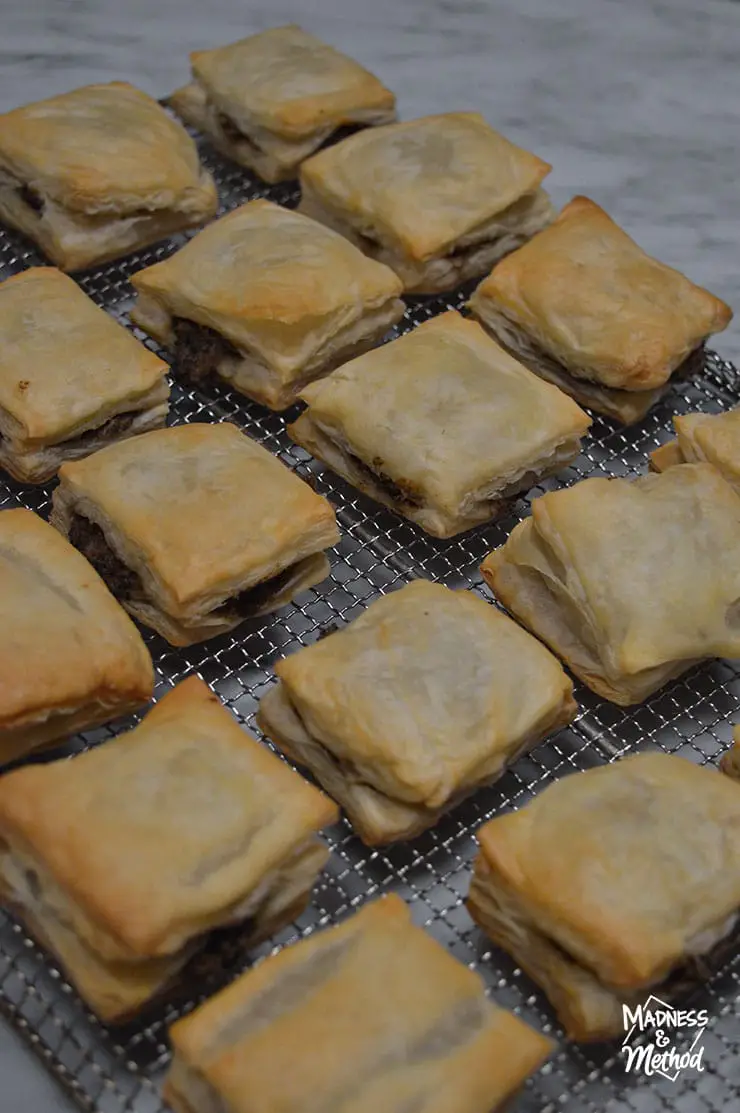 Mini Chicken & Broccoli Pot Pies: I doubled the inside recipe, but only used about half the recommended dough.  The kids liked these (we ate the exploded ones).
Cheese Burek: The recipe didn't really explain how to roll/cut them, so I just guessed.  They remind me of little cheesy garlic bread bites.
Veggie Empanadas: These were supposed to be mostly zucchini, but mine was frozen, so it really deflated.  I also omitted the poblano peppers, and used pre-made pie dough and regular cheese instead.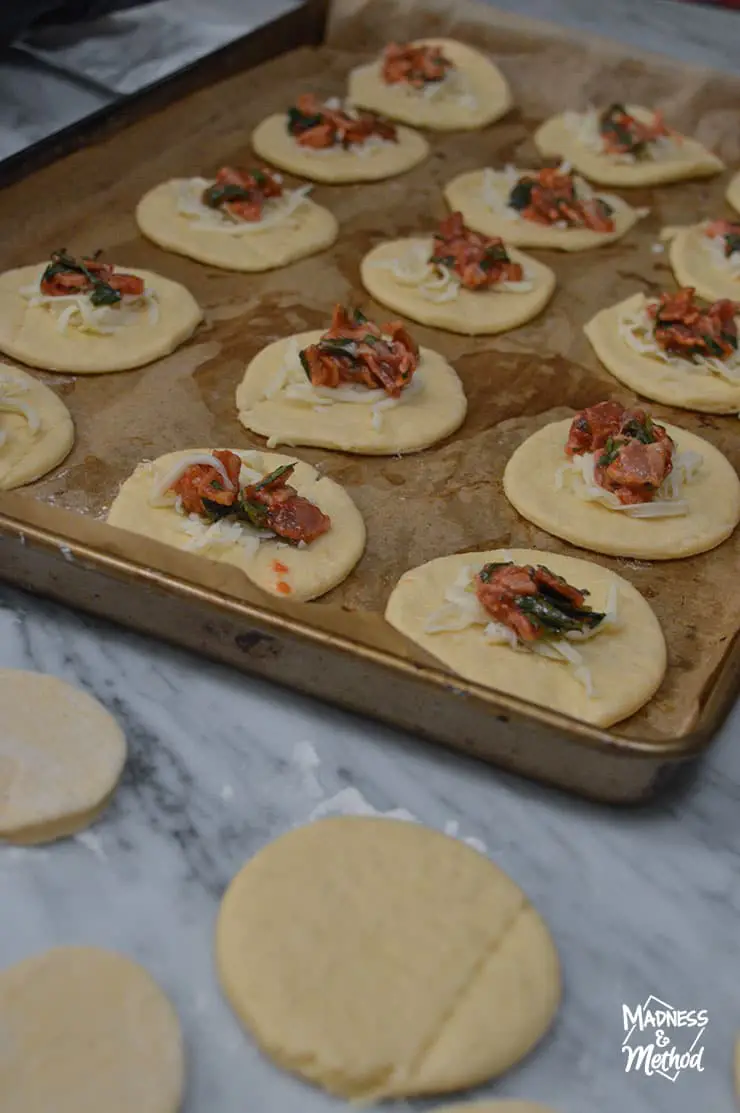 Basil Buns: Probably the most custom recipe, I was influenced by these empanadas, these breakfast pizza pockets, and these cheeseburger hand pies. It's crescent rolls in circles, cooked bacon pieces, chopped basil, a bit of tomato and mozzarella cheese.
Honorary Mention: I was hoping to also make these potato pockets for one of my options.  I liked the idea of varying my doughs, and they tasted really good.  BUT someone ate a lot of my prosciutto, and I didn't have enough finished hand pies.  Oh well, guess we'll just have them for us :)
I hope this post gives you some new recipe and/or gift ideas!  But mostly, it's here to remind me (and my friends/family) what recipes I used for future reference, ha.  I also made a custom little graphic that shares what each flavour/hand pie is, so I'll add that to the containers.
Let me know if you normally bake things, or prefer to received baked things :)  Next year, I may switch back to something sweet, but we'll see how this goes!  I'm just happy I'm done baking, now I just need to pack them up.