Our little lady just turned two!  Even though we're in the middle of a pandemic and couldn't have a big party, we still celebrated with cake.  I made the sweetest baby beach cake to mark the occasion, and it turned out really cute.  The secret is my cheater ganache frosting, and today I'm sharing the recipe so you can have no-fail delicious icing too!
– Note: This post contains affiliate links. See more information about affiliates here. –
Okay, remember how last November I entered a cake into a local auction? Surprise, surprise, I was pinched by the bug and now I'm going to do it again this year!  (Although, with the pandemic, I can't plan anything, so hopefully everything is back to normal/regular by then).
Anyways, I had developed the cake and icing recipe based on the triple-layer brownie cake from this baking book.  I also inadvertently discovered the BEST way to make icing/frosting (move over buttercream!) and it's almost fool-proof.
And by that, I mean that I "messed" it up a bunch of times, so you don't have to!  Not really messed it up, but let's just say, explored how you can make a cheater ganache that's super delicious, but more shelf-stable/reliable/spreadable.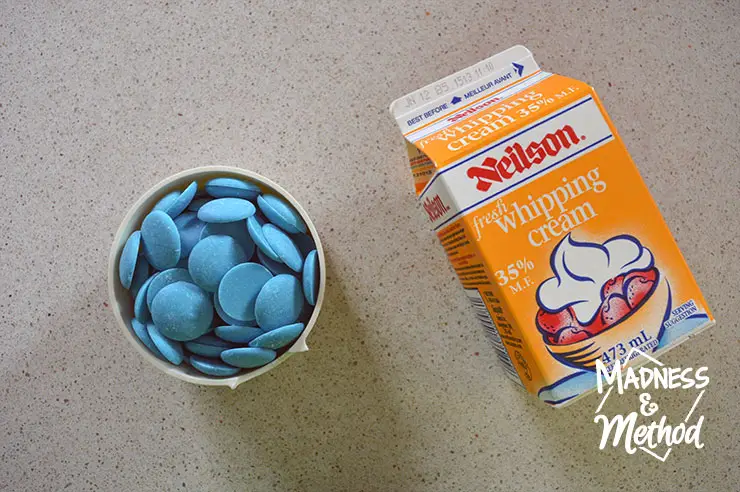 First, let me go over the steps I used to create Élise's birthday beach cake.  (And I'll talk about this frosting a bit more too, with full details/recipe below).
All you need for a normal ganache is proper chocolate and whipping cream.  I made my cheater ganache with some Merckens chocolate wafers, which are essentially just coloured big white chocolate chips.

With any ganache, you start by melting your chocolate*.  I like the double-boiler method, but a microwave would work just as well.  (I made white and blue icing, they didn't magically change colours when melted!).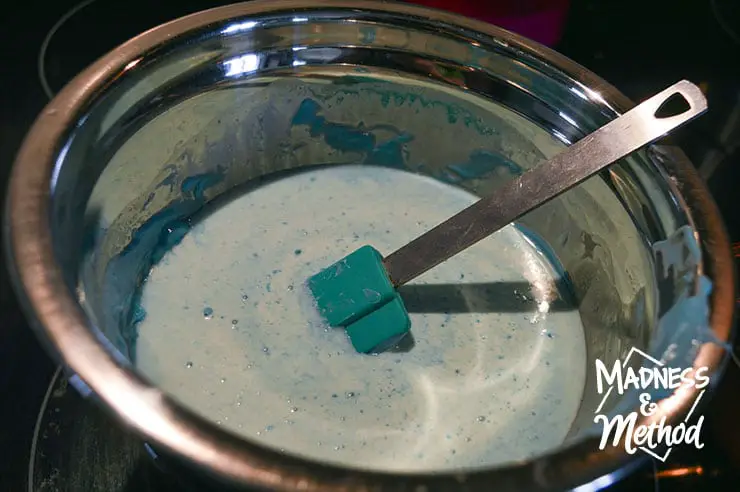 Once your chocolate is completely melted, add the required amount of whipping cream and stir until it's incorporated.  I leave on the double-boiler for another few minutes (stirring now and then) then remove from heat.
From there, I transfer the mixture to another bowl and pop it in the fridge.  You should wait at least 3 hours for your cheater ganache to harden a bit, but I usually like to leave it overnight.
*Alternatively, you can also heat your heavy cream until just about boiling.  Remove from heat, then, stir in your chips until they are all melted.  Place in the fridge until cooled.
Making a Beach-Themed Cake
For my beach-themed cake, I just made a half batch of yellow cake mix into two 6″ round pans.
I did a hazelnut frosting for the center, then used my ganache frosting and did an ombre pattern.  Another layer of the hazelnut frosting was added to the top, then the sand was poured/dusted.  The sand was just a mixture of brown sugar and graham cracker crumbs.
I don't have a cake turning thing or even icing bags (I know, how did I ever enter a cake competition, right!?), but the ombre turned out how I pictured it!
Because I'm entering the cake auction/competition again, I've been testing out some different cake and icing recipes.  I want to incorporate the hazelnut, and the frosting I made was very yummy :)
But anyway, thank goodness I snapped a few pics of my cake as soon as I made it… Mr. Zachary thought he could just eat a bunch (see the photo on the left with the candle, the back is a little caved in).
Ya, it wouldn't have been so bad if he only took a few bites (I'm pretty sure face deep in).  But he also dragged his hands all over my ombre icing!  We were not happy about this at all and didn't let him have any cake later.
(He was full from what he did eat though!).
Anyways, let's get on to the cheater ganache frosting recipe!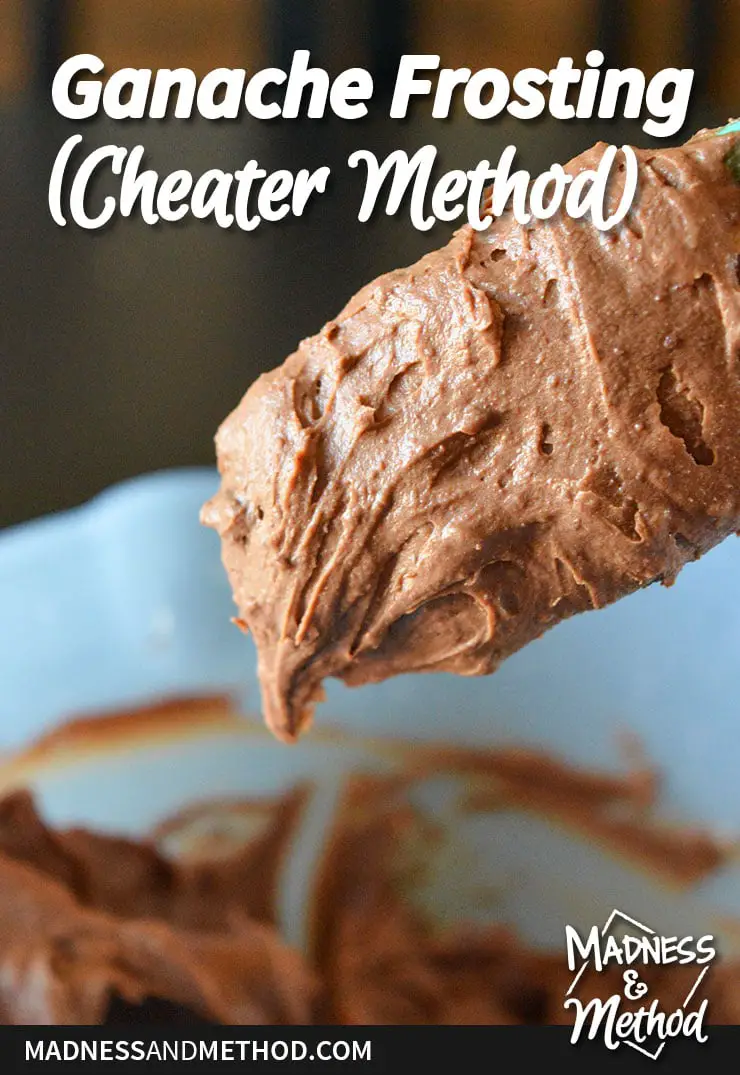 Ganache Tips and Tricks
Real ganache is just chocolate and whipping cream.  You melt an even amount of each (say one cup and one cup) and cool in the refrigerator.  Before it fully sets, you can pour your ganache onto the cake and then chill the entire cake.  Or, as I mentioned above, wait for the ganache to set in the fridge and use as a frosting.
BUT what if you want to use different chocolate, or what happens if your ganache doesn't fully set?  
In my experience, even a chilled ganache can melt/soften as you start to work with it.  Sometimes you can whip the "pudding" to activate the cream and stiffen it up, but I've got a much simpler solution: icing sugar!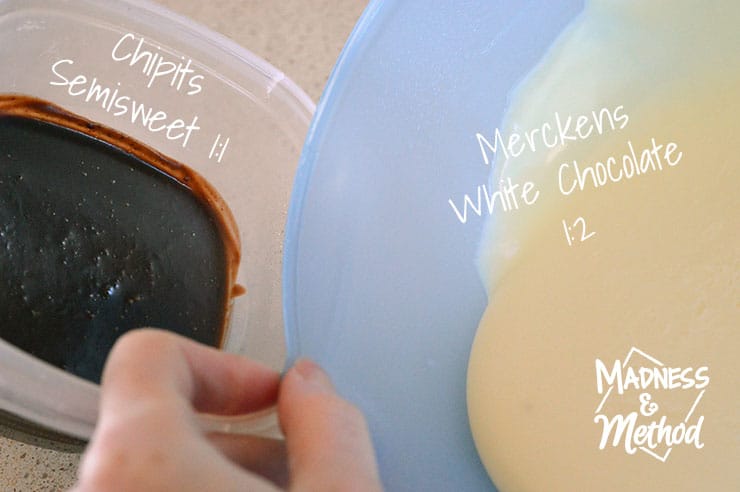 If you're working with white chocolate (or Merckens coloured wafers), you'll also need to change the ratio of cream to chocolate.  I've always gotten my semisweet chocolate ganache to harden a LOT more than the white chocolate versions.  The photo above shows both mixtures chilled overnight (and I'm tilting both bowls).
You'll see that even my white chocolate (two cups chips to 1 cup whipping cream) is still a lot runnier.  This has to do with ingredients in white chocolate (and how it's not really chocolate, blah blah, whatever).  I'm not an expert (besides, real bakers probably weigh their ingredients).
But you came here for a cheater ganache frosting, and that's what I've got!
Save the Recipe Below: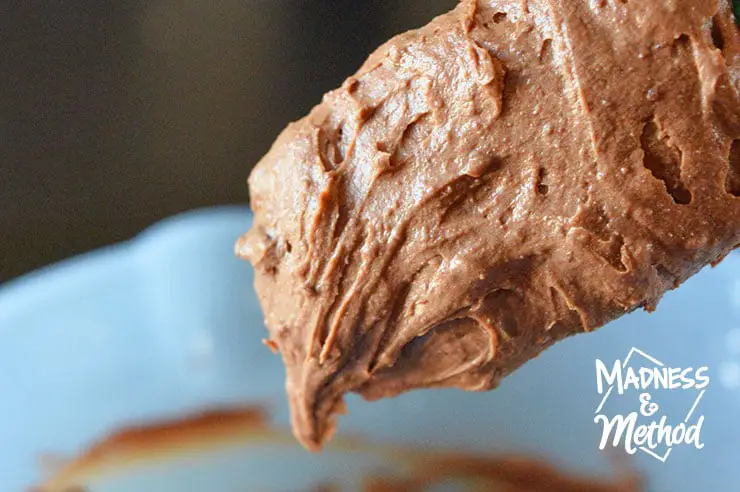 Print Recipe
Cheater Ganache Recipe
Looking for a super fudge-y, delicious icing for your cakes or desserts? Check out this easy cheater ganache frosting recipe and get ready to impress!
Ingredients
1 Cup Semisweet Chocolate Chips

1 Cup Whipping Cream

1 Cup Icing Sugar
Instructions
2
Add whipping cream and stir until combined
3
Chill in the fridge at least 3 hours (or overnight)
4
Whip in icing sugar (1/2 cup at a time) until desired consistency is reached
Notes
See full blog post for proper ratios when using white chocolate or melting wafers!
FULL details below: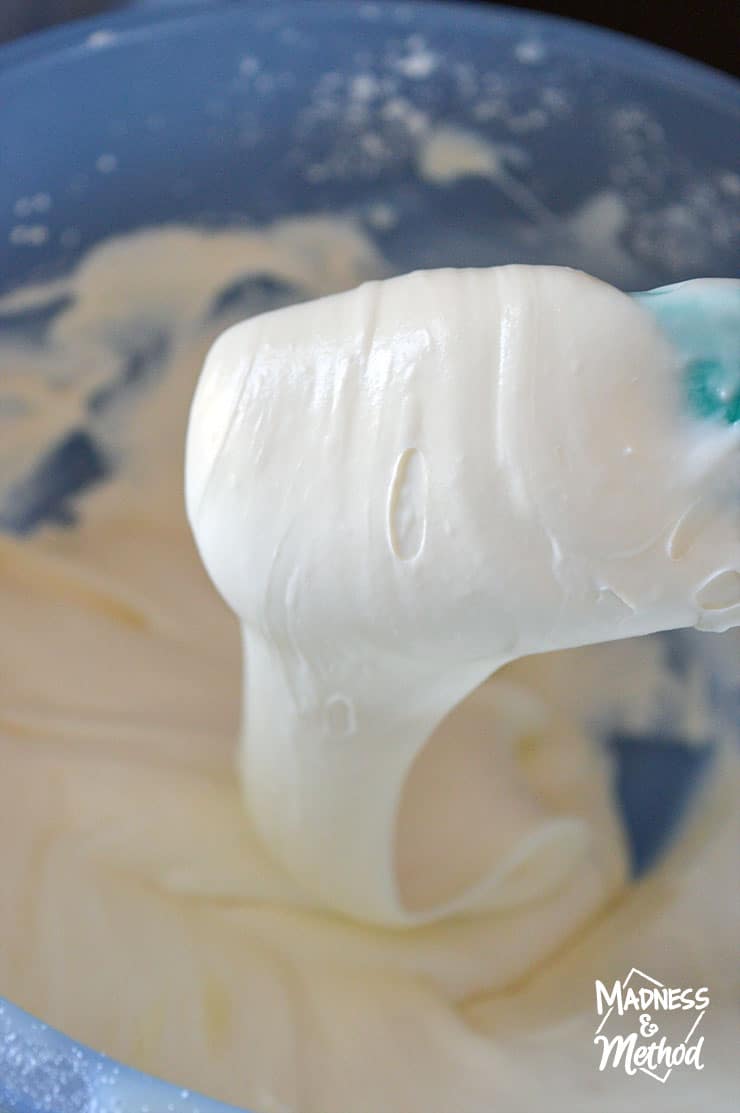 Okay, for the easy chocolate ganache frosting, you have 1 cup semisweet chocolate chips, 1 cup whipping cream.  Then (after chilling 3+ hours), you beat in 1 cup of icing sugar.  (I like to add by the 1/2 cup, just in case).
So it's a 1:1:1 ratio.  Super simple!  That should give you enough icing for a 9×13 cake, or a small cake with 2 layers (and tops/sides).
When using white or coloured chips, you'll do 2 cups of the chips, 1 cup of the whipping cream.  Then add approx. 2 cups of icing sugar.  (Again, slowly add and mix 1/2 cup at a time).
Got it?  With white/coloured chips, it's a 2:1:2 ratio!
I hope you get the chance to make this cheater ganache frosting, whether you have an upcoming birthday or not :)  I made this recipe twice (once for the cake, then once again this weekend).  That way, I could test my ratios perfectly and share the proper recipe!
Don't worry, we didn't eat all the extra frosting.  I put most of it in the freezer and will be reusing it for my next cake.  Which will probably be Zachary's birthday – less than 2 months, and my biggest baby will be 4 :(
Let me know how you like the recipe!