When I shared the gifts we gave for Christmas this year, I mentioned that I had made some yummy truffles.  Today I'm going to link to all the different recipes that I made AND share my own concoction for some white chocolate coconut truffles.  Let's dive in!
A few years ago I had made a bunch of truffles for Christmas, and I wanted to do the same thing this year (but with different flavour combinations).
I wanted to make 5 different kinds, but in the end, only 4 worked out:
Chocolate Mascarpone Truffles (my go-to!)
Turtle Cookie Balls (good, but didn't really remind me of Turtles)
Nanaimo Balls (super yummy, but mine ended up HUGE!)
And these white chocolate coconut truffles: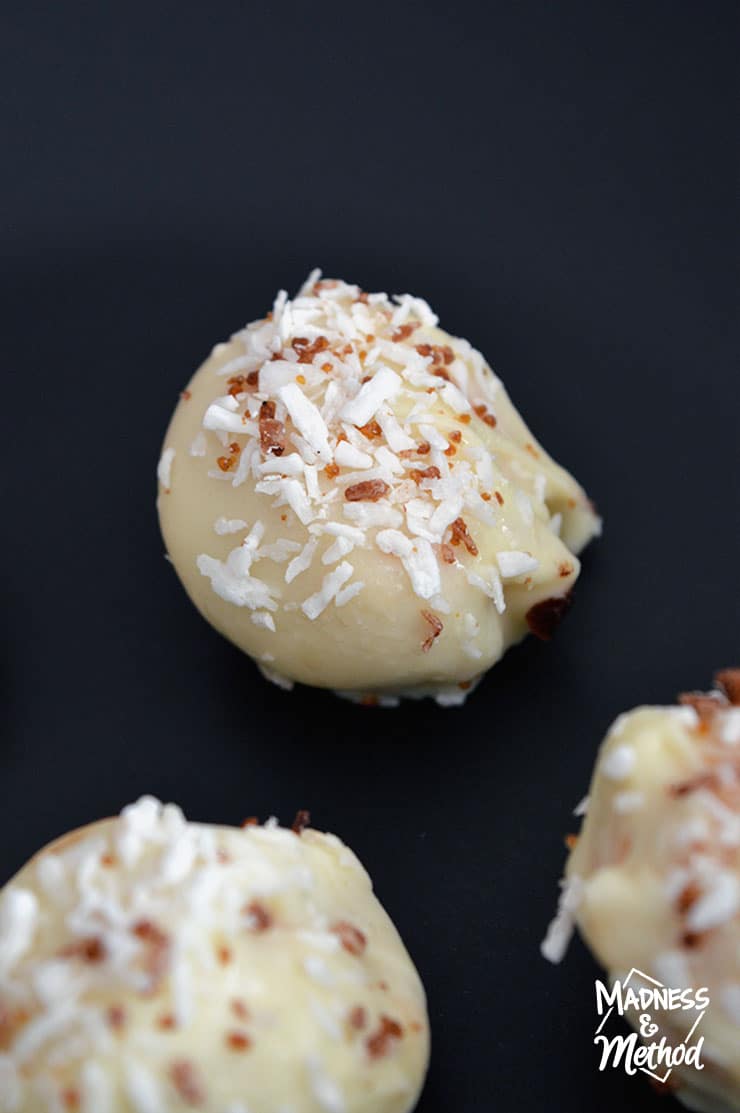 I actually used the same topping from the Nanaimo balls (which is why there are dark specks), and sort of based my recipe on the Turtle balls – but they turned out great!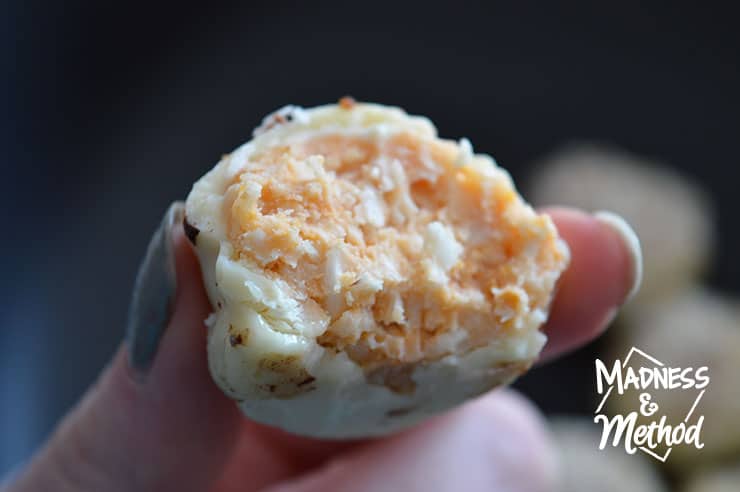 For the filling, I used some graham cracker crumbs because it's what I had on-hand, but you could substitute for vanilla cookies if you wanted whiter truffles.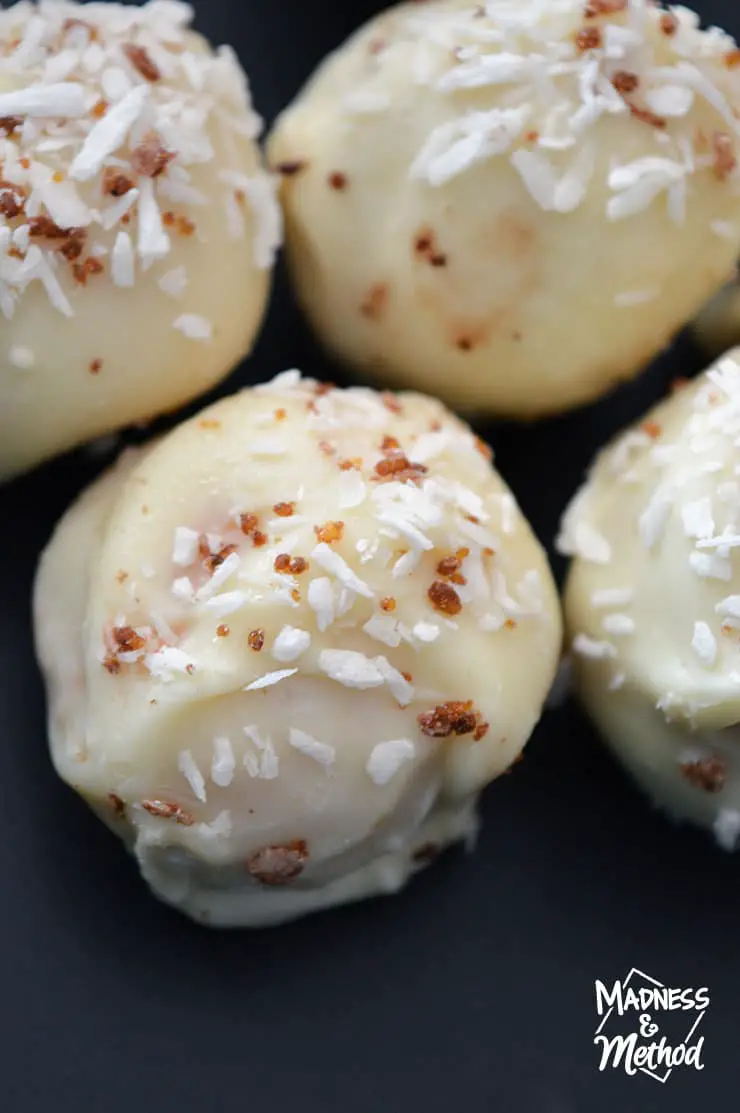 I got around 40 of each flavour of truffle, and had them packaged into 8 different containers for friends/family (with 12 each).  We of course kept all the leftovers, and they were delicious :)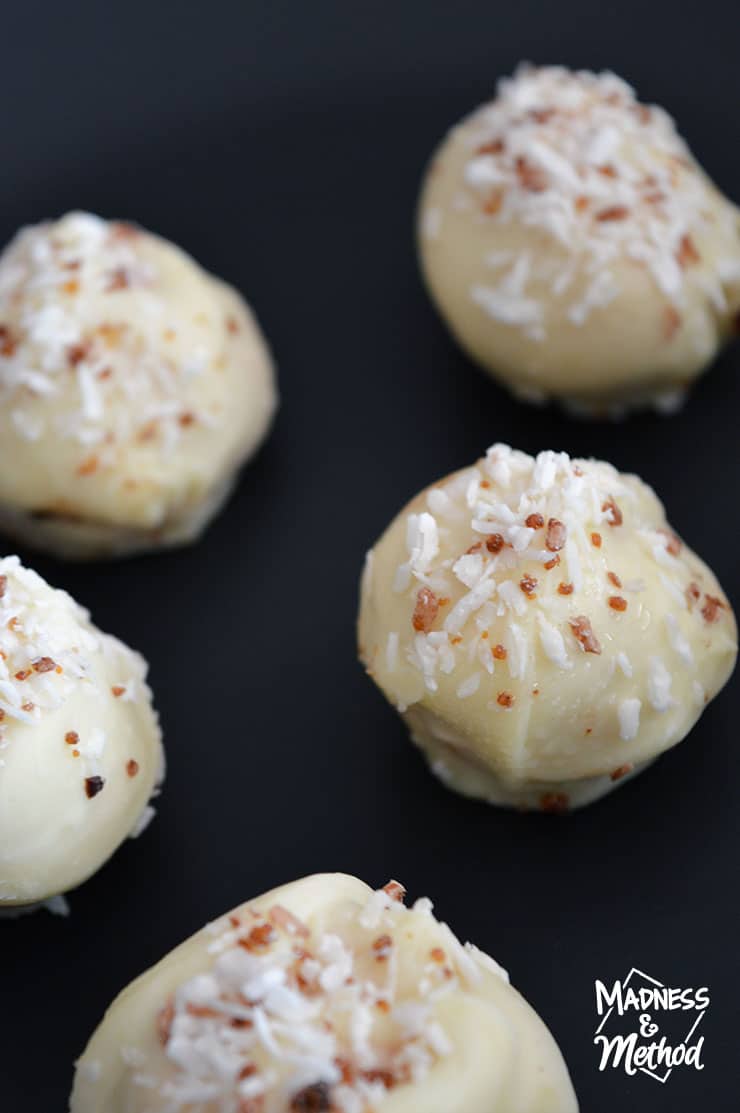 Oh, and I did have a bit of a panic when I was making these (my last batch) and I ran out of white chocolate!  I had to quickly run to the store for another package, but it all worked out in the end.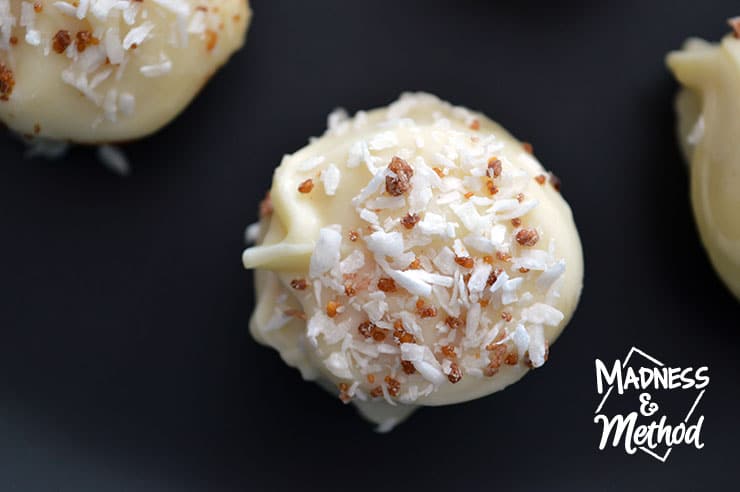 Print Recipe
White Chocolate Coconut Truffles
Do you like desserts and special treats!? For the holidays this year I made some yummy white chocolate coconut truffles - and they turned out great!
Ingredients
1/2 Cup Icing Sugar

1/2 Cup Graham Cracker Crumbs

1 Pkg Cream Cheese (Softened)

1-1/4 Cup of Shredded Coconut

2 Pkg White Chocolate Chips (about 2-3 cups)

Shredded Coconut for topping (about 1/4 cup)
Instructions
1
Mix cream cheese, icing sugar, graham crackers and shredded coconut together
2
Shape into even sized balls (about 1" diameter)
3
Place on lined cookie tray and refrigerate for 45 minutes (or freeze for 10) to harden
4
Melt white chocolate chips
5
Dip balls into the melted chocolate (using 2 forks works great!)
6
Place on lined cookie tray and sprinkle with coconut before they fully set
Notes
I used unsweetened coconut. If mixture is too wet/doesn't form nice balls, add a bit more coconut and/or icing sugar if needed.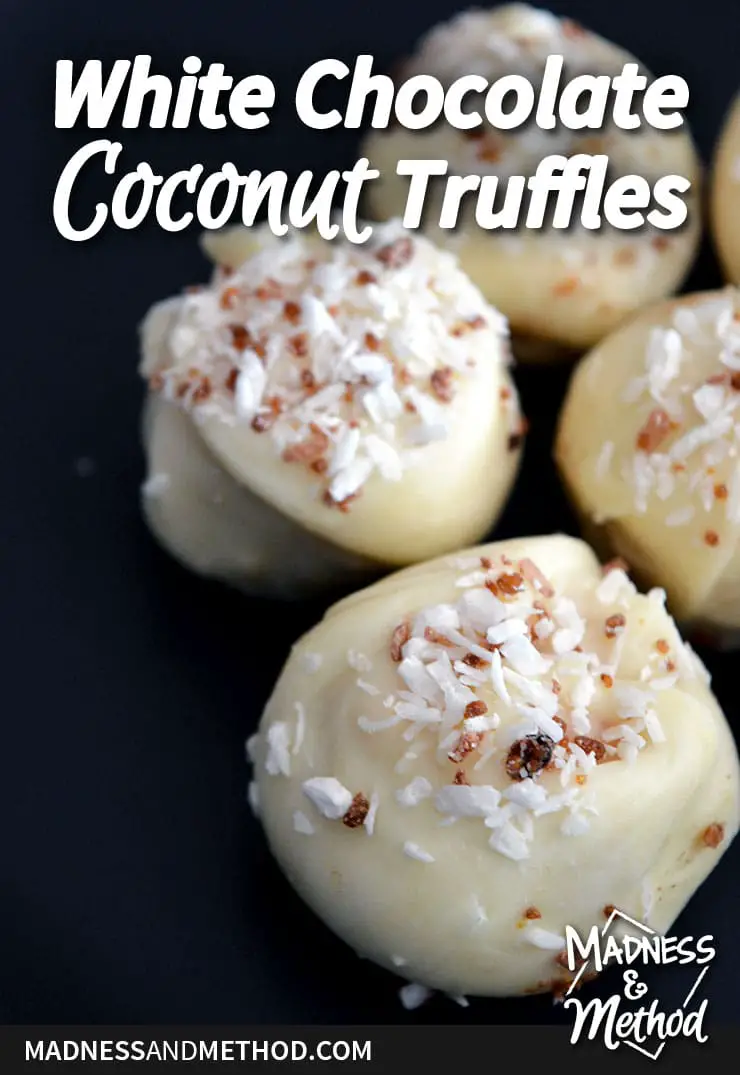 I hope you enjoy this recipe for white chocolate coconut truffles, I'll definitely be making them again!  I mean, probably not soon because the Husband wants a break from all the holiday desserts… but maybe for the next holiday or special occasion!?
Love truffles and/or desserts?  Check out my Delicious Desserts Pinterest Board for even more goodies!
Oh, and I mentioned that one recipe didn't set – I wanted to make some Butterscotch Skor truffles (using the Mascarpone recipe), but for some reason, it stayed in liquid form.  In the end, I added a bunch of melted chocolate, placed it flat on a tray until it set and tried to pass it off as fudge :)