Since I was updating the hallway, I thought about different ways to dress up the walls with some décor.  There was a nice big blank area between our Master Bedroom door and the end of the hall (where the closet is – see the plans here) and I was originally going to hang our wedding frames there.  But… then I had a change of mind and decided to do some custom abstract paintings instead!  Check out this super easy tutorial and let me know what you think.
You can make great art for your home even if you aren't creative/crafty!  I already had 4 canvases that were the same size (I think they're about 12″ x 12″) and I figured they would work perfectly as the base for some custom abstract paintings.
I gave them 2 coats of light gray paint (the same colour as our basement bathroom, nursery, etc!) and once they were dry I setup a little paint station on my kitchen table.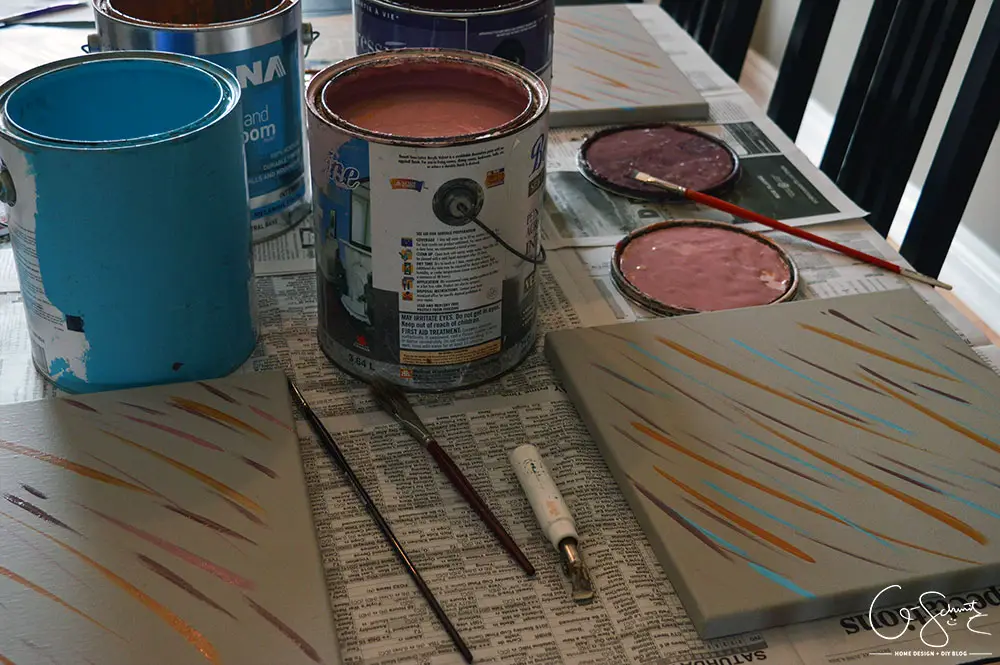 Using the 4 main colours we have in our rooms upstairs, I put some small diagonal brush strokes randomly across each canvas (making sure to only use three of the colours for each canvas).  Basically, I wanted one canvas to be the blue one, one to be the orange one, etc.
It was easy to remember which was which, since I had that paint bucket right in front of the canvas.  So the one on the left (in the photo above) will be light pink, the one on the right will be (predominantly) the burgundy colour.
I then took a slightly larger paint brush and did the same diagonal paint motions, but this time using the main colour for each of the canvases.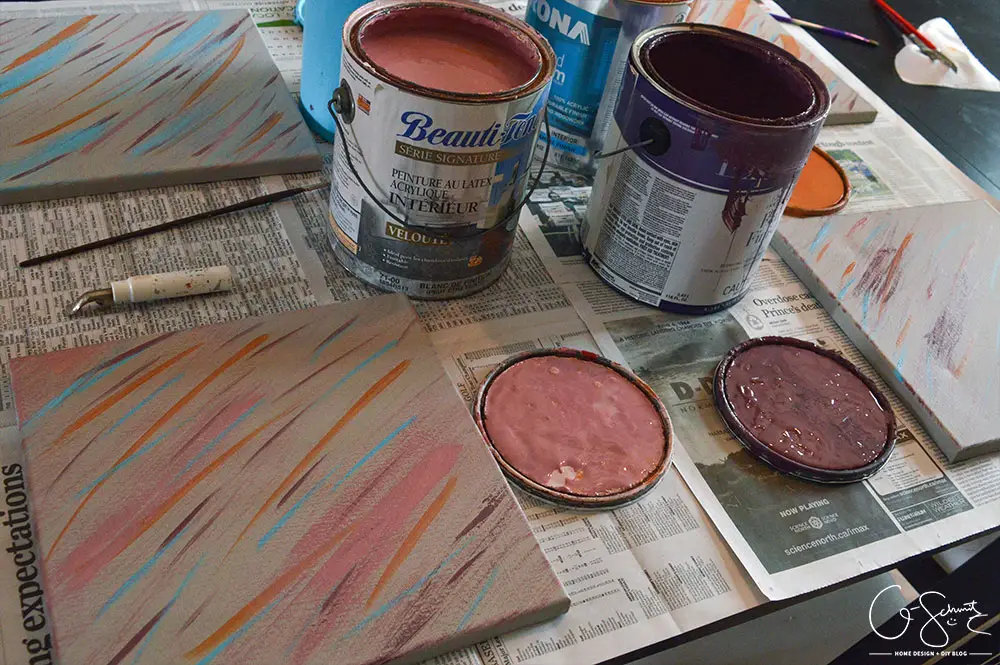 They were starting to look good, but I wanted a bit more paint to cover the gray.  I let this first layer dry a bit before I continued.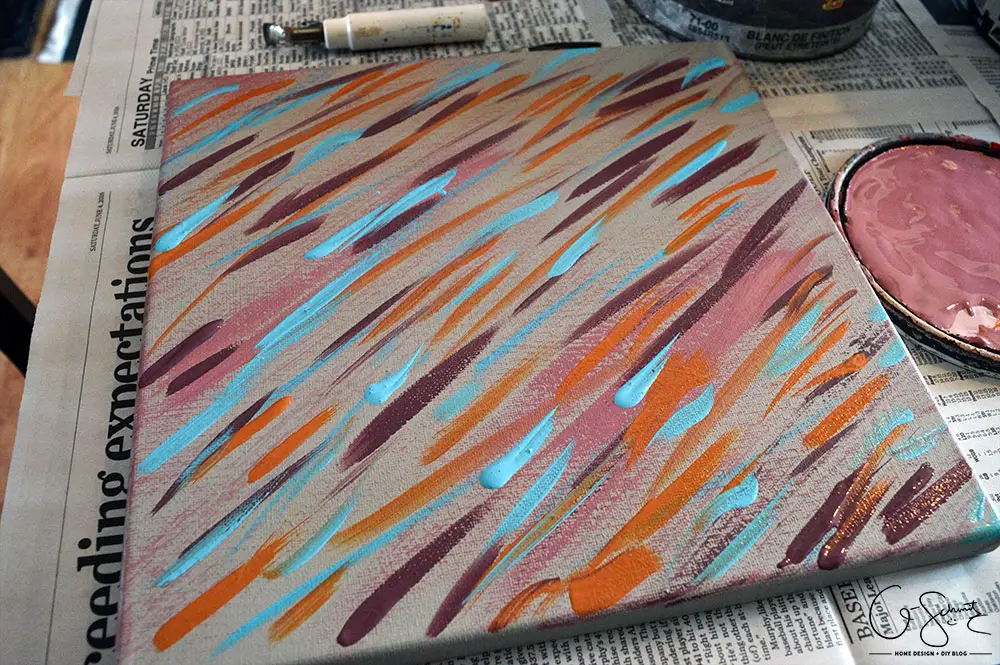 For the second layer, instead of going around the table evenly adding paint strokes to each canvas (like I did the first time); I decided to focus on one painting at a time.  I loaded my paintbrushes with more paint this time, so there would be some bigger "goops".
Again, using a larger brush I would use the main colour and wipe across in the same diagonal direction.  This time, I got better mixing between each colour and it was more of the look I was going for.  I washed the paint brushes and then moved on to the next painting.
To finish everything off, I painted the edge of the each canvas in their respective "primary" colour to give them each some pop.  I don't know about you, but I like the exposed edges on canvases (compared to framing them).
To hang them to the wall, I used both screws (one for each canvas) and regular masking tape.  You can use another non-damaging adhesive (like painter's tape or even sticky tack), and I just put a small roll in each corner.
The screws were installed even/level with each other, and they help hold the weight of the canvas.  The masking tape ensures that they stay level and stuck directly to the wall.  Again, I used 12×12 sized canvases, so if you go a bit bigger, you may need more than one screw.  (I also like to drill into the studs whenever possible, so keep that in mind when hanging your artwork – or use wall anchors!).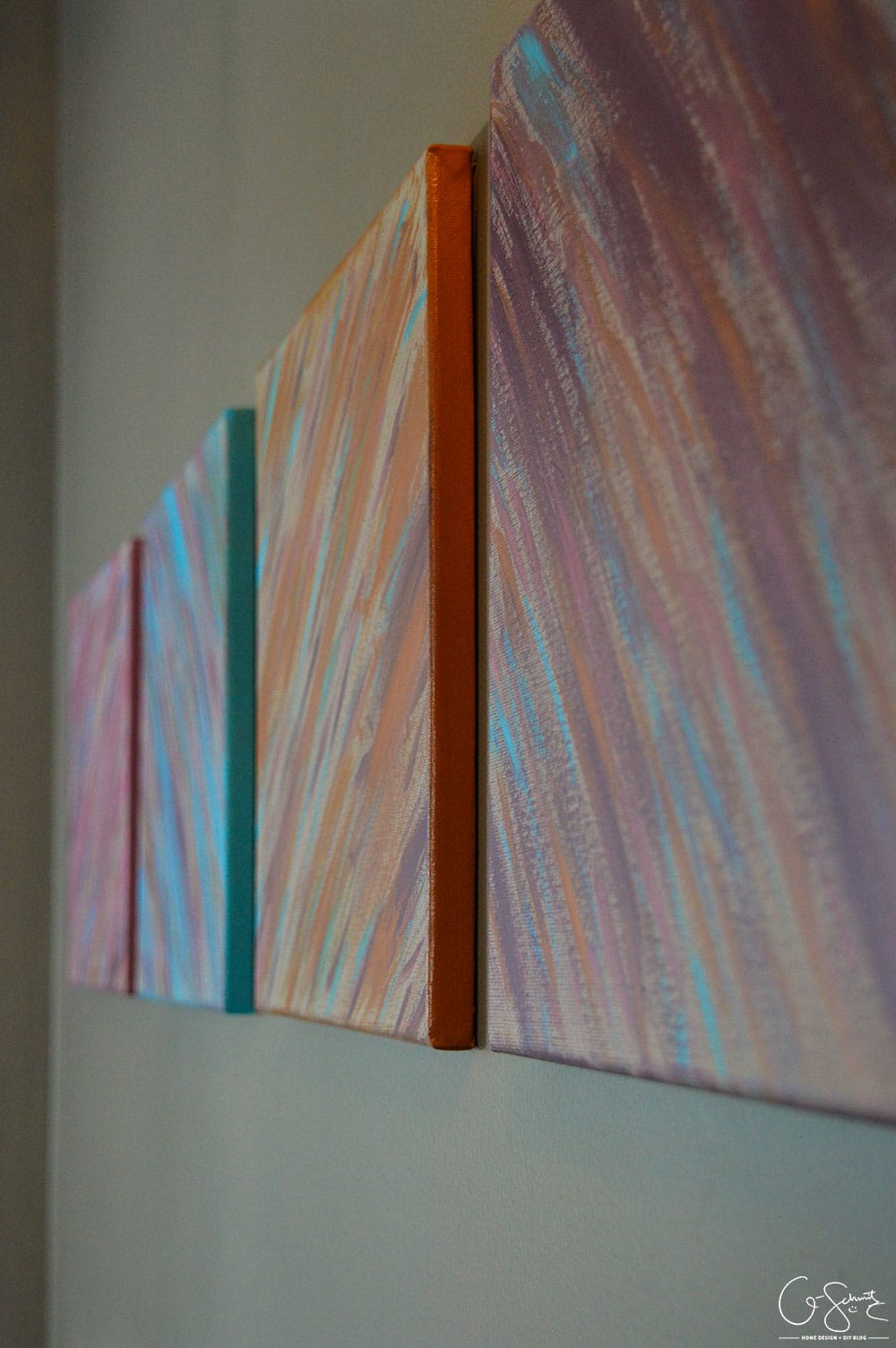 And there you have it: four custom abstract paintings, each relating to one another but still their own main colour.  Again, each of these represents one of the colours in the four rooms that we have upstairs (where this hallway is) so I think they help tie everything together nicely :)
I alternated the way the diagonals went to create a better flow visually.  I was even thinking of doing a 2 x 2 stacked pattern but decided to go straight across instead to take up more horizontal space.
Like I said before, anyone can create custom abstract paintings and you don't even have to be crafty!  I love making abstract art (like the red painting in our living room), because no one can tell you how it's supposed to look!  And, since I had all the materials on hand, this little project cost me a whole zero dollars!  Not bad for something bright and colourful :)
Have you ever painted your own artwork for your home?  Had you thought about using the leftover wall paint that you already have to match the décor that's there?  I think it's a great cost-effective way to create some art that you know will match!
(And, even if you don't have any canvases, you can always tape off a section of your wall and paint a mural directly there!)
See you next time :)