The master bedroom is usually the last room in the house to get decorated right?  I mean, the last thing you want to think about when moving in is making the room look nice, it's all about setting up the bed and sleeping!  We've been in our house for over 3 years and have just finally started making some changes to this space.  Check out the pictures of how it looks so far!
Now, if we can first remember the mess of a room we had a few months ago.  The only thing we had done to the bedroom was painting one wall a nice bright red; and slowly we began accumulating more and more dressers into this room.  Once I had decided to start getting rid of some of my clothes to free up some space, everything in our room started to appear again (oh, look we have floors!).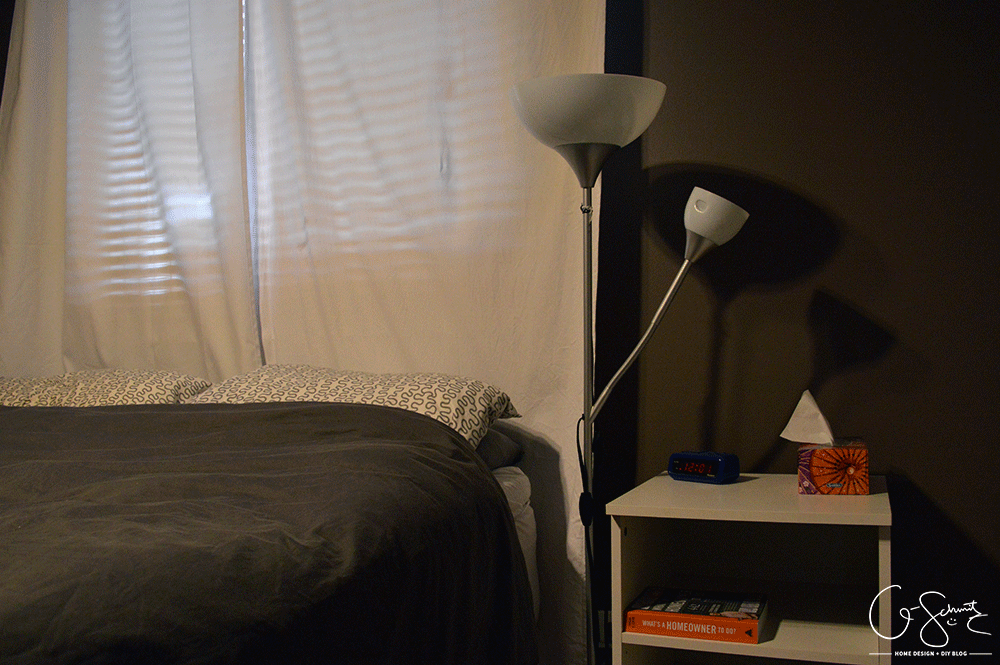 I'm going to throw it out there that I prefer the "dark and moody" style of bedroom.  I love to sleep in a pitch black room, so we usually keep the blinds and curtains closed completely.  My nightstand is also always super empty (wait until you see the Husband's side in a bit…) but I'm okay with that because it's way easier to clean that way.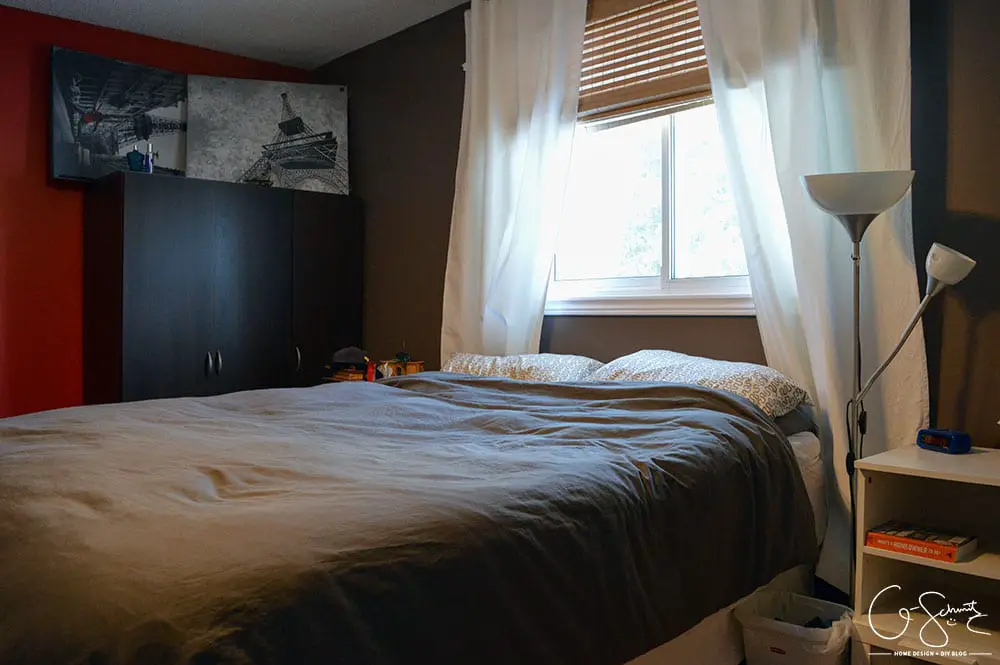 Every now and then I'll open the blinds + curtains (usually when I'm cleaning or working in here and need to see – or taking pictures…).  I also like to have only the pillows we need on the bed (no decor or accent pillows here!) so you literally just have to plop your head down at night and sleep :)
We have a gray duvet cover from Ikea which seems to match our walls pretty good.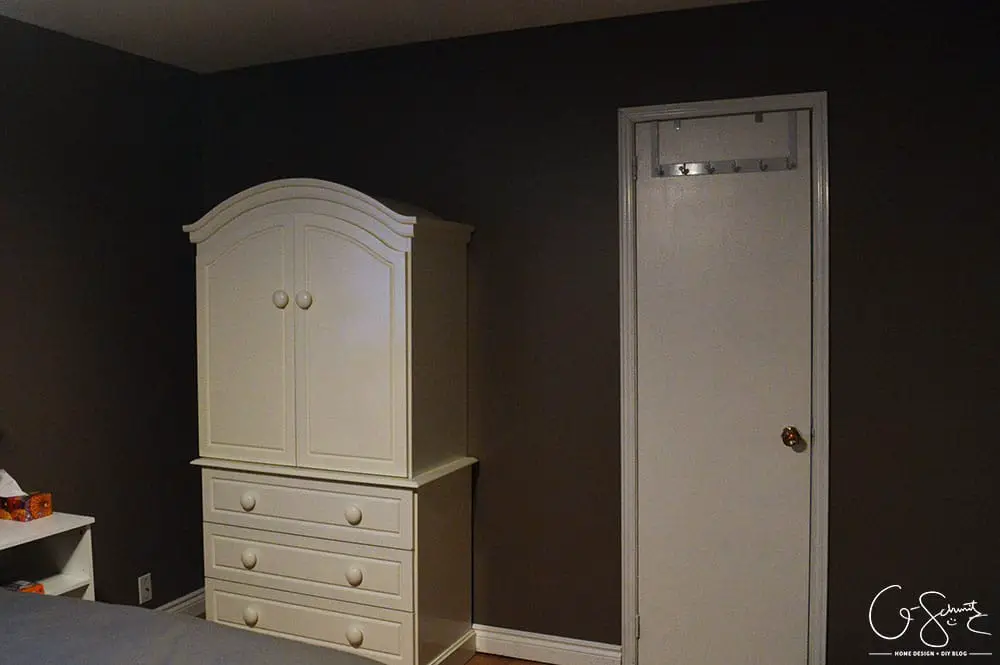 Okay – this is the East wall in the bedroom and that little skinny door leads to the main bathroom.  See the white dresser?  That was where I kept my clothes before we renovated our closet and I added a dresser in there.  Now, the plan was for the dresser to stay here and for the Husband to move all his clothes in this one and to get rid of his other dressers.
Apparently the Husband hates this dresser and prefers his brown wardrobe (it's on the opposite wall).  I keep telling him that he needs the drawer space for his folded clothes… what do you guys think?
Now, I would be lying if I said our bedroom closet renovation was completely finished.  I have to acquire, cut and nail on a couple of pieces of trim, which explains why the compressor is still in the bedroom.  And also, it's heavy and I didn't feel like moving it for the pictures!
I did finally clean out the rest of the renovation stuff and the shop vac, so that counts right?  Our wedding shelf stayed put during the whole renovation process, and yes everything was covered in dust!  See the white paint along the wall there too?  Ya, we don't actually have any of this gray paint (this was the bedroom colour when we moved in) so I can't really touch that spot up…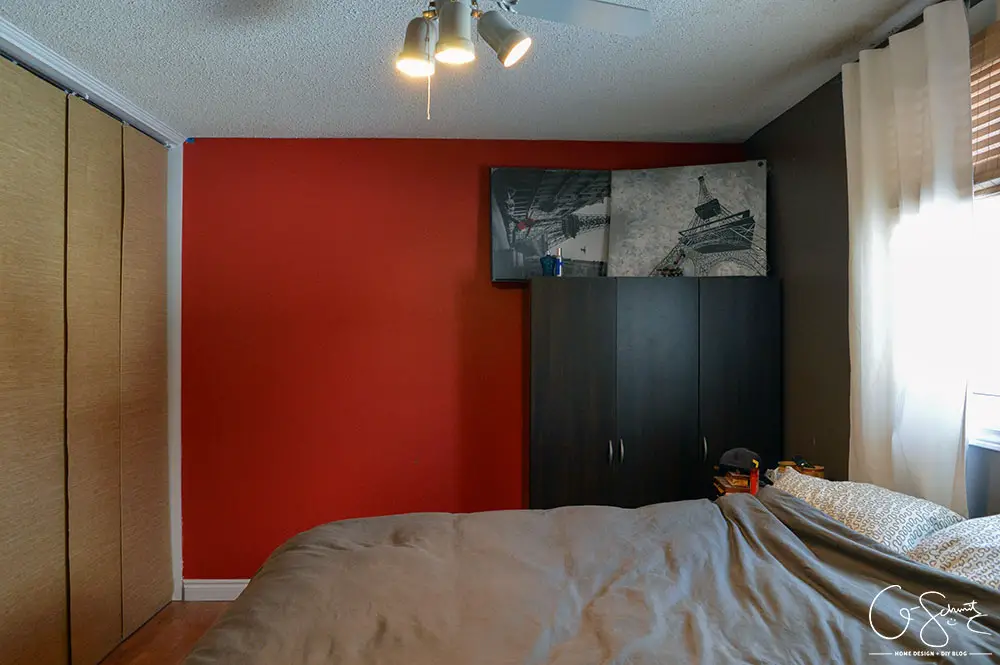 Oh look, there's the Husband's favourite wardrobe!  If we do get rid of the white wardrobe and I let him keep this one, it will move to where the white one is now and the couch from the Pink Room will be in that spot.  We have to move that couch anyways for the whole nursery room rejig, and this is pretty much the only spot where it can go.
And yes, I am aware that my poster is sideways – but I'm just waiting for a new frame to come in then I think I will hang one above each nightstand.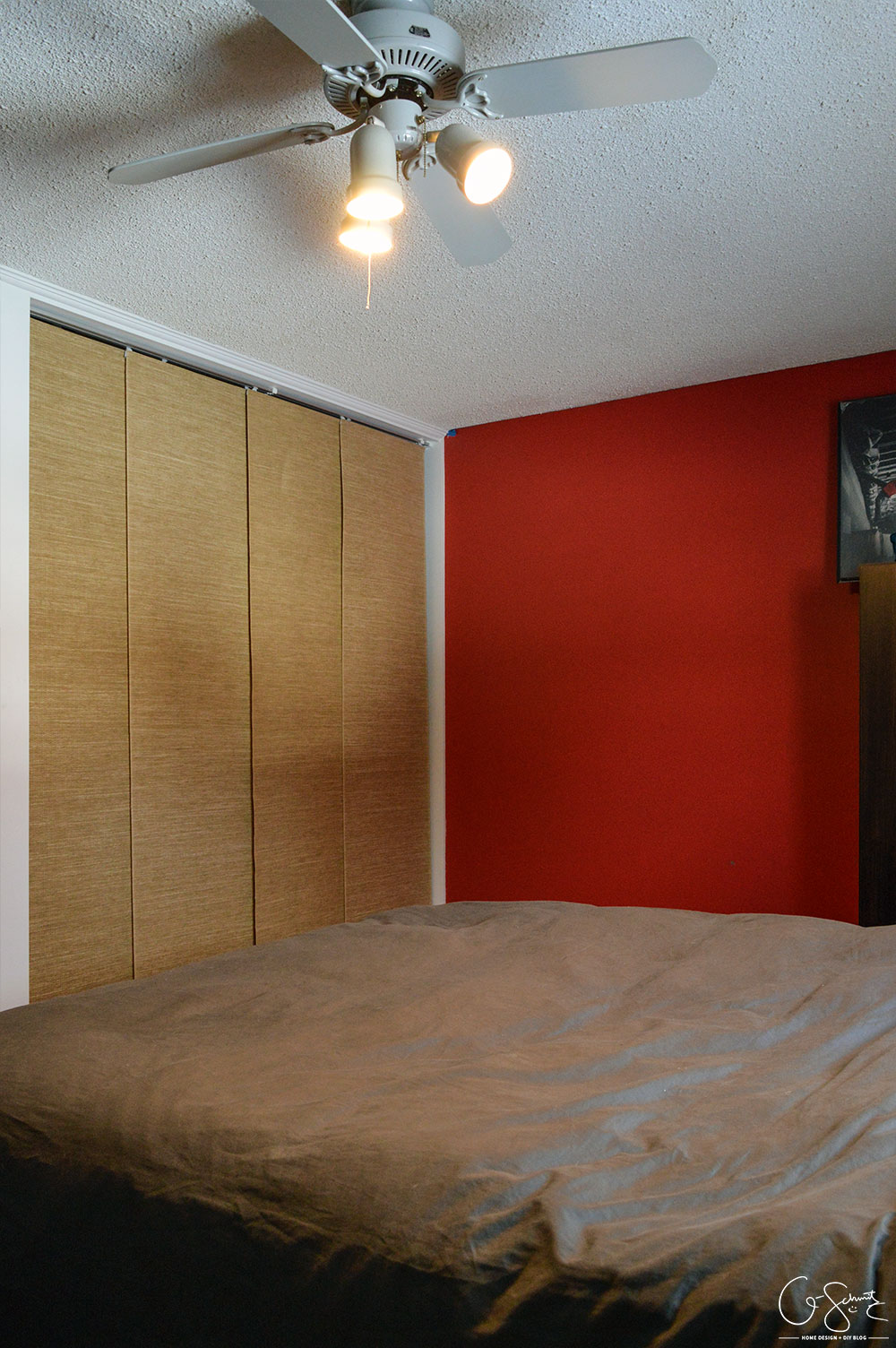 I shared the big master closet renovation reveal in January, and not too much has changed in there since then.  I mean, I did fix the floors…
And once I finish my scrapbooking, all my supplies will be going at the top of the closet like this!  My perfumes are on the dresser below my sweaters, and they just clear the area.  The Husband still has to put his clothes in the closet… but until we figure out that wardrobe fiasco, we're at a standstill.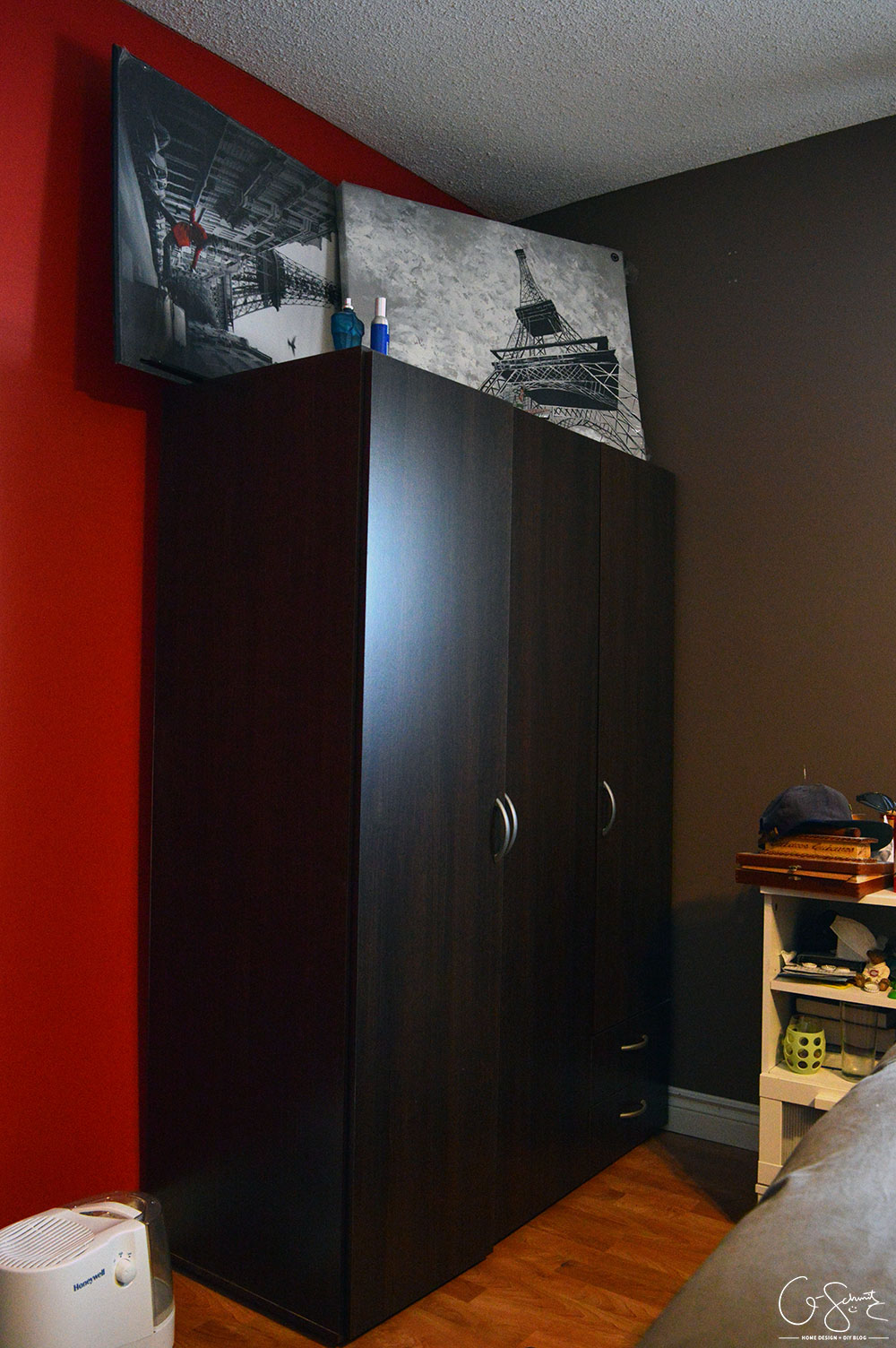 I obviously prefer the white dresser because it has drawers and either shelves or a hanging rod; so I think it can hold a lot more stuff.  Plus it's white and I just like having white furniture!  I think the Husband prefers this one because it's "his" (I got it and built it for him only a few years ago) and he thinks it holds more things.
See the Husband's messy nightstand?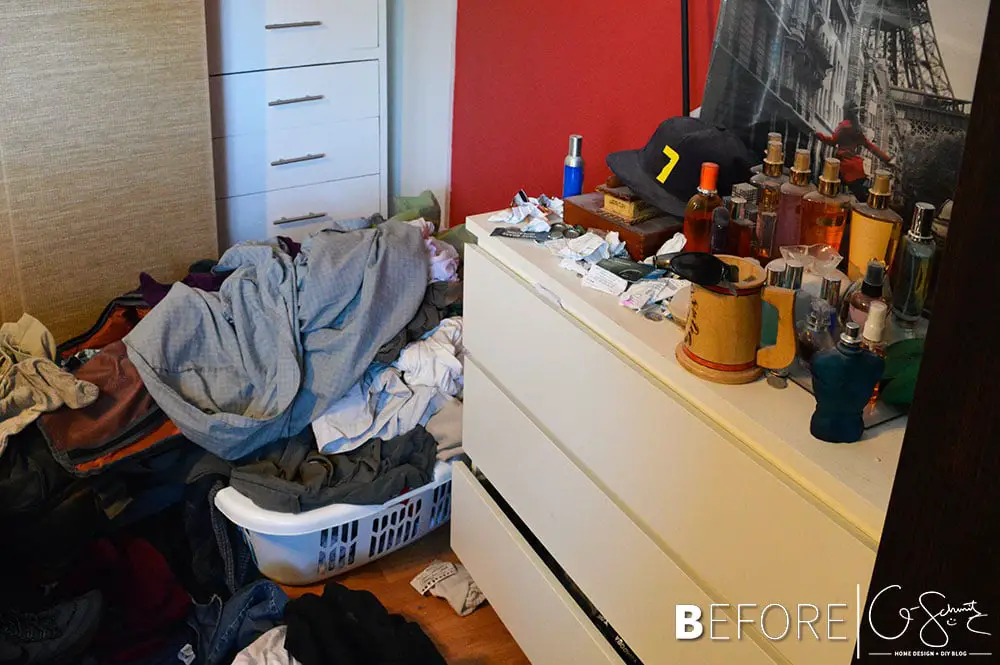 Keep in mind this is what his part of the bedroom looked like just a few weeks ago.  Most of the stuff on his nightstand I moved there when I was taking this dresser out of the room, but it's still all his stuff that needs to be organized (soon I hope!).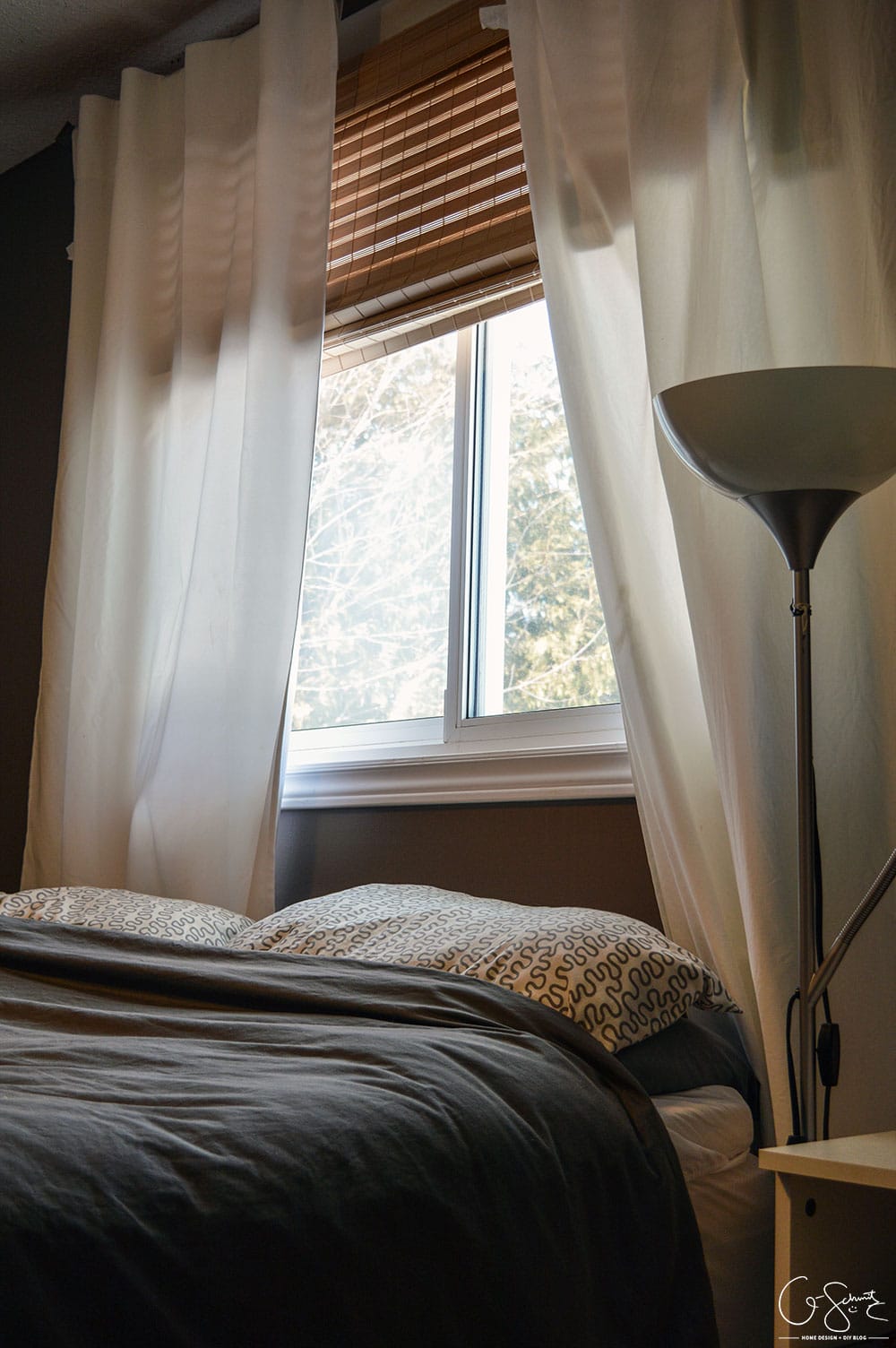 Ahh, but at least the rest of the room is finally clean :)
Our master bedroom finally has some breathing room once I was able to remove 2 of the dressers – and as soon as we decide which one will be staying, I can take out the other one and have more space!  Keep in mind of course that I have been purging my clothes for almost a year, so I was able to remove a dresser all by myself because I had less stuff.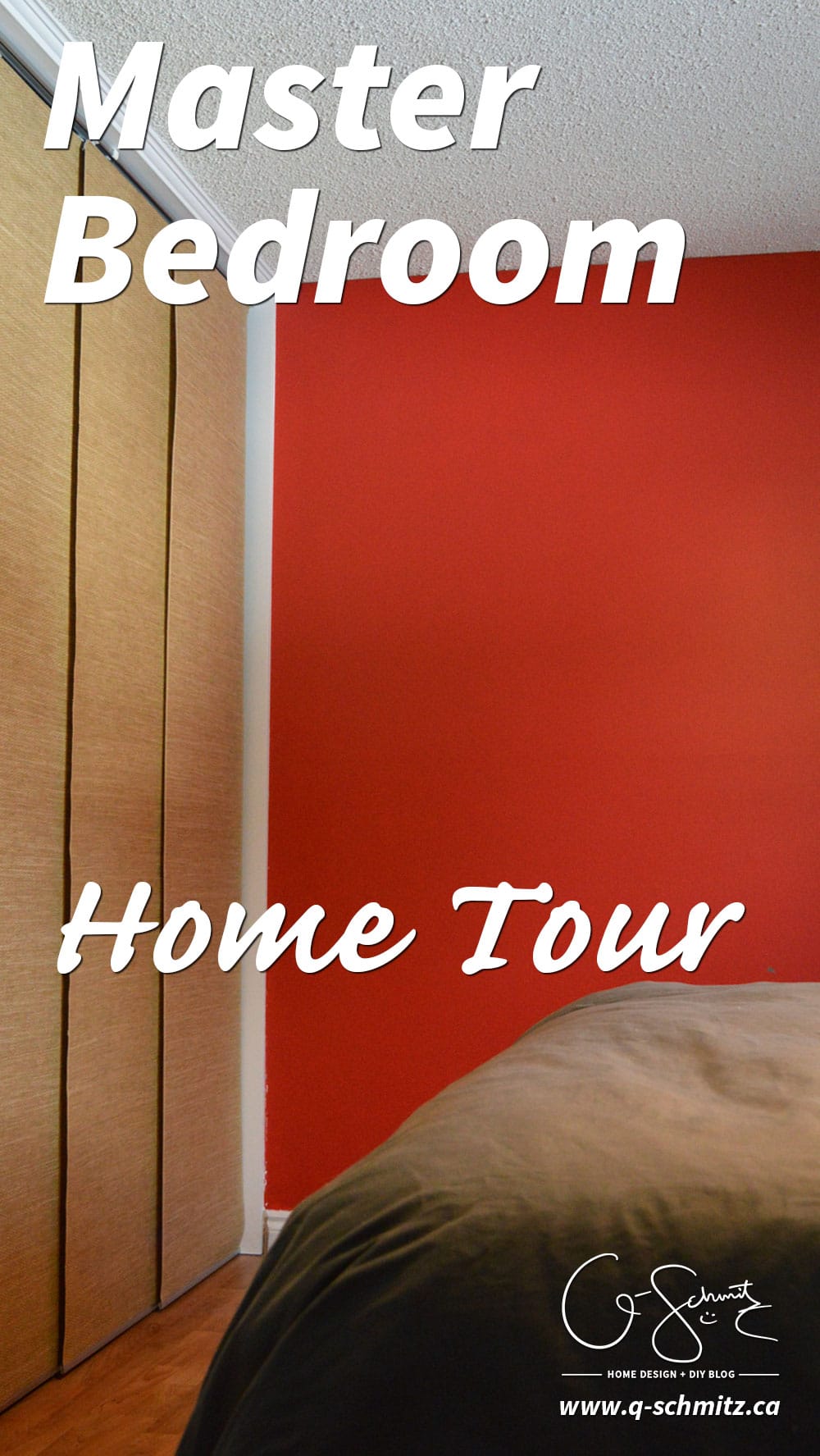 Once we finished opening up the closet, we also had a lot more usable space for things in there, and I think my goal (for our future house) will be to live in a bedroom with zero dressers!  Okay, fine, we will probably have a much bigger closet – but bedrooms should just be for sleeping!
Can I let you in on a little secret?  I think I'm going to paint this room!  It's fun to switch up the wall colours every once in a while, and seeing how we don't have any gray paint left, it's either paint everything or live with a patch of white prime on the walls forever.  I really like the duvet though… who knows… maybe I'll go crazy and switch that up too!
Is your master bedroom decorated, or is it the one room in your house that you've neglected over the years!?
And, can you guess which colour I'm thinking of painting the room?
See you next time :)